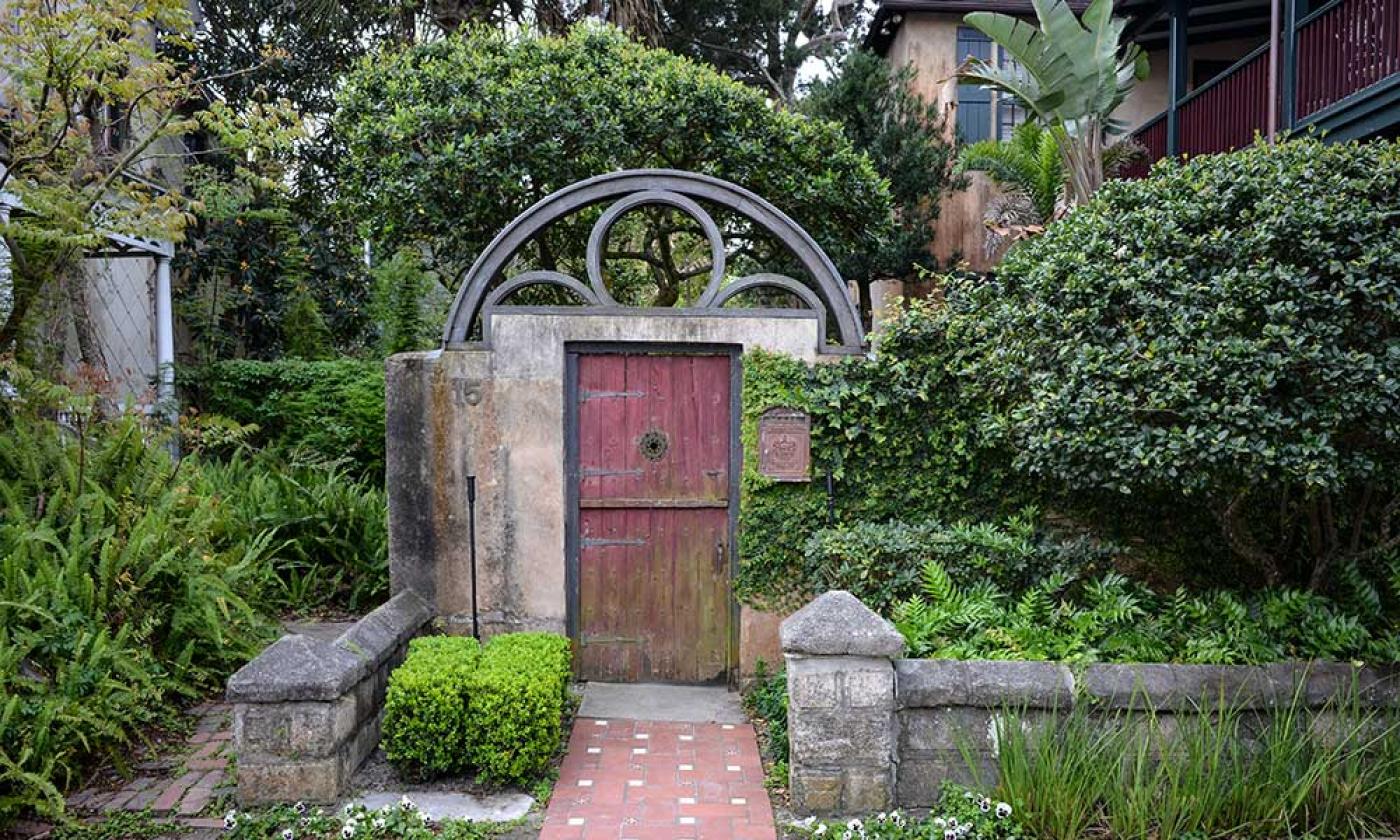 Romance is Around Every Corner
Fall in love in St. Augustine, whether it's your first date, wedding, or a significant anniversary.
Hello lovers of any age. As you will see below, St. Augustine offers many opportunities to kindle a romance or to make it sizzle — all year round. Maybe it's the age-old chiming of bell towers and clattering of horse hooves through the city's brick-paved streets. Perhaps it's the heady scent of jasmine lingering heavily in the balmy ocean breezes of springtime, or the millions of tiny white lights that transform the city into a wonderland in the wintertime.
Maybe it's the long history of blossoming love -- the first recorded wedding in St. Augustine took place in 1565. Whatever it is, the ancient city is an undeniably romantic place, whether you're here for your first date, to pop the question, to share your marriage vows, or to celebrate a significant anniversary.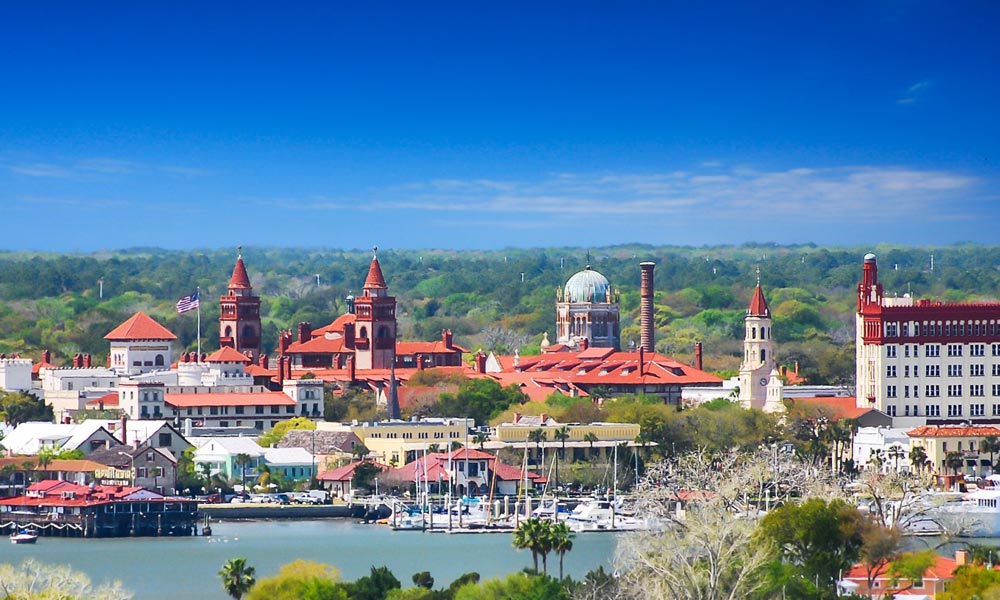 Photo courtesy of FloridasHistoricCoast.com. 
There are so many great ideas for dates, proposals, weddings, and anniversaries in St. Augustine that it can almost be overwhelming to plan a romantic rendezvous here. Let's take this chronologically, the way a love story might go, and narrow it down to just a few of the ways to fall in love with (and in) this picturesque city.
Date Night in St. Augustine
First dates can be tricky. You want to appear interested and thoughtful, but you don't want your date to feel so overtly romanced that he or she is nervously scanning the skies for an airplane writing "Marry Me?" in smoke. No worries; St. Augustine has a number of bars, restaurants, and even parks that perfectly balance casual and intimate.
Looking to take the edge off your first-date jitters? Meet for drinks. Try the Ice Plant for a historic setting with a modern vibe and expertly mixed craft cocktails that are sure to impress.
Odd Birds is another great place for a craft cocktail, and they often feature live music by local performers on their patio. If things are going well and neither of you wants to part just yet, Odd Birds is conveniently located near the bayfront - on the other side of the Bridge of Lions - for a waterside stroll after drinks.
If wine and beer are more your speed than craft cocktails, the Cellar Upstairs at the San Sebastian Winery offers a selection of local wine and beer and a Charcuterie menu, as well as some of the best sunset views in the city. If you'd like to enjoy a local brew and a bit of friendly competition, Dog Rose Brewing serves craft pints and flights you can enjoy over a spirited game at their dart boards or shuffleboard tables
The Cellar Upstairs at the San Sebastian Winery  
If drinks go well, grab a bite to eat. The courtyard at Harry's Seafood Bar & Grille is a popular date spot (the indoor seating is nice, too, especially considering that the restaurant's bayfront building dates back to the 1700s).
For a first date spot with delicious local fare, The Floridian Restaurant is casual enough to offer a low-key level suitable for a first date, but enough of a cool factor to make the date memorable. For extra points, call ahead so you and your date won't have to wait for a table.
If you're looking to avoid the crowds downtown, Reef Restaurant on Vilano Beach boasts deliciously fresh seafood and panoramic views of the Atlantic Ocean. If dinner goes well, linger for drinks and dessert and watch the moon rise over the water, pictured below.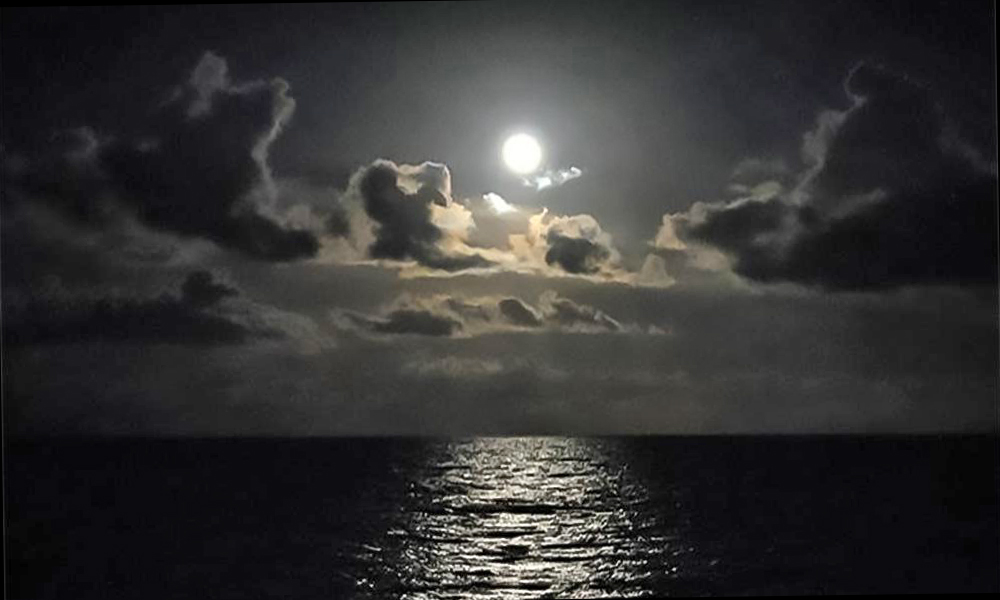 Want to avoid others altogether? Stray from drinks-and-dinner dates and explore nature. A first date that includes a shared experience in the great outdoors is one you'll be proud to tell your children about (no pressure). Extra points if you pack a picnic.
Romantic Dining
After a few dates, or maybe for a special occasion or anniversary, step up your game a bit. St. Augustine has an impressive array of intimate, European-style restaurants for fine dining.
For international cuisine and fine wines, try Collage, which is located on Hypolita Street in the heart of the historic district. Lead your date through an alcove draped in brightly colored bougainvilleas to enjoy an intimate meal at this award-winning restaurant. Other celebrated fine dining eateries include Raintree Restaurant, Avilés Restaurant, and Lounge, as well as Harvest & Reel. 
Unconventional Romantic Dates
For something a little more exciting than a dinner date, St. Augustine has plenty of options for more unconventional romantic dates. Do something different and ride bikes around the city to take in the sights together, or take it all in from a horse-drawn carriage. Pack a cooler and lounge together on one of St. Augustine's beautiful beaches. For a different perspective on the city, set out to sea for a sunset cruise on the Schooner Freedom, or charter a sailboat for a private sail. St. Augustine Sailing offers charters with a captain, or without if you have experience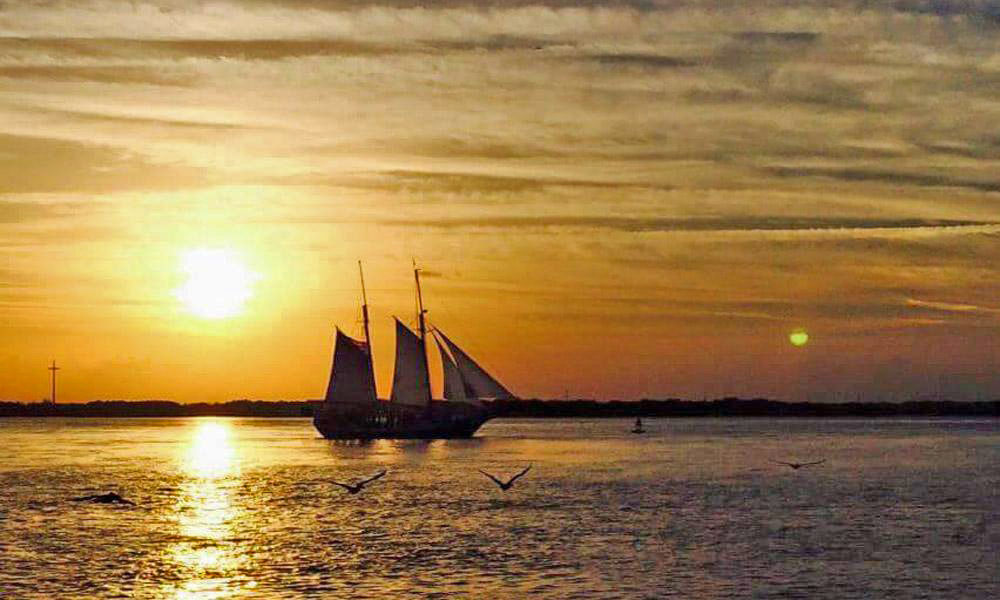 The Schooner Freedom sets sail several times daily; book in advance for seats on their Sunset Sail charters.
St. Augustine Proposals
If you've progressed well past the casual dating stage and you're ready to pop the question, St. Augustine is the perfect place for a romantic and memorable proposal. Whether you've dreamed of a proposal in a public place with a spectacular view or an intimate proposal in a lovely, secluded space, you'll find the right spot in St. Augustine.
For couples who love to climb to new heights together, ascend 219 steps to the top of the St. Augustine Lighthouse to pop the question with a heightened perspective.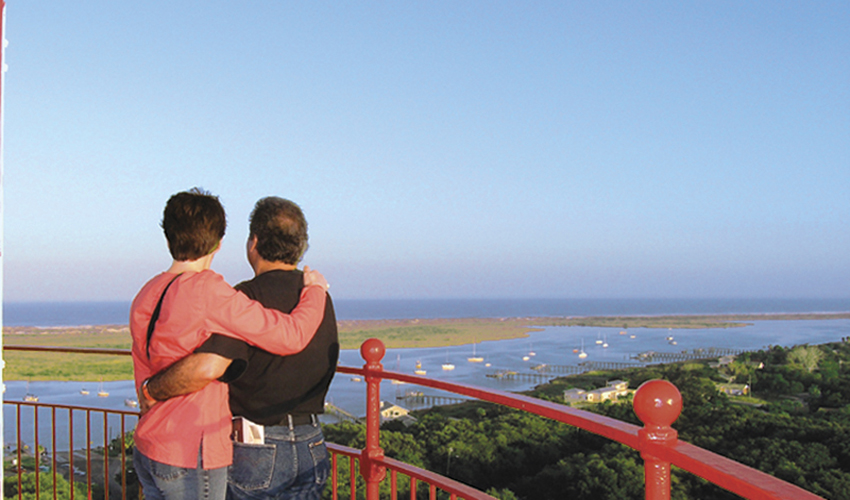 When you reach the top, pause to take in the best view of the city and to breathe in the sea breezes. Relish the moment, take your time, and take extra care not to drop the ring.
For couples who love a good story, legend holds that lovers who kiss beneath a love tree will have love everlasting. A love tree is two trees entwined so tightly at the roots that they've grown completely together (a frequent love tree pairing in Northeast Florida is palm and live oak). One well-known love tree can be found at 6 Cordova Street and another near the school on Bridge Street.
Of course, all of the "first date" ideas would work for a proposal, too.
Seasonal Romance
Charming St. Augustine is romantic year-round, but it's especially so in late spring when the jasmine is blooming. Whisk your love away for a spring weekend getaway at one of our lovely renovated inns or bed and breakfasts.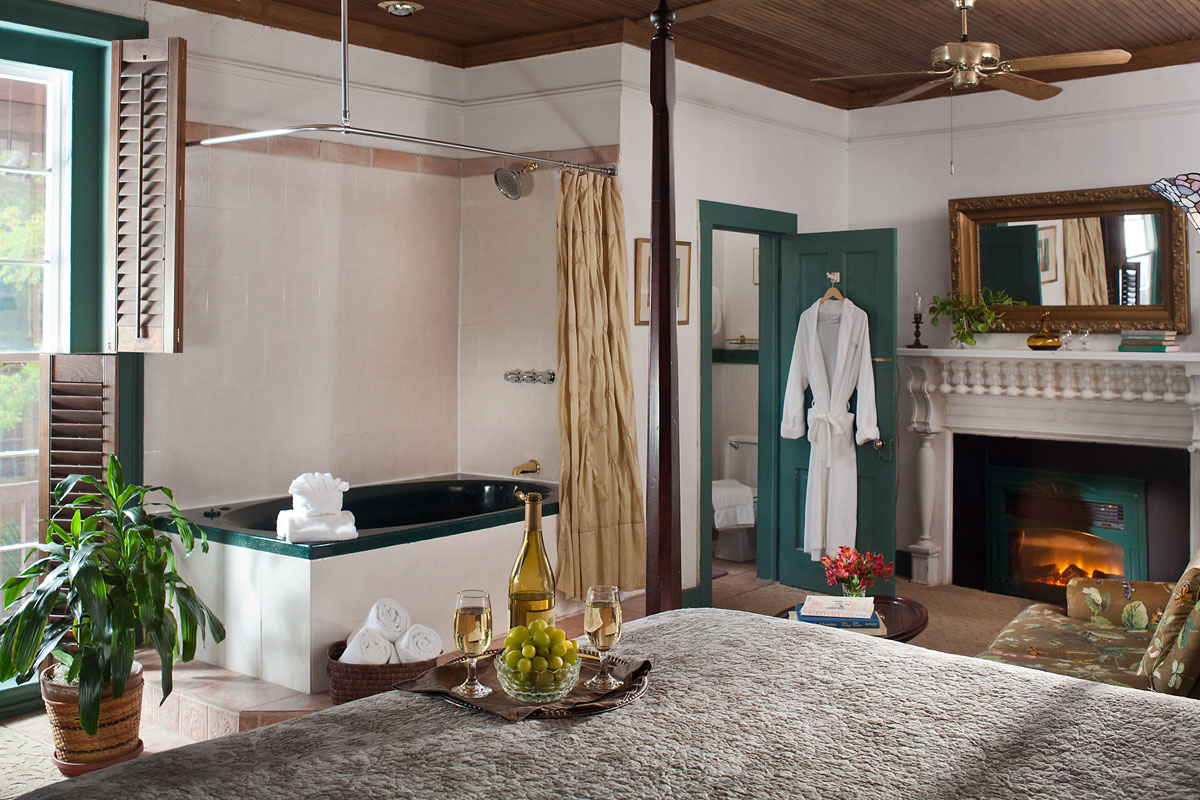 One of the many beautiful spa-like bathrooms at St. Francis Inn in St. Augustine.
The St. Francis Inn is situated across brick-paved streets from a lovely park with a stone fountain and a jasmine-covered arbor. Take an evening stroll, and pause together in the park to breathe in the flowers' intoxicating scent before bending to one knee.
For a romantic summer (or anytime) getaway on the beach, you could stay at the Beachfront Bed and Breakfast on Anastasia and add long walks along the beach to your trip.
For some, the best time to visit St. Augustine is during the autumn, when it's still warm, and perhaps slightly less crowded, and (as always) wonderfully romantic. Dance at the Greek Festival, get lost in a corn maze, listen to music during the Sing Out Loud festival — St. Augustine in the autumn offers a myriad of romantic opportunities.
No time of the year in St. Augustine is as romantic as it is during the holidays when millions of white lights illuminate the streets during the world-famous Nights of Lights festival.
If you've dreamed of a proposal with a massive crowd of loved ones and perfect strangers as witnesses, plan a group outing for the lighting ceremony (and arrive early - the city floods with thousands of people for this treasured local tradition). When the crowd counts down to the lighting, get ready to drop to one knee as soon as those lights are shining.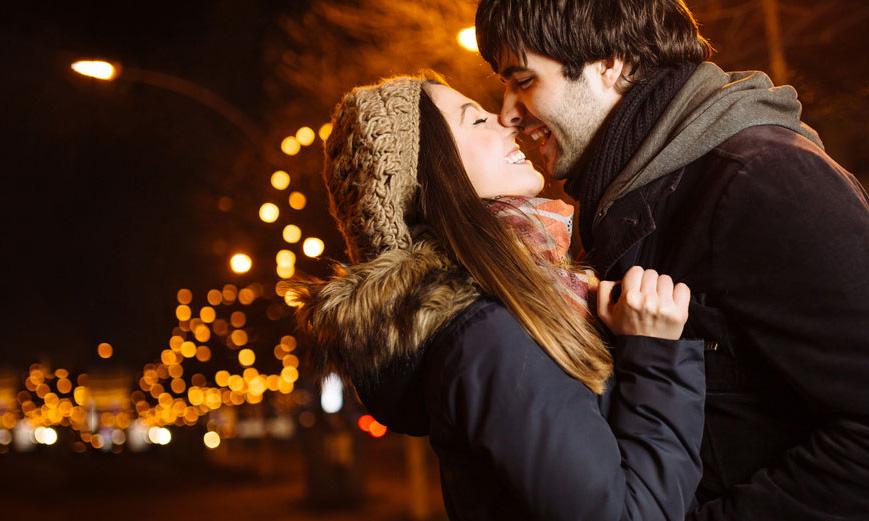 If you aren't a fan of crowds, no fear. The lights remain on throughout the month of January, and crowds taper off with the end of the holiday season. After ringing in the New Year, resolve for a proposal backlit by the shining ancient city, and picture your bright future together.
Speaking of pictures, consider having a photographer on hand to capture the special moment. You'll need a good photographer for the wedding you're about to plan, and some offer engagement photo packages in addition to wedding package options.
Finally, during the remainder of the winter, St. Augustine still exudes romance and charm. You may need to bundle up a bit, but walks along the beach, sailboat rides, and romantic dinners are all still available after the holidays. Many of the attractions and restaurants offer special events and seating for Valentine's Day when you can find food tours, boat rides, and dinner menus designed for two. Make sure to call well ahead for reservations!
Once you've fallen in love with St. Augustine as your wedding destination, you'll find no shortage of options for your special day. From traditional weddings in historic churches to intimate outdoor ceremonies in historic gardens to unconventional events in truly unique wedding spots (such as a dolphin conservation center that got its start as a film studio in the 1930s), the city is brimming with wedding venues to suit every taste.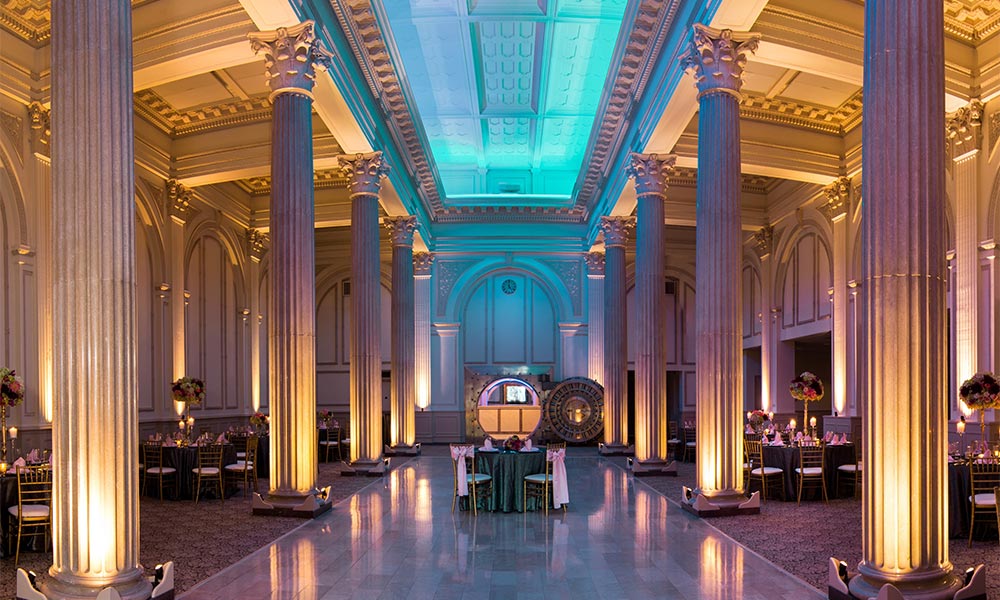 Photo courtesy of the Treasury on the Plaza. 
With its marble dance floor, sky-high columns, and history as the ancient city's grand bank, the Treasury on the Plaza is a favorite venue for lavish St. Augustine weddings. The venue's crown gem is the 1920s vault in the grand hall, which now functions as the Treasury's bar. Centrally located in downtown St. Augustine, the Treasury on the Plaza is a short walk from many of the city's historic churches, situating it well as a reception venue for couples planning religious ceremonies.
For brides looking for an opulent venue with ample space to accommodate wedding guests overnight, the Casa Monica Hotel is also centrally located in downtown St. Augustine. The only one of Henry Flagler's gilded resorts that still functions as a hotel, the Casa Monica is a St. Augustine institution. The historic luxury hotel's sweeping staircases, fountains, and frescoes are complemented by the comfort of modern accommodations, perfectly suiting the venue for majestic and memorable weddings.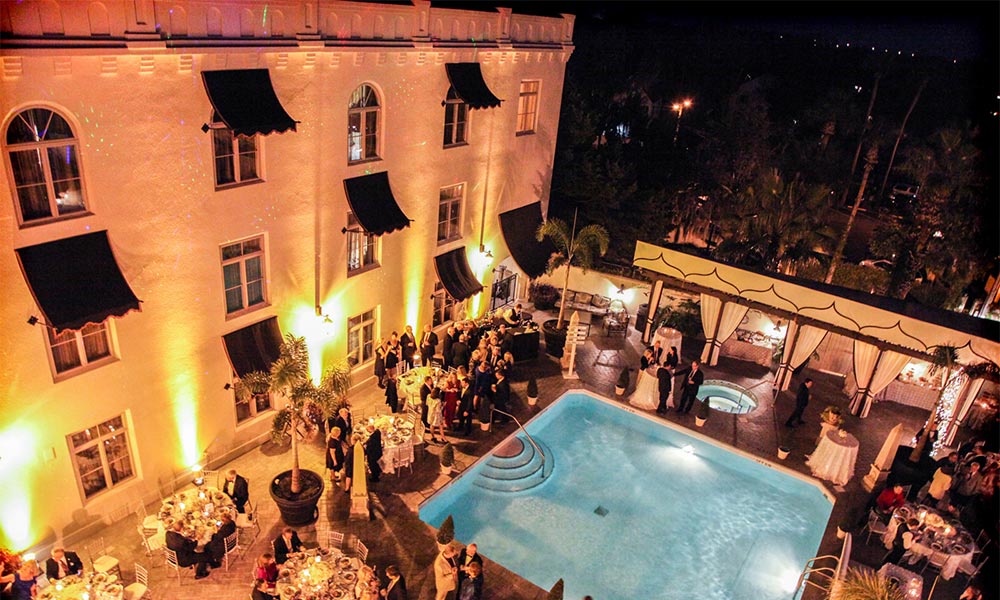 The rooftop pool at the Casa Monica Hotel makes a gorgeous backdrop for weddings.
If your style is a little more laid-back than lavish, St. Augustine has a number of quaint bed & breakfasts that operate as wedding venues. The Cedar House Inn boasts Victorian charm, four location options for weddings, comfortable accommodations, and the lovely Floridian Honeymoon Suite. For smaller weddings, the lovely Kenwood Inn can accommodate up to 42 overnight guests and features event space for up to 125. 
For couples seeking that unique St. Augustine charm for their wedding, the Ximenez-Fatio House Museum, one of the best-preserved colonial structures in the city, can accommodate up to 200 guests. The museum's coquina walls, lush courtyard, and storied history as a merchant's home turned boarding house will give any wedding an authentic and historic feel.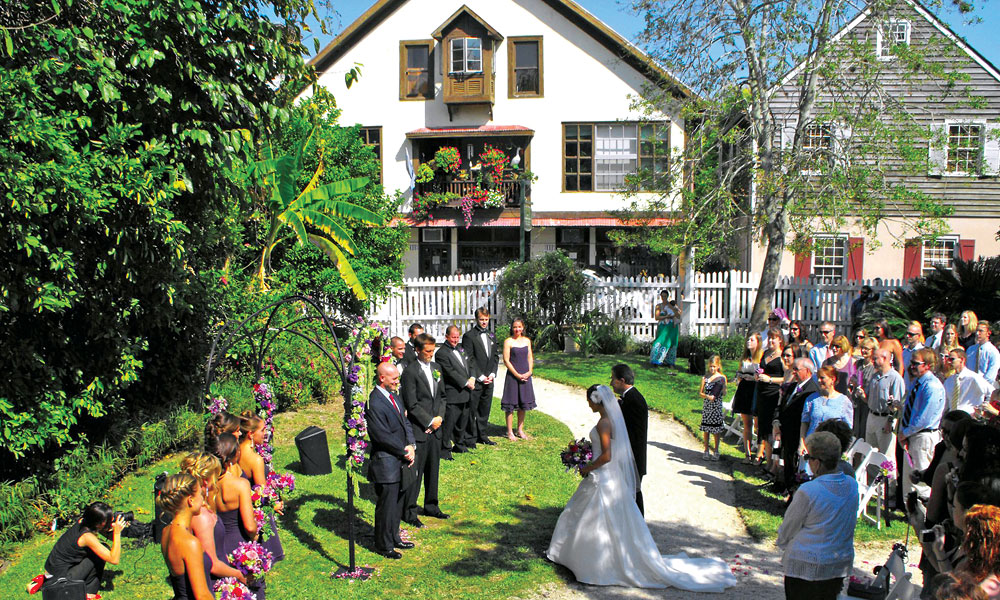 The Ximinez-Fatio House Museum's courtyard is the perfect setting for a St. Augustine garden wedding.
Have you dreamed of doing something truly different for your wedding day? Are you nearly as passionate about marine life conservation as you are about your future spouse? Add a couple of dolphins to your guest list by planning your wedding at Marineland Dolphin Adventure. The Marineland conservation center, or the "World's First Oceanarium," is a beloved old-Florida attraction that served as a film studio for underwater scenes in the 1930s and 1940s. From simple elopement packages to elaborate celebrations, Marineland weddings are unforgettable occasions.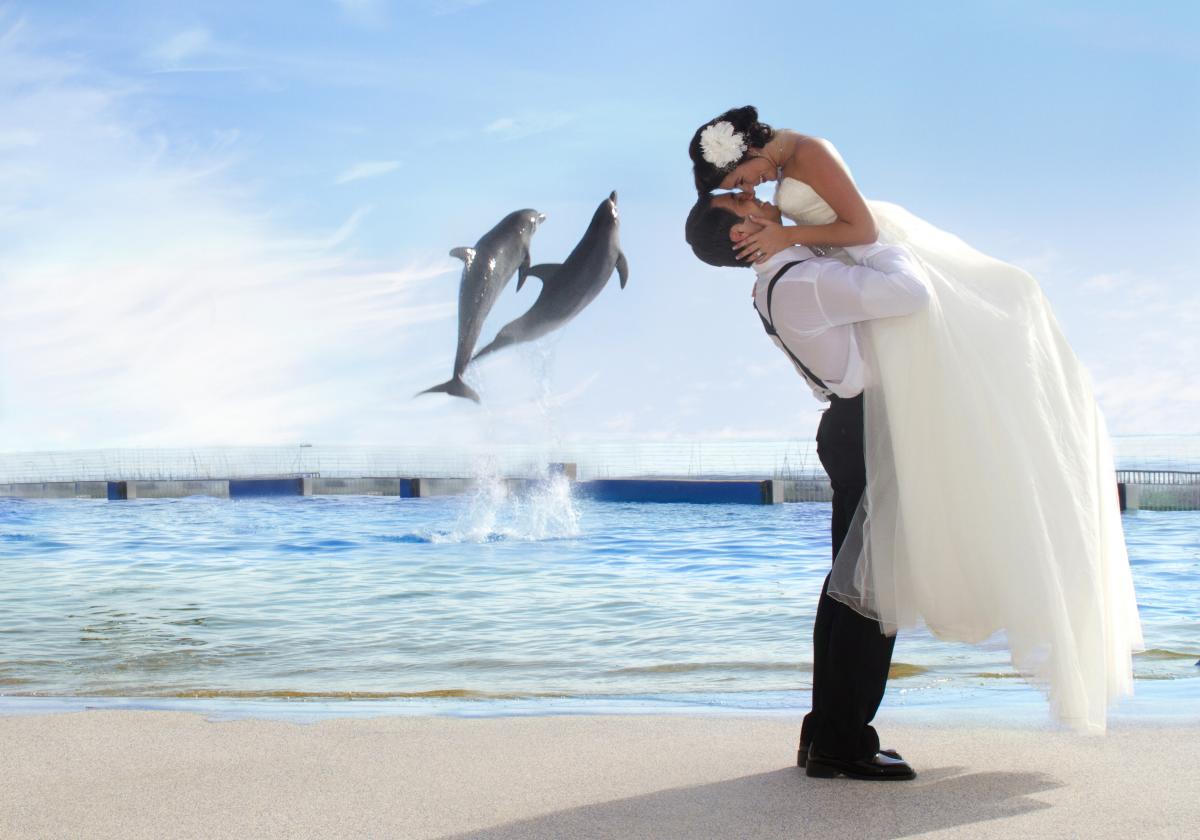 Aquatic guests are welcome at Marineland Dolphin Adventure Weddings. Fabulous leaping dolphin photo courtesy of Betsy Groner of Best Bets Photos.
When you're in St. Augustine, it's hardly necessary to be extravagant to make a romantic memory. Sharing quiet moments on the beach, strolling hand in hand through the historic district, and gazing out to sea from the Castillo de San Marcos lawn with the St. Augustine Lighthouse in view are all things you can do together for free.
Though the ancient city brims with the kind of conspicuous romance that makes for memorable dates, proposals, weddings, and anniversaries, it's also a place of quiet enchantment, connecting St. Augustine's visitors more strongly not only to the city's rich history but to each other.
This article was written by Margaret Wallis in February 2018 and has been updated for 2022.