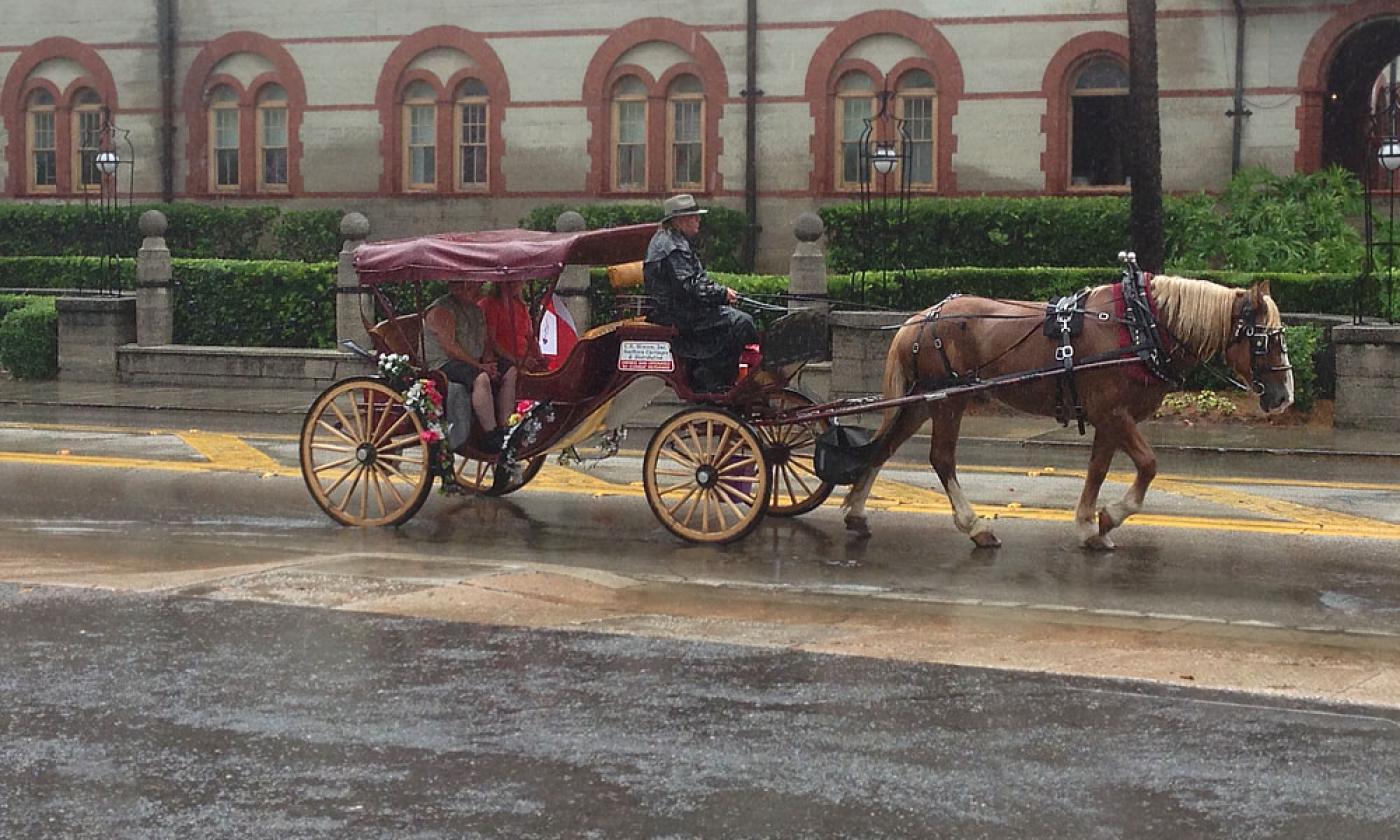 How to Fight the Rain in St. Augustine and Win
Combat a Florida rain storm with these tips, so that you can get the most out of your vacation.
It's true; along with being a sunny, tropical destination for visitors from afar, Florida also has its tropical depressions. But don't worry! We aren't called the Sunshine State for nothing. Yes, our sunny weather is occasionally interrupted by showers, especially in the summer, but they usually only last a few minutes. A day can start sunny, face a few showers, and then be bright and warm with clear skies by the end of the day. There are a few things you should know about how to combat these afternoon sprinkles in St. Augustine. Check out these tips so that you can have fun and enjoy your vacation, rain or shine.
Pack Rain Boots
We've said this before, and we'll say it again. PACK. RAIN  BOOTS. It is truly a great investment if you're going to be in St. Augustine. Don't get me wrong, our streets are beautiful and brick-laid and European, but just like the streets in Europe, they can gather some massive puddles when the rain sweeps in. You don't want to ruin a nice pair of shoes (and socks) trying to get from one side of town to another. Pack the rain boots; you won't regret it.
Buy a Poncho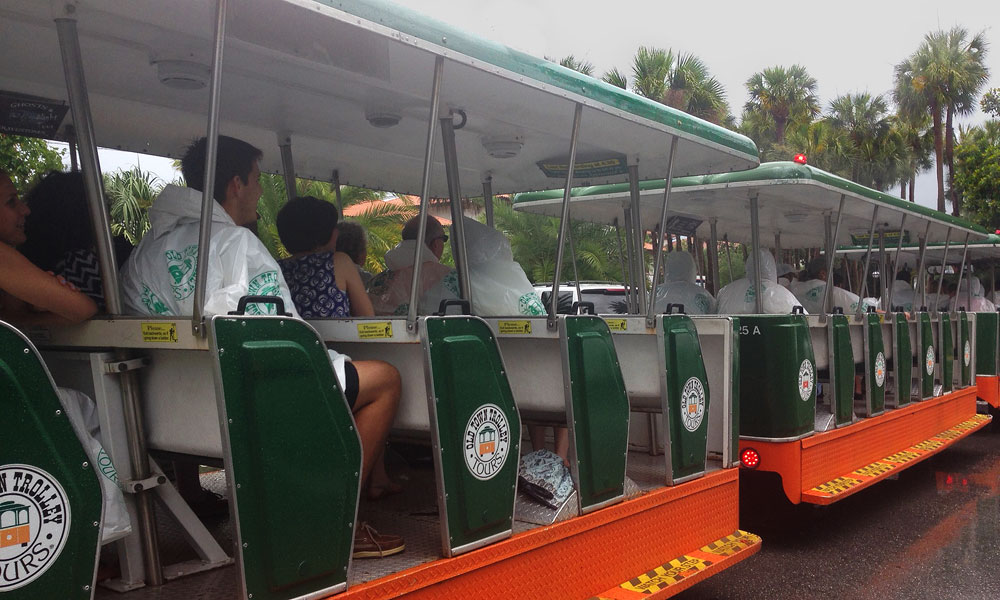 If it rains, you'll get a free poncho on Ripley's Red Train and on Old Town Trolley.
Whoever says ponchos aren't cool is the person standing in the rain getting soaking wet. Yeah, a poncho looks like a trash bag had a baby with a hoodie, but they're easy to carry around, tuck away in a bag or pocket, and dispose of when you're sick of them. They're also very affordable (setting you back only $3-$4) and available in just about every store and major attraction in St. Augustine. You can get them at the Castillo de San Marcos, the Oldest Wooden Schoolhouse, and the Fountain of Youth. If you're coming from the garages, ponchos are sold in the Visitor Information Center gift shop. You can buy them in the shops on St. George Street such as Magnet Force and Panama Hat Company.
If you purchase a trolley train ticket from Ripley's Red Train or Old Town Trolley to get around St. Augustine and it starts to rain, they will provide ponchos free of charge. Another reason to love the trolleys.
Take Advantage of Shelter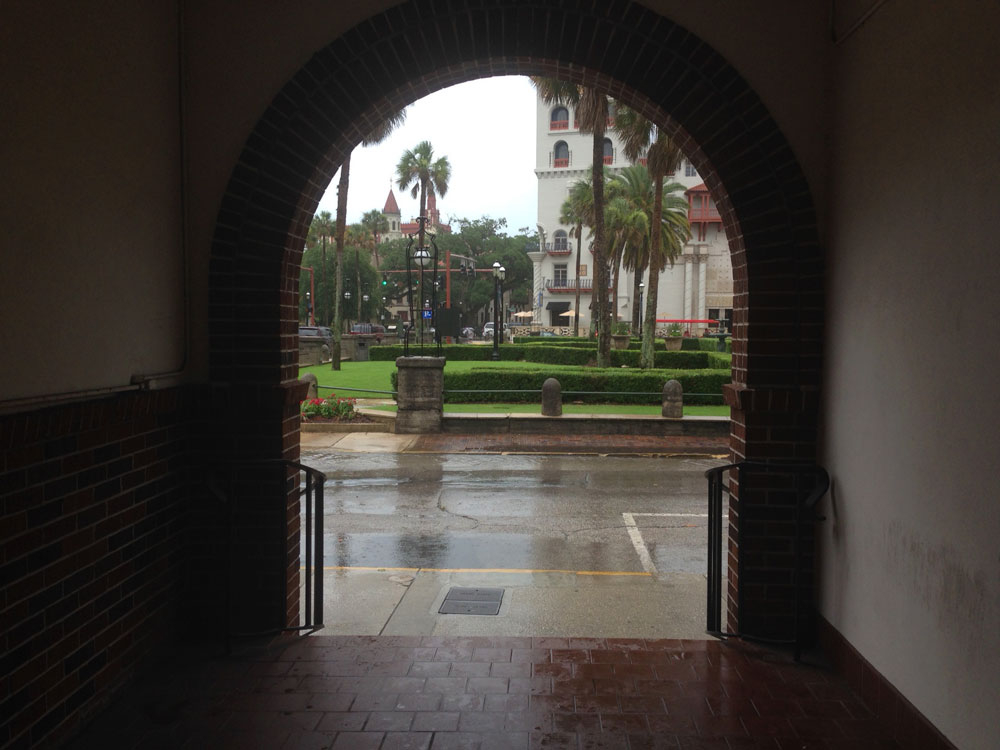 As soon as the rain calms, you can walk over to Lightner for the museum, shopping, and even an indoor restaurant.
If you're at Villa Zorayda and you're meeting people at the Oldest Wooden Schoolhouse, there's no reason to run completely unprotected from the rain. Take advantage of shelter along the way. Make your way to the tunnel at Flagler or grab cover at the front entry. Walk through the indoor shopping malls along St. George Street, and walk close to buildings with awnings.
Be Patient & Wait for Light Rain
Don't sprint through the torrential downpour. The raindrops are heavy and they'll saturate your clothes. It's just not worth it. Instead, be patient. Even the most heavy rains can clear up in a matter of minutes. Give it anywhere from two minutes to 20 minutes. When the rain stops or gets lighter, use that moment to make your way to another spot with shelter.
Visit Indoor Attractions
If the rain isn't letting up, or there are unsafe conditions, St. Augustine has a ton of fun indoor attractions that are ideal for riding out any storm. If you're looking to see the sights without getting drenched, consider stopping in at places that will provide hours of entertainment. The Lightner Museum is one such place, holding four floors of collectibles and antiques. Ripley's Believe It or Not! Museum is another with wall-to-wall oddities. The Pirate Museum is completely indoors with fun exhibits that will only become more immersive by the sounds of thunder outside. While waiting on a surge of rain to die out, go on the indoor Flagler Legacy Tour to learn about the Ponce de Leon Hotel's history and architecture.
Don't become a victim of the climate. St. Augustine is equipped to make your vacation entertaining and enjoyable in any weather.
Stay in one of these places, so you'll always have a comfortable spot if the rain comes...
St. Francis Inn: Right on St. George Street with old world charm, gourmet breakfasts, a climate controlled pool, and bicycles to ride.
Hilton Historic Bayfront: This beautiful hotel in the heart of downtown St. Augustine is close to all the attractions while providing luxury service and scenic views of the water.
St. George Inn: Stay right on St. George Street where you'll find plenty of shopping and delectable restaurants.