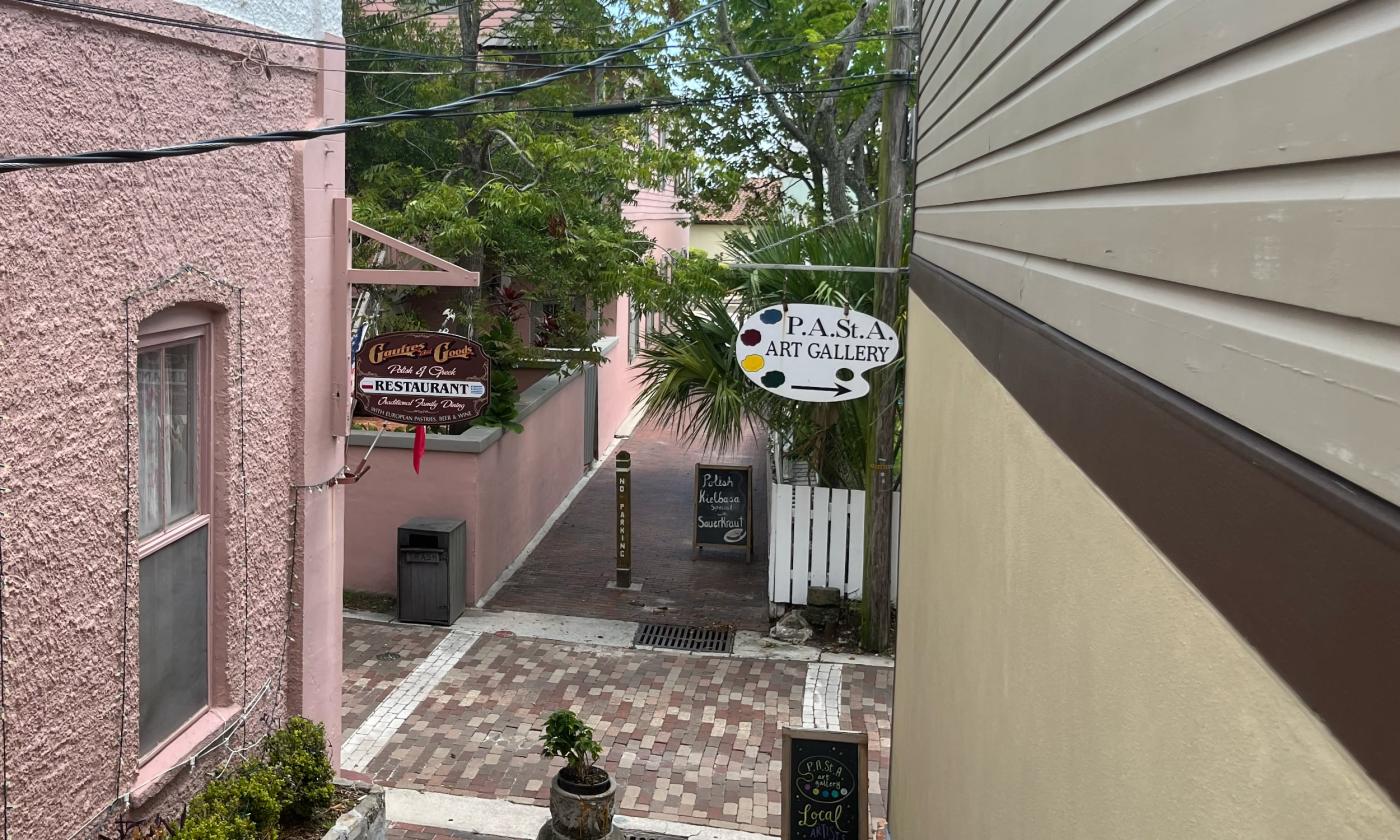 A Renter's Guide by Era
Unique rental options are abundant in the Ancient City.
Welcome to St. Augustine, where time traveling is possible. With a past full of obstacles, feuds, triumphs, and other monumental events in history, many St. Augustine neighborhoods have interesting stories to tell along with a surprising number of unique rental options. From neighborhoods constructed in the 1500s to those developed in the present day, we will cover the most populated locations as we make our way up to the 21st Century. So, sit back, relax and enjoy the rental-home-ride back into time.
Historic District: Above the shops (1500s - 1700s)
Shortly after Pedro Menendez landed in what is now St. Augustine, the explorers and settlers started building forts and homes. The earliest homes were on the south side of town, near and on Aviles Street, and the settlement spread north to St. George Street. 
Along with its historical background, downtown St. Augustine has one-of-a-kind housing opportunities ranging from renting a historic home on a side-street in close proximity to the hustle and bustle of downtown, or renting an apartment in a "mix-use" property, which is a pad right above one of the downtown St. Augustine shops.
Here are a few of the main streets downtown, offering these trendy rentals.
Aviles Street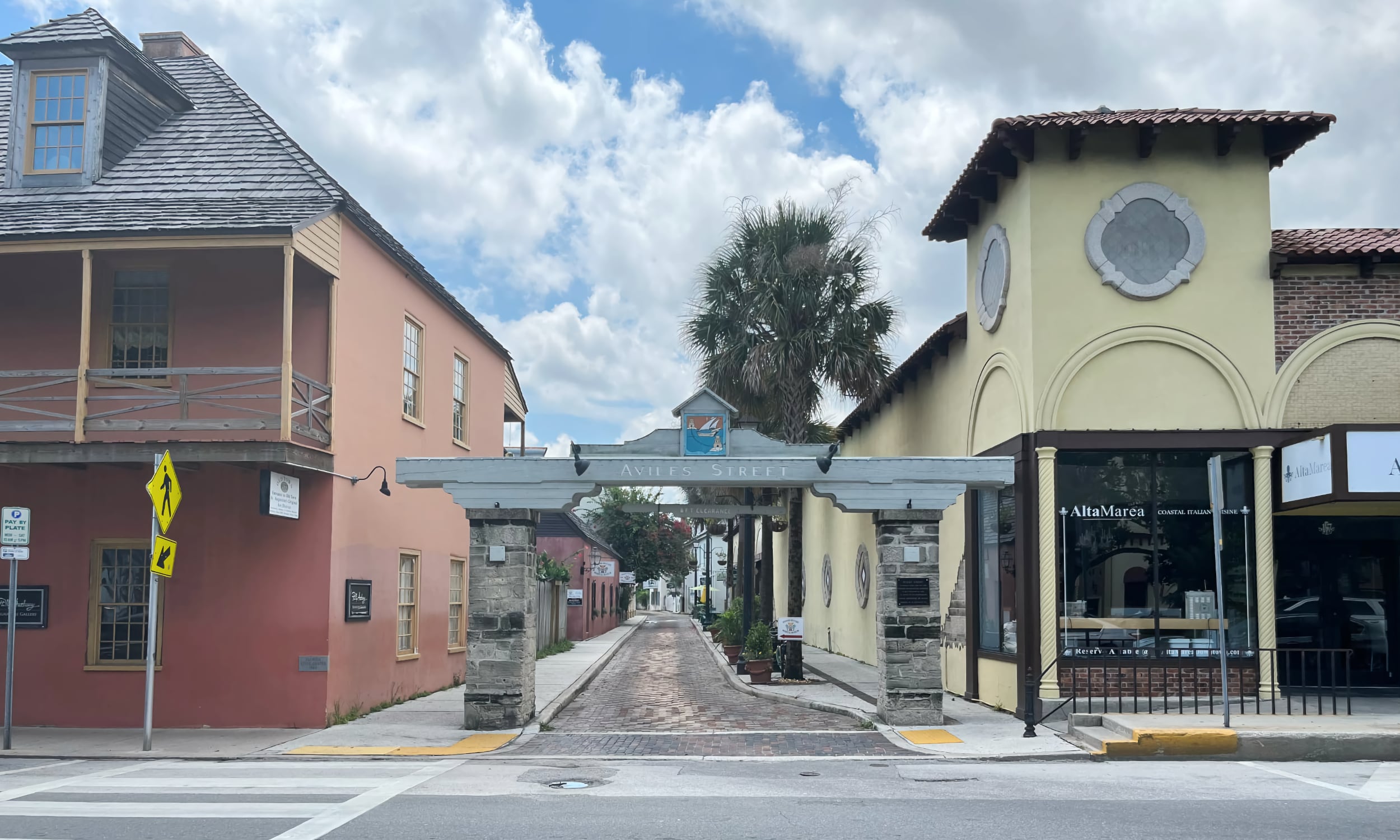 Aviles Street is one of the oldest streets in the United States, dating back to the 16th century. There you'll find restaurants with sidewalk dining, art galleries featuring various kinds of paintings, sculptures, and jewelry, as well as living museums and historic properties, such as the Ximenez-Fatio House Museum, Father O'Reilly House Museum, and the Spanish Hospital Museum.
There is a serene aura along the streets surrounding Aviles, and the light breeze from the intracoastal waterway can cool walking in the area and perusing the boutiques. This is one of the quieter downtown streets, though First Friday Artwalk, weddings, and street musicians remind residents that they live in a vibrant old city. 
And once in a blue moon, a charming two or three bedroom apartment will become available above the local shops on Aviles Street. For example, built in 1865 and operated until 1930 as C.F. Hamblen Hardware, 11 Aviles Street is now the home of gallery spaces on the first floor with beautifully renovated apartments above.
St. George Street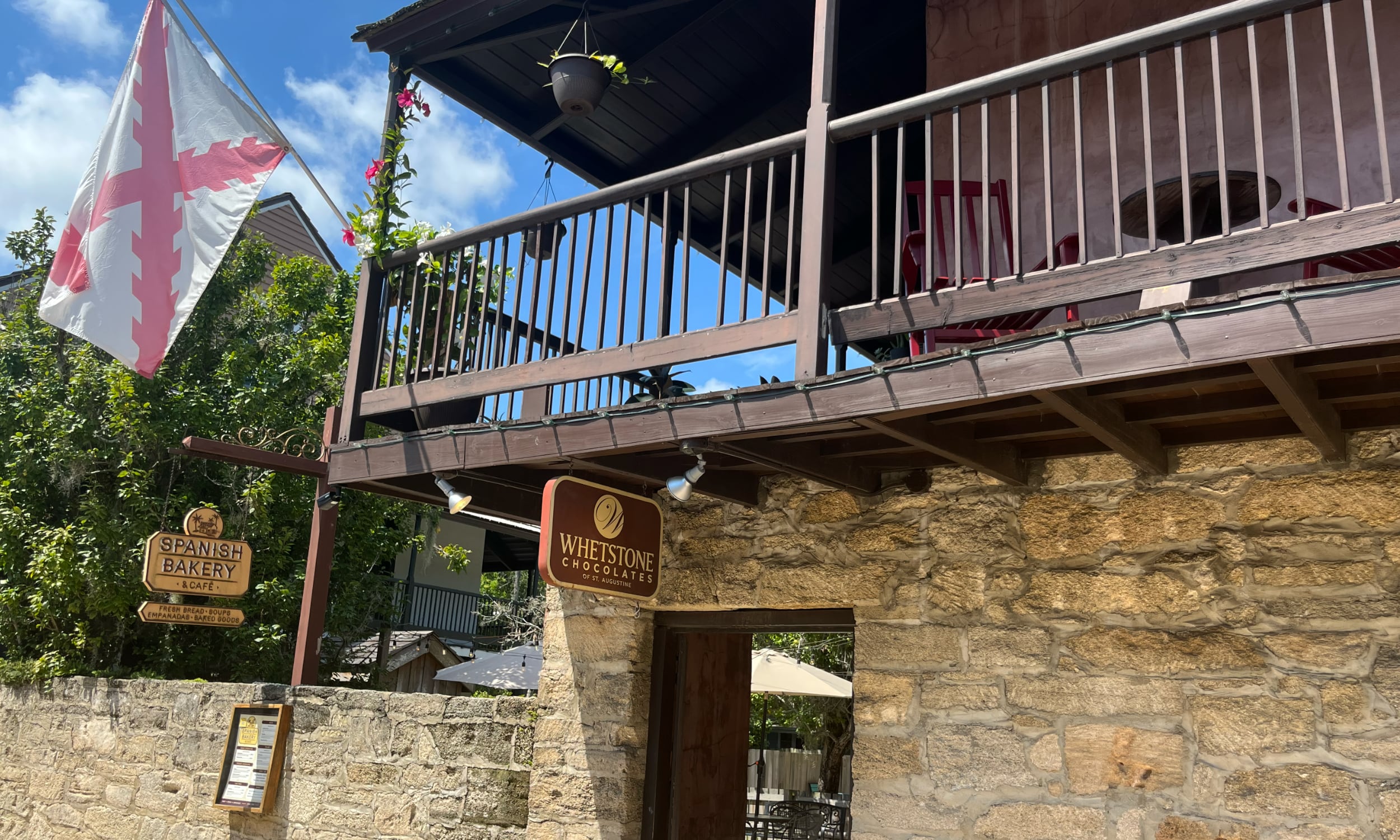 Prior to being called St. George Street, this old street was referred to simply as a "calle real," during the first Spanish Period (1565-1763), as streets were referenced by location rather than formal names. During the American Territorial Period, (1803-1812), the street finally blossomed into St. George Street, the most populated, lively, and recognized street in St. Augustine's downtown. 
From Cathedral to Orange Street, St. George is open only to foot traffic and offers boutiques, and tourist shops, as well as attractions such as the Medieval Torture Museum and the Colonial Quarter. There are also a number of apartments, including: The Benet House, originally located on 65 St. George Street, which is now Tedi's Olde Tyme Ice Cream Shop.
First owned by Pedro Zapata, this "masonry house" was later purchased by a Minorcan refugee and merchant, Don Estaban Beneto (Benet), who transformed it into a coquina home for his family. His son, Peter Benet, eventually took over the property and lived there with his ten children while running his business on the ground floor. Eventually, he moved his store across the street, making more room in his home. 
Constructed during the First Spanish Period (1565-1763), the Salcedo house has changed hands several times and evolved into the Salcedo Kitchen, which is now the Spanish Bakery and Cafe. Today, the house, located at 42 and 42 1/2 St. George Street is home to the famous Whetstone Chocolates in the front building with the Spanish Bakery and Cafe in a smaller building located in the backyard. Here's the best part; above Whetstone Chocolates, overlooking the patio below, is a rental property — that's right, a home above the sweet aroma of chocolate and baked goodies! 
Charlotte Street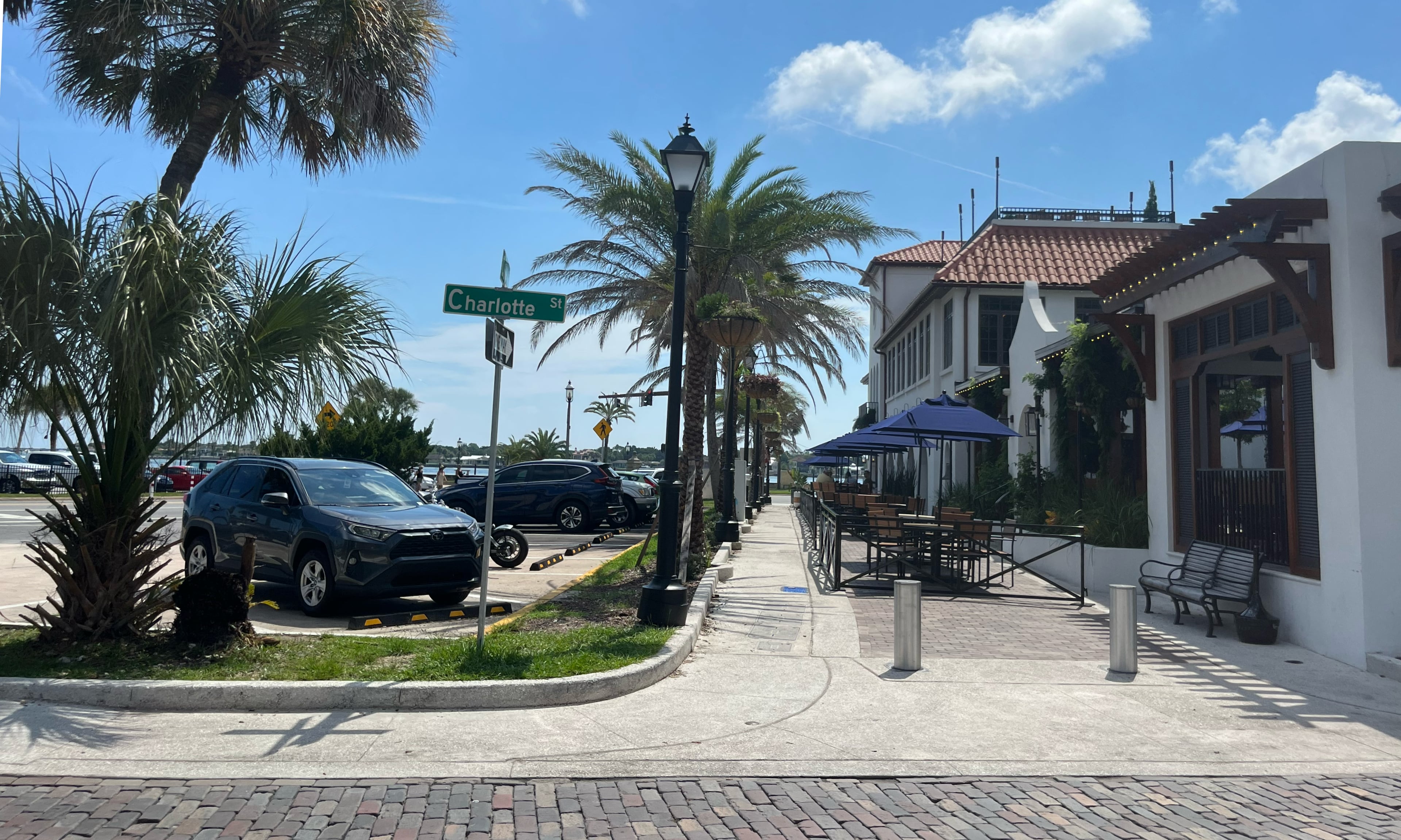 Running parallel to Aviles Street is Charlotte Street, which has shops and pubs such as Meehan's Irish Pub, an Irish-themed restaurant split into three specialty pubs — Meehan's Seafood Pub (facing front on Avenida Menendez street), Johnny's Fish House at Meehans (upstairs), and Backyard Island Cafe in the backyard, of course, facing Charlotte Street. In addition to a number of shops, the popular St. Augustine Shipwreck Museum can also be found on Charlotte Street. However, a little less on the radar are the rental properties tucked above the stores.
In particular, the "Watson House," at 206 Charlotte Street, is strictly residential and worth exploring as units sometimes pop up on the market. It's a newer property, built in the footprint of a home that is believed to have burned in the fire of 1802. Both the former and current buildings were named after William Watson who bought the property in 1779, created a seven-room convalescent home, and built a home for his family. The "new" building was built in 1968 by the Historic St. Augustine Preservation Board in order to show an example of British architecture of the period.
Cuna Street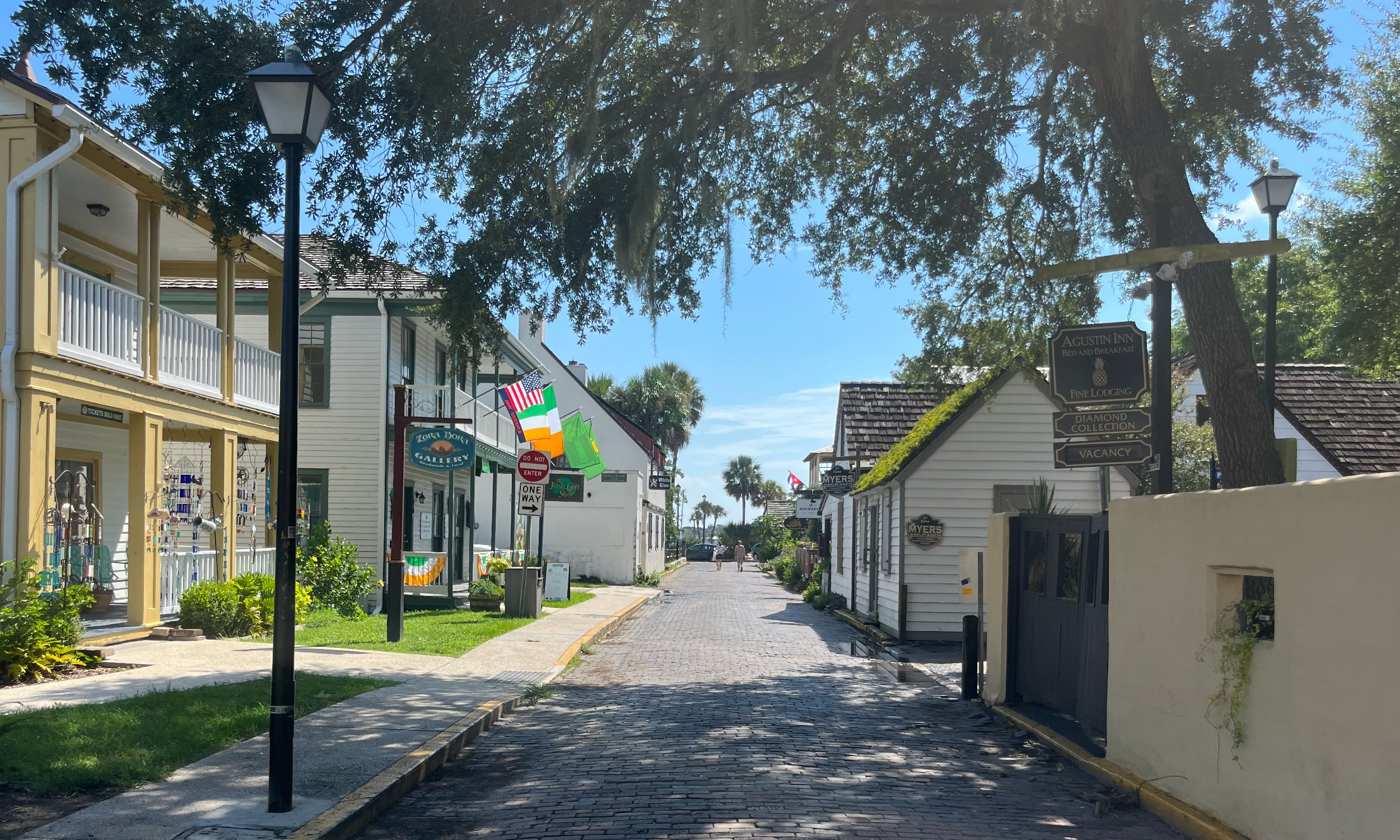 Art galleries, pubs, and more can be found on Cuna Street, including the Zora Bora Gallery at 28 Cuna, which displays the work of local artists. The Zora Bora Gallery is on the first floor of a two-story Victorian, known as the "Haas House." On the second floor, there is an apartment with a balcony overlooking Cuna street. Another apartment is located at 26 Cuna Street above the Irish Gift Shop. While these apartments in the oldest part of St. Augustine are not often available, they do hit the market on occasion, waiting to be found by the lucky adventurous explorers (you know who you are), the people who seek out the hidden gems.
Lincolnville District: Homes Encapsulating Freedom (1800s - 1900s)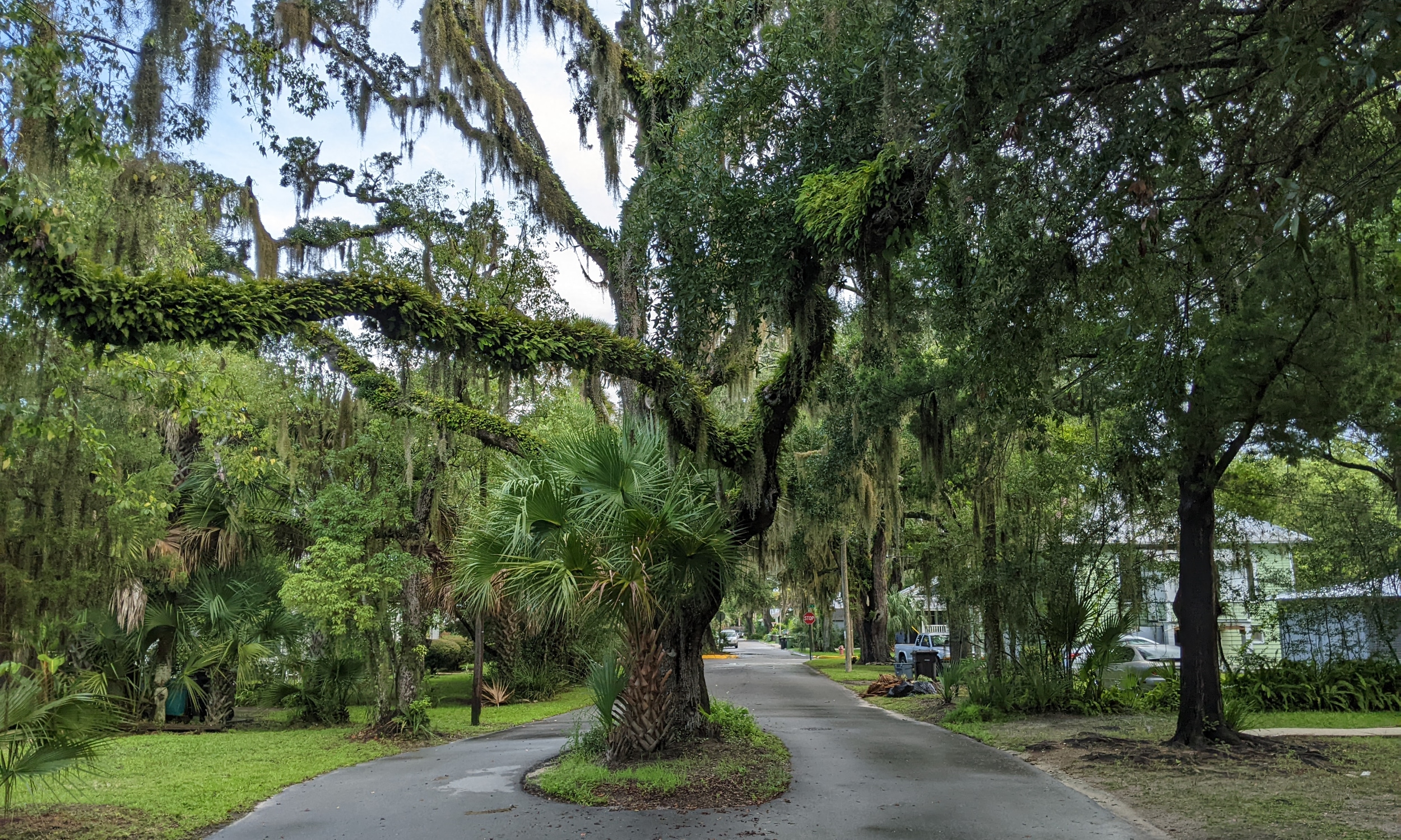 The south streets of St. Augustine's historic downtown become the Lincolnville District, where old Victorian homes line both sides of the streets shaded by oak trees that have stood for centuries. Looming in the shadows is a sense of freedom, as it all began here.
President Abraham Lincoln's Emancipation Proclamation went into effect on January 1, 1863, and roughly 672 slaves in St. Augustine were immediately released. Brave, bold, men and women came together in "Little Africa," with the name evolving into "Lincolnville." Building a new foundation one brick at a time, eventually the black community owned homes, businesses, schools, and churches within this neighborhood south of Historic Downtown.
Growth steadily increased until 1902, when John Papino, a black man elected to the city council, met his demise through a hate-crime, by a gun-shot wound. While the intention was to stop the African American community from continuing to grow, the opposite occurred. This setback ended up encouraging them to focus on working together, utilizing Lincolnville as a stepping stone. The African American community continued to build even more businesses, homes, and a school around Washington Street and beyond.
Washington Street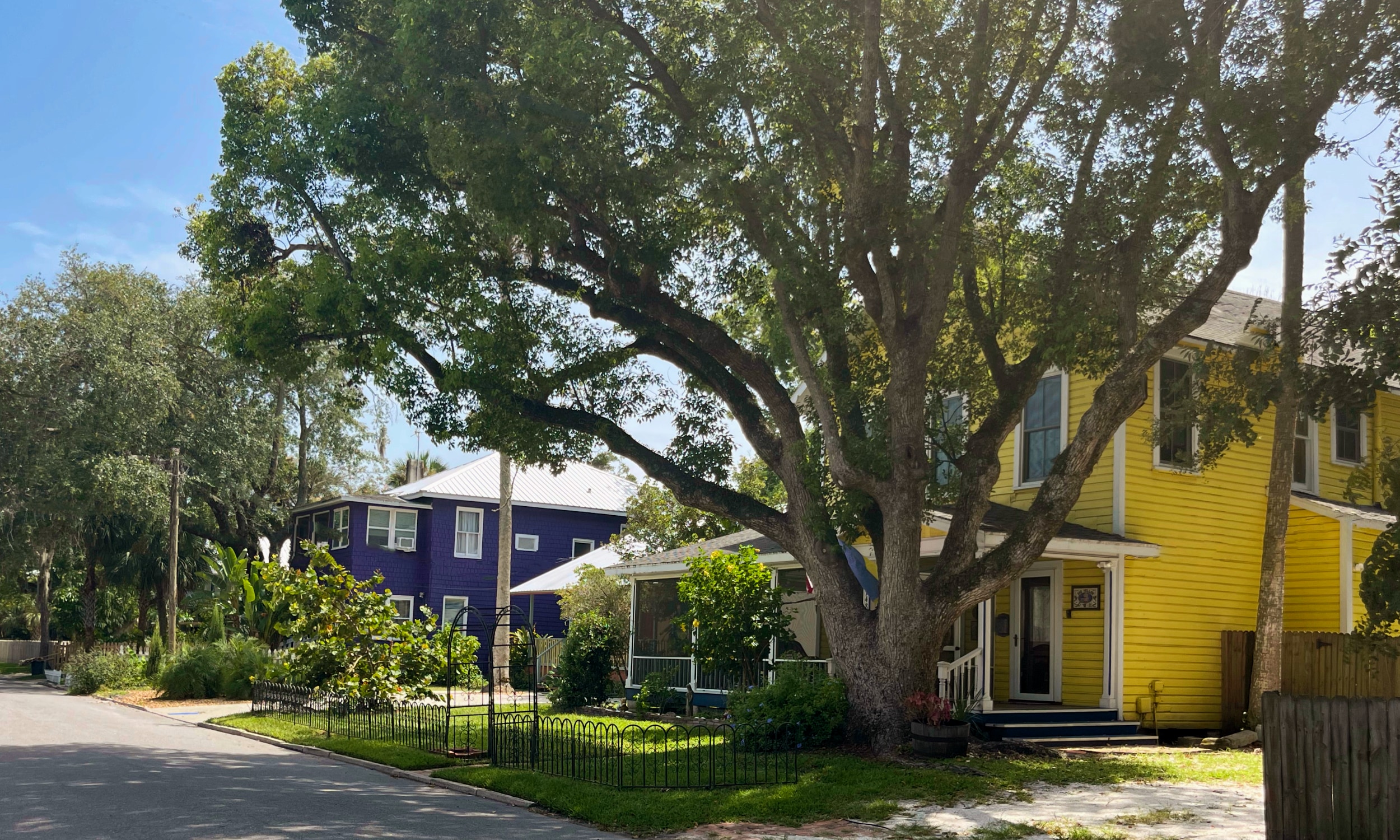 The ACCORD Freedom Trail historical marker, located on 76 Washington Street was the location of where the St. Augustine office of the National Association for the Advancement of Colored People (NAACP) existed. Today, while there are a number of vacation rentals and bed-and-breakfasts properties, Washington and the surrounding streets are home to a diverse group of residents — artists, students, musicians, business owners, and community leaders. Some houses are owner-occupied, others are available for long-term rent, and still others are apartments houses. Washington street encapsulates a sense of freedom in an eclectic neighborhood where the soul of the city permeates.
Twine Street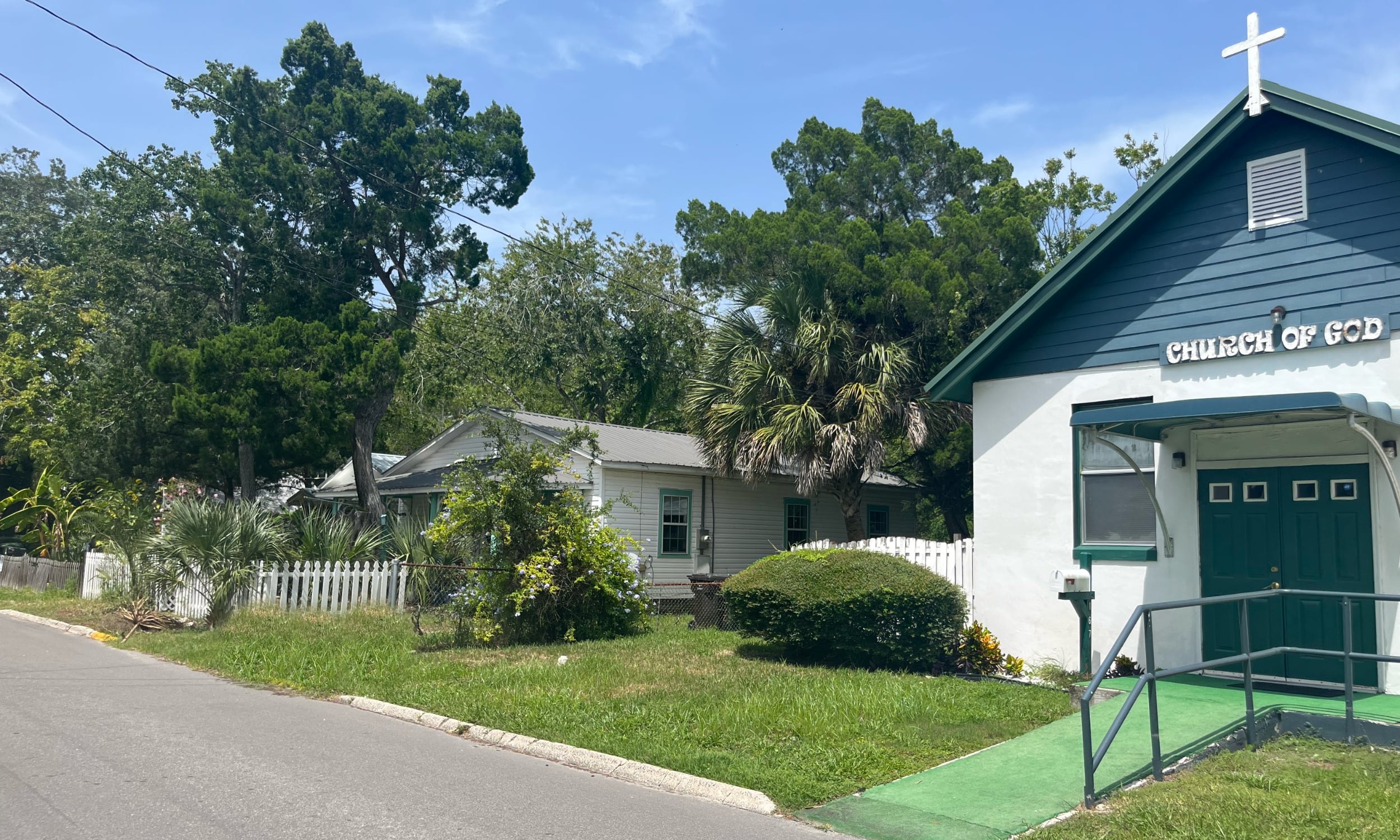 Quaint homes including long-term rentals (both furnished and unfurnished) with handcrafted woodwork, crown molding, and porches line the street named after Henry and Katherine Twine. Kat Twine, referred to as the "Rosa Parks of Florida," was one of the first women in Lincolnville District to get arrested in 1964 for protesting against racial violence and segregation. Both of the Twines marched in St. Augustine with Dr. Martin Luther King, Jr.
As the movement grew, more arrests followed until St. Johns County jails ran out of space and created a "chain-link enclosure" behind the jailhouse where the heat was almost unbearable. As a result, Kat made a big straw hat with the painted inscription on it that read "Freedom Now." Therefore, whenever she protested, she wore the hat to shield out the sun after an arrest. Twine street, named after Kat and Henry, is a reminder of their legacy, and their refusal to be silenced.
M.L. King Avenue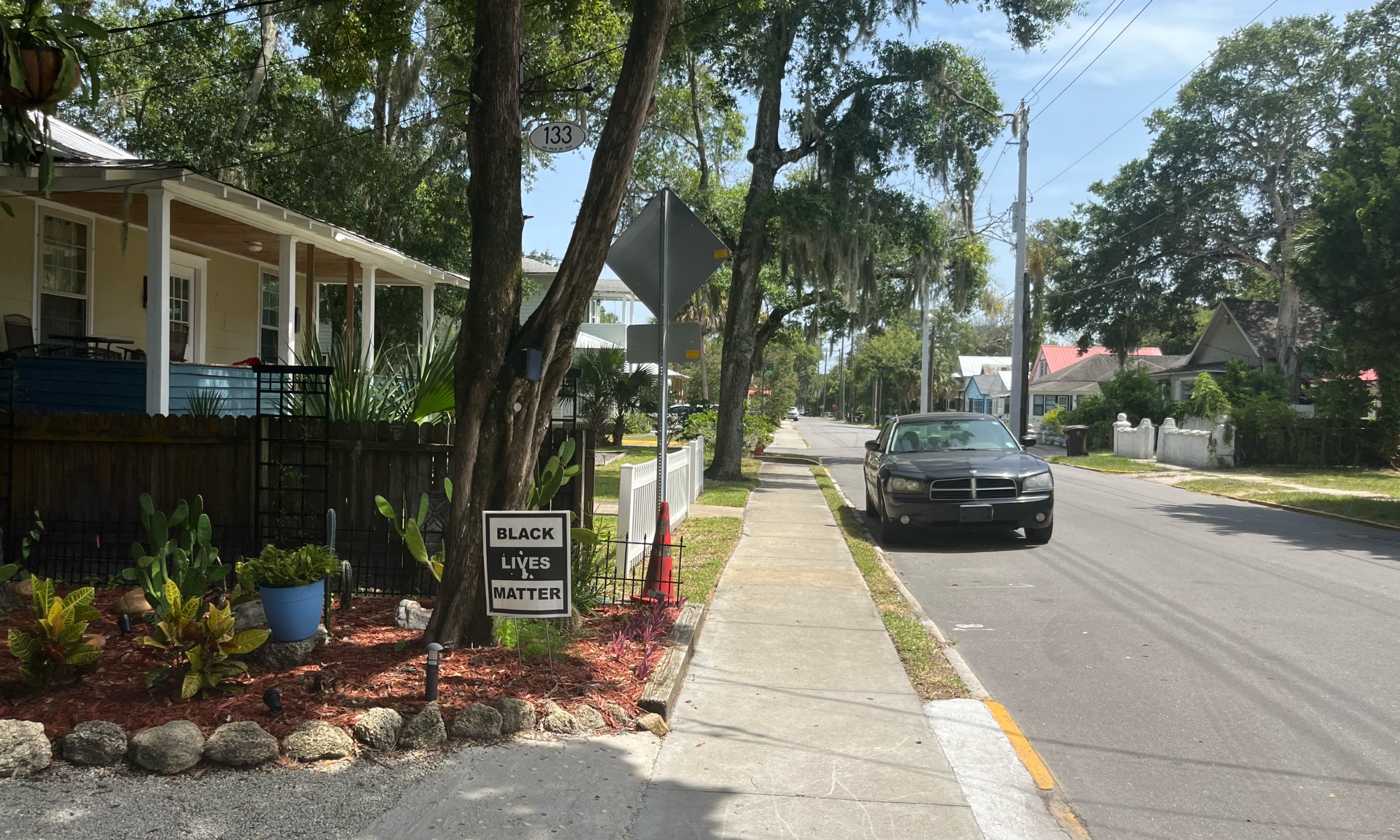 Named after Dr. Martin Luther King, Jr. who, in 1964, marched in St. Augustine, many of the houses on this street, and others surrounding it, have historic markers that serve to tell some of the stories of the people who lived here. Large homes with rental units, such as the "Tiffany House," located at 22 M.L. King Avenue, are occasionally available for rent. Other older Victorian, one- and two-story homes with balconies on both floors, infrequently hit the rental market as well.
Flagler Model Land Neighborhood: North and West of Historic Downtown (1800s - 1900s)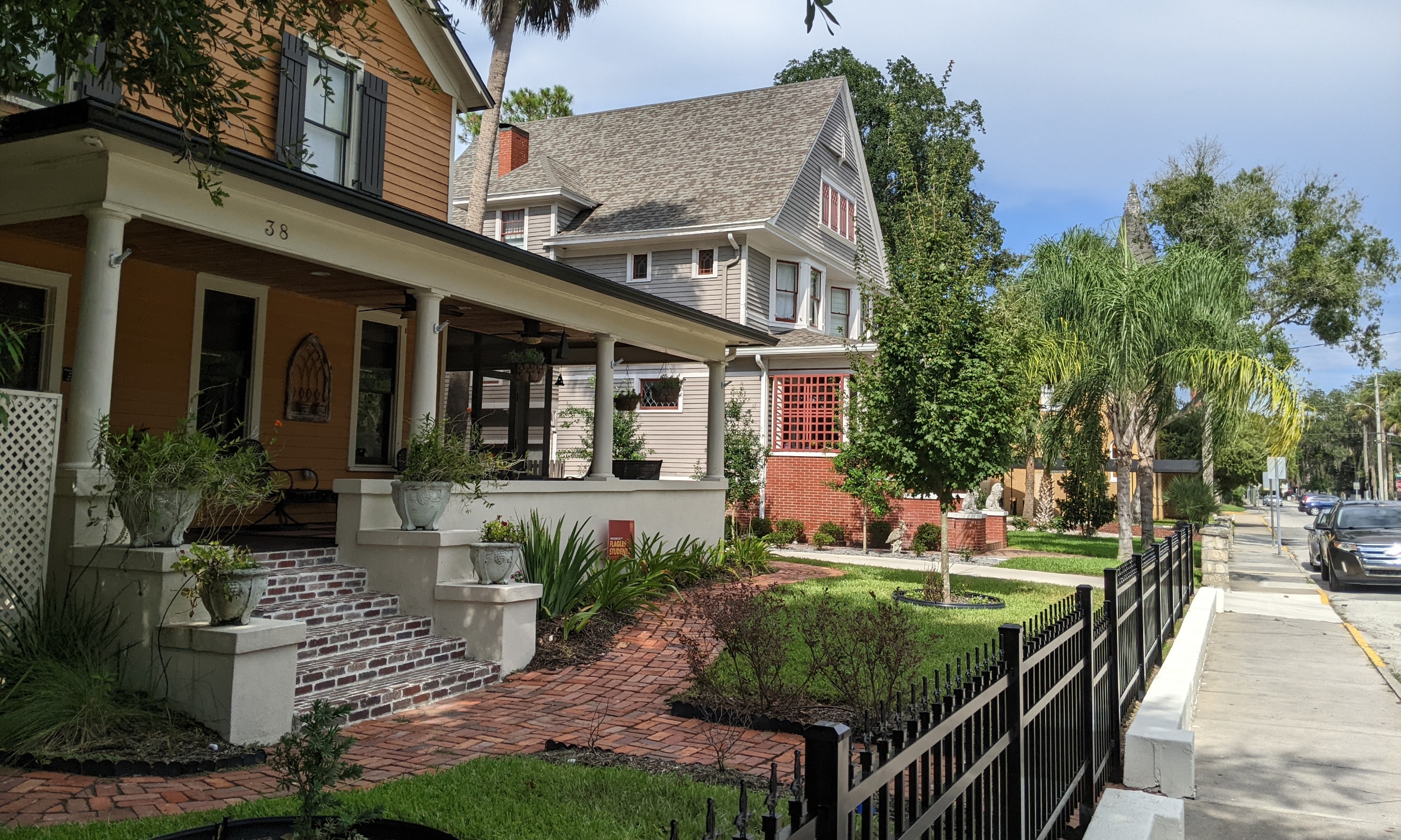 Flagler's Ponce de Leon Hotel led to a new residential area just north and west of the hotel, which is now Flagler College. As St. Augustine grew, Flagler sold some of his land to executive employees and friends who were seasonal visitors to St. Augustine. Referred to as the "Flagler Model Land" neighborhood, the area is now a charming mix of fully-renovated historic homes, vacation rentals, bed and breakfasts, and apartments available for long-term rent. This residential district is bordered by King, Cordova, Malaga, and Orange streets. Folks who want to live close to the active Historic Downtown and within walking distance of Flagler College will find a number of apartment houses and duplexes among the single-family homes in this neighborhood.
St. Augustine Shores: Rural Homes, Downtown Nearby (Late 1960s - 1970s)
During the late 1960s, Frank and Robert Mackle began planning a new type of residential community where people could live in a rural-looking area that was a short drive to both downtown St. Augustine and to the beaches on Anastasia Island. The brothers formed the Deltona Corporation and developed St. Augustine Shores during the groovy era in the 1960s and 1970s. Today, this large family-friendly neighborhood still consists of mostly long-term rentals (mainly ranch-style homes) where you will find sliding-glass doors, step-down living rooms and more characteristics that coincide with the Baby Boom Generation.
New Development, Upscale Apartment Living (2020 - 2022)
Jumping ahead to the current century, St. Augustine attracts people working not only in St. Johns County but also in Jacksonville. Downtown Jax is booming with businesses, however, the perks of living in St. Augustine are plentiful. If your motto is "the more modern the better," there is a place here for you. New developments that are elegant, upscale apartment communities are located in a prime location — near St. Augustine's historic downtown area as well as a fifteen minute drive to the beaches.
The Landing at St. Augustine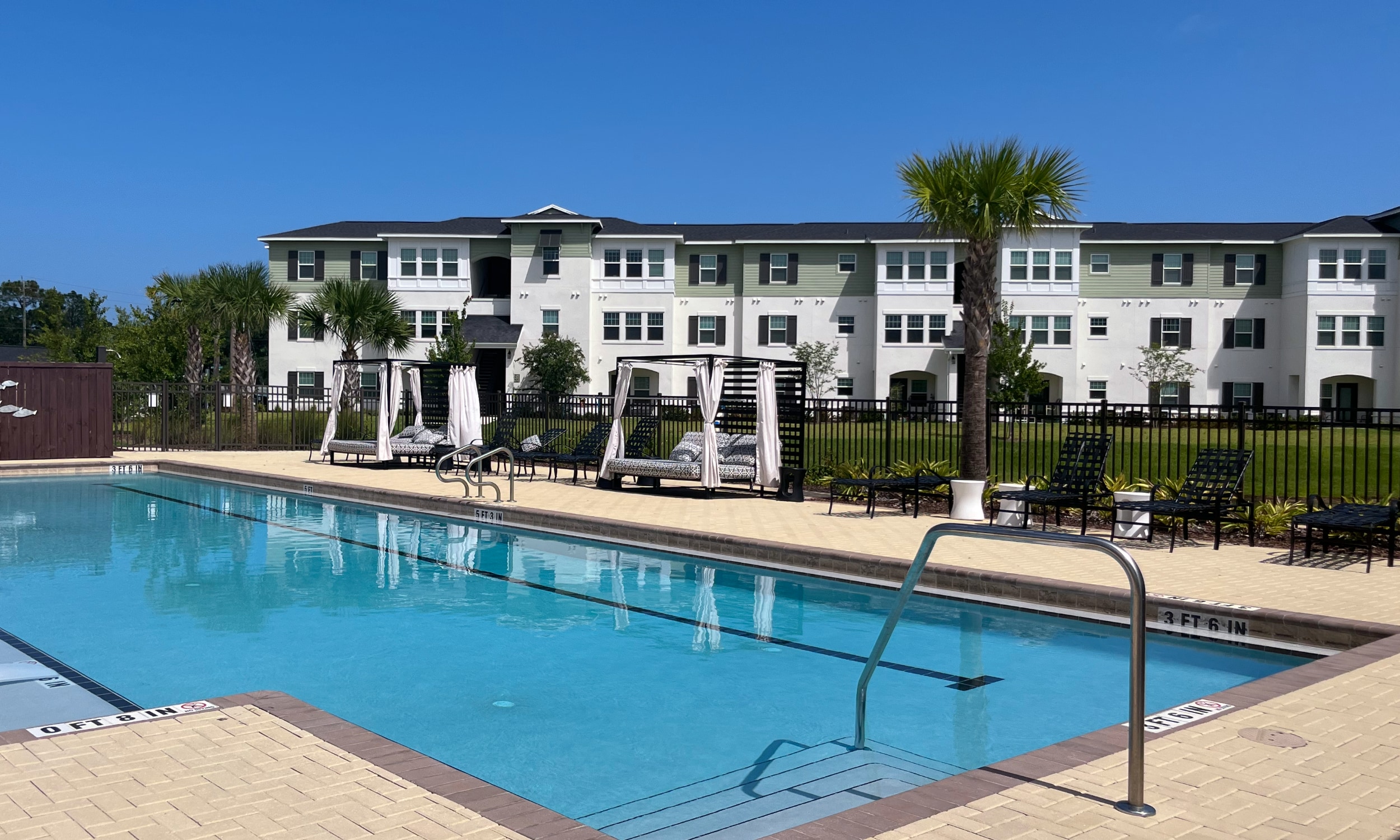 Right next to the Fort Mose State Park off of US 1, The Landing at St. Augustine has large new apartment buildings that surround a sparkling pool with comfy lounge chairs, and a covered deck to relax with friends.
Offering one-to-three bedroom elegant apartment units with unattached garages, this property has a slew of amenities including a 24-hour fitness center, dog park, and pet spa.
Las Palmas On The Intracoastal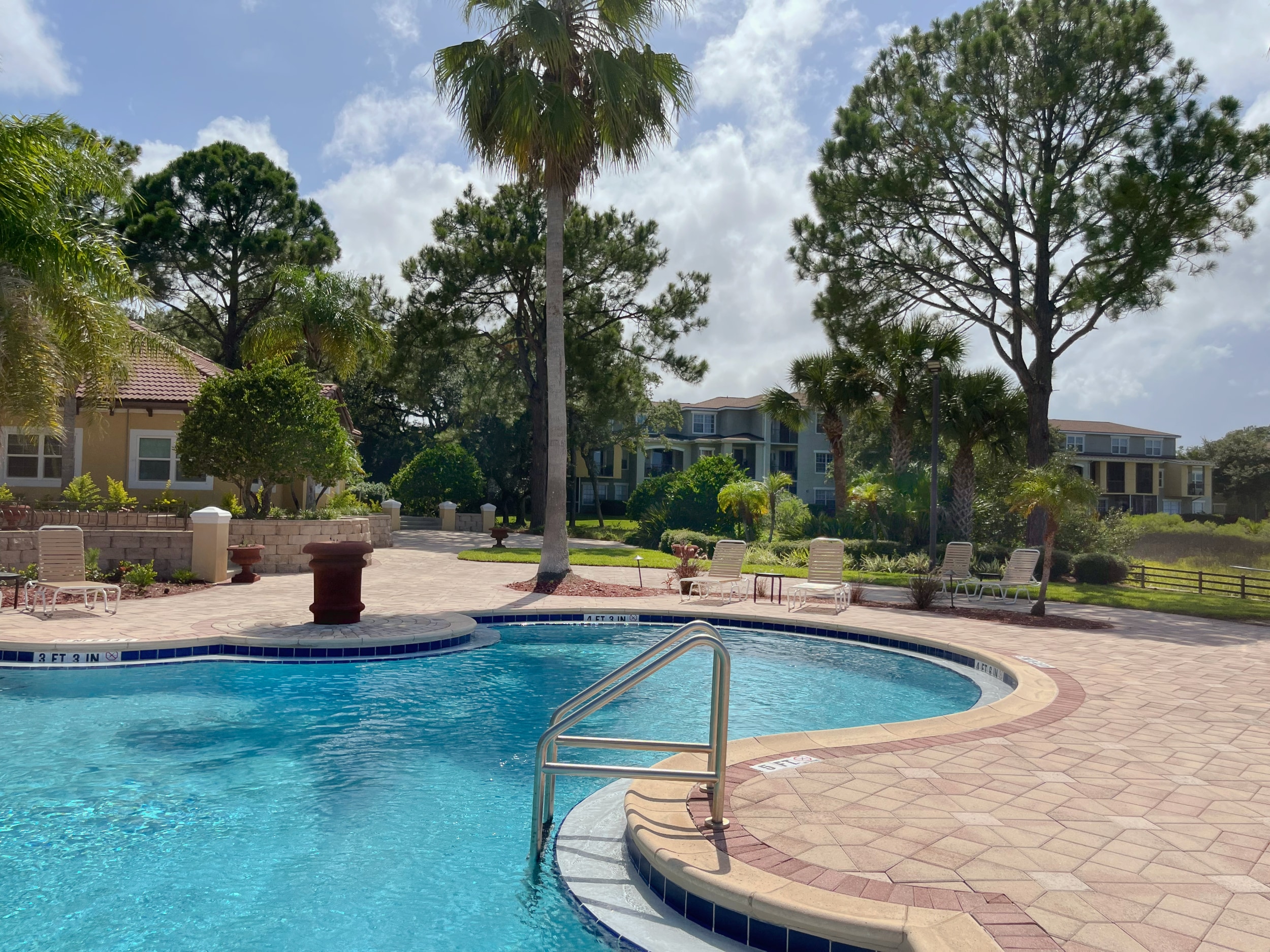 In a tree-filled, gated community on U.S. 1, just north of the City of St. Augustine, Las Palmas is a condominium resort with tennis courts, and a beautiful pool and jacuzzi overlooking the marshland. Consisting of one-to-three bedroom condominiums with various floor plans, there are rental units available as well as condos for sale. Amenities include a fitness center, theater room, clubhouse, summer kitchen, catering/chef kitchen, walking path, and more.
Isla Antigua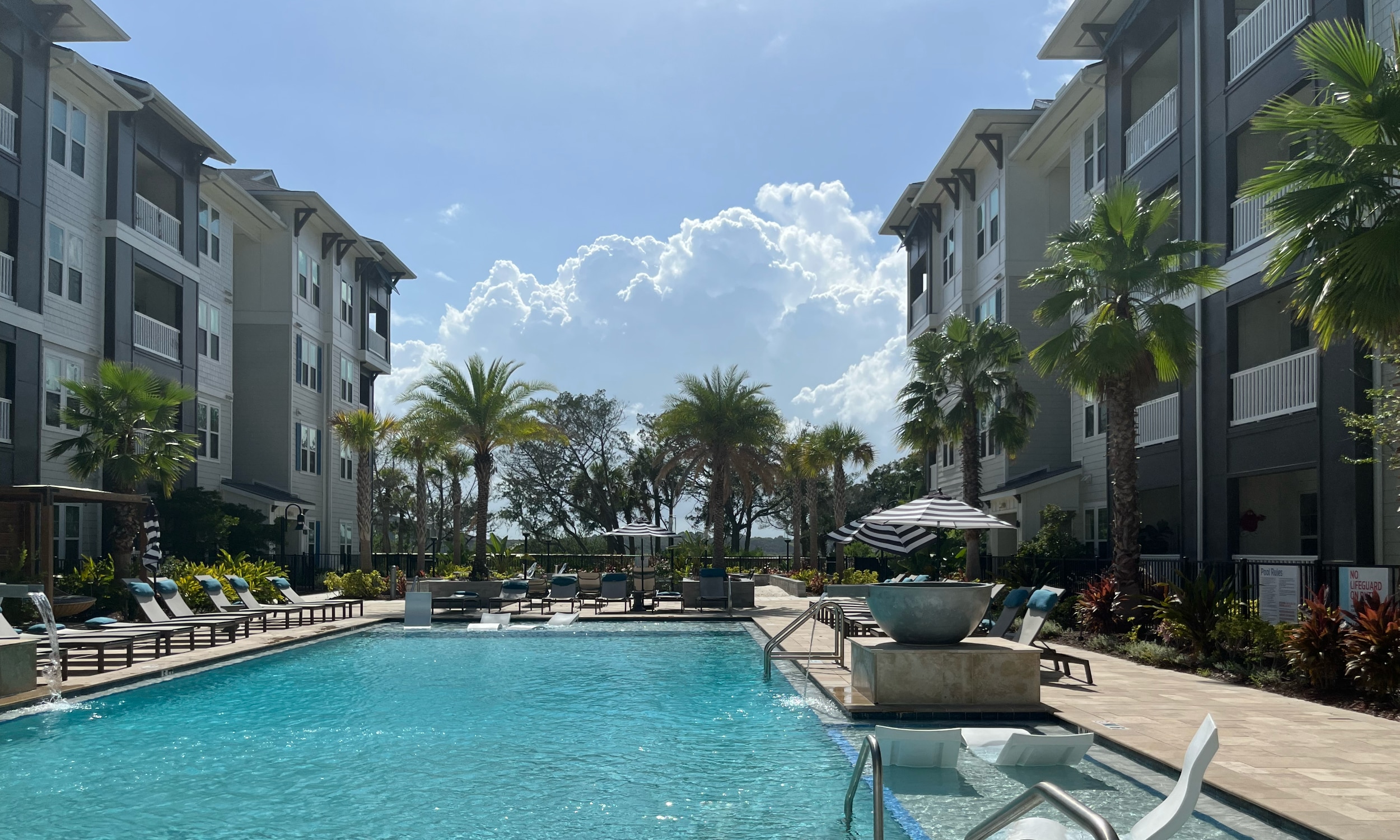 Next door to a new construction neighborhood of model homes on State Road 312, Isla Antigua is an elegant apartment complex with a pool, sandy beach area, and a dock leading out to the Matanzas River. Quiet and serene, the club entrance offers a gourmet coffee bar, yoga studio, a fire pit with seating, and indoor dog grooming services, among other amenities.
Conclusion: A Renter's Journey Back to the Present
When you know where to look, every region in St. Johns County offers the opportunity to live near (or in) an historic property or monument. Whether you appreciate the scuffed old floors and railed second-story decks of a Victorian era home, or want all the conveniences of a modern apartment, St. Augustine, and all surrounding areas in St. Johns County, offers a wide range of exclusive options that attract college students, singles, couples, artists, entrepreneurs, growing families, and everyone else searching for their ideal place to call home.