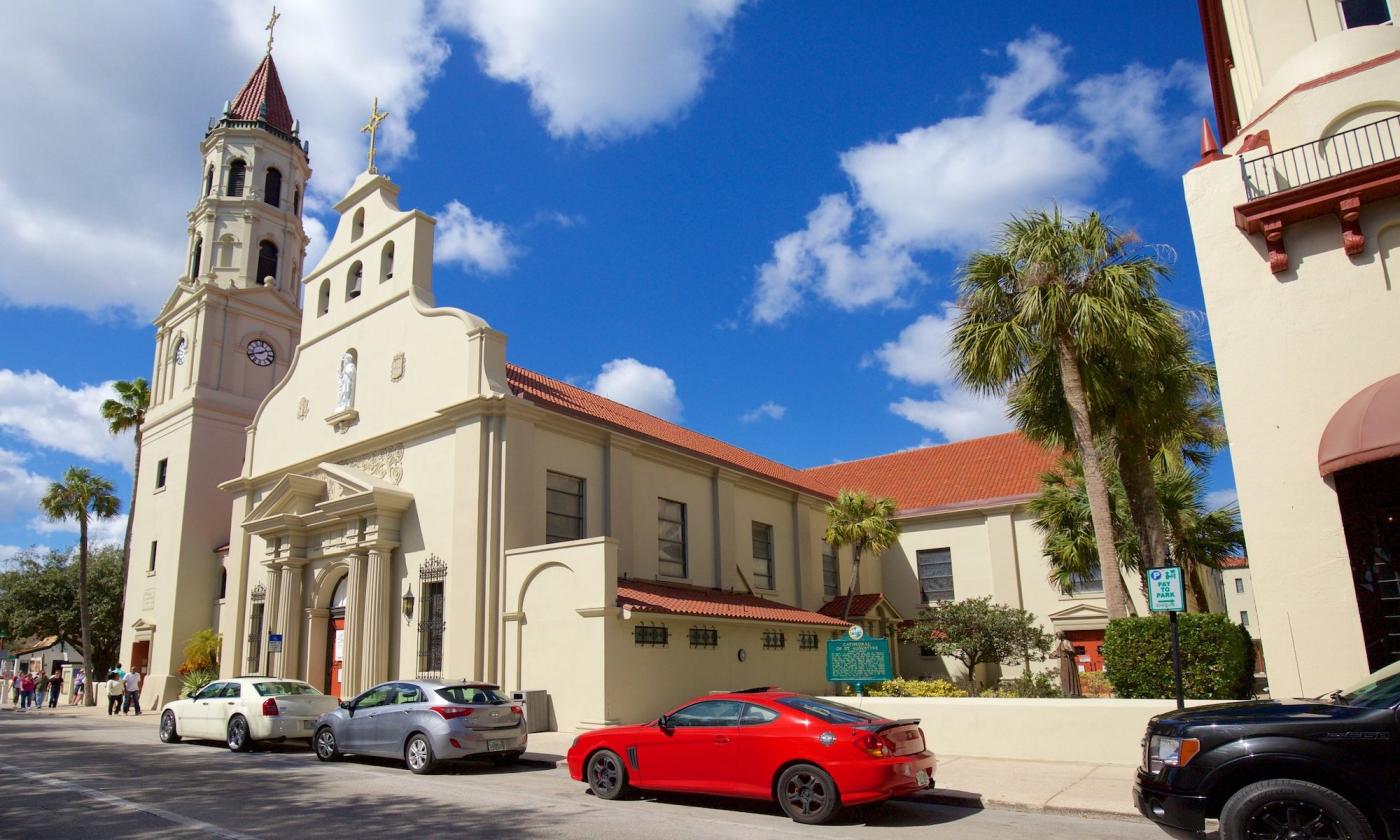 Getting Your Wheels in - and Around - St. Augustine
Tips on getting around town on two -- or four -- wheels.
Now that you're here, you're probably wondering how to get around and where to park your car when you're not at home, at work, or at the grocery store. If you moved here from a big city like I did you probably assume it will be easy to drive around St. Augustine and that parking won't be an issue. You may want to rethink this. Although you won't have to circle your neighborhood looking for a parking spot for 20-plus minutes like I used to do in South Philly, eventually you'll encounter parking - and traffic -- woes. Consider this … more than six million visitors come to St. Augustine every year and many of them bring their cars! Be prepared, so you don't spend $20 on parking while also sitting in traffic for up to an hour during your first Night of Lights celebration.
Parking with the ParkNow Card
St. Augustine pay stations (and parking with the app) costs $2.50 per hour. But, residents need only pay $.50 per hour with a ParkNow Card or if they sign up with the ParkStAug App as a resident. There's a three-hour parking limit on city streets and a four-hour limit in city lots. Pay stations are located throughout the city -- some are city-owned while others are privately owned. The city-owned pay stations are marked with the city crest. Additionally, the Historic Downtown Parking Facility can accommodate up to 1,200 vehicles and costs $15 -- or $3 for residents with a ParkNow Card. Treat yourself to a housewarming gift and get the ParkNow Card - I insist!
ParkNow Cards will eventually be phased out and replaced with the ParkStAug App. For more information about the ParkNow Card, visit ParkStAug.com or call the city's Parking Division at (904) 825-1090, Monday through Friday between 8 a.m. and 5 p.m.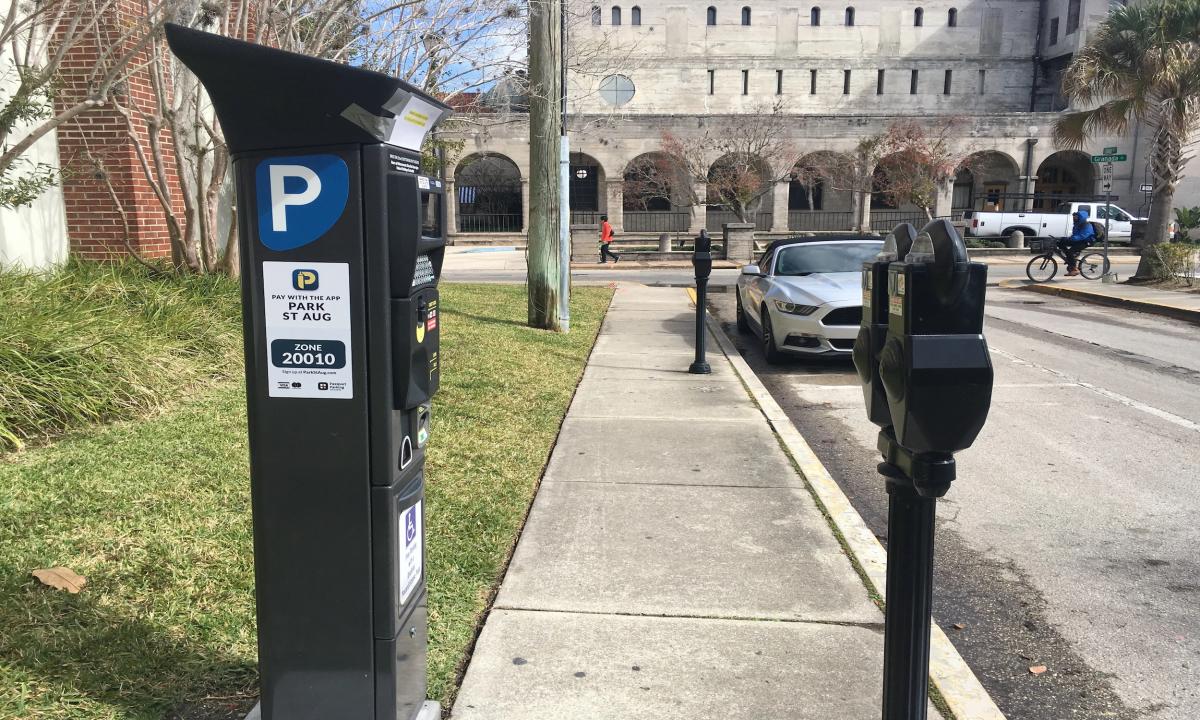 You can use cash, a credit card, or, the ParkNow card - that's just for locals - at pay stations downtown.
Parking with the ParkStAug App
The app, available throughout the city limits (except for at the Historic Downtown Parking Facility), makes parking downtown a little bit easier. You can download the app on IOS and Android and set up your resident account by adding your payment method (credit or debit card), your license plate number, your driver's license, and your vehicle registration. You can also set up your account online at ParkStAug.com.
For first-timers using the app, here's a tutorial:
Once you find a parking spot, open the app and select your zone. Zones can be easily identified on area signage such as on the side of a pay station. Next, enter the amount of time you'll be parked there. The best part of the app is that you don't have to run back to feed the meter. If you want to stay longer, you can just open the app and add the extra time. So go ahead and have dessert when you're lunching downtown.
Pay Stations, Garages, Meters, & Free Parking - Oh My!
Pay Stations
* One-quarter mile south of the Bride of Lions, on the west side of Avenida Menendez, there's a pay station.
* A pay station lot is located behind the Lightner Museum.
* There is street parking on Granada and Cedar Streets.
* Street parking is available on the parts of King Street and Cathedral Place that are parallel to the Plaza de la Constitucion.
* On the corner of Charlotte Street and Treasury Street, there is a pay station lot.
* Grace Lot is on Charlotte Street behind the restaurant, Pizzalley's.
* In between streets Hypolita and Cuna is Toques Place Lot.
A Unique Pay Station
One of the largest lots in St. Augustine is the Castillo de San Marcos Lot. It's an odd duck of a lot as it's run by the park service and enforced by the city. You must pay for parking in this lot from 10 a.m. to 5 p.m. seven days a week. (Yes, that includes Sundays.) The good news is that it's free after 5 p.m.
Garages
* The Historic Downtown Parking Facility is located at 1 Cordova Street next to Francis Field.
As of July 18, 2022, a pilot program has been launched at the garage. It allows those who wish to park there to use the ParkStAug mobile app or a payment kiosk to pay for parking. The northernmost entrance to the garage is now an Express Lane, marked with a blue sign, without a parking attendant at the toll booth. Drivers using this lane can pay for parking via the ParkStAug mobile app or enter their license plate at the payment kiosk to make a payment. With this "pay by plate" system, users no longer need to place a receipt stub on the dashboard of their vehicle. Vehicles can stay all day in the parking garage.
Meters
* One-quarter mile south of the Bridge of Lions, there are meters on the bayfront side of Avenida Menendez.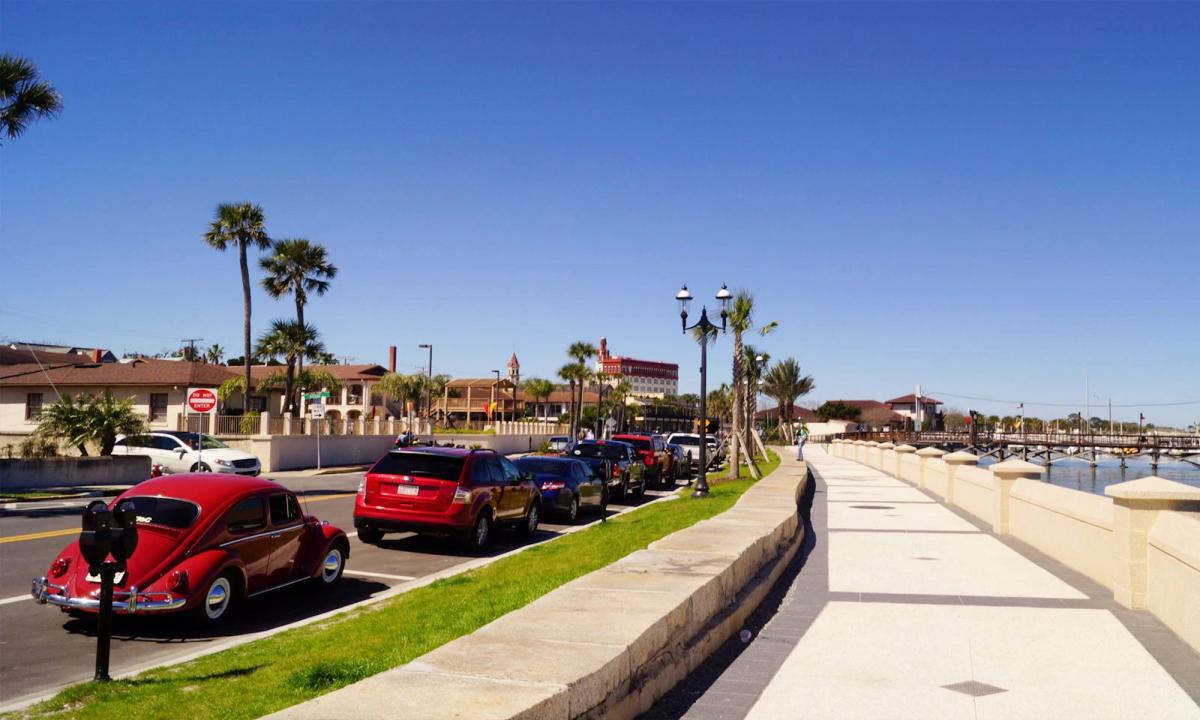 Parking is available at meters along the bayfront in historic downtown St. Augustine.
* There are 16 individual meters on Valencia Street, near Flagler College.
Free Parking
* On Sundays and national holidays, meters and pay stations marked by the city crest are free.
* Mondays through Saturdays, city-marked meters and pay stations are free before 8 a.m. and after 5 p.m.
* Parking is free before 10 a.m. and after 5 p.m. around the Plaza de la Constitución (Cathedral Pl. and King St).
* You must have the proper car tag to park in an area marked as residential. Before 7 a.m. and after 7 p.m. you may park here free of charge without a tag.
Handicap Parking
There are just shy of a dozen handicapped parking locations in historic downtown St. Augustine. To see a map of those locations, click here so you can plan accordingly.
Parking Your Bicycle in St. Augustine
* Several bike stations are located along the bayfront, north, and south of the Bridge of Lions.
* At the Visitor Information Center, when you enter from San Marco Ave.
* At the southeast corner of the Historic Downtown Parking Facility.
* At the corner of Orange Street and St. George Street.
* Inside of the Toques Place Lot.
* Across from Lewis Auditorium on Granada Street.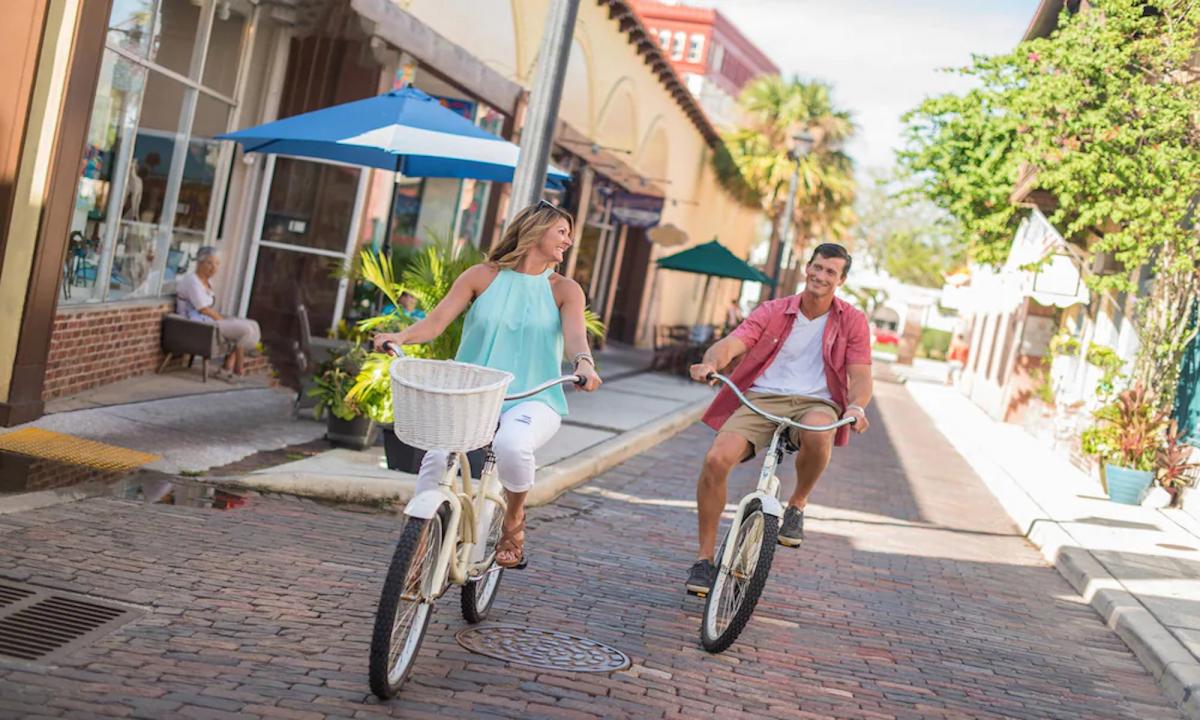 Don't forget to park your bike appropriately when you're ready to hop off your two wheels to grab a bite in historic downtown St. Augustine.
Bicycle Sharing
The City of St. Augustine and Flagler Health+ have teamed up with Bolt Mobility (Bolt) to launch the City's first e-bike-share program called Gotcha. The program hosts 110 GPS-enabled e-bikes across approximately 13 hubs throughout St. Augustine. Hub locations are located across the City of St. Augustine, including historic downtown, West King Street, San Marco Avenue, Lincolnville, and Davis Shores.
If you want to ride the bicycles, use the "Gotcha Powered by Bolt" app, available on the Apple App Store and Google Play store to locate bikes at the mobility hubs. A full map of all docking stations, pricing, and other helpful information is available on the app.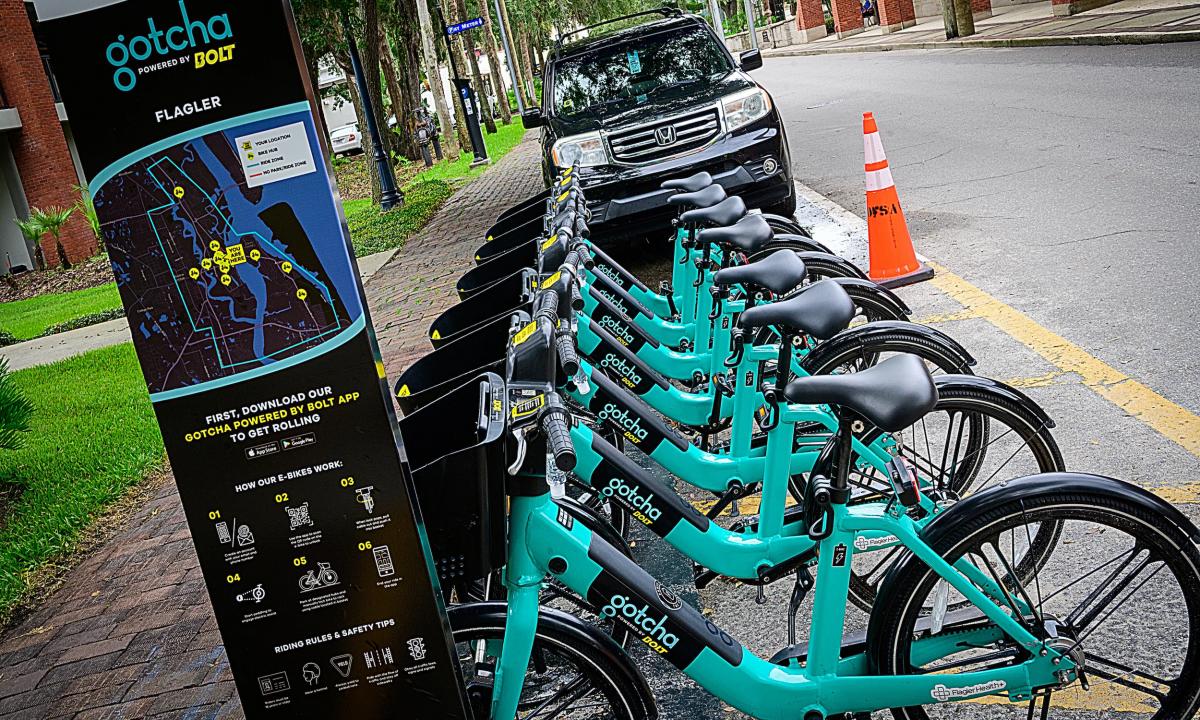 Bike sharing is available in historic downtown St. Augustine.
The e-bikes are available to those 18 and older and are similar to standard bicycles, but with an electric motor that provides a subtle boost. The bikes include a basket for shopping, a cable lock, and security features, such as pedal-assisted acceleration. Helmets, although not required, are strongly encouraged. Bolt has helmets available, free of charge, upon request for e-bike users via the app.
There's a no-ride or park zone in Plaza de la Constitución and on St. George Street.
Electric Car Chargers
There is one public electric car charger in St. Augustine which is located at the east end of DeSoto Pl. Although you have to pay for parking while your vehicle is there during enforcement hours, the charger is free to use and open to the public. It's a ChargePoint CT4000 which can charge up to 25 miles of range per hour as well as fully charge some vehicles in less than four hours.
Free Shuttle Service
During the busiest times of the year, the City of St. Augustine and/or St. Johns County provides a free shuttle service to all of us - locals and visitors. These times are usually during holidays such as the 4th of July or major events such as the Nights of Lights or during the spring festival season. Even though it seems like a touristy thing to do, it really helps you get in and out during high-volume times.
Tips from a Local
* If you're going to see a show at The Amp, use the free satellite parking lots. The Amp provides free parking at RB Hunt Elementary School Soccer Field and at Anastasia State Park. Shuttle service from the satellite lots begins 60 minutes prior to gate time and runs up to 60 minutes after the event ends.
* If you want to park and/or drive on or at one of the beaches, bookmark this link as it tells you everything you need to know. Also, get to know and like non-peak hours. For example, I love going to the beach in the late afternoon when everyone is leaving, and the light is really pretty.
* Sometimes when traveling between Anastasia Island and "the mainland" it's easier (and faster) to use the 312 Bridge. The Bridge of Lions that connects Davis Shores with historic downtown St. Augustine is gorgeous, and, sometimes very, very slow. The bridge opens for boat traffic — at the request of a large powerboat or most sailboats — only on the hour and half-hour between the hours of 7:00 a.m. and 6:00 p.m. On weekdays no openings are allowed at 8:00 a.m. and 5:00 p.m., but openings are allowed during those times on weekends and federal holidays. Again, openings only occur at the request of a boater, so there are many hours and half-hours with no openings at all. Overnight, when there is less traffic of all kinds, the bridge will open at any time, upon the request of a boater.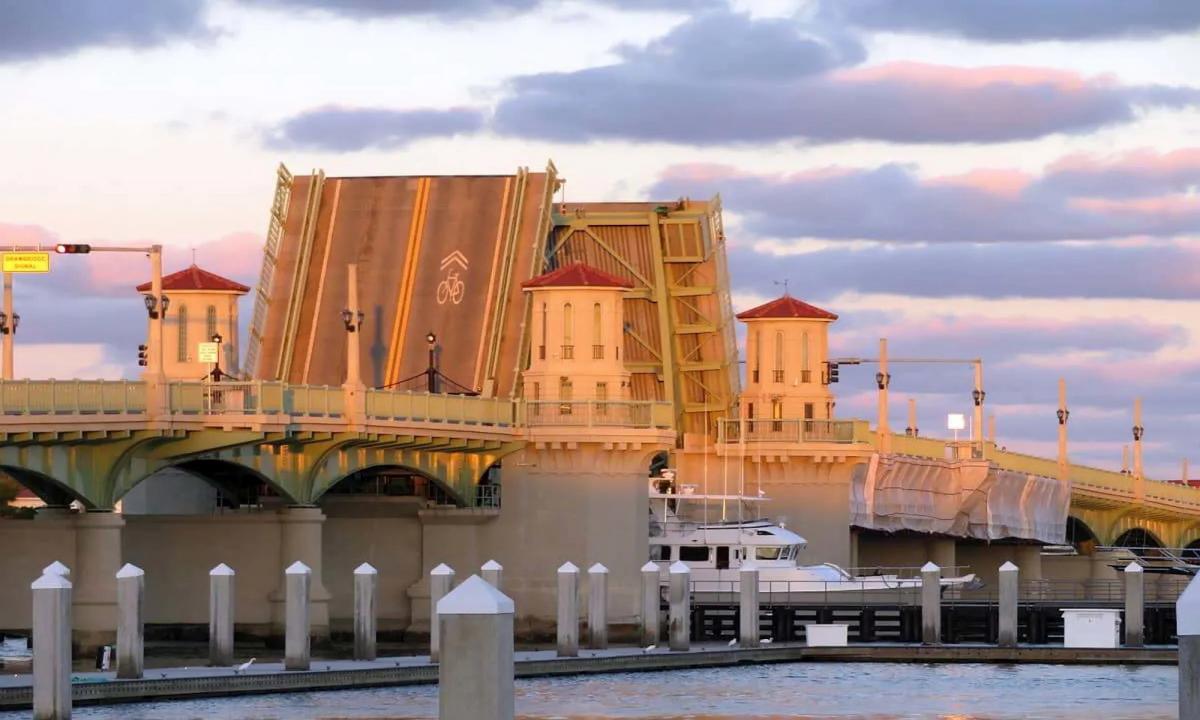 The Bridge of Lions, in historic downtown St. Augustine, can slow down traffic when it opens to let a boat through.