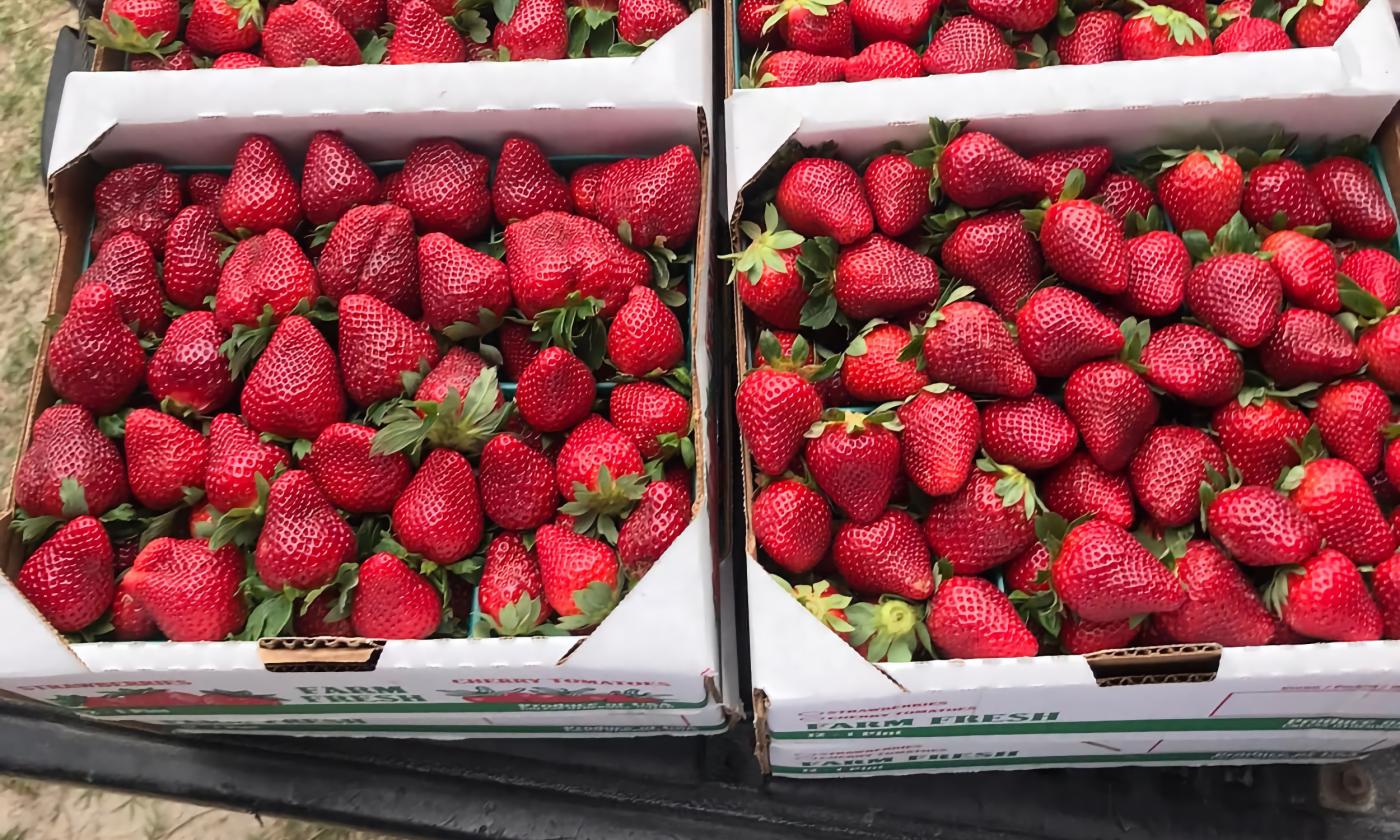 Fresh Finds at Local Farmers Markets
Roundin' up produce couldn't be any easier, so grab your partner, do-si-do, and shop while it's still in season!
You've left the wild west (or the old north) and decided to settle in the oldest city in the United States. Now, in addition to wrangling the children, you're ready to purchase some of that great Florida produce, such as locally grown brussels sprouts, corn, potatoes, peaches, and strawberries.
If you've been living in the north and buying five-day-old Florida produce, you're probably expecting something better than three-day-old produce at the local shops and markets. I have good news and bad news.
Florida farmers produce excellent produce, but our growing season isn't anything like those in the north and to the west. If you move here in late summer, you're sure to be disappointed as you try to find fresh strawberries, corn, and peaches for the traditional August recipes. Plus, here in Northeast Florida, things can get a little chilly November through February, so some of the truly southern foods have to be shipped up here from South Florida.
Hold your horses. This doesn't mean we don't have excellent Florida produce, we just have to go over a few things about the growing season, local- and near-local crops available in the area, and where to find the farm stands in St. Johns County.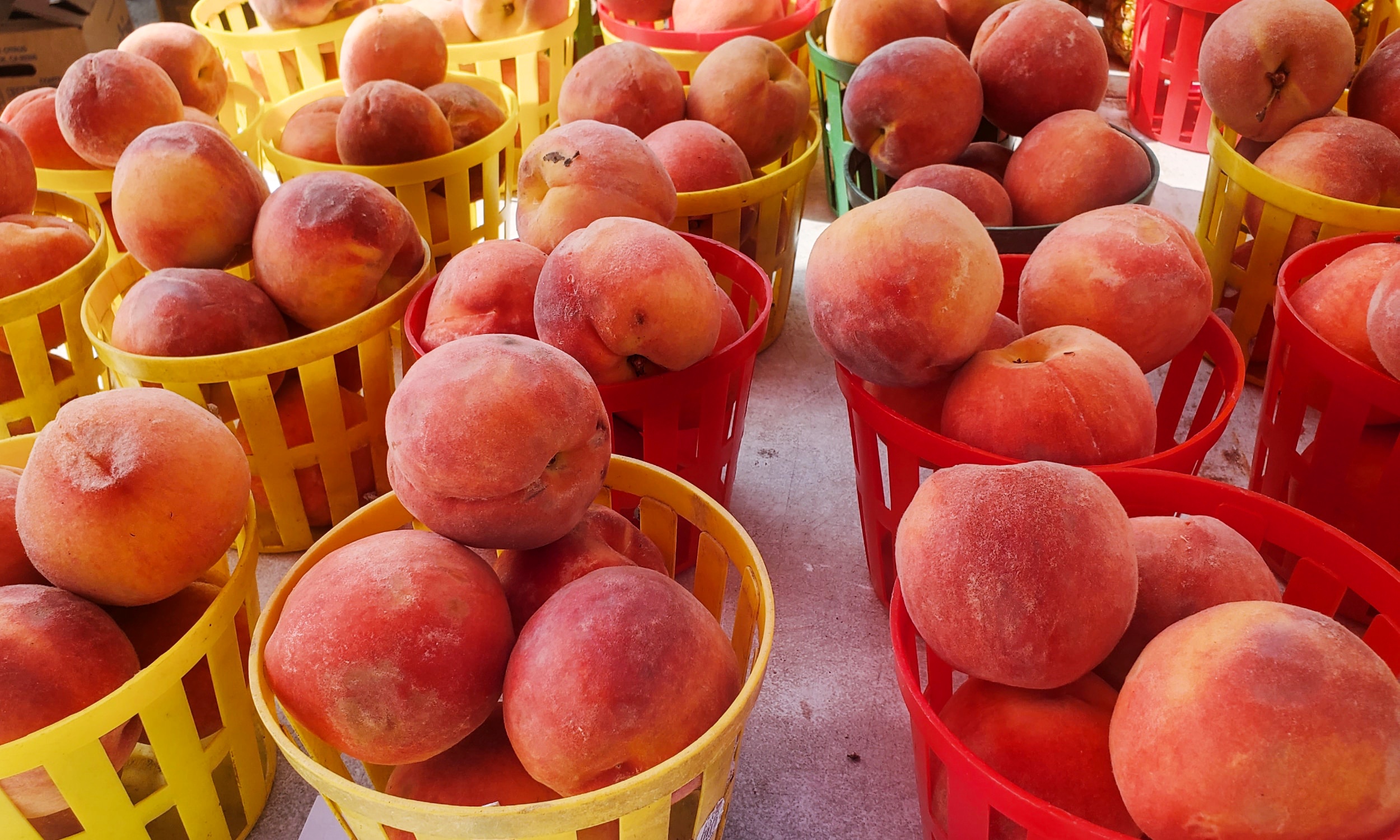 You can skip to each season's list by clicking below:
Crops In Northeast Florida
The good book mentions everything having a time and a season and that is certainly a fact for growing and harvesting. For example, in New York, broccoli grows from June through November, and in Maine, fresh corn isn't available until August and September. In Northeast Florida, fall, winter, and spring will always be the seasons that produce the most fruits and vegetables. This, of course, is due to the blazing summers and our proximity to the equator, and that means in the summer most of our produce comes from another state, or for the really heat-loving crops like mangoes, from South Florida.
The University of Florida's Master Gardener Mary Ann Collins generously provided information about what produce grows in Florida and when to find the freshest, local foods. Remember to look her up through the IFAS extension, especially if you have any plans to start a garden.
Here are some fresh crops that make it to our local market. I've grouped the list based on the season, and provided recipes to help you put your inner chef to work.
Summer
Florida-grown avocados, peanuts, passion fruit, carambola (a.k.a. star fruit), mangoes, mushrooms, guava, papaya, watermelon, lychee, oranges, and eggplant are available at the local markets during the summer.
Jamaican Run Down
For those of you who can take the heat inside the kitchen try Jamaican Run Down. It's packed with lip-smacking ingredients that can make you look sweatier than a bartender in a saloon. Remember to measure your ingredients (especially the use of hot peppers) based on your tastebuds and serving amount.
2 lbs of mackerel, red snapper, or other oily fish     
1 clove of garlic     
1 onion.      
1 diced pepper (sweet)      
Diced hot-pepper (to taste) *     
2 scallions     
1 lime     
2 bay leaves     
½ -1 cup of coconut milk     
1-2 mangoes (diced)      
1 tsp of olive oil     
½-1 tsp of Island Spice All-Purpose Seasoning     
1-2 cans of diced tomatoes (Yep, these may not be Florida tomatoes. We need to make sacrifices).
Chop the fish into medium to large chunks before cooking. The garlic, onion, peppers, mangoes - etc should be diced as well.
Season the chunks of fish with salt and pepper. (Start with ½ tsp of each and see what works for you.)
Preheat the stove and add olive oil to the pan. Let it heat, and add your fish, garlic, peppers (sweet and spicy), bay leaves, and Island Spice All-Purpose Seasoning. Squeeze some lime on top, and never be shy about that lime.
Stir the contents in your pan frequently. After 2-5 minutes, add tomatoes, diced mango, and coconut milk. Let it simmer, and don't turn it off until your fish is finished. Add the scallions on top, and then serve them to the greedy herdsmen at your table. Some people have it with Jamaican dough bread (a sweet dense bread) on the side.
*If you choose Scotch Bonnet peppers or datil peppers, use sparingly.
Fall
Fresh grapefruit, avocados, peanuts, oranges, tangerines, mushrooms, squash, tomatoes, corn, peppers, guava, cucumbers, eggplant, and beans, are available in the fall.
Once the kids start school, time moves faster than a horse on a racetrack. That means you need a quick hearty meal that gives you a healthy serving of vegetables and spices. Eggplant Masala is a delicious Indian dish that will make you feel fuller than a tick.
Eggplant Masala  
1-2 eggplant (chopped in medium slices)      
2 tsp oil      
1 tsp. Cumin powder     
1 tsp salt      
1 tsp. Turmeric     
1-2 onions (diced fine)      
1-2 tsp curry powder      
2-3 cloves of garlic (diced)      
4 tomatoes (diced)      
1-2 cups of peas     
2-3 cilantro leaves (chopped)      
¼ cup of water
Turn the stove on medium heat and add oil to a large sauté pan. Let the oil heat, and then place the cumin into the pan. After a few moments add the ginger, garlic, onions, and tomatoes. Let it cook, ensuring that the ingredients are soft, and then add in water slowly. As it cooks, the sauce should have a thick consistency. After, toss in that eggplant, remembering to stir as it cooks. Add additional seasoning as needed.
Winter
Lettuce, cauliflower, mushrooms, celery, oranges, corn, beans, cabbage, broccoli, radish, peppers, avocados, strawberries, eggplant, passionfruit, and peanuts are waiting for you at the local market.
If you're tired of bland stews and watery soup let me introduce your taste buds to a delicious tango of pork, beef, peppers, and cilantro. The name of this dish is Sancocho, a traditional Dominican dish with a lovely Columbian twist.
Sancocho Trifásico (Three Meats Sancocho)
1 tsp. Achiote ( spice)      
4 ears of corn (cut into quarters)     
12-18 cups of water     
5-7 pieces of boneless chicken breasts (cut into chunks)      
2 lbs of pork meat (cut into chunks)      
2lbs of beef (cut into chunks)      
1-2 cups of onions (diced)      
2 bell peppers (diced)     
3-4 sweet plantains (cut into quarters)      
5 potatoes (cut into chunks)     
1 cup of cilantro (chopped)     
1 tsp of salt and pepper
*Remember to adjust your seasonings and servings based on the size of your family.
Add the chunks of meat and seasonings to cook in a pot with water. Add all vegetables to the pot, and let it simmer. Lastly, add in your cilantro. After the vegetables are cooked, serve them in a big giant bowl.
Spring
You'll find cabbage, squash, papaya, radishes, spinach, corn, cucumbers, strawberries, grapefruit, guava, peanuts, lettuce, cauliflower, tangerines, beans, watermelon, carrots, blueberries, potatoes, and cantaloupe at the local produce markets.
Now that the flowers have bloomed, you should try something that adds a shade of green and orange to your plate. Minty Carrot, Pistachio, and Feta Salad is a Moroccan recipe that combines all kinds of colorful vegetables that supercharge you with vitamins and minerals.
Minty Carrot, Pistachio, & Feta Salad
1-2 cans of chickpeas (drained)     
½ tsp of lemon juice or 1 lemon wedge      
3-5 carrots (medium dice)     
2-3 tbsp of olive oil      
1 tbsp of honey     
½ to 1 cup of spinach (whole leaves)      
¼ a cup of mint      
¼ cup of feta cheese      
½ cup of pistachios
Drizzle the carrots and chickpeas lightly with oil and then place them into the oven. Once the carrots, cumin, and chickpeas are soft, add a drop of honey and lemon juice on it and place it into the fridge. Add the spinach, pistachios, seasoning (as desired), and mint into a separate bowl. Take the carrots, cumin, and chickpeas out of the fridge and combine them with the spinach and pistachios. Sprinkle on your feta cheese, and that is one mouth-watering salad! 
The Wednesday Farmers Market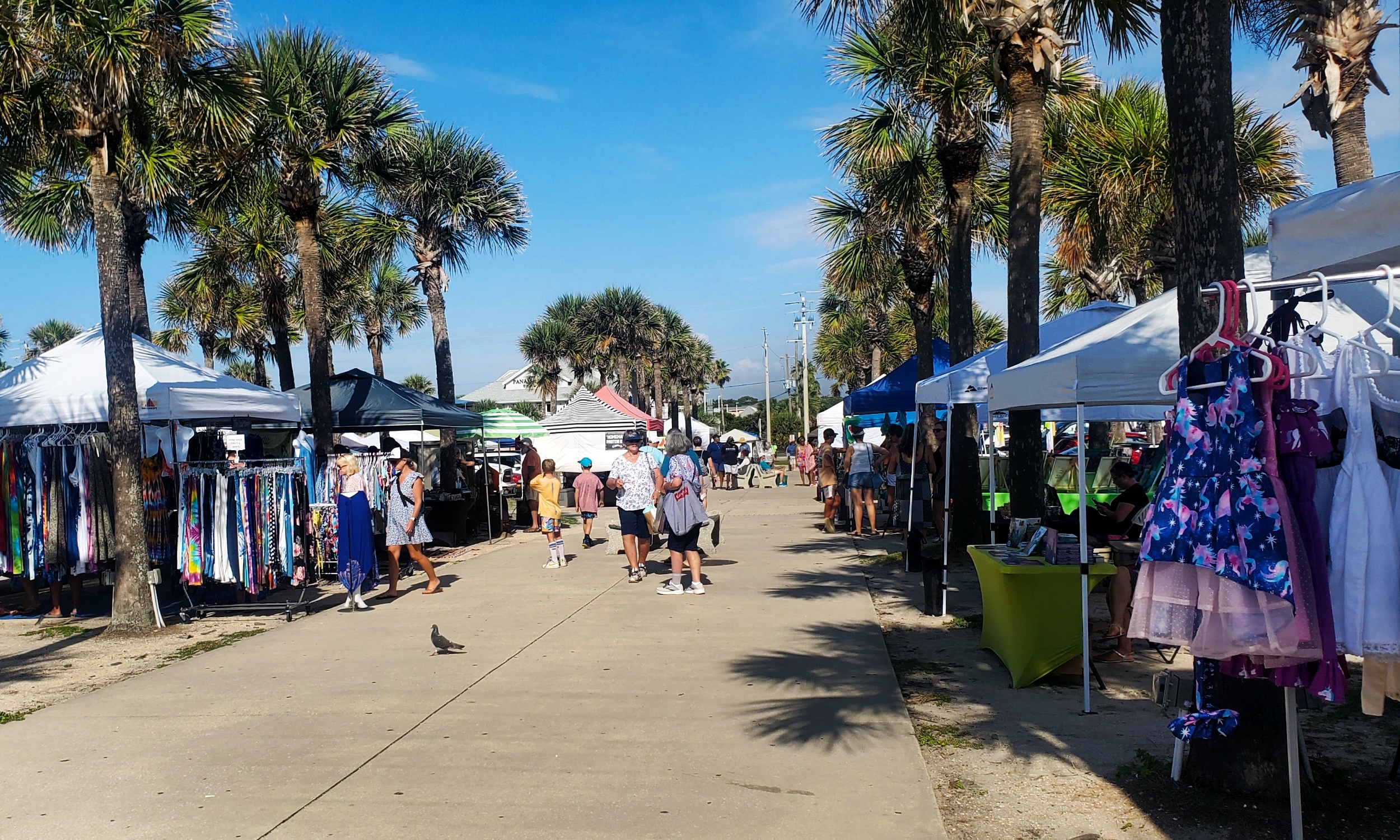 Everyone has their favorite day of the week, and I love Wednesday because it's the name of a character I adore from the show The Addams Family. I admire her blunt and unapologetic personality. Like Wednesday from The Addams Family, the St. Augustine Beach Wednesday Farmers Market has a unique sense of character and unexpected foods and wares. This market is at the St. Johns County Ocean Pier and lets visitors acquaint themselves with local vendors that sell fresh produce, jewelry, art, and everything in between.
I entered the parking lot around 8:30 a.m, and everyone was trying to cram their vehicles into a few available spots. The pace felt like a NASCAR race, minus the booze and cheers. I did a few laps around the area, feeling confident about my racing, dipping, and dodging skills. I proudly locked the door of my vehicle and watched the driver behind me.
Couples and families chat and listen to songs sung by a talented duo. I looked on as peaches, green apples, and dragon fruit passed from hands to baskets and shopping bags. In addition to the produce, vendors offer prepared foods, drinks, a variety of art items, and crafts. It's a tempting feast for the eye but a gentle groan for my wallet.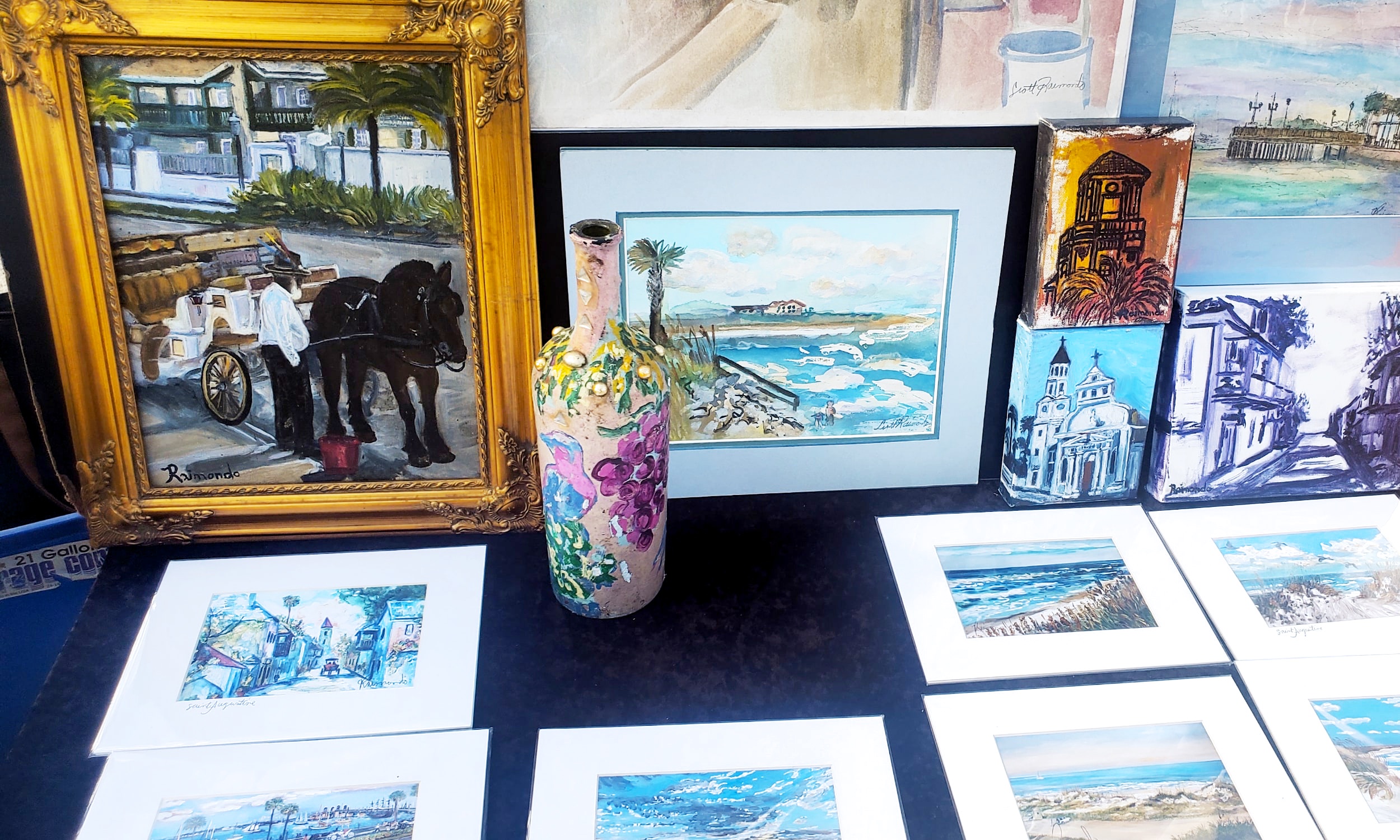 Get up early to find a place to park at the St. Augustine Beach Farmers Market. It's open on Wednesdays from 8:00 a.m. to 12:00 p.m. The address is 350 A1A Beach Blvd, St. Augustine Florida 32080, and you can always call (904) 315-0952 if you have any questions. And please, note that while this is truly a farmers market, and you'll find fresh produce and more from area farms, the other vendors absolutely outnumber the farmers in a ratio similar to Munsters VS Marilyn, the "plain" cousin.
St. Augustine Amphitheater Farmers Market
From plants and baked goods to produce and art, the St. Augustine Amphitheater Farmers Market is a big market with a lot going on. If you want to do some serious shopping with family or friends, remember to stop by on Saturday. There is free parking in two lots. One is at the Amphitheater, and the other is at Elks Lodge. Personnel from the sheriff's department show up each week to direct traffic in and out of the area.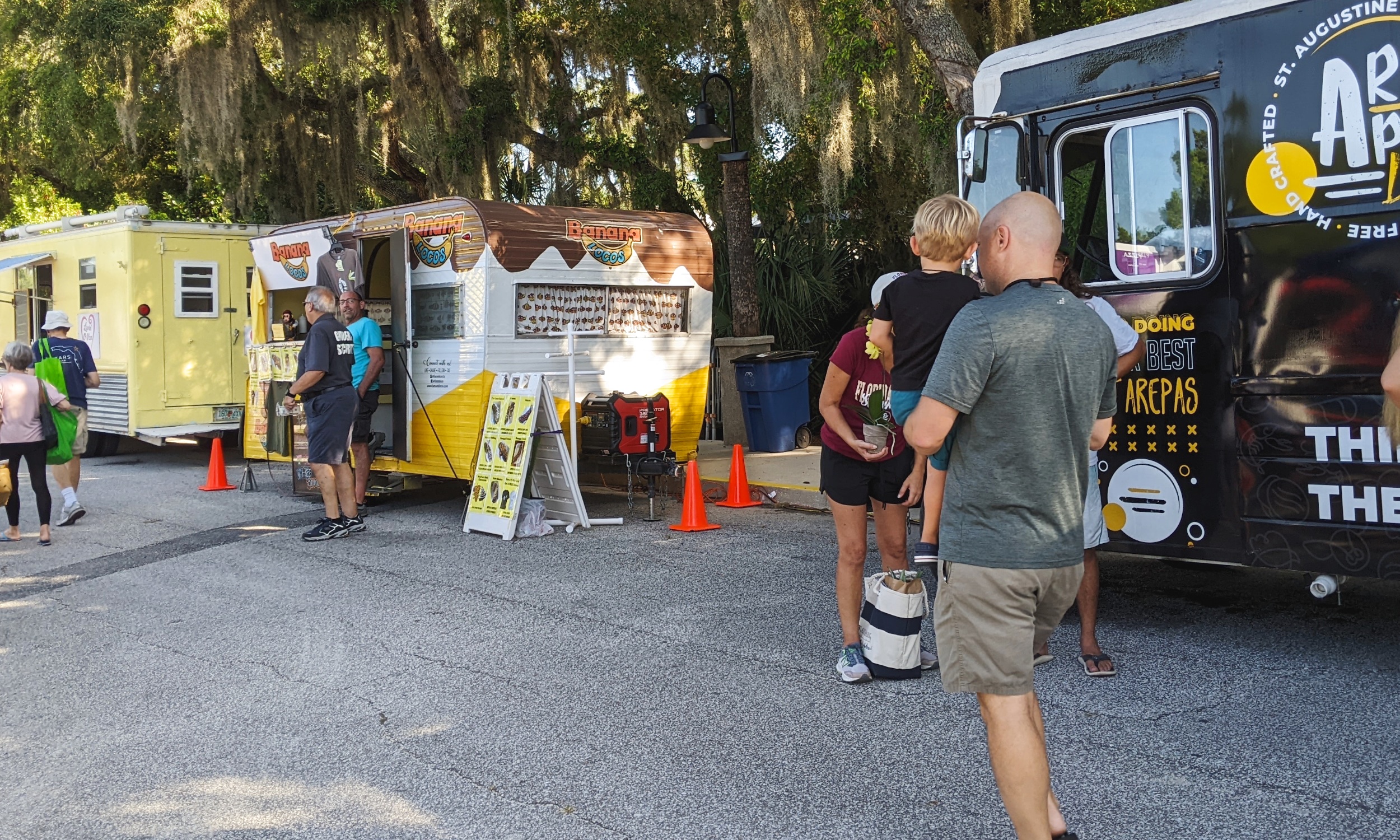 Currently there are at least three booths selling produce. The largest one, farthest from the entrance, sells produce that is as local as possible. They'll purchase produce from away if it's not available locally. It's fun to see where the peaches are grown, as they start with Florida peaches and then peaches from Georgia, and then from the Carolinas as the season waxes and wanes in each area.
Frog Song Organics from Alachua County sells organic produce year-round, and always based on what is in season in the region. Other stands sell local eggs, seafood, and meats and still other farm stands show up seasonally to sell blueberries, strawberries, and even Florida-grown artichokes. The proprietor of the pierogi stand has a side business in micro-greens, selling small flats of a variety of small greens each week.
As you make a lovely trip with your children and your grouchy spouse, you can pick up coffee and purchase a beautiful hand-crafted shopping basket basket from Grower's Alliance Coffee. Adding a delightful cherry on top, local artists and musicians exhibit at the market so you can catch up with the modern-day Van Gogh, and purchase gifts for yourself and others. Once you've filled that basket and your reusable bags, head up to the "Front Porch" with a pastry and/or libation, listen to where the chilly winds don't blow and ask yourself, oh brother, where art thou? The Free Rangers, an organic group of musicians led by Bert Hodge, provide the perfect break and chance to chat with your neighbors or new friends.
The St. Augustine Amphitheater Farmers Market is at 1340C A1A South St. Augustine, Florida, 32080, and is open on Saturdays from 8:30 a.m. - 12:30 p.m. For more information about the St. Augustine Farmers Market, please call (904) 209-3746.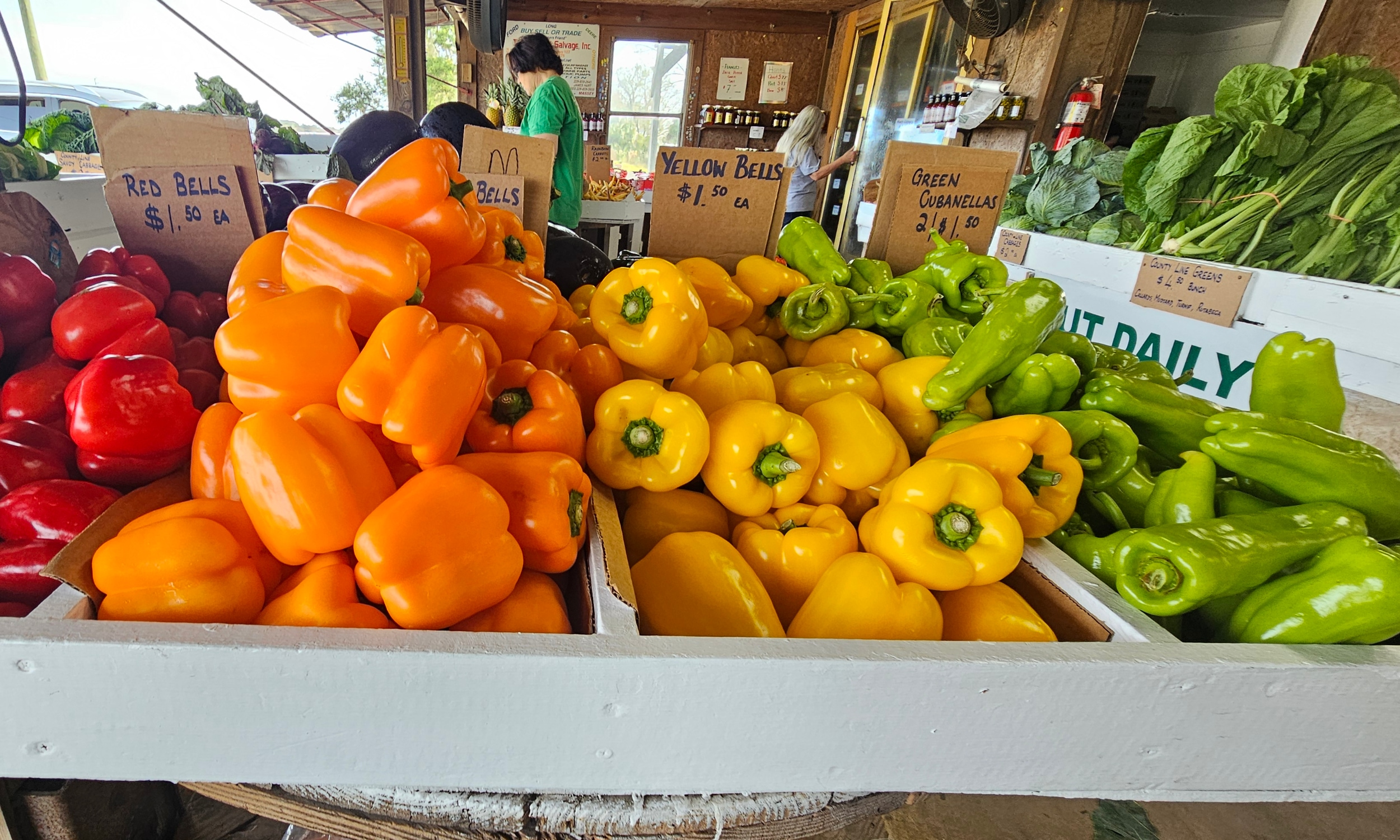 Finding the County Line
I am horrible with directions. Sometimes north is west and south is east. If it weren't for my GPS, I'd probably be driving in circles, but this market is worth finding. County Line Produce has been around since the 1960s and enjoys providing fresh produce to people from St. Johns County and other areas.
Locally grown Sebago potatoes, corn, cabbage, and an assortment of fruit will have you singing Watermelon Sugar in your worst tone, while your eyes feast on all the things that you want to cook and eat for the weekend.
There are only two things wrong with the County Line. First, there's so much to choose from that it's easy to buy a lot of produce. (And that can't be a bad thing, right?) Second, remember our seasonal list? County Line closes in the summer. But don't get your britches in a bunch. When it reopens before Turkey Day in November, you'll know that it was worth the wait.
County Line Produce: 848 State Rd 207, Hastings, Florida 32145
Call (904) 692-9400 to make sure its open. The County Line season usually runs from November-ish through May-ish.
Keepin' It Green
I won't two-step around the topic. Our fresh produce in the summer may not be St. Johns County produce. It may come from farmers in another county, or another state and do a do-si-do to get it into local markets and shops. At the Amphitheater market, you will find those who grow and sell only local produce, and others who purchase the best they can get, from as close as they can get it. Don't let it get you down. It's still good enough to calm the growl in your belly and make you right as rain.
In addition to the three largest farm markets I mentioned, here are a few other farm stands and produce providers that have the green grub that you love.
Nocatee Farmers Market (Open the third Saturday of every month)  
120 Marketside Avenue, Ponte Vedra Beach, Florida 32081   
(904) 924-6850
Vilano Beach Artisan Market (Open the third Saturday of every month)  
190 Vilano Road, St. Augustine, Florida 32804  
(904) 547-1141
Here are two businesses who sell produce and herbs, daily:
Currie Brother's Market  
3874 N Ponce De Leon Blvd, St. Augustine, Florida 32084  
(904) 824-6919
Maggie's Herb Farm  
11400 County Rd 13 B, St. Augustine, Florida 32092 
(904) 829-0722