Kids Activities in St. Augustine
There are tons of things to do in St. Augustine to entertain kids of all ages.
St. Augustine is an amazing place to make childhood memories, and is the setting for many of my own. My family and I loved visiting here when I was a kid, and we spent quite a few weekends tent camping at Anastasia State Park and enjoying the variety of kids activities offered in the nation's oldest city.
I remember days on the beach, hiking the park's sandy trails, and making up ghost stories as we strolled the city's historic streets. I remember racing my older brother up the stairs of the St. Augustine Lighthouse. But most of all, I remember the way the city captured my imagination, the sense of adventure, and the feeling of stepping back in time to a different world when we visited St. Augustine.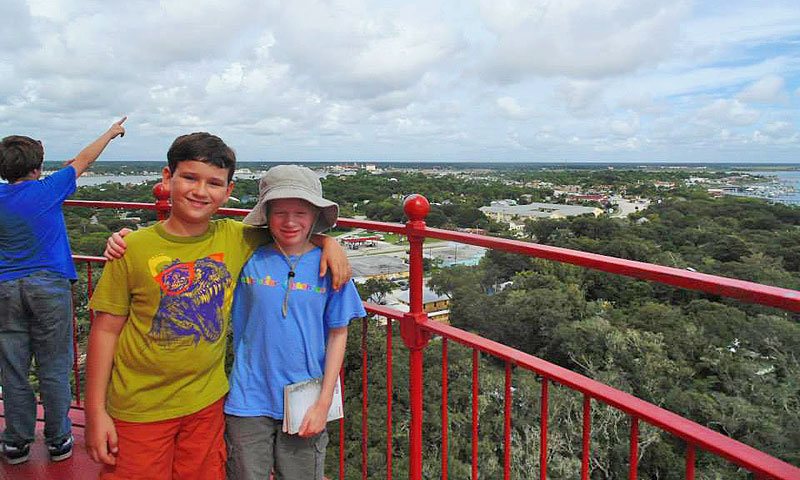 Kids of all ages will enjoy taking in the view from the top of the St. Augustine Lighthouse.
Whether you're local or looking for a great place to make summer memories as a family, there are plenty of activities to keep kids entertained in St. Augustine, and visitors will find no shortage of family-friendly places to stay.
Tour the Town
For shorter stays, or for an easy adventure that will keep the kids entertained on a dog day of summer, hop aboard one of St. Augustine's popular tour vehicles, Old Town Trolleys or Ripley's Red Trains.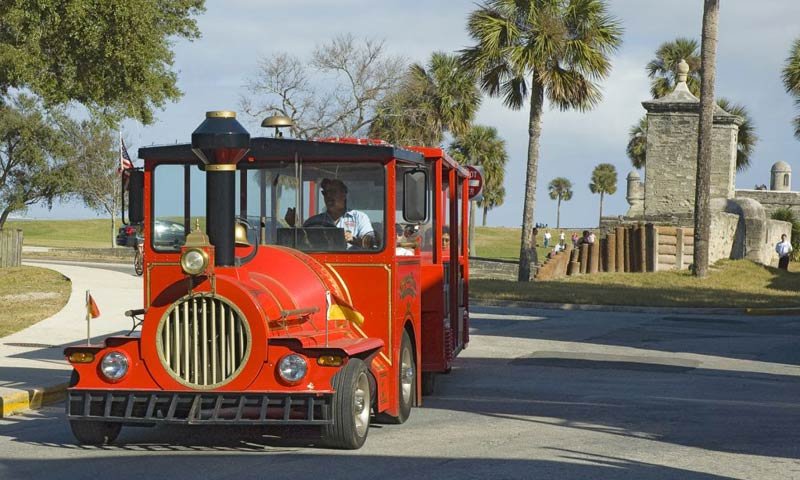 Visitors can hop aboard Ripley's Sightseeing Trains and see the historic downtown area.
These tours are a great way to see much of what St. Augustine has to offer in a short amount of time. Old Town Trolleys has stops all over town that include tons of things to do with kids along the way from attractions and historic sites to shopping and restaurants. Some family-friendly stops on the tours include Ripley's Believe It or Not! Museum, the Castillo de San Marcos, and the Pirate and Treasure Museum. If the kids need a longer rest, without hopping on and off, Ripley's Red Trains offers a restful ride around town with a tour guide/driver pointing out fun things along the way - visit them after everyone's feet have a long rest.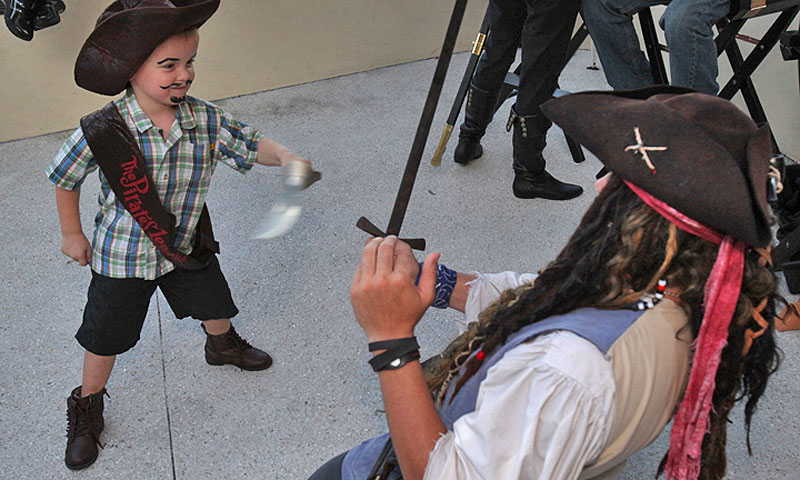 Both tour companies offer free parking, which is a contested commodity in the popular little old city. The tours begin and end where you park, making navigating a breeze.
The pace of the tours is leisurely, the tour guides are knowledgeable, and the open design of the trains and trolleys even catches welcome breezes on Florida's hot summer days.

The Whtty Whisker Cat Cafe is a great pit stop for kids - and grown-ups..
Keep kids (of all ages) entertained with 13 Keys Scavenger & Mystery from the Odd Macabre. The family unlocks facts, mysteries, and history while solving puzzles and answering riddles in this self-guided adventure through the Historic District.
Communicating with the spirits at Odd Macabre in St. Augustine.
The Odd Macabre also hosts Make and Take Crafts which is a one-hour soy wax candle making experience. Candle makers choose up to three fragrances from 40 scents and the staff assists with creating a custom blend and label. (Just don't leave the little ones alone as kids under 12 must have a grown-up guardian.)
Play Outside
Don't let the heat discourage you from planning outdoor activities with the kids this summer. St. Augustine is host to plenty of parks and beaches that feature ways to beat the heat and get out of the sun.
If you're sticking close to the downtown area, Project Swing Playground, pictured below, is right across from the parking garage near Francis Field. The park boasts a large play area with a big wooden playground complete with slides, swings, and even outdoor musical instruments. Other fun playgrounds around town include Eddie Vickers Park in Lincolnville, Ron Parker Park on Anastasia Island, and Treaty Park on St. Augustine's south side.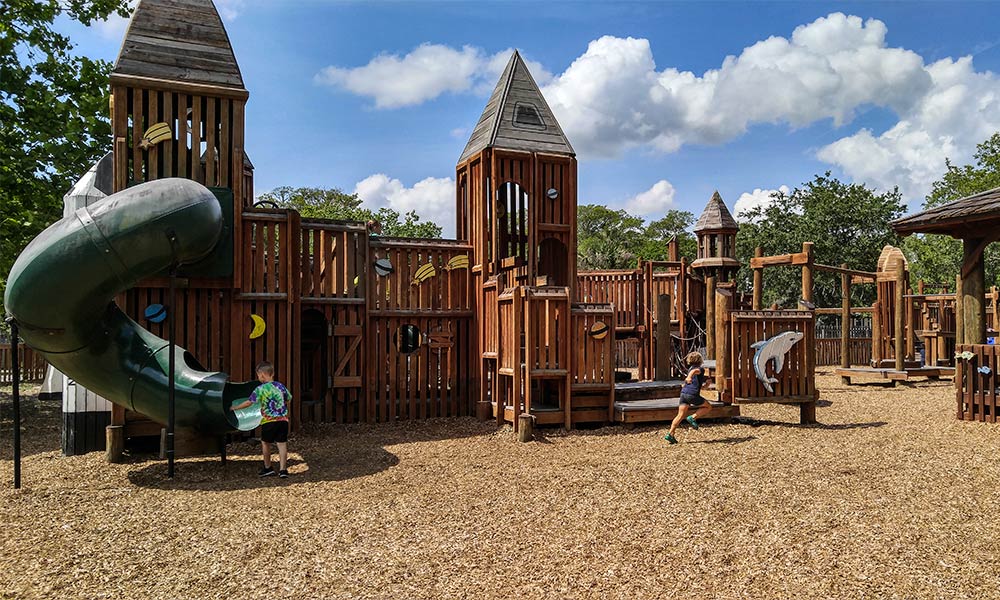 If you're looking for a park where you can entertain the kids and bring the dogs along, Ponte Vedra's Davis Park features two fenced dog parks in addition to four stocked fishing ponds where kids under age 12 may enjoy catch-and-release fishing. The park is just one of many great places for fishing in St. Augustine, and it's the perfect place for little ones to learn.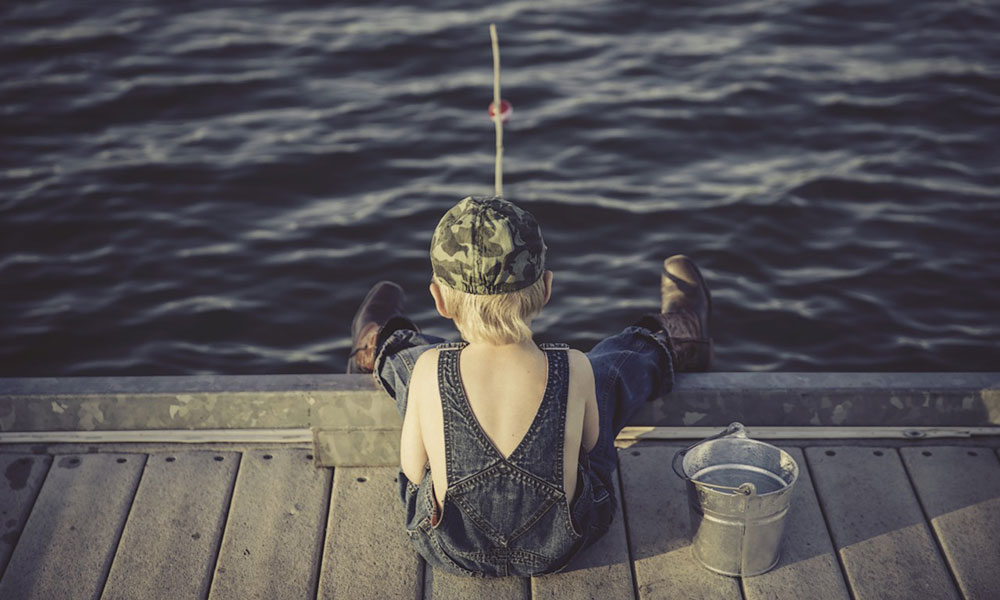 St. Augustine's beaches are a great place for family fun. Kids can learn to surf this summer with one of the many surf shacks that offer lessons.
If the kids are still too little to catch a wave, or sand isn't your scene, there are plenty of other places to swim and play in the water. The Splash Park at the St. Johns County Ocean Pier is a popular spot for little ones.
For kids of all ages who love nature and wildlife, the Alligator Farm Zoological Park is home to native and exotic reptiles, birds, and other animals. The conservation park also boasts a zipline adventure course that will excite even the most blasé adolescent. Who could resist Instagramming themselves zipping over a pool of hungry gators?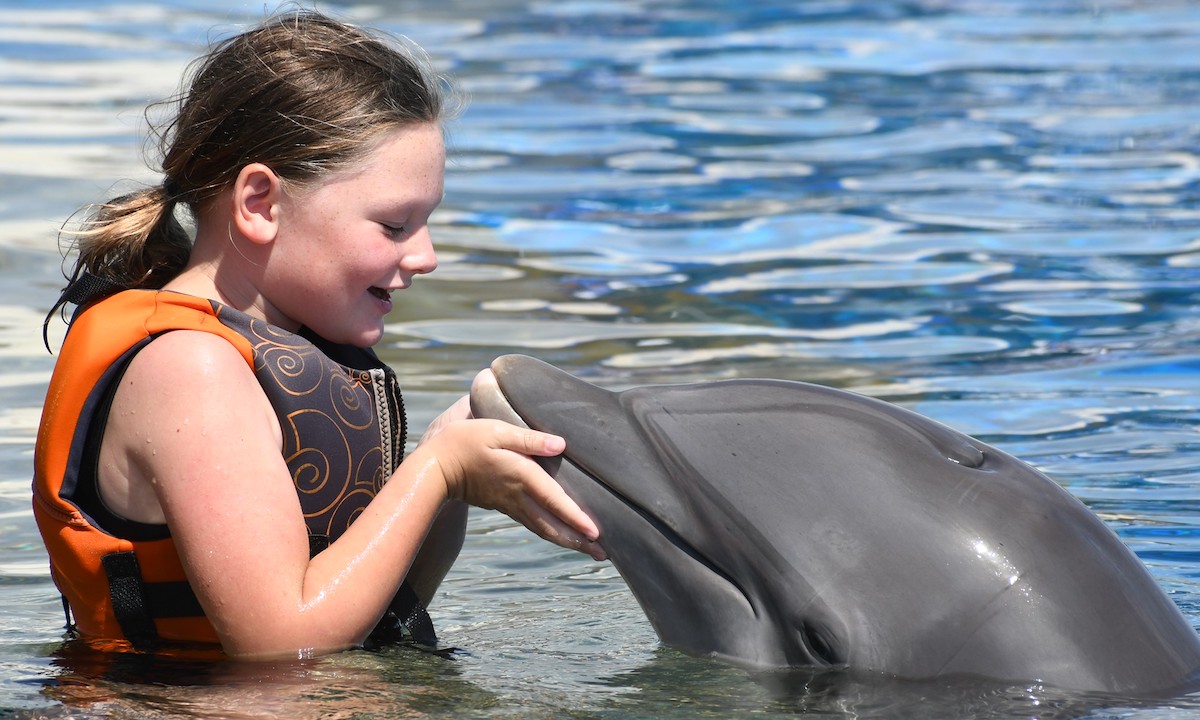 The "World's First Oceanarium," Marineland opened in 1938 and is just south of St. Augustine on scenic A1A. Now, a dolphin conservation center, Marineland Dolphin Adventure offers ways to interact with the dolphins (pictured above) while also hosting hand-on exhibits and educational programs to inspire kids to be kind to marine life. Kids can also enjoy dolphin training demonstrations, daily shark and sea turtle talks, as well as the Sea to Shore Aquarium to see other fish and aquatic life.
After all these outdoor summer activities, kids will definitely want to cool down with a sweet treat. There's no shortage of places to grab your favorite flavor ice cream cone. Tedi's Old Tyme Ice Cream a visitor favorite, and Cold Cow is a local favorite. With three locations, one downtown, one "midtown," and the other on the beach, Mayday Ice Cream offers handcrafted ice cream with homemade sprinkles and waffle cones. For dairy-free treats, try The Hyppo's fresh fruit popsicles or Italian ice from Rita's in St. Augustine Beach.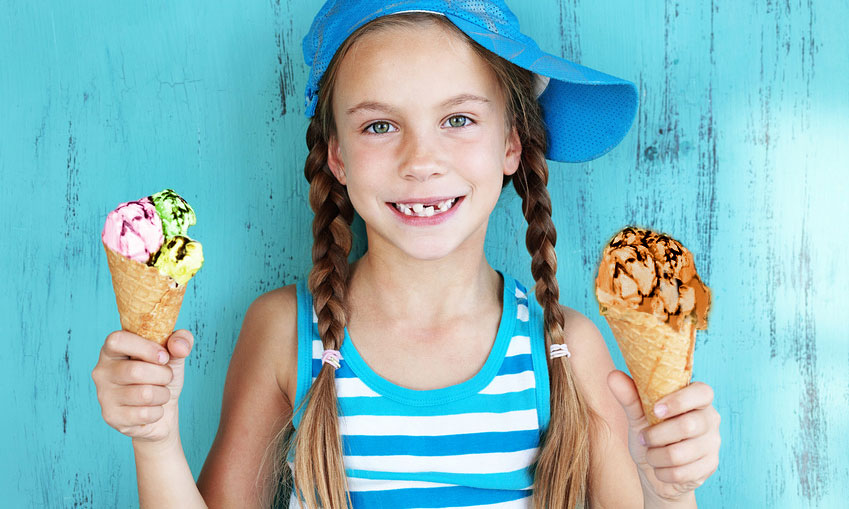 Indoor and Air-Conditioned Activities for Kids
There are plenty of ways to keep cool on a hot day in St. Augustine, including air-conditioned attractions that can give you just enough relief to carry on. Potter's Wax Museum, pictured below, is a great place for families to step inside, cool down, and have a blast interacting with some of their favorite famous figures and characters.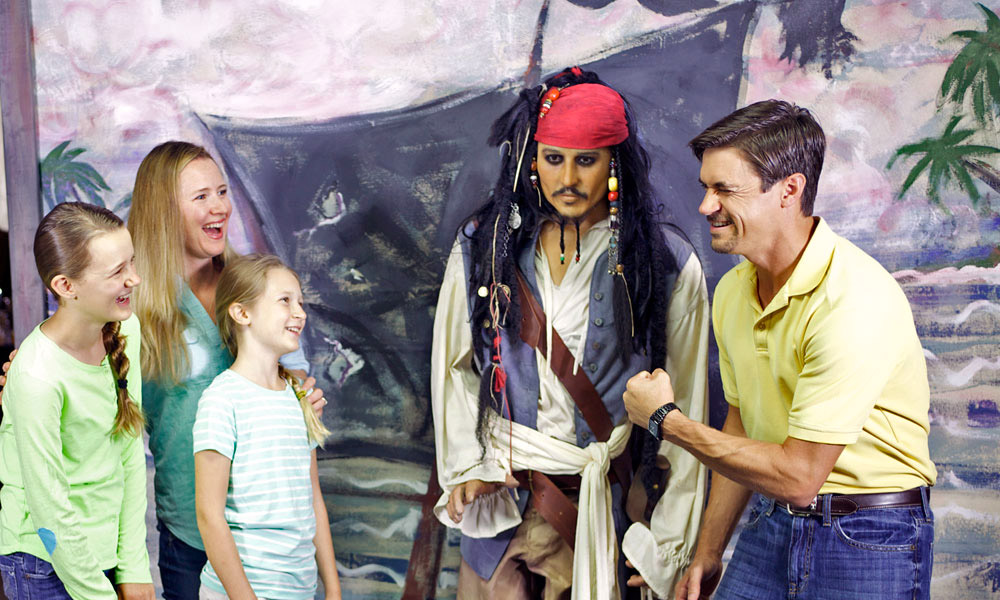 The whole family will enjoy interacting with their favorite movie stars at Potter's Wax Museum.
The Fountain of Youth is a St. Augustine must-see, and kids will love feeding the attraction's resident peacocks (after enjoying the A.C. in the Fountain of Youth's Planetarium and Discovery Globe).
Night Activities for Kids
After a day of outdoor activities with kids, there are still plenty of family-friendly events in the evenings throughout the summer. Take in one of the Castillo by Candlelight events or visit for the Fourth of July fireworks show.
The Music by the Sea and Concerts in the Plaza series run throughout the summer, offering plenty of chances to take the kids for some outdoor live music.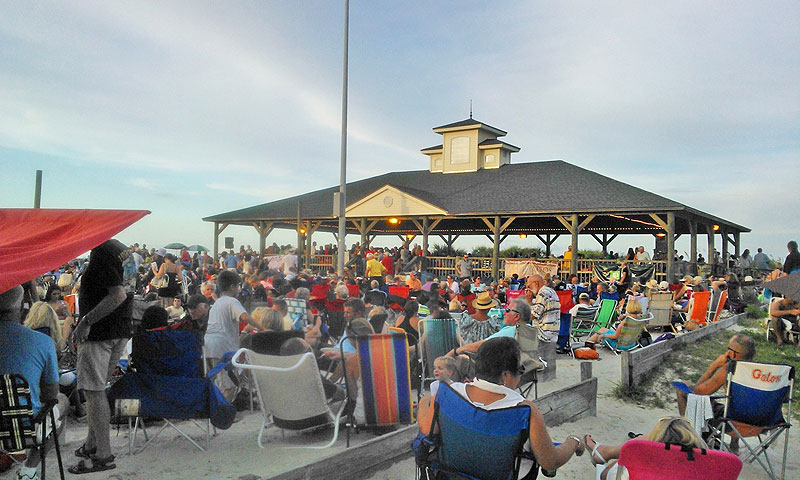 Music by the Sea concerts take place at the St. Johns County Ocean Pier.
And don't forget about mini golf! Fiesta Falls Mini Golf (pictured below) offers a beach side mini-golf course with soft serve ice cream under twinkly white lights -- pirate ship included! For more than 40 years, Anastasia Miniature Golf has hosted a creative course in lush tropical landscape that intersects with waterways filled with Japanese koi.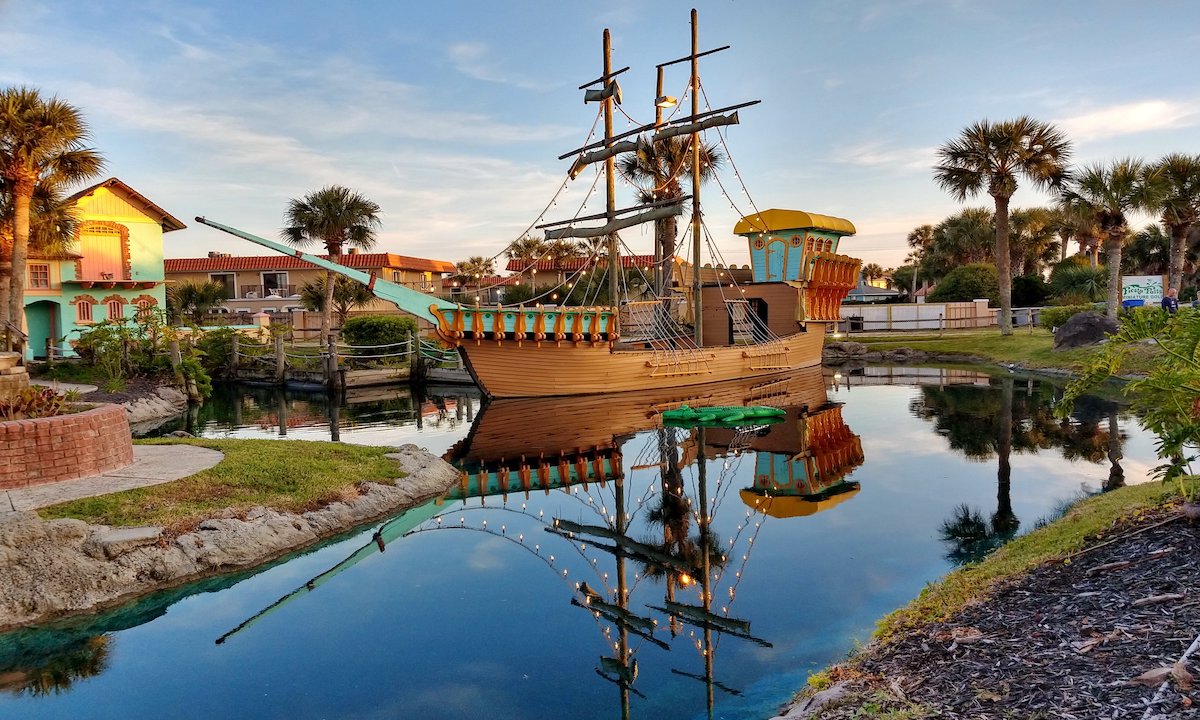 For kids who love a good ghost story, the train and trolley tours also offer ghoulish ghost tours after the sun goes down. Old Town Trolley's Ghosts & Gravestones Tour passes many of the famously haunted buildings in the downtown area and offers its brave participants a chance to visit the Old Jail, pictured below, for some ghost-hunting.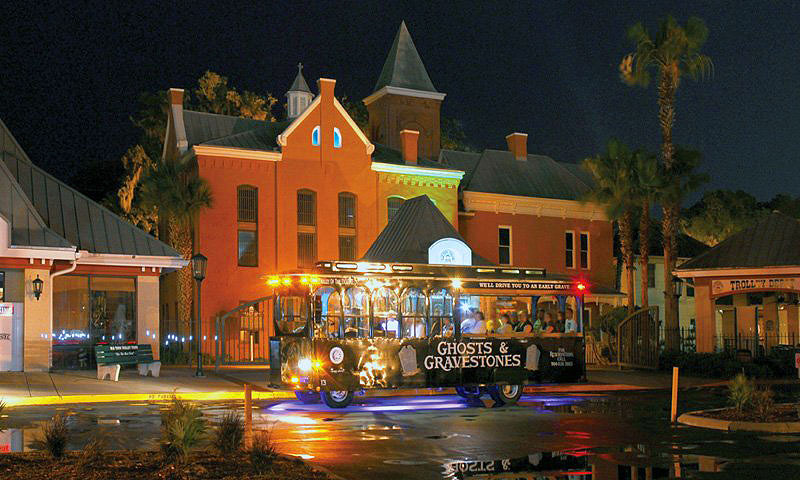 The Ripley's Ghost Train will delight thrill-seekers with an 80-minute paranormal investigation style tour that employs electric and magnetic field meters and laser grids to detect spirits haunting St. Augustine's historic streets. (These tours can be a little scary, so parental discretion is advised.)
From playgrounds to pirates to the pursuit of the paranormal, there's something for kids of every age to enjoy in the Old City. Whether you choose to play on one of the area's beautiful beaches or explore the myriad of local attractions, families will find no shortage of things to do with kids. Summer's "I'm bored!" whines will become a thing of the past in historic St. Augustine.