Amici Italian Restaurant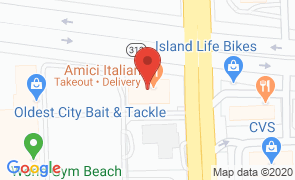 Hours
of Operation
Sun - Mon:
Closed

Tue - Thu:
4:00 pm - 9:00 pm

Fri - Sat:
4:00 pm - 10:00 pm

On Sundays they are open from 11 a.m. to 2 p.m. and again from 4-9 p.m.
Amici's Italian Restaurant provides authentic New York Italian cuisine. Tuscan décor and a menu that offers food that is both interesting and comforting — and always delicious—combine to create a fine casual dining experience.

Amici's offers classic Italian dishes, delicious and unique specialty pizzas, and home-made soups. Chef Freddy grows many of his herbs and all of his datil peppers.

Private parties, receptions, and groups can also utilize Amici's banquet space. The Milano Room is a banquet space with three rooms that open out onto a patio. Amici's Milano room is ideal for weddings, family reunions, corporate meetings, and social events. Offsite catering is also available.
Things to Do
Near Amici Italian Restaurant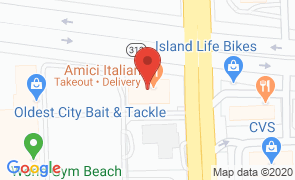 Hours
of Operation
Sun - Mon:
Closed

Tue - Thu:
4:00 pm - 9:00 pm

Fri - Sat:
4:00 pm - 10:00 pm