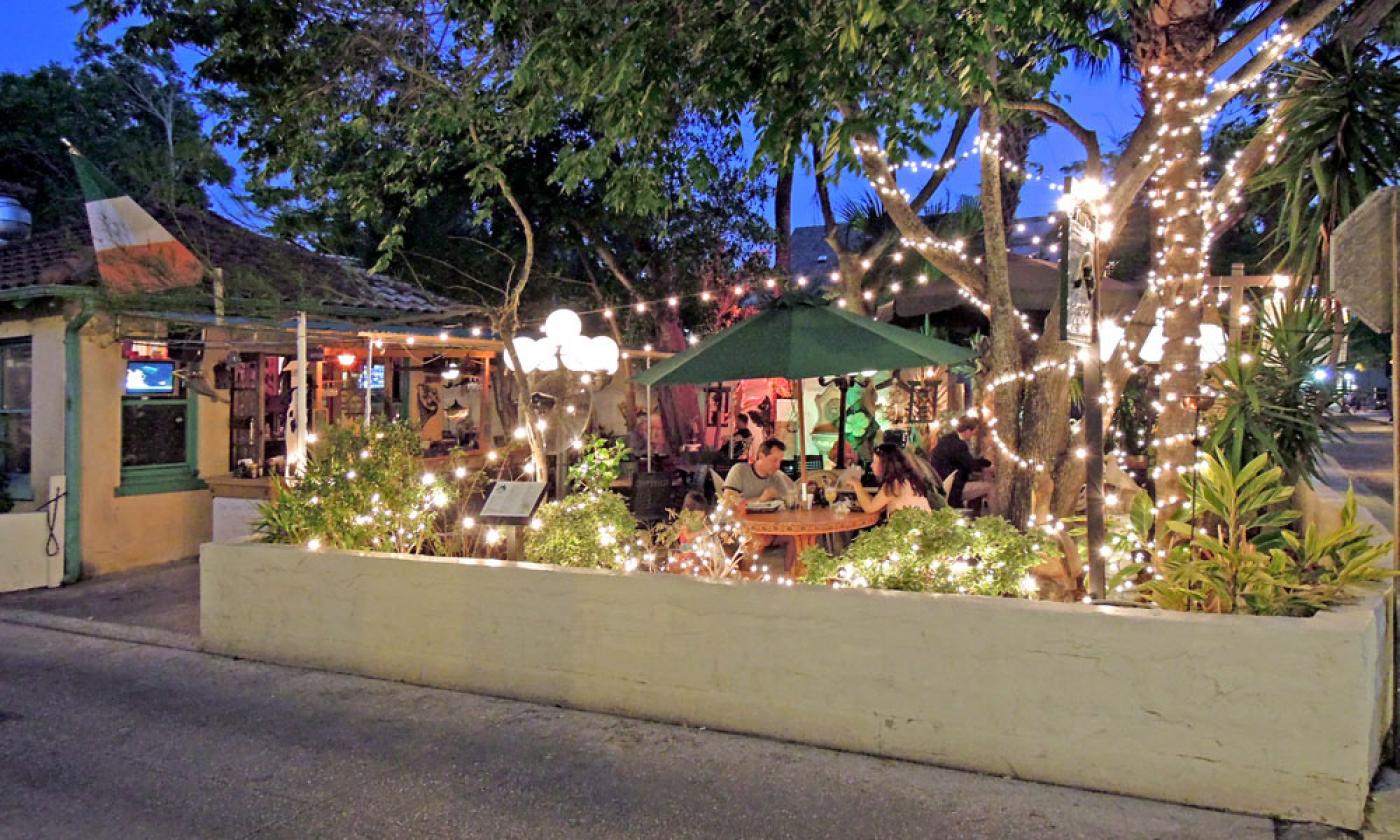 Mon - Tue:
12:00 pm - 11:00 pm
Sat - Sun:
11:00 am - 11:00 pm
Visitors and locals alike enjoy the breezy, tropical party atmosphere at the Backyard Island Café and Bar behind Meehan's Irish Pub and Seafood House.
Guests may enter through Meehan's on Avenida Menendez, or at the opening in the walled courtyard off Hypolita Street.  This backyard cafe is covered by a canopy of trees, making it cool on hot days, and the courtyard has a number of patio heaters to keep folks warm during the cooler months.
The menu back here is a bit lighter and more tropical. Visitors can try their berry tropical salad to start with or their seared sashimi combo as an entrée. Backyard Island Café is also serving a wide menu of drinks.This is a great location to watch folks strolling along Charlotte and Hypolita Streets. At night, the Backyard Island Café and Bar has a beach party atmosphere and is often brimming with locals and visitors.
The Backyard Island Café is in the back of Meehan's restaurant.
Upcoming Live Music
Thursday, October 5th, 2023
1:00 pm - 5:00 pm
Friday, October 6th, 2023
1:00 pm - 5:00 pm
Sunday, October 8th, 2023
1:00 pm - 5:00 pm
Thursday, October 12th, 2023
1:00 pm - 5:00 pm
Friday, October 13th, 2023
1:00 pm - 5:00 pm
Saturday, October 14th, 2023
1:00 pm - 5:00 pm
Thursday, October 26th, 2023
1:00 pm - 5:00 pm
Thursday, November 2nd, 2023
1:00 pm - 5:00 pm
Thursday, November 16th, 2023
1:00 pm - 5:00 pm
Thursday, December 7th, 2023
1:00 pm - 5:00 pm
Thursday, December 21st, 2023
1:00 pm - 5:00 pm
Mon - Tue:
12:00 pm - 11:00 pm
Sat - Sun:
11:00 am - 11:00 pm