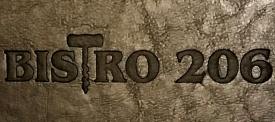 Tue - Sun:
4:30 pm - 9:00 pm
Open from 4:30 - 9:00 p.m. Tuesday through Sunday.
Bistro 206 has permanently closed.
The owners of Bistro 206 have created a cozy and special place for a dinner out, with an original menu of select Italian items for every palate. Located on FL 206 between the bridge to Anastasia and Route 1, Bistro 206 offers soups, salads, pastas, and entrées with chicken, seafood, meat, vegan, and vegetarian options.
Daily, Bistro 206 presents choices that include Avocado Quinoa Salad, Fried Calamari, Penne Alla Vodka, Zuppa di Pesce, and Spaghetti Carbonara. Weekly specials have included Oysters Rockefeller, Lobster Ravioli, and Rack of Lamb.
Bistro 206 has seating inside at tables, at high tops, and at the bar; and outside on the deck. They welcome families and offer a menu appropriate for kids.