Crucial Coffee
26 Charlotte Street, St. Augustine, 32084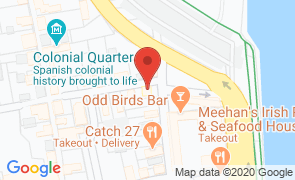 Hours
of Operation
Sun - Thu:
7:30 am - 10:00 pm

Fri:
7:00 am - 11:00 pm

Sat:
7:30 am - 11:00 pm

Opens by 7:30 and stays open until at least 10:00 p.m., seven days a week.
Crucial Coffee is conveniently located in the heart of St. Augustine's historic district. With outdoor tables on the corner of Charlotte and Cuna Streets, it's a great place to stop for a cup of coffee, hot tea, and a variety of other hot and cold beverages.

In addition to hot coffee, Crucial Coffee offers a large selection of other beverages, including lattes, cappuccinos, espressos, smoothies, bubble tea with tapioca pearls, chai tea latte, Thai coffee, and exotic teas. 

Crucial Coffee also serves pastries, desserts, and breakfast options — plus ice cream. milkshakes, and Italian ice.  Crucial Coffee is affiliated with Gourmet Hut and shares the dining patio space.
Things to Do
Near Crucial Coffee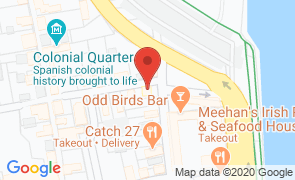 Crucial Coffee
26 Charlotte Street, St. Augustine, 32084
Hours
of Operation
Sun - Thu:
7:30 am - 10:00 pm

Fri:
7:00 am - 11:00 pm

Sat:
7:30 am - 11:00 pm