Flavors Eatery
125 King St Suite C., St. Augustine, 32084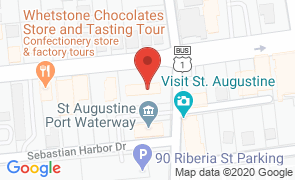 Hours
of Operation
Sun:
Closed

Mon - Thu:
11:00 am - 6:00 pm

Fri:
11:00 am - 9:00 pm

Sat:
11:00 am - 6:00 pm

St. Augustine's Flavors Eatery serves California-style wraps, quesadillas, pizza, salads, and sandwiches, along with smoothies, espresso, beer and wine.

Flavors Eatery is a small restaurant, devoted to healthy and hearty cuisine. All their food is made from scratch and presented beautifully in abundant servings. They offer eat-in dining and take-out service.

Flavors is also known for their delicious smoothies, as well as shakes made with ice cream. In the cooler months, they often have one home-made soup each day and encourage patrons to call (904) 824-4221 to find out the day's soup offering. As each meal is prepared to order, those on a schedule may want to call in advance and order, whether eating in or carrying out.

Flavors frequently features live music on Fridays from 6:00 — 9:00 p.m.
Things to Do
Near Flavors Eatery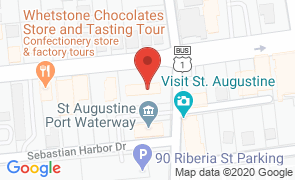 Flavors Eatery
125 King St Suite C., St. Augustine, 32084
Hours
of Operation
Sun:
Closed

Mon - Thu:
11:00 am - 6:00 pm

Fri:
11:00 am - 9:00 pm

Sat:
11:00 am - 6:00 pm