Llama Restaurant
415 Anastasia Blvd, St. Augustine, 32080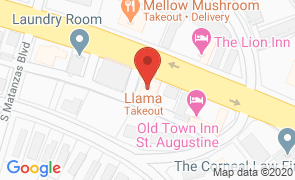 Hours
of Operation
Sun:
5:00 pm - 9:00 pm

Mon:
11:30 am - 9:00 pm

Tue:
Closed

Wed - Sat:
11:30 am - 9:00 pm

When Llama is open for lunch at 11:30, they close at 2 and reopen at 5:00 for dinner.
Offering a variety of delicious Peruvian dishes, desserts, and drinks, Llama Restaurant serves what it calls "New Peruvian Cuisine." Llama's chef, Marcel Vizcarra, has earned acclaim in St. Augustine for his beautiful and flavorful dishes.

Chef Marcel is a Peruvian native, who incorporates locally-sourced products (particularly the area's bountiful fresh seafood) into his culinary creations at Llama Restaurant. Chef Marcel has also partnered with Micro Greens of St. Augustine to grow exotic Peruvian produce for his dishes in hopes of offering new culinary experiences to the city's residents and visitors.

Llama Restaurant is now open for lunch, from 11:30 a.m. to 2:00 p.m., four days a week — Monday, Wednesday, Thursday, and Friday — when they serve a special luncheon menu. On those days, they close at 2:00 p.m. and reopen at 5:00 p.m. for dinner.
Things to Do
Near Llama Restaurant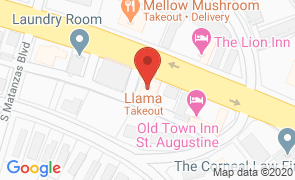 Llama Restaurant
415 Anastasia Blvd, St. Augustine, 32080
Hours
of Operation
Sun:
5:00 pm - 9:00 pm

Mon:
11:30 am - 9:00 pm

Tue:
Closed

Wed - Sat:
11:30 am - 9:00 pm