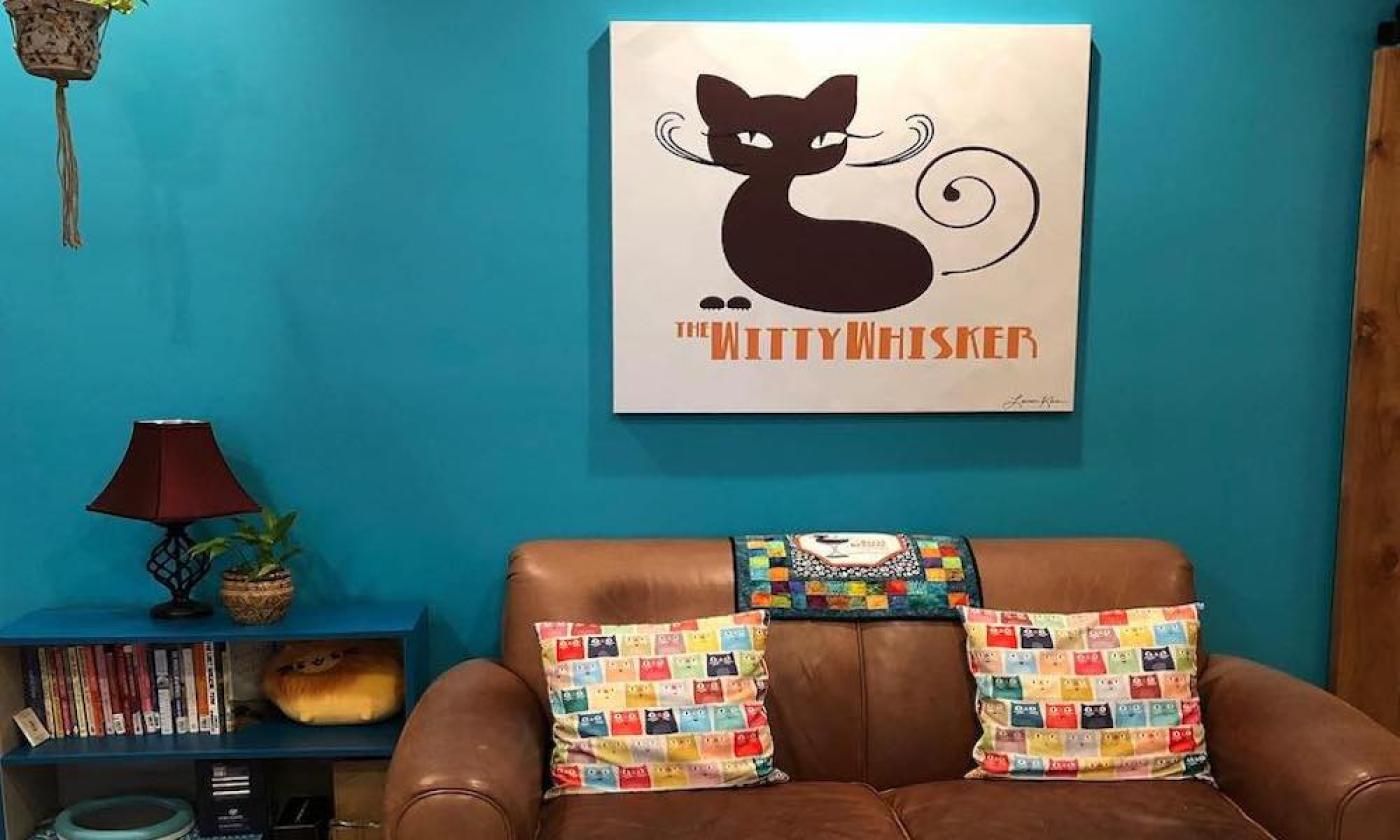 Wed - Thu:
10:00 am - 6:00 pm
Fri - Sat:
9:00 am - 8:00 pm
The Witty Whisker Cat Cafe offers coffee, wine, and delicious human treats (think cupcakes), plus the opportunity to view or visit with a variety of furry felines. While most visitors don't seek to adopt a pet during their stay, many have left a beloved furry-friend at home and would be delighted to visit with a cat (or ten) while on vacation. 
Those who simply love to watch cats (think all those viral videos) can enjoy a lovely hot or cold drink with a view to The Witty Whisker kitty salon, where cats can play, sleep, and lounge in the sun while watching the world go by.
The Witty Whisker Cat Cafe also offers cat-lovers the opportunity to enter the kitty salon and play with the cats of the day. At a cost of $10.00 per hour, cat-loving guests may join the cats to offer rubs, listen to their purrs, and entice them to play with the many cat toys available. Those who are seeking a new feline companion will be delighted to learn that all of these cats have been cleared for adoption and seek a forever home.
The Witty Whisker Cat Cafe is delighted to work with Murphy's Kittens, an organization that rescues fosters and finds permanent homes for very cute cats.
All are welcome to visit The Witty Whisker Cat Cafe and enjoy coffee, wine, hops, tea, and the day's human nibbles, prepared by Cra Caves. Cat lovers may also opt to visit with the felines. All visits are $10.00 an hour, those under 18 years old must have an adult sign the waiver. Tweens and Teens may visit the room without an adult, but those under 12 must be accompanied by an adult. Children under 2 are allowed to join their adult and visit the cats at no charge. 
Wed - Thu:
10:00 am - 6:00 pm
Fri - Sat:
9:00 am - 8:00 pm
Admission | Ticket Prices
| | |
| --- | --- |
| Admission | $10.00 |
| Children (under 2) | FREE |
| | |
| | |
Have a Question?