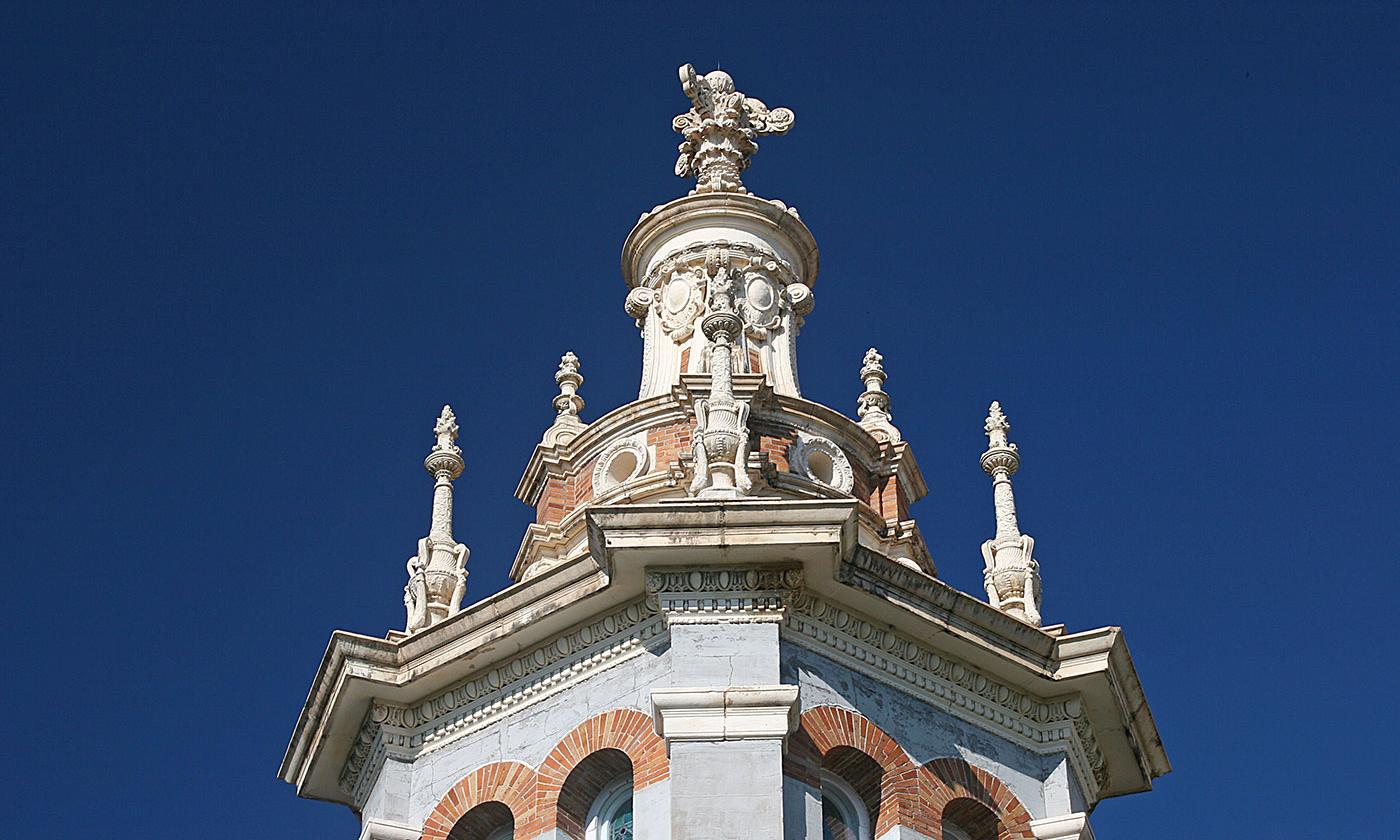 Instagram-Worthy Architecture in St. Augustine
This easy-to-read guide will help you structure your visit around St. Augustine's architectural highlights.
St. Augustine is every architecture-lover's dream (and every Instagrammer's).
In an age where most cities are dominated by high-rise apartments and skyscrapers, St. Augustine manages to remain a classic and picturesque coastal town — in fact,  it's been just that for centuries. This makes it ideal for destination weddings, photography portfolios, or colorful and enviable Instagram galleries.
Historic cities such as St. Augustine are havens for diverse exterior designs and unique innovations in building that may have otherwise been lost to time. If it weren't for certain city ordinances, St. Augustine's downtown and neighborhoods would be indistinguishable from those of other cities. Thankfully, revolutionary engineering feats that mark architectural history such as the imposing Castillo de San Marcos and grand Ponce de Leon Hotel (now Flagler College) are protected and preserved for future generations. A nice bonus: St. Augustine can impress anyone with an appetite for fine structural design.
Whether you're an expert in the field or you just want to impress your friends on vacation, we'll walk you through some of St. Augustine, Florida's finest architectural styles and some of the buildings that define them. 
Before We Begin:
An important thing to know is that architecture is more fluid than concrete — no pun intended. A building may represent one style, but be built in a different time period. It may be mostly characterized by one segment, with prominent elements belonging to another. The architecture types below aren't set in stone—okay, maybe pun intended—but our guide will give more insight in what to look for when checking out a building.
Spanish Colonial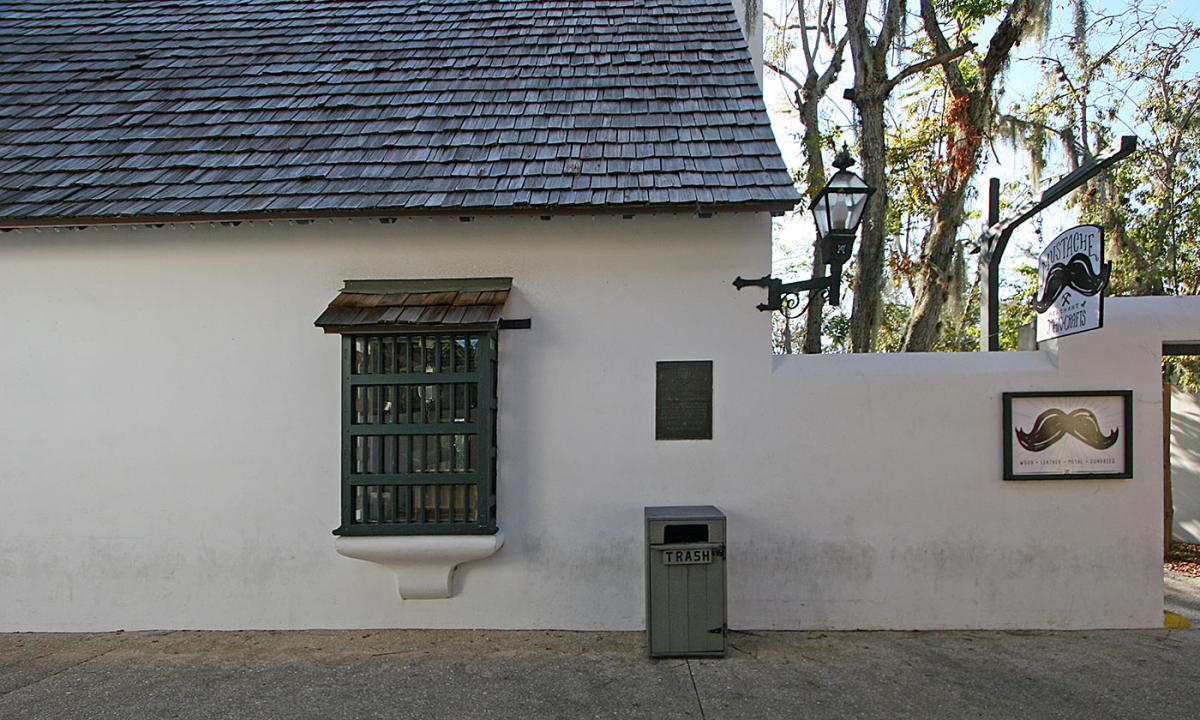 GIVEAWAYS: simple stone structure, flat roof, exposed beams
EXAMPLES: Avero House, Castillo de San Marcos
If it looks simple and old, it probably is. Spanish Colonial is the roots of St. Augustine and represents the earliest attempts of settlers to make a stable home out the bayside town using the resources available. The problem is that the simplicity of the design made it susceptible to, well, total annihilation. Pirates, storms, time, fire—any and all of these have been responsible for the loss of St. Augustine's original Spanish colonial houses.
Despite the conquest though, several renovated and restored examples of this style remain. One being the Avero House that now contains the St. Photios Greek Orthodox Shrine on St. George Street. The straight lines, flat coquina with lime mortar, the 4 partially exposed roof beams on the front, and the barred windows are characteristic of the Spanish Colonial style, and visitors may notice a few more houses in this style along St. George Street.
Check out the plaques on buildings for more information on their restorations.
Spanish Renaissance Revival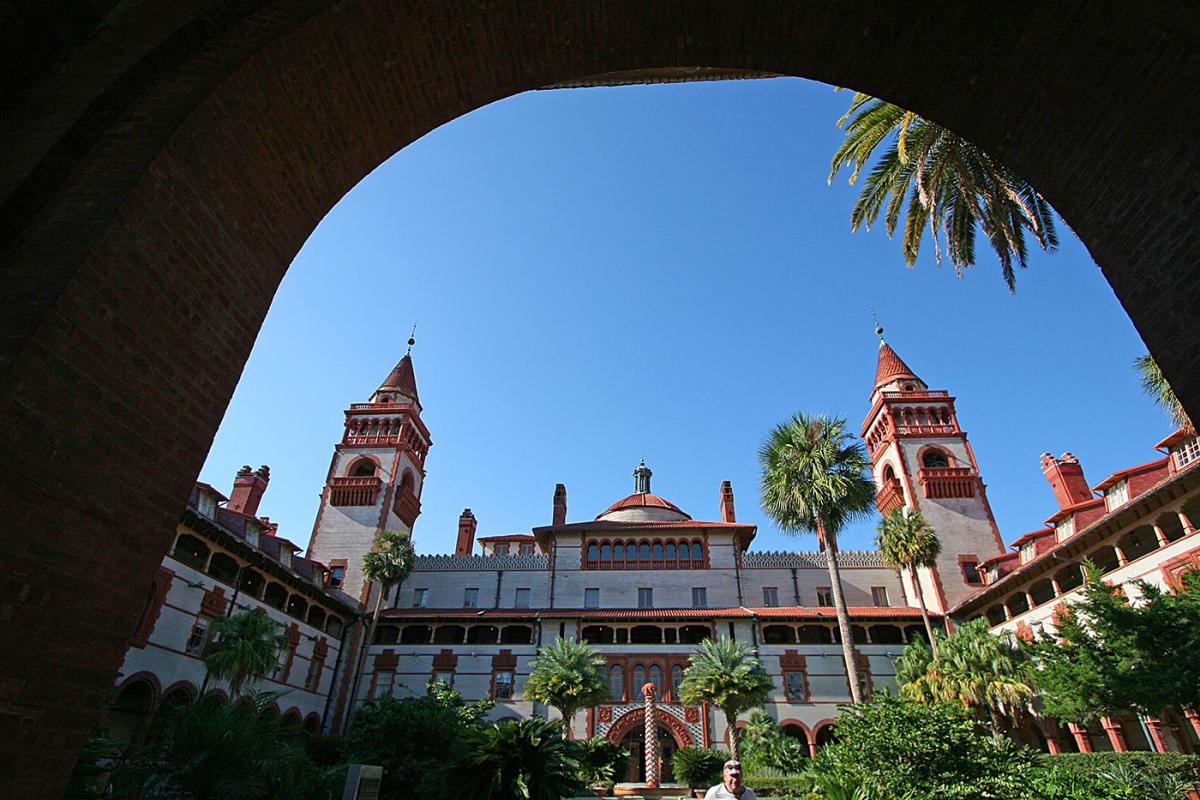 GIVEAWAYS: smooth and light stucco walls, red terra cotta, clay tiles, iron décor, ornate trimmings.
EXAMPLES: Ponce de Leon Hotel, Lightner Museum, Cathedral Basilica, Grace United Methodist
As if Spanish Colonial style wasn't awesome enough; Henry Flagler and all his fancy-shmancy architects had to come in and make the "Ancient City" even more picturesque in the late 1800s by bringing about an era of Spanish Colonial Revival (also sometimes referred to as Mediterranean Revival and Spanish Renaissance Revival). This more extravagant evolution of the Spanish Colonial style can be seen all over St. Augustine and is the defining architecture of the city. If you see the red clay terra cotta, ornate trimmings, and even the really incredible murals like the ones covering the rotunda of the Ponce de Leon Hotel, you're seeing Spanish Colonial Revival.
Moorish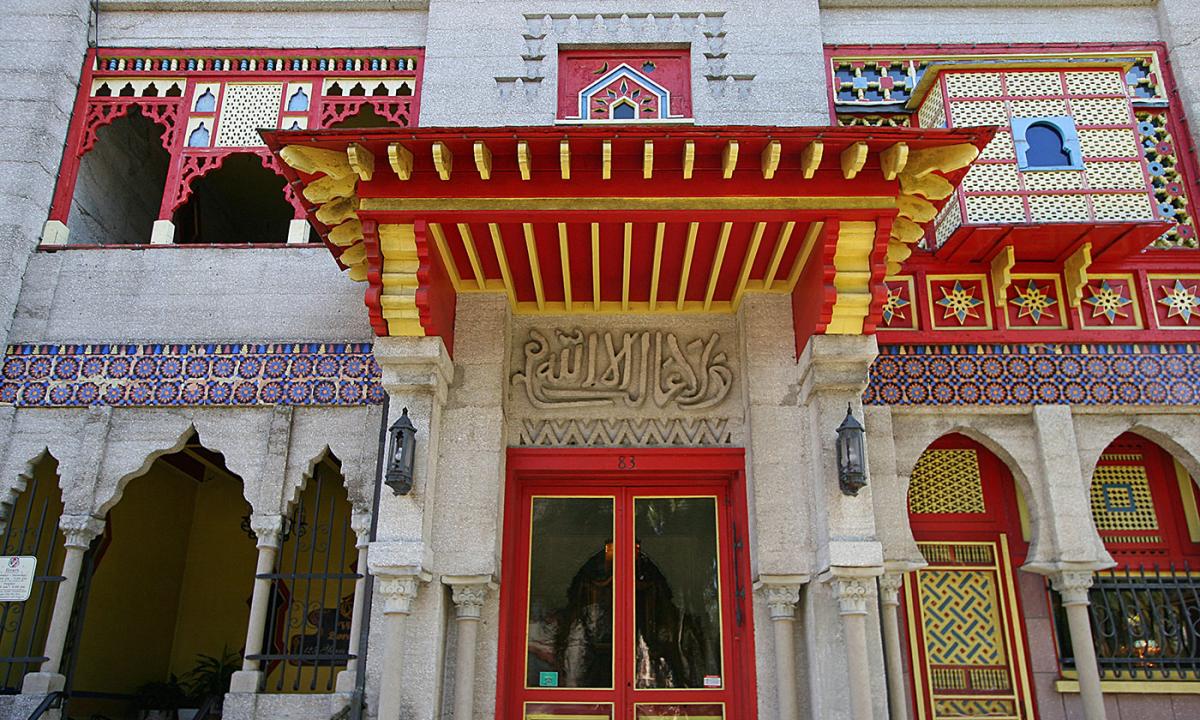 Entrance to The Villa Zorayda on King Street.
GIVEAWAYS: horseshoe arches, curved ogee arches, ornamented vaulting, courtyards
EXAMPLES: Villa Zorayda, Ripley's Believe It or Not
Moorish is a form of Arab Islamic architecture that became very popular in Spain, especially with the construction of the Alhambra Palace in Granada, Andalusia, Spain. This style of architecture is not to be confused with "Moreish," the British slang term meant to mean that something is addictively appetizing and you can't help but want 'more.' However, Moorish architecture is very 'moreish' to architecture buffs and Instagram influencers alike. Its geometric intricacies make it a mesmerizing style to sit and take in. The attention to detail is fascinating on Moorish buildings.
Architect Franklin W. Smith designed one example of Moorish architecture, the Villa Zorayda, to be his winter home. He was known for his reproductions of renowned buildings, and his scaled down version of the Alhambra was no different. From its interior tile work to the engraved Arabic lettering over the door identical to the lettering at the Alhambra that translates to "God is the only Victor." Moorish architecture can also be seen in the mosaic arches accenting Memorial Presbyterian and Grace United Methodist.
Neoclassical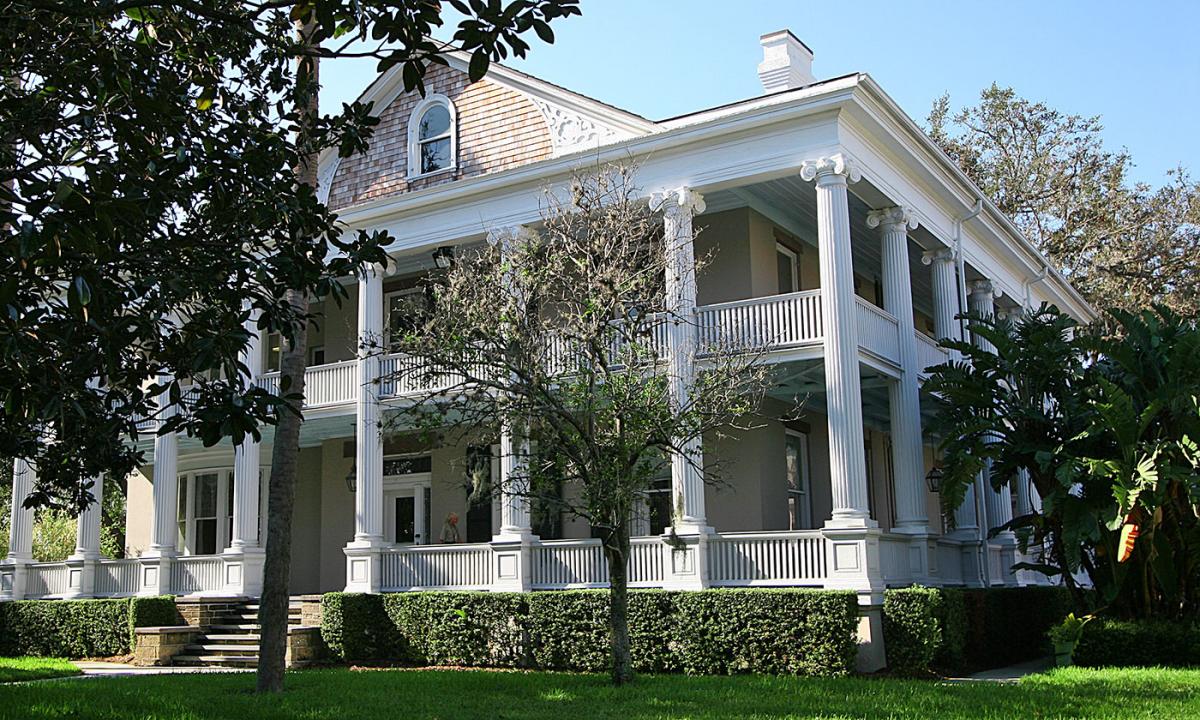 Markland House, just a short walk from The Donut Experiment on King Street.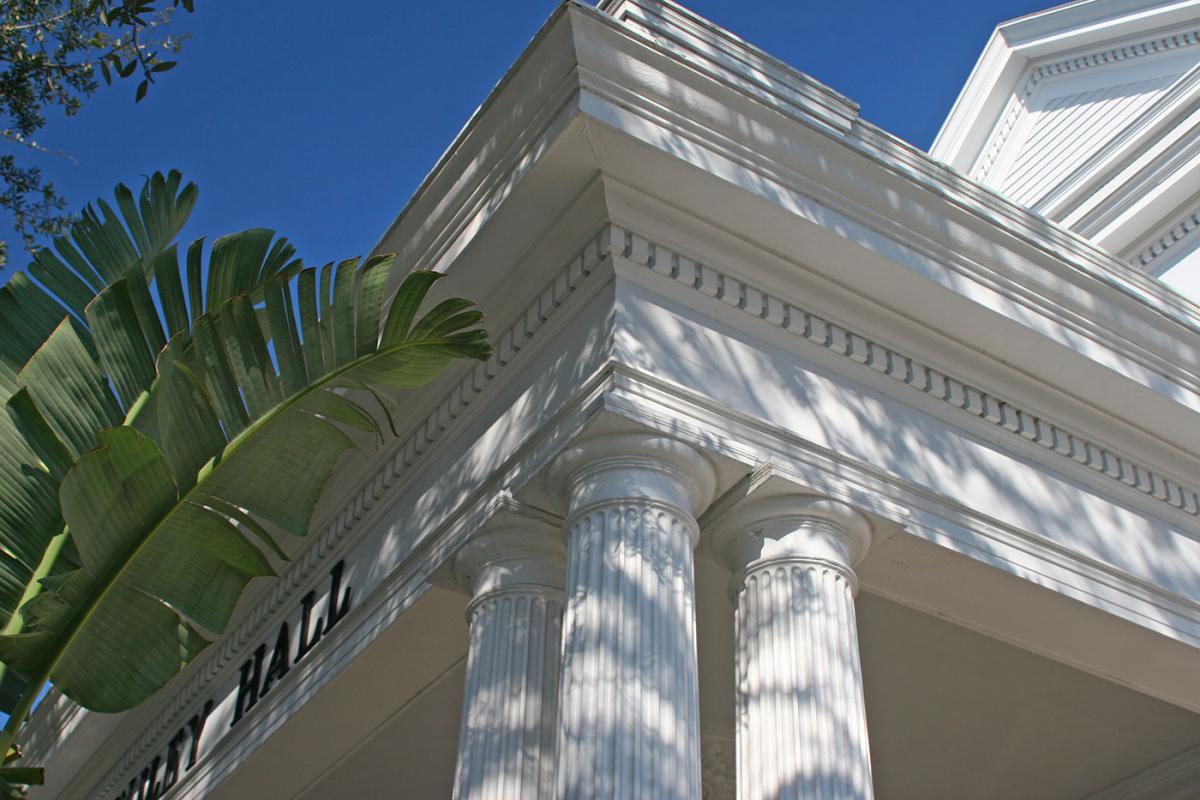 Detail on Wiley Hall at Flagler College.
GIVEAWAYS: huge Greek or Roman style pillars, large balcony, wide entrances, geometric.
EXAMPLES: Markland House, Kirkside Apartments (on Riberia Street)
A familiar example of Neoclassical influence for locals and Southern visitors would be a classic plantation style home. You can almost picture Southern belles in big hoop skirts strolling along these wrap-around porches, fanning themselves. The Markland House is an example, being built in 1839. It belonged to Dr. Andrew Anderson, and today belongs to Flagler College. The architecture is so striking that it serves as a venue for special occasions such as weddings and receptions.
Queen Anne Style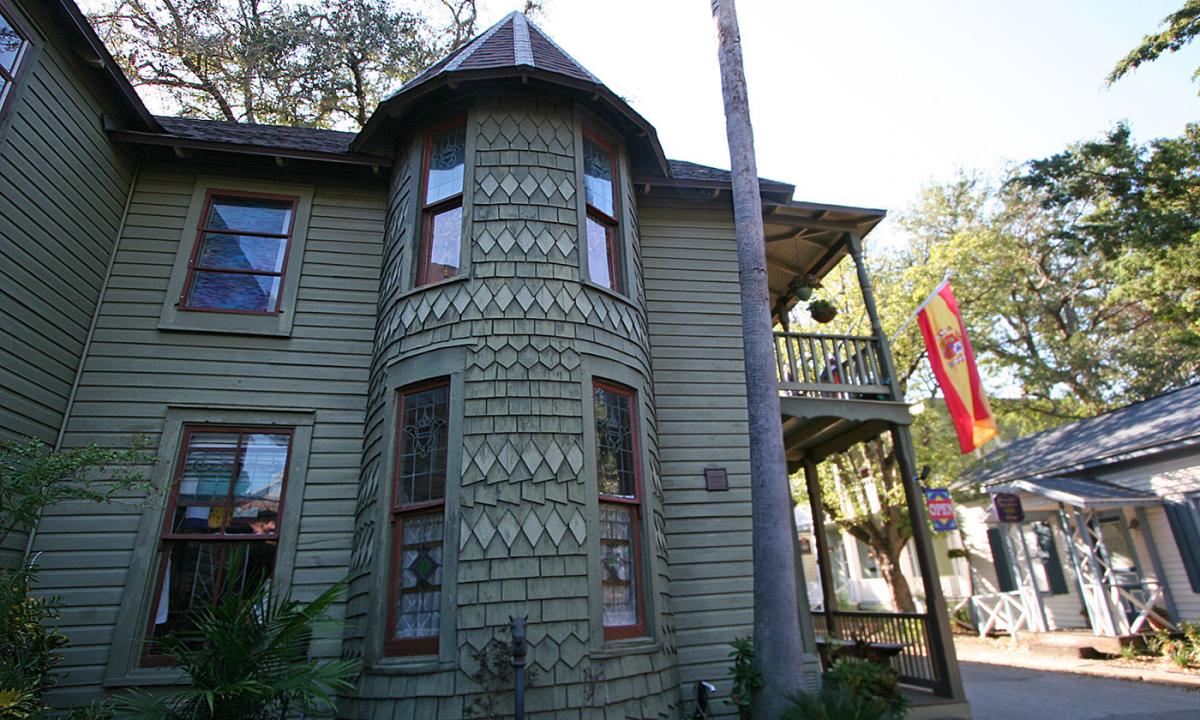 Side tower of 57 Cuna Street in historic downtown.
GIVEAWAYS: corner towers, protruding oriel windows, asymmetrical facade
EXAMPLES: Xavier Lopez House, 57 Cuna Street 
Queen Anne style homes were popular towards the end of the Victorian period well into the 1920s in America. They're the kind of homes we see in movies such as Hello Dolly and The Music Man. The unique towers and asymmetrical appearance of the style became very popular in Australia and America. The style is described as being a softer, warmer version of Victorian architecture which tends to be more baroque and dominant.  The Xavier Lopez House in St. Augustine has an iconic tower, as does 57 Cuna Street.
Second Renaissance Revival Style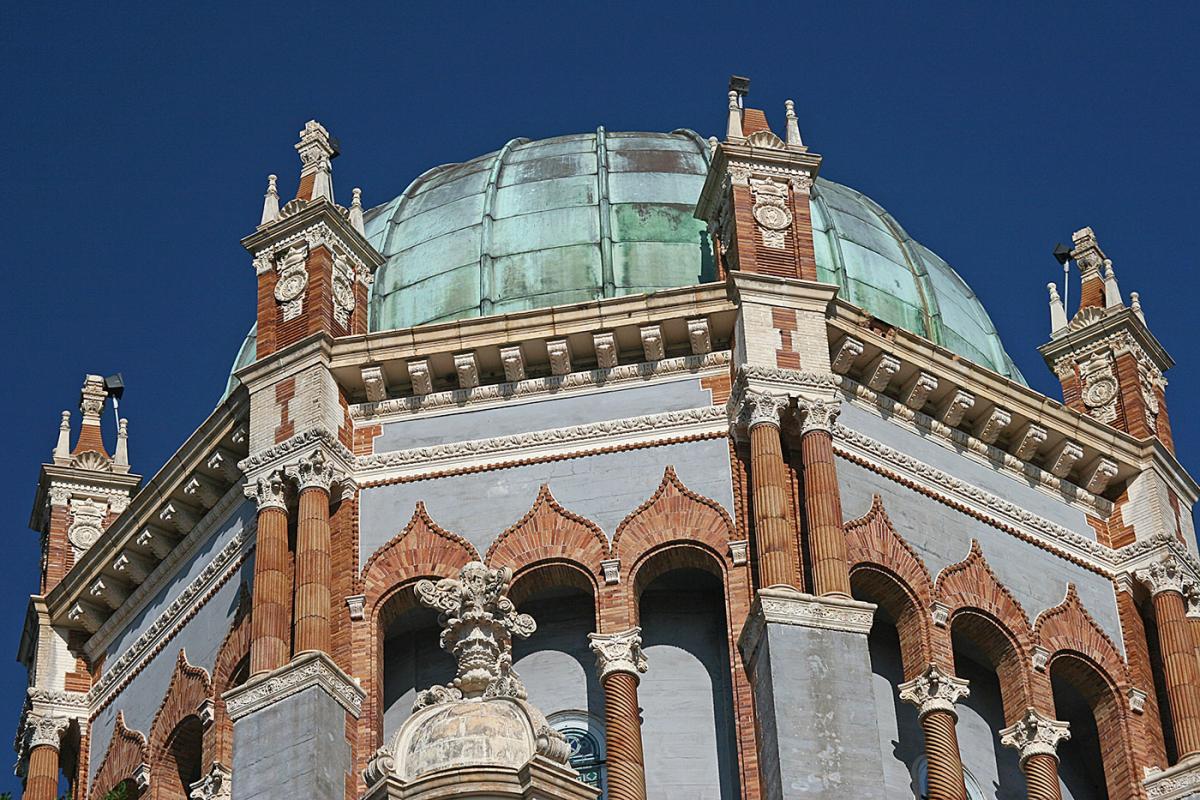 Dome of Memorial Presbyterian Church.
GIVEAWAYS: looks like it belongs in Europe, big and imposing, highly ornate, Baroque and flowery
EXAMPLE: Memorial Presbyterian Church
Only one building in town really represents this style, but it's a style worth mentioning because said building (pictured above) is considered to be one of the most beautiful churches in the United States. Memorial Presbyterian was built by Henry Flagler as a monument to his daughter and grandchild who both died during childbirth. Its exterior is one of the most European-like visuals around St. Augustine--a key characteristic of anything that is Renaissance revival.
The building is inspired by St. Mark's Basilica in Venice, Italy, and elements bear a striking resemblance to the Church of St. Augustine in Paris, France.  The Flagler family's final resting place, this church was built by Carrere and Hastings, masterminds behind the Ponce de Leon Hotel. Be sure to snap a picture of the magnificent copper dome and wood-carved walls and doors.
Vernacular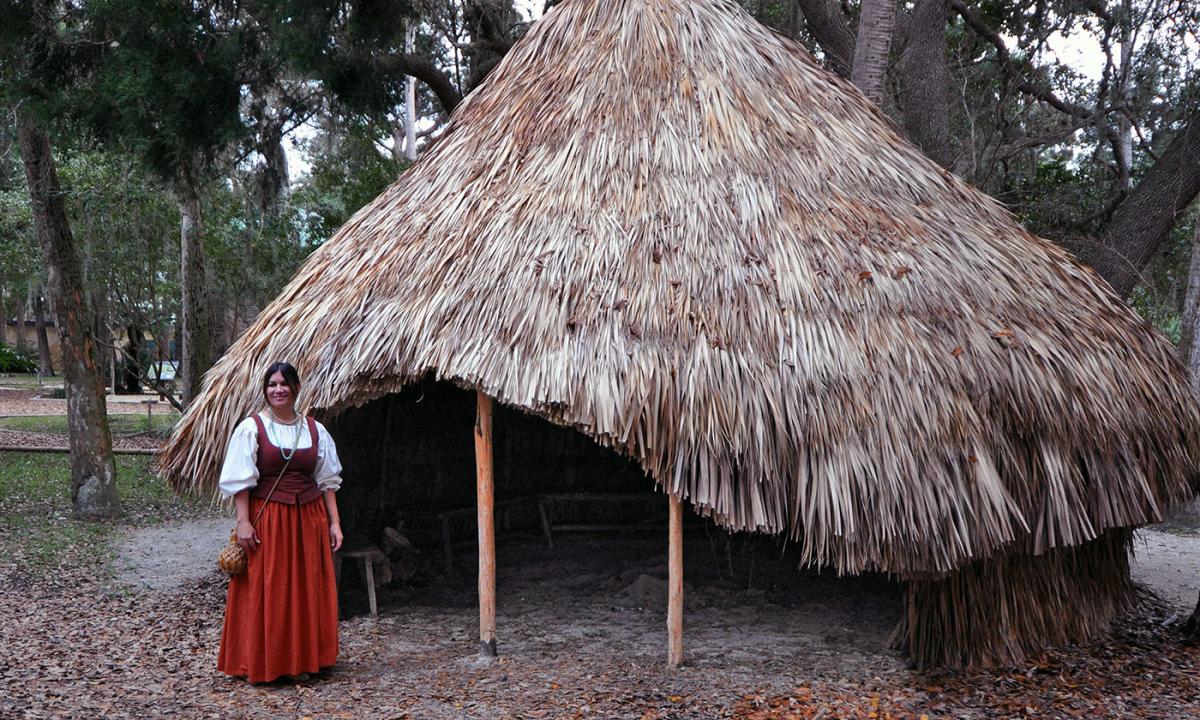 Timucua hut at the Fountain of Youth Archaeological Park.
GIVEAWAYS: local tradition, available resources, functional
EXAMPLE: Fountain of Youth, Fort Matanzas, Conch House Marina Resort
Vernacular architecture is more about function than design. Similar to Spanish colonial, Vernacular buildings that were created with what was available, including local vegetation like palms and timber, even coquina stone. Around the world, vernacular is often used to describe the architecture of native inhabitants, but it can also be used to describe the buildings of settlers and colonists.
One of the best showcases of Vernacular would come from the buildings constructed by the Timucua, a Native American tribe who first occupied the region. Centuries of knowledge regarding the local geography, climate patterns, and horticulture gave them a unique insight when it came to building in a way that was sustainable and strong. A replica of a Timucua village can be viewed at the Fountain of Youth Archaeological Park. You can also see this technique of weaving in the thatched roofs of the Conch House Marina Resort outdoor decks. Another vernacular practice was using coquina, a naturally found cement made from shells. Coquina is a building material used for Fort Matanzas, the Castillo, and other dwellings in St. Augustine.
Note: While some of these works of architecture are accessible to the public, some are private buildings that can only be appreciated from the outside. Thanks, and enjoy!
This article was written in October 2017 and has been updated with current information for 2022.