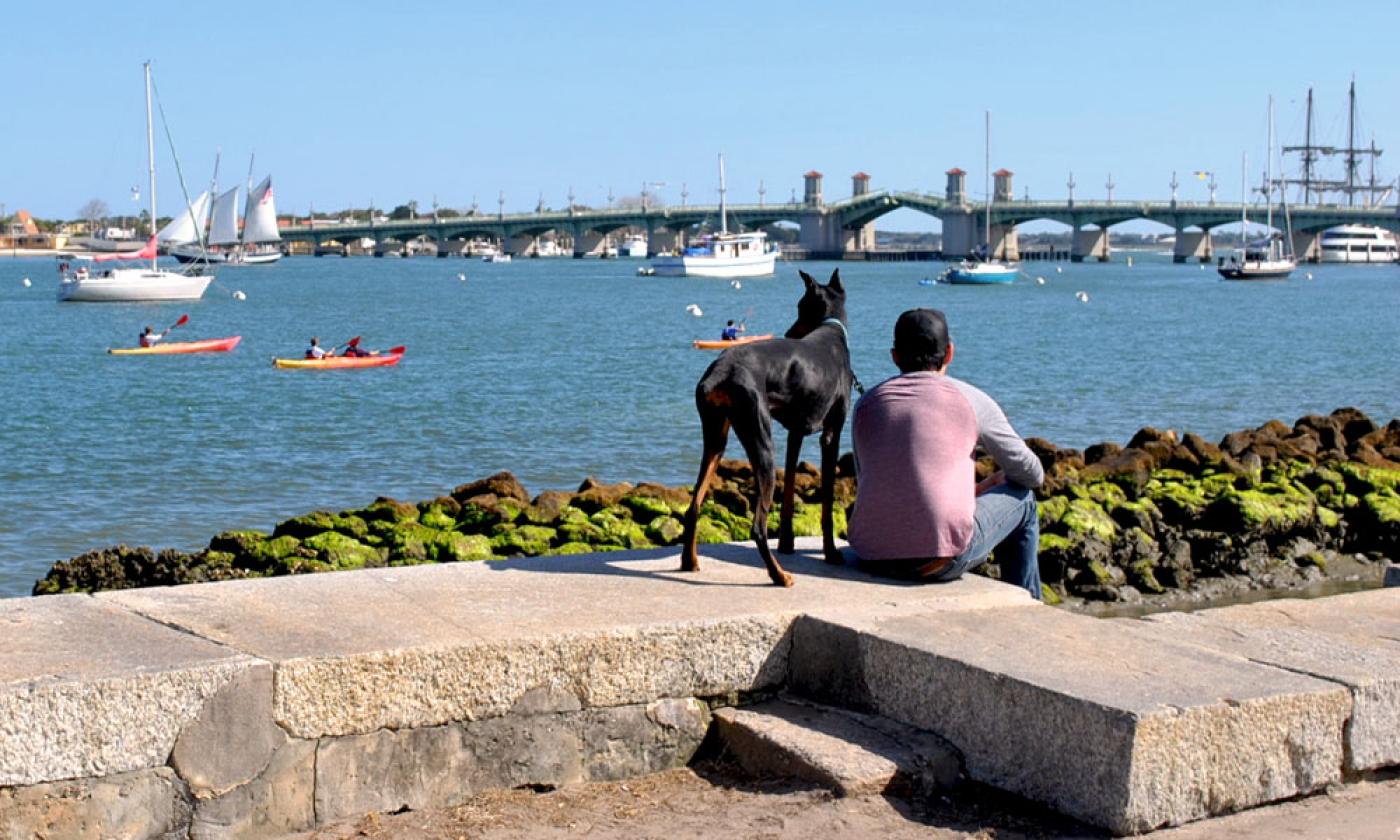 How Pet-Friendly is St. Augustine?
Don't leave furry friends at home--check out dog-friendly amenities in the Ancient City!
Visiting St. Augustine soon and not sure whether you can bring Fido or Fluffy along? The oldest city is a pet-friendly town with plenty of accommodations and things to do that welcome dogs. Read on for some insider tips on pet-friendly hotels and restaurants, things to do with your dog, and even some options for your pup to enjoy his or her own vacation with other furry friends.
Pet-Friendly Hotels
Whether you are looking for a pet-friendly accommodation on the beach or in the historic area of downtown, there are lots to choose from that welcome cats and dogs. If you have a larger dog, be sure to inquire about size and breed restrictions. A few hotels that do accept bigger dogs are Holiday Isle Oceanfront, Old City House Inn, Beacher's Lodge, and the Southern Oaks Inn.

Witty Whisker Cat Cafe is a great place to enjoy and potentially adopt a new cat friend; it is not a place to bring existing pets. If you're looking for a furry fix in St. Augustine, make sure to visit Witty Whisker. 

Other Pet-Friendly Hotels:
Dog-Friendly Restaurants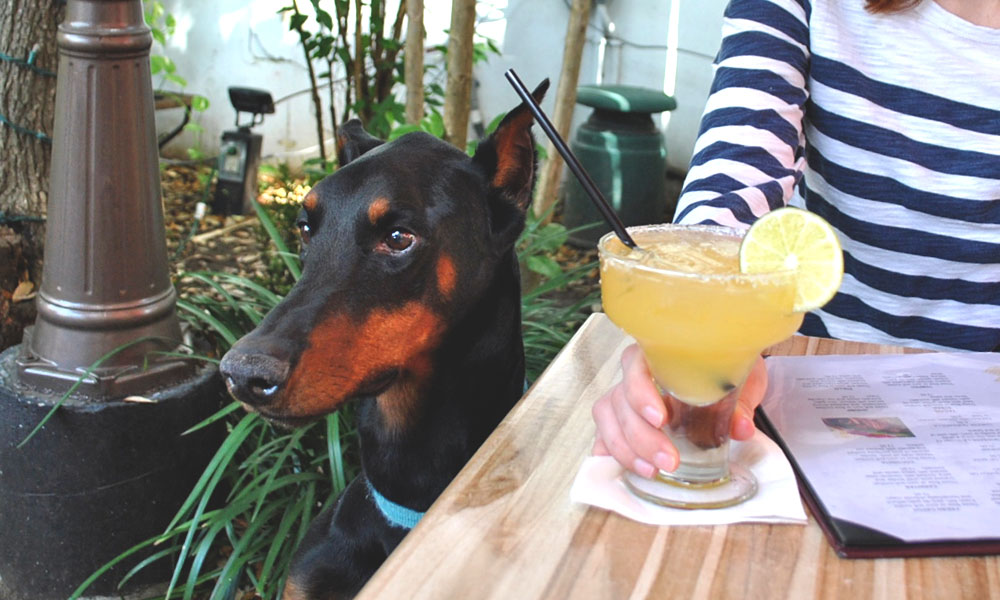 What is better than going out for a bite to eat and the waiter bringing out a bowl of water for your pooch? A simple gesture like this is similar to the feeling of finding out a new acquaintance is a fellow dog lover. It doesn't really matter in the grand scheme of things, but it's just nice and makes you smile. In St. Augustine, this kind of acknowledgment happens all the time for visitors who bring their pets.
There are more than 20 restaurants that are more than okay with man's best friend tagging along in St. Augustine.
Other Pet-Friendly Restaurants and Bars:
Pet-Friendly Tours and Attractions:
Pet Lodging
Maybe you would like to bring your pet with you but don't want to have to worry about them the whole time you're on vacation. In that case, a hotel/daycare service for pets would be an option for you. St. Augustine has a couple of doggy care providers who can really show your pup a fun time.
Pet Paradise is less than five miles from downtown. With their webcam service you can check on your pooch any time of day. You might catch them swimming in the bone-shaped pool, having playtime with the friendly staff, or relaxing in their own air-conditioned suite.
Dog Town USA is another pet hotel that is especially convenient if you are driving in from Jacksonville or points north. Located on US 1, about 10 miles north of Historic St. Augustine, Dog Town USA will pamper your pet with one-on-one playtime, swimming options, and even "fitness classes" on request.
Things to Do with Pets
Go to the Beach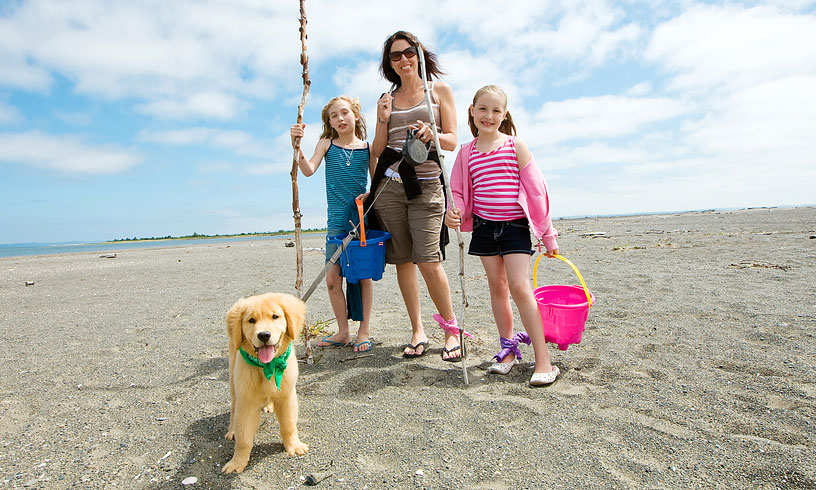 The most obvious choice for a dog-friendly activity in St. Augustine is a trip to the beach! Canines are allowed on all of the beaches in St. Augustine, except for Anastasia State Park. Dogs are required to stay on a leash, so you may want to wear your running shoes if your dogs are anything like mine. They see a seagull and are immediately on the chase—I imagine they hear "mine, mine, mine…" like in Finding Nemo.
Just as we don't want people to leave trash on the beach, please be sure to clean up after your pet. Most of the entries to the beach have bags, but you may want to bring your own just in case because sometimes they run out.
If you are bringing your dog down to the beach for an extended period of time, I recommend bringing along an extra umbrella or a doggy tent for your friend. Even with swimming in the ocean and charging at the white water, the sun is often too much for dogs and they can get overheated. Of course, this goes without saying as a pet owner, but remember to bring plenty of freshwater for them. Word to the wise: bring extra. I have had numerous experiences when one of my dogs flips the water bowl over and I have to run off to the gas station for another bottle of water.
If you have a smaller dog you might be able to rinse some of the sand off them under the outdoor showers. Most of the public parking lots that lead to the beach have these showers available.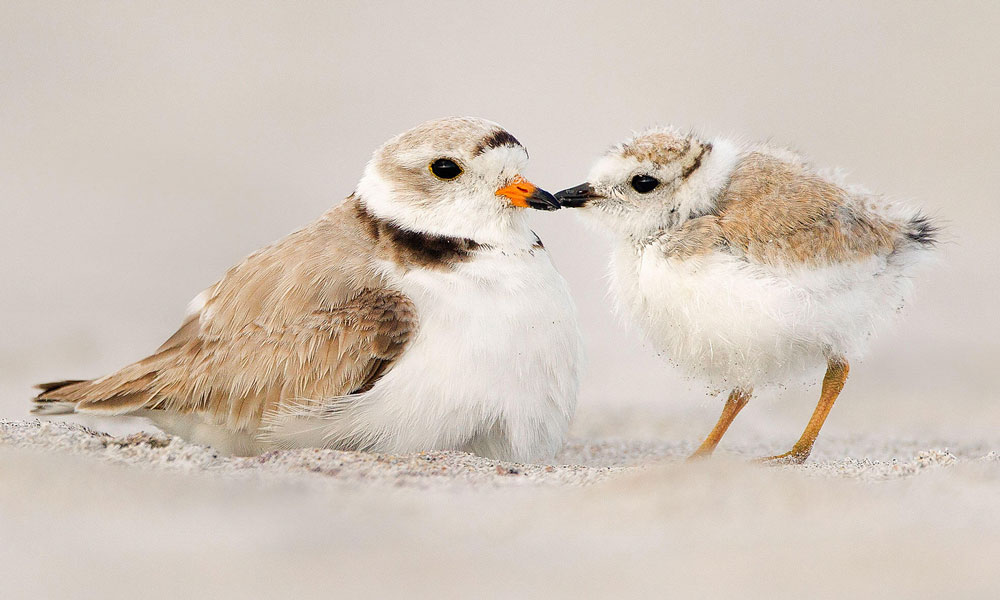 And a final word about beaches, dogs, sea turtles, and birds. Migratory birds breed along St. Augustine's shores during April through August and sea turtle nesting season is March through October. Unfortunately, the main predator for sea birds is dogs off the leash. While your Fluffy may only want to play, the nesting birds are very stressed by them.
Please keep your dogs on the leash when on or near the beach. Even when they are on the leash, please prevent them from going into the dunes, and from getting near the sites marked as a known turtle nest. (The photo of the Piping Plovers came from the Audubon site, it was taken by Melissa Groo, who won an Audubon Photography Award for it.)
Walk Around Downtown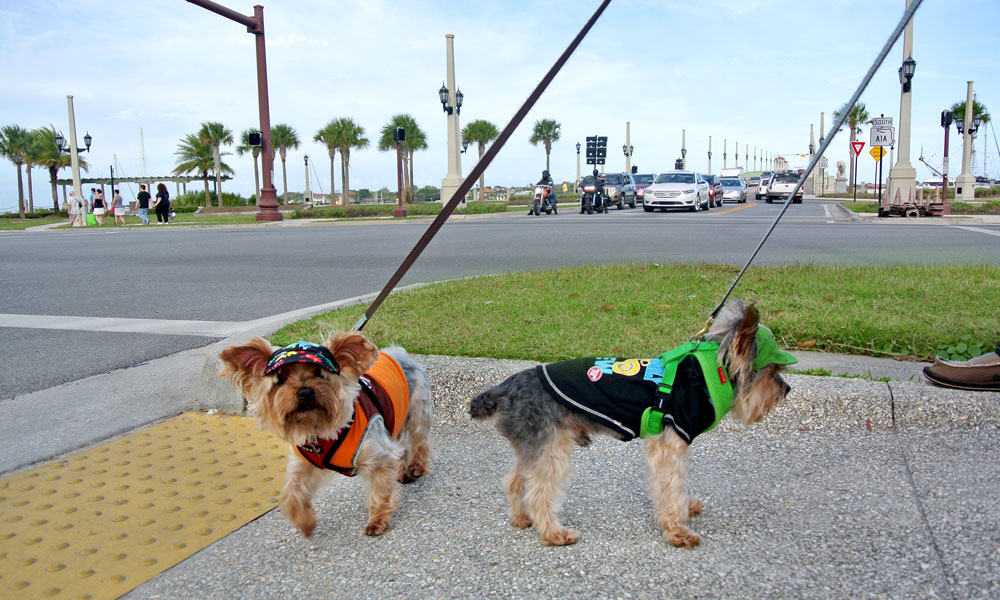 You can soak up some of the history of St. Augustine while giving your dog his daily exercise by walking around downtown. Taking your dog through the brick streets of downtown will give him tons of opportunities to socialize with humans and other dogs if you like. St. George, Hypolita, and Aviles streets all have lots to see and many pet-friendly stops along the way.
You can also plan a picnic on the lawn of the Castillo de San Marcos, or just bring a blanket and people-watch for a while. Dogs are not welcome inside of the fort, but there are plenty of areas for your pets to smell some ancient smells while you soak up some history along with the Florida sun.
The Spanish Military Hospital Museum on Aviles Street welcomes pets on their fully guided tours. Step inside the hospital to learn about the medical practices of Colonial times and take a break from the heat for a bit.
With a size restriction, dogs are allowed on tours of the San Sebastian Winery and at the Cellar Upstairs, a rooftop bar, as long as they are on a leash.
A lot of the ghost tours, such as Ghost Tours of St. Augustine and The 13 Keys Scavenger and Mystery Hunt, are outdoors only. If your dog is well behaved, he or she is welcome to tag along for the stroll and the stories.
A long walk or a short car ride to the Fountain of Youth and your dog will be amazed by the long tails of the peacocks sashaying around. They might even be able to take a sip of the water to keep them in their puppy years.
If your dog is more the scholarly type, you might consider bringing him or her on a visit to the Oldest Wooden Schoolhouse or perhaps a tour of the Colonial Quarter would be fun too.
Visit a Dog Park
There are a handful of public no-cost dog parks located throughout St. Augustine, where your dogs can stretch their legs off the leash. The one at Treaty Park, just south of town, is one I frequent with my three dogs. The park has separate divisions for small and large dogs, along with plenty of water, a few toys, clean-up bags, kiddie pools, a mock fire hydrant and plenty of other friendly dogs. With one very high strung miniature pinscher, I have learned that taking a walk along the nature trail within Treaty Park is a nice way to wear your dog out a bit before going into the dog park.
If you are staying on St. Augustine Beach, you can visit the Ron Parker dog park off Old Beach Road by the CVS on Pope Road. It is a mulched park, shaded by trees and also offers two areas for different-sized dogs. Every time I have been there, it's a mix of big and small dogs in the large dog area, though, and everyone has gotten along just fine.
Vilano Beach has a smaller grassy dog park at North Shores Community Park next to the community center. The few times I have been there, the park has been pretty empty of other dogs. As long as I bring a tennis ball I can get them to run around, and of course they enjoy being off the leash.
If you are staying downtown, the dog park inside Pomar Park (off S.R. 16 on Masters Drive) may be the best bet for you. With grass, a few trees, and a gazebo for you to sit under, this is another nice place to bring your dog to be free for a while. My dogs love to jump in the kiddie pool and then jet off towards the trees for a lap, and then back into the pool.
Spend Time in Nature
If you're thinking green beyond dog parks, consider bringing your dog along with you on a tour of Washington Oaks Gardens. Here, there are lots of sights and smells for both of you to enjoy as long as your dog remains leashed.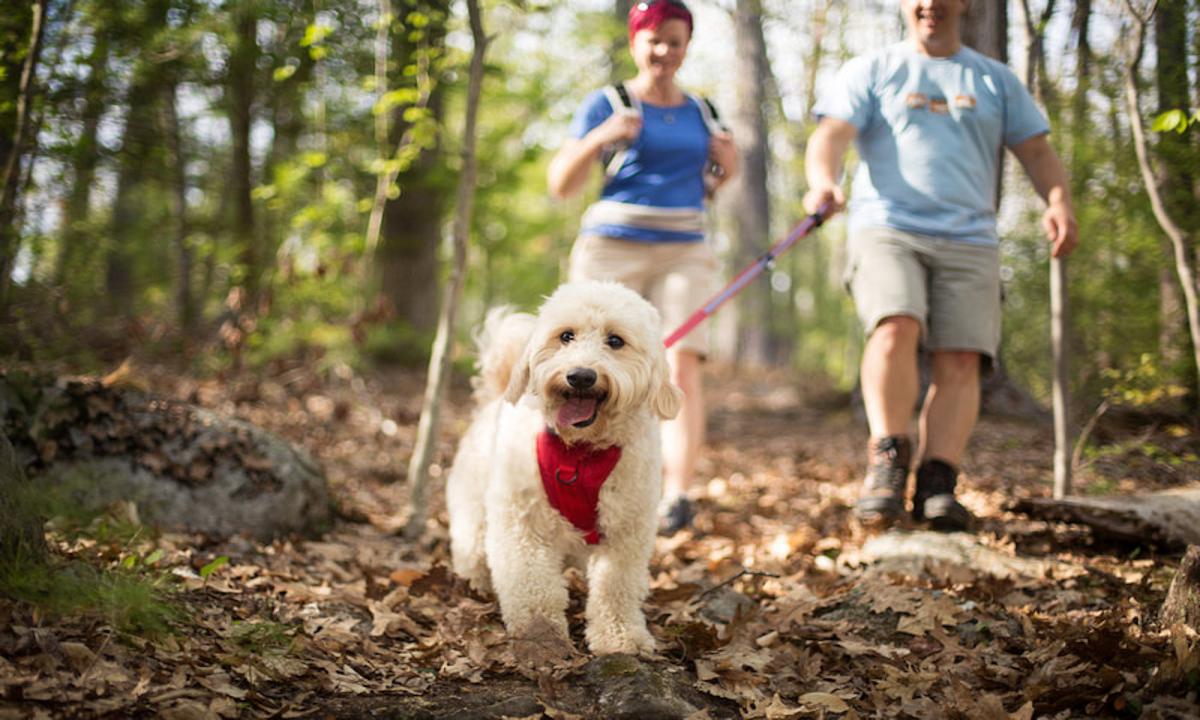 The St. Augustine Lighthouse is another beautiful green area for both of you to enjoy. If your dog acts funny, it might just be the ghost of the cat that used to live on the property many, many, many years ago. You can read about the lighthouse cat as you climb the stairs.
Fort Mose, just north of the city gates, is another beautiful, historical green space. Your dog an enjoy the outdoor sniffs while you learn about a very important part of St. Augustine's history - the first legally-sanctioned free African American settlement.
See a Concert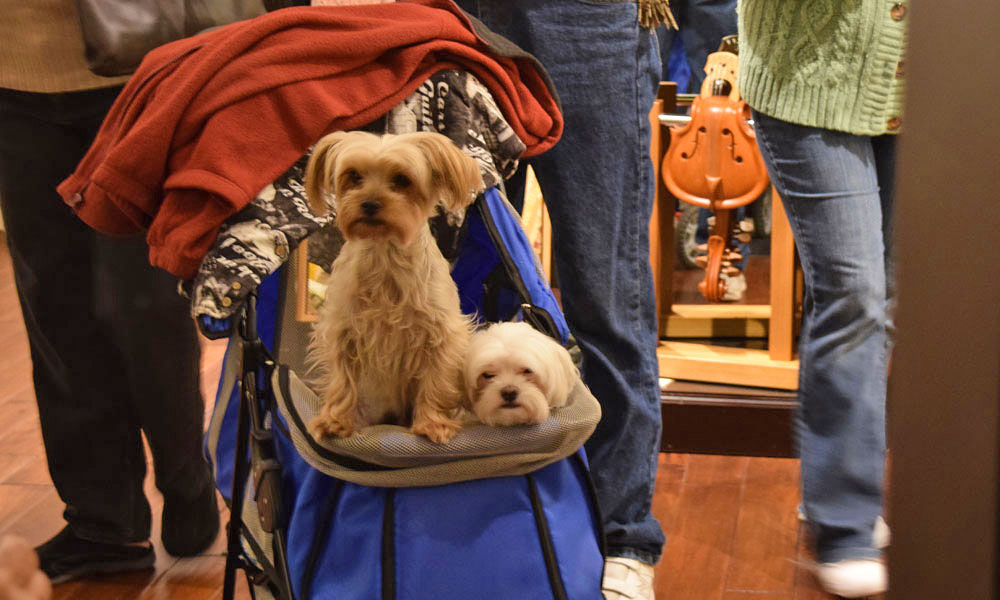 If you are lucky enough to be visiting the oldest city during the week, you should add a free outdoor concert to your list of things to do with your dog(s).
The Concerts in the Plaza series runs from the end of May through September. Local and regional musicians perform every Thursday evening from 7 to 9 p.m. in the Plaza de la Constitución. All you need is a chair or blanket and your furball to enjoy an evening of tunes outside.
Between May and September on Wednesday evenings, beginning at 6 p.m., Music by the Sea concerts are held at the pier in St. Augustine Beach. You can listen to music and bring food and drinks in your cooler, or buy a meal from the spotlight restaurant supplying the food that week.
Lots of people attend these concerts so you may want to keep your pet's leash short so he's not smelling every other person that walks by. I'm always surprised, but there are those people that just don't like dogs and you have to be respectful.
Have Fun on the Water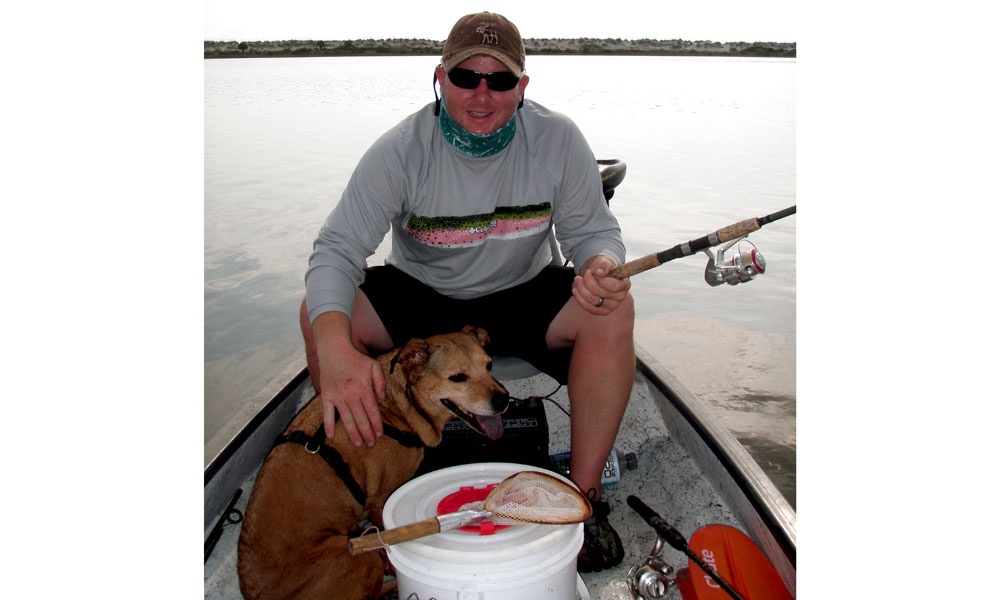 As long as you trust your dog not to flip the boat, you can explore St. Augustine's coastal waters by renting a kayak. You could even take a dolphin tour with St. Augustine Eco Tours— just give them a heads-up that you are bringing your dog when you make the reservation. Scenic Cruise is another option for taking your dog out onto the local waterways.I don't recommend letting your dog jump in the water though, only because there are so many oyster beds they can cut their paws on. If you pull up on a sandy beach, of course, they should be okay for a swim.
If you plan on renting a boat, a doggy life jacket might be a good idea (just like a life jacket for you might be a good idea). Even if your dog can swim, you should be wary of the strong currents. Shade is another thing to consider. Some of the beaches you can pull up on have trees and offer a reprieve from the sun, but an umbrella or makeshift tent area on the boat may be needed to keep your pet cool.
More of a Cat Person?
We get it. When we said "pet-friendly" we're mostly talking about dogs. If your furry friend is of the feline variety you probably had to leave the little fuzzer at home as most of them aren't great travelers. (Raise your hand if you've ever spent two days on the road with a cat and have the scars to prove it.) Just kidding. (Not really.) If you're in St. Augustine on vacation and need a fur fix with an animal that purrs, check out Witty Whisker Cat Cafe at the corner of Ponce de Leon Blvd. and Carrera Street. You can simply enjoy a beverage and a delicious baked treat while watching the kitties play in the room next door. Or, for a fee, you can actually visit and play with the cats. 
If you need even more cats in your life, keep heading south on Ponce de Leon Blvd. to the Frisky Cat Cafe. Sip coffee. Pet cats. Repeat.
Warning: these fur-bits are available for adoption. Do not blame me if you fall in love with one - or some - and end up with a cat (or two) on a road trip!
Groomers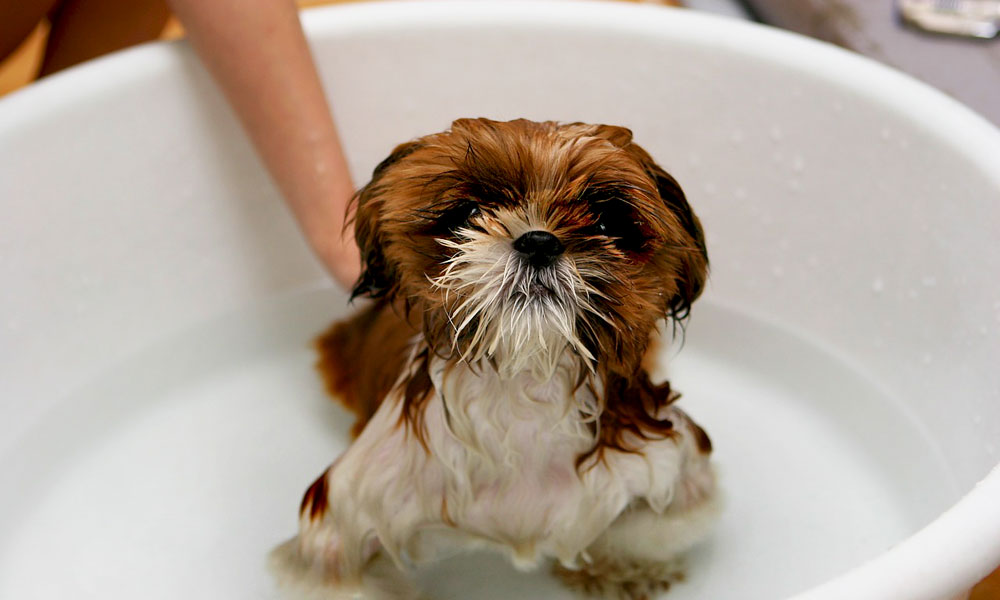 After a hard day of chasing seagulls and running from waves at the beach, a bath may be in order. Luckily there are dog groomers located throughout St. Augustine to get your canine sand-free before heading back to the hotel. If their nails need a trim or you have a shaggy dog in need of a quick haircut, these groomers can help you with that too.
Society Pet Spa 
1665 Old Moultrie Rd, 
St Augustine, FL 32084 
(904) 824-8895
Petco  
430 Cbl Dr,  
St Augustine, FL 32086& 
(904) 824-8520​
PetSmart  
1779 US Highway 1 S 
St. Augustine, FL 32084 
(904) 495-0785
Dog Town USA  
6988 U.S. 1 #301, 
St Augustine, FL 32095 
(904) 347-2363
Pet Paradise  
125 Ponce Harbor Drive 
St Augustine, FL 32086 
(904) 797-9770
St. Augustine is known for being a friendly place to visit, but now you know that goes for more than just homo sapiens!  With a wide choice of pet-friendly hotels and restaurants and plenty to do with your pet around town, you shouldn't even be considering leaving Fido home on your next vacation to the nation's oldest (and maybe furriest?) city.
Pet Urgent Care Clinics
Now hopefully you won't run into any problems while your pooch is in town, but just in case you find yourself in a hairy situation with your furry friend, here are some local veterinary clinics you can take your pet.
Open After Hours
St. Augustine Regional Veterinary Emergency Center 
2090 US-1  
St. Augustine, FL 32086 
(904) 797-5770
Open During the Day
Antigua Veterinary Practice 
195 San Marco Ave. 
St. Augustine, FL 32084 
(904) 824-1414
Humane Society 
1665 Old Moultrie Rd. 
St. Augustine, FL 32084 
(904) 829-2737
St Johns Veterinary Hospital & Cat Clinic 
1360 US Hwy 1 South 
St. Augustine, FL 32084 
(904) 824-8123
Matanzas River Vet 
2440 US-1  
St. Augustine, FL 32086 
(904) 794-4002
MuraBella Animal Hospital 
3625 Pacetti Road 
St. Augustine FL 32092 
(904) 471-3044
Jackson Veterinary Hospital  
1925 A1A S  
St. Augustine Beach, FL 32080  
(904) 471-3044