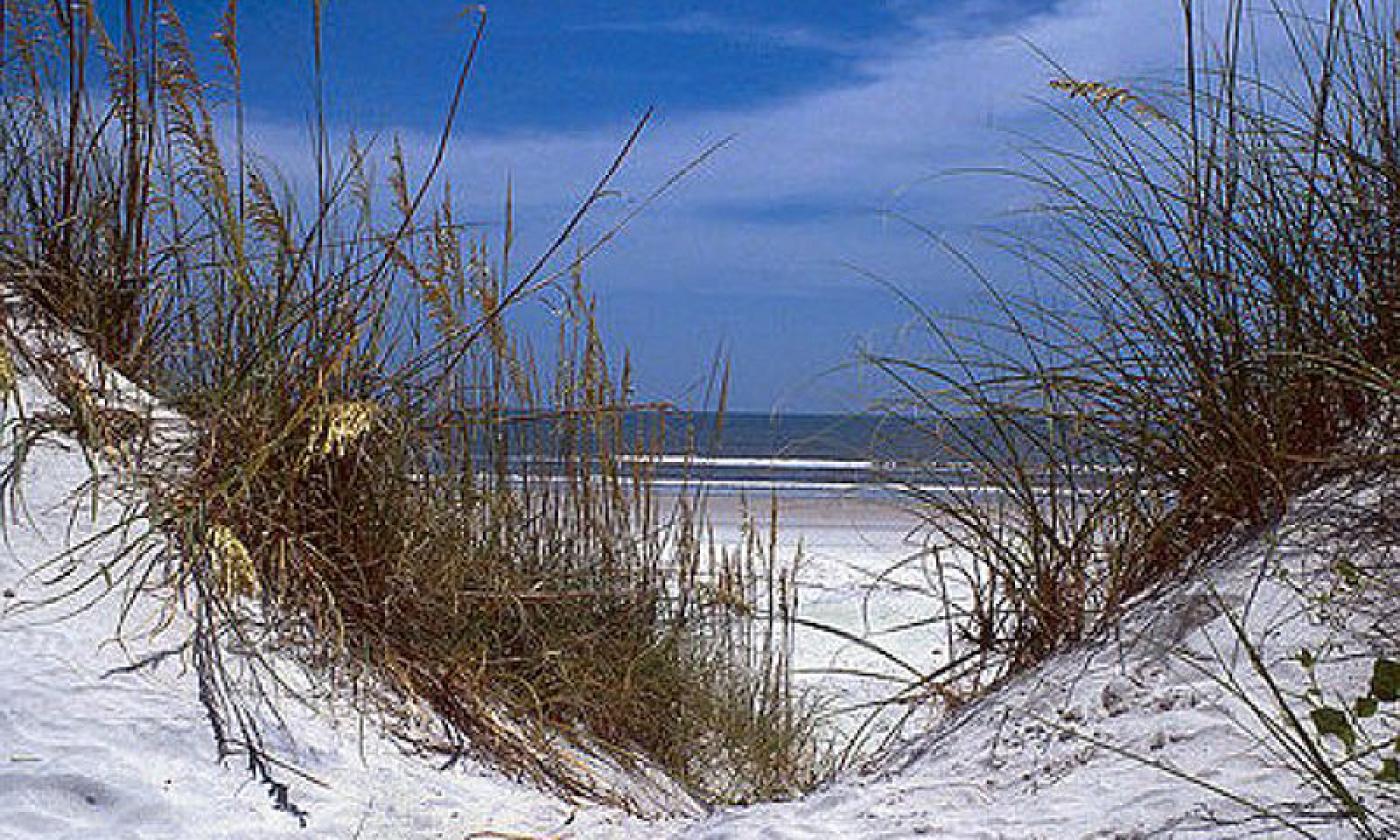 Enjoying St. Augustine Beach
A pristine stretch of coastline with plenty of classic accommodations, restaurants, and recreational activities has a few surprises sprinkled in, too.
Florida's beaches are known for beautiful wide stretches of sand, shells, and fun. Literally millions of visitors flock to the Sunshine State for those very reasons, and, it's still important to find the beach spot that resonates with you. St. Augustine Beach resonates with me - and lots and lots of visitors (of all ages) all year long. It's ideal for family vacations, a fun couple's getaway, or a relaxing holiday celebration because it's a classic beach destination. You won't find trendy nightclubs or high rise condominiums, however you will discover miles of beautiful beaches, a state park, a fishing pier, ice cream, bicycles, surf boards, a diner, burgers, seafood spots, mini golf as well as old school hotels, motels, and beach houses. I know I keep using that word "classic," but that's what makes St. Augustine Beach special - it's fun for nine year olds and 90 year olds and every age in between.
My almost-four-year-old niece, Raina, told the family that she wants to spend Christmas in St. Augustine as well as her spring birthday - every year. During the winter holidays my brother's family stays in an Airbnb close to historic downtown to have easy access to the Nights of Lights. However, for Raina's birthday, it's all about a vacation rental in St. Augustine Beach. So far, for this year we have the following on our "to experience" list: a big breakfast at Beachside Diner, a bicycle rental, lots of beach playtime, and a show at the St. Augustine Amphitheater — and this is just the first day's itinerary.
There really is so much to do — without even going over the Bridge of Lions into historic downtown — that it's easy to forget to take some time to relax on St. Augustine Beach. So let me help you (and my family) plan your days on St. Augustine Beach — that way you have more time for the sun, surf, and sand.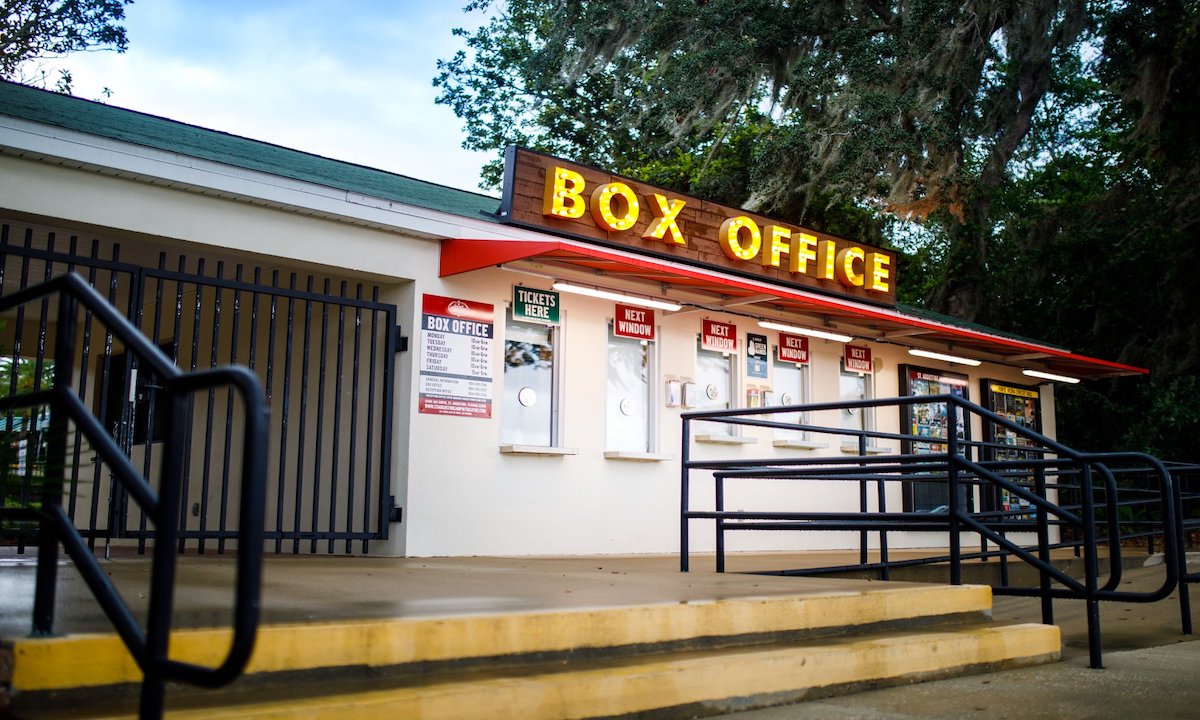 The St. Augustine Amphitheater's (now known as The Amp) box office.
Exclusively for grown-ups ages 25 and older, The Beachfront Bed and Breakfast is where Raina won't be staying. It's the perfect spot for a romantic getaway as the AAA team named it as one of the 14 most romantic places in the United States and Canada. With only eight rooms, The Beachfront B & B offers landscaped gardens, a heated pool, a Jacuzzi, and a beach side location. The second-floor great room and verandah have spectacular views of the sunrise that you can enjoy before breakfast is served in the dining room.
If you're traveling with family members under 25 years old, you can have a little party - at La Fiesta Ocean Inn & Suites. Here, you can keep the fiesta alive even when you're not on the beach or at the pool because Fiesta Falls Miniature Golf is right on site (and serves ice cream, too). And for the morning after the fiesta, there's a light breakfast, included with all rooms, that's delivered right to your door at whatever time you choose.
For "the modern traveler in the Ancient City," The Local is close enough to the Bridge of Lions to walk into town, and, it's just been redone so it's literally cute as a button. The Local is pink (!) and it's decorated with pink flamingos and tropical wallpaper. It's dog friendly, has a pool, and is just a few short minutes from the St. Augustine Amphitheater. (And yes, I am addicted to their Instagram feed for the cuteness factor.)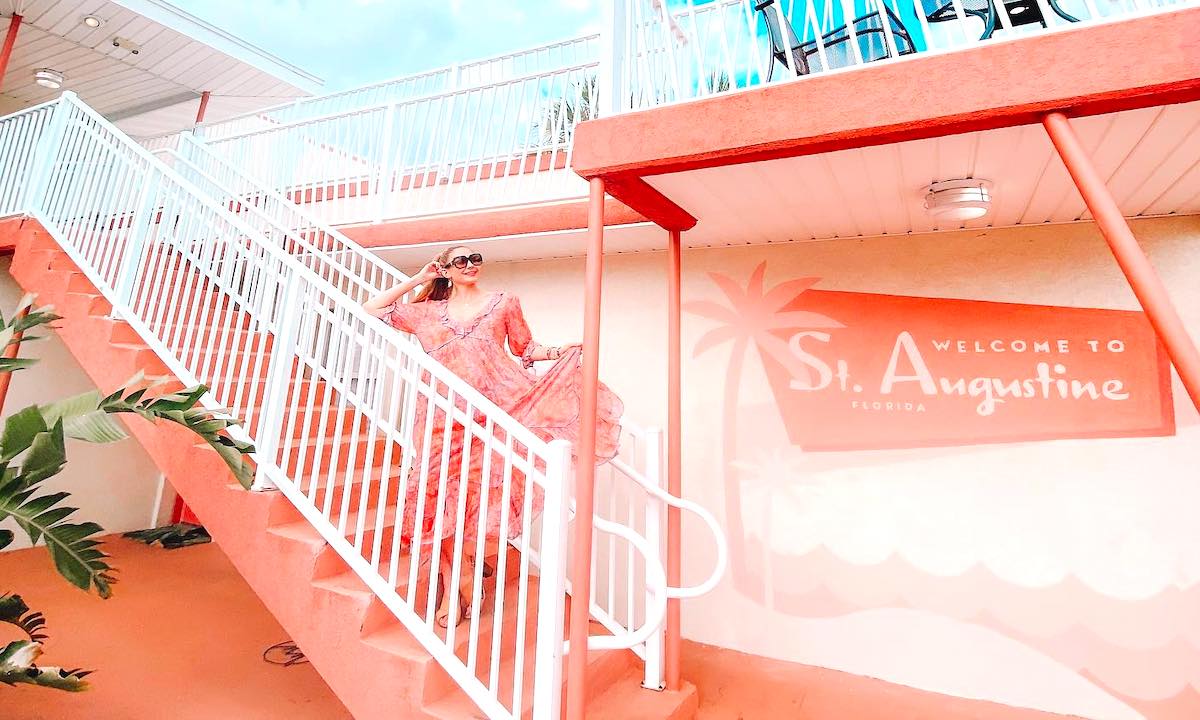 A visitor - who matches the artwork - takes an Instagram worthy shot outside The Local.
Everyone loves Café Eleven because we locals (and visitors) appreciate the just-off-the-beach location, fresh ingredients, and friendly prices. Serving breakfast every day, Café Eleven has a breakfast buffet on the weekends. It also has desserts and local beer (on all days) as well as live music (on some days). Check out our calendar to see if there's some great music happening that coincides with your travels.
Take a break from the sun and head inside to Sarbez for lunch. Just before the Bridge of Lions is this little oasis known for its killer grilled cheese sandwiches and the '80s style arcade. During the day, it's perfect for all ages with Old CIty Brew iced coffee and 25 draft beers as well as ski ball, pinball, and Pac-Man (among other arcade classics).
Whenever I feel like I haven't had enough toes-in-sand time, I eat dinner at Beachcomber Restaurant on A Street in St. Augustine Beach. A Street is like the happiest little block on the beach with smoothies on one corner, tacos on another and the Beachcomber - literally right on the beach. If your table isn't ready, you can have a drink in the "sand lounge" which is literally a bunch of chairs plopped in the sand next to the dunes. Oh, and, although the Beachcomber is known for its seafood dishes, the hot wings are in fact hotter than an August day on St. Augustine Beach.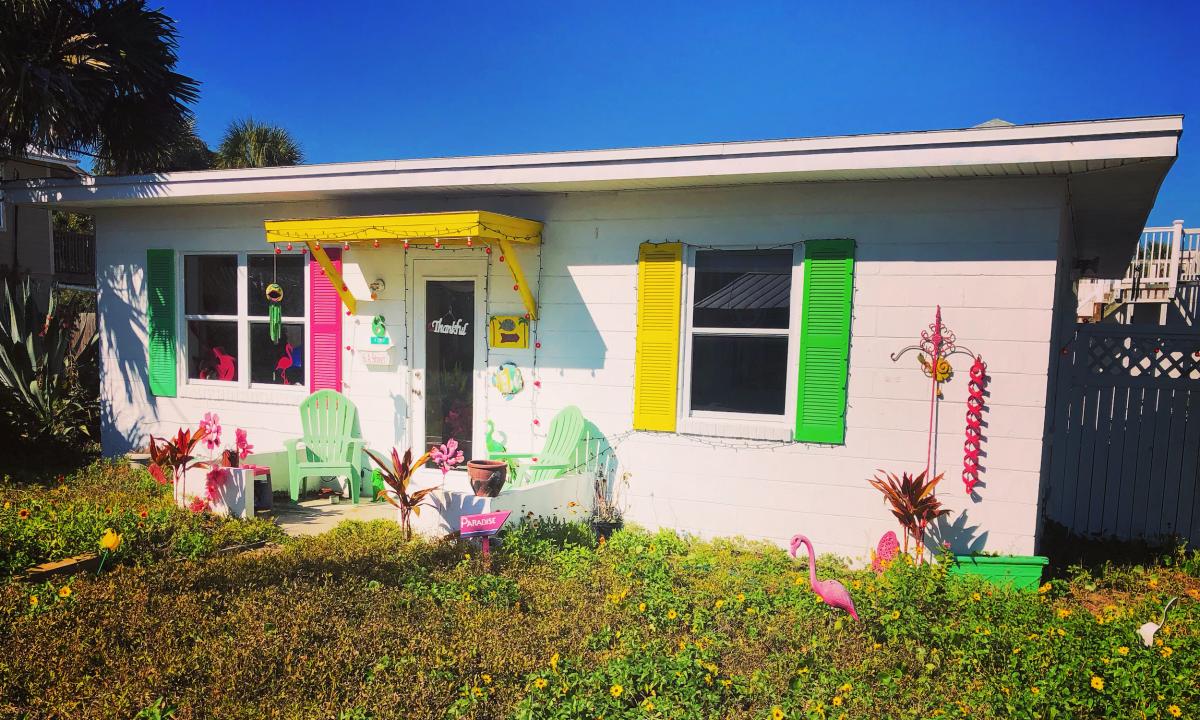 The happiest house on the happiest block (A Street) in St. Augustine Beach.
When my brother got married at Anastasia State Park, after the ceremony all I wanted to know was why we didn't hike the coquina quarries, walk the nature trails shaded by maritime hammocks, or at least hunt for treasures on the white sandy beaches. This is the grand poobah of parks -- Reserve America rated Anastasia State Park as #6 of 100 parks in the United States. Here, you can enjoy swimming, kayaking, paddling, wildlife viewing, walking, surfing, hiking, biking, camping, picnicking, sailboarding, canoeing, fishing, sunbathing, sailing - and snacking. (Yes, there's a snack bar.)
St. Johns County Ocean Pier is a gathering spot for more than just fishing. Offering a visitor center, a splash park, six beach volleyball courts, two bocce courts, a covered pavilion, beach access, and the Art Studio of St. Augustine Beach, the Pier is a multi use venue that I've enjoyed many times for many reasons. Plus, it hosts the Pier Farmers Market on Wednesdays, art festivals, the Music By the Sea series during summer months, and the New Year's Eve fireworks. (It was the first place Raina ever saw a fireworks show.)
The Village Garden Food Truck Park is the first venue in St. Augustine to host up to six food trucks seven days a week. What that means is that while you're enjoying St. Augustine Beach you can carve out some time to spend here with multiple food options, cozy outdoor seating, and the plentiful assortment of outdoor games -- and everyone (young, old, and in between) will be happy. No one is ever in a sour mood when there are so many food trucks - and games - to choose from every day.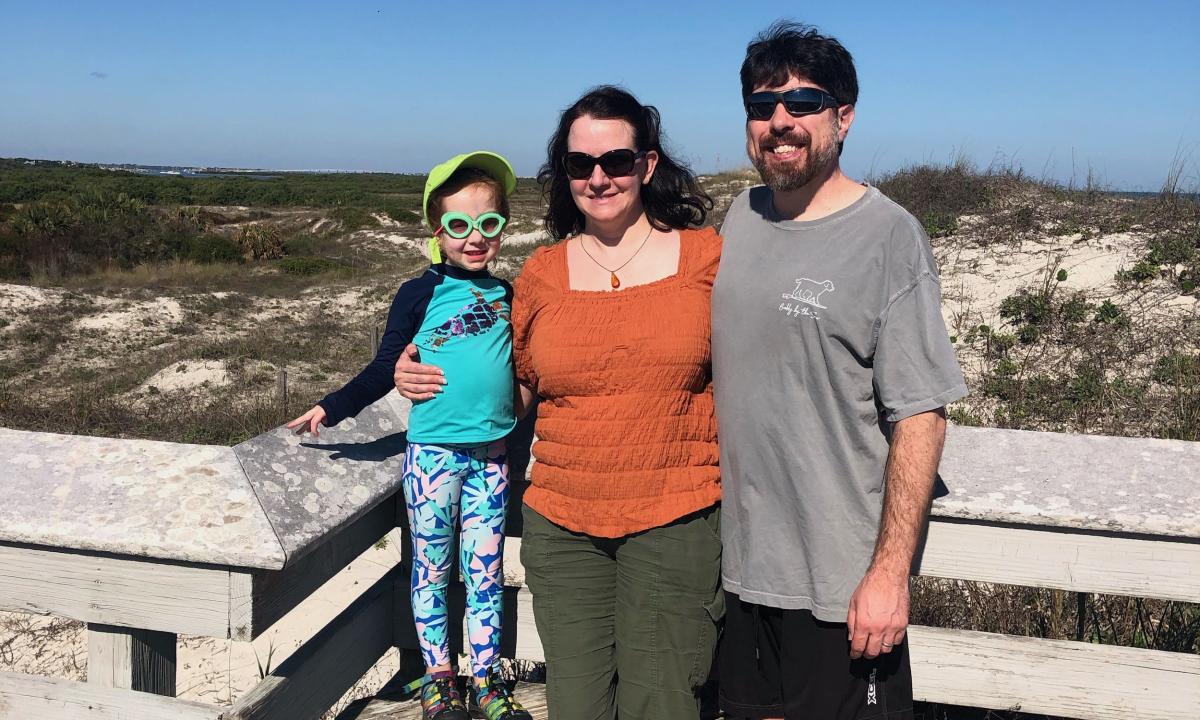 My brother and his wife introducing Raina (pictured left) to the spot in Anastasia State Park where they got married.
More Ways to Enjoy St. Augustine Beach
And if I had to give a little shout out to one of my favorite spots in St. Augustine Beach, I'd choose Les Petits Pleasures - the pleasures may be small in size, but they are huge in taste. When I had foot surgery, the first thing I did when the anesthesia wore off was demand a ride to Les Petits Pleasures for chocolate croissants. I give this traditional French pastry shop two thumbs (and two feet) up.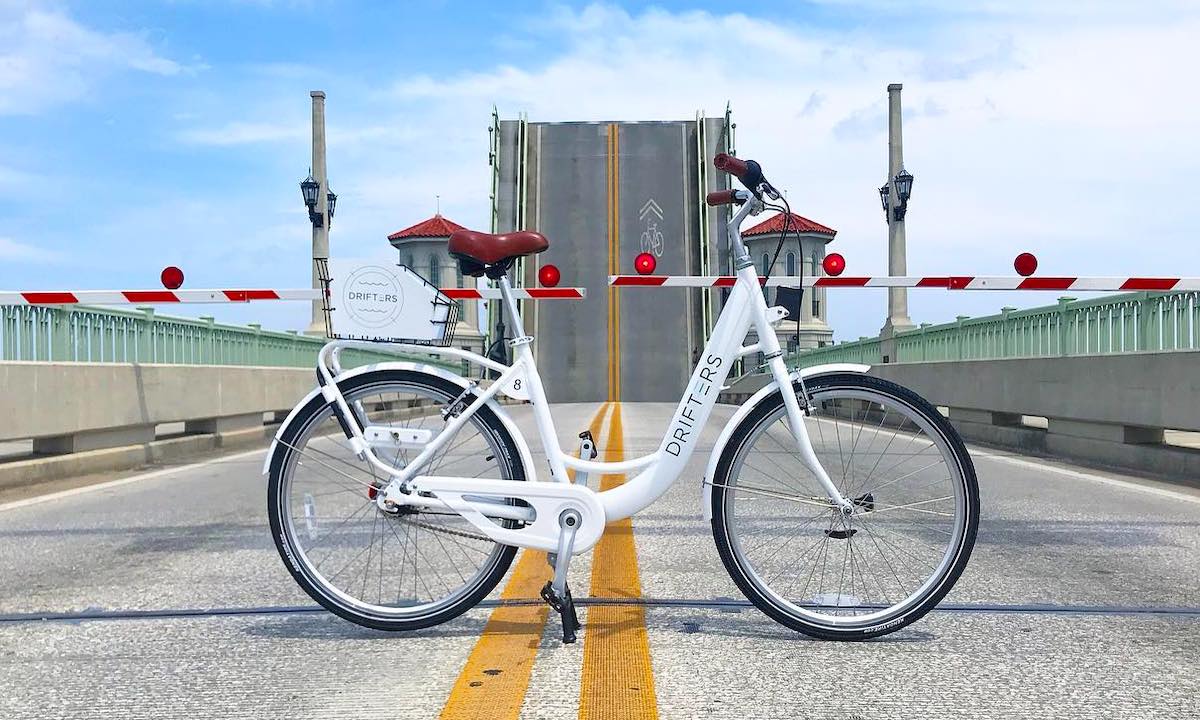 A bicycle from Drifters Beach and Bike Rental waits on the Bridge of Lions while the drawbridge is raised.