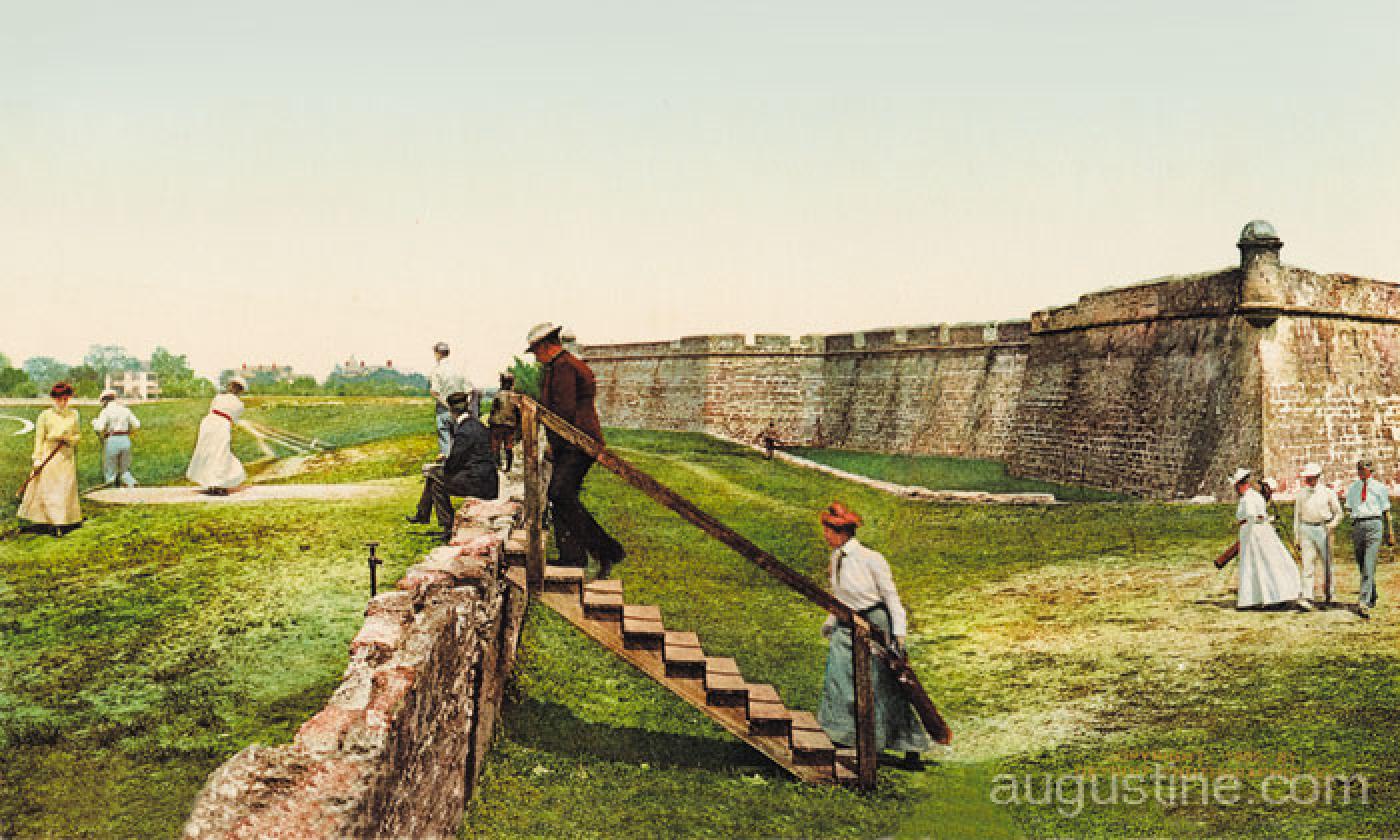 Golfing in a Winter Wonderland
There's no place like Florida for a winter golf vacation.
Golf is one of America's favorite past times -- especially so in Florida. The state boasts more than 1,200 courses and is a popular winter destination for northern golf lovers.
Now, I know looks can be deceiving, but my knowledge of golf is actually very limited—meaning, everything I know about golf comes from Happy Gilmore and putt putt. My greatest accomplishment in golf was obtaining the Fore! Achievement in Left 4 Dead, and I probably spend more time at a country club bar (or just a regular bar) than out on the green.
I'm not an expert by any means, but luckily, I work in an office full of them. If there's one thing I've learned from talking with St. Augustine golfers, it's this: there is no single type of golfer and no single type of course. This is especially true in St. Augustine, where courses provide something totally different from what's available anywhere else in the country, and every visitor will find a new challenge waiting for them. St. Augustine also has more than courses. It's a destination for all things golf - golf vacations, golf history, and glimpses into the PGA.
Florida has Perfect Weather for Golf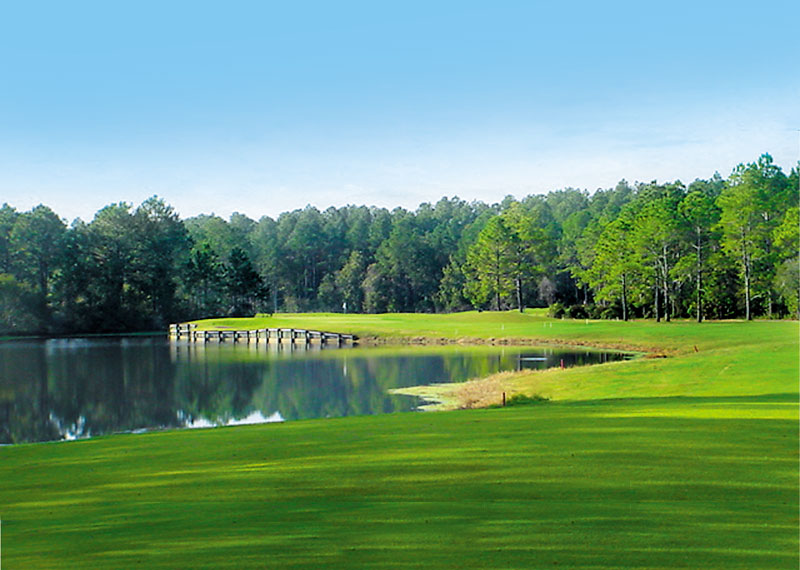 One of the biggest draws for a Florida golf vacation is the weather in the Sunshine state. During the winter months while the north is being pummeled with polar vortexes and houses are being buried in snow, the grass is always greener on the other side (in the south). In fact, winter is usually a wet season, but in Florida, it's one of the driest times of the year. Precipitation averages are 2.4 mm in December and 2.7 mm in January. Along with it being seasonably dry, it's also much cooler by Florida standards—a.k.a. perfect weather by everyone else's standards. During the months of December and January, daytime highs average 65 to 70°F (18 to 21°C), making it comfortably temperate for someone to spend the whole day outside swinging a golf club around.
Scenery on St. Augustine's Greens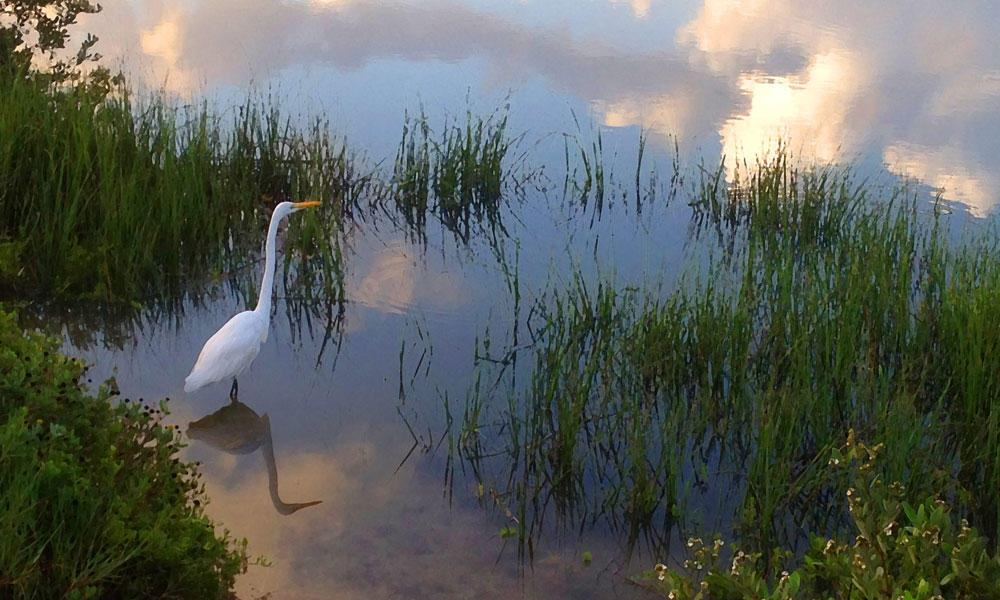 Along with having delightfully pleasant weather in the winter months, Florida's golf courses are characterized by beautiful landscape and wildlife. Florida is not particularly mountainous or hilly, giving the land an ideal amount of leveling to keep a round of golf both challenging and fun. Greens have marshlands and ponds where it's not uncommon to see some of the same wildlife you'd find in a nature reserve or on a trail. Florida golfers spot cranes, turtles, deer, armadillos, and even alligators while golfing (I do not recommend chasing your ball if it goes into water). Vegetation and plants consists of palm trees and sea oats that border sand traps and greens, as well as towering pines and hearty Southern Oak trees. Arguably, golfing on Florida's greens gives visitors a greater glimpse of the land and wildlife than anywhere else. For those used to gray skies and dead foliage in the winter, it's enough to put a smile on anyone's face.
Courses
The St. Augustine region is home to some phenomenal courses, from the elite to the on-budget vacationer. Here are a few public courses worth checking out.
World Golf Village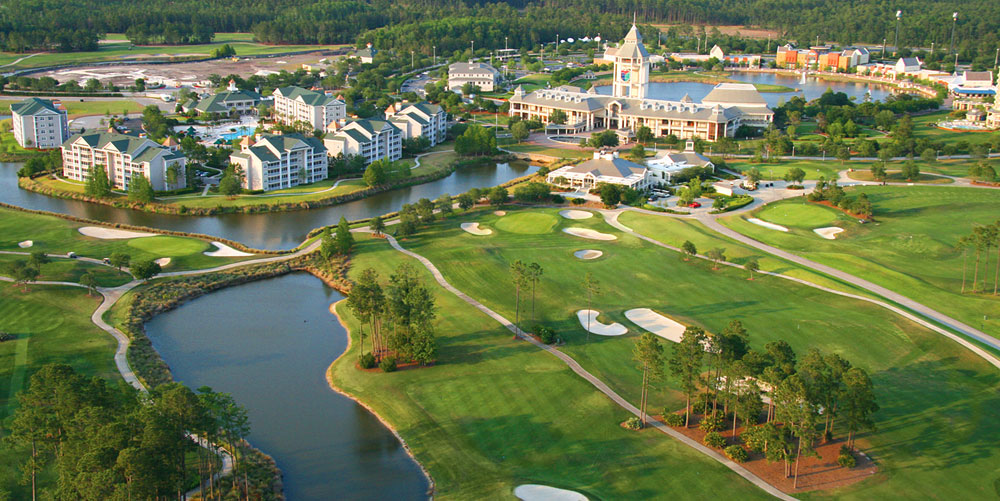 The World Golf Village is situated just north of St. Augustine. It boasts two championship courses: the King & Bear and Slammer & Squire. Along with having two professionally designed greens, World Golf Village has a ton of on-site amenities, and golf resort packages. Both courses have made the list of the most women-friendly courses in the country, along with being top golf resort courses.
King & Bear
King & Bear is a collaboration project between the techniques of Arnold Palmer and Jack Nicklaus. Both are renowned golfers who each call Florida "home." Every hole on King & Bear is characteristic of the players, and the course is essentially a "driver's" course. 
Slammer & Squire
Slammer & Squire is another top rated course at World Golf Village, opened in 1998 and designed by Bobby Weed with the help of consultants Sam "The Slammer" Snead and Gene "The Squire" Sarazen. This course plays host to the Liberty Mutual Legends of Golf, a Senior PGA TOUR EVENT. 
Both World Gold Village courses have rates that range from $59 - $229 per player and include green fee and cart fee.
TPC Sawgrass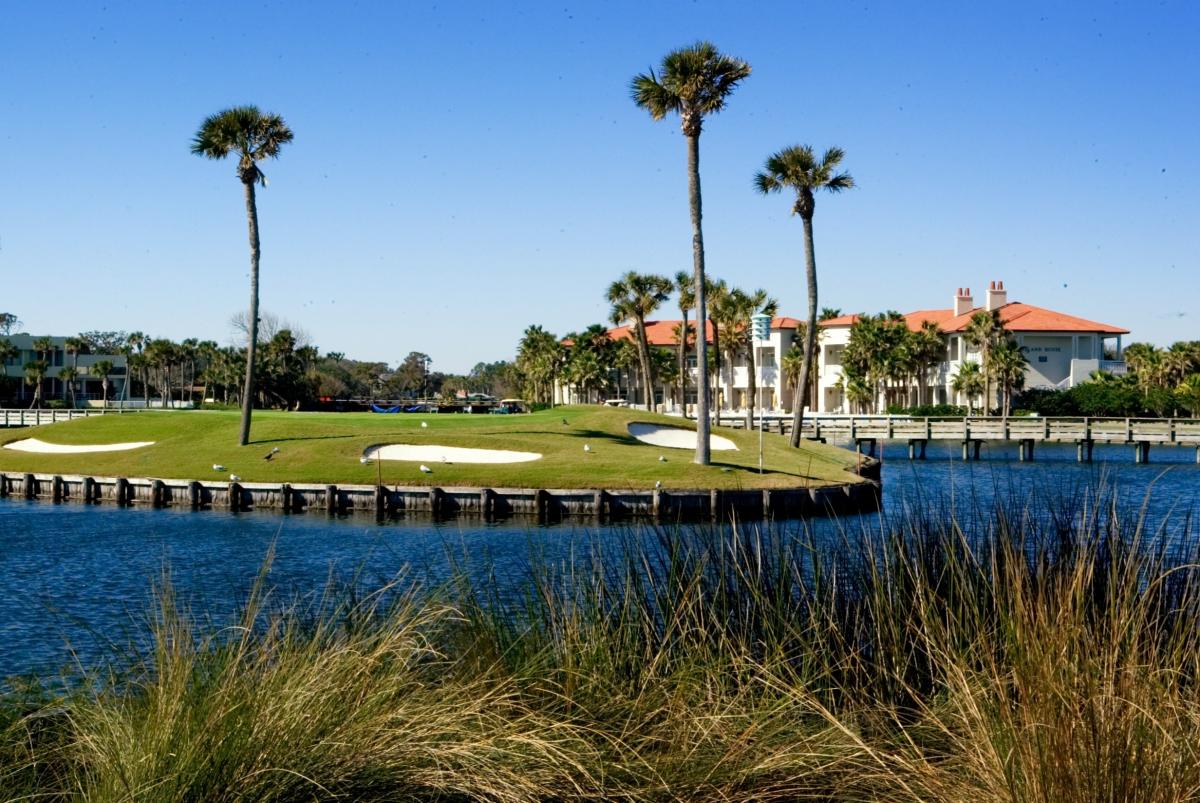 The Players Championship is one of the most prestigious golf tournaments in the world, and many don't realize this, but it's played right in Ponte Vedra, just a few miles north of St. Augustine. It boasts tons of courses both public and private. Getting a tee time is competitive and expensive, but well worth the investment for golfers looking for the kind of unique and elite golf experience that only professionals can get.
The Players Stadium Course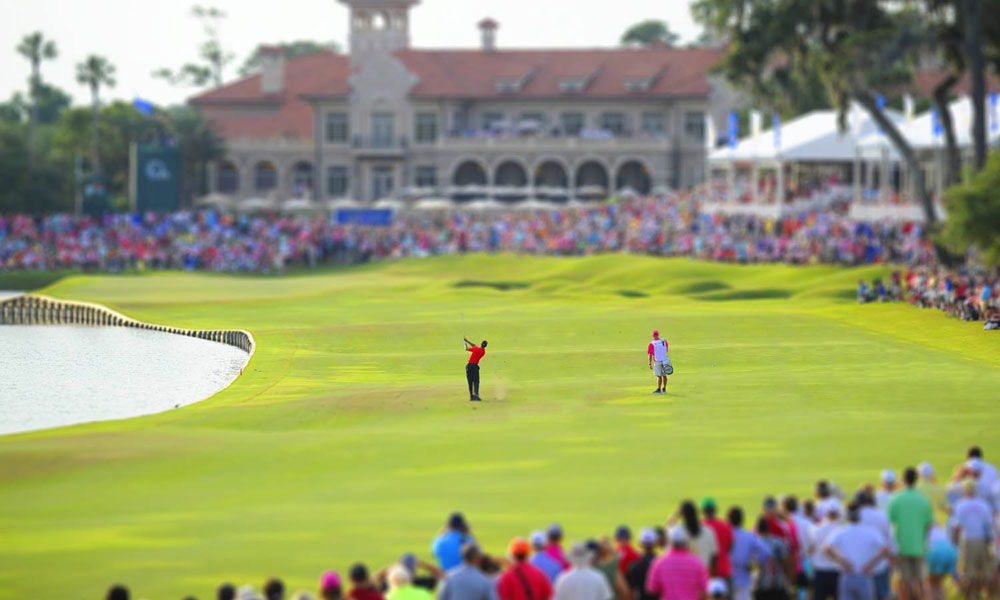 These are the same greens that championship golfers have graced with their presence. It's been honored with multiple accolades including 9th overall among "America's 100 Greatest Public Golf Courses" in 2011-12. Reservations for this course are highly competitive. Golf-only reservations are available 14 days in advance, and Stay & Play packages are available one year in advance. Green fees are $450 - $600, but hey, do you expect any less to be playing on the same TPC course that professionals such as Rory McIlroy and Tiger Woods have golfed on? #worthit
Dye's Valley Course
Dye's Valley Course is the other public course located at Sawgrass. It has water on every hole and a well-manicured green. It's the sister course to the Players Stadium Course, providing all the trimmings without the price tag and the crowds. Green fees are $175 - $275.
St. Johns Golf Club
This public course is a favorite among local golfers. St. Johns Golf Club's December specials include holiday packages with sweet sports gear and your golf games.
St. Johns Golf and Country Club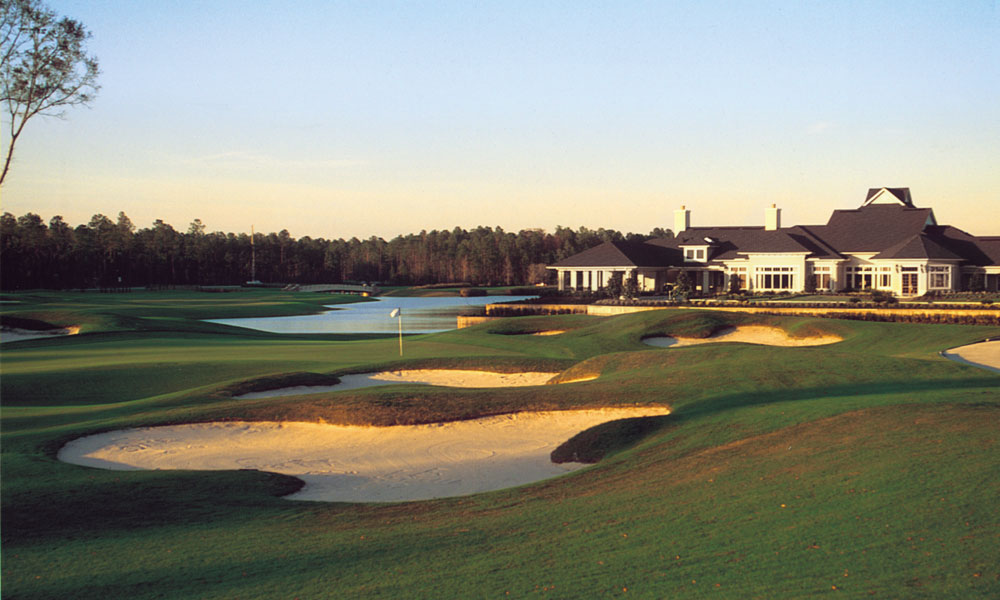 Not to be confused with St. Johns Golf Club, the St. Johns Golf and Country Club has five tees plus a family tee, and is situated in Florida's pine forests.
The Royal St. Augustine
An 18-hole public course with three tees to accommodate golfers of every skill level. Practice facilities are available on site to help players improve their golf game.
Golf Club at South Hampton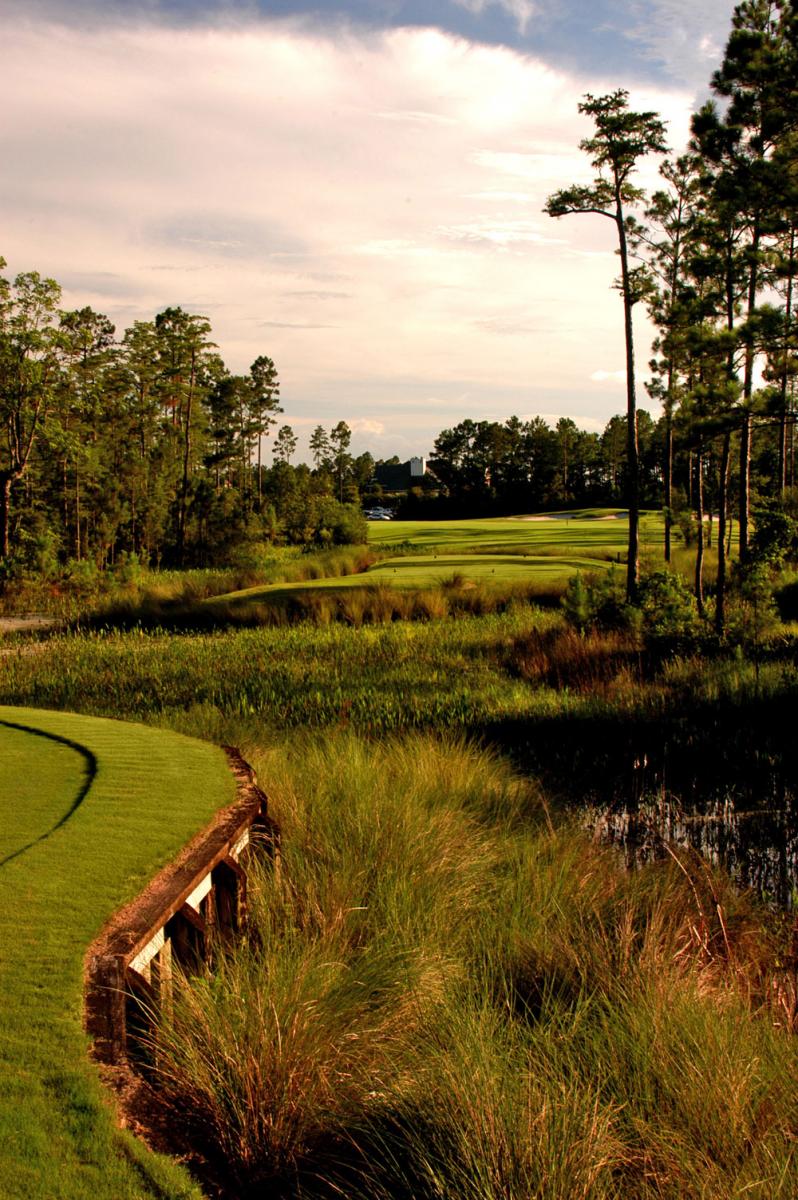 The course at South Hampton shows a view of all 18 holes online, so you know what you're getting. The most challenging hole is a par 5 stretching 571 yards.
St. Augustine Shores
Multiple tees at this 18-hole course allow for beginners still learning the ins-and-outs, and professionals looking to maneuver water hazards and long drives.
Tee Times and Green Fees
The sun may shine bright and clear during the day, but since it's winter, the amount of daylight is much shorter than in the summer months. As such, it's important to book a tee time in advance for your golf vacation. Take advantage of the winter solstice by getting a discount on your round of golf for the twilight tee times four hours before sunset.
Locations such as World Golf Village have special packages catering to guests who plan on golfing during their vacation. It usually includes the green fees for a discount in the price of the hotel.
Green fees at courses around town can range from $18 to more than $300 depending on the club and tee time.
Golf Amenities
Packing all your clubs may be cumbersome and pricey on airlines. To avoid paying a hefty checked luggage fee, take advantage of club rentals in St. Augustine. Many golf destinations such as World Golf Village offer visitors club and golf cart rentals.
If you need some practice swings to gear up for a game, there are also practice facilities at the clubs around St. Augustine. St. Johns Golf Club has a driving range longer than 325 yards, and a small bag of 35 balls is only $4.50. World Golf Village's practice facility at King & Bear and Slammer & Squire is complimentary with a round of golf. Their practice area has a driving range, putting green, and chipping green.
Pro Shops
If you've left something behind or maybe just want to check out the Florida-y inventory, golfers will find a pro shop to browse through at almost all the courses, even municipal ones. You can browse through golf balls, gear, and souvenir golf shirts to remember your round of golf on Florida's courses. If you need a new grip on your club or your driver re-shafted, club repair is available at several clubs, including St. Johns Golf Club.
Many clubs, such as South Hampton, have an online shop as well. Gift cards for a round of golf are also available to purchase as gifts.
Food Fares on the Fairway
Remember that 19th hole bar I mentioned earlier? The one that I sit at while everyone else golfs? There are actually some pretty nice ones and they serve some impressive meals along with a full bar menu. You'll find mint juleps and bloody marys and whatever other southern cocktail you're intent on trying in order to really pull off a complete experience. Legends Grille at Slammer & Squire has happy hour Monday through Friday from 3:00 p.m. to 6:00 p.m. with $2.00 draft beers, $4.00 house wines, and $4.00 well drinks. The Murray Bros. Caddyshack Restaurant is co-owned among the six Murray brothers, including award-winning actor Bill Murray. It features a fun golf caddy theme and proudly displays the family's love of good golf and appetizing food.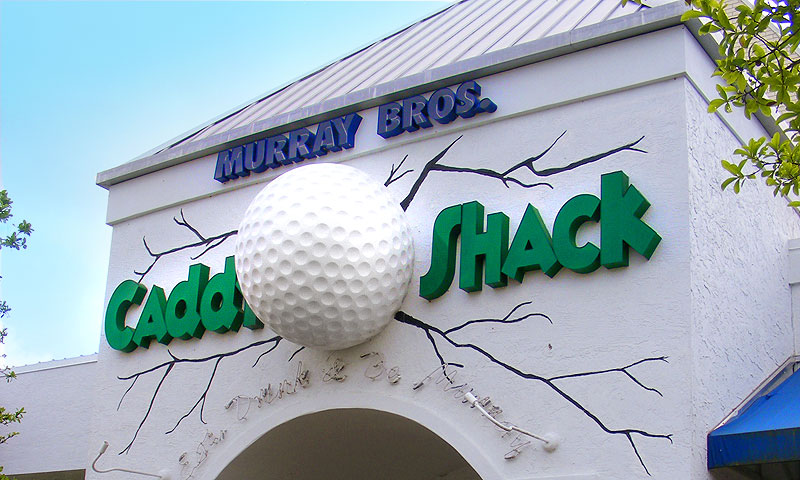 If you're hungry, dining at these Florida-style golf club restaurants can be a relaxing and satisfying way to end the day. Champions Grille at WGV has a full menu for breakfast and lunch from 7:00 a.m. to 3:00 p.m., with dinner served from 5:00 p.m. to 8:00 p.m. on Friday and Sunday nights. There's also a cafe if golfers are looking to grab a coffee and a breakfast sandwich before their round.
Mini Golf
If you want to share golf with the rest of the family, another great activity is to play a round at one of St. Augustine's many mini golf courses. During the winter, courses such as La Fiesta decorate to give the experience a "winter wonderland" feel. The putt putt course at Adventure Landing is just off the next exit south of World Golf Village.
Places to Stay for a Golf Vacation
World Golf Village Renaissance is an obvious first choice for many when it comes to golf vacation accommodations. The hotel is within walking distance of all the World Golf Village amenities.
Another option that many don't think to consider is a vacation rental within one of the golf club communities. Something to check out when perusing Airbnb options.
Wherever you stay, there will always be golf courses nearby as well as attractions and activities for you and your family to enjoy while visiting St. Augustine.
Paul's Picks
Paul, an avid golfer in our office, shares some of his insider golf info:
For more golf vacation packages in St. Augustine, check out World Golf Village or Florida's First Coast of Golf.