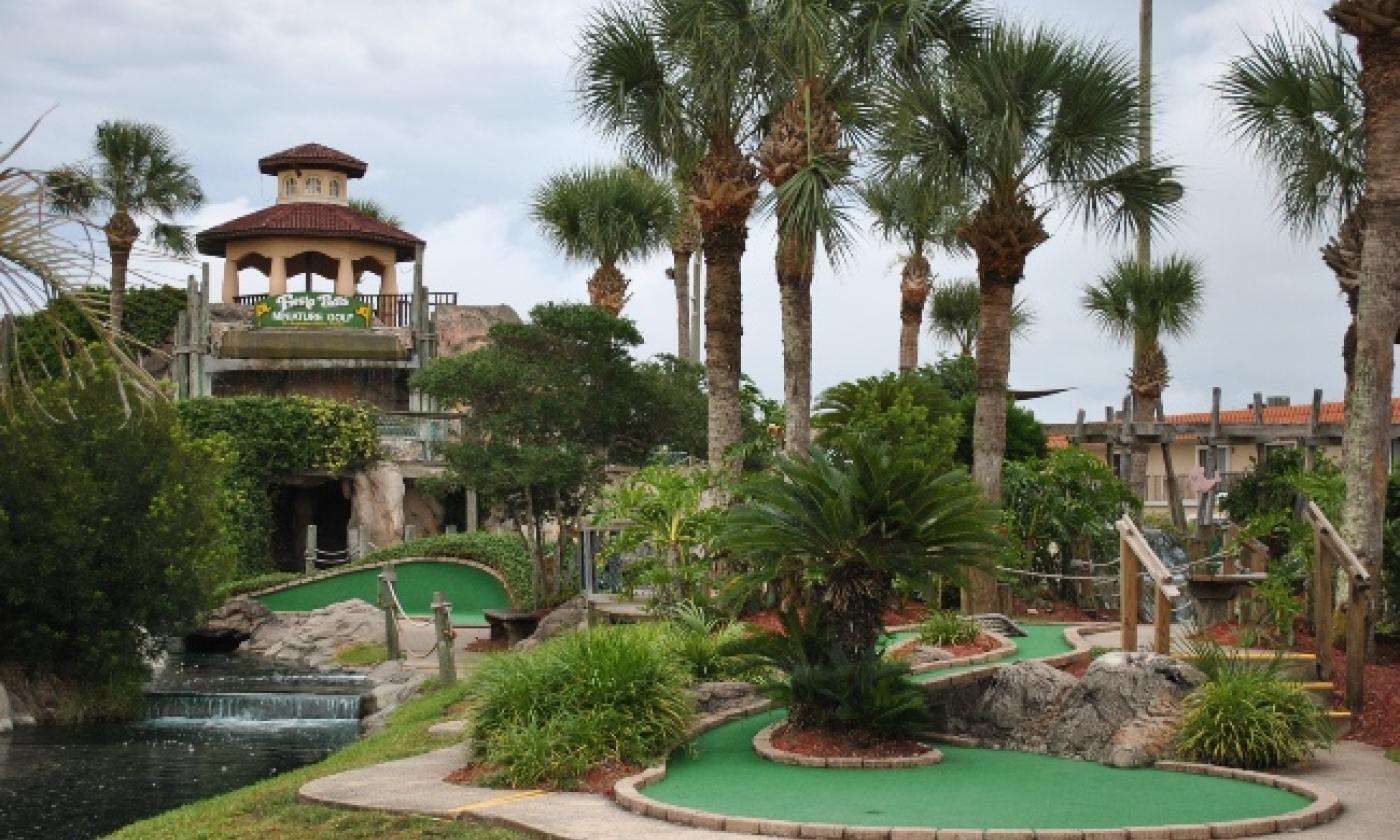 Putting Around St. Augustine
Playing mini golf is one of those pastimes that never gets old. Take a look at some of the relaxing rounds of putt putt for your next vacation to St. Augustine.
I remember having an awesome time with my sister playing countless games of mini golf over the summers. The joy hasn't left the game as many years later I'm still putting way too many strokes over par and having fun keeping score. You're supposed to get the most points, right? ;)
With The World Golf Village located north of town and the home of TPC Sawgrass so close, it's no surprise that St. Augustine is a major vacation destination for golfers. In addition to the full 18-hole golf courses in town, St. Augustine also boasts some pretty fun miniature golf courses too. Mini golf is something everyone can get into and enjoy whether just for fun, or to work on your putting for the real thing.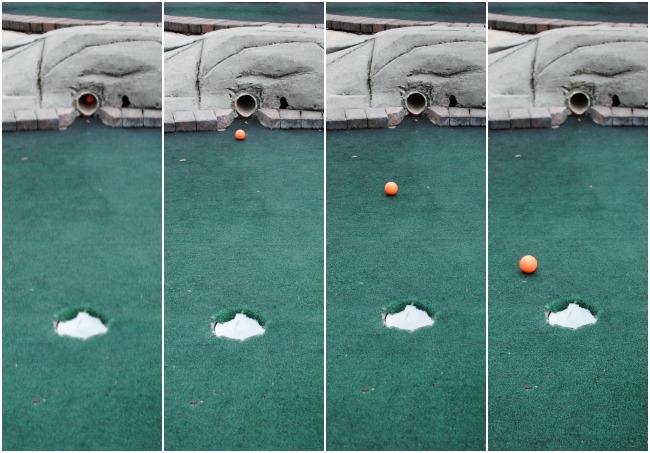 This is how most of my rounds ended at Adventure Landing, requiring one more stroke and putting me over par.
My husband and I went to Adventure Landing for their mini golf course on a Saturday afternoon. It was really hot outside, but with the misters throughout the course we were able to enjoy ourselves and not melt away in the heat. I'm glad I had sunscreen because there are only a few shady areas on the 18 holes. Thankfully, we also had the option to step into the air-conditioned arcade for a cold sports drink or soda.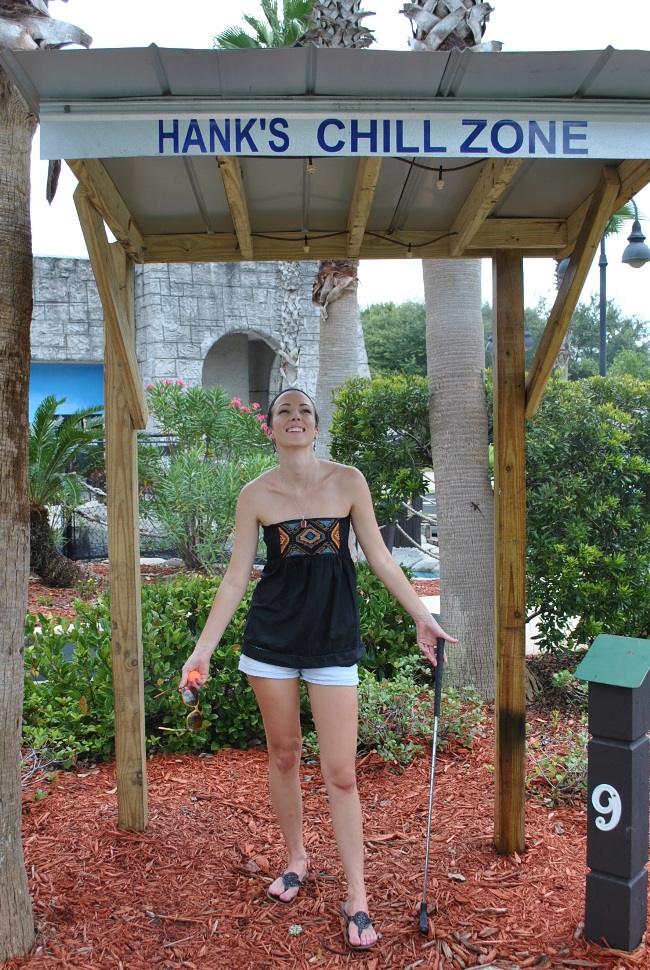 Ahhh... these misters were our savior on a hot Florida day of mini golf.
Adventure Landing's mini golf course is St. Augustine themed with the Lighthouse, Castillo, and Bridge of Lions. It has that cute old time Florida feel without being gaudy. My score on this course was bad, like really bad. I'm certainly not claiming to be a mini golf pro, but this course is on the harder side with hills and tunnels to add to the challenge.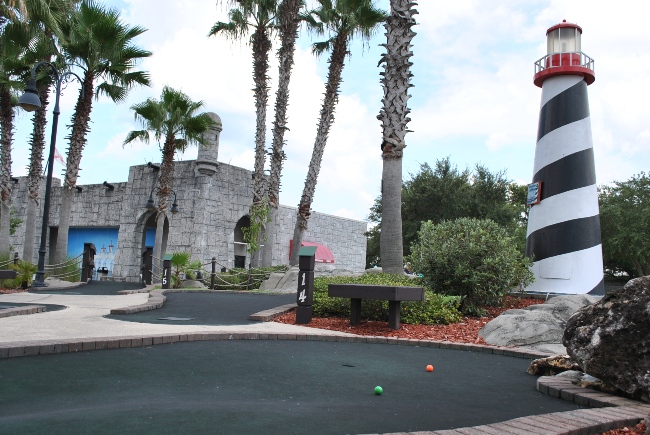 St. Augustine landmarks were scattered throughout the Adventure Landing miniature golf course.
You can see the go-karts and batting cages from the mini golf course. My husband, Dee, mentioned to me more than once that he wanted to ride the go-karts — maybe next time. You could definitely make a whole afternoon out of a visit to Adventure Landing and with its prime location near the outlet malls — wink wink. I say drop the husband and kids off, go shopping at the outlets next door while they play the loud arcade games, then come back for a round of mini golf!
If you are in St. Augustine Beach, Fiesta Falls is within walking distance of many of the hotels. I have played this course before and love that you can hear the ocean from the back nine holes. You can also catch a glimpse of the beach from the gazebo and my surfer husband was definitely checking the waves. This is a fun course for a summer trip, but don't cross it off your list for a winter trip. They cover most of the place in sparkly white lights for the holidays and it's beautiful.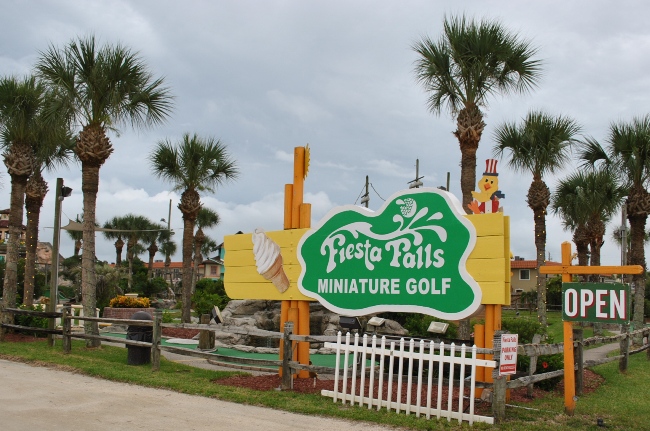 Fiesta Falls is a fun mini golf course with an ocean breeze.
There are some challenging holes on this course too even though it's a little easier than Adventure Landing's. True to its name there are eight waterfalls throughout the Fiesta Falls course. There's even a little cavern area with a waterfall pouring in from above; a tad romantic if I do say so myself. Mini golf is the perfect date: you're a little active, having fun playing a game, and learning about each other's competitive side. Plus, the loser buys ice cream!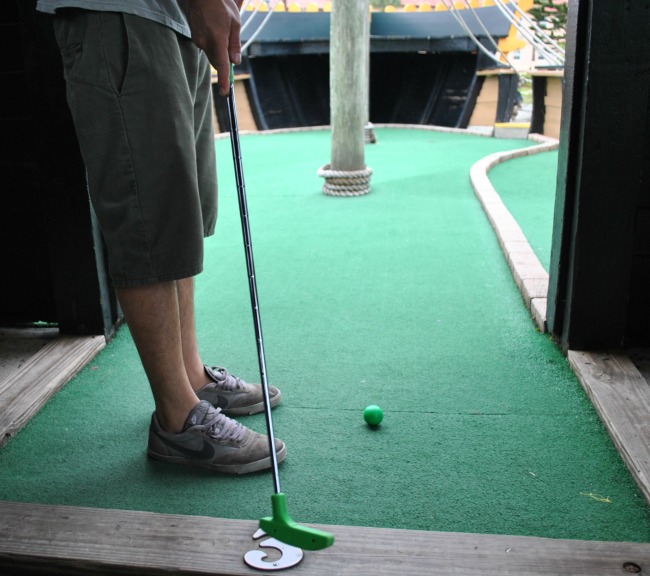 The green aboard the pirate ship is a fun one the kids will get a kick out of. Arggghh!
After 18 holes, soft serve ice cream in a waffle cone hit the spot. He bought. ;) It tasted as good as it looked. I was surprised by how many icy options there were at the Ice Cream Shoppe at Fiesta Falls. Make sure you eat a meal first because you will definitely want something.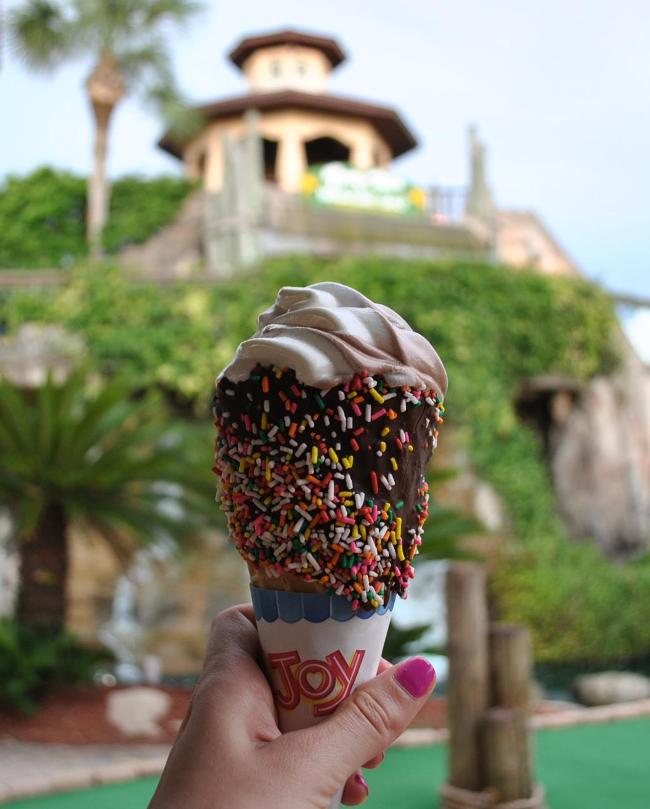 Chocolate dipped waffle cone with sprinkles and soft serve ice cream at a mini golf course — I kid you not! So yummy!

Looking for more mini golf?
* Anastasia Miniature Golf: This course is a nice one with a few more shaded areas, a Koi fish pond, and waterfalls throughout the game.
* Bayfront Mini Golf: If you're downtown be sure to check out The Municipal Putt Putt Course. It's the oldest mini golf course in the state of Florida and located right on the bayfront across from A1A Alehouse. This waterfront course has some pretty amazing views of the Bridge of Lions and the Intracoastal Waterway.
* The World Golf Village: They have their own mini golf course in addition to the real thing. There's also the Imax Theater, hotels, and restaurants close by.
Local St. Augustine blogger Meaghan Alvarado is a Flagler College alumni who writes on many topics ranging from fashion and food to crafts and local St. Augustine happenings.Check back here at Augustine.com regularly to see the great events and activities Meaghan will be writing about next, and check out her personal blog at http://justmeaghan.com/.