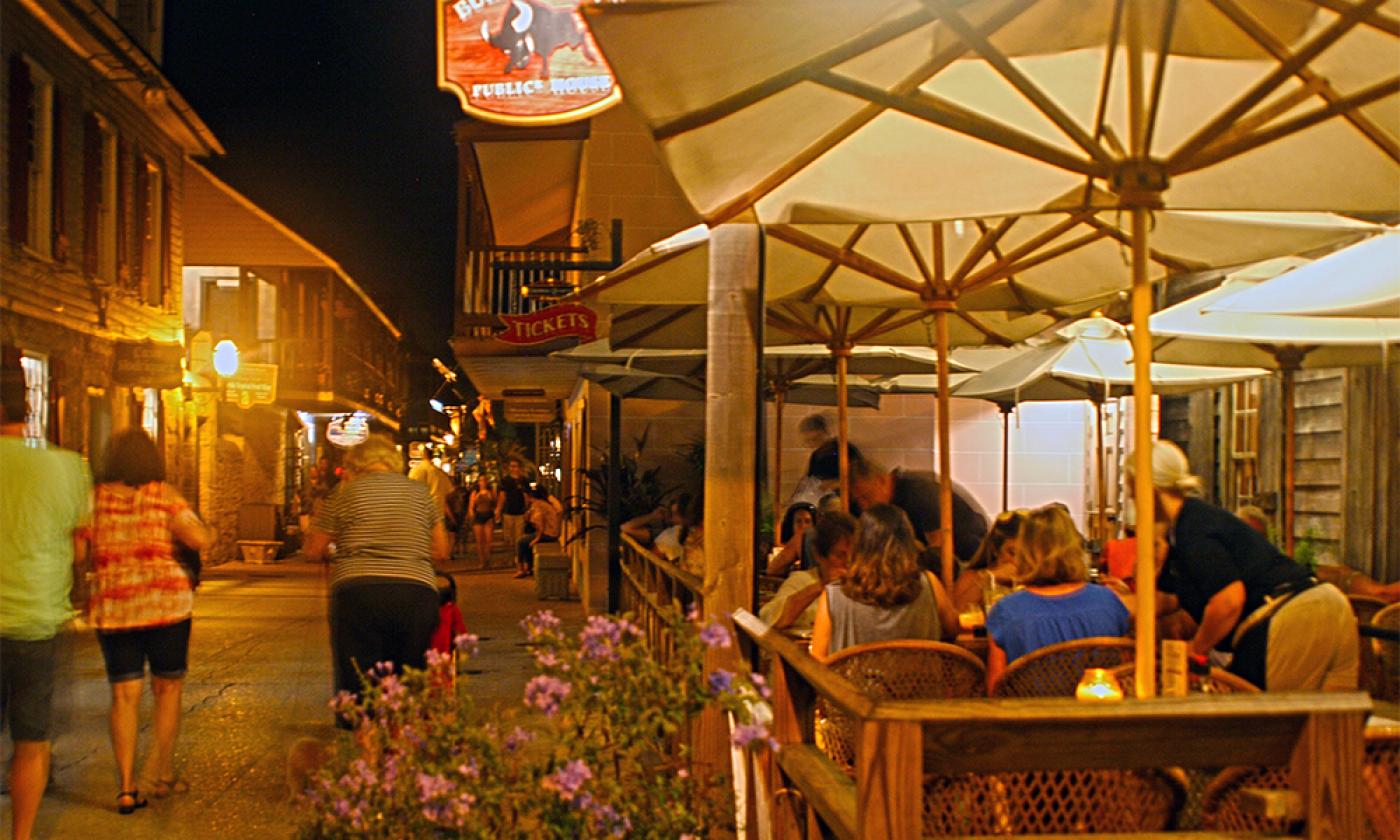 Best Places for People-Watching
Watching people while you dine is a very enjoyable and odd pastime. Find the best places to indulge in some destination people-watching here in St. Augustine!
I like watching people. There's no normal way to put it. Who knows how it started or why it started, but there's nothing more enjoyable to me than sitting in a public space and observing people. Their outfits, their unique body types, their interactions, their reactions—it's like walking through the Louvre. The incredible thing is I know I'm not the only one who enjoys this. In fact, just look through the comment sections of some review sites and you'll find plenty of people who enjoy a place because it offers 'prime people watching.'
Watching people is fun regardless of where you are, but I'm especially blessed. This is Florida! And let's be honest, Florida people are an interesting bunch by themselves. But in addition to the Florida locals, we also get lots of vacationers. This is the tourist haven of St. Augustine, and being the nation's oldest city, all kinds of people from all over the world come through here.
St. Augustine is a very historic, picturesque, and walkable city; and where "you people" walk, I people watch.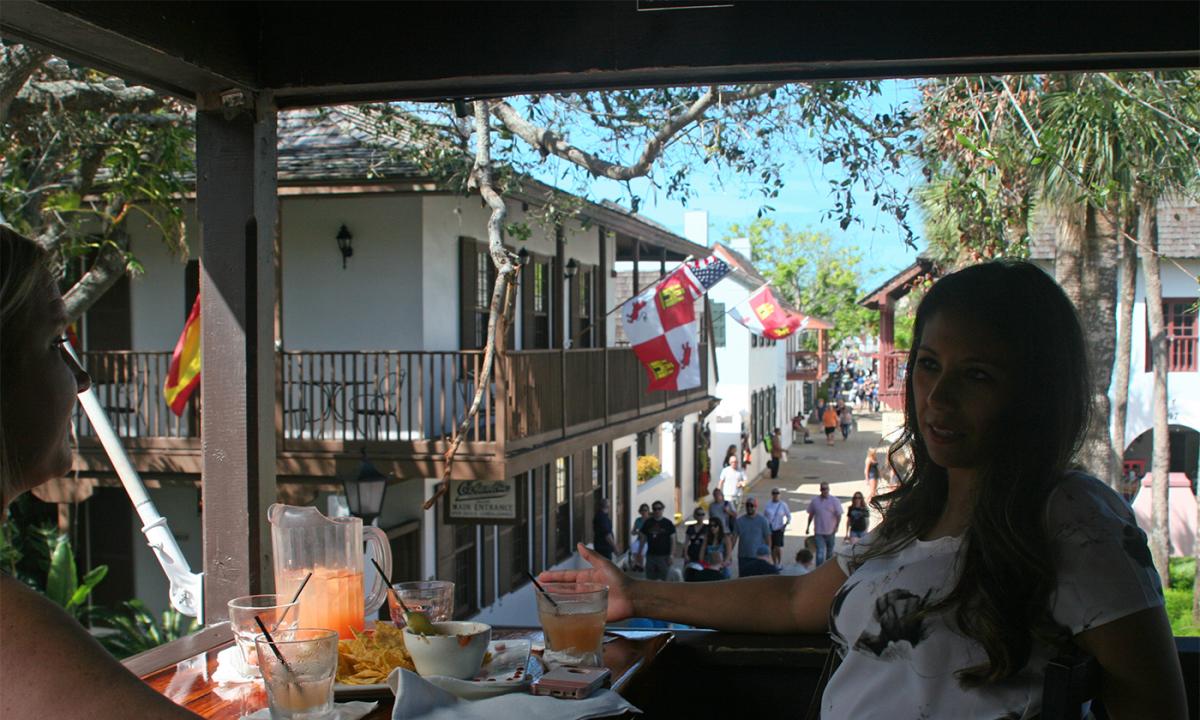 Getting a balcony seat at Sangrias Wine and Tapas Bar gives you a great view of St. George Street because every balcony seat is right against the railing. Some restaurants have outdoor dining spots that are wider and you may get a wall seat (which isn't quite as fun), but every balcony table at Sangrias has prime people-watching.
Now, apart from the fact that this is incredible people-watching, the dining area outside is also really cozy and intimate, with high chairs and high tables that give that perfect lookout spot over the people below. On weekend evenings, the streets are abuzz with visitors and locals enjoying the nightlife, and live music inside adds a bit of atmosphere. You can share a pitcher of sangria and look out over the railing to the people below.
Mad props to these two ladies who got the corner seat which is the penultimate people-watching spot allowing clear views of St. George Street and Hypolita Street. Wow. Same thing if you can snag those balcony seats over at the Columbia across the way.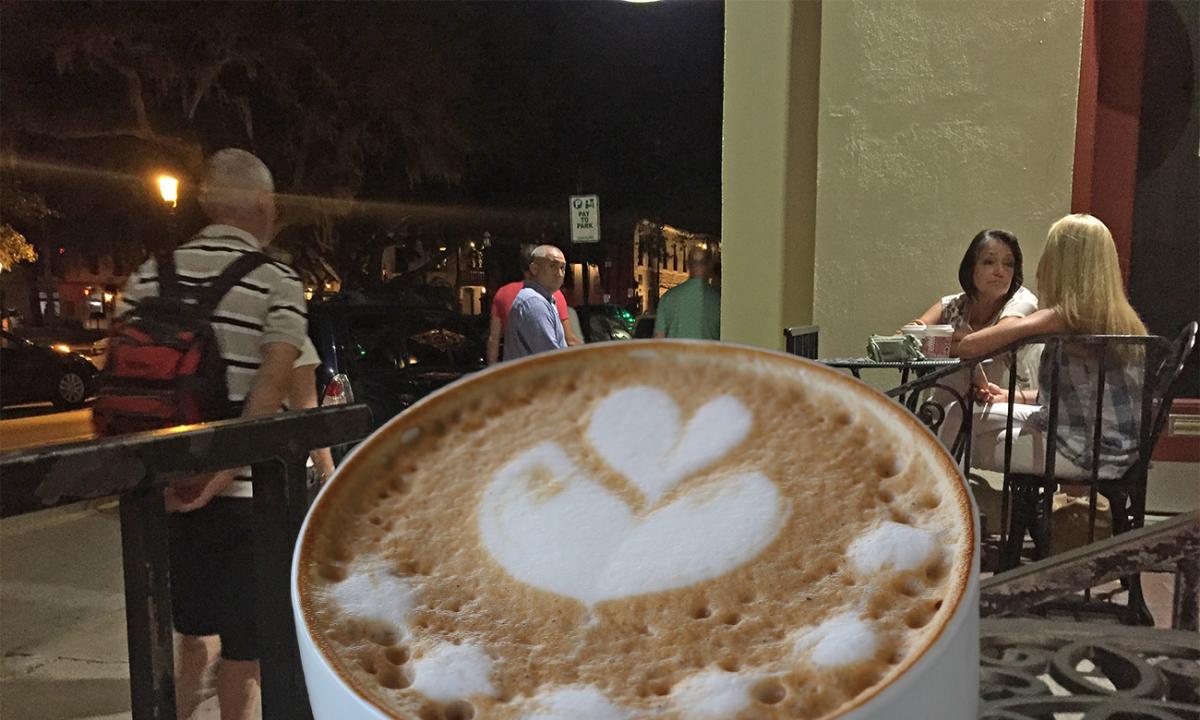 Kookaburra's coffee is reason enough to visit this cafe, but if you can snag a seat by the bar window or preferably at one of the tables on the front steps (of which there are only two), you're in for an awesome treat. Cathedral Place and the square ahead is prime realty for some good people watching. Whether folks are demonstrating in the plaza, chilling on a trolley as it rolls by, or partying at Treasury on the Plaza, there are lots of people to see.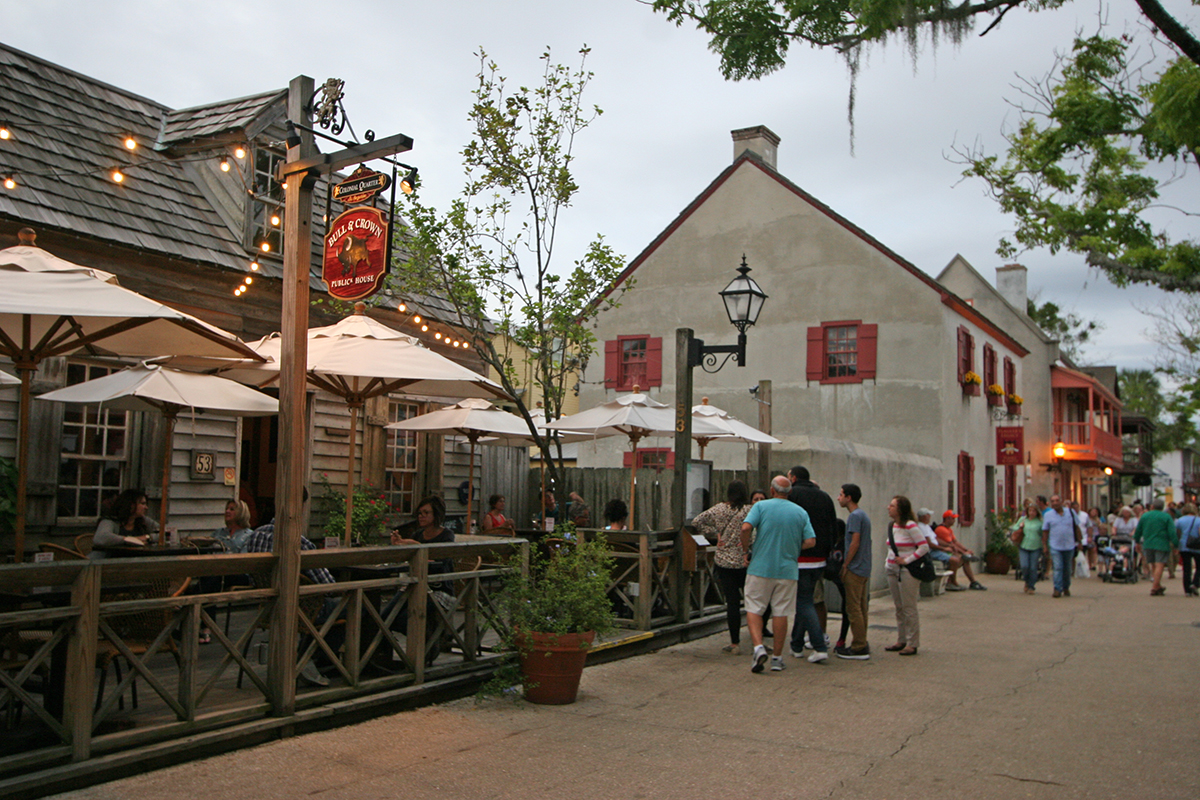 I had to try this for myself to believe it. It's one disadvantage is that this place is ground level, meaning you don't get quite the same "looking down from your ivory tower" feel as you do with some of the other places mentioned. But advantage? I think it might possibly be the only place where you can dine right on St. George Street and be in perfect view of all the interesting strangers that walk by. That's a pretty big advantage in my opinion. Plus, sometimes it's good to be a little grounded.
The Bull and Crown Publick House is part of St. Augustine's Colonial Quarter, so along with having great views of St. Augustine specimens, it also has an old historic feel to it. The wooden planking and pub menu is complemented by modern embellishments such as the handy umbrellas and the TV for watching the big game.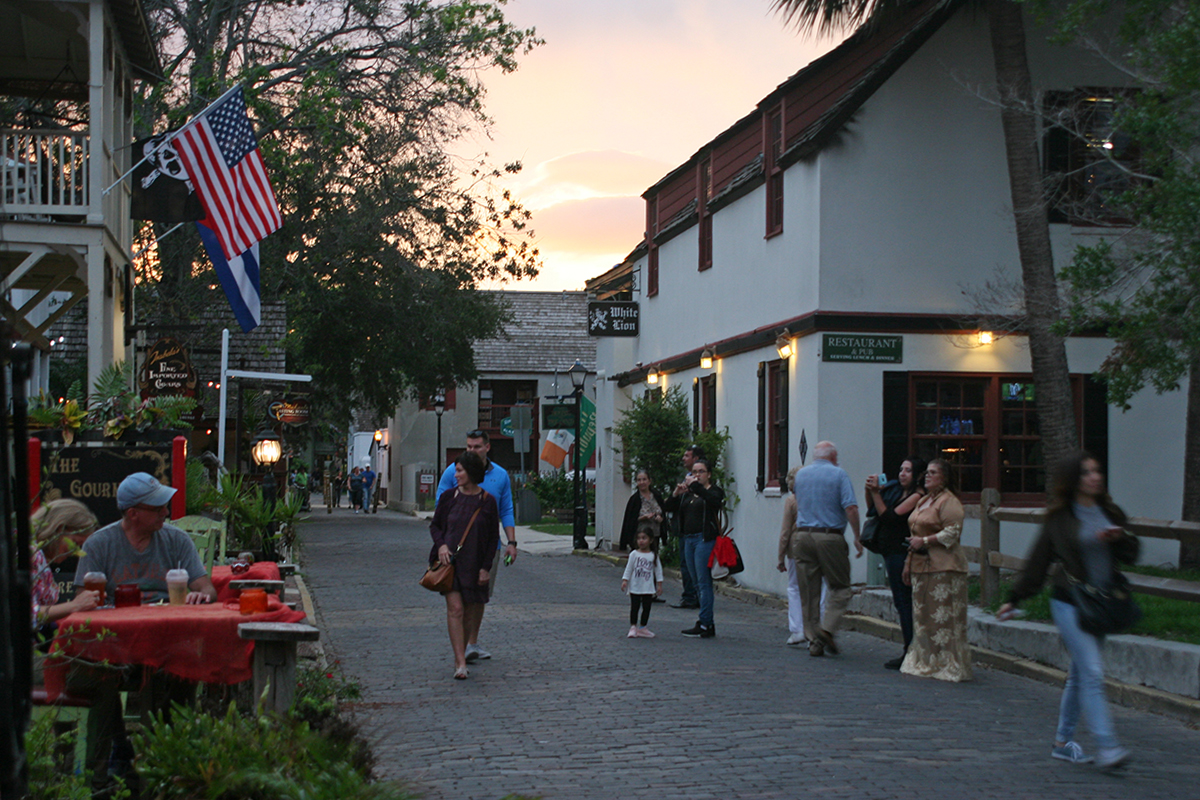 Like the Bull & Crown, this spot is ground level, but it's on Cuna Street. Crucial Coffee may not have any barriers separating you from the strolling general public, but the traffic on this street is also a bit quieter. Cuna Street is a throughway to the Bayfront and Cordova, but it's a calm brick-laid avenue with little vehicular traffic. The coffee shop has craft coffee and a rotating assortment of pastries.
The Backyard at Meehan's is located at the intersection of two busy side streets (one that leads to the bayfront and one that leads to the Castillo), making it a haven of 'passersby,' The casual feel of the Backyard includes patio beach chairs alongside regular dining chairs. The bar menu includes appetizers such as Conch Fritters, Crab Dip, and Backyard Tacos. The one downside? You'll probably be so engaged in the company of the people you're with that the passersby will be watching you instead of vice versa.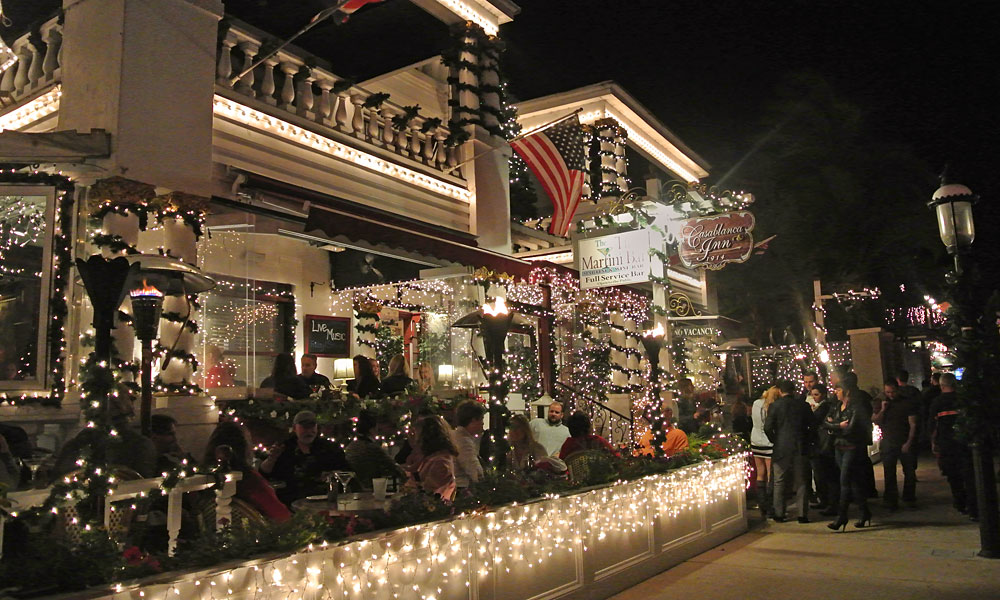 The Tini Martini Bar is one of the loveliest spots for people-watching, especially during Nights of Lights. The bar located at the Casablanca Inn is the essence of classy ambiance with two levels of outdoor seating. Heaters in the winter can keep folks warm from that bayfront breeze, and as people walk by, they're sure to watch back. How could they not when you're dining in such a dazzling atmosphere? Along with evening martinis, this is also the Nero's Waterfront Cafe, which is open daily for breakfast and lunch.
Places with Street Facing Window Counters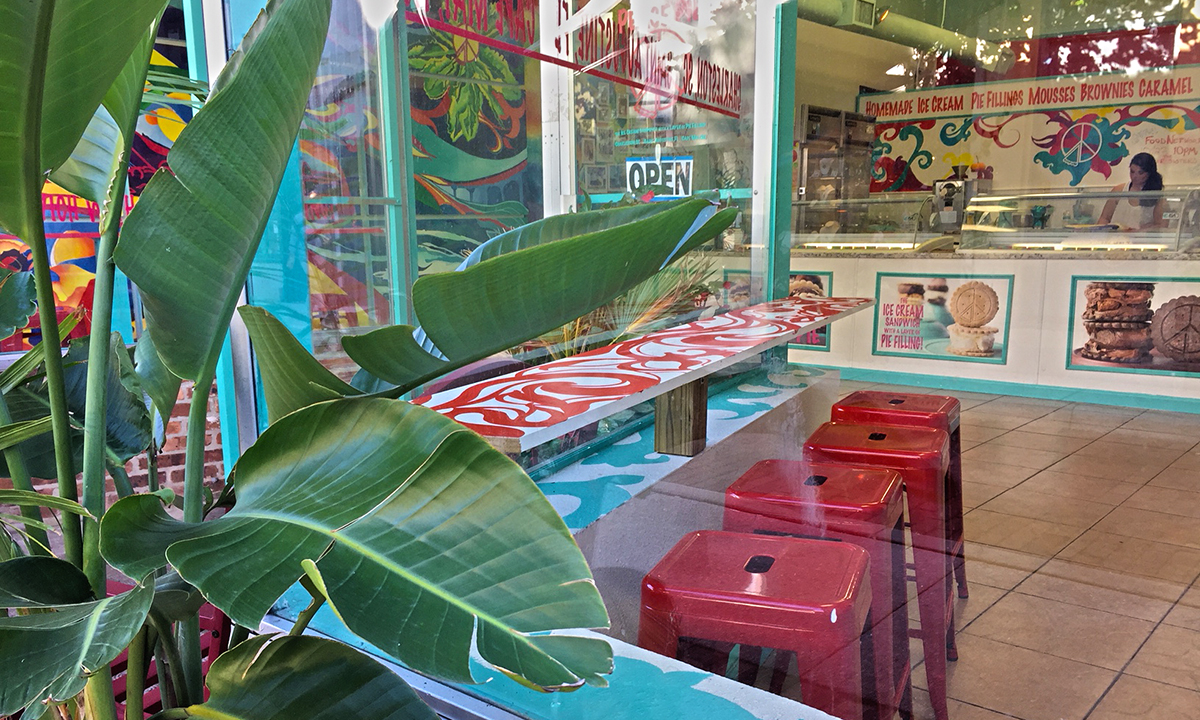 I may be speaking to a niche crowd here, but I know there's someone out there looking for full-on window dining. Here are a few spots!
Did we forget something? Let us know your favorite place for people-watching in St. Augustine by writing to [email protected]!
This article was written by Alex Pooler in December 2017 and has been updated with current information for 2022.