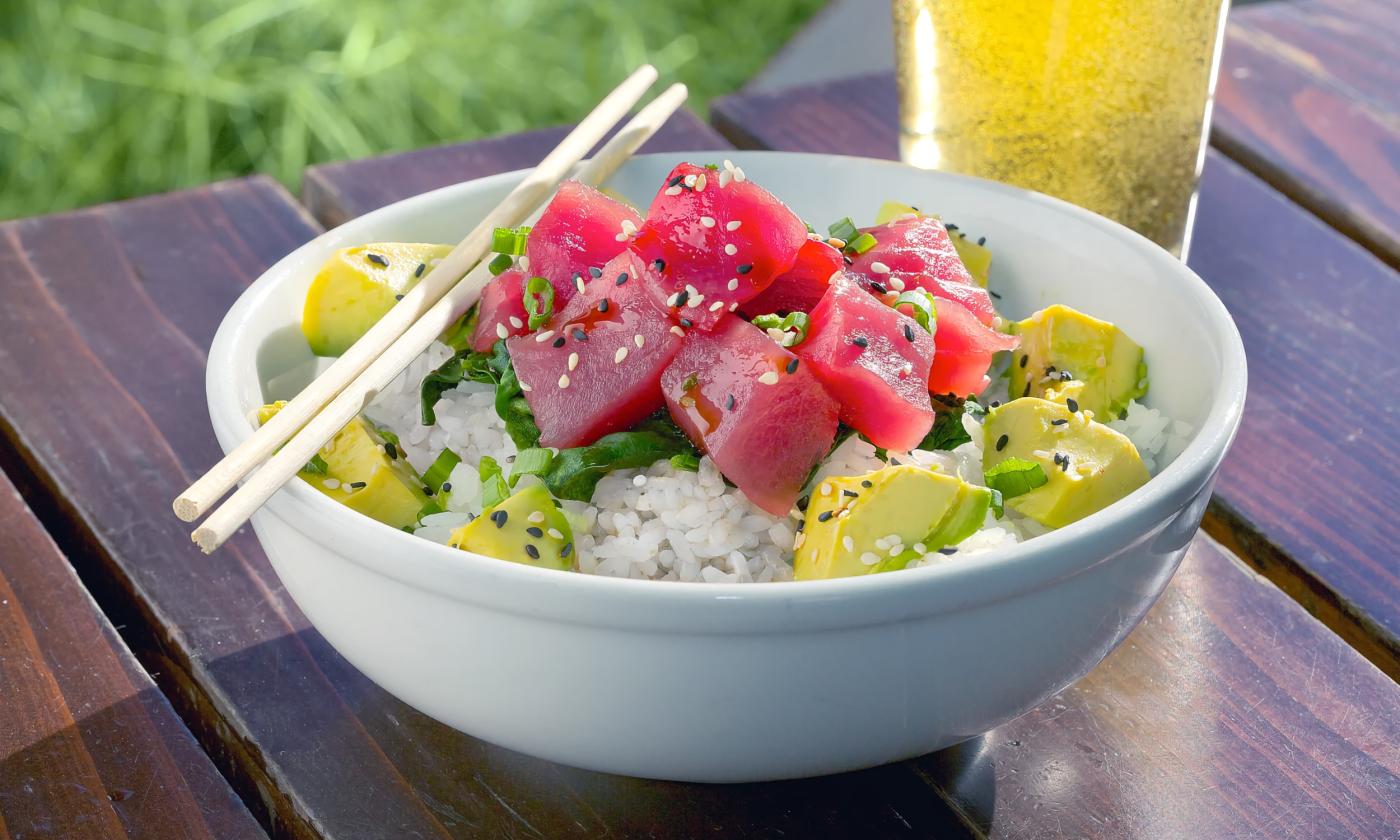 Feast Before the Festivities
Don't want to arrive at a festival on an empty stomach? We got you covered.
St. Augustine boasts dozens of delicious and delectable restaurants that are cranking out fresh, local, and tasty food every day! Before you hit Francis Field for any weekend-long bonanza, make sure to fill up at some of St. Augustine's local restaurants. In case you're at a loss about where to go, here are a few places to eat that many locals frequent.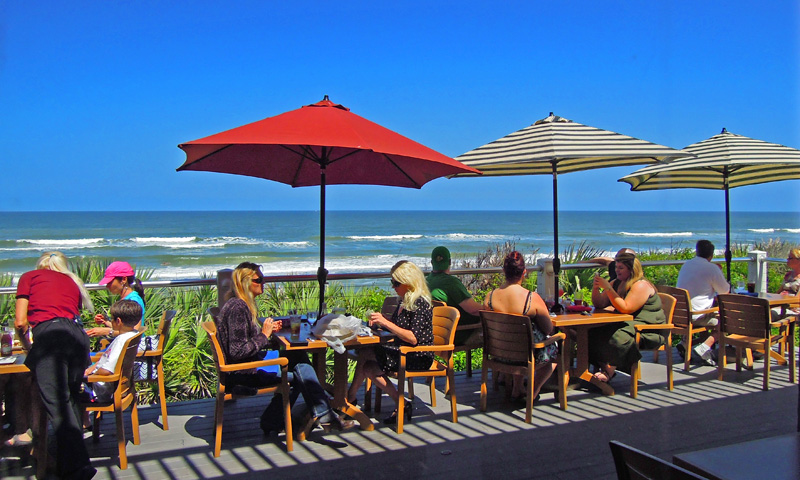 Patio dining overlooking the ocean at The Reef in Vilano Beach.
For an ocean-side restaurant with beautiful views of the water and an exquisite menu, stop in at The Reef at Vilano Beach. It's located a bit outside of historic downtown St. Augustine; just a short five mile drive from Francis Field. The quick trip to The Reef is well worth it! Visitors are instantly greeted by the sound of crashing waves and the smell of delicious seafood as they pull up to the restaurant. You can sit anywhere at The Reef and still enjoy tranquil views of the ocean and shoreline. The Reef prepares a delectable menu with fresh entrees such as grilled scallop tostadas and citrus salmon. For any visitor looking for some traditional Florida seafood, The Reef is the place to go.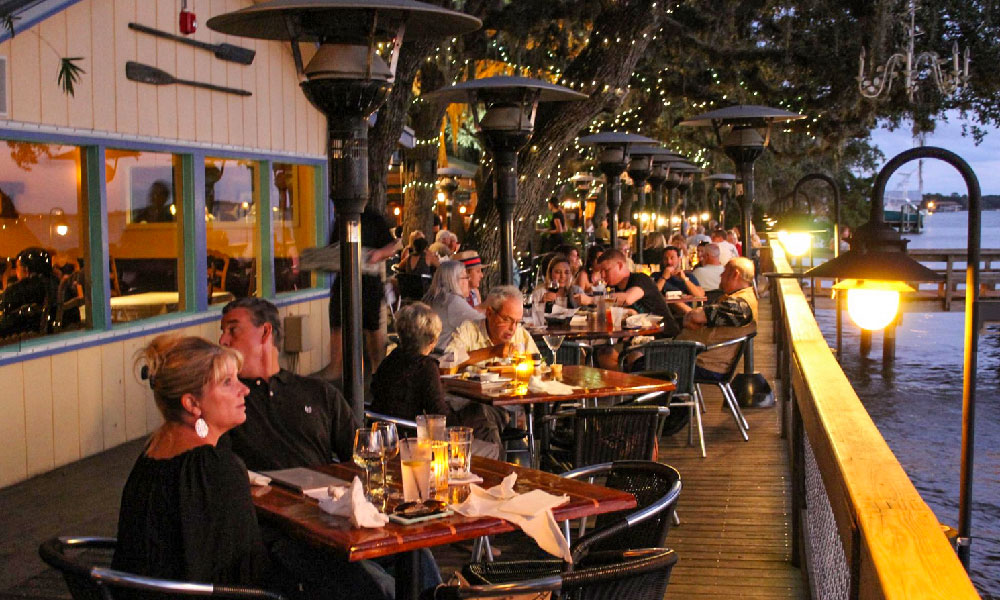 Enjoy a perfect sunset from the Cap's on the Water deck.
If you love waterfront dining, there is another excellent restaurant with scenic views called Cap's on the Water. About six miles from the concert, this restaurant creates a coastal menu with Southern and Mediterranean flairs. Cap's outdoor seating is on their open deck, right next to the water, affording spectacular views of the Intracoastal Waterway. The bar is well-stocked and the bartenders are knowledgeable about what drink to pair with each meal. Cap's is a favorite for locals due to the spectacular location, waterfront views, and delicious, fresh-made plates!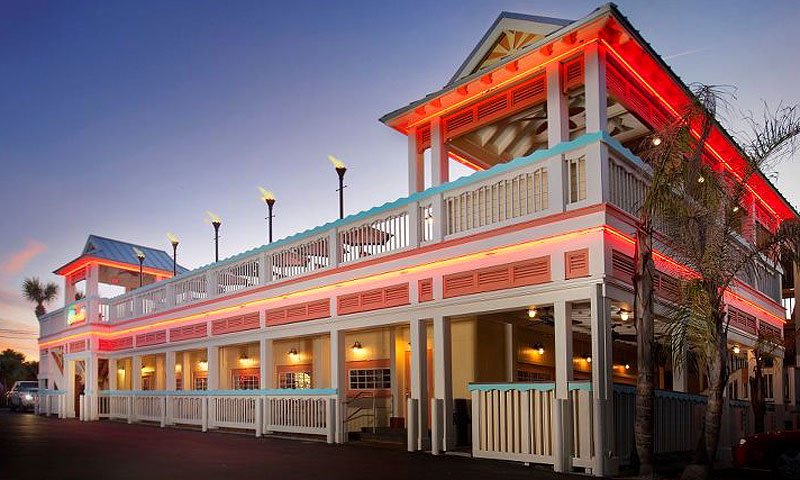 The sun setting over Sunset Grille in St. Augustine Beach.
A St. Augustine Beach favorite about six and a half miles from Francis Field, is Sunset Grille. Sunset Grille is a popular spot for locals due to the wide variety on their menu and their fabulous roof deck. On a cool evening, Sunset's large outdoor top deck offers a welcome breeze while enjoying your dinner. The menu is full of variety and each entree is prepared fresh and served quickly. Order the lobster macaroni and cheese, macadamia crusted mahi mahi, or the ahi tuna tacos. Visitors will find all sorts of unique seafood dishes, and enjoy a spectacular view while dining.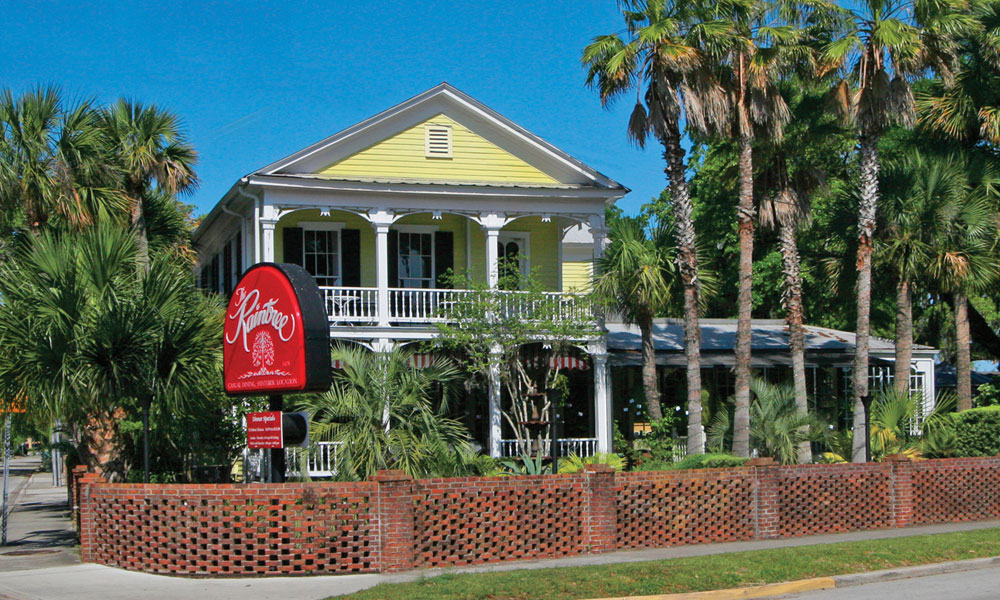 Raintree Restaurant is a staple in the Uptown neighborhood.
Located not even a mile from Francis Field is the Raintree Restaurant. This Victorian-era mansion was refurbished in the 1980s by the same English family that still owns and operates it today. The menu is impeccable, combining local foods with classic cuisine recipes, and the decor reminds patrons of a bygone era. The Victorian style is welcoming and charming, with a beautiful courtyard patio complete with gazebo seating and multiple indoor dining rooms adorned in Victorian-themed art.
You can sit under the palapas at The Cracker Cafe.
Just down the bayfront from Harry's and off St. George Street sits the Florida Cracker Cafe. This is an ideal spot for any visitor looking for an authentic southern meal and a charming atmosphere. Florida Cracker Cafe's casual atmosphere and fun outdoor space with picnic table seating creates a relaxed laid back vibe. Dive into their delicious coconut shrimp or one of their huge, fresh-made burgers for lunch or dinner. The Florida Cracker Cafe's proximity to Francis Field makes it a great place to stop before or after a festival.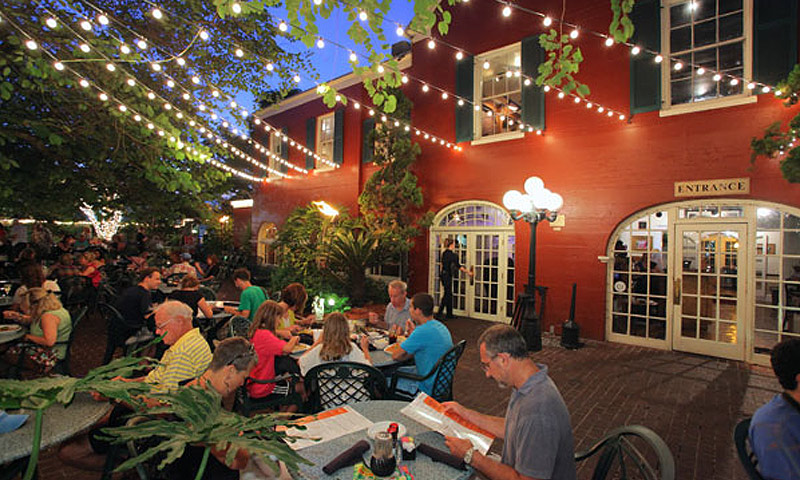 Harry's has one of the most beautiful patios in town.
Harry's Seafood Bar and Grille is a charming restaurant on the bayfront in St. Augustine unlike any other restaurant in town. Their mouth-watering entrees are prepared fresh daily with local seafood, vegetables and more. All recipes at Harry's are prepared with a Cajun, Creole, and Southern flavor. This New Orleans taste is exemplified in the most popular dishes such as Harry's Bourbon Street Salmon and French Quarter Beef Tenderloin. Visitors can enjoy these tasty recipes and many more inside the dining room or on Harry's outdoor courtyard adorned with twinkling lights and blossoming plants.
Other Restaurants to Consider
* The Manatee Cafe is an organic, vegetarian restaurant serving up health-conscious entrees.
* A1A Ale Works is a restaurant with great local beers on tap.
* De Leon Latin Cocina, in the Ponce Hotel, is right near Francis Field and has fabulous dishes and cocktails.
* O.C. White's Seafood has amazing bayfront views from the patio as well as fresh dishes.
For more dining options visit our Restaurant section.