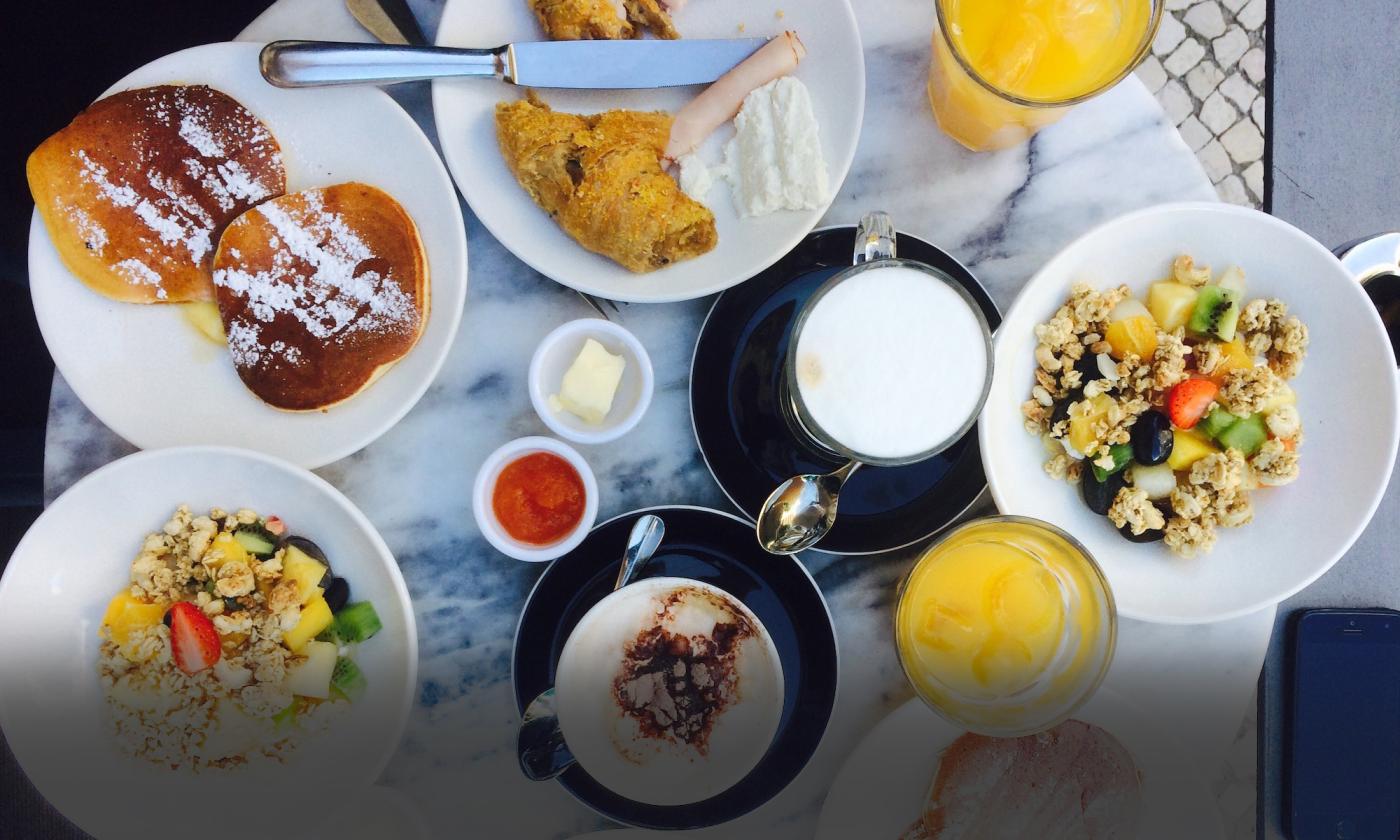 What's for Breakfast?
What do you want for breakfast in St. Augustine?
There's something about going out for breakfast. Something wonderful.
Breakfast and brunch are ritual meals, whether we start every day with our favorite smoothie or always order eggs Benedict on Mother's Day, and many of us are a tad picky about breakfast.
And while we may want to stick to what we know and love, sometimes we want to try a local favorite breakfast food. When we were living on the island of Grenada, we heard about their "bake." It's essentially a type of bread, but when you order "a bake" in the morning, you get that bread paired with souse-made salt cod, boiled a couple of times and topped with peppers, tomatoes, onion, and perhaps a chopped up egg. We tried it and it's OK, but I was more excited to be in the French Islands where I could get perfectly made pan au chocolat, which is puff pastry with chunks of chocolate in the center. (Yeah, what's not to like?)
How We Created this Breakfast List 
You'll find a lot of great breakfast restaurants in St. Augustine, including coffee shops with pastries to rival those in the French bakeries, a surprising number of bagel shops, a host of local eateries that serve breakfast daily, and white-table cloth restaurants that open for brunch only on the weekends. This article will focus on those everyday, dine-in, breakfast places — the ones who take breakfast seriously, every day of the year.
We asked folks to tell us about their favorite sit-down breakfast restaurant in St. Augustine. We culled the list to include only local restaurants and restaurant chains that are from northeast Florida, and then asked each restaurant to name their biggest-selling breakfast item (or two). Finally, we mashed the two lists together to create a breakfast information hash. Whether you seek your breakfast favorite, or want to try a classic southern favorite, we probably have it on the list.
A Dozen Favorite Breakfast Meals
Don't want to read the whole article? Click on any food item below to find a place that serves the breakfast you crave.
This food trend of the 2010s has not yet died. In fact, Avocado Toast has been joined by other varieties of a healthy-ish breakfast that's just a little indulgent. I can totally get behind a healthy indulgence.
Juniper Market, Uptown Region, opens at 8:00 a.m.— Specializing in scratch-made meals and treats. Their Avocado Toast is made with sunflower flaxseed bread.
Sunday, Uptown Region, opens at 8:30 a.m. — They offer a new take on comfort food and they feature an Oyster Mushroom Toast on the chef's sourdough bread.
First, when you see "biscuits and gravy" in the south, note that the sausage is silent. The best biscuits and gravy have tall, flaky biscuits cut in half and liberally doused in the classic southern sausage gravy. Pro tip: unless you are a lumberjack or shrimper, if the waitress raises one eyebrow and asks, "Do you want a half serving?" Say, "Yes," or be prepared to get a box for the leftovers. (They can be heated up the next day, but the biscuit will be a bit soggy.)
Anastasia Diner, Anastasia Island, opens daily at 7:00 a.m. — They describe themselves as "a northeast diner with a southern flair."
Mary's Harbor View Cafe, Historic Downtown Region, opens daily at 7:00 a.m. — This is another small local favorite with limited seating. Guests can take in the harbor view while waiting.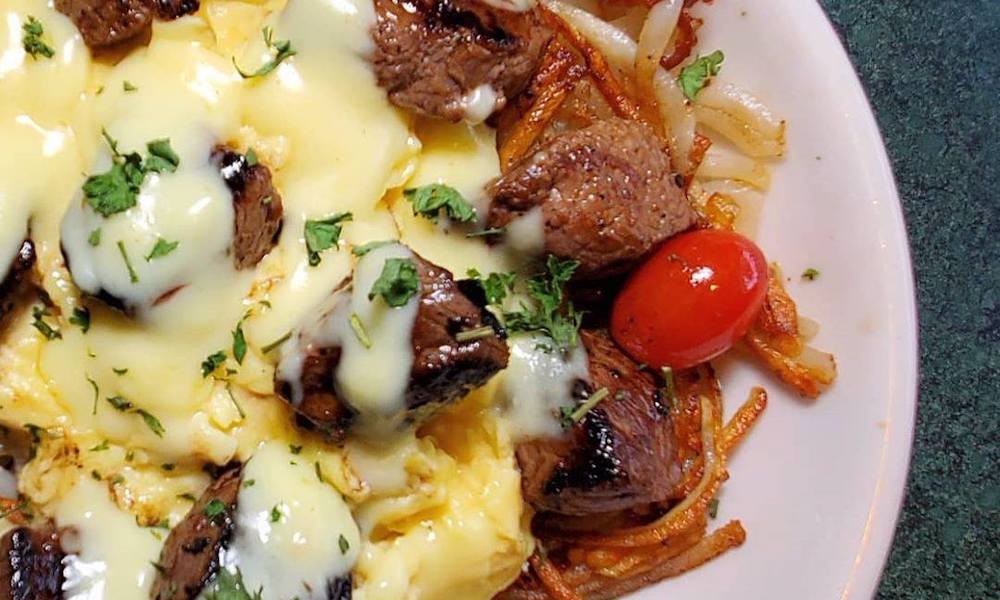 Steak and Scramble Bowl at Metro Diner
These come in two varieties — so diametrically opposite that the only similarity is the bowl. Hot and eggy bowls will have meat, some form of fried potato, egg, cheese, and other goodies. Cold and superfood-ish bowls will usually start with fresh fruit, and may include acai, granola, nuts, yogurt, macha, and possibly kale or spinach.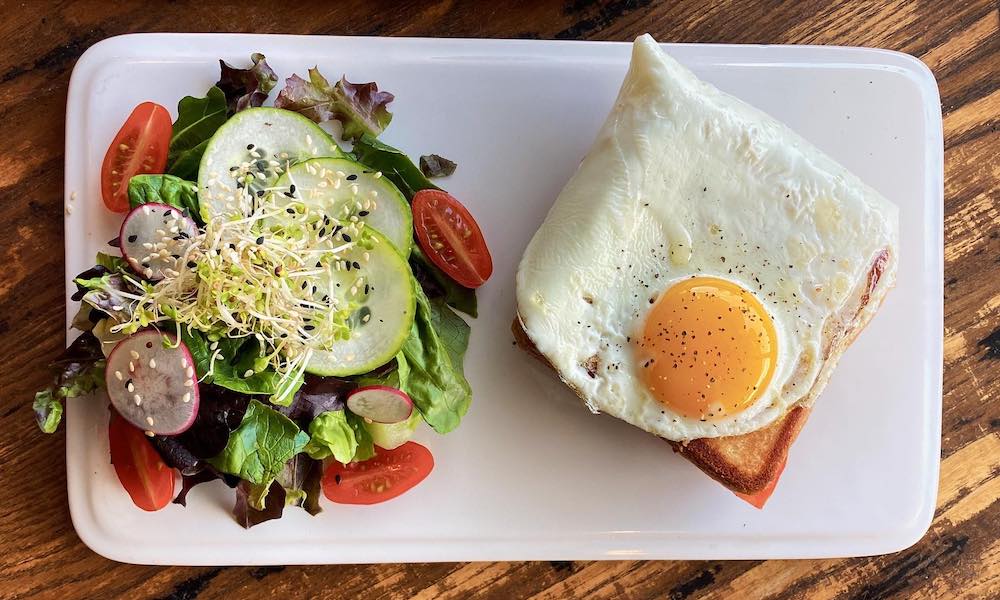 Croque Madame at Le Petit Pleasure
Did breakfast sandwiches exist before those made and promoted under the double arches in 1972? Yes, actually. We know that factory workers in 19th century London grabbed a breakfast sandwich on the way to work, and that a recipe for a Denver sandwich appeared in a U.S. cookbook in 1897. However, fast food franchises made them wildly popular, and now made-to-order restaurants have added their more upscale versions to the menu. (And we thank them.) Breakfast sandwiches are so popular that there are more favorite breakfast sandwiches on this list than any other menu item.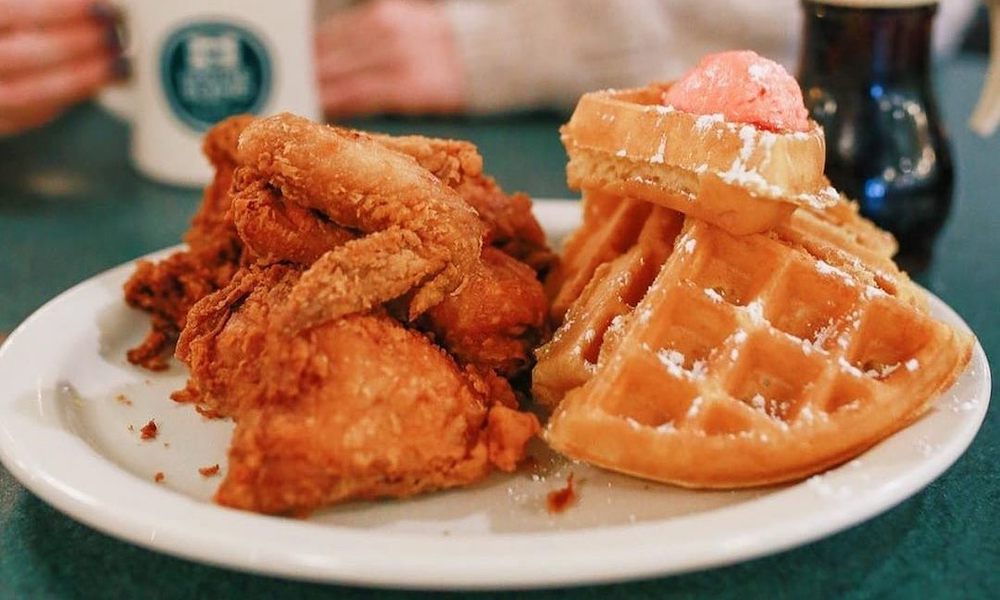 Chicken and Waffles at Metro Diner
As a northerner, I'd never heard of fried chicken and waffles until we moved here. A bit of research finds that the Pennsylvania Dutch served stewed chicken and gravy on waffles in the 1600s, and that meal morphed into fried chicken and waffles with syrup and butter in the 1900s. Apparently this started in restaurants in Maryland and moved south becoming a soul food mainstay, served as a special meal, not necessarily for breakfast.
Metro Diner, Ponce de Leon Region, opens daily at 7:00 a.m. — Guy Fieri of Diner, Drive-Ins, and Drives, visit to the Metro and enjoyed their Fried Chicken Waffle, which has half a fried chicken on a Belgian waffle, served with their spicy-sweet sauce.
Beachside Diner, St. Augustine Beach, opens daily at 7:00 a.m. — This modern diner offers breakfast, brunch, and lunch classics. Their Spicy Chicken Waffle is served with sweet honey.
Lightly toasted English muffins, ham, poached eggs, and Hollandaise sauce, we know the recipe was created in New York in the 1800s, either by a chef at the Waldorf-Astoria, or at their rival Delmonico's. Like other items on the list, the classic version has spawned variations.
Georgie's, Historic Downtown, opens daily at 7:00 a.m. — This real diner near King Street serves American and Greek food. Their Eggs Benedict is a favorite.
Little Margie's FA Café, St. Augustine Beach, opens daily at 7:00 a.m. — This casual beach restaurant is just across the street from the beach. They offer a variety of Eggs Benedict from traditional to one laden with a lobster, crab, and shrimp cake.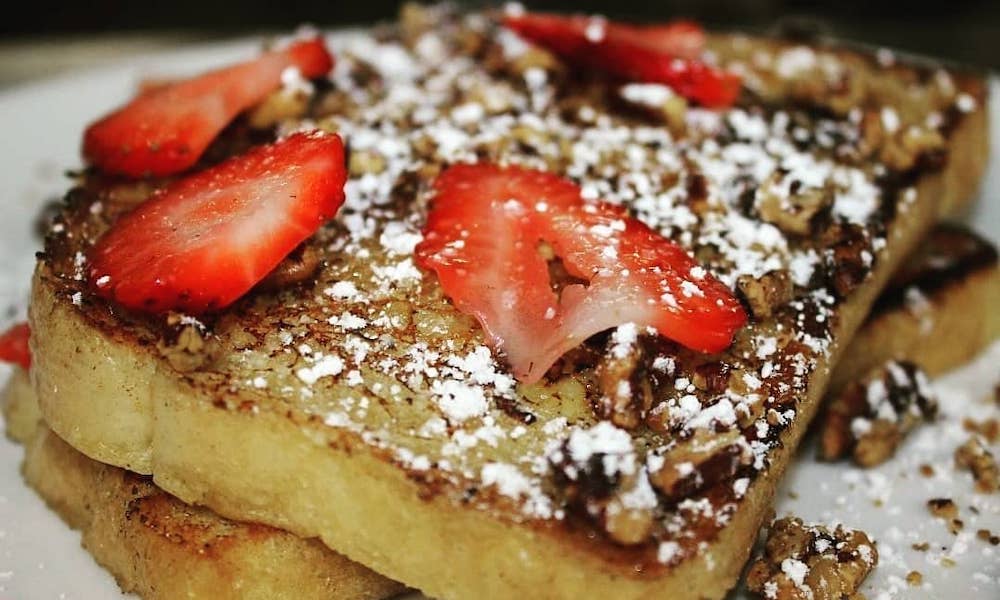 French Toast as PK's Roosevelt Room
It's all about the bread. I agree with friends who told us that Challah is the best bread for French toast, though I've rarely had a bad French toast of any kind. (Unless it was served with "pancake syrup." [shudders])
PK's Roosevelt Room, Historic Downtown, opens daily at 9:00 a.m. — An annex of the popular Prohibition Kitchen restaurant and bar, this breakfast and lunch restaurant opens a bit later than most. Their Brulee French Toast is made with sourdough bread and topped with bourbon-blueberry compote and toasted pecans.
The Spot Cafe, US 1 North, opens daily at 7:00 a.m. — This is a true local favorite on Route 1, north of town. In addition to their grits, their Thick-sliced French Toast is a favorite.
While these restaurants have a grits specialty on their menu, plain old grits did not come up on the list. It's a side that you either like, or you don't. (And if you're from the South, you probably do.) One of our colleagues here is a St. Augustine local whose mom said that you can tell where you are along the east coast of the U.S. by how high the grits are on the store shelves; I assure you that in St. Augustine, grits are on the shelves at eye level. When asked about his favorite breakfast, that colleague thought for a moment, smiled, and said, "Eggs over easy or medium, bacon, toast, and grits. I cut the eggs and bacon up into small pieces and mix them in with the grits, so the soft yolk gets all stirred in. Then I eat it with the toast, sometimes on the toast. So good." (Again, my mouth is watering.) But I digress. Some people clearly love grits as a side for any breakfast, while others love ordering special breakfasts starring grits with added protein and other savories.
Blue Hen,

Lincolnville Region, opens at 8:00 a.m., Wednesday - Sunday —

This small, local favorite often has a line outside. Those who love grits and meat will enjoy their BBQ Pulled-Pork and Grits.
The Spot Cafe, US 1 North, opens daily at 7:00 a.m. — The local favorite just north of town is known for their Fish and Grits, the fish is fried, Southern Style, the grits are classic, and it can be served with eggs and toast.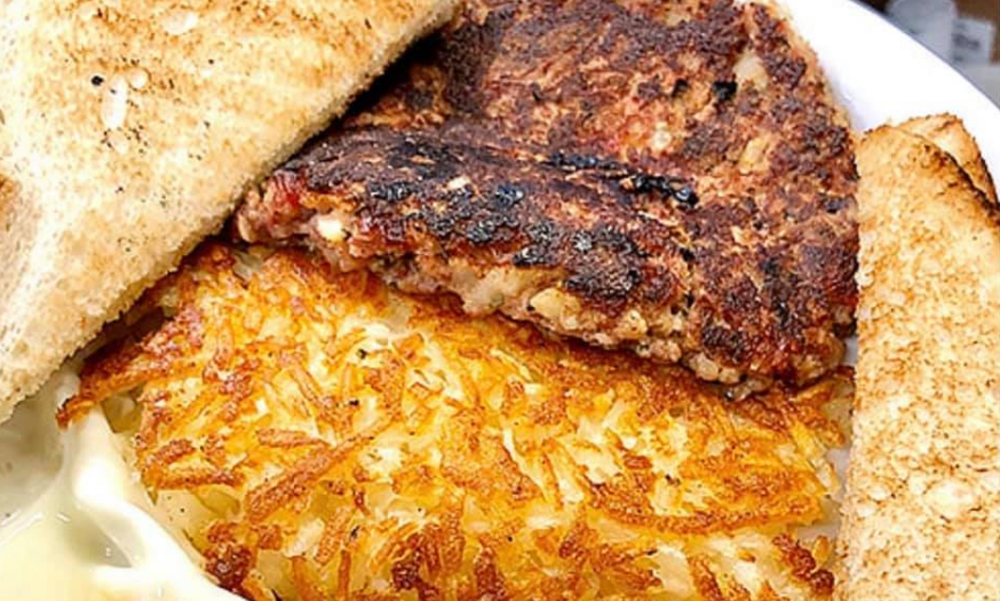 Hash from the Beachside Diner
Hash, the chopped blend of meat, potatoes, onions, and more, is a northern dish (she says with pride) starting as a way to use leftovers - particularly from a New England Boiled dinner, made with corned beef. It's a meal that lasts for at least three meals: the dinner, the leftovers made into hash and served as a subsequent dinner, and the leftover hash served for breakfast, often with poached eggs. Like omelettes, chefs and home cooks have created countless versions of hash, particularly breakfast hash. Like breakfast sandwiches, a number of restaurants list hash as their most popular dish.
Beachside Diner, St. Augustine Beach, opens daily at 7:00 a.m. — This modern diner offers breakfast, brunch, and lunch classics. Their Hot Pastrami Hash also contains pastrami, hot sausage, potatoes, and onions. It comes with two eggs and toast.
Georgie's, Historic Downtown, opens daily at 7:00 a.m. — This real diner near King Street serves American and Greek food. Their "side" of Corned Beef Hash is nearly a meal in its own right. Of course, we encourage you to order it with eggs and toast.
Sainte-George Restaurant, Historic Downtown, opens Wednesday - Sunday at 11:00 a.m. — Their menu is a blend of European and American cuisines and their popular breakfast/brunch item is a Short Rib with Poblano Hash
Omelettes can be simple, such as Jacque Pépin's classic French omelette with eggs and fresh herbs. Since bigger is better in America, we like to add other ingredients, creating western omelettes, veggie omelettes, Greek omelettes and countless other varieties.
Costa Brava, Historic Downtown, opens daily at 7:00 a.m. — This hotel restaurant exudes old-world charm. Their omelettes are a favorite and they usually offer two each season.
Manatee Café, State Road 16 Corridor, opens daily at 9:00 a.m. — This popular small café specializes in preparing healthy options and uses organic produce when possible. Their veggie omelette is a year-round favorite.
In my humble opinion, the breakfast of champions. Add a little fresh fruit and crisp bacon on the side (or in the pancakes) and top with real maple syrup, and you have the perfect comfort meal. In Maine, I grew up eating only real maple syrup made from sap collected and boiled by my great uncles. And yes, I ate maple snow candy made by tossing boiling syrup onto clean snow. Just as my colleague knows grits, I know real maple syrup and will not eat pancakes or waffles without it.
Sheila's Café, Anastasia Island, opens daily at 7:00 a.m. — Hidden in plain site on A1A in the Lighthouse Plaza, Anastasia Kitchen AKA Sheila's Café has long been a favorite of locals, many of whom rave about Sheila's Blueberry Mandarin Orange Pancakes.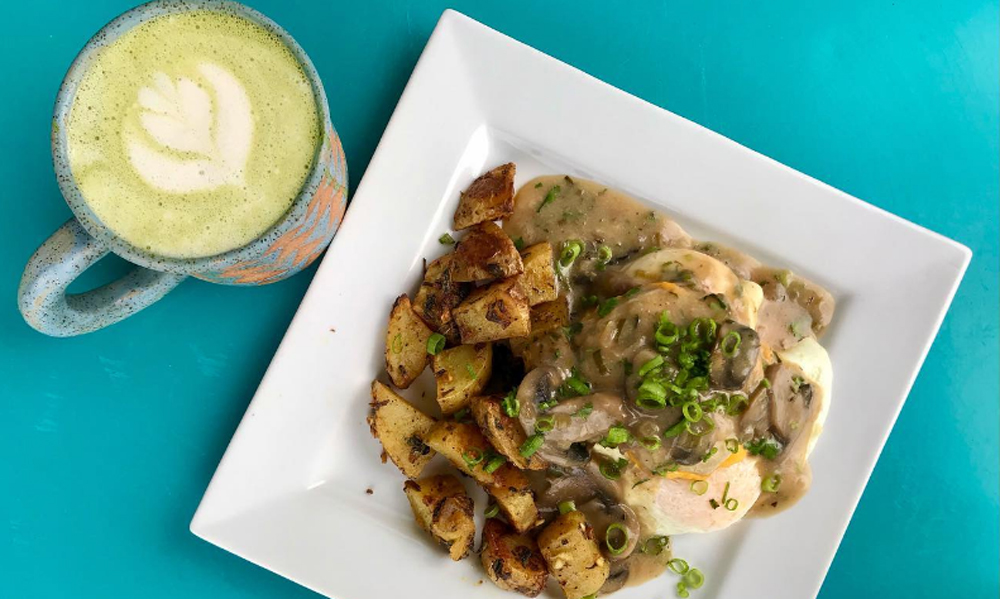 Gluten-free and vegan biscuits and gravy, with a side of roasted potatoes from Buena Onda Cafe
One of the great things about St. Augustine restaurants, the vegan and vegetarian options are plentiful and delicious. The vegetarian eateries are so good that meat-eaters don't feel cheated, and many of the regular restaurants offer delicious vegetarian and vegan options.
Buena Onda, West St. Augustine, opens at 8:00 a.m on Tuesday - Saturday — While they offer vegetarian dishes, many vegan options are available, like their Tostada Con Huevos: Crispy corn tortilla, tofu scramble, refried beans, green tomato poblano sauce, pickled onions and almond ricotta.
Farmhand KCHN, Ponce de Leon Region, opens Monday - Saturday at 7:00 a.m. and on Sunday at 8:00 a.m. — Offering a wide variety of foods and coffee, their vegan chorizo wrap is a favorite.
Manatee Café, State Road 16 Corridor, opens daily at 9:00 a.m. — This popular small café specializes in preparing healthy options and uses organic produce when possible, and is known for their scrambled tofu.
So Many Options
How will you decide where to go for breakfast? Just because a restaurant wasn't on the pancakes list (or whatever) doesn't mean they don't have great pancakes. It just means that currently, other items are being ordered a bit more often. Having eaten at most of these, I can be fairly positive that most of them can please most of you and the rest of your party.
Grits
I told my Florida-native co-worker that I couldn't find a recipe for grits. She stared at me for a couple of seconds, and said,"That's because it's water ... grits ... heat," moving her hand to the side to indicate being done, and then said, "also tell them to add salt to taste." I asked, "Do we ever add butter? She replied, "Well there are a hundred ways of making grits, good." All y'all are on your own with the grits. Or you could watch this segment from the movie "My Cousin Vinny." No, really, the recipe is simple:
4 units of water to one unit of grits. (You can use 1/2 water and 1/2 milk.)
Salt
Heat, stirring frequently until they are done. (About 15 - 25 minutes.)
Biscuits and Gravy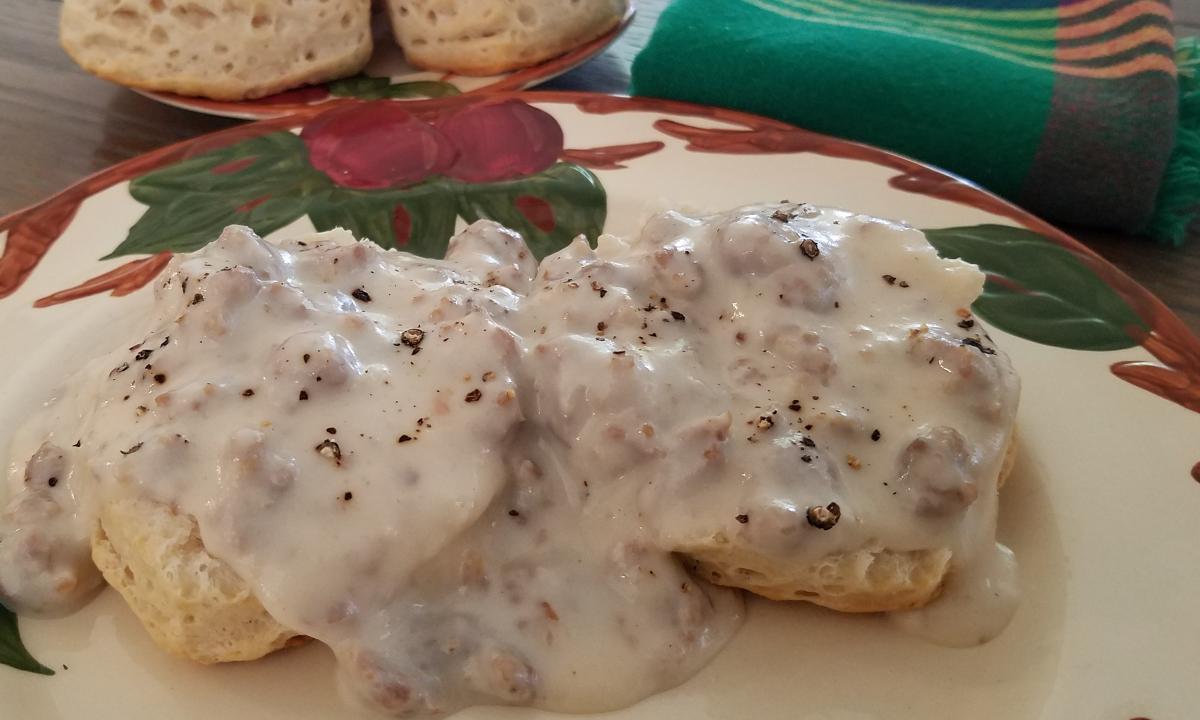 Heather McPherson's Biscuits and Gravy
Remember, the 'sausage' is silent and this is not a meatless meal. Also the gravy is really a thick, savory white sauce, not a brown gravy. I found most recipes didn't suggest a particular type of sausage, however, some specified a popular store brand of breakfast sausage, and one recipe said only alligator sausage would do. (Wait! They make alligator sausage?) I went with the recipe presented by the Florida Dairy Farmers, and created by cookbook author and editor, Heather McPherson. She kindly supplied her favorite recipe for this treat. (Heather told me that December 14 is National Biscuits & Gravy Day, so I told Heather that December 17 is National Maple Syrup Day.)
For the Gravy:
12 ounces ground pork sausage
6 tablespoons flour
2 to 3 cups milk
Freshly ground salt and cracked black pepper to taste
1 teaspoon nutmeg
For the Biscuits:
1 3/4 cups enriched bleached self-rising flour
Freshly ground salt and cracked black pepper to taste
1 cup heavy cream
1/4 cup butter, melted
Make the Biscuits
Heat the oven to 500F. Line a baking sheet with parchment paper
Place flour into a large mixing bowl. Add salt and pepper and mix with a whisk. Make a well in the center. Gradually stir in cream into the well and then mix the flour with a wooden spoon or rubber spatula. Dough should be sticky but hold together.
Scrape the dough onto a lightly floured work surface. Fold two times to form a ball. Do not knead. Pat or roll dough gently to 1/2 inch thickness. Cut biscuits with a sharp-edged cutter, straight down, without twisting the cutter. Gather remaining dough and re-roll one time, cutting additional biscuits until you have 10-12.
Place biscuits on baking sheet with sides touching for soft Southern-style biscuits or close together but not touching for biscuits with crisp sides. Brush tops with melted butter. Bake 8 - 10 minutes or until tops are golden brown.
Make the Gravy
Place sausage in a large skillet and break into pieces with a wooden spoon. Turn the heat to medium and cook, stirring and continuing to break up sausage until meat is browned. Do not drain the rendered fat. (If the sausage is exceptionally lean, you may need to add 1 teaspoon of butter.)
Stir in 1 tablespoon of the flour to coat the sausage. Gradually stir in the remaining flour and milk, Season with salt, pepper, and nutmeg. Cook stirring, until the gravy is thick and bubbly.
Serve warm over split biscuits. This recipe is easily doubled.
My Recipe for Fried Chicken and Waffles
The Waffles
Make homemade Belgian waffles
Serve with real maple syrup and butter
The Chicken
Fry chicken in late afternoon or early evening
Serve with potato salad and a mess of collard greens cooked in bacon
Kidding. I would never make this at home, but I have tried it. The best recipes use boneless chicken and either add a bit of spice in the breading or toss the fried chicken in a lightly spicy sauce before serving. Either way, the result is crunchy, spicy fried chicken on top of sweet, fluffy waffles, and drenched in real maple syrup. It's a decadent, spice-sweet combination that's worth a day's allotment of calories.