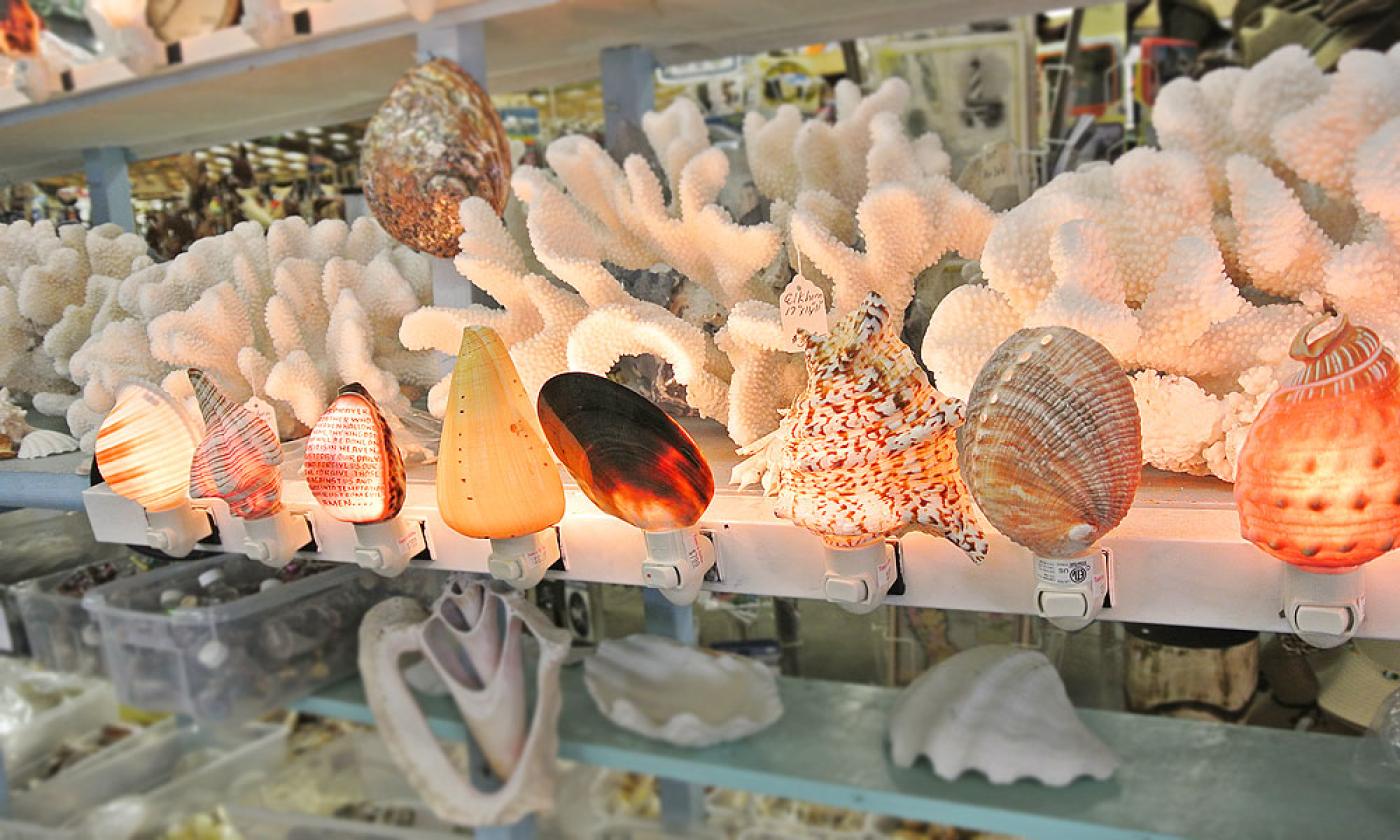 Most Touristy Souvenirs in St. Augustine
The best souvenirs aren't always the obvious choice in St. Augustine. Travelers should seriously consider these vacation mementos.
Sometimes the best souvenirs of a trip aren't the most useful. They aren't the kind of things that will be useful in everyday life or serve as a specific function. The best mementos of a vacation to St. Augustine are the things that you almost can't believe are actually sold in a store, like water and seashells. Upon first glance, you may look at them and wonder to yourself "Who is buying this?"
As silly and pointless as they can be, these mere objects can say so much about a place. From the cheesy packaging to the absolutely useless contents—some objects exist just for the sake of being touristy. And though you may eye it in the store and envision how much buyer's remorse you'll experience after purchasing it, the souvenir may surprise you and carry the memory of St. Augustine long after you've left. Before you laugh and promise yourself you'll never buy any of these St. Augustine souvenirs, consider that these objects have so much character that you'd be crazy not to buy them.
1. Coquina
Coquina, which is Spanish for "bulletproof seashells*," is the hardened substance used as a building material for early Spanish forts in America, such as the Castillo de San Marcos and Fort Matanzas. It may seem as though the Spanish masterminded the cement-like material through weapons research and hazardous chemical tests, but in actuality, coquina is a naturally occurring substance in nature. The Spaniards worked with what was available to them since transporting materials for building a fort across the Atlantic Ocean was out of the question. This ended up being a great decision when they realized the material was so tough, cannonballs literally bounced right off of it or just embedded into the wall. But such a powerful defense technology must be kept under lock and key, yes? It definitely should be, but no! Coquina is available right here in St. Augustine. And from a local to a vacationer, I promise you, nothing sums up St. Augustine (and my state-mandated Early Florida History class) more than an authentic bag of coquina rock.
Where to buy it: Colonial Quarter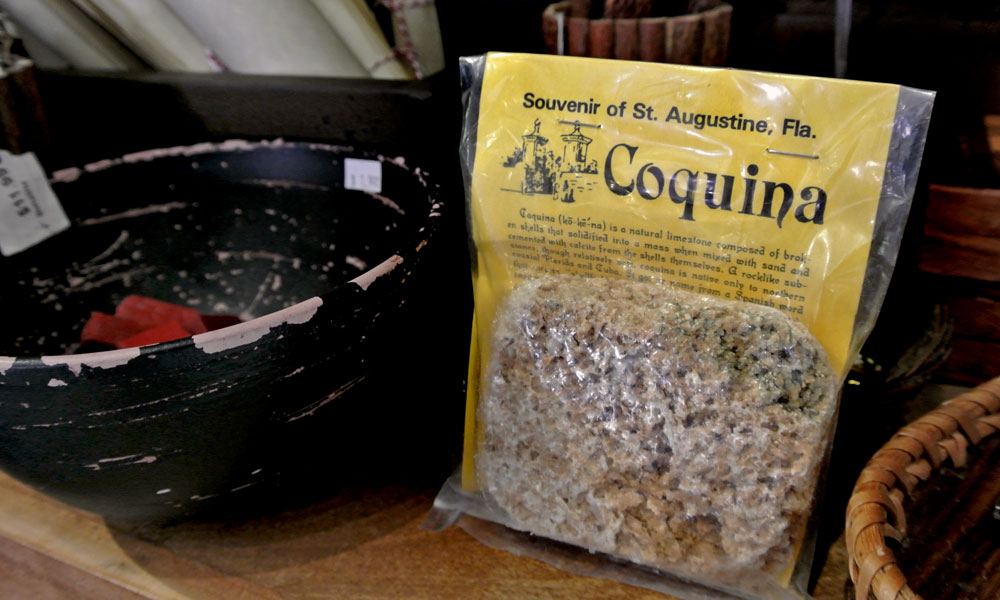 Coquina actually means "cockle" in Spanish. The skeletons of cockle shells and shellfish are involved in creating the sedimentary rock only found in a few places in the world, including in St. Augustine.
2. Pirates Creed of Ethics
For the cheesy souvenir collecting pleasure of all vacationers to St. Augustine, consider purchasing this Pirate Creed of Ethics first laid out in the 1600s by a real fraternity of pirate bros. It was jotted down by a pirate of old and discusses some of the rules of order that pirates lived under. Even though pirates seem like an anarchic lot, there were actually a lot of rules put in place to keep sailors in line. This souvenir may not be of much use unless you're having another one of those heated arguments with your friends about the ethical implications of living under pirate law, but who cares!  It's printed on old-timey, grungy paper, you can hang it on the wall to finally instill some order among the members of your pirate clan, and it stands out way more than your everyday historical documents printed from historic towns. Where else can you get your hands on this kind of insight into the culture of a nearly extinct criminal syndicate? This isn't Confederate money or a Declaration of Independence; this is essentially a Pirate Constitution!
Where to buy it: The Pirate & Treasure Museum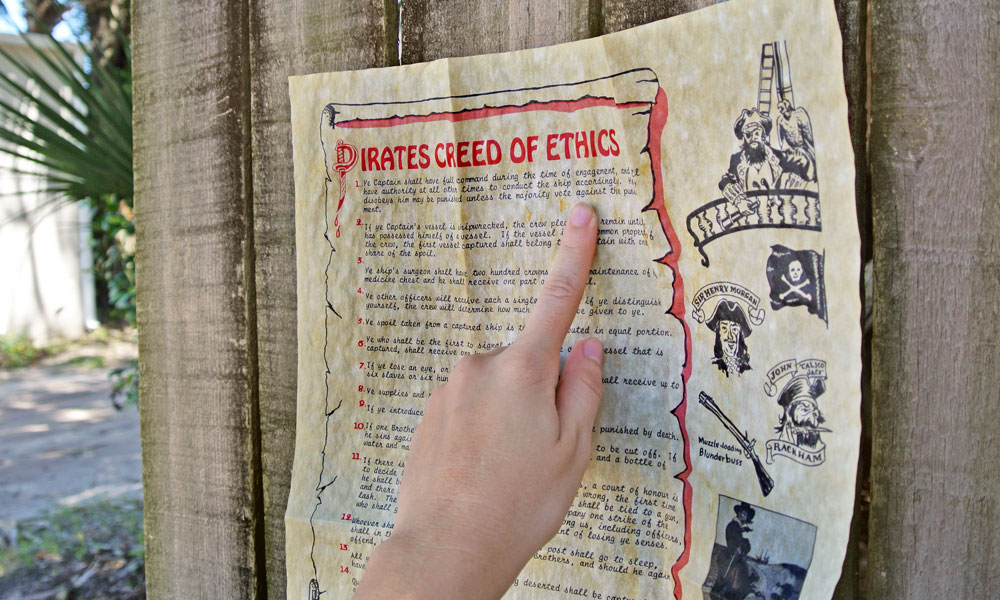 Other reproduced historic documents that are sold in St. Augustine include a Map of Florida, a Pirate's Treasure Map, a 1521 letter from Juan Ponce de Leon announcing his second voyage to Florida, and an antiquated image titled, "Dead Man Tell No Tales."
3. Gator Head
What better gift could you bring back home to someone you love than the severed, taxidermied head of a native animal. Is there a better way to remember Florida? I know, it looks like a more morbid version of Gator Golf (Hah, nice shot, DAD.) or a table centerpiece for a Florida State fan, but it's really an awesome knick-knack and quite popular. You can sit it on a coffee table, a bookshelf, or frighten your grandchildren with it for years to come. You may look at it and see only a gator head, but it's so much more than that. The gator is to Florida what the bald eagle is to America. When you take this gator head home, you're symbolically taking a piece of Florida home with you—a dead, decapitated piece. But don't worry, gator heads aren't just being lopped off to serve the tourism industry. The bodies are used to cook delicious gator meat. Mmmm. Some shops even sell the hands and feet on sticks for back scratchers. Talk about not wasting a single part.
Where to buy to it: The Pirate Store on St. George Street.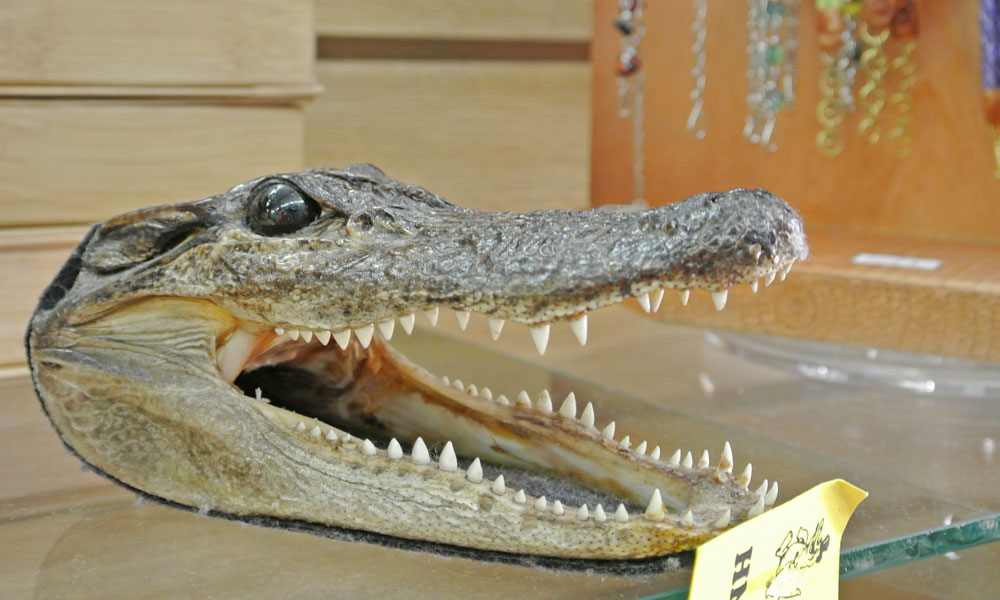 If you want to try gator meat, order the Florida gator tail appetizer at Florida Cracker Cafe.
4. Seashell Art
You think that it's pretty simple to just go to the beach and find amazing seashells, but it's actually a lot harder than you think. In the scenario that you do find seashells, they're not extremely fascinating on their own. If you show your friends back home a seashell you got at the beach, the most ecstatic reaction you'll get is "Wow, very nice." Anyone can go to the beach and pick up some seashells to take home. Seashell art, however, is without price. It's touristy, it sometimes smells like the beach in a not good way, and it completely sums up Florida. Unlike plain old sit-in-a-vase seashells, it's also guaranteed to elicit more of a reaction. Seashell art takes people back to a bygone era when covering house decor in seashells was an important element of interior design. Seashell art pushes the limits of creation. After all, what CAN'T be made out of seashells?
Three turtles wearing glasses and hats stacked on top of each other?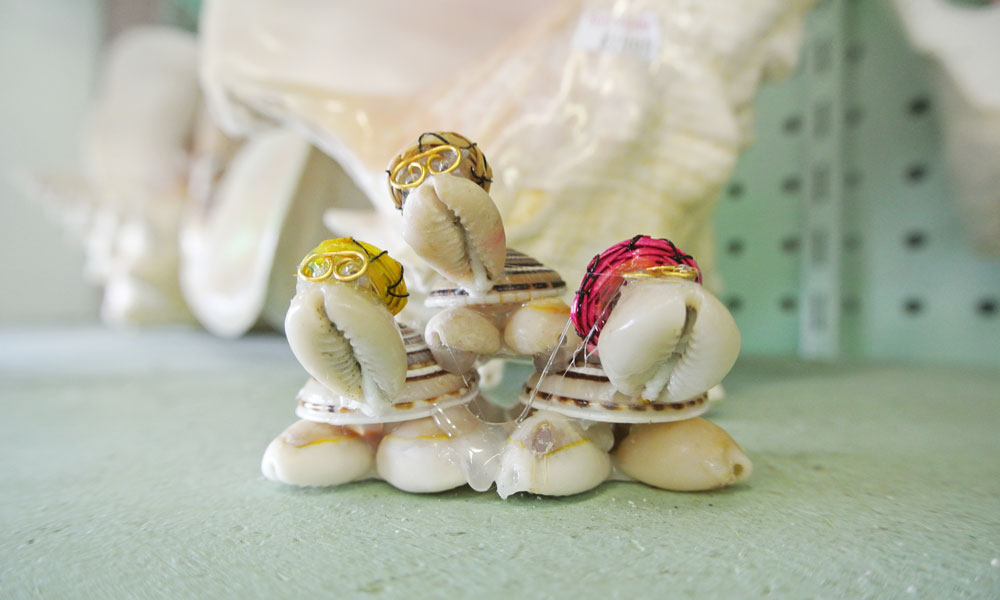 Where to buy it: Tom's Since 1970 on A1A Anastasia Island.
5. Fountain of Youth Water
Ponce de Leon first came searching for the Fountain of Youth in Florida around 500 years ago. It's believed that he found it at this spot, which also happens to be the same location where Menendez first settled in St. Augustine. This souvenir bottle of water is probably the best deal you can find in the city. It's cheaper than a bottle of Smartwater with the added bonus of gifting drinkers with immortality. I know what you're thinking. "That's crazy, the Fountain of Youth isn't real, death is imminent." Well, mi amigo, then why are Ponce de Leon and Pedro Menendez always walking around St. Augustine with all their old-timey homies? Why are there pirates all over the place and colonial soldiers shooting off cannons every weekend?! Are you suggesting that those are costumed actors? Puhleease. Not only is the water from the actual real-life Fountain of Youth, but it's presented in very touristy fashion in a decorated bottle labeled accordingly; and it's yours for the taking.
Where to buy it: Fountain of Youth Archeological Park north of the Mission Nombre de Dios.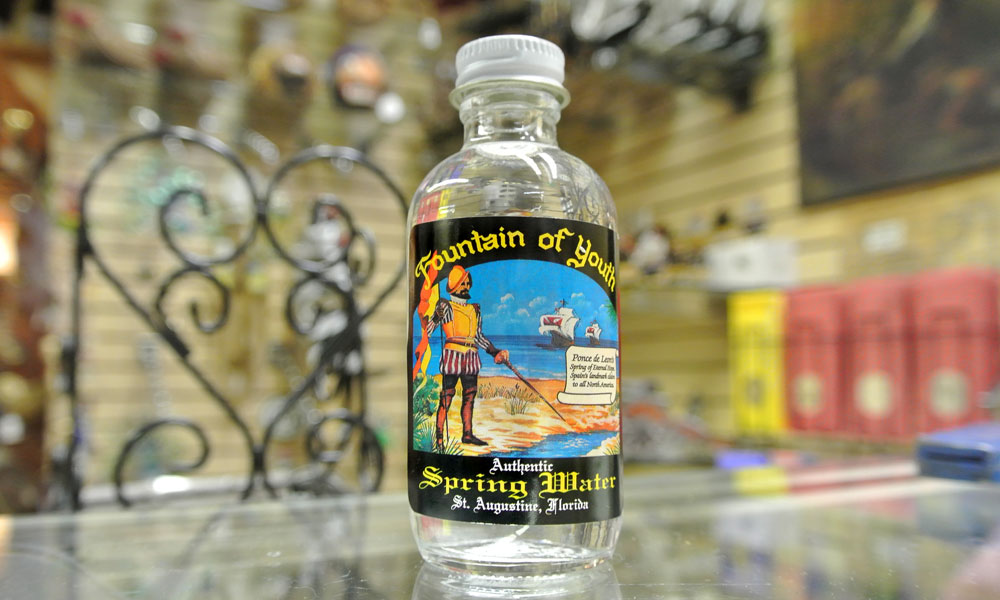 Souvenir bottles of Found of Youth water come in a variety of sizes, starting with a vile for less than $1. (You can also drink free fountain water with park admission.)
6. Mini Cannons
They don't shoot out little cannonballs (even though it would be totally awesome if they did) but according to the Castillo, they can barely keep these things in stock. I know what you're thinking. It's the same thing you're thinking about every souvenir on this list: "Whyyy?" But seriously, "Why not?" We're the nation's oldest city and we owe part of that to a sturdy defense. Even today, cannons are a big part of our life here in St. Augustine. We've become almost accustomed to the sound of a big explosion on Fridays, Saturdays, and Sundays. It's like having Admiral Boom and Mr. Binnacle next door. Cannons are at the Castillo de San Marcos, the Fountain of Youth, and in the town plaza. Heck, we even have cannonballs lodged into the side of buildings! St. Augustine has been a prized piece of land fought over by countries in almost every war in American history. What better symbol is there to represent every citizen who ever put up a fight to protect this city? If not for brave citizens—from the early natives and Spanish who protected the land from warring tribes, to the foot soldiers who peacefully fought in the civil rights movements—St. Augustine wouldn't be the strong city it is today.
Where to buy it: Castillo de San Marcos on the bayfront.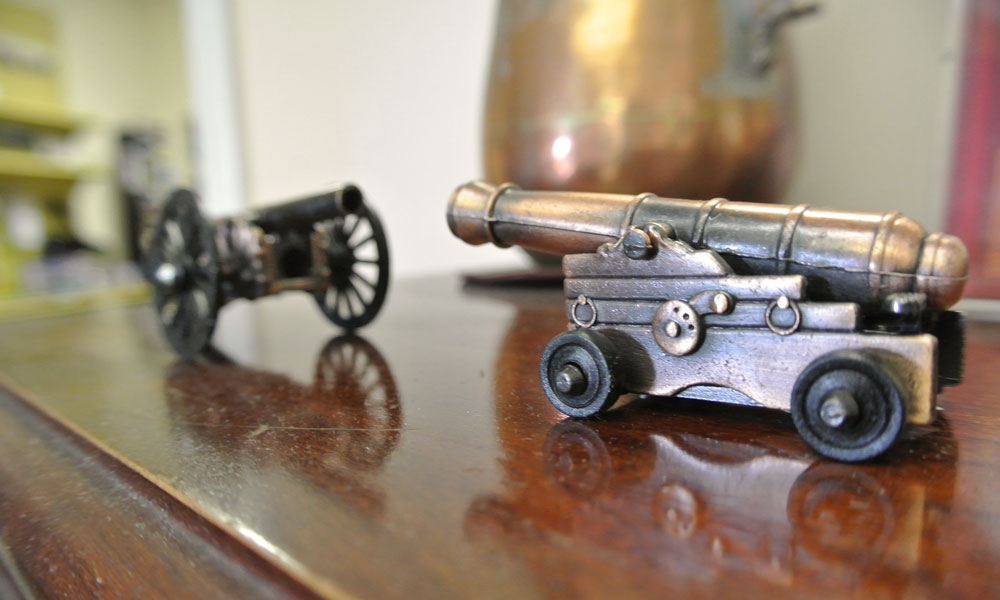 The mini cannons here are also pencil sharpeners!
So why do we buy these souvenirs? Because they're *here*. These knick-knacks may be kitschy and cheesy and ungodly, but they characterize the spirit of St. Augustine in every possible way. They speak volumes of the history and carry a timeless nostalgia with them. The other amazing perk? These types of souvenirs don't set you back much. They're guilt-free, lightweight, and entirely different from buying apparel or souvenir spoons. Although we won't blame anyone who just wants to buy a t-shirt, hat, or toothpick holder (*cough* shot glass), take a good look at these souvenirs because you're unlikely to find them anywhere else in the country.
Honorable Mentions
St. Augustine has so many wonderful souvenirs that define our city. Even though they didn't make the list, these are definitely touristy items worth taking home.
Fake Spanish Doubloons: Currency used to be way cooler than it is today.
Replica 17th Century Navigational Tools: Rediscover St. Augustine just like the early explorers.
Minorcan Spices: Minorcan heritage is strong in this town, but the cooking game is stronger.
Datil Pepper Hot Sauce: The datil pepper is grown across the U.S., but the majority come from St. Augustine.
Anything with the Lighthouse on it: The lighthouse is St. Augustine's Empire State Building.
Local Art: Affordable, unique, and abundant. Check out our art gallery listings to begin your search for the perfect piece.
For St. Augustine souvenirs online, check out Historic Print & Map Company.
If you want to find some more touristy souvenirs, check out these shops...
Magnet Force: This store sells a whole plethora of magnets and retro pop culture souvenirs, from John Wayne to Elvis Presley to Disney. Snag a recipe magnet so you can make your favorite Florida dishes, like Key Lime Pie, back home.
Panama Hat Company: Since 1985, Panama Hat Co. has been providing vacationers with stylish ways to beat the heat. The store also carries baja jackets, a popular hoodie worn amongst the surf culture.
Oldest Wooden School House Gift Shop: Teachers and students will find tons of fun, touristy games and mementos at this stop, including slingshots and nostalgic games.