Find Your Perfect Place in the Sand
A local beach lover offers her take on St. Augustine's 42 miles of beaches.
St. Augustine has many gorgeous miles of coastline along the Atlantic Ocean - 42 to be exact. And, each beach has its own flavor making beach hopping a legitimate pastime for tourists and locals. Since I no longer live by the beach and am now a "townie," I've become an expert beach hopper visiting all 42 miles rather than just the area that was once by my home. Because of this, I present a north to south guide of St. Augustine sand:
The Northern Beaches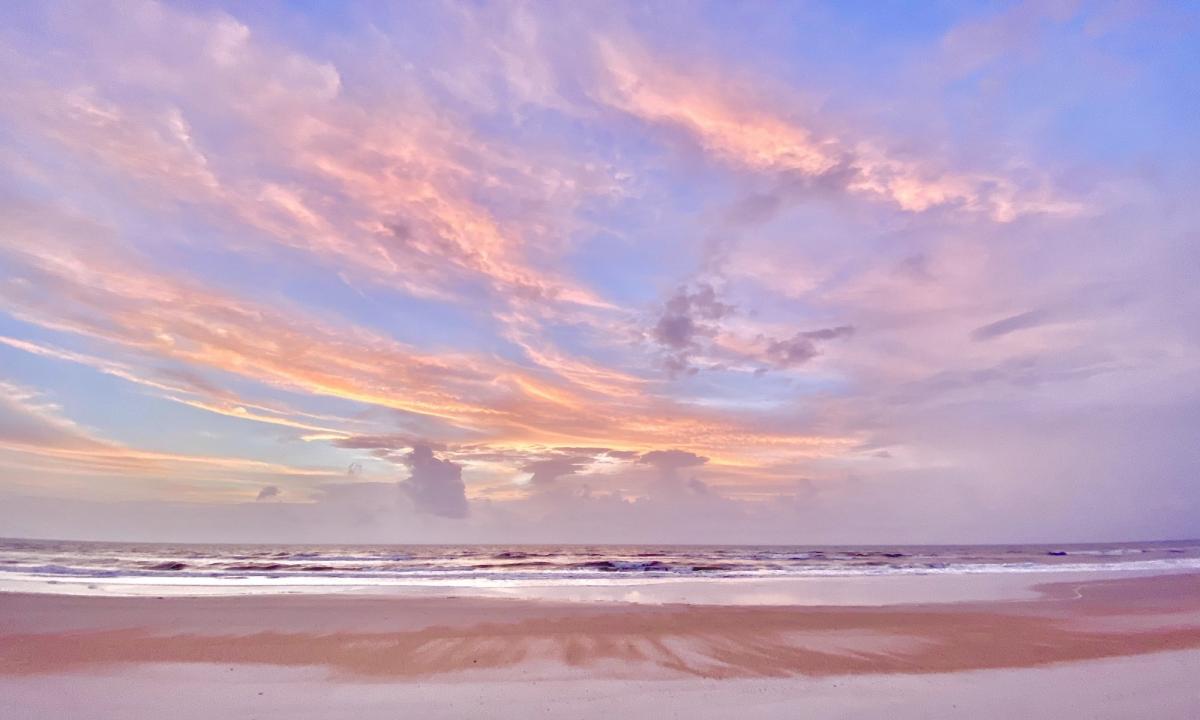 Sunrise over Mickler's Beach in Ponte Vedra.
Mickler's Landing (pronounced mike-lers) - A popular beach access point, Mickler's Landing Beachfront Park allows dogs -- and horses. Yes, that's right, you can bring a picnic lunch - by horseback. There's also a parking lot if you prefer a more traditional mode of transport.
The GTM Reserve in Ponte Vedra Beach.
GTM Reserve -- The Guana Tolomato Matanzas National Estuarine Research Reserve (GTM Research Reserve) is one of only 29 National Estuarine Research Reserves in the country. You can hike or bike on the nature trails west of scenic A1A and then head to the east side for a swim in the ocean. It's like doing your own triathlon!
Ponte Vedra Beach Access Point - If you are one of those annoyingly sensible types, you might choose this area for your beach time. Why? Because there's a super spiffy gas station right next to the parking lot so you can fill up your car, get snacks, and use the rest rooms. How very sensible!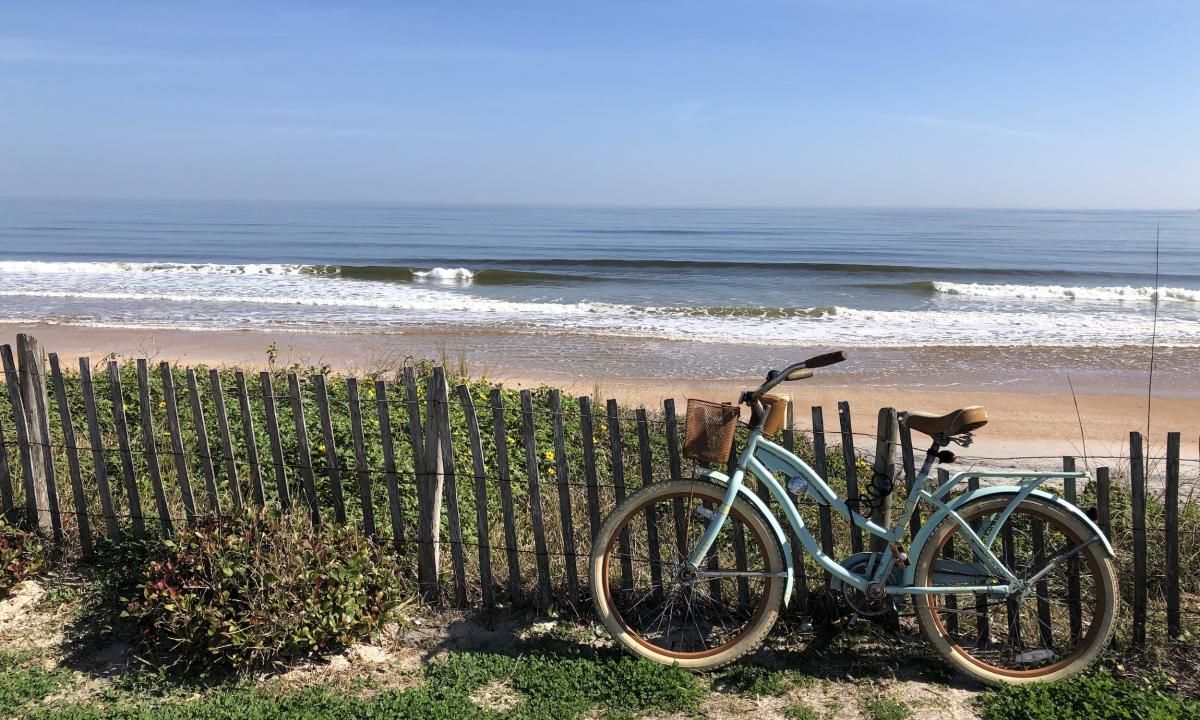 The other kind of parking in South Ponte Vedra Beach.
South Ponte Vedra Recreation Area - If you are really sensible, and prone to having accidents, this point is even better. The reason? It's literally right across the street from the fire station. Once I saw a minor injury that necessitated a little assistance and the 911 call didn't even require a phone.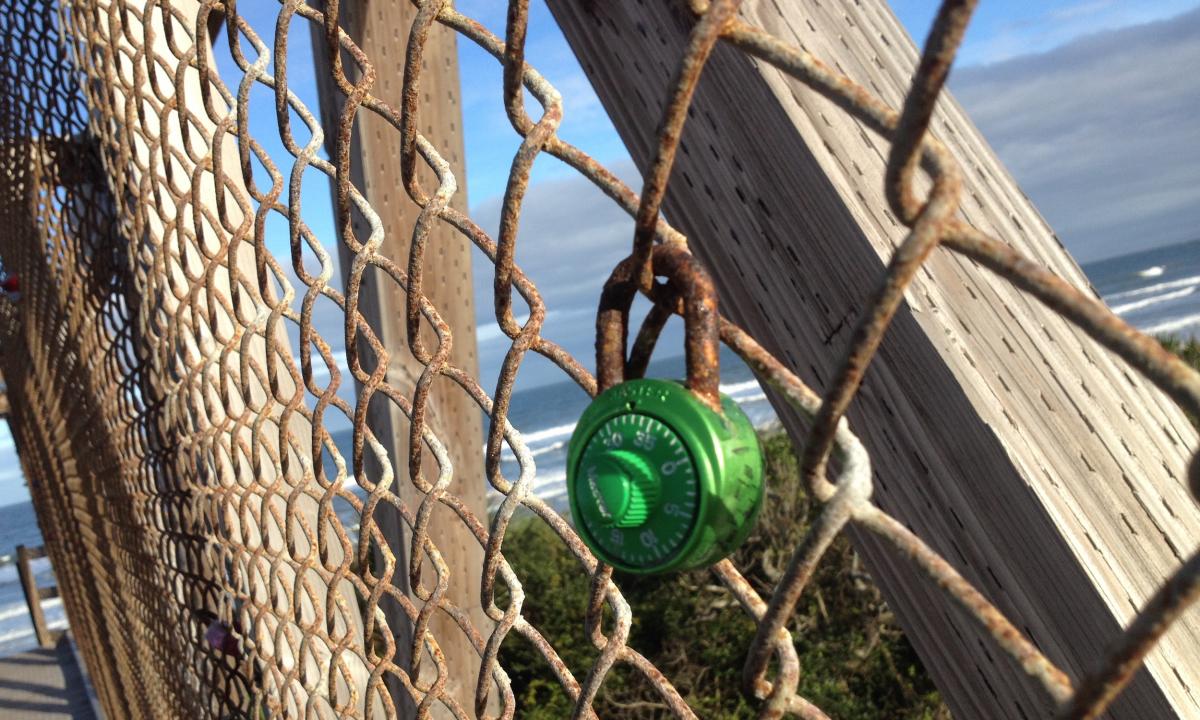 A "lock of love" on the North Beach access bridge.
North Beach Park - Let the kiddos run around the playground and then climb up the steps to the bridge that connects the parking lot to the beach. They'll be good and tired so they might want to rest up (as in allow you to rest up) before building a sandcastle. The bridge contains lots of locks - like on the bridges in Paris - so feel free to "lock in your love" while there.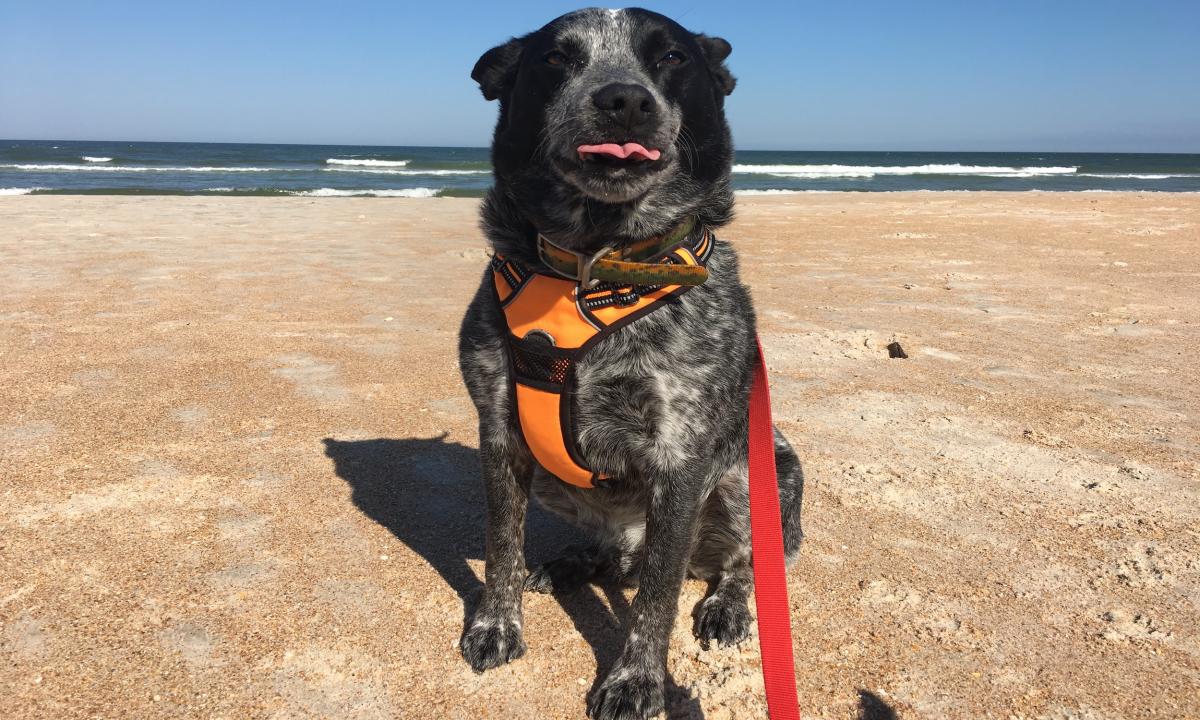 Keith the Dog enjoying a walk in Mussallem Beachfront Park.
Mussallem Beachfront Park - This is a newer, under the radar beach access point that I like because not everyone knows about it yet. Plus, there are no houses there so it's a little patch of beach populated by only the tiny parking lot. Once word gets out, the little parking lot is sure to fill up fast.
Nease Beachfront Park - This is going to sound very strange … forgo the beach here and instead walk down the boardwalk on the west side of the street at sunset hour. There's a gazebo at the end that makes for the most perfect sunset watching spot. Bring bug spray with you - you'll thank me later.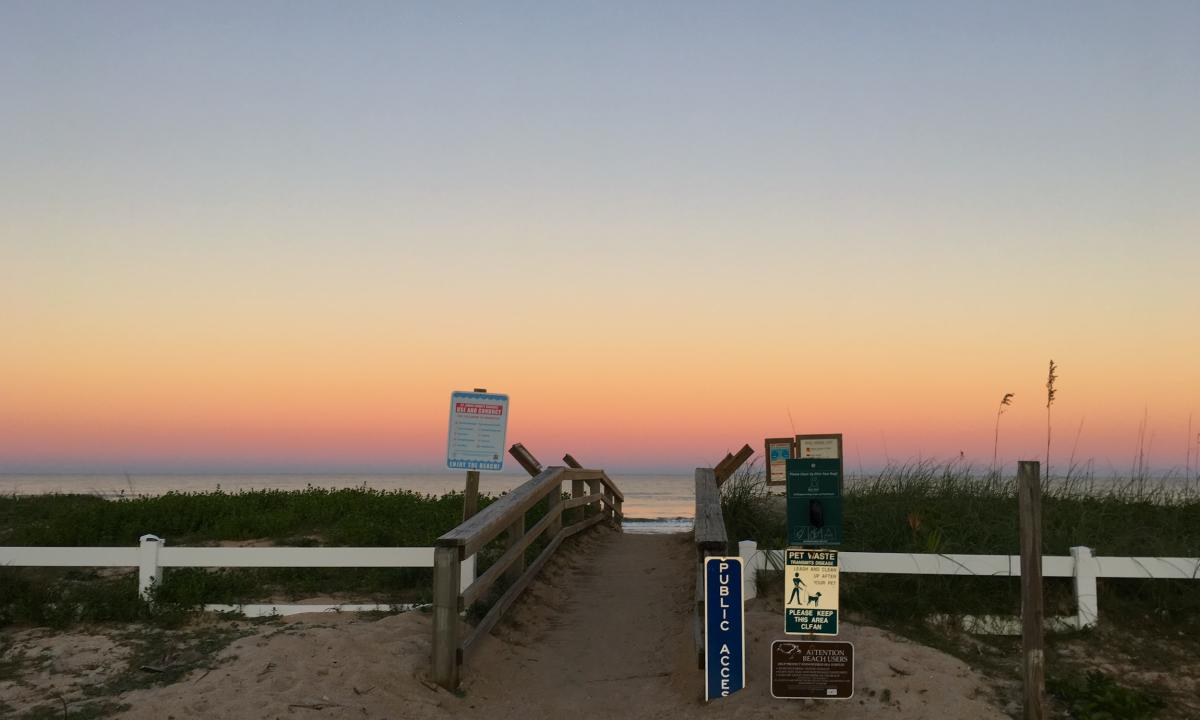 Pink sky time at Surfside Park.
Surfside Park - Bathrooms, showers, picnic tables, parking spaces - oh my! Settle in for the day at Surfside but get there early as the parking lot is known to fill up as this is a popular place to play in the warm weather.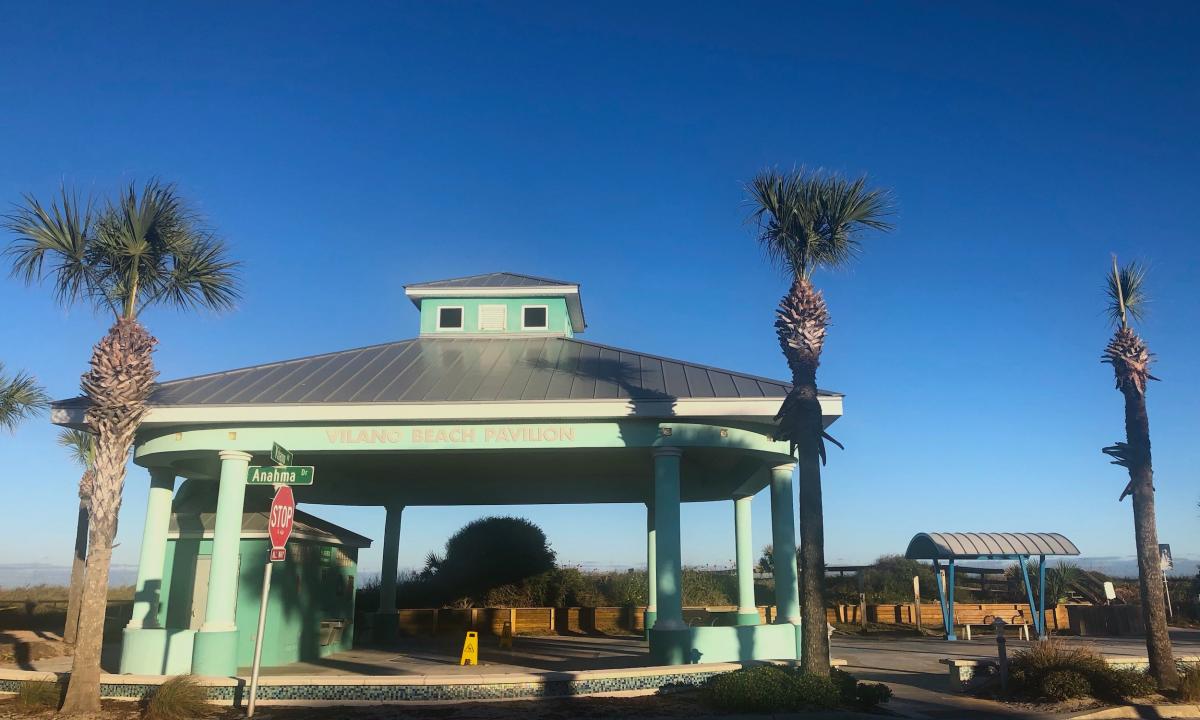 Another beautiful day at Vilano Beach.
Vilano Beach - When you cross over the Vilano Bridge from downtown you feel like you're entering another world - because you are. This is a world filled with relaxed folks in flip flops, hunting for beach treasures such as sea glass and shells. There are also surfers catching waves - while others watch as they sip cool drinks under the beach umbrellas. A block from "Vilano Town" with its pizza parlors and surf shops, is Vilano Beach where you park your car --or drive it onto the beach with you. There's a lifeguard here, and sometimes you might even spot a wedding at the Vilano Beach Pavilion.
The Southern Beaches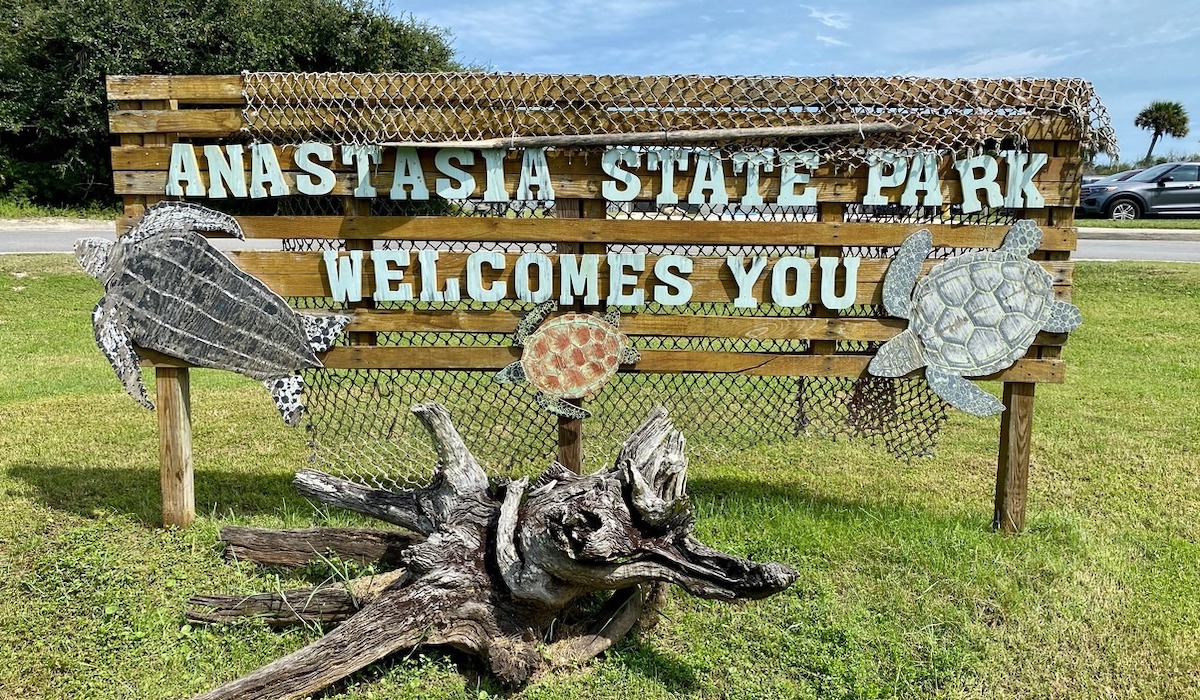 A welcome sign greets visitors at Anastasia State Park.
Anastasia State Park - Holla! I don't normally say, "Holla!" when it comes to state parks, however Anastasia is a beautiful beast all its own. (My brother fell in love with it so much, he got married here.) The park has expansive beaches, nature trails, a snack shop, a beach supply shop, camping, restrooms and … a secret back entrance to the St. Augustine Amphitheatre (ok, so it's not so secret anymore). On show nights, you can park in Anastasia's lot and take a (free!) golf cart shuttle to the show. Read that again - seriously, I insist. Where do you find these little fun gems? Only in St. Augustine.
Beachfront Parking St. Augustine Beach - Sitting between Anastasia State Park and Embassy Suites Resort, this sweet little beach spot is another under the radar area. It only has a few parking spots, but it's fun place to pull into when you're short on time and don't want to be sucked into all the fun things there are to do in St. Augustine Beach.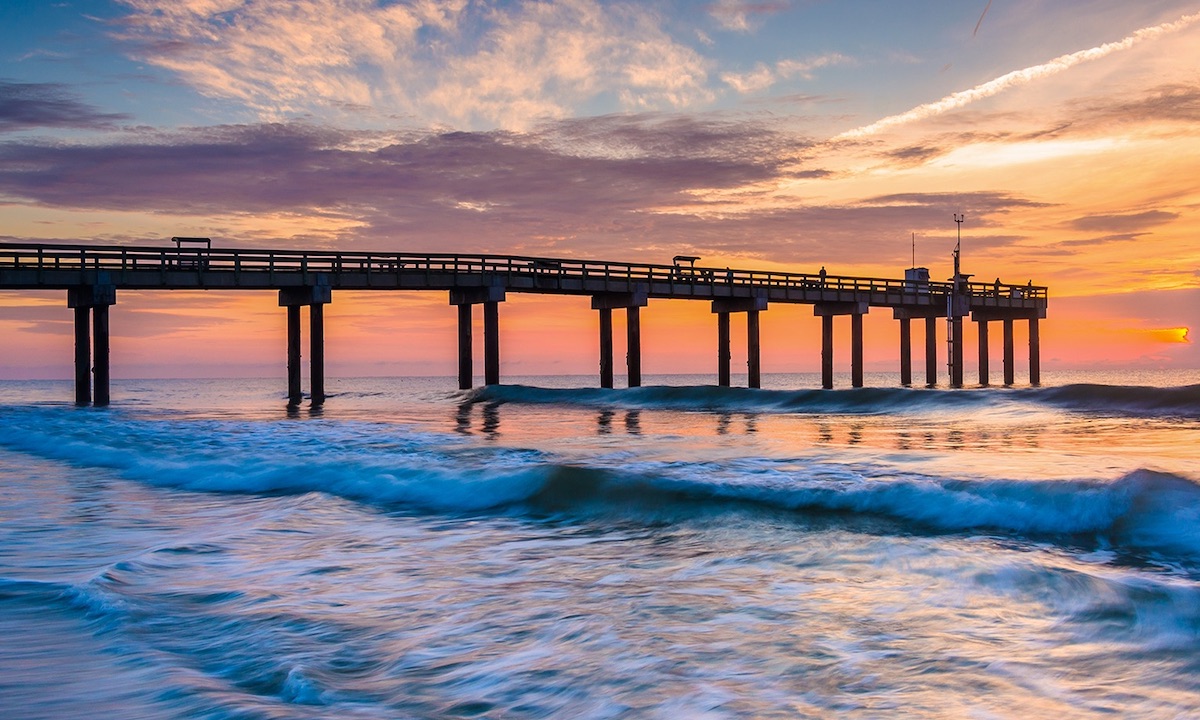 Sunrise over the St. Johns County Fishing Pier
St. Johns County Ocean and Fishing Pier - There's a lot happening here from beach volleyball courts, an oceanside pavilion, and a splash park for children. Plus, the Farmer's Market is every Wednesday morning, and there are lots of festivals that use the pier as home base. The St. Augustine Beach Art Studio & Gallery is located right next to the pier so if the family can't agree on fishing or swimming or art viewing, you can do all three!
510 A1A Beach Blvd Parking - Plan your beach time to coincide with Café Eleven's open hours as you will find a parking lot, rest rooms, and beach on the east side of the road and the café on the west. Word is that Café Eleven makes a mean breakfast as well as hosting some kick a** live shows.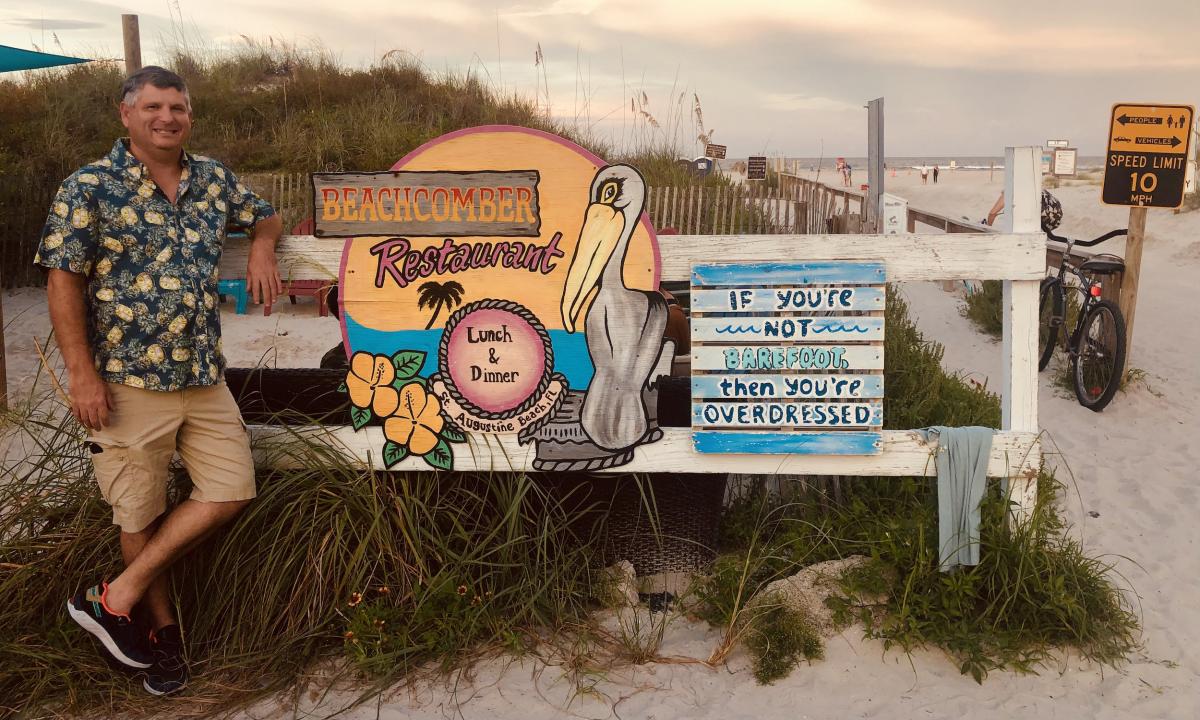 A local poses next to the Beachcomber Restaurant on A Street at St. Augustine Beach.
A Street - When you hear people talking about St. Augustine Beach, chances are what they're really talking about is A Street. This is where it all happens - surfing, eating (with your toes in the sand at The Beachcomber), drinking, and parking - on the beach. You can get tacos, smoothies, cocktails, beer, vegan sandwiches, and so, so much more within a one block area. There's even a gentleman there to help you park - on or off the beach. If you want to know where the beach party is, it's on A Street.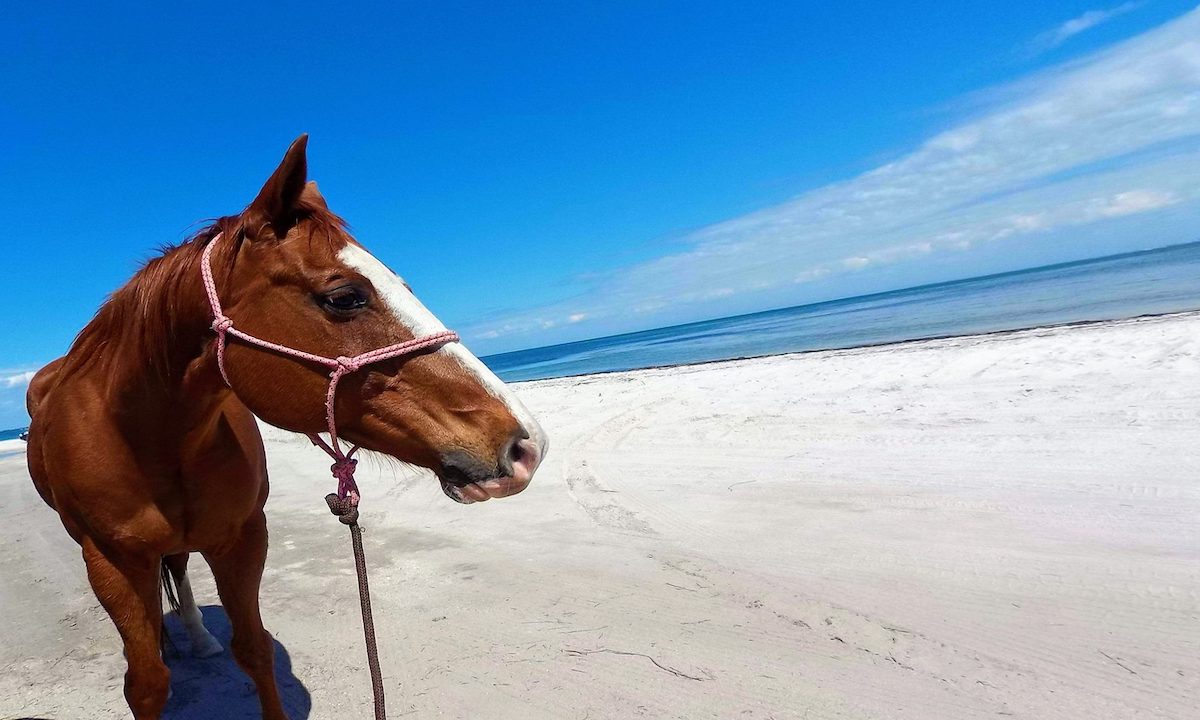 A horse sunbathing on Butler Beach.
Butler Beach -- Dedicated to preserving the dunes that is home to the endangered Anastasia Island beach mouse and the gopher turtle, Butler Beach also played a significant role in the civil rights movement as African Americans were always permitted here when some beaches were "white only." Today, it has all the bells and whistles making it a perfect spot to settle in for the day whether you arrive on foot, via car, or by horse(!) as it allows horses (and cars) on the beach.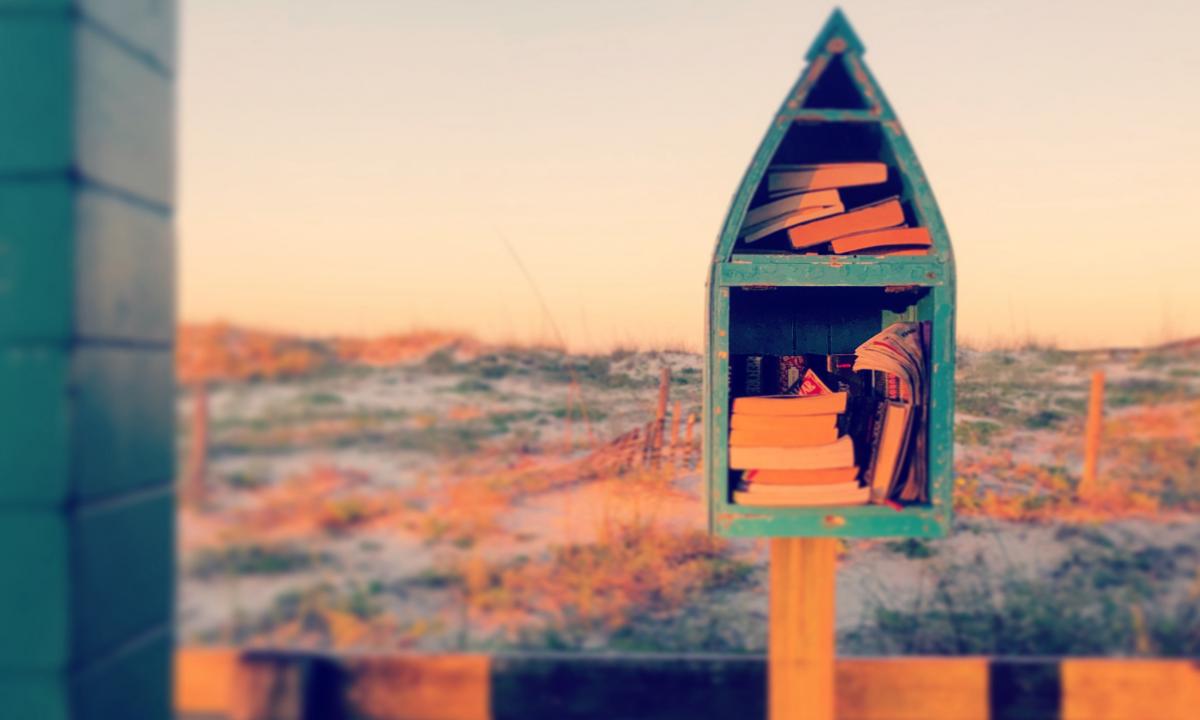 A little free library at Crescent Beach.
Crescent Beach Park - Think you felt like you were "getting away from it all" when you drove over the Vilano Bridge to the Northern beaches? Try driving over the quaint 206 Bridge to Crescent Beach. It's a much slower and more laid-back vibe once you get this far south. The parking lot is big and so is the beach. Despite the vastness of it all, the lot fills up with day trippers as Route 206 goes right into the country and this is the beach for those country folks.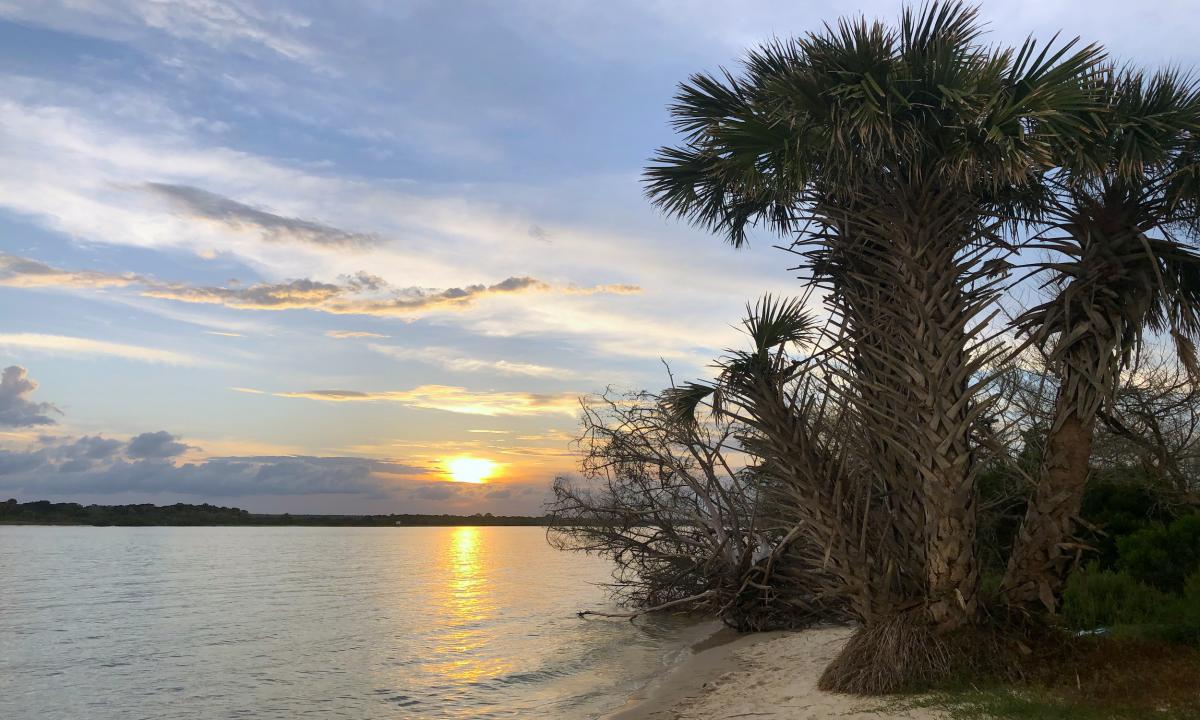 Sunset over the Matanzas Inlet.
Matanzas Beach and Inlet - Everyone loves Matanzas and for all sorts of different reasons. Some enjoy the beaches on the inlet. Some enjoy the floating snack shop (no, I am not kidding). And some enjoy the fishing, or the birding, or watching the sun come up on one side of the inlet and set on the other side of the inlet. Whatever the reason, it's a special place that's the southern tip of St. Augustine and you're invited to find the way you best enjoy it.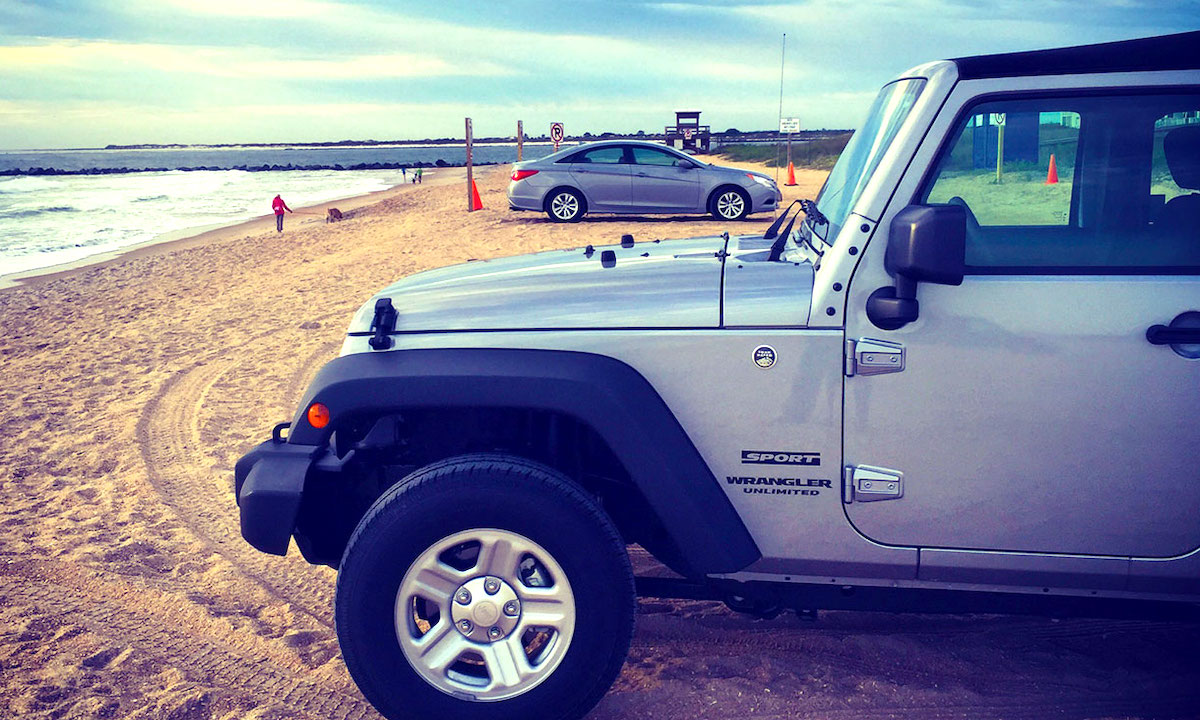 Taking a drive on Vilano Beach in St. Augustine.
Driving on the Beaches
Vehicles are permitted on Vilano Beach, St. Augustine Beach, and Crescent Beach within designated areas. However, access may be limited at any time due to weather, sand, or tides. This might include closing vehicle access ramps or limiting beach access to 4-wheel drive vehicles only. Traffic is regulated with a ten mile per hour speed limit strictly enforced.
Beach driving and access ramps are available at the following locations: Vilano, Porpoise Point, A Street, Ocean Trace, Dondanville Road, Matanzas Ave, Mary Street, and Crescent Beach at Cubbedge Road).
From March 1 through September 30, there is a daily fee  of $10 to drive on the beaches. Toll booths are open daily from 9 a.m. - 5 p.m. through the end of August and only on weekends in September. Go to St. Johns County for up to date information on beach driving and passes. 
From May 1 through September 30 driving on the beach is allowed only from 8:00 a.m. to 7:30 p.m.
From October 1 through April 30, driving on the beach is allowed only from 9:00 a.m.  to 5:00 p.m
Oh and if you do get your vehicle stuck in the sand, fear not. Contact Beachside Towing at (904) 814-0138 - they have 20 years of experience pulling people out of the sand,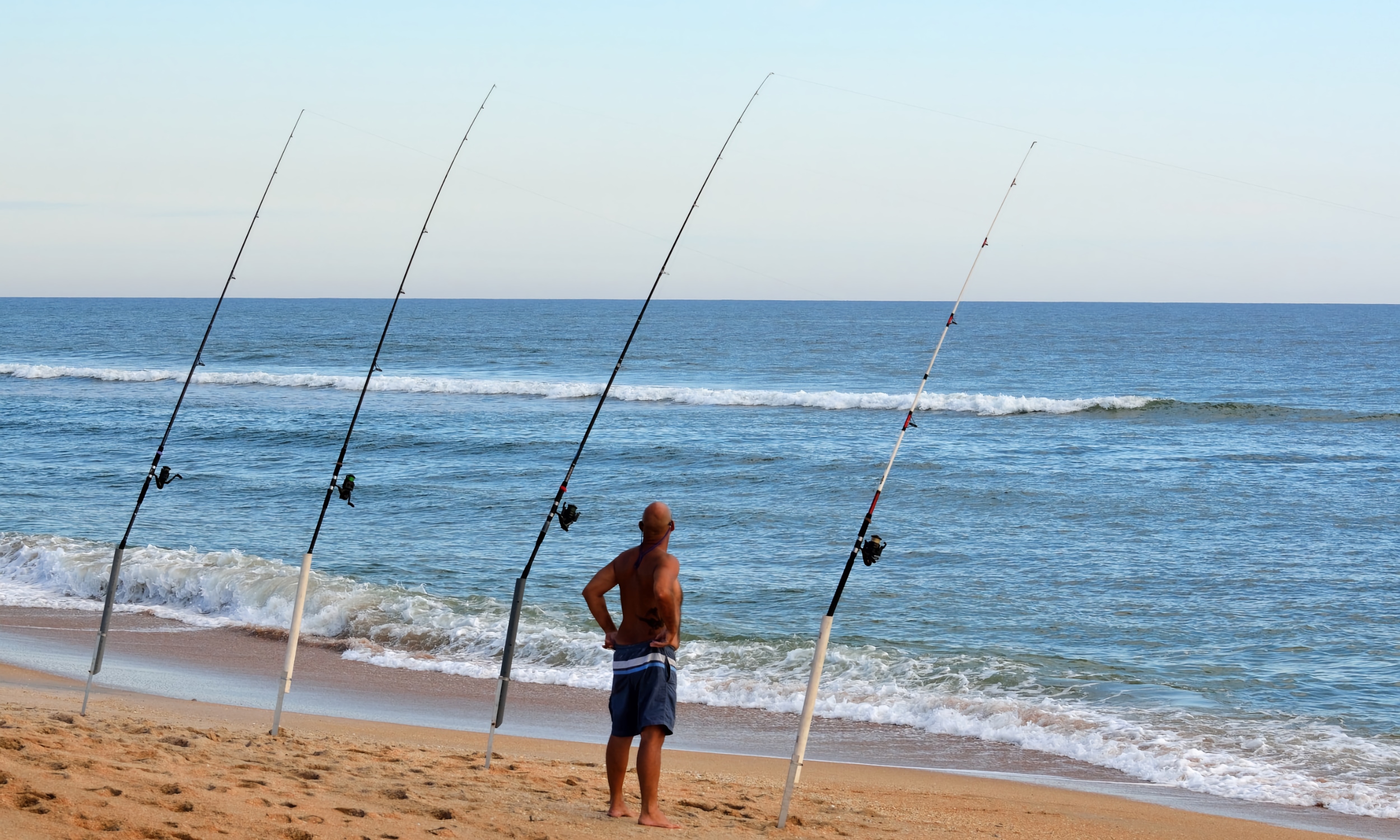 Surf fishing is a popular pastime in St. Augustine.
Surf Fishing
Surf fishing requires specific equipment and a strong arm to get the cast out beyond the breakers. But with a little knowledge of what's running at that time of year and what bait and rigs to use to catch it, surf fishing can be productive and a whole lot of fun.
A popular spot for knowledgeable surfcasters is around the inlet at Vilano Beach, especially in the area from the jetty on the Atlantic side west to Porpoise Point. (It's best to avoid fishing from the jetty itself — the footing is dangerous and the rocks can be unstable.)
From the pristine beaches of the Guana Tolomato Matanzas Reserve in Ponte Vedra to Anastasia State Park, St. Augustine Beach and south to Crescent Beach, surfcasters will find rich opportunities to catch drum, whiting, pompano, and more.
Local bait shops can help you decide if it's a good time to surf fish, and some offer surf fishing equipment rentals as well.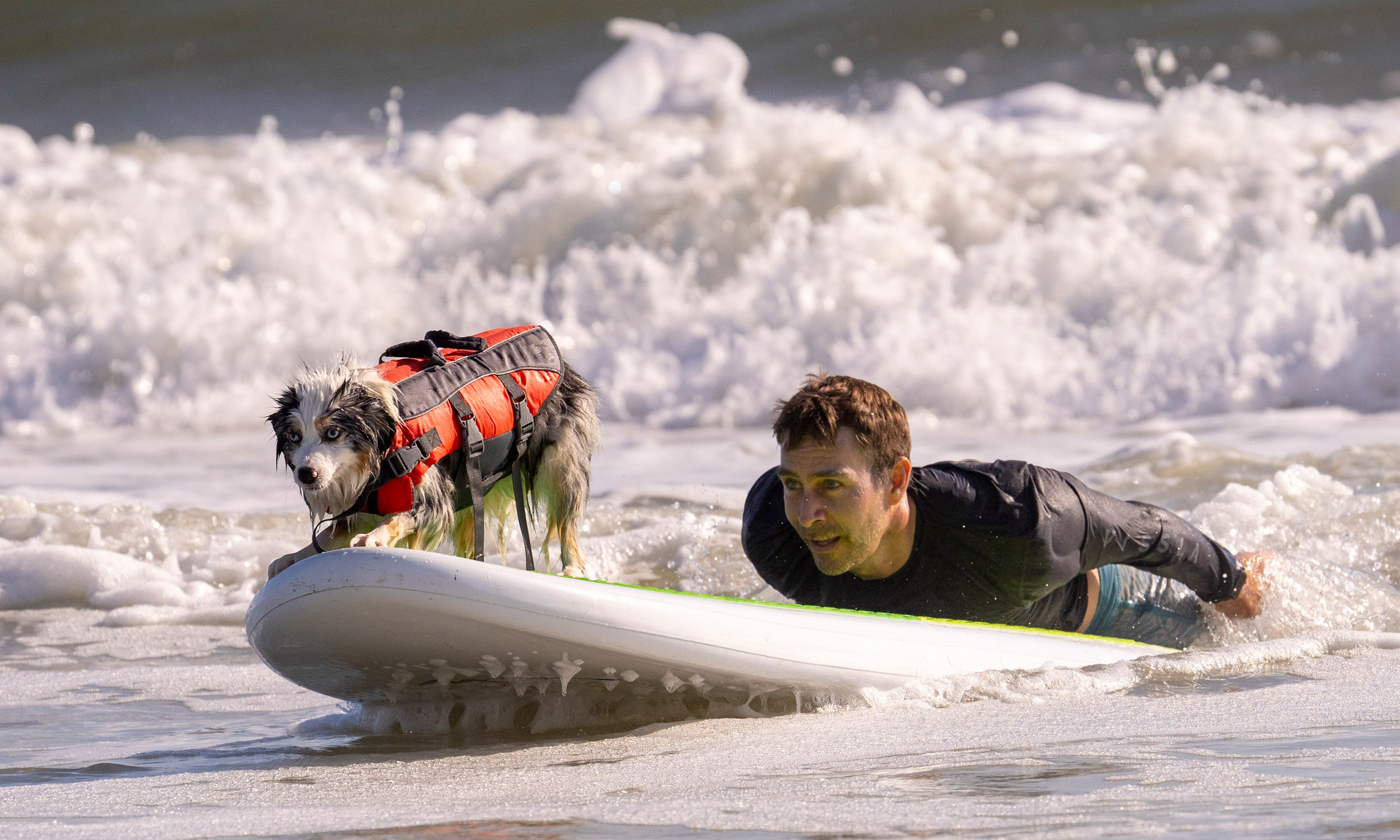 I have yet to teach my dog how to surf because I'm not sure it would go so well - maybe you'll have good luck with it!
Surf Reports
If you want a comprehensive daily surf report - think swells, winds, tides, weather, and commentary, visit Surf Station on the web. Even if you're not a surfer, the report will tell you everything you need to know for a comfortable day at the beach. And yes, they can also teach you how to surf and sell you surfing equipment. For a comprehensive list of surfing schools and their offerings, go here.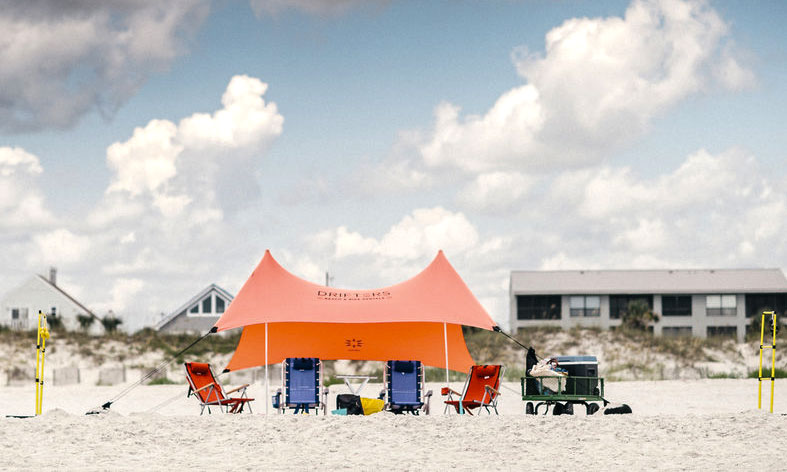 Imagine yourself relaxing here - courtesy of Drifters Beach and Bike Rentals.
Beach Equipment and Bicycle Rentals
If you weren't able to stuff all your beach supplies into the car or airplane, we got you covered. There are several businesses that rent beach equipment. My favorite is Drifters Beach and Bike Rentals as they promote an eco-friendly way to enjoy St. Augustine. And yes, you can ride their bicycles on the beach.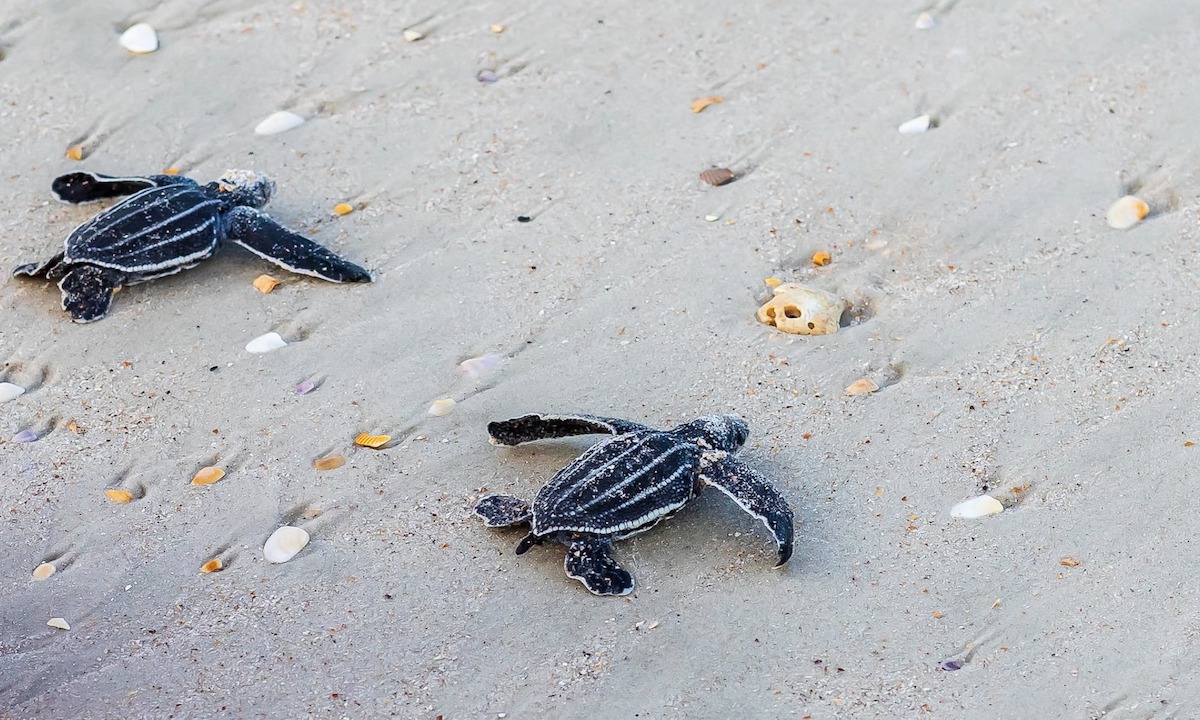 Leatherback sea turtles safe on the beach thanks to Mickler's Landing Turtle Patrol.
Protecting the Sea Turtles
The St. Johns County beaches are home to several species of endangered or threatened sea turtles. Beachgoers have a responsibility to protect these creatures and their vulnerable nesting sites as the turtles return each season to nest along the beaches. Sea turtle nesting season begins May 1. People in beach front houses are required to reduce their impact by eliminating interior and exterior lights which may disrupt nesting sea turtles. Visitors can also have a positive impact on nesting sea turtles by taking the following actions while enjoying the beach:
* Refrain from using fireworks and making fires - fireworks are illegal anyway.
* Remove ruts and sandcastles before leaving the beach.
* Avoid using flashlights as they can be harmful to the turtles.
* Stay off sand dunes and conservation zones.
* Never use balloons as they can end up in the ocean. In fact, as of February 4, 2022, it is illegal to release any balloons or air lanterns in St. Johns County.
* Don't approach sea turtles emerging from, or returning to, the ocean.
If an injured, sick, or deceased sea turtle is encountered, don't push it into the ocean. Instead call the St. Johns County Sheriff's Office non-emergency line at (904) 824-8304. Leave only footprints, so the turtles have a safe and clean habitat for nesting and hatching.
For more information, please call St. Johns County Habitat Conservation and Beach Management at 904.209.3740.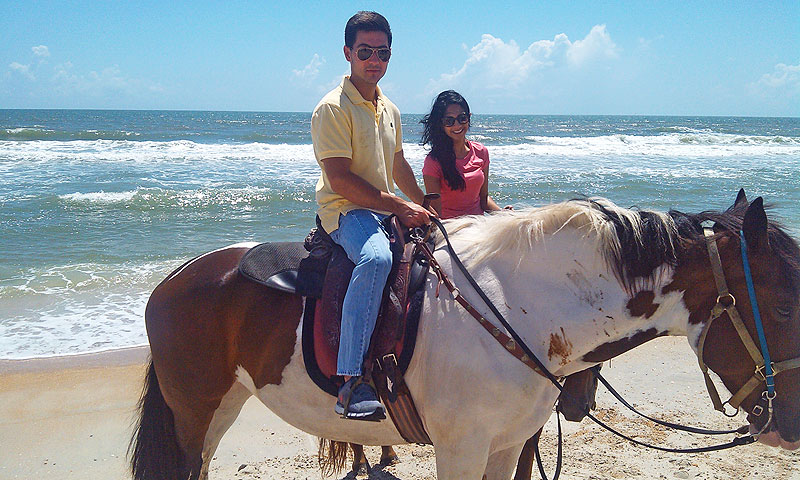 Yes, you can take your horse to the beach.
Horseback Riding on the Beaches
St. Johns County offers horseback riding on approximately 30 miles of coastline. A permit, that is free of charge, is required to ride horses on the beach and takes about two weeks to process. The application is available here. For additional permit information, and to find out what beaches are open for riding, visitors can contact the Habitat Conservation Section of St. Johns County at (904) 209-0619.
Beach Safety
Lifeguards are available at major public beaches from Memorial Day Weekend to Labor Day weekend from 10 a.m. to 6 p.m. - weather permitting.
The most deadly water/weather related event in Florida are the rip currents. Swimmers can spot a rip current by its foamy, choppy surface, its brown color, as well as sand being turned up and moving. A swimmer caught in a rip current need not panic - instead swim parallel to shore until out of it.
Additional rip current and other beach safety tips can be found from St. Johns County.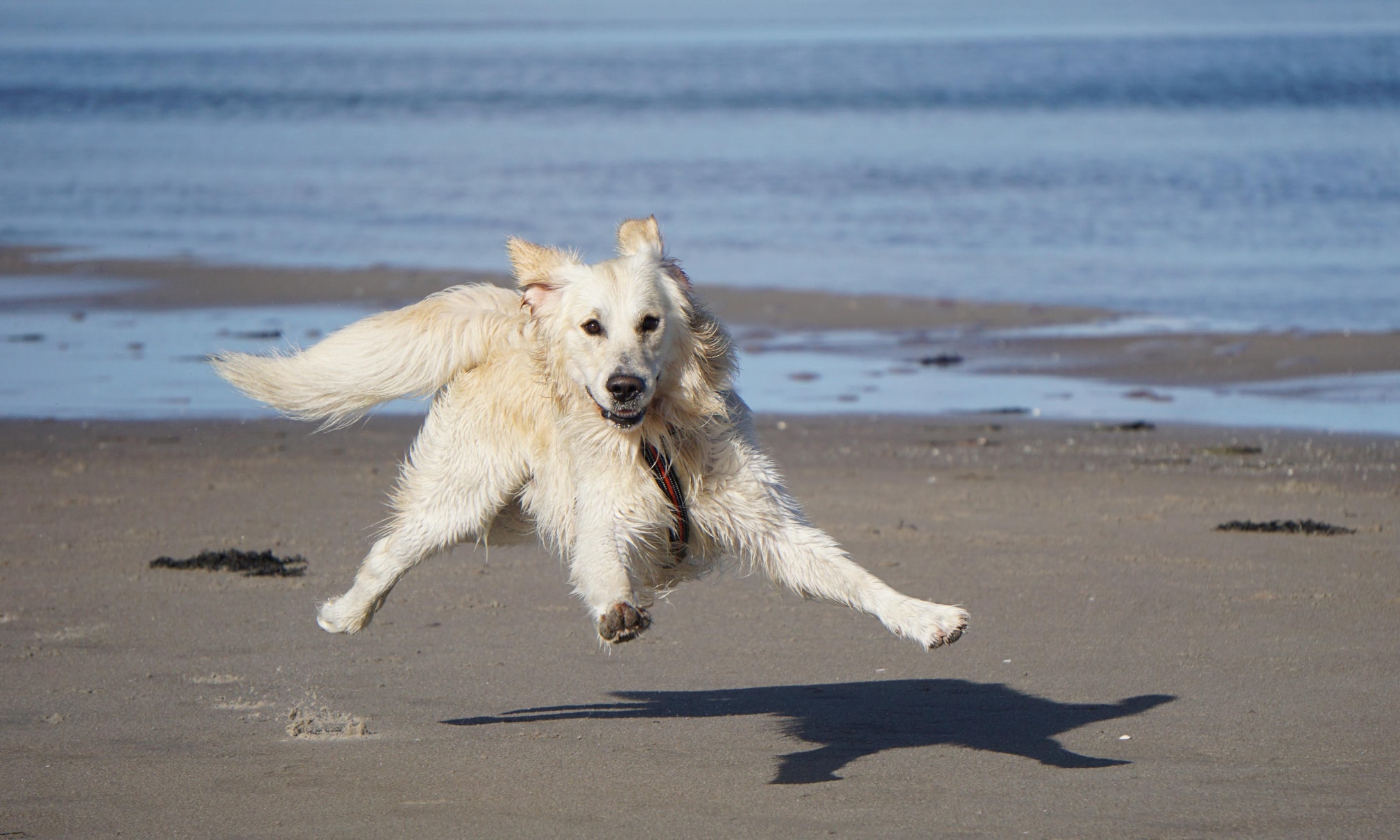 Be sure to pick up after Fido.
Beach Rules
Be sure to adhere to these rules when you head to the beach:
* Loud music - If you can hear it 25 feet away from its source, it's prohibited.
* No alcohol or glass containers.
* Open fire is a no-no as are fireworks.
* Dogs must be leashed and doggie poop bags go in the trash bins.
* No commercial activity is allowed.
* And you can't launch your boat from the beach. 
* Don't leave anything on the beach overnight - even if it breaks - there are no litter fairies.
* Use designated walkovers to cross the dunes to get to the beaches.
* Don't remove sand or vegetation from the beach and please stay out of conservation areas which are marked by brown signs.
* And do not, I repeat, do not harass any animals - on land, in the sea, or in the air.
* Oh and, keep your clothes on - even if your clothes are nothing but a bathing suit the size of dental floss.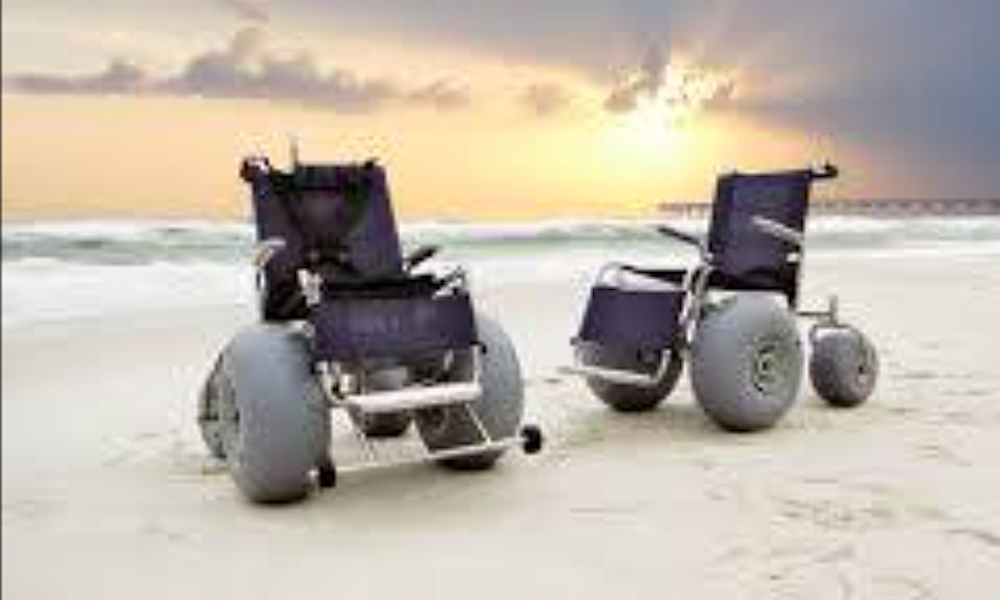 The county provides beach wheelchairs to rent.
There are beach-accessible wheelchairs available to rent -- for free -- on a first come first serve basis. Call St. Johns County at (904) 209-0331 to reserve one. They have bigger wheels that can roll through sand and they are also able to sit in a few inches of water.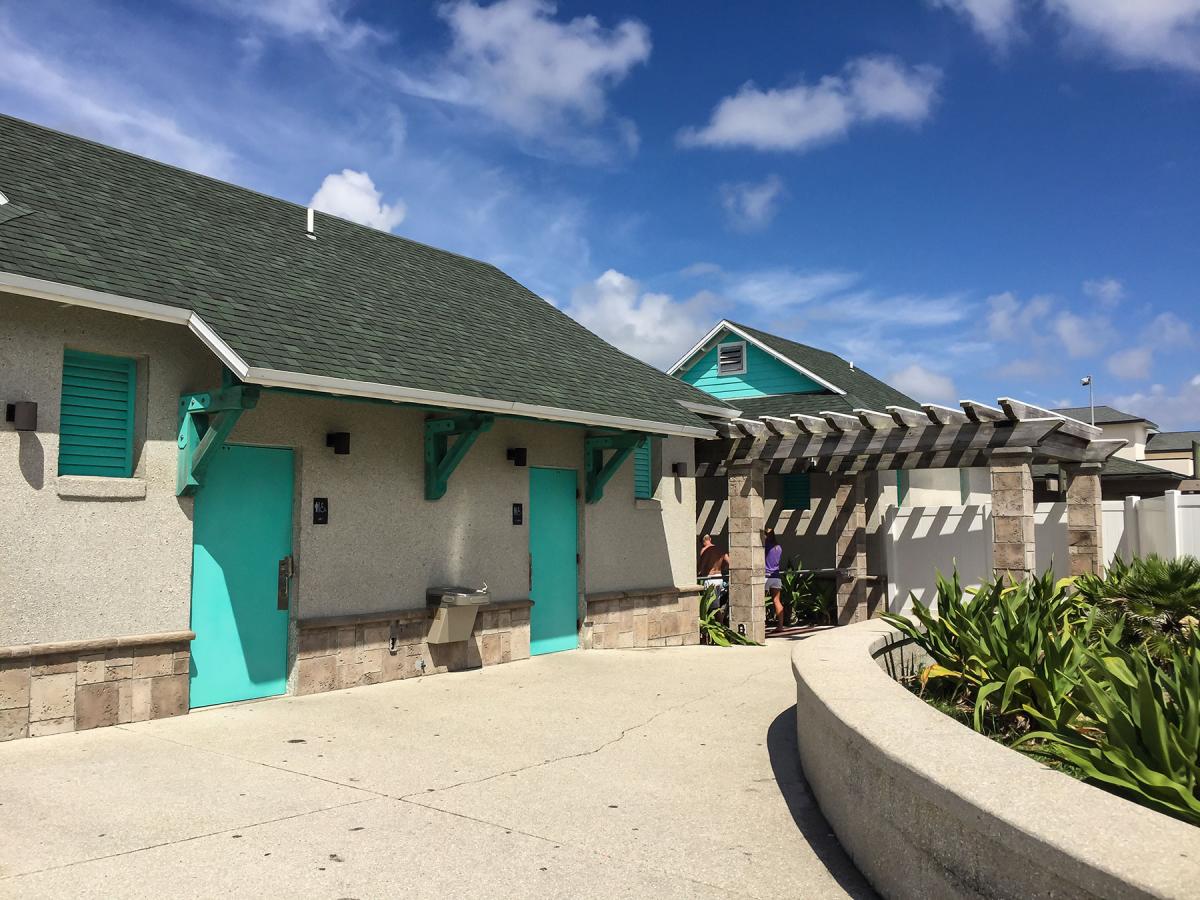 Public restrooms are available at some beaches.
Facilities
Yes, some people pee in the ocean even if they don't want to admit it. If you would prefer to use actual restroom facilities, click here for locations. You'll also find out about other useful amenities such as parking, picnic tables, showers, and beach walkovers.