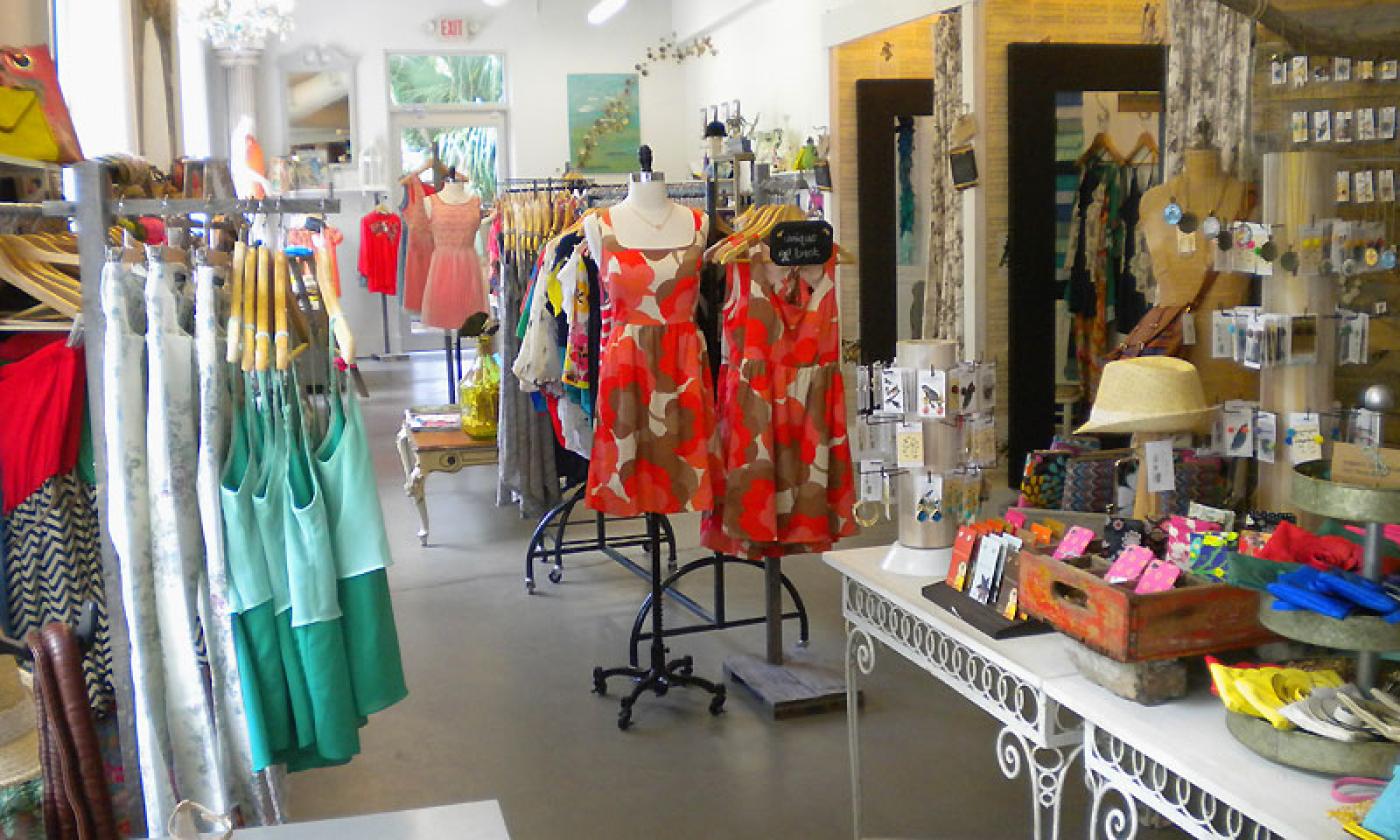 Shopping 101
Where to shop for Black Friday and Small Business Saturday.
It's here! My favorite weekend of the year and basically the only thing that encourages me to tolerate every other miserable day of life that doesn't consist of shopping until you are dropping—Black Friday Weekend! And lucky for us, St. Augustine has tons of shopping at every corner of town and a huge variety of wares. Whether you're decorating a house, accessorizing, or looking for the perfect bottle of wine, St. Augustine's local businesses are ready to help visitors find anything and everything their hearts desire.
If you're a vacationer and you don't know where to start your shopping, make sure you educate yourself first on the main areas around town. There are five distinct shopping districts in St. Augustine: Uptown, St. George Street, Downtown, the Outlets, and US 1 South. Each caters to different crowds and different needs, but all are equally satisfying for the compulsive shopper. 
St. George Street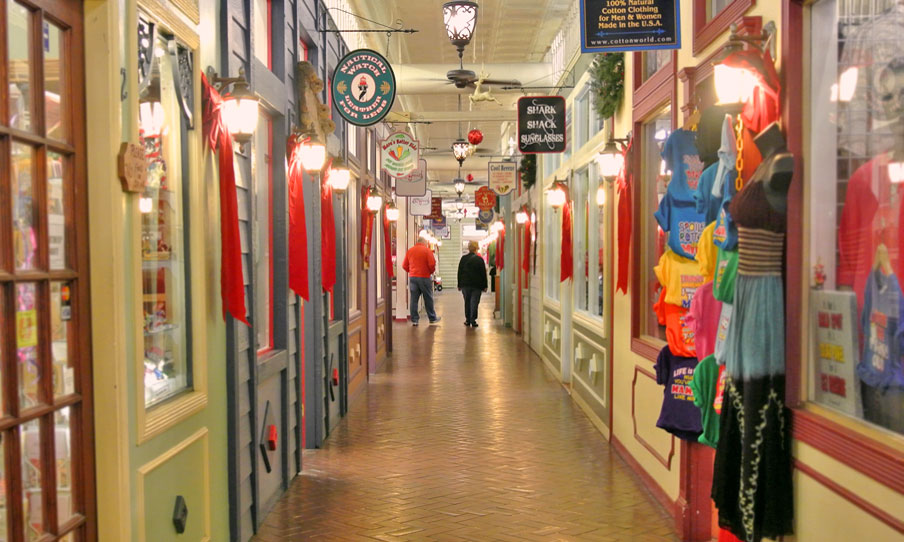 Location: Um…St. George Street? West of Charlotte Street? East of Cordova? Right smack dab in the middle of downtown St. Augustine? I don't know how else to qualify it. 
Specialties: Souvenirs, knick knacks, specialty shops, swords, wine and cigars, any random shop you can imagine.
Shopping central for many visitors to the nation's oldest city, St. George Street is packed with boutiques, indoor shopping strips, and souvenir shops. It's the main place for vacationers to spend their money on everything from souvenirs to local goods. There are specialty shops for wines, tobacco, spices, sauces, and even datil peppers, plus a number of stylish boutiques that women of every age will enjoy (even rebellious teenagers can't say no to Earthbound).
Florida is known for its citrus-y and fruitful wines. Taste and discover a bottle for yourself at shops such as Gifted Cork & Gourmet, where in-store wine flights are encouraged. For fun and colorful housewares, check out the assortment at Red Pineapple. There are also shops that sell retro knick-knacks, such as Magnet Force's array of John Wayne (aka MY HERO) and Marilyn Monroe gifts. All up and down St. George Street there are shops with swords, shops with retro candy, and shops for your inner geek.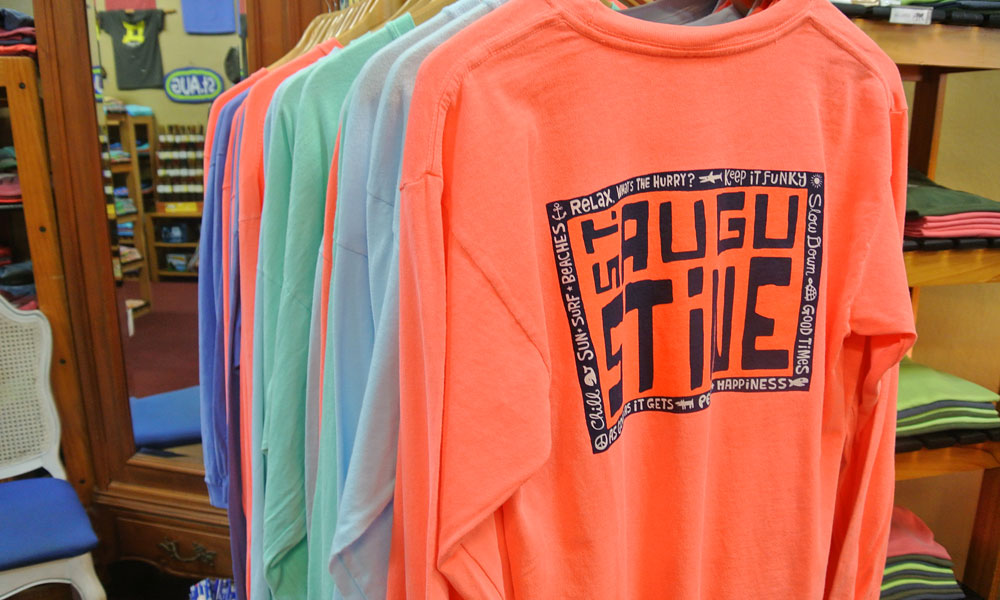 Colorful St. Augustine shirts are available at Materialistic on San Marco Ave. in Uptown.
No matter what your preference, St. George Street is all about variety. The other great thing about shopping here? There are tons of food options! You can grab coffee at City Perks Coffee near the Old City Gates to start your shopping trip. Full-service restaurants like the Bull & Crown or Pizzalleys sit within walking distance of your favorite shops. If you're looking for something to grab and go, the Hyppo has their delicious natural popsicles in a variety of crazy flavors. Just make sure you respect any store signs that ask you to finish your food outside.
Uptown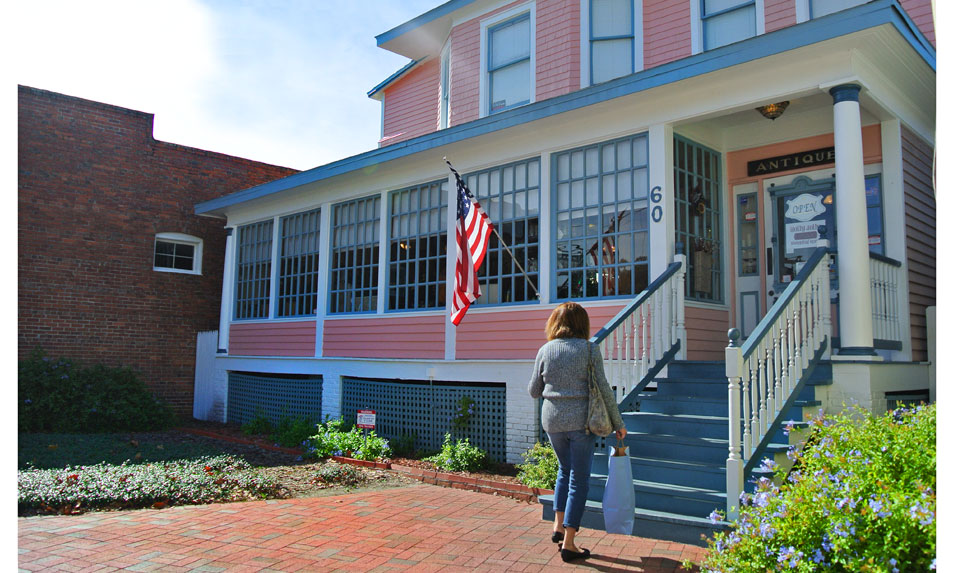 Location: North San Marco Avenue, just south of the Mission. 
Specialties: Special occasion gifts, cute cards, collectibles, antiques, craft stuff.
Uptown St. Augustine is located on North San Marco Avenue, around the area of the Mission Nombre de Dios. Visitors will find a variety of home décor shops, furniture stores, small cafes, antique houses, and clothing boutiques. These shops especially capture the local feel of St. Augustine and are a great place to shop for special occasions such as birthdays, baby showers, and weddings, and to buy additions for your craft room. Declaration has an assortment of cute gifts for both visitors and locals. The antique shops in the area are also great for finding hidden gems and collectibles, with an impressive assortment available at Paddiwhack.
As far as eating while you shop, Luli's Cupcakes offers some delightful sweetness for a grab and go snack. For dinner? The local Raintree Restaurant is within walking distance of the shops. It's a sit-down restaurant with an elegant menu.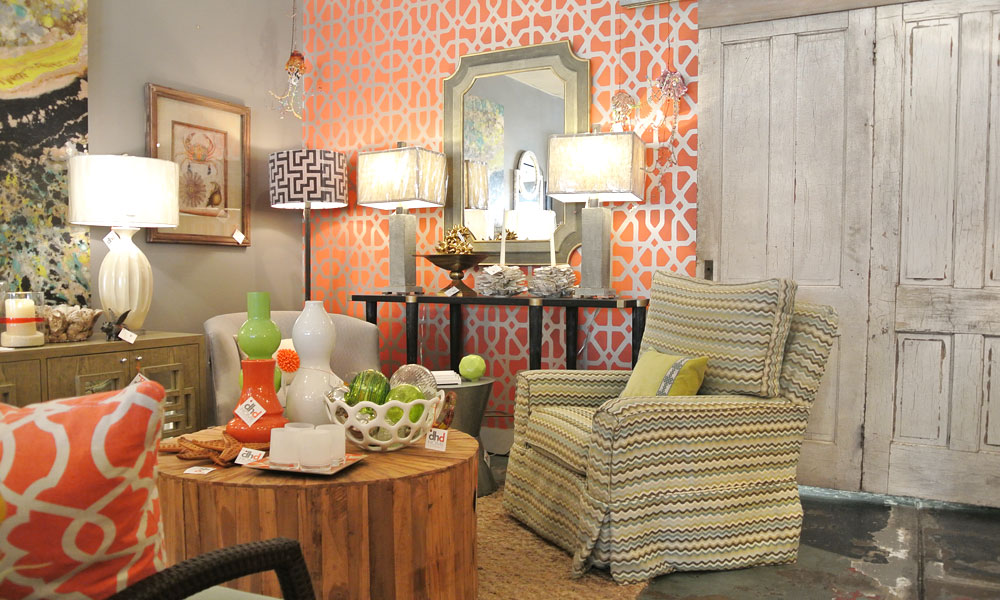 There are several furniture and interior design stores in St. Augustine's Uptown neighborhood including DHD Home shown here.
The Uptown San Marco are is also very customer service oriented. The antique shop owners are happy to answer any questions you have about the items in their stores and shops such as Coastal Traders and DHD Home will help you pick out the perfect piece to decorate you home's interior.
The Outlets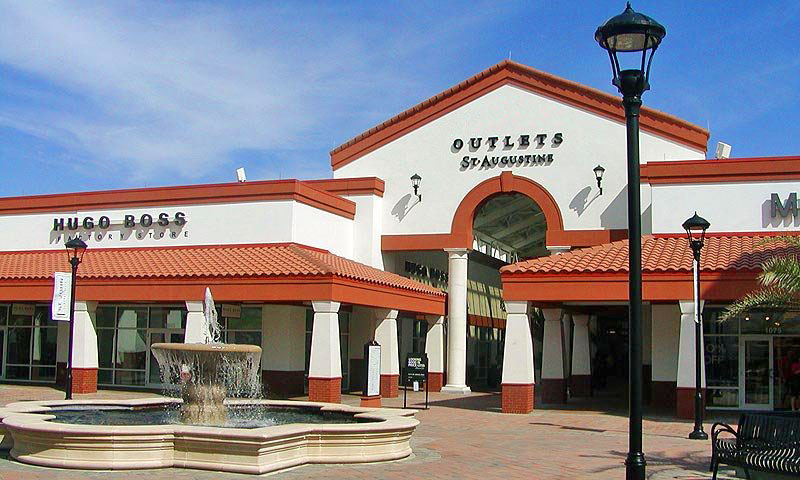 Location: Near I-95 and SR 16. 
Specialties: Name-brands for low prices.
Savings abound at the St. Augustine Premium Outlets which showcase J. Crew, Polo Ralph Lauren, Vans, Brooks Brothers, Ann Taylor, Rockport, Tommy Hilfiger, Banana Republic, Nike, Adidas, and more. 
People drive in from Jacksonville, Ponte Vedra, and Palm Coast to enjoy affordable luxuries from the St. Augustine Premium Outlets. It's almost a guarantee that there's some kind of sale going on in every store.
The Outlets are a great place to go for any big shopping weekend, starting of course with Black Friday. Most stores have an email list that you can sign up for in order to hear about upcoming store promotions such as BOGO sales and store credit cards that can save you even more on your purchases. Definitely visit for Labor Day weekend, Memorial Day weekend, Tax Free weekend, and during the holidays for super savings.
Downtown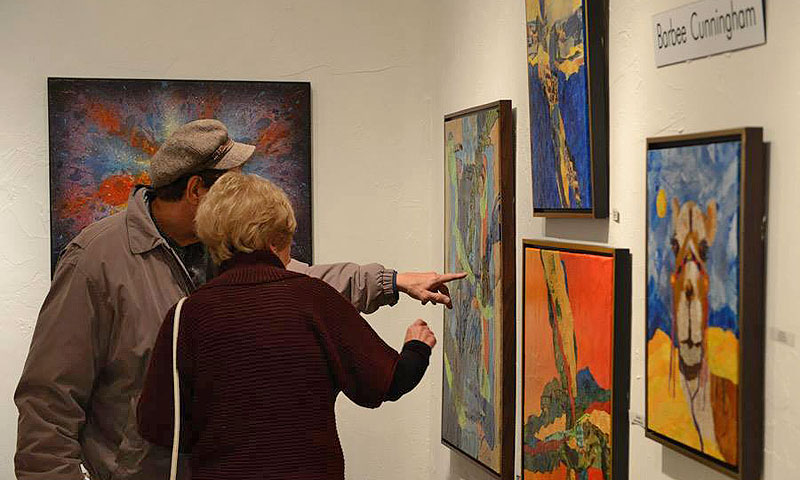 Location: On East King Street, Aviles Street, and everywhere except St. George (but also St. George). 
Specialties: Art, home décor, and more art. 
St. George is the central place for shopping, but there are clusters in the surrounding areas downtown and in the side alleys with cool stuff to check out too. On King Street, around the Plaza, and on Aviles Street, visitors will find an abundance of art galleries. In the Lightner Museum, there are several art and antique shops to browse through. On Cordova, there's a book shop, consignment boutique, and a shop for pet-lovers. On the surrounding streets of St. George -- Hypolita and Treasury -- explore to find more wine and spice shops, consignment stores, and antiques.
On the first Friday of the month, businesses keep their doors open late and serve wine and appetizers as part of First Friday Art Walk. Gallery owners will share information with visitors and may even feature a one-night exhibit for a traveling artist. Also, the St. Augustine Art Association will have live music, food, drinks, and works of art by St. Augustine residents of all ages.
US 1 South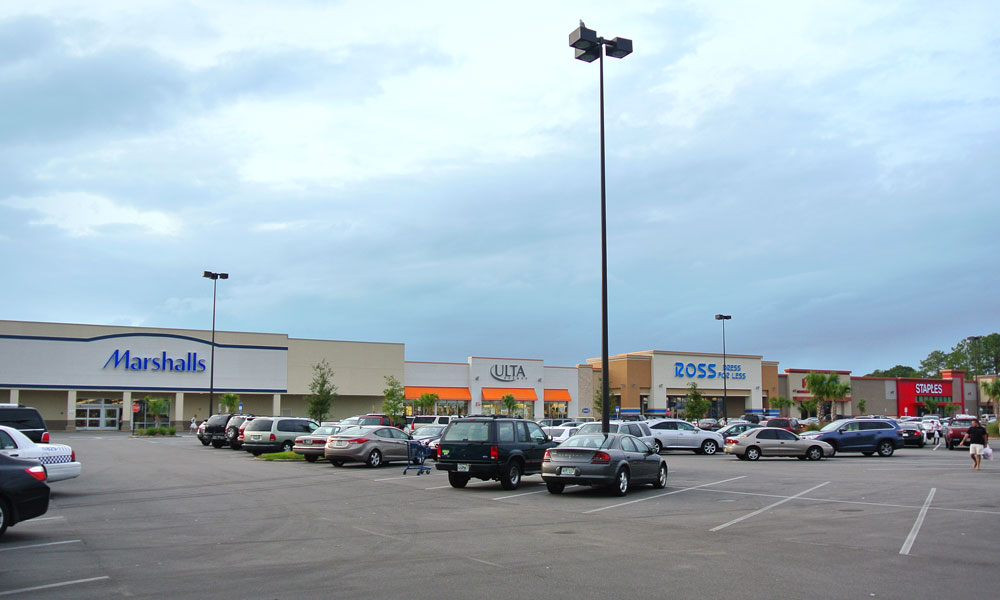 Location: At the intersection of SR 312 and US 1, and all around. 
Specialties: Good old-fashioned chain stores where there is a place for everything and everything is in its place.
US 1 South is where locals shop for the big name items at big name stores. You'll find Target, Marshalls, Ross, as well as Bealls. If you're looking for items to spruce up the house or create homemade gifts for loved ones, you'll find Hobby Lobby and Michael's. And of course there's the small mall, with Belk.
US 1 South has the familiar stores that most visitors will find anywhere in the country. As such, there may not be anything particularly local to purchase, but if you find yourself in need of something specific during your vacation and you want to find it with ease, these stores will be able to help.
Sometimes when you go on vacation, you forget to pack your iPhone charger, or you need diapers, or someone is sick. If there's a travel emergency, this area has all the stores that are familiar to most people and that are near and dear to our hearts. It's where you can stock up on those necessities you forgot to pack, or purposely didn't pack because you planned ahead and knew you'd be able to buy them in St. Augustine. Good thinking! You're very smart!
Now that you have some useful info about the different areas of St. Augustine for shopping, let's take a look at the Thanksgiving weekend, beginning with Black Friday.
Black Friday Weekend (which also consists of Small Business Saturday, Still Shopping Sunday (©Alex Pooler), and let's not forget the newest addition to the capitalism calendar, Cyber Monday. Oh and let's be more honest and admit that some of us are ashamed to say that we're standing outside stores as soon as Thanksgiving dinner ends. No shame! Some people are happy to work late on Thanksgiving because we all know dinner ends around 3:00 p.m. anyway, plus, who doesn't like getting paid time and a half. That's SO much more money to use when you get off of your shift at 3:00 a.m. #worthit
Black Friday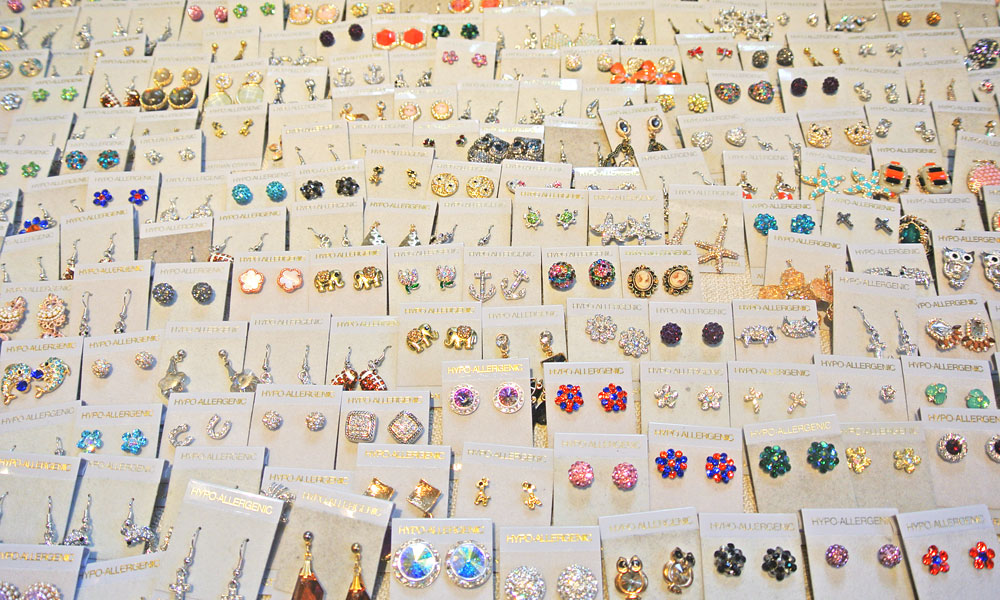 A table of dazzling earrings at Sunburst Crystal in St. Augustine.
No, it's not called Black Friday because it's a horrible dark day marred by chaos and distress, but rather, because people have so much fun shopping for their friends and family (*cough* themselves) that they send store profit margins out of the red and into the black.
The biggest location for Black Friday in St. Augustine is definitely our legendary outlet mall: The St. Augustine Premium Outlets. A lot of the stores will be opening at 6:00 p.m. on Thanksgiving Day, so put your sneakers on as it could be a long night!
Small Business Saturday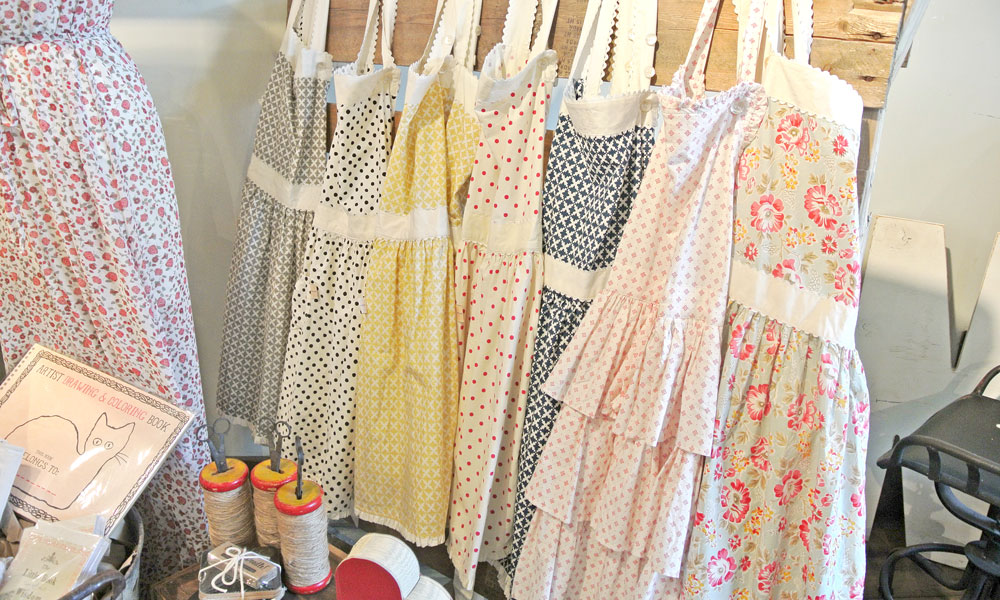 Now that you've hit the outlets and bought all those pairs of shoes and clothes for "mom," it's time to turn your attention to the Historic District of Downtown St. Augustine, St. George Street, and Uptown. These areas will be celebrating great sales as part of Small Business Saturday. Shop boutiques, antiques, and specialty shops to support our local shopkeepers who are keeping St. Augustine's shopping scene trendy and with the times.
And if you want to enjoy Cyber Monday, be sure to shop St. Augustine - online.
For more shops, check out our Shopping section under Things to Do in St. Augustine.