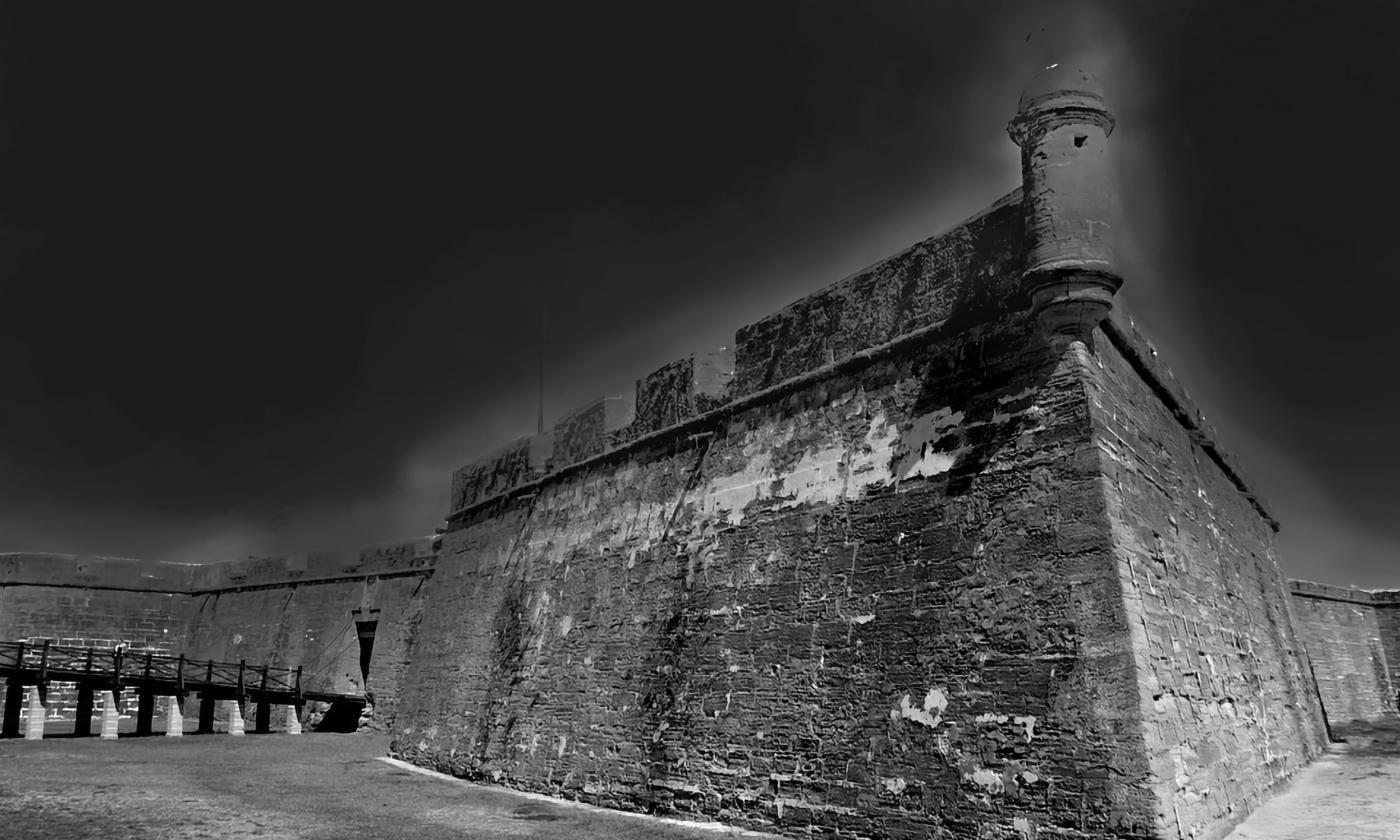 St. Augustine Haunts
For Halloween, check out these popular ghost tours and haunted sites in St. Augustine.
It is no secret. As the oldest continuously occupied city in the United States, St. Augustine's history is rich. It is this historical depth that has made the city so appealing to residents and visitors alike. Along with all the people who have lived in -- and visited -- St. Augustine throughout its more than 450 years, a lot of people have died here. And, like many who've recently graduated from Flagler College, these people refuse to leave.
Ghosts are a (super)natural consequence of history, but another consequence of St. Augustine's history is its utter walkability - after all, the original town plan was designed long before cars were invented. Few other towns in Florida can compare because our downtown streets are old, narrow, and tightly connected. Additionally, coastal Florida is flat which makes our town ideal for ghost hunting. You can very easily make a night (or day, if you're convinced you're any safer in the light of the Florida sun) of visiting several haunted locations, snapping pictures, admiring the architecture, and sharing the spooky vibes with friends and family.
You don't even need to believe in ghosts to have a good time ghost hunting in St. Augustine. Nearly every haunted location, apart from being within walking distance of each other, is within walking distance of a bar, tavern, pub, or restaurant. (I'll spare you the spirit puns).
The following are locations in downtown St. Augustine (or not very far beyond) that are known for having a particularly high degree of paranormal activity. There are plenty more haunted locations than these (some would even argue that all of St. Augustine is technically haunted), but the following stops should be reserved for only the most daring.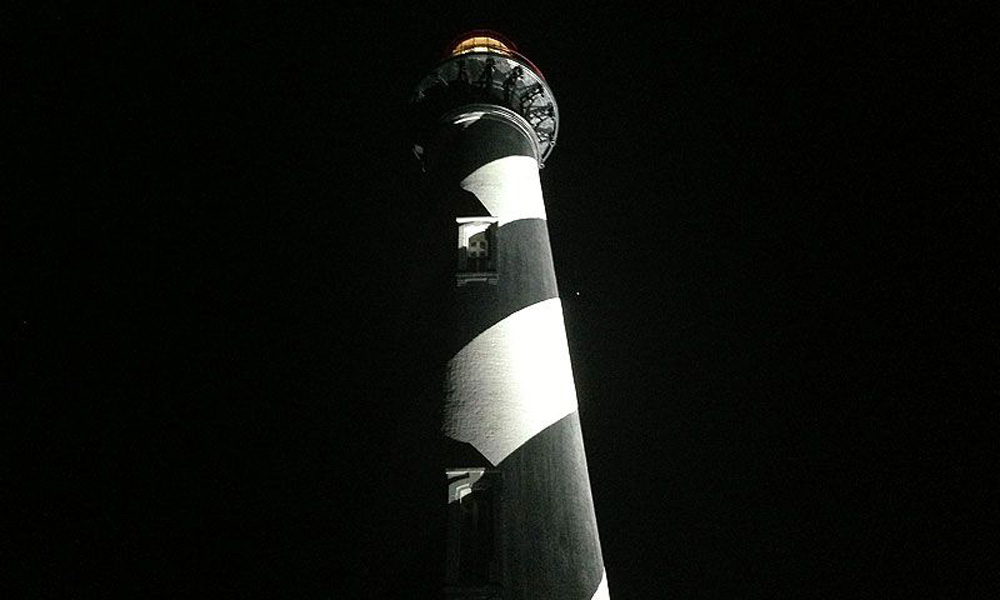 St. Augustine's current lighthouse is actually one of several to have occupied its storied shores. During the construction of its current iteration in 1873, five children were playing on a rail car that was used by workers to transfer materials and equipment between the docks and the lighthouse. Four of the children had recently moved with their family from Maine, as their father was in charge of construction, and one of them was a worker's daughter. The brakes of the rail car failed, and the children careened into the ocean. Despite the rescue efforts of the workers, only two children survived. The unfortunate three are said to haunt the grounds of the lighthouse, particularly near and around the playground area. Visitors who are photographically inclined (as any legitimate ghost hunter ought to be) can expect a higher propensity for orbs and other odd camera phenomena in this area.
Several tour services, including GhoSt Augustine's Everdark Express Shadow Ghost Tour, offer tours in the area. The only way to tour the inside of the lighthouse at night is to take a Dark of the Moon tour, offered by the St. Augustine Lighthouse and Museum.
2. The Segui-Kirby Smith House
This is the childhood home of Confederate General Kirby Smith. Today, the Sequi-Kirby Smith House, located at 12 Aviles St., houses a research library that is maintained by the St. Augustine Historical Society. At night, even while no one is occupying the premises, lights can be seen turning on and off at random. While no one is certain who exactly is haunting the building, it seems the spirit has a love for mischief. Some ghost hunters may very well classify this entity as a poltergeist. Furthermore, this is another location with a high propensity for orbs.
With more than two centuries of military family history, one very forbidden love affair, and countless literary figures as both owner and occupant, the St. Francis Inn invites visitors to meet some of the former/present occupants. Built in 1791, the "oldest inn" dates to St. Augustine's Second Spanish Colonial Period - a time when the mere safety and protection of one's own property and family was of the utmost importance. The King of Spain ordered homes to be constructed as a "defensive fortress against those who might attempt to occupy the town." Because of this threat, the structure stands directly on the street, shielding the front entrance and beautiful courtyard.
There have been reports of loud noises, lights, and appliances turning on and off, personal items being scattered across the floor, items dry when they should have been wet from the rain, the feeling of hands-on stair railings, spirit sightings, sounds of whispers and moans, the locking and unlocking of doors, falling books, moving pictures, ice-cold touches, bedsheets, and blankets removed, and full apparitions. Even though there has been a remarkable amount of activity reported at the St. Francis Inn, no one has been harmed, and the ghosts, though playful at times, are pleasant and friendly.
This house, located at 214 St. George Street, was built during the first Spanish period and was home to two generations of governors. The first reported paranormal incident is that of Brigita Gomez in 1821, who saw two translucent women while gardening. The women looked suspiciously familiar to Brigita, who realized that they resembled paintings she'd seen of previous owners. She carried on a conversation with the women and bid them farewell by cutting them some yellow roses. She awoke the following day to find the yellow roses sitting on her doorstep. The women, among other former residents, can still be seen milling about the garden.
Several entities are said to haunt the halls of the former Ponce de Leon Hotel. Henry Flagler's ghost is to be expected. The most common manifests as a no-nonsense paternal figure that students feel keeps an eye on them. Less abstractly, a mustachioed man in early 20th-century garb can be seen floating around the rotunda. Other specters include Henry's second wife Ida Alicia, and a woman in black who is believed to have been Henry Flagler's mistress.
While many local businesses are proud of their haunted histories, Flagler College is not as forthcoming. Ponce Hall is a mainstay on many ghost tours, but the only way you can tour the inside of the building is by taking a Flagler Legacy Tour. Though fun and interesting, you will not hear any ghost stories on the more traditionally historical Legacy Tour.
The former "Gone With the Wind"-loving establishment was once two houses before it was combined into one commercial property as a bar and restaurant. One of those houses was built in 1879 by Mr. Colee for his then-beloved fiancee. His heart was broken when she called off their engagement after falling in love with a soldier stationed at the fort. Mr. Colee recovered from his devastation and found another woman to share his home with. Shortly after his wedding, however, he was found drowned in his bathtub. His death was initially believed to be a suicide, though rumors at the time placed the blame on his cold-footed (and cold-hearted) ex and her brawny husband. Mr. Colee can now be found mostly in the men's restroom on the second floor. He's made a habit of brushing people's shoulders and breathing down their necks.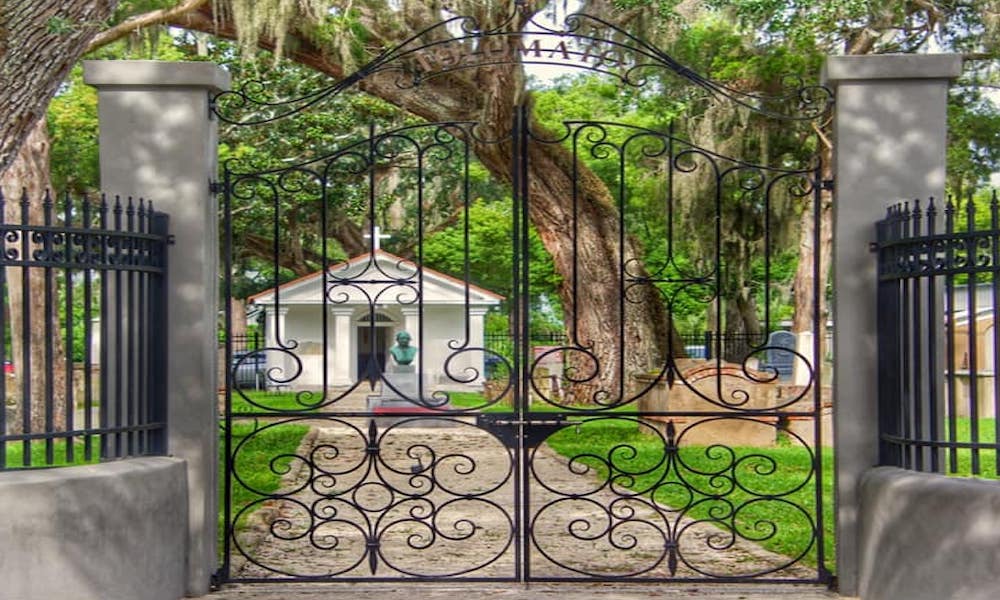 The Tolomato and Huguenot cemeteries are generally closed to the public. Only once a month (typically the third Saturday) are visitors allowed within the wire fence confines of either burial ground. This is for the sake of preservation. However, you can still see, if not the entirety of the cemeteries, most of the cemeteries from their respective gates. These locations are supposedly so haunted, so teeming with specters re-dying to escape, that many visitors report paranormal experiences well beyond the bounds of the cemetery itself.
The ghosts of Father Varela and Bishop Verot are said to haunt the grounds of the Tolomato Cemetery. This is to be expected, as the Tolomato cemetery was built for Catholics, and it is the oldest planned cemetery in Florida. What is more curious, however, is that the mortuary chapel no longer houses the remains of the Bishop or the Father as it once did. Men in priestly garb can sometimes be seen floating near the chapel, perhaps bemoaning the disturbance of their once eternal slumber.
The Huguenot Cemetery around the corner is home to its own gang of haunts. In 1882, popular Judge John B. Stickney succumbed to yellow fever, an epidemic at the time, and was buried in the mostly protestant graveyard. His body was to be exhumed so that his family could rebury him at their new home. To their dismay, several buried valuables, including the judge's gold teeth, had apparently been stolen from his gravesite. A figure of a man can sometimes be seen looking for something. Whether that figure is the judge himself searching for his belongings, or the ghosts of grave robbers serving a kind of paranormal punishment for their sins is subject to debate.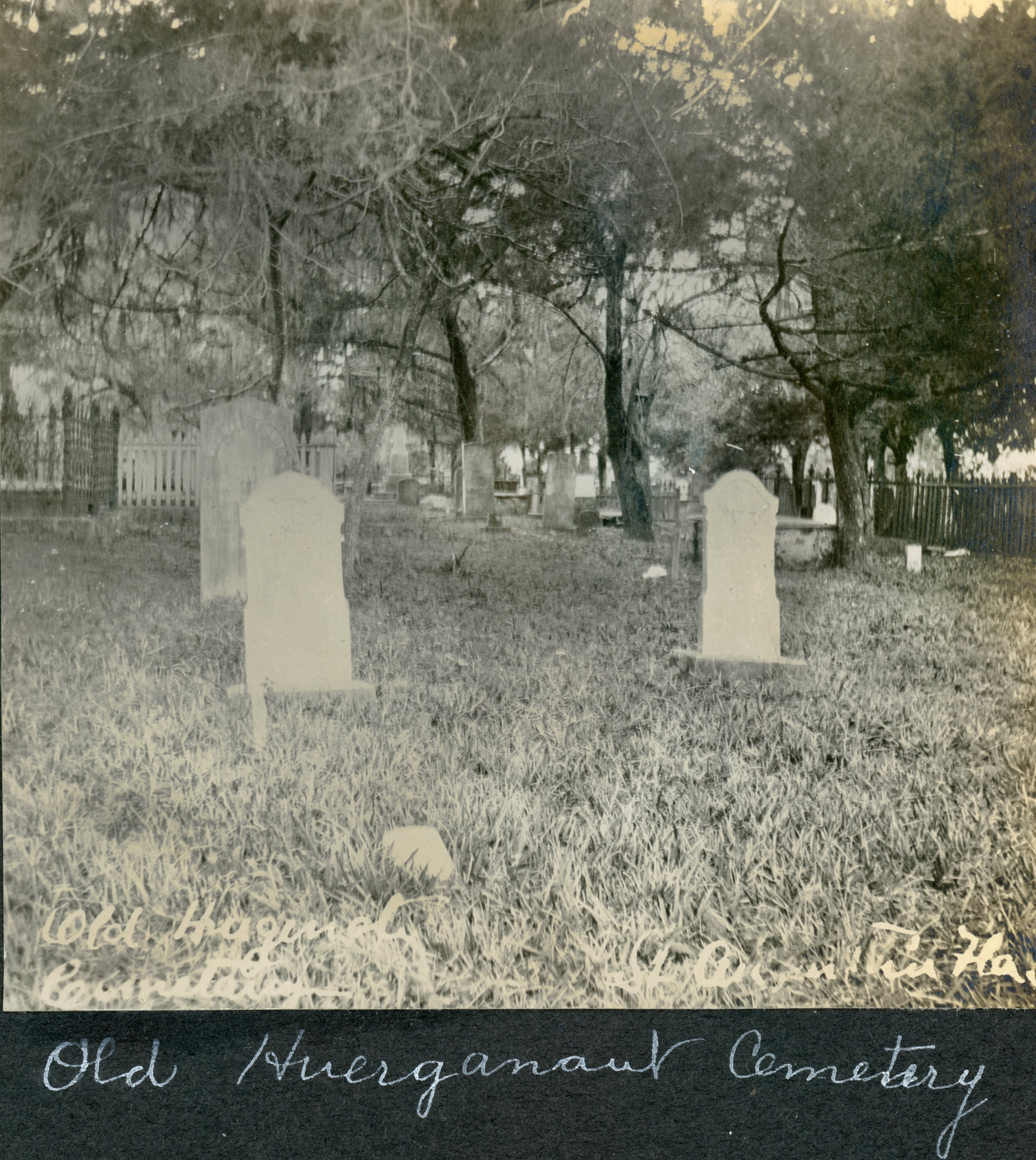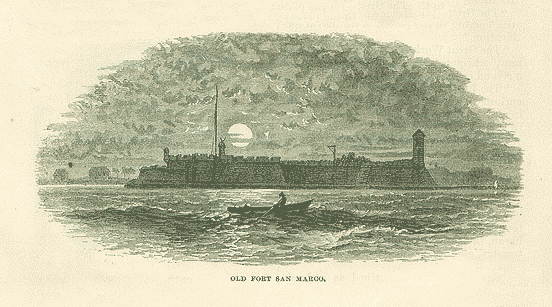 The fort itself is not open to the public at night. However, the fort grounds are fair game. Consider the name of the river upon which the fort sits, "Matanzas." This name literally translates from Spanish to "slaughter; massacre." The river was named as such because it was once red with the blood of French Protestant soldiers. Pedro Menendez de Aviles of Spain was ordered to kill all Protestants he found in the New World. Several hundred Huguenots from Fort Caroline, led by Jean Ribault, found themselves shipwrecked on the banks of the river. They were categorically slaughtered by Menendez and his men.
There are so many stories and sightings in and around the fort that they could themselves fill up the space of countless articles. One highlight is the floating disembodied head of Chief Osceola, which was removed from the Chief's body on the grounds of the fort, but in its physical form has since been relocated. Apparently, his spectral face bears an expression of anguish and displeasure. (Let's be honest, it would almost be creepier if he looked happy about the situation.)
With its history of less than enlightened incarceration for more than 60 years as the St. Johns County Jail, including the eight executions that took place on the gallows behind the building, it's no wonder that the Old Jail (167 San Marco Ave.) is listed on the Florida and National Register of Haunted Places. However, if you don't look at the bars on the windows, you'd think this was another fine historic hotel - it's even pink! Henry Flagler had it built a mile away from his fancy resorts to protect the innocence of his guests, and the exterior was designed to look non-threatening. But inside, where the prisoners lived under the watchful eyes of Sheriff Joe Perry, the facility was on lockdown. The same company that later built Alcatraz designed the cells and maximum-security areas of the Old Jail.
The spirit of one inmate in particular, Charlie Powell, whose slow death on the gallows was a great example of the kind of inefficient hangings the Old Jail specialized in, seems to like to hang around his old home so he can chat with visitors.
If you would prefer professional assistance in exploring such daunting hauntings, St. Augustine offers myriad varieties of ghost tours and experiences. No two tour companies are exactly alike. Some tours offer a more theatrical experience, others are more story-based and historical, and there are even a few that offer full paranormal investigation packages (with ghost hunting equipment and all) for the exceptionally hardcore. If you're the type who needs to down a few spirits before you can see any other kinds of spirits, there are multiple options for you as well.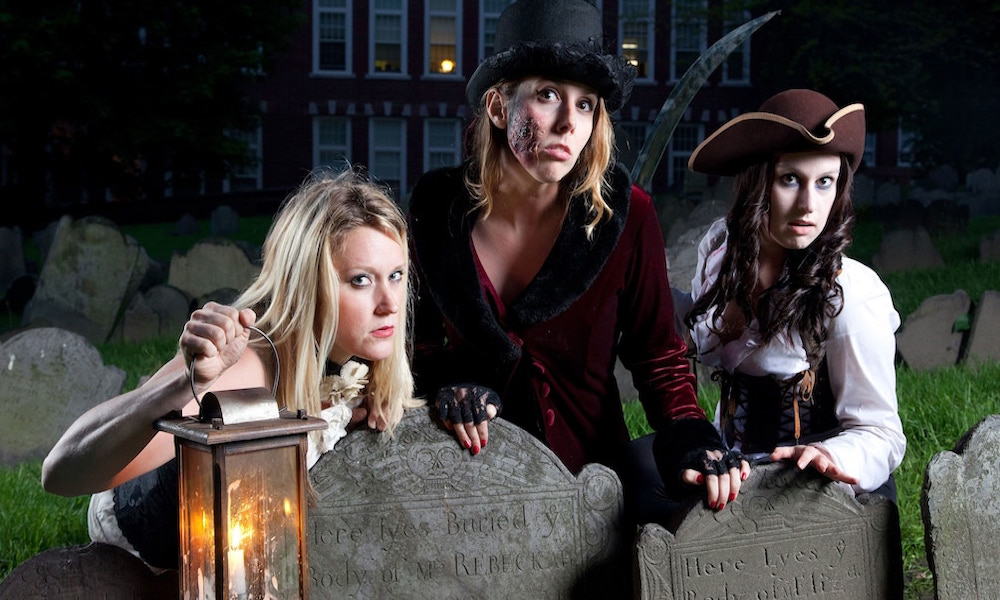 This article was written in 2014 by Benjamin Tier. 
It was most recently updated in September of 2022 by Amy Angelilli.