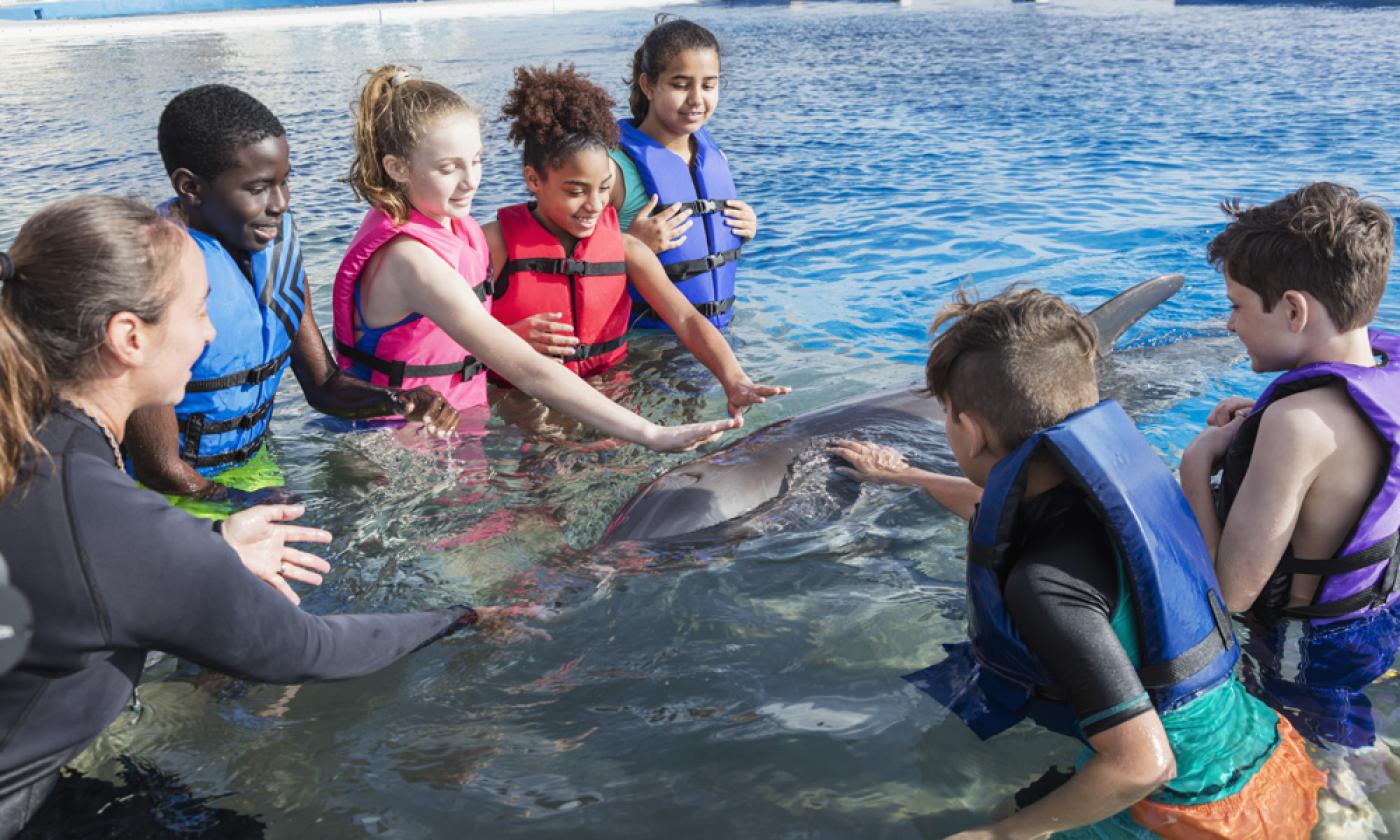 Immerse Yourself in a Hands-On Adventure
Get your hands dirty by digging into St. Augustine's immersive experiences.
Sunning on the beach is nice. But diving deep into a local experience is even nicer! Get your hands dirty by digging into the following St. Augustine immersive experiences.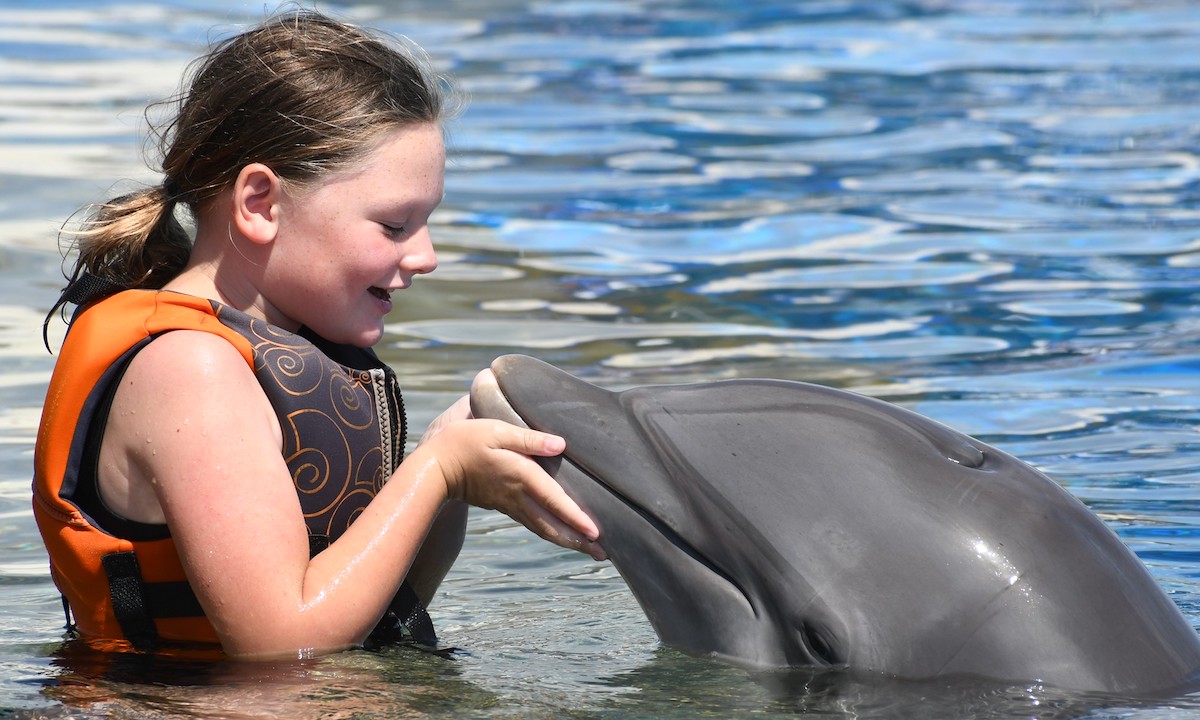 Getting up close and personal with the residents as part of the Dolphin Encounter program.
Did you know that every day Marineland offers the Dolphin Encounter program which enables you to meet the dolphins while you interact with them in shallow water?! (Can you hear me squealing?) You don't even have to be a swimmer as the interaction happens on an underwater platform. You learn how to perform a hand target which is when the dolphin comes out of the water to touch your nose with its "nose." With the Dolphin Swim Adventure, you can not only touch and play with them, but you can experience a belly ride while you hold onto their flippers. You'll literally be swimming with the dolphins. Or you can try the Royal Swim where the dolphins lift you out of the water via a foot push – yes, that means they push you from the soles of your feet.
Through these programs you can learn about the foot push, the dorsal tow, the hand target, the handshake, hugs, caresses, and various other dolphin activities, so on your next visit to St. Augustine you'll be ready for the Trainer for a Day program!
Visit Marineland Dolphin Adventure to book a dolphin swim program.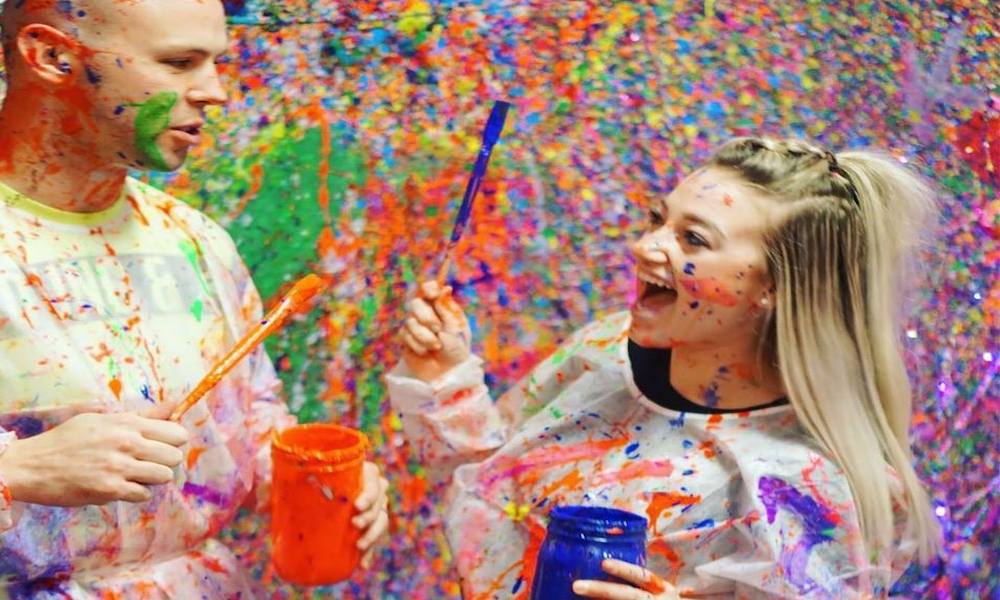 Getting dirty in Pinspiration's Splatter Room.
Pinspiration is like Pinterest in 3-D on steroids. It's where crafty people literally shed a tear upon entry as there is no place on the planet craftier than Pinspiration. (Ok well that might not be true, but it sure seemed so when I was there.) You can make all sorts of things -- and have a local craft(!) beer -- while you're there. I recommend bypassing everything at first and heading directly for the Splatter Room.
In the Jackson-Pollock-inspired Splatter Room, you'll suit up in protective gear and fling paint at a canvas to create your own masterpiece. And, (shhh, this part is a secret) you'll experience it in the dark with glow-in-the-dark paint. Just remember I did not tell you this, so please act surprised when the lights go out!)
The Splatter Room can accommodate up to six guests at a time and date night packages are available, too.
To make a reservation for the Splatter Room, call (904) 395-3056.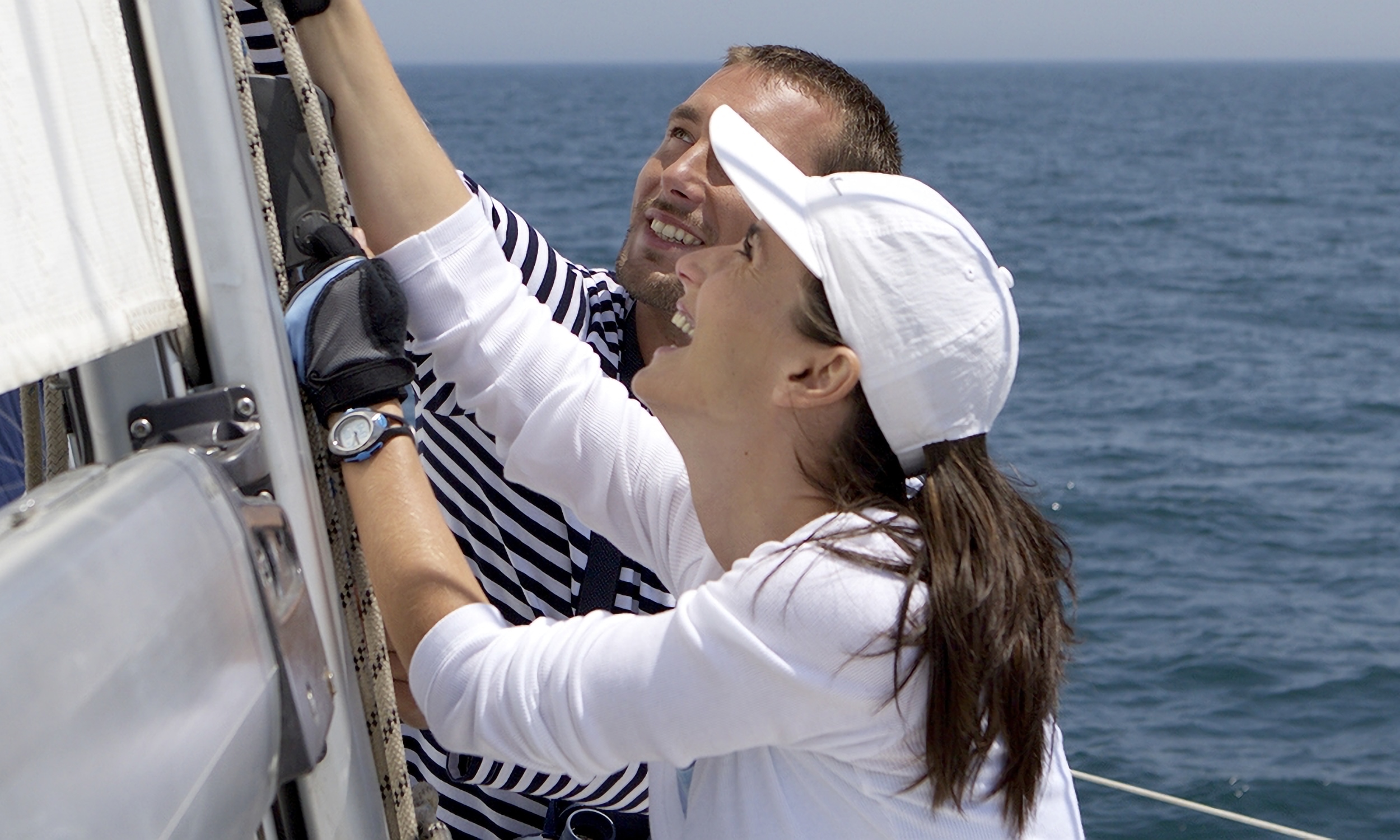 Is sailing for you? Here's a fun and easy way to find out.
St. Augustine Sailing offers an ASA (American Sailing Association) certified program, headed up by Rose Ann Points, one of ASA's top instructors. In addition to their ASA programs, Rose Ann and her team offer two-hour beginner sailing lessons on their 21 or 22-foot Hunters.
Picture yourself on the deck of a small sailboat, hoisting the mainsail, hauling in the jib, or looking toward the distant horizon. (Well, toward the shore of Anastasia Island.) It's a great way to learn the basics, while sailing just off the beautiful and historic City of St. Augustine. (And if you don't know what some of the words in this paragraph mean, you will by the time you're done with your sailing lessons!)
Visit St. Augustine Sailing to learn more and to register.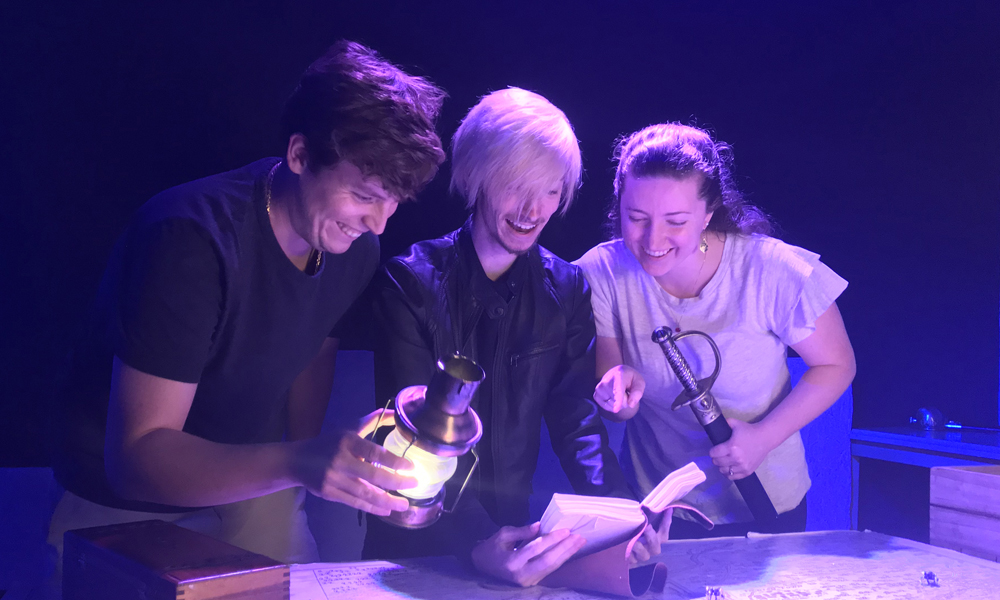 Working together to get out of an Escape U room.
According to Escape U's website, an Escape Room is a physical adventure game in which players solve a series of puzzles using clues, hints, and strategy to complete the objectives at hand." Or, if you're like me, when you realize you can't figure it out you laugh at yourself and watch everyone else scramble around you!
Escape U's themed rooms are the Sneaky Snake Lounge, the Old Jail, and Hurricane San Zenon. Each room theme has a different degree of difficulty as well as a different scare level. Whatever you do, make sure someone in your group is good at solving puzzles, finding clues, and paying attention to detail. You will need this beautiful mind to get out of there! (If it wasn't for the birthday kid's dad I ended up sharing a room with, I would never have gotten out – thank you, sir!)
Visit Escape U to book your escape room adventure game.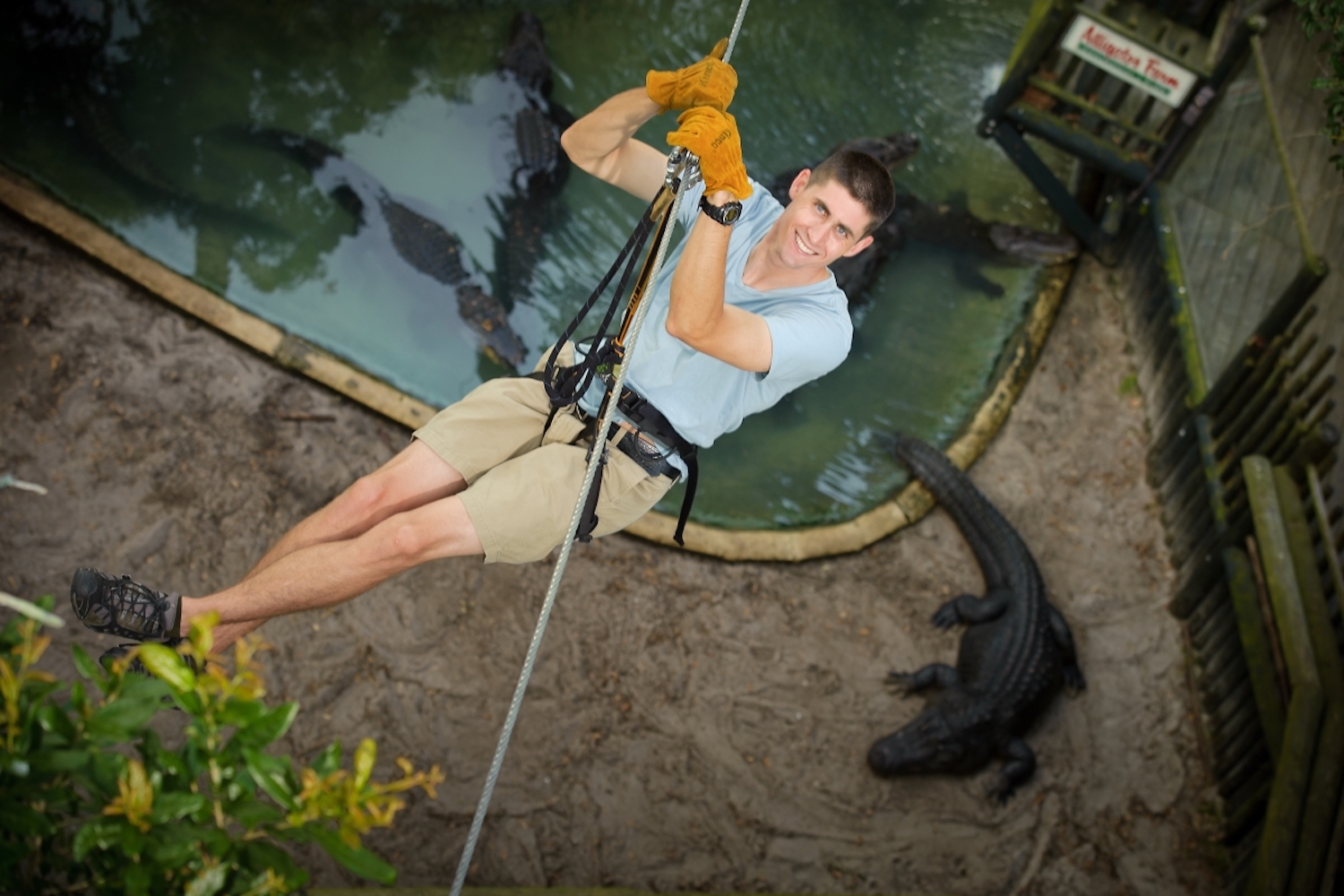 Zip lining above lots and lots of gators at the Alligator Farm.
Assuming you are braver than I am, you can zip through the treetops while conquering aerial obstacles on the Alligator Farm's zip line. While you zip across seven acres, you'll see alligators and crocodiles – right under your feet. Let me say that again, the very much alive alligators and crocodiles will be right under YOUR feet.
You can try the taster course -- nine zip lines at 35 feet for 45 minutes -- or you can try the main course – 17 zip lines at 35 feet for 90 minutes. Either way, you'll have more than 50 obstacles and only 35 feet between you and hungry alligators and crocodiles. Be sure to get a selfie – while you're still alive.
To make a reservation for the Alligator Farm's zip line adventures, call (904) 824-3337.
Posing with the cat art and the cat that inspired the cat art!
The Witty Whisker Cat Café offers coffee, tea, wine, and cupcakes, plus the chance to view or pet the furry felines available for adoption. All you have to do is make a reservation and pay the $10.00 cover to play with cats for an hour. (Or you can come to my house for free – BYOB – and play with my cats. I can't promise I won't put one in your pocket when you're leaving.)
On select Fridays at 6:00 pm, you can paint with the cats while also enjoying a beverage of choice. No painting experience is necessary as someone with more experience than the cats will walk you through the kitty template of the evening. (You can check out the Witty Whisker website for what you'll be painting on the day you select.)
There's also Meowditation – a mixed yoga and meditation class – on some Saturdays. My boyfriend and I failed miserably at the class as all we did was pet cats while sitting on a yoga mat. And that's fine too.
Visit the Witty Whisker Cat Café to book a kitty petting or painting experience.
Take a Spin with Victoria's Ballroom and Latin Dance Classes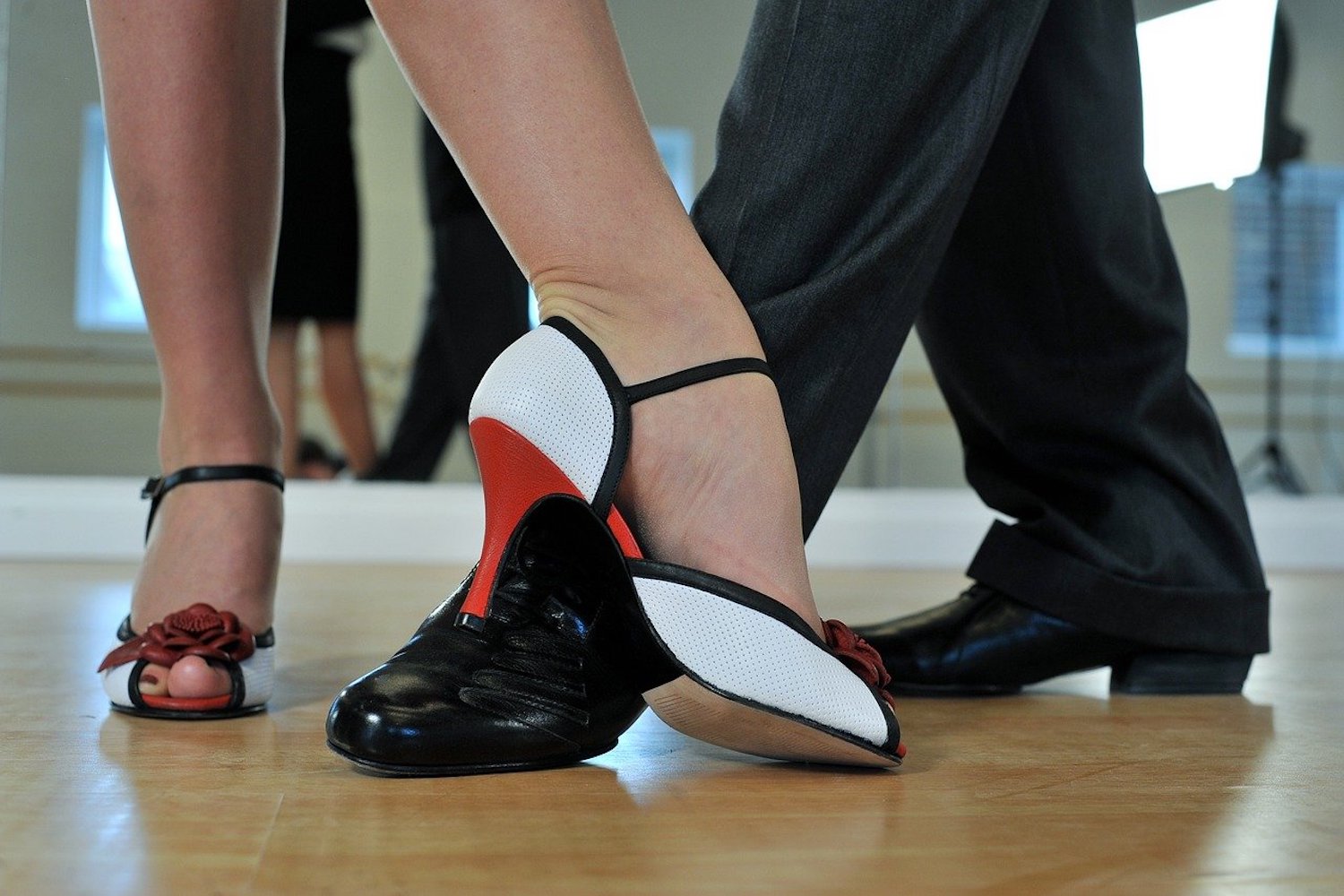 Don't forget to pack your dancing shoes if you plan to take a spin at a Dancing with Victoria event.
Chances are good that if you mention, "that dance lady, Victoria" when you're out and about, someone is going to know exactly who you're talking about because when Victoria shows up to dance, everyone moves off the floor to make room for her to dazzle. What's even more fun than watching her dance is attending one of her events. Dancing with Victoria (the most perfect name for a dance business) hosts dance classes, social dance parties, as well as Zumba. What types of dancing? Everything! For example, there's Latin dancing, line dancing, ballroom dancing, country dancing, burlesque dancing, and about anything else you can imagine.
To check the schedule and to RSVP for a Dancing with Victoria event, call (904) 540-0225.
Create a DIY Souvenir with Beach Life Mosaics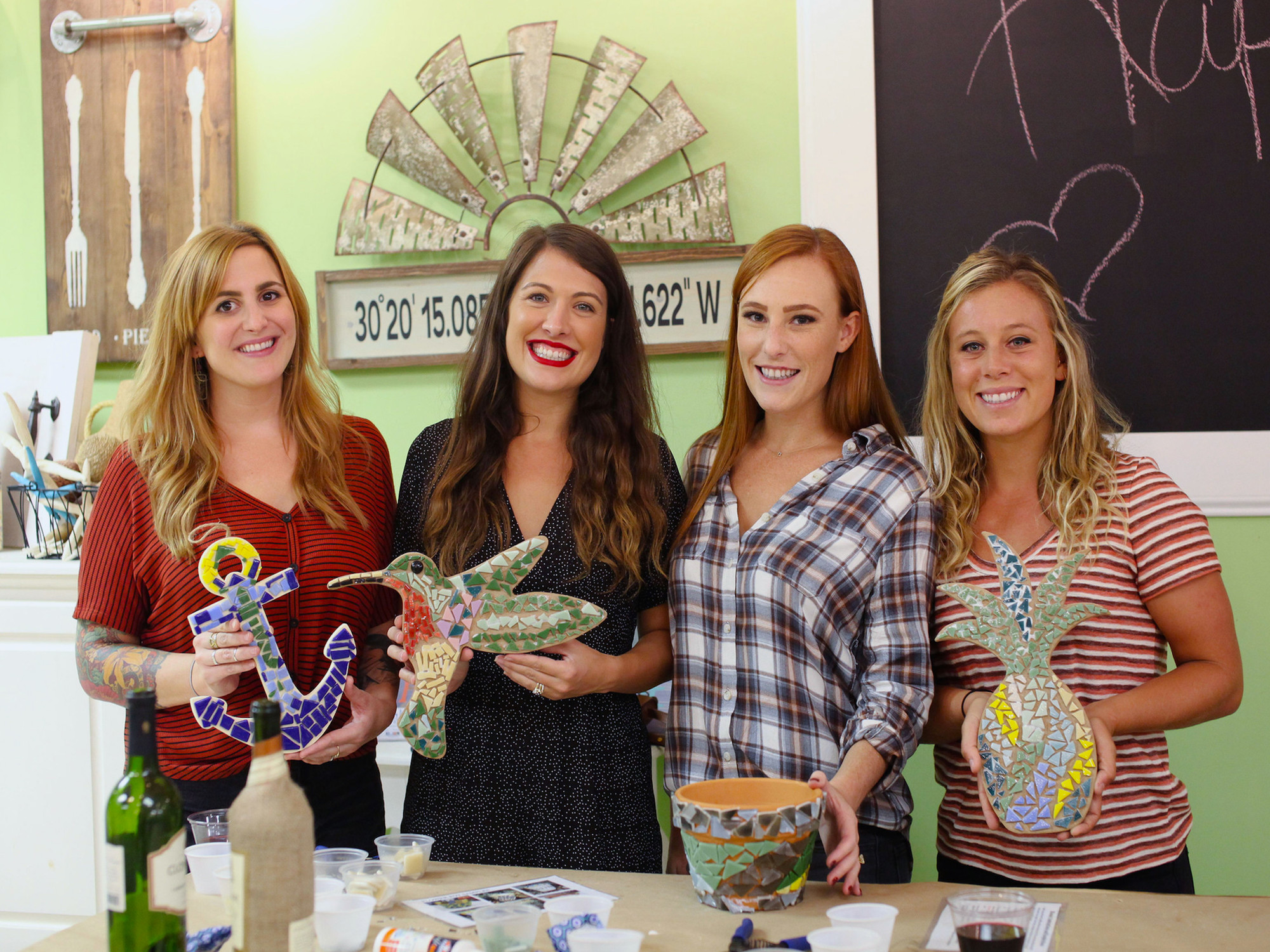 A mosaic party is the place to create the perfect souvenir to take home,
I love mosaics – and I also happen to very bad at art projects. Enter Beach Life Mosaics – a mobile Mosaics 101 business. Because of Beach Life Mosaics, I have a mosaic starfish hanging on my porch that I created with my own hands. Beach Life Mosaics offers these hands-on classes at various bars and restaurants in and around St. Augustine. For a starting fee of $35.00 you can choose from more than 75 mosaic projects to complete – instruction and supplies are included. You do the actual mosaic during the mosaic party and then the grouting is done at home once all is dry and ready. Projects come with a hanger on the back, so they are ready to showcase – and you have a DIY souvenir of St. Augustine!
One word of advice...if the mosaic party is in a bar, wait to start drinking until after your project is complete!
To check the schedule and to RSVP for a Beach Life Mosaics party, call (904) 535-6255.
Cooking with a certified chef at A Chef's Cooking Studio.
A Chef's Cooking Studio offers a variety of one-off classes and series classes, bread baking workshops, a home cooking series, and a wine club. I have not yet been to A Chef's Cooking Studio because I need to figure out how to visit without my boyfriend finding out. If he knows I've been there I will have to cook dinner forever more.
Examples of classes include knife skills, pie baking, at-home breads, and jams from scratch. In the classes, you'll be working with certified chefs, collecting recipes, exchanging cooking tips, and sporting a custom apron with your name on the front. Just remember, do not let anyone know you were here while in St. Augustine or you will be forever responsible for all future family food gatherings!
For a calendar of classes and events, call A Chef's Cooking Studio at (904) 827-1350.
Search for Treasure by Geocaching Around Town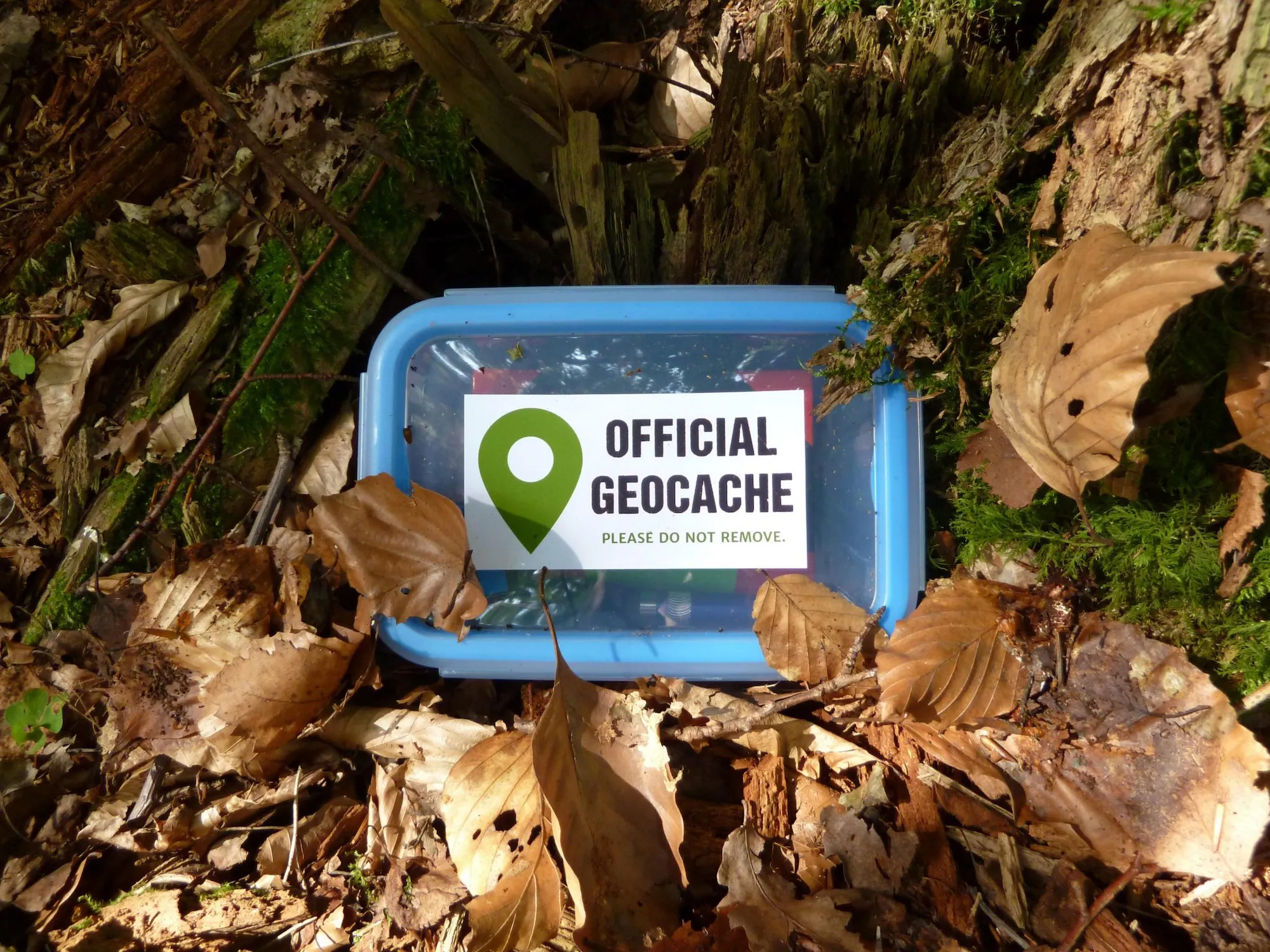 Geocaching cache container photo courtesy of Florida Travel Podcast.
Geocaching is an outdoor recreational activity where participants enter GPS coordinates into a mobile app to find cache containers – or, as I like to call them, mini treasure chests. A typical cache is usually a small waterproof container with a pen and logbook for treasure hunters to log their discoveries. You never know what treasure someone has left in the "chest" and if you plan to keep what's inside, it's customary to replace it with something of equal or greater value for the next person to find.
Here's the thing… when you find a treasure, don't let anyone see you find it! This is a game after all, and you don't know who around you might be trying to find the same treasure. (Note to self: leave the dog at home when geocaching as he will draw too much attention to you and the possible treasure.) Also remember that there's no digging or breaking involved, but you could find caches in bushes, trees, near a path, under a boardwalk, or beside a building. You can discover caches at several St. Johns County Parks such as Vail Point Park, Beluthahatchee Park, and Nocatee Landing.
To get your geocaching game going in St, Augustine, visit St. Johns County.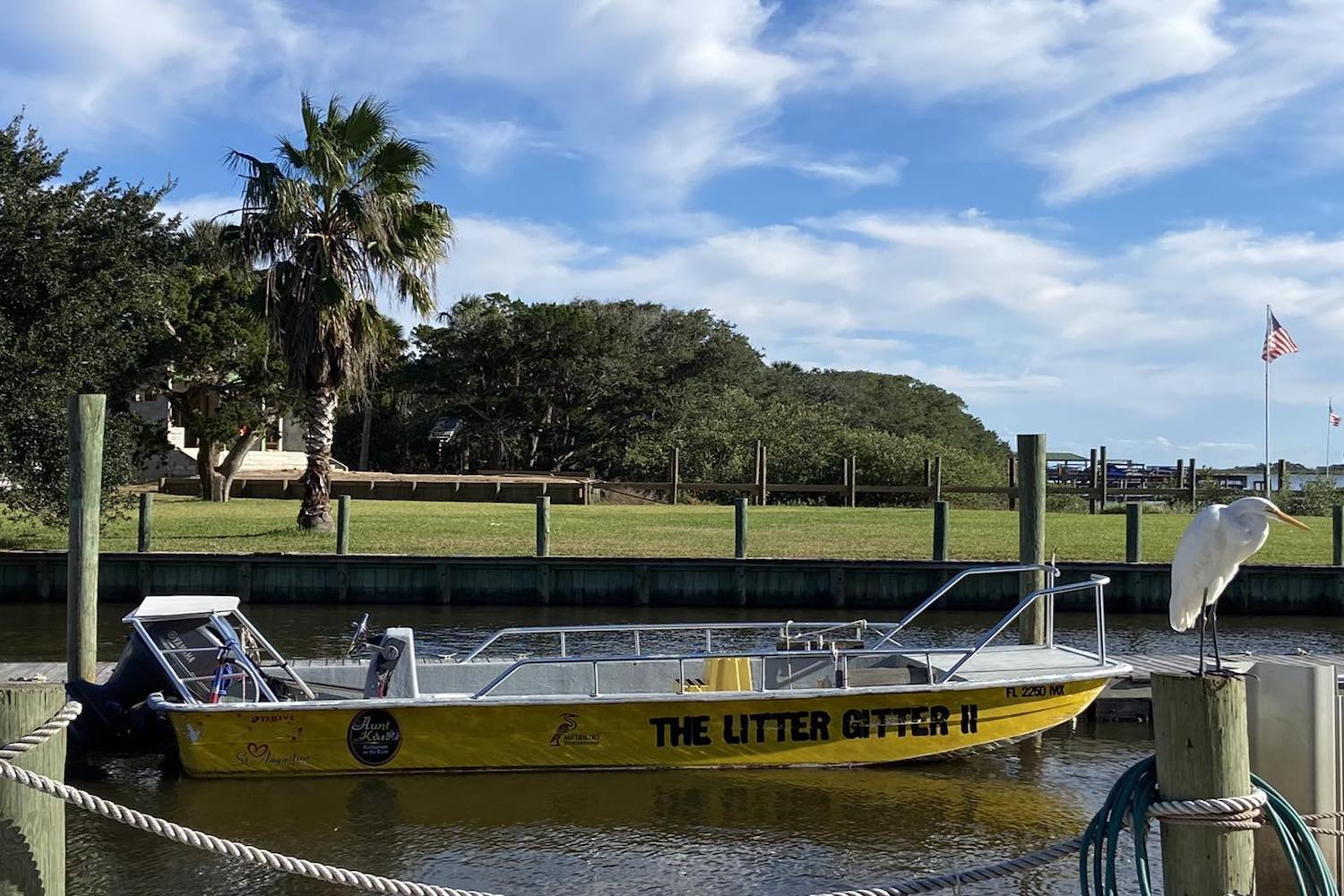 The Litter Gitter II waiting to pick up passengers.
The Matanzas Riverkeeper runs the Litter Gitter -- a program that takes visitors and community members out on the Matanzas River to remove trash from the waterways and to learn about the issues surrounding marine debris and litter. You'll be riding The Litter Gitter II: a bright yellow, 24-foot Carolina skiff, equipped for removing large volumes of debris.
The two-hour Litter Gitter adventure ensures the local waterways stay clean and healthy while giving volunteers an opportunity to get their hands (and clothing!) dirty.
To check dates and to reserve a spot, email The Matanzas Riverkeeper at [email protected].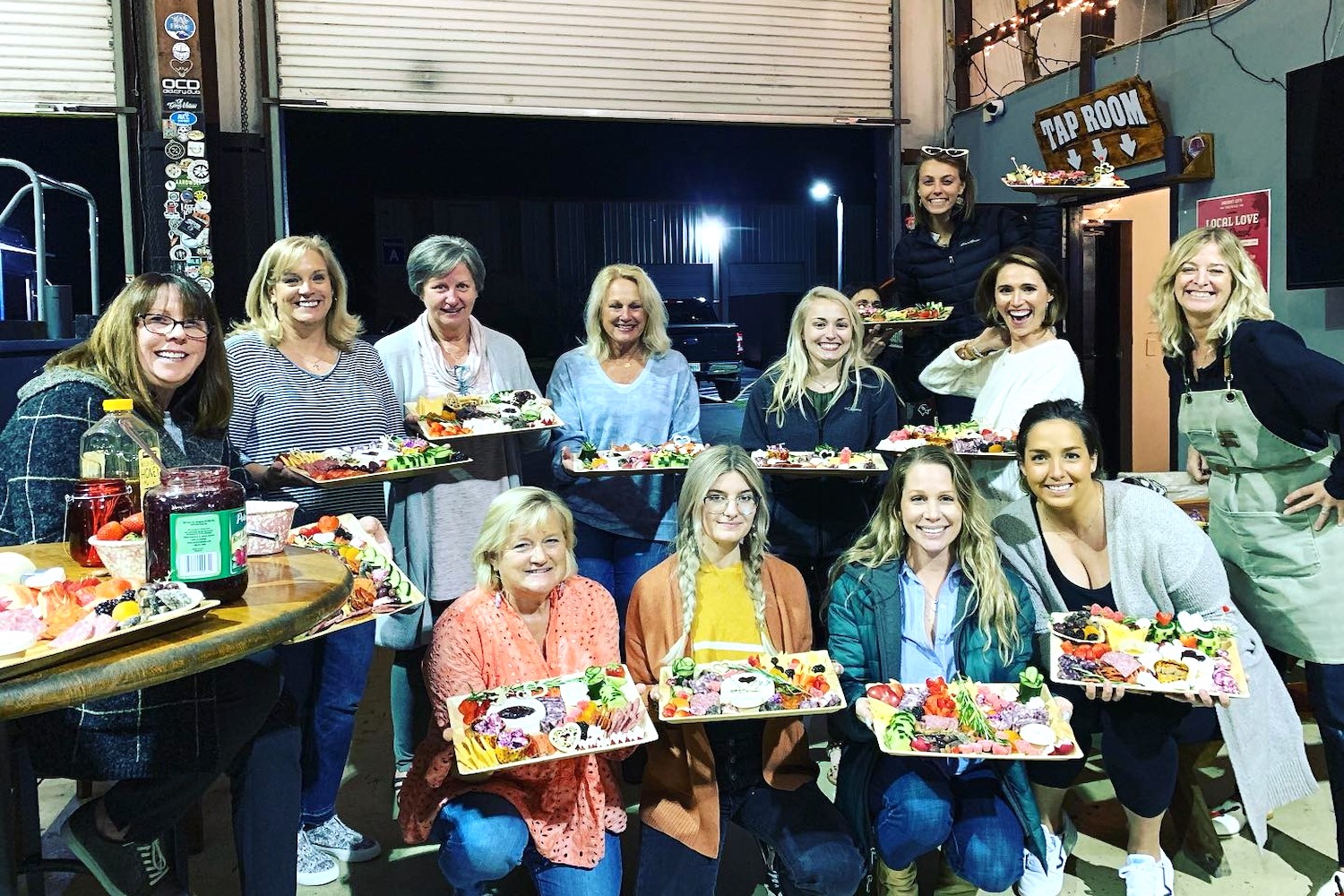 She Salt Charcuterie's boarding school is in session.
She Salt Charcuterie creates charcuterie boards for every and all occasions. And they also teach you DIY boarding at their "boarding schools." (Oh I wish I could take credit for that most perfect name!) The classes are offered in restaurants, breweries, and art studios in and around St. Augustine.
Email [email protected] to find out dates, times, and locations for upcoming She Salt Charcuterie boarding schools.
The Adventure Project adds more laughter to a St. Augustine girls getaway weekend.
Finally, I would be remiss if I didn't mention my own immersive experience - The Adventure Project. Yes, that's right, I too host adventures that you can jump into with both feet. These laugh-out-loud "playshops" are facilitated recesses for grown-ups – consider them cooperative play sessions via improv and laughter yoga. All you need to do is invite me to your vacation rental -- from here I do the rest, guiding you through breathing and stretching and laughing and playing, so and your group are ready to make some vacation magic – together.
For more information, or to book a playshop, drop a line to The Adventure Project at [email protected].