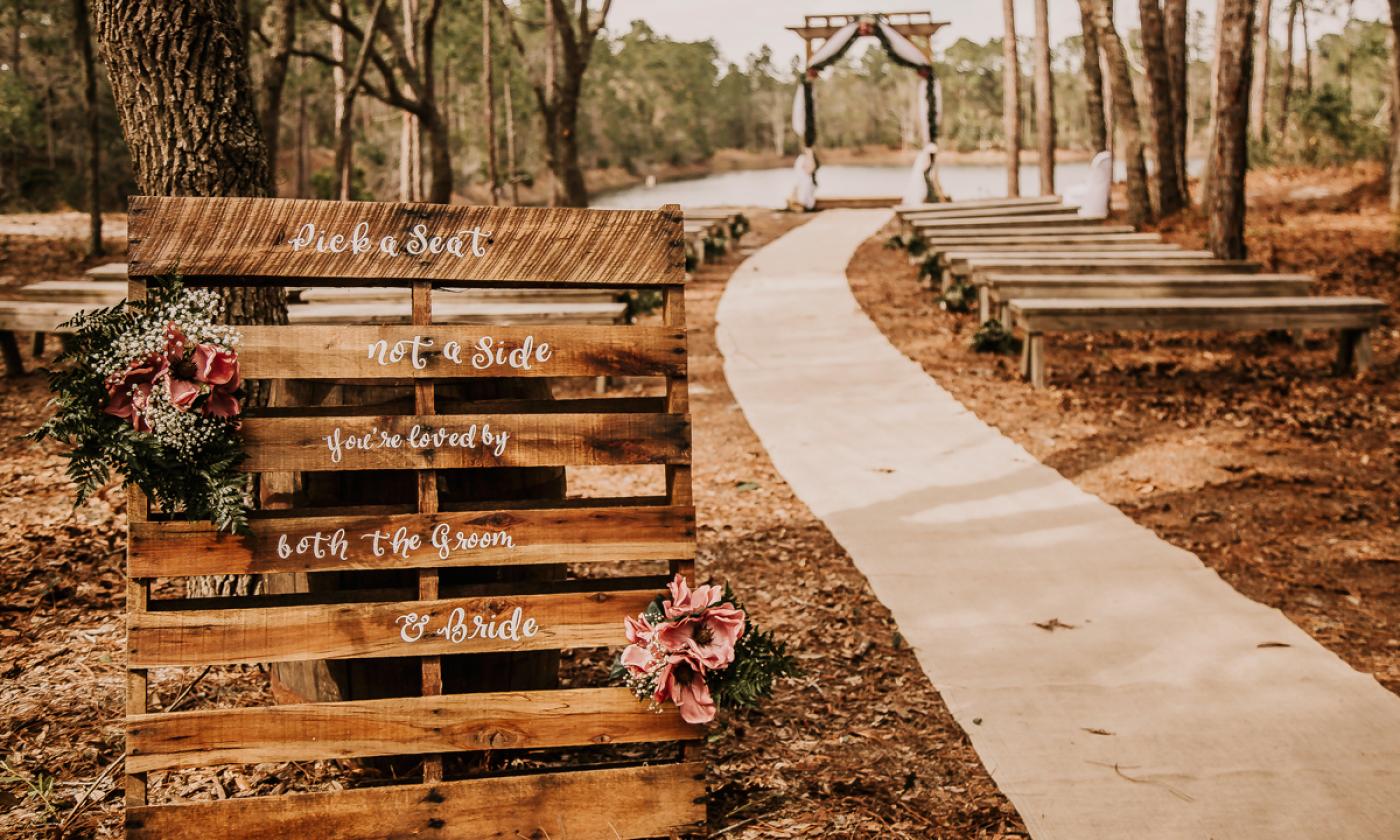 Be a Happy Guest at a St. Augustine Wedding
Yippee! What to do when you're invited to a destination wedding in St. Augustine.
How wonderful to be present when loved ones plight their troth. While you may be excited about the actual wedding, seeing family and friends, and celebrating the bridal couple, the traveling part may leave you feeling just a bit — meh, stressed, confused, or excited. (Pick all that apply.)
So, here is access to nearly everything you'll need to make traveling to a wedding in St. Augustine into a fun mini-vacation. Most of our wedding articles tend to focus on the bride or groom. This article is for you, the guest. Think of us as a wedding favor that takes up no space in your carry-on. Enjoy!
 Keep reading or pick a topic below and jump to it.
Getting to St. Augustine and Choosing a Place to Stay
First of all you have to get to St. Augustine and figure out how to travel around once you've arrived. For information about that see this article.
Secondly, you'll need to find a place to stay. We have a lot of those, from small vacation rentals to motels, hotels, B&Bs, to resorts and condos on the beach. While you may want to stay at the designated wedding lodging during the days surrounding the big event, during the tourist portion of your stay, you can choose a place that best suits you. Start with our Ultimate Guide on Where to Stay in St. Augustine and move on to our directory of Places to Stay.
Plan your "Wedding-cation" in St. Augustine
Oh! The things you can do! Let's start with the historic, fun and move on from there.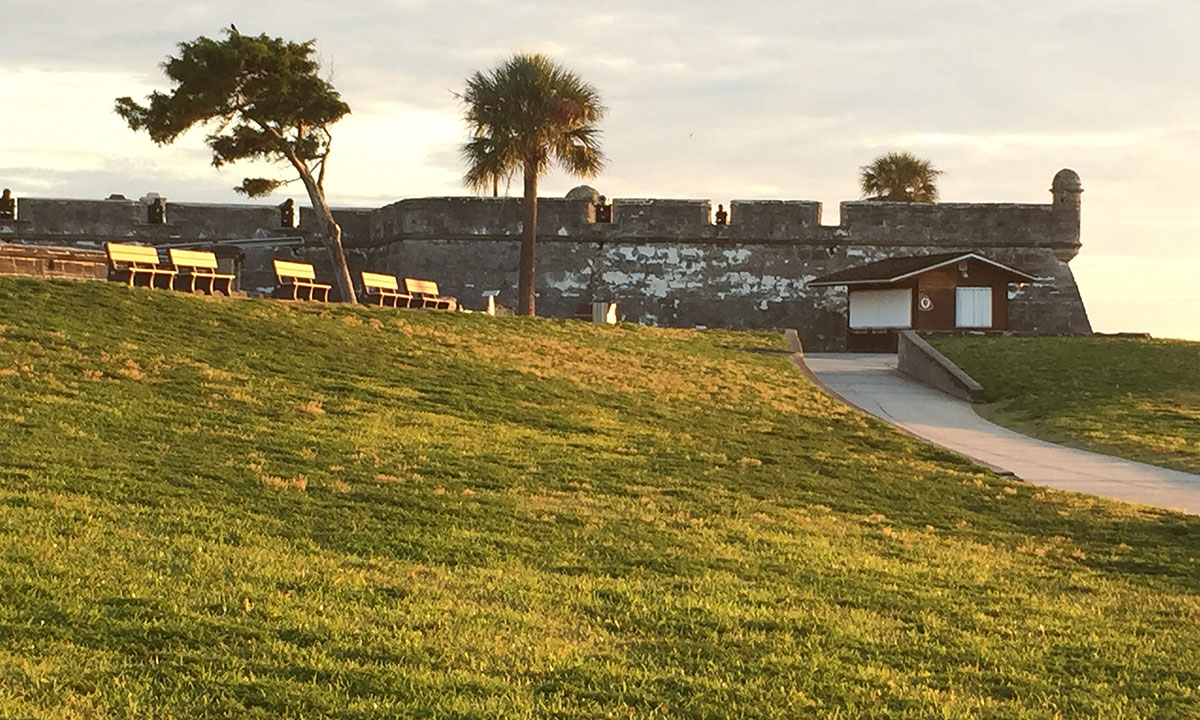 The lawn of the Castillo de San Marcos just after dawn. Photo by VisitStAugustine.com
Historic Sites
Most who visit St. Augustine want to see "the fort" — the Castillo de San Marcos. (Bonus tip: Since the Castillo is a national monument, those with the national park pass and three of their closest friends can get in for free.) Made from local coquina, St. Augustine's oldest structure is located on the bayfront in the historic downtown. In fact, most of the historic properties in St. Augustine are located within the Historic District and reasonably active people can easily spend a couple of days walking around town, taking tours, touring historic buildings, and enjoying the shops, restaurants, and pubs.
Other historic sites include: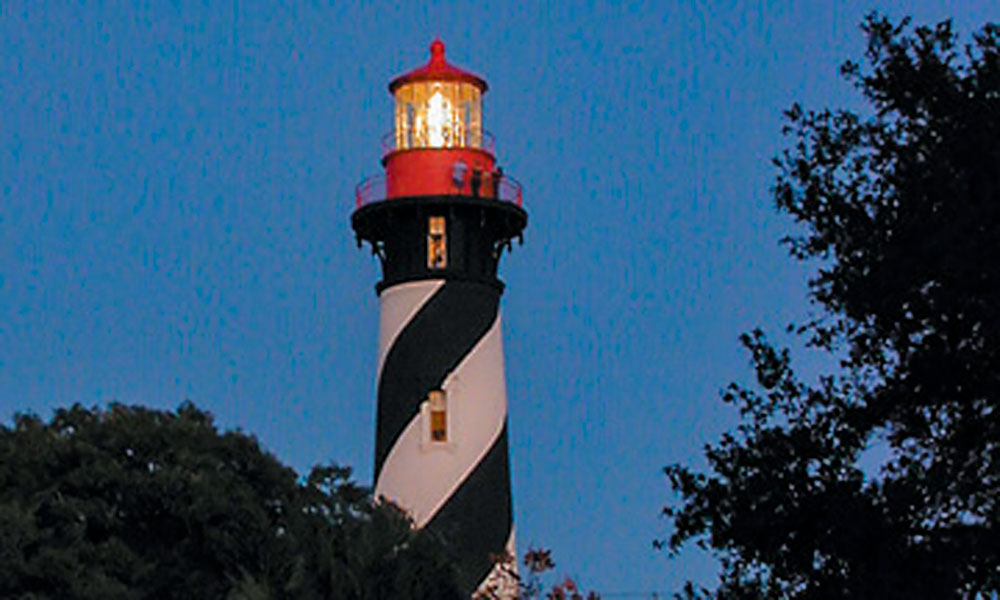 St Augustine Lighthouse at dusk. VisitStAugustine.com Photo
Attractions
For fun, we have amazing attractions suitable for all ages and abilities, including state and federal parks, shopping, art galleries and museums, live music, boating, and 42 miles of beaches.
Our attractions range from the Medieval Torture Museum to Ripley's Believe it or Not!, to the Marineland Dolphin Adventure— just to name a few. In addition there are a number of attractions and activities that are fun to do with other wedding guests of all ages, such as: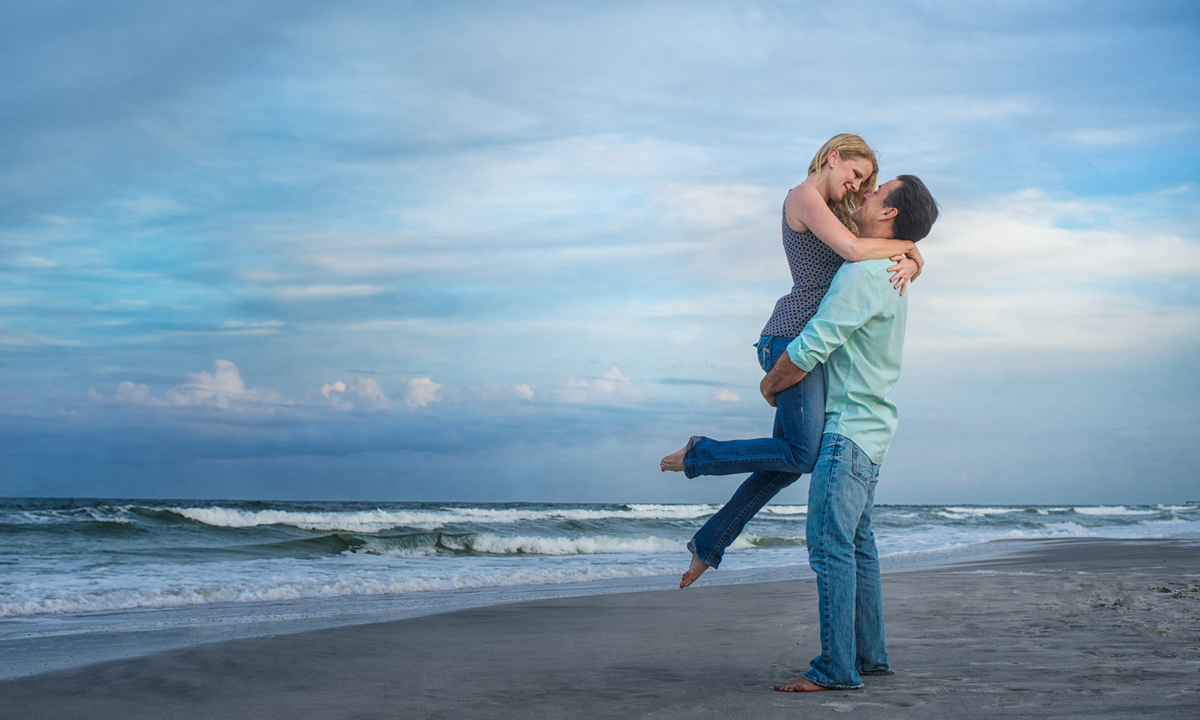 A couple on the beach in St. Augustine. Photo by Rob Futrell. 
Beaches
Now let's discuss those 42-miles of beaches. They stretch from north of St. Augustine in Ponte Vedre Beach south along A1A to the beach at Matanzas National Monument.
If you're staying downtown and want to make a quick trip to the beach between visits with relatives, the two closest are Vilano Beach, just a bit to the north on A1A and the beach at the Anastasia State Park, just a bit to the south on A1A. Both are about three miles from the Plaza de la Constitución in the historic downtown area of St. Augustine.
For beaches farther from town, or closer to the wedding venues to the north or south, we recommend Ponte Vedra Beach, GTM Research Reserve, St. Augustine Beach, Butler Beach, and Crescent Beach, with multiple access points at all beaches. If you're looking for "the pier" you want St. Johns County Fish Pier. Pro tip #1: all of the beaches are on A1A. Pro Tip # 2: If beaches are your thing, download the county's beach app for all the info.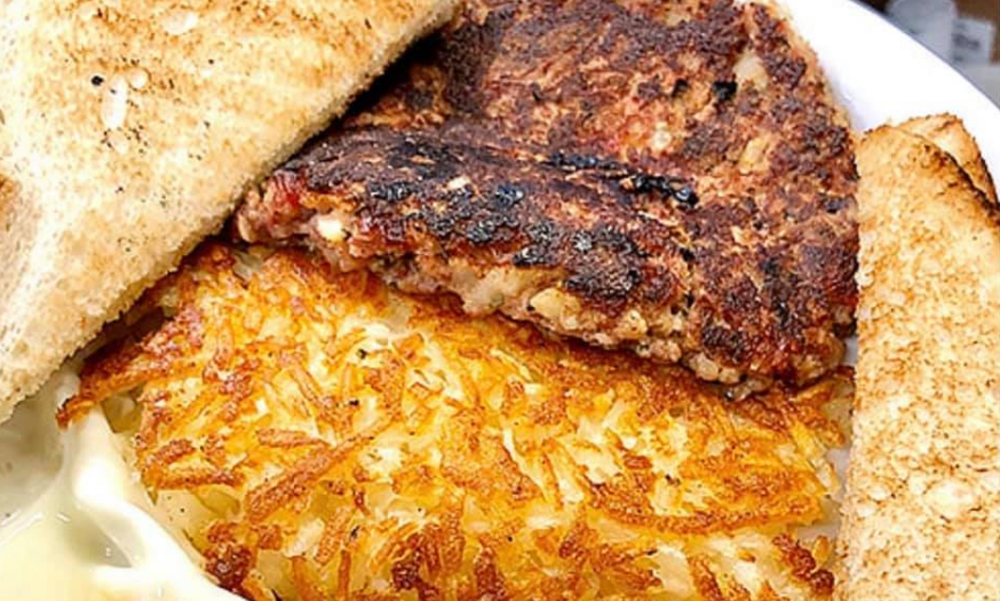 Two kinds of hash browns from Beachside Diner in St. Augustine Beach
The Deliciousness that is St. Augustine
St. Augustine is either a music town with a food and drinking problem or a foodie town with a music and drinking problem. Either way, you can easily find something delicious to eat and drink in St. Augustine, and can often enjoy listening to live music at the same time. 
St. Augustine has literally hundreds of restaurants, food trucks, pubs, diners, and food stands — from the iconic Hazel's Hot Dogs on U.S. 1 to The Reef Restaurant overlooking the Atlantic Ocean north of Vilano, to the Rain Tree Restaurant located in the Uptown Region, to Caps on the Water, overlooking the Tolomato River.
Want to meet Aunt Amy and her family for breakfast? Check out this article to find the local spot that will please everyone.
Want to listen to live music while enjoying a night on the town? Then go directly to our Live Music Calendar to find a restaurant or pub that serves food and drink and the kind of music you like.
Want to try some local St. Augustine craft beverages? Start after lunch with a tour of the St. Augustine Distillery and then a tour of the San Sebastian Winery. Eat at either location, walk around, shop, take an historic tour, and then begin round two during which you sample the offerings from St Augustine's many brew pubs. (Pro tip: The considerate guest will not show up at the wedding with an obvious hangover. Eat, and drink plenty of water between tastings.)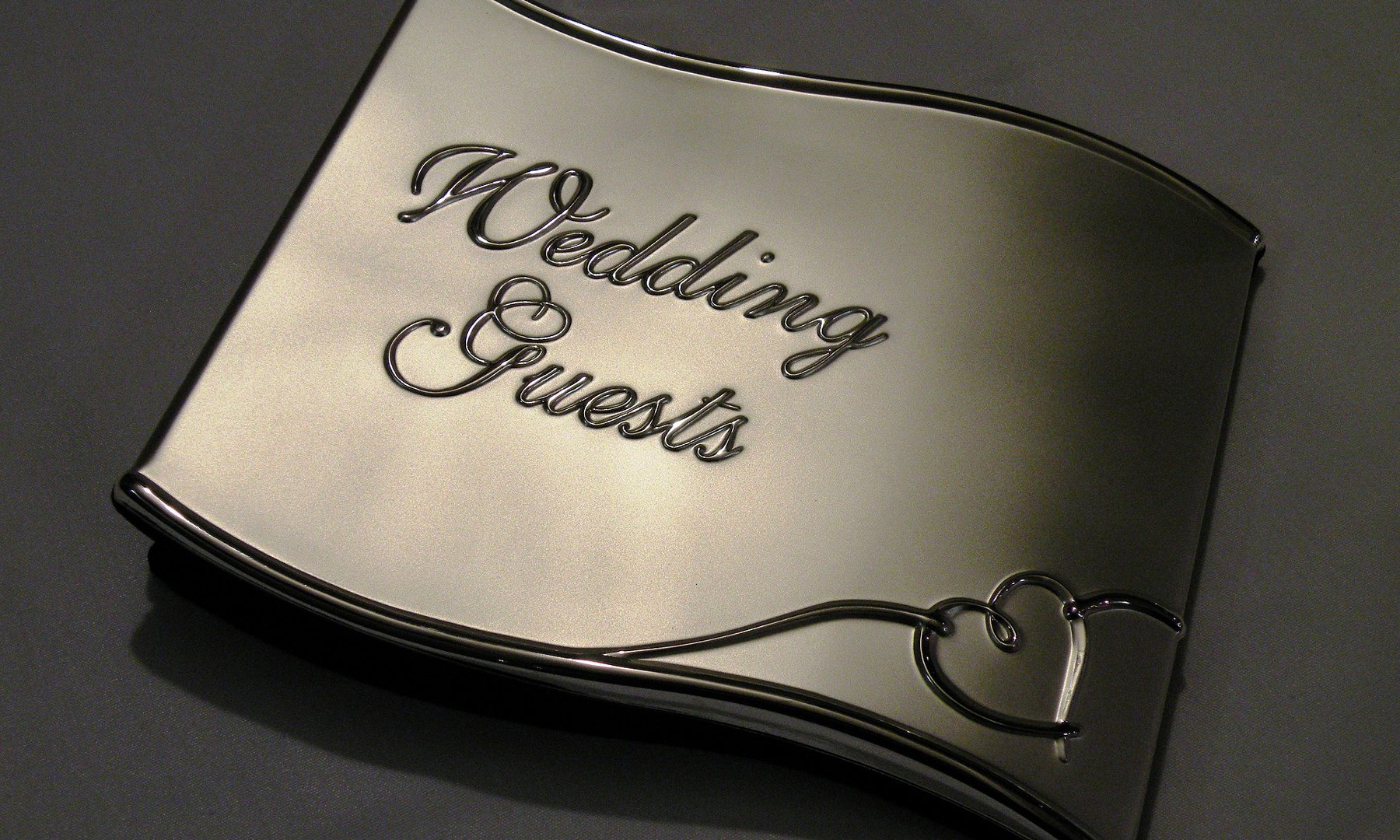 Wedding Guest Book from Pixabay
Things Wedding Guests Need to Know
Weather/Time of Year
Shhhh, this is a secret: For sunny days, with reasonable heat and less rain, the very best months to come to St. Augustine are April through June. The second best months are October and early November. (Except for the potential of hurricanes.) As a wedding guest, you have no control over the date and really, no months are totally horrible. July and August can be very hot and humid with practically a guarantee of afternoon showers. December through February can be a bit cooler than you might think Florida should be — this is north Florida, after all. Every month has much to offer, just make sure you add a sweater or shawl in the cooler months, bring your swimsuit and a broad hat in the summer, and always wear sunscreen.
Transportation on the day of the wedding
If the wedding ceremony takes place in one downtown location, and the reception in another, many guests will simply walk from one venue to the other. (We residents enjoy seeing the couples, their attendants, and their families all dressed up and looking happy.) Some bridal couples will have arranged transportation for those less able to saunter on city streets.
If you or someone in your party finds walking difficult, we suggest you leave your car at your lodgings and reserve one of the golf-cart companies to get you to the church, reception, and back to your rooms. There are also car services and shuttle services for larger parties and those who are staying or celebrating at the beaches. You can find all the options in our transportation directory.
Where to go for an impromptu gathering?
Some places, such as Harry's and Sunset Grille do not take reservations. They also don't have space for private parties, but will seat larger groups on a first-come, first-served basis.
Other places, like Caps on the Water have opted not to serve parties with more than 6 people. If 8 or 10 of your old college friends want to gather before or after the wedding, it's best to find a place that will take reservations and book it in advance. Those who take reservations on their website suggest that you call for parties with more than 20 people. 
For breakfast, brunch, or lunch, the smallest places don't take reservations, while those a bit larger may do so. You can check the other local restaurants here and can also contact a food truck or three if you have an appropriate location to host them.
Oh no, I forgot my….
It happens to the best of us. At some point in time we arrive at our destination to find that we've forgotten the power cord and plug for our laptop, the only pair of black shoes we own, a tie, or our contact lens solution. (In my case, on our most recent destination wedding trip my husband neglected to put my toiletry bag in the trunk, so I had to purchase new cosmetics, cleansers, and hair care products.)
Here's a quick guide to save you — or the spouse who forgot the most important thing on the list:
Historic Downtown — the Five and Dime General Store on St. George Street is open from 9:00 a.m. to 10:00 p.m. and carries home office supplies, contact lens solution, toiletries, sunscreen, and other travel and personal necessities. 
Heading south on U.S. 1 (Ponce de Leon Blvd.) — you'll find a Target with a pharmacy; other Walgreens and CVS pharmacies; Seabridge Shops that have Marshalls, Ross, Ulta Beauty, PetSmart, and more; and a Walmart south of 312. 
Route 16, out past the entrance to I-95 — you'll find the St. Augustine Premium Outlets with more than 75 stores including sports gear, shoes, and clothing.
Anastasia Island — the small city of St. Augustine Beach boasts a number of shops along A1A, including two small plazas — one with a Publix and the other with a Winn-Dixie and a dry cleaners.
Ponte Vedra Beach — there are a lot of shops and service centers along A1A, with a Publix, hardware store, Target, and more at the South Beach Plaza Shopping Mall, just north of Ponte Vedra Beach.
Whether your loved ones live in Northeast Florida or have chosen St. Augustine for their destination wedding, if you're traveling to the nation's oldest city, we hope you decide to add a few days on either (or both) ends of your trip to enjoy Florida's historic coast.
Oh, and please feel free to share this article with Aunt Amy, your old college friends, and anyone else who'll attend as your loved ones tie the knot in America's Oldest City.
Photo Credits: Cover photo taken at Florida Agricultural Museum. Photo of couple on the beach was taken by Rob Futrell.