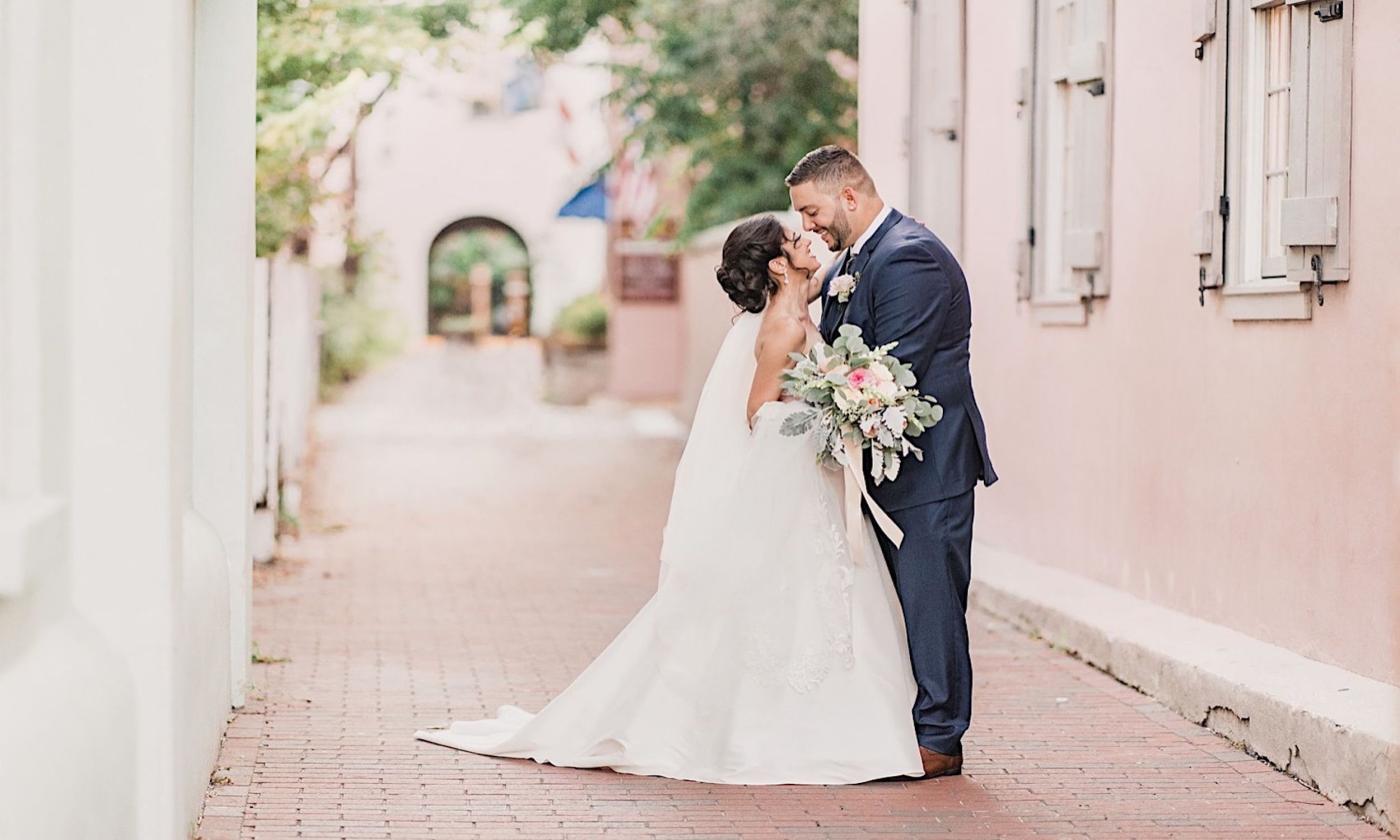 How to Navigate Your Destination Wedding
From getting engaged, to getting hitched, to getting a dream honeymoon - we have you covered.
Ok so where should we start? At the engagement, of course…
If you are close enough to drive to St. Augustine, I highly recommend it as an engagement - as well as a wedding - destination. Why? Because you will have the most gorgeous photos to showcase on Instagram, of course!
You can do a sunrise engagement on Vilano Beach or Crescent Beach, or you can do a sunset engagement along the Intracoastal - at Matanzas Inlet, or, with champagne at Cap's on the Water. If this isn't exciting enough for you, and you want to get in the water, no problem because St. Augustine Sailing has your back - they'll even have a private chef onboard for you.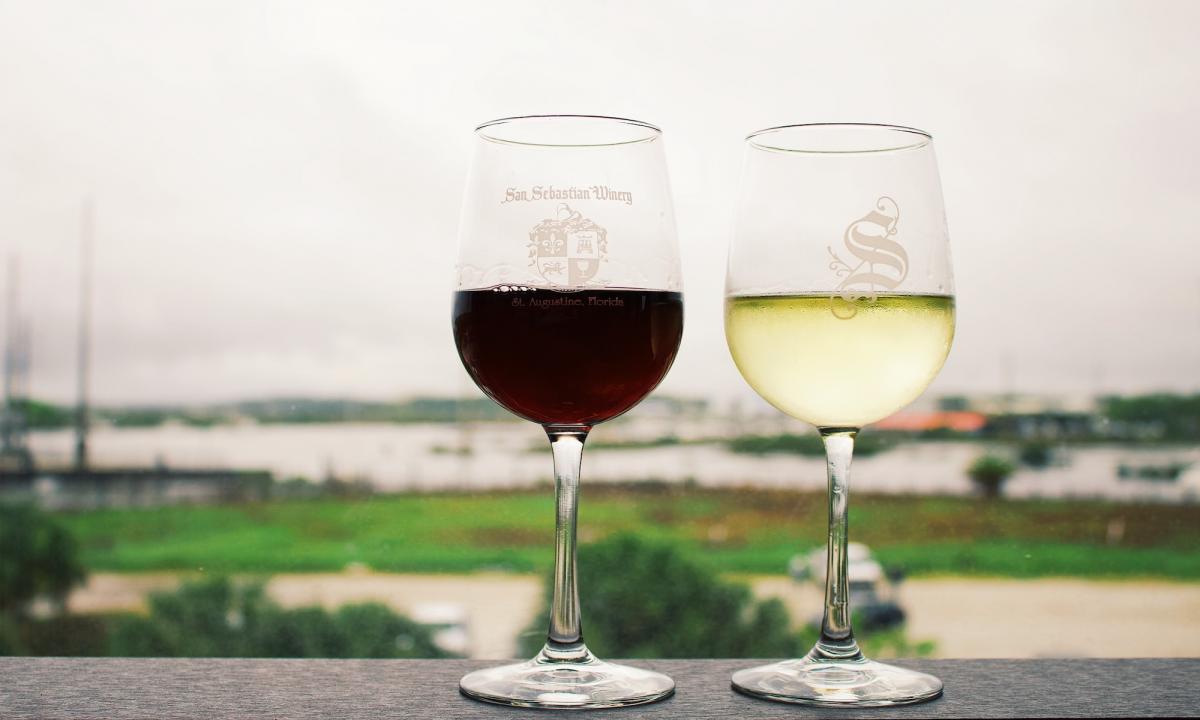 Cheers to your engagement from the roof of San Sebastian Winery!
If you'd rather be up high … say like on a rooftop, that's an option too. You could pop the question on San Sebastian Winery's roof with historic downtown as the backdrop or you could go to River & Fort because it has two rooftop patios with a bar area that has expansive views of the Castillo de San Marcos and the bayfront.
I planned both of my weddings. Before you start thinking I'm the bee's knees, I should tell you that the first time I eloped and the second time my invite list was only two dozen people. So basically, I kept things (very) small so I could DIY. You won't do this of course. You are going to have a beautiful celebration for all the world to see.
If you want help with that dreamy beach wedding, Your St. Augustine Beach Wedding has several wedding packages to choose from, so you don't have to fuss over details - keeping sand out of your wedding attire is another task entirely though.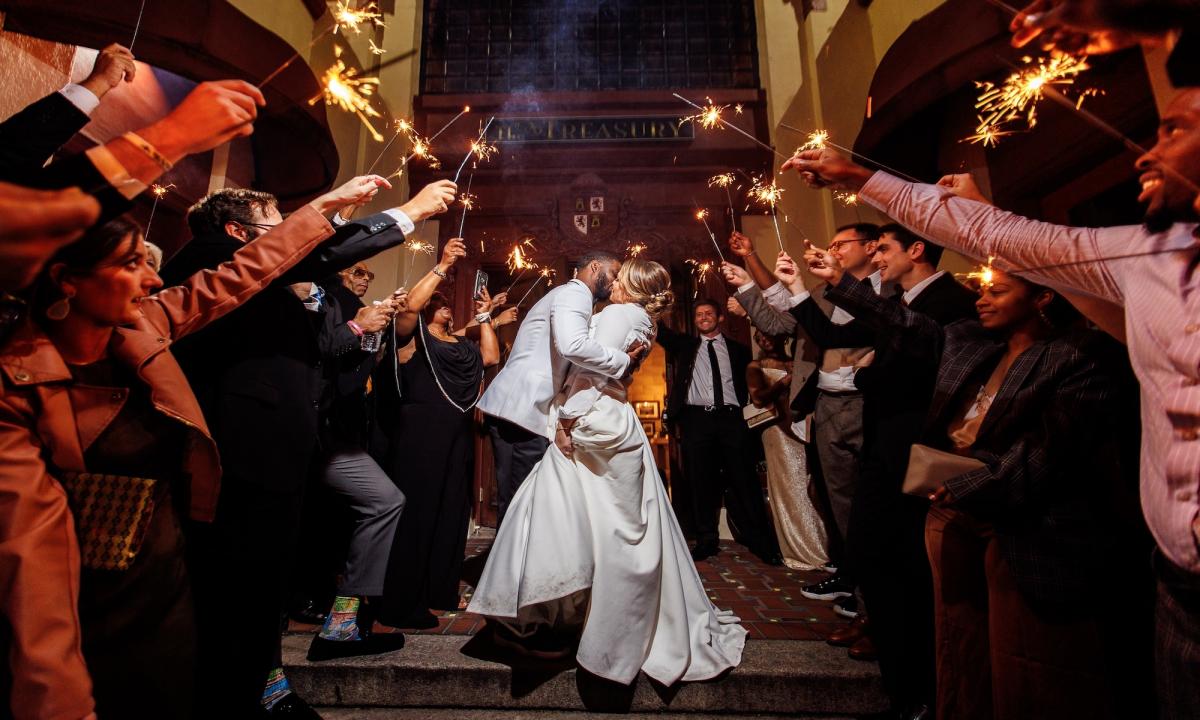 The bride and groom share a kiss - surrounded by sparkles - after their Treasury on the Plaza wedding.
If you want the perfect historic downtown location coupled with the perfect wedding planning service, Treasury on the Plaza is your place. The Treasury originally opened in 1927 as St. Augustine's central bank. The building was remodeled in 2014 to become a gorgeous historic wedding venue. One of its most memorable features is the vault, with its huge round locking door, now converted into a full bar for guests. With grand lighting, fog effects, high columns, and marble floors you'll be celebrating in a palace-like setting that doubles as your reception hall. (I always see wedding guests milling about on the Plaza de la Constitución across the street from the Treasury and I so want to sneak in with them to see the venue in action, but I'm never dressed appropriately.)
Originally opened in 1888 by Henry M. Flagler as the grand Hotel Alcazar, the Lightner Museum has played host to some of the city's fanciest celebrations for more than 130 years. Now Lightener Museum Weddings & Events can host your elegant wedding! Whether your guest list has 40 people - or 250 people - this is one of the most upscale places in town to tie the knot. Also, fun fact - the reception would be in what was once the resort pool area.
If you're looking to wear your cowboy boots on your wedding day, Southern Grace Events, the exclusive wedding planner for Chandler Oaks Barn, is for you. It's a gorgeous white barn on the St. Johns River surrounded by old growth trees where rustic meets elegant, and you get your own private wedding planner who plans weddings only at Chandler Oaks.
If the venues mentioned already don't get you excited, fear not. St. Augustine has more wedding venues than Starbucks, so there's a lot to choose from even for those with discerning taste.
Did you know that Flagler College provides a picturesque - and historic -- backdrop for weddings and wedding photos? You can tie the knot in the historic Ponce de Leon Hotel, built by Henry Flagler in the late 1800s. Several other charming spaces are available on the campus for a variety of budgets and party sizes.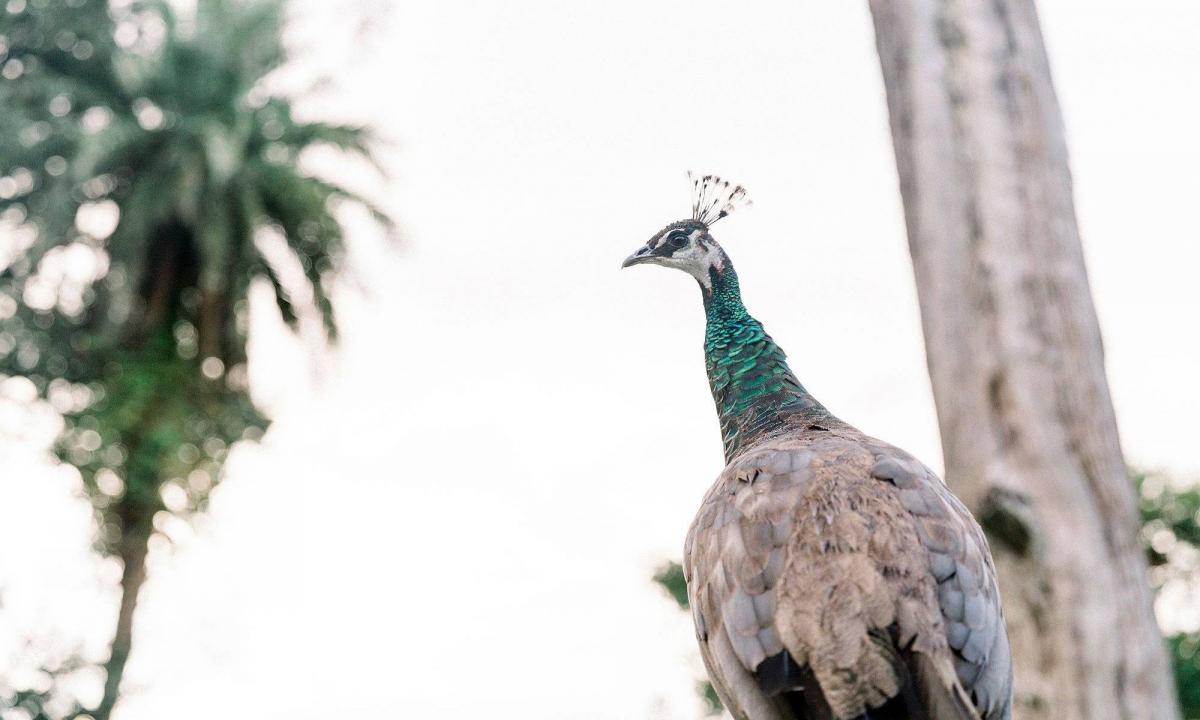 The resident peacocks are always on the approved wedding guest list at the Fountain of Youth.
If I were to get married again, the Fountain of Youth would be on my possible venue list. Why? Because the views of the St. Augustine Inlet are gorgeous, the resident peacocks will attend the wedding, and what ceremony doesn't need some staying-young water on hand for the bride and groom to drink?
Only 15 minutes west of historic downtown, Kelly Farm Events hosts weddings on a working horse farm offering rustic charm coupled with modern amenities and comforts. Let me repeat - there will be horses at your wedding!
If you prefer tradition, St. Augustine's historic places of worship go back as far as 1797 with the Cathedral Basilica of St. Augustine and the jewel box-like Memorial Presbyterian Church built in 1824. Other historic places of worship include the First Congregation Sons of Israel, built in 1924, as well as the Trinity Episcopal Church which is the oldest Protestant Church in the state of Florida and the Grace United Methodist built by Henry Flagler.
After I was unable to take my Jamaican flowers home from my first wedding, I opted to get a bouquet made from maps for my second one. The map bouquet has lasted longer than the marriage - true story! So back to floral arrangements …
If you like things a little bit wild (I know I do!), Tiffany Willis with The Potting Shed of Ponte Vedra is your gal. With a specialty in the "wild garden" look, she is especially skilled at creating bountiful bouquets that feel like they've been picked fresh from the garden.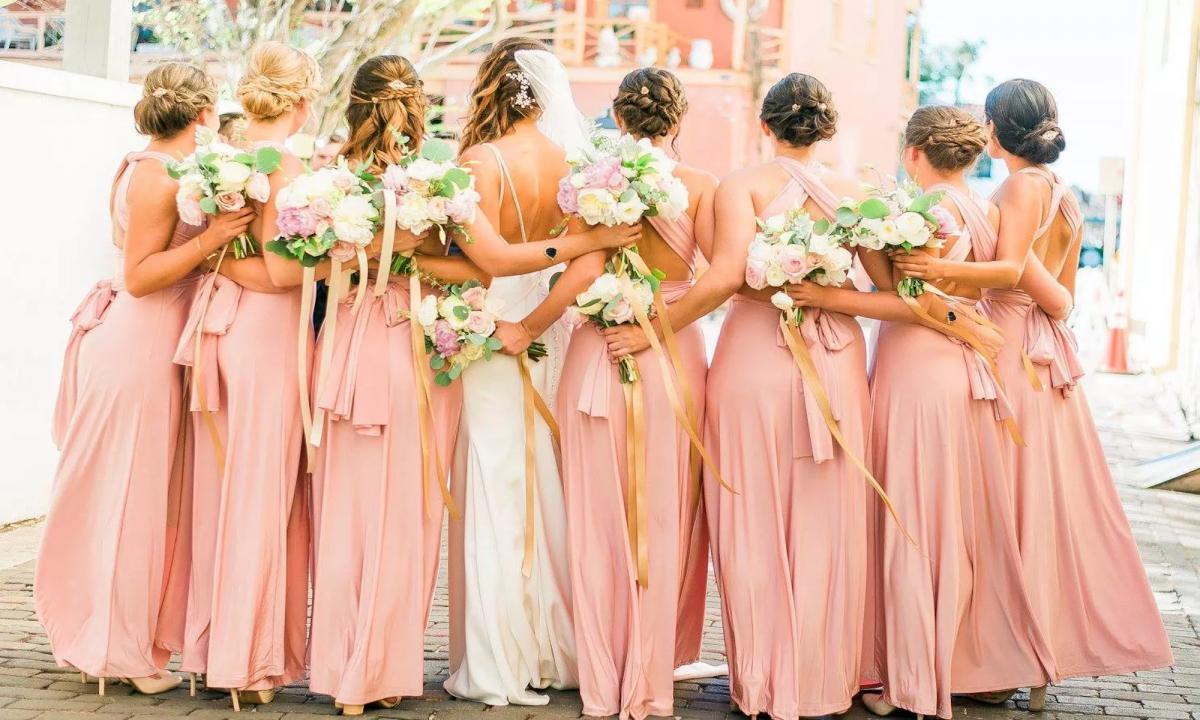 Tula Rose Floral & Event Design creates bouquets for entire wedding parties.
Tessa Manton with Tula Rose Floral & Event Design offers a modern feel to her bouquets, providing onsite installation, while also creating a fresh look for tables and entryways. Being a small boutique shop, Tula Rose excels in creating personal, hand-picked designs for weddings. 
Malia Floral Design creates arrangements for weddings - and weddings only. The arrangements include bouquets, arches, corsages, and mantel decor as stunning focal points for weddings of any budget.
Once when I was on an extended road trip, I was desperate to get pretty, so I walked into a Hair Cuttery - sight unseen - and got a $20.00 haircut. Everything turned out ok if you can believe it! We're not going to gamble like that with you. Instead, you can contact Sarina Durden Beauty for a consultation. Here, you can get airbrush makeup, lashes, hair, and spray tanning for your wedding day.
Mane Event Artistry is also one you can have in your pretty corner. Providing on-site hair and make-up, Mane Event specializes in braids, up-dos, and textured styling, striving to bring red carpet worthy looks to everyday women. Good for the bride and the whole bridal party!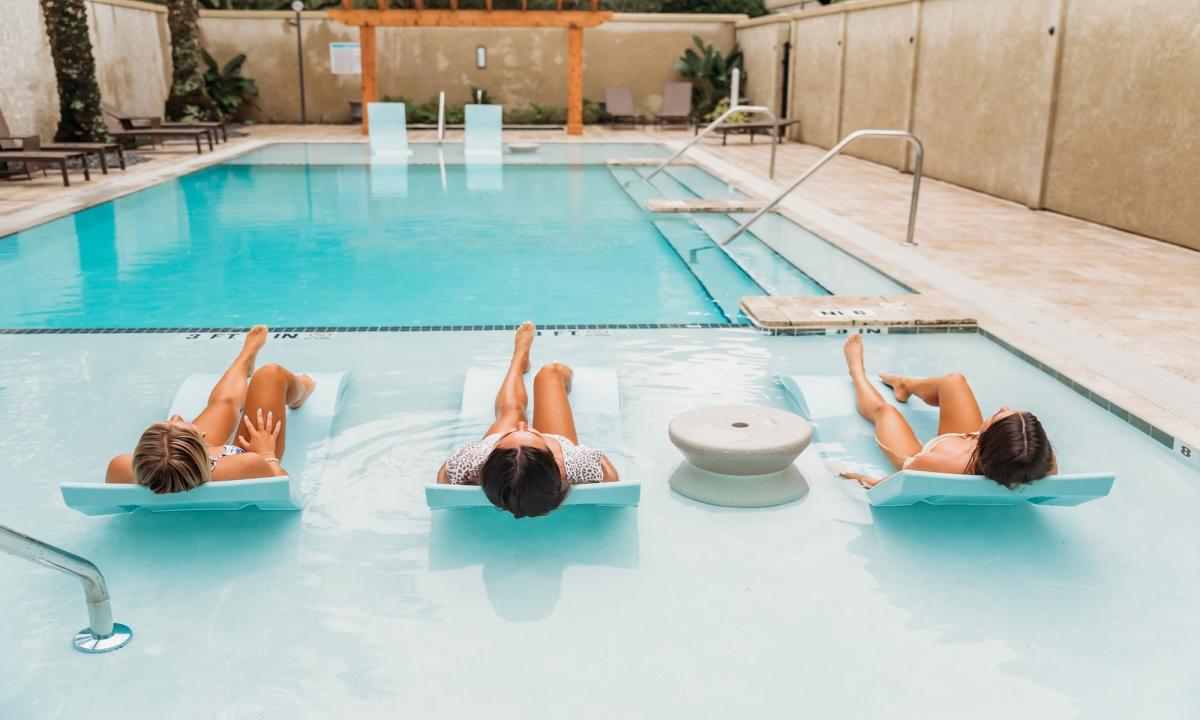 A bridal party relaxes -- before the wedding day arrives -- at Circles of Wellness Day Spa.
If your soon-to-be-in-laws are stressing you out, be sure to schedule a spa day before the wedding. Take your whole bridal party over to the private dining suite at Circles of Wellness Day Spa in World Golf Village, have lunch, and indulge in facials and massages while also getting spa, body, skin care, and waxing treatments. You can also enjoy the infrared saunas, pools, hot tubs, gym, and circular lounge. And don't forget the manis and pedis!
If you didn't BYO officiant, or plan to use one affiliated with one of the historic places of worship, you're going to have to get an officiant to make things official! Beth Hurewitz, owner of Promise Weddings, is the winner of Wedding Wire's 2016, 2017, and 2018 Couple's Choice Award. Promise Weddings offers guests all varieties of ceremonies including spiritual/religious, non-denominational, same sex, as well as secular.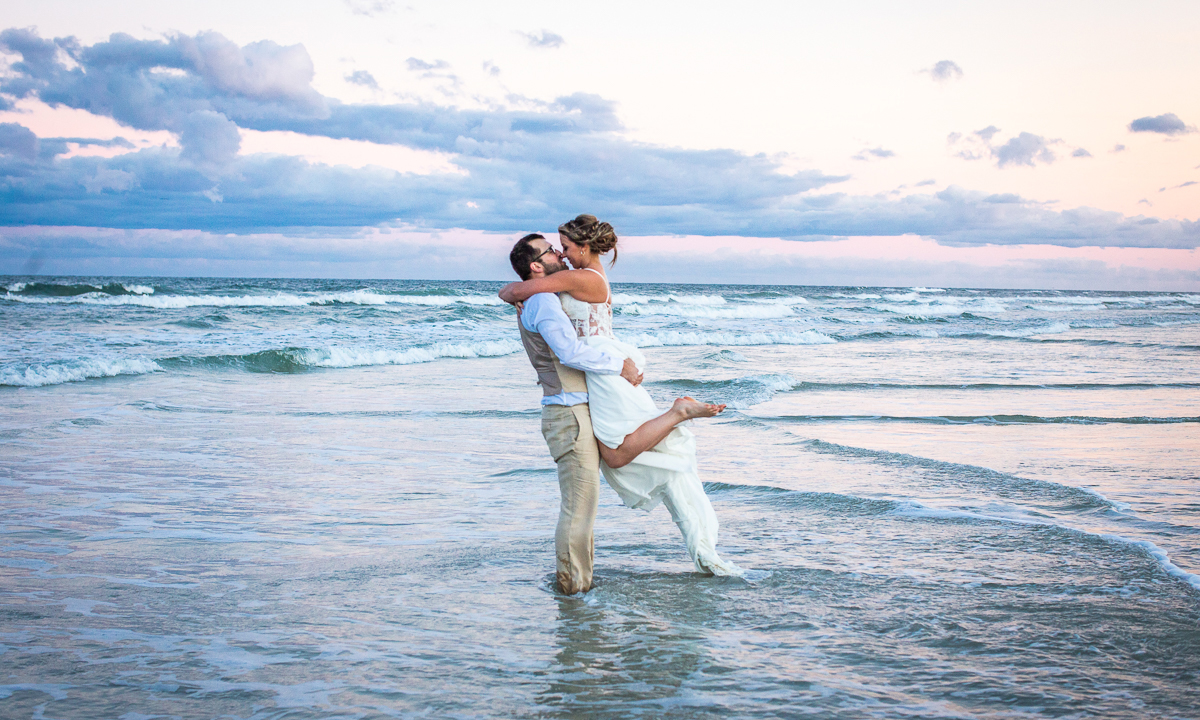 A couple celebrates on Vilano Beach in St. Augsutine - photo by A Sun and Sea Beach Wedding.
Officiant Lynn Baker with Wedding Officiants of St. Augustine is a former teacher. She puts her heart and soul into bringing couples together with her non-denominational wedding service.
John Reardon, from My Custom Wedding Ceremony, gets rave reviews from happy couples. He focuses on personalizing weddings and is available to suggest photographers, venues, and other event producers in the area. 
(Or, feel free to contact me - I lead the improv community in St. Augustine and am happy to do a fully improvised, unofficial wedding!)
At my second wedding, my then-husband had his brother, a professional photographer, shoot the day's activities. I cried when I got the photos as his approach was to capture the moment - spontaneously. I, however, needed posed shots that would showcase me in the best - and thinnest - light. Bottom line, photographers matter!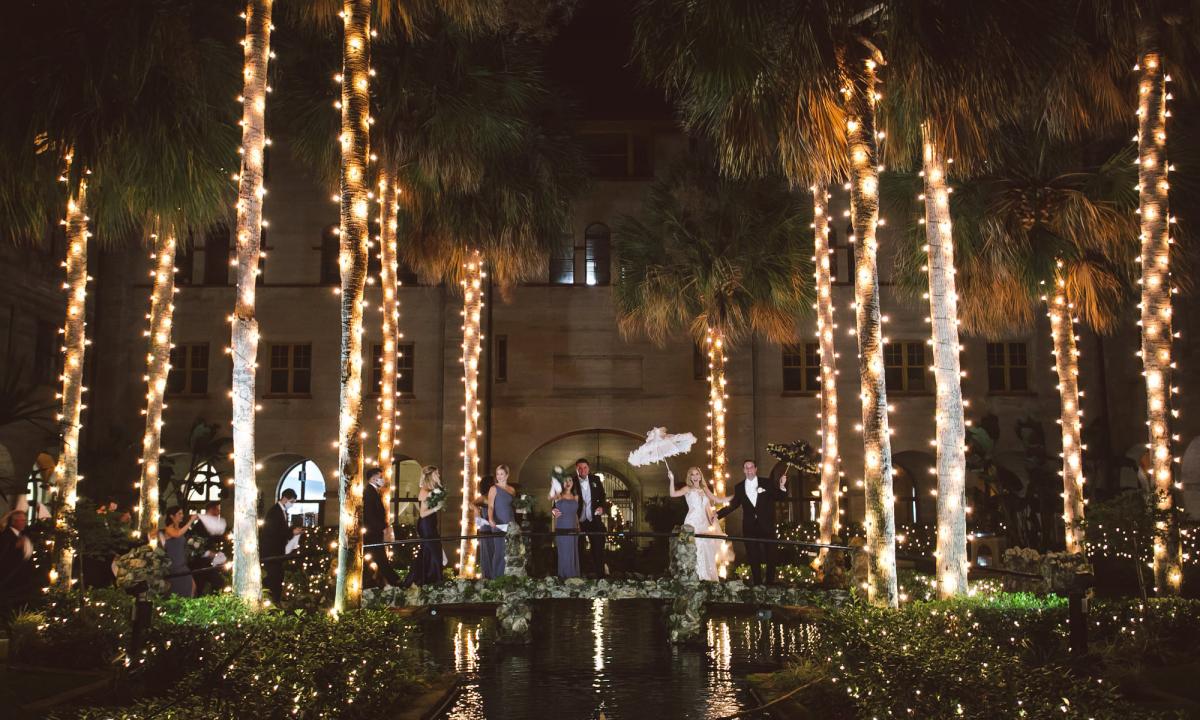 Ashley Steeby Photography captures a nighttime wedding at the Lightener Museum.
Ashley Steeby Photography, a husband-and-wife team based out of St. Augustine Beach, make wedding portraits that become heirlooms. And they are married! Ok so I already mentioned that. The point is that they get what a stressful day can do to a couple, so they are more than ready, willing, and able to calm your nerves and get you into your best couple-y pose.
Since graduating from St. Augustine's Flagler College, Troy McClenathan - of Troy McClenathan Photography - has photographed more than 100 Florida weddings. He's also been published in the New York Times(!) You could have your wedding photographed by a New York Times photographer(!) - enough said.
Want to really have some fun with your photos? Chic Booth hosts photo booths, GIF booths, and video booths as well as green screens and ball pits. A variety of experiences are available including a selfie bar, a tin can (vintage trailer) lounge, virtual photos, slow mo booths, 3D boomerangs, and 360 video booths. Multiple props, backdrops, and print templates are available as well as custom orders and requests. Be sure not to order too many of their services as no one will be left on the dance floor as they'll all be in line at the booths!
Let's face it, the thing everyone will remember about your wedding, besides the music, is the food and the drinks. People still talk about this aspect of my post-elopement wedding party even though my first ex-husband and I now live 1,700 hundred miles away from each other.
The Little Bar Company is an adorable mobile bar in a vintage camper. If your guests are waiting for a pour of your specialty cocktail, they'll have something to "ooooh" and "aaaah" about while they wait.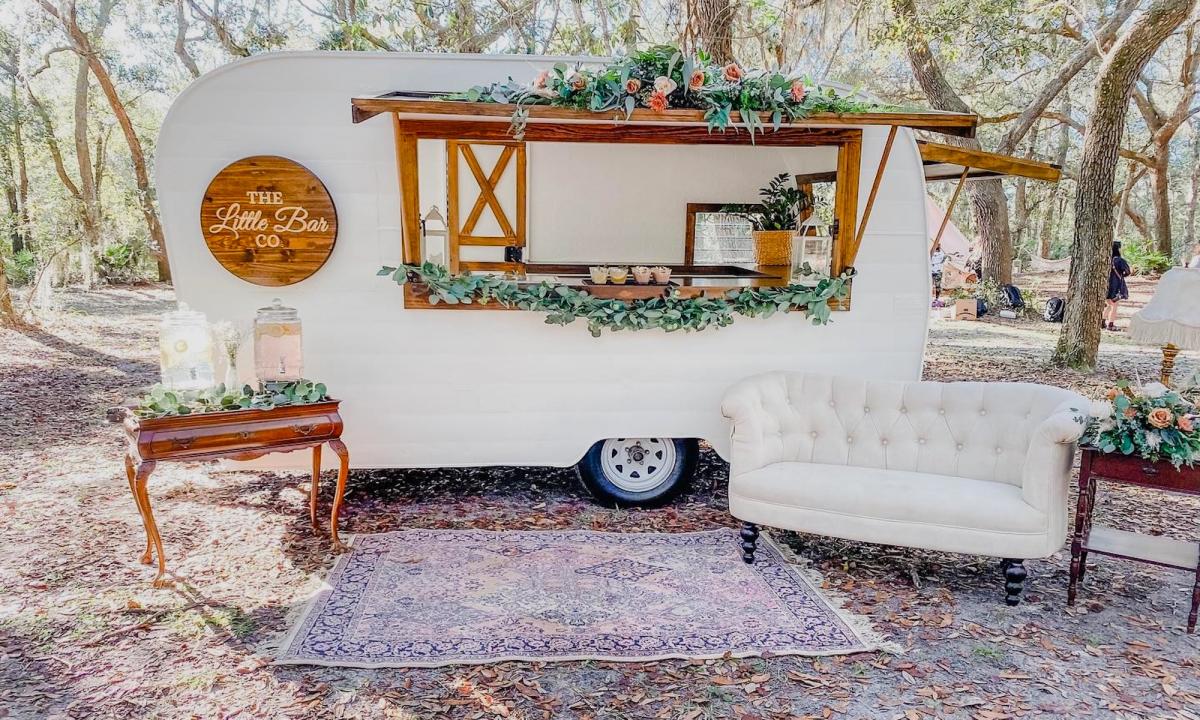 The Little Bar Co. brings their wedding cocktails to you in an adorable vintage camper.
If your wedding has a tropical theme, consider Ancient City Bartending Co.'s Tropical and Seasonal or Caribbean and Craft bartending packages. Oh hell, get both! 
Want to have a real - and local -- southern wedding? Serving oysters, clam bakes, local blue crab, snow crab, crawfish and other southern seafood boils, Get Shuckin' is committed to providing natural options served with locally sourced ingredients. The Get Shuckin' team supports local conservation by donating all the shells to create natural marine habitats that protect against erosion. Other items on the menu are sourced from local businesses who share the same values.
If you want your food to have an even more southern flair - think South America style cooking! Acclaimed local chef, Matt Brown, and Asador, Nick Carrera, create special meals for weddings using a catering trailer with a live-fire grill. Leña hosts this unique dining experience known as the Urban Asado where every course is cooked over a live fire.
If you prefer a more Spanish flair, Real Paella prepares large authentic Valencia-style paellas, and other traditional dishes from Spain, for weddings. Rumor has it they can cook for up to 1,000 people in 2.5 hours!
Music can make or break a wedding. After I eloped (first wedding), my father threw us a party at the local Italian hall. The food was amazing as was the entertainment since my then-husband worked in the live music business. One fantastic band after another played that day and no one wanted to go home - we were finally kicked out. We were more than merry (on that day).
If you want a musical journey through the Caribbean and Latin America, you must book JAX English Salsa Band. If you want a more romantic flair with a Spanish twist, Dennis Fermin Spanish Guitar offers several options for all kinds of weddings: a solo performance for background music in a romantic atmosphere; a duo performance with two guitarists; and a trio band with two guitarists and a hand percussionist which encourages dancing.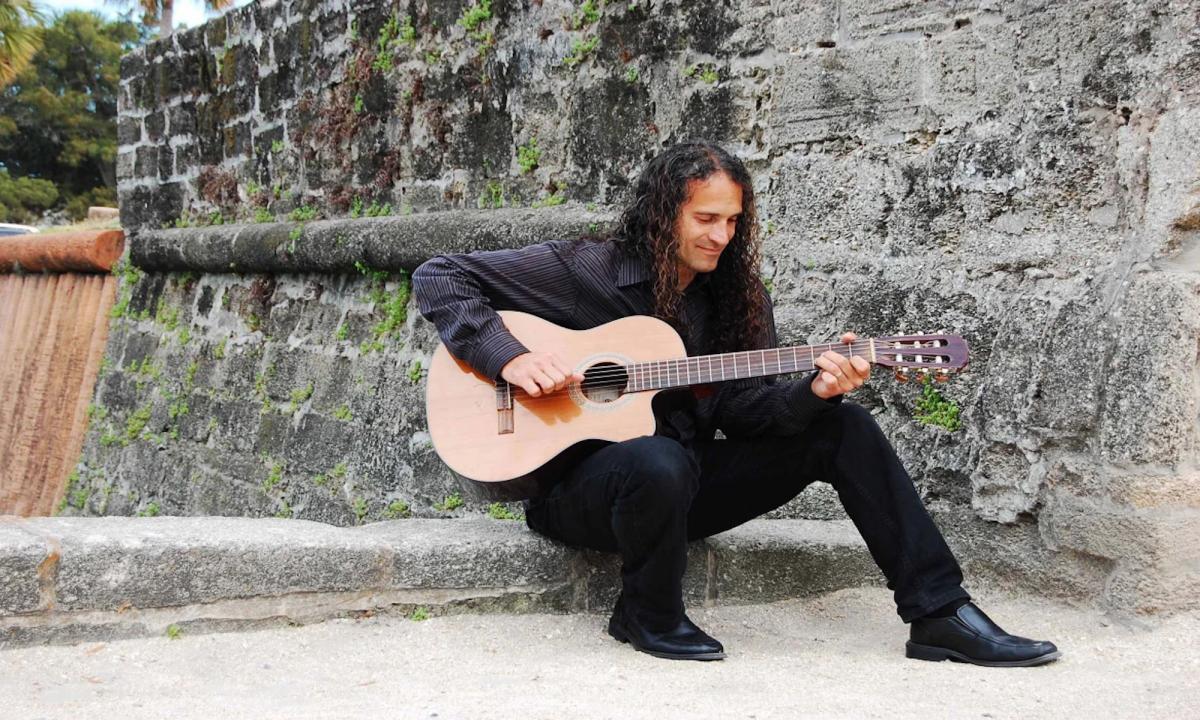 Dennis Fermin - and his Spanish guitar - is a popular wedding choice in St. Augustine as the music celebrates the town's Spanish heritage.
Local cover band, Chillula, is best known for their unique and fun twist on songs we all know and love. Their full six-member band consists of guitar/vocals, drums, bass, keyboard/vocals, saxophone, and their own DJ so when they go on break, the music doesn't.
Award-winning local band, Ramona, is fully customizable, meaning they can arrange themselves to suit your preferences and the different aspects of your day. From solo jazz guitar to Gatsby-era themed cocktail hours with a duo or trio, to a seven-piece full band that plays hip-hop, rhythm and blues, funk, pop, rock, and soul, they got you covered.
Perhaps one of the most iconic features of your wedding day will be cake. Scratch kitchen, ChocoLattes, creates wedding cakes, dessert cakes, and special for-grooms-only cakes. They are certain that their cake designs will be the sweetest part of your day! (I will second this as it's one of my favorite places to eat dessert.)
With a five-star rating across the "interwebs" (and at my house), the talent at Crème de la Cocoa will be the talk of your celebration. Their flair for beauty, style, and taste will have you reluctant to cut in, but glad you did when you see the looks on the guests' faces after taking a bite.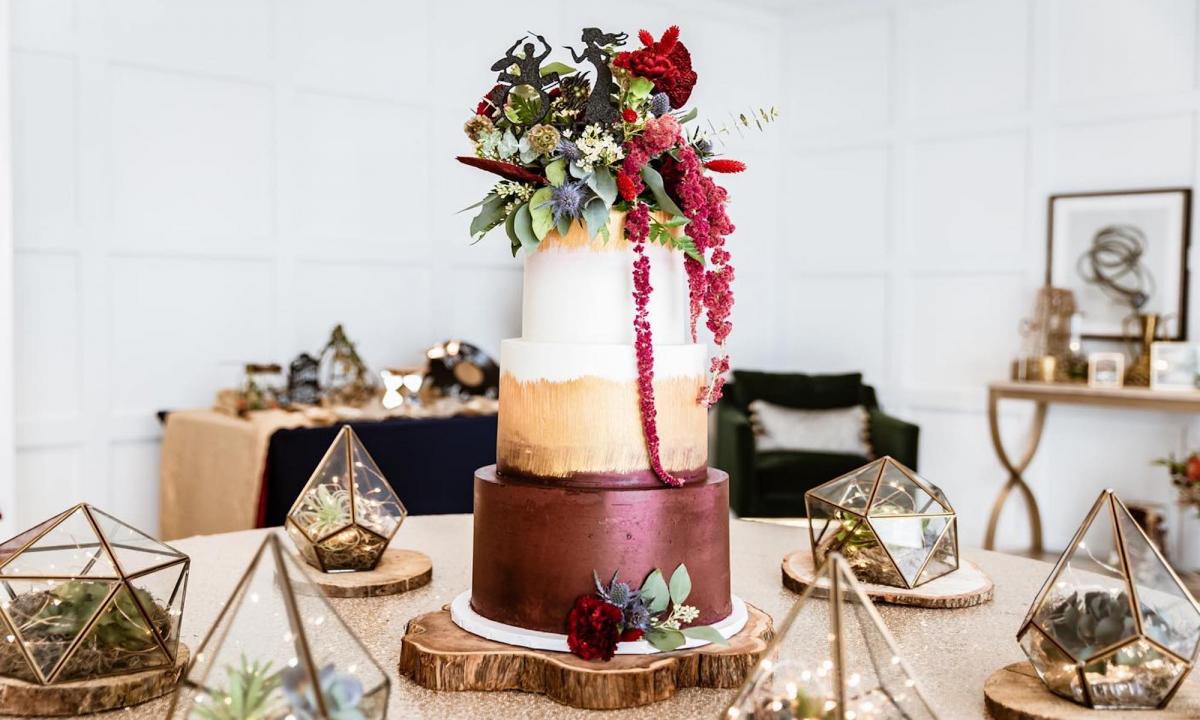 Crème de la Cocoa makes magic - that tastes amazing - with their themed wedding cakes.
For something completely different, consider a donut bar from Itty Bitty Donuts Florida -- your "hole" wedding party will love it! Run by a local Northeast Florida family, Itty Bitty Donuts Florida serves up hot, made-to-order mini donuts and offers a variety of specialty sugars as well as an assortment of unique - and fun - toppings.
Now that the wedding is over (Amen!), you can get to the good part - the honeymoon! If you decide to stay in St. Augustine, there are plenty of romantic places to serve as a home base for your honeymoon.
Bayfront Westcott House, on St. Augustine's historic bayfront, is a 16-room, full-service romantic bed and breakfast. Every room has a private entrance, and most rooms have a Jacuzzi tub, electric fireplace, and outdoor sitting area. TripAdvisor Reader Reviews have rated the Bayfront Wescott House as the #1 B & B in the U.S. And did I mention the decadent breakfast?
The Collector Luxury Inn, a few blocks west of the bayfront, is on the edge of the historic Lincolnville neighborhood. This charming adults-only inn was once the home of the Dow Museum of Historic Houses, and now this one-acre site has been transformed into a beautiful, modern inn with luxury amenities, while carefully maintaining the centuries-old history and architecture. The property includes a heated pool, private bar, multiple courtyard seating areas, a fire pit, and "The Well" -- a snug bar (with delicious hand-crafted cocktails) for inn patrons only. USA Today named it one of the "Top 10 Best New Hotels in America."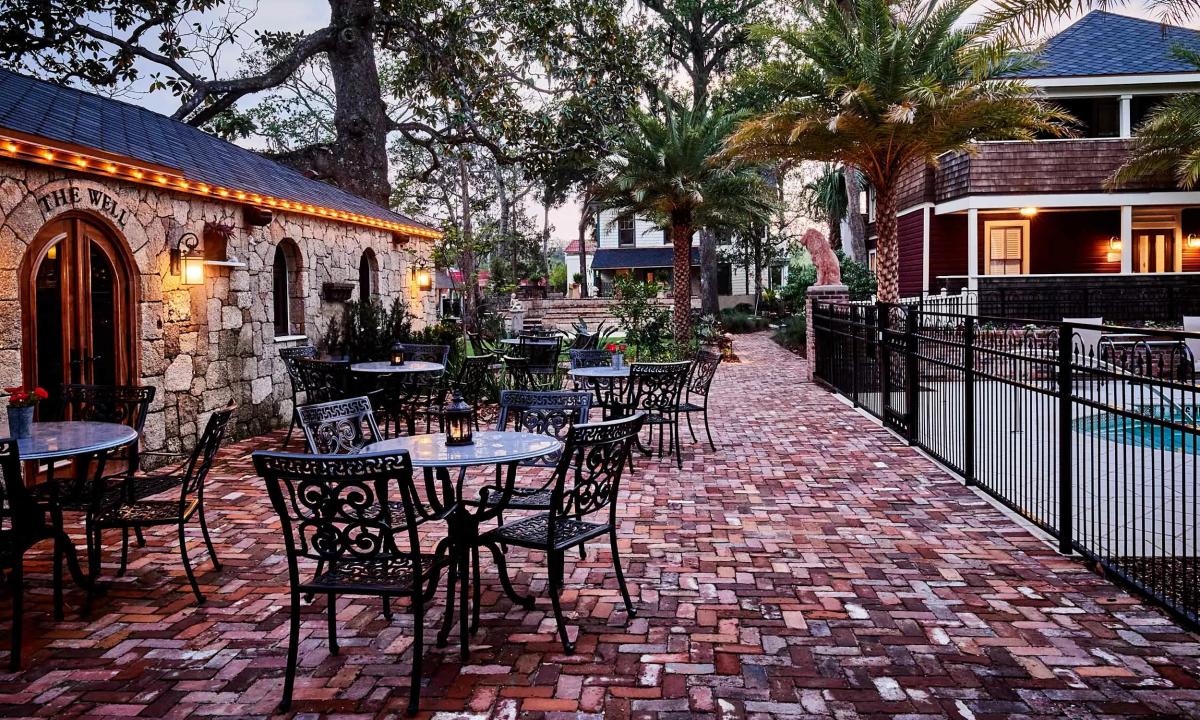 The Collector Luxury Inn is just one of the many perfect spots for a honeymoon in St. Augustine.
St Augustine's Beachfront Bed and Breakfast was selected as "One of the 14 Most Romantic Places in the U.S. and Canada by AAA inspectors. This romantic getaway for adults 25 and older, offers eight rooms, all with a private bath, and is situated on a property that includes landscaped gardens, a heated pool, and a Jacuzzi. Each morning, guests are served full breakfasts in the Beach House dining room. In addition to the charming rooms, guests enjoy direct access to St. Augustine Beach, the pool area, and the second-floor great room and verandah — where early birds are greeted by spectacular sunrises.
P.S. A word of warning from someone who's suffered through a honeymoon with a sprained ankle, be sure to wear comfortable, and safe, shoes on all of St. Augustine's historic brick streets!