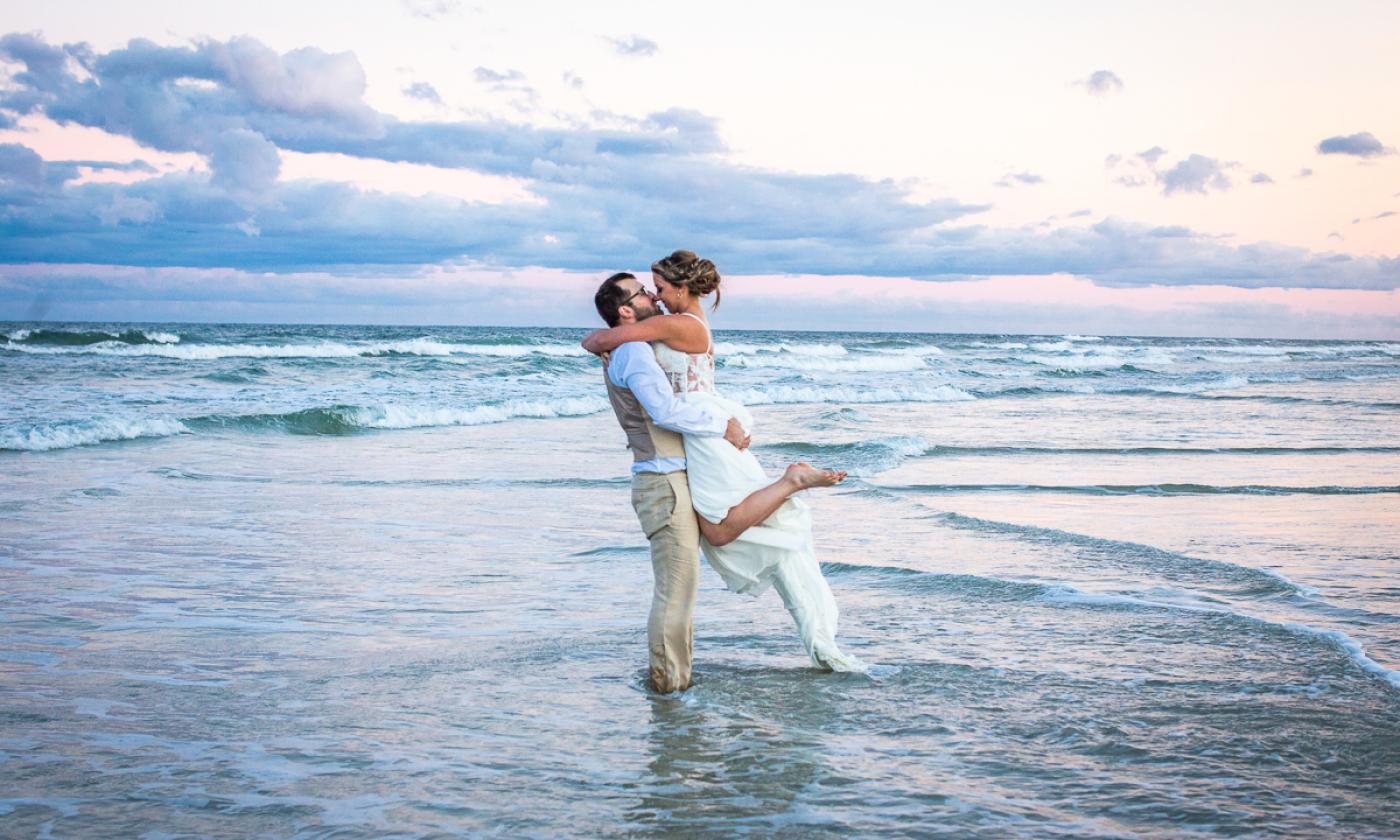 Pick the Perfect Spot for a Beach Wedding
Planning a destination wedding on the beach in St. Augustine.
Do You Take This Sun, Sand and Sea? … I Do!
If you're the kind of bride who likes the feel of sand between her toes better than the pinch of 5-inch strappy sandals, St. Augustine checks all the boxes for the perfect destination beach wedding.
With more than 40 miles of white quartz sand beach, pristine ocean hammock backdrops and an abundance of sunshine, the nature-loving bride and the exotic-tropical-getaway bride will find all they could ask for on their perfect day here.
Because the ocean has been a longtime magnet for brides who want to "do it their way," many local venues, wedding planners and service providers have been in the wedding business for decades. Armed with all that experience, the region's experts are assured to make your day go off without a hitch.
Here's a look at what St. Augustine has to offer for your destination wedding and some tips for avoiding wedding-day disasters.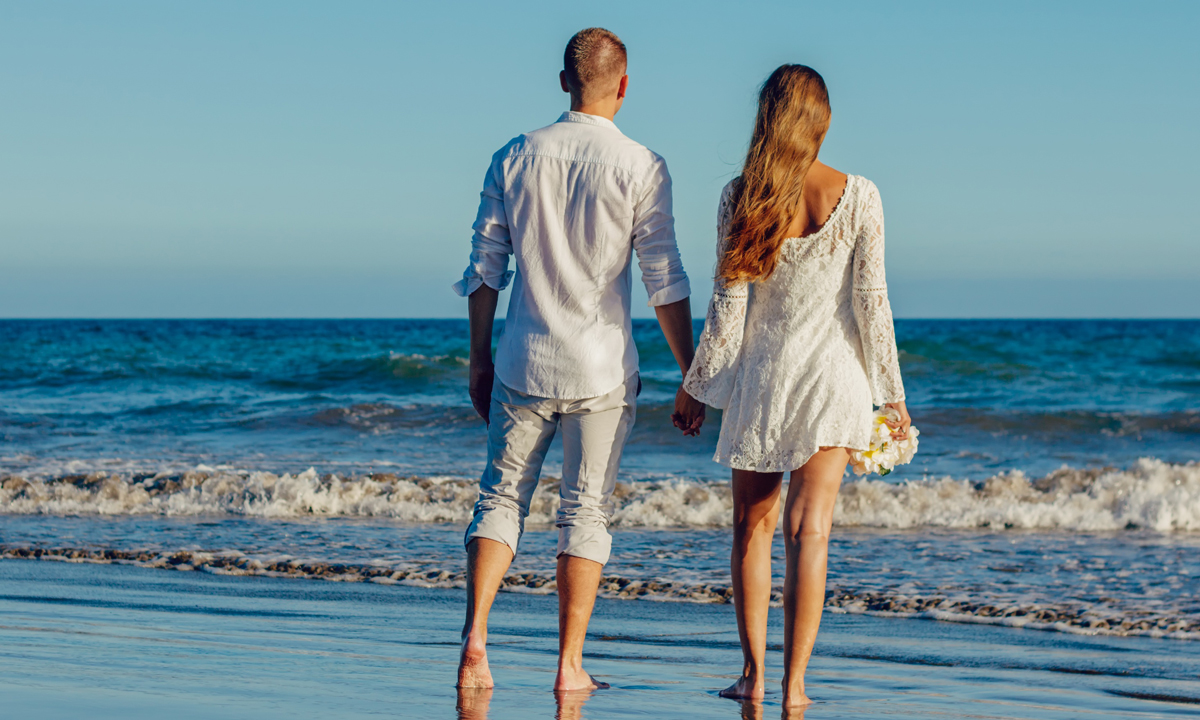 Photo by  Adam Kontor on Pixabay
Picture-Perfect Locations for Your Beach Wedding
Anastasia State Park
Minutes from downtown St. Augustine, Anastasia State Park is a state-owned and maintained property. With four miles of pristine beach and stunning views of sand dunes and the Atlantic Ocean, Anastasia State Park's native Florida hammocks provide a natural backdrop for your wedding-day photos. If an outdoor reception appeals, the park maintains several pavilions you can rent.
Sea Turtle Pavilion: Close to the ocean and near a lifeguarded beach. Includes water and electric services. $100 per day. Maximum occupancy 130.
Watersports Picnic Pavilion Located on the banks of Salt Run and the Anastasia Watersports launch. Includes water and electric service. $100 per day. Maximum occupancy 35.
Gazebo: Nestled in the foliage of a native Florida hammock. No electricity. $75 per day. Maximum occupancy 30.
Location: 300 Anastasia Park Road, St. Augustine. For more information, go here.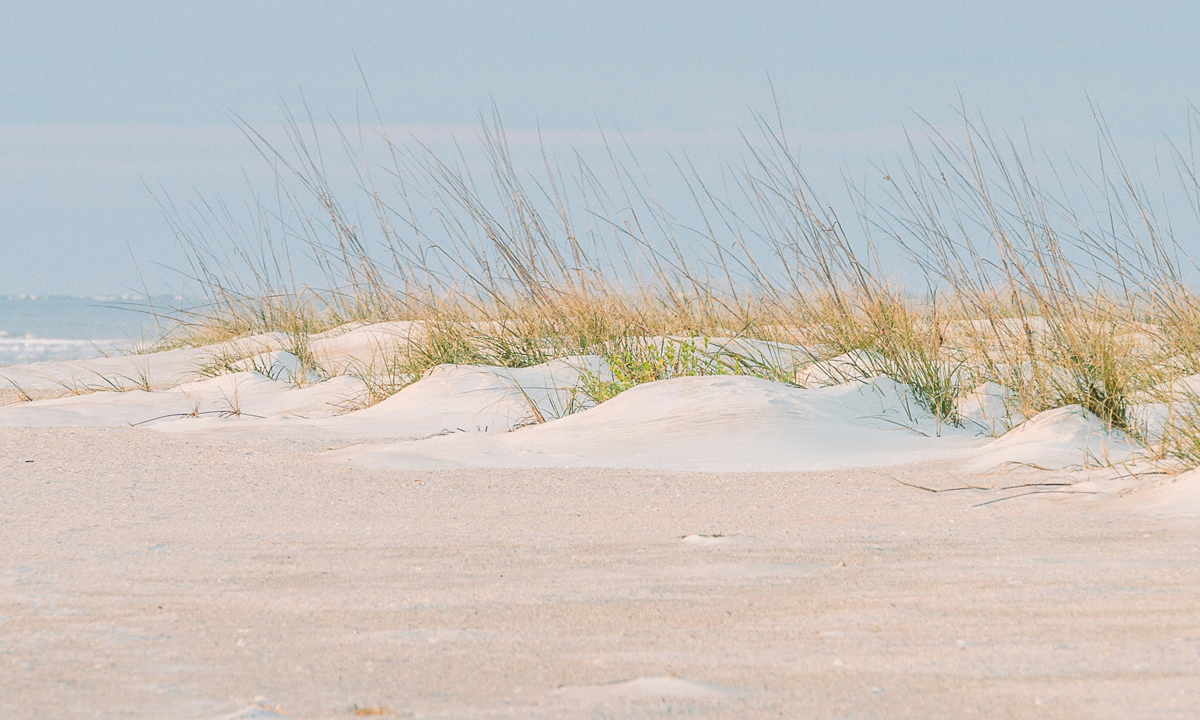 Photo: Anastasia State Park Photographer: Bruce Len
Butler Beach
A historic beach south of St. Augustine on A1A, Butler Beach is secluded enough to be romantic, yet equipped with modern conveniences. Wide stretches of white sand beach leaves room for as many guests as you like, and stunning views of the Atlantic Ocean make a nautical backdrop for your wedding-day photos. On-site restrooms provide privacy for last-minute primping, and built-in barbecue grills and picnic pavilions make your casual outdoor reception a breeze.
Location: 5860 A1A South, St. Augustine. For more information, go here.
Guana Tolomato Matanzas (GTM) Research Reserve
North of Vilano Beach on Coastal Highway A1A, the GTM Research Reserve is charged with maintaining the natural estuarine landscape in South Ponte Vedra Beach. The reserve has three beach access points: GTM North, GTM Middle and GTM South. Parking lots are located on the west side of A1A at each access point, and crossovers to the beach are meticulously maintained. Weddings at these pristine beaches are intimate, secluded and romantic since few people outside of locals know they exist. As a bonus, some of the best restaurants in St. Johns County are located within minutes of these beaches and can accommodate small to mid-size wedding parties including Reef Restaurant and Aunt Kate's at North Beach and Pussers at Ponte Vedra Beach.
Location: 505 Guana River Road #6527, Ponte Vedra Beach. For more information, go here.
River-to-Sea Preserve
Just 15 miles south of St. Augustine near Marineland, the River-to-Sea Preserve is a 90-acre stretch of protected land between the Matanzas River and the Atlantic Ocean. Walking trails, picnic areas and unobstructed views of sand dunes and sea grass make this cozy, secluded area perfect for an intimate wedding. Natural and manmade rock formations and jetties also provide an interesting backdrop for your wedding photo gallery.
Location: 9805 N. Ocean Shore Blvd., Palm Coast. For more information, go here.
St. Augustine Beach
The most populated beach in the region, St. Augustine Beach has a long stretch of white quartz sand beach. Plus, the St. Johns County Pier looks rustic chic in wedding photos. If your wedding party is family-friendly, the on-site splash park and playground will be popular with the kids. If fun in the sun is on the reception agenda, the pier pavilion holds 200 and rents for $450 per day for non-residents. Other on-site facilities include restrooms, showers, picnic tables and a visitor center. The beach is staffed with lifeguards in the summer season — from Memorial Day to Labor Day.
Location: 350 A1A Beach Blvd., St. Augustine Beach. For more information, go here.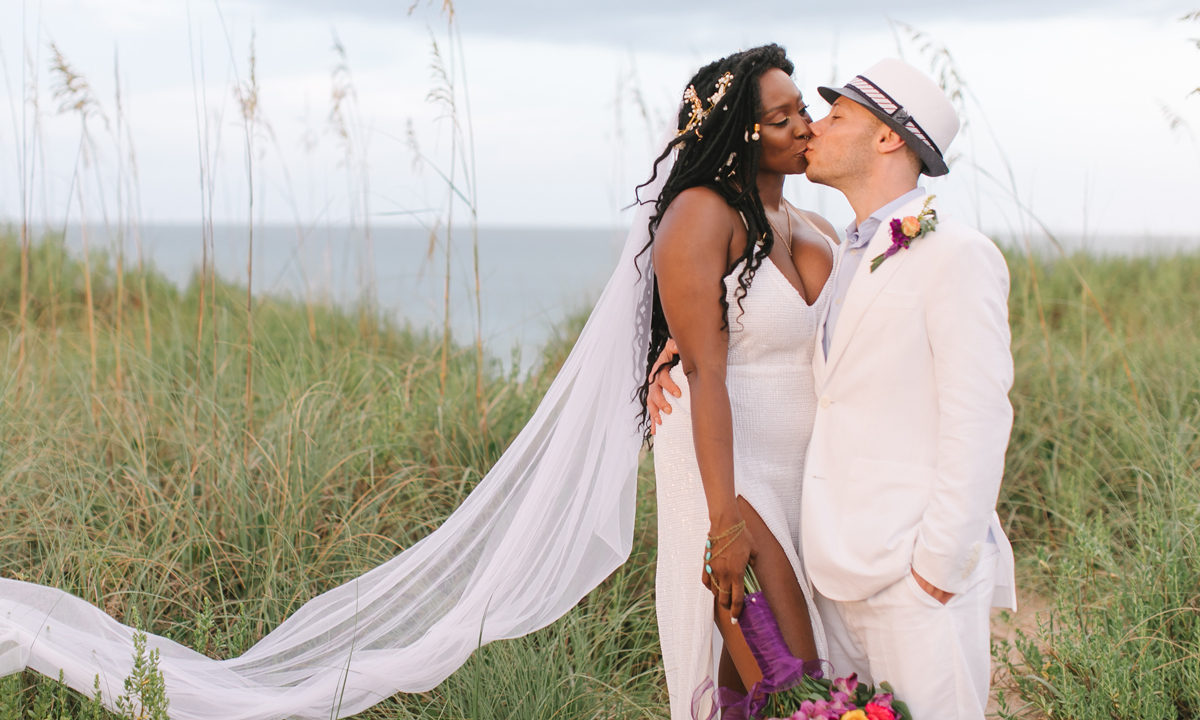 Photo courtesy of Bayfront Marin House Weddings. Photographer: Ashley Steeby.
Vilano Beach
The retro mint-green beach pavilion at Vilano Beach screams strapless, skirted swimdresses and high-waisted bikinis. A popular beach for horseback riding, the "Old Florida" 1950s vibe of this casual beach still offers stunning views of the Atlantic Ocean. For additional wedding photos head to the town center and the pier, both of which have charming Art Deco features. The pavilion is available to rent at $53 for four hours. Facilities include restrooms, showers and a dune walkover. The beach is staffed with lifeguards in the summer season.
Location: Vilano Road, St. Augustine. For more information, go here.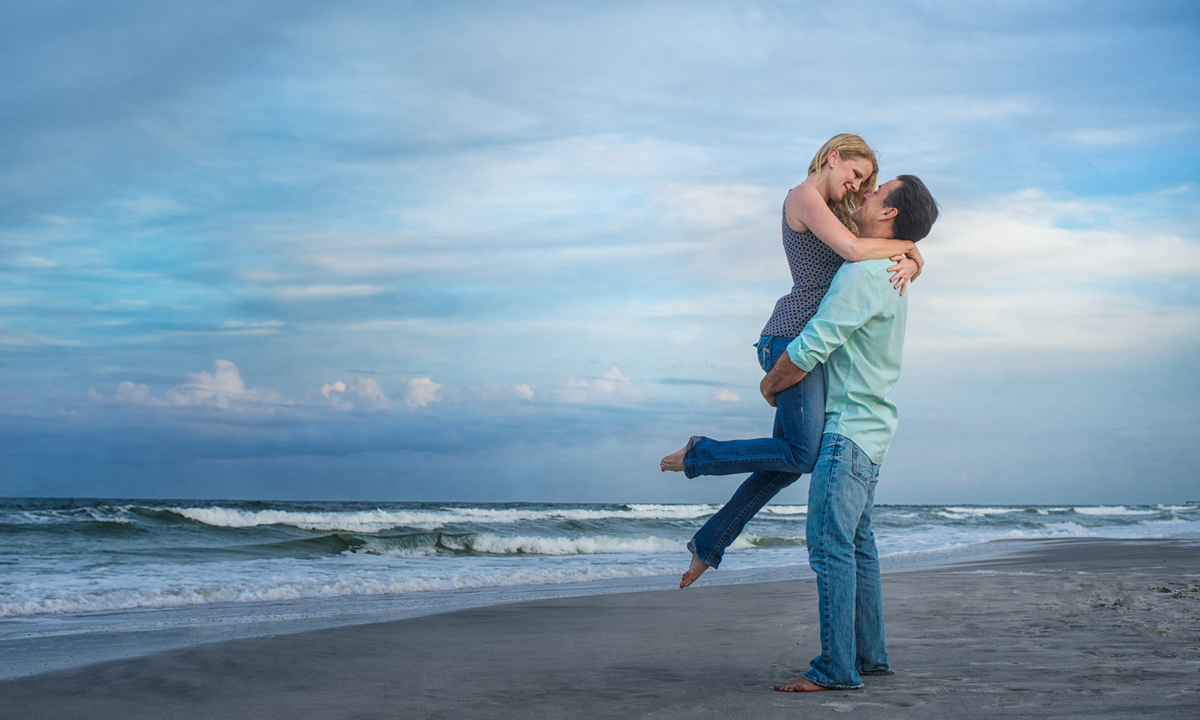 Photo by Photographer Rob  Futrell
Built-In Honeymoons in St. Augustine
Since St. Augustine is a well-known tourist destination, attracting more than six million visitors each year, the community has a plethora of hotels, bed-and-breakfast inns, and short-term condo rentals to accommodate your whole wedding party. Once the wedding's over, though, you can send the guests home and enjoy an idyllic honeymoon right here. For a little romance, couples enjoy lazy days at the beach, afternoons getting couple's massages and evenings walking hand-in-hand down St. George Street.
St. Augustine is more than just another subtropical paradise, however. The region is rich in history and bursting as a vibrant cultural community. With literally dozens of local attractions, a tasty international cuisine scene and plenty of outdoor recreation, the built-in honeymoon is one of the many reasons couples choose St. Augustine for their destination wedding.
The Total Package for Your Destination Wedding
About 70 percent of weddings on St. Augustine beaches are destination weddings, with couples coming from all over the country and around the world to tie the knot right here. Planning a wedding anywhere can be time-consuming and confusing, but when you're traveling to an exotic locale for your nuptials, there are even more things to consider. One option that out-of-town couples find appealing is a venue that can accommodate the wedding and reception. If they can accommodate guests too? Even better.
The following hotels, condos and resorts are on the beach (or very close) and offer special pricing for reception space rentals. Some include rooms for overnight guests and can offer block room rates. Because they are popular event spaces, most will have professionals who can help with wedding arrangements as well.
Budget-Friendly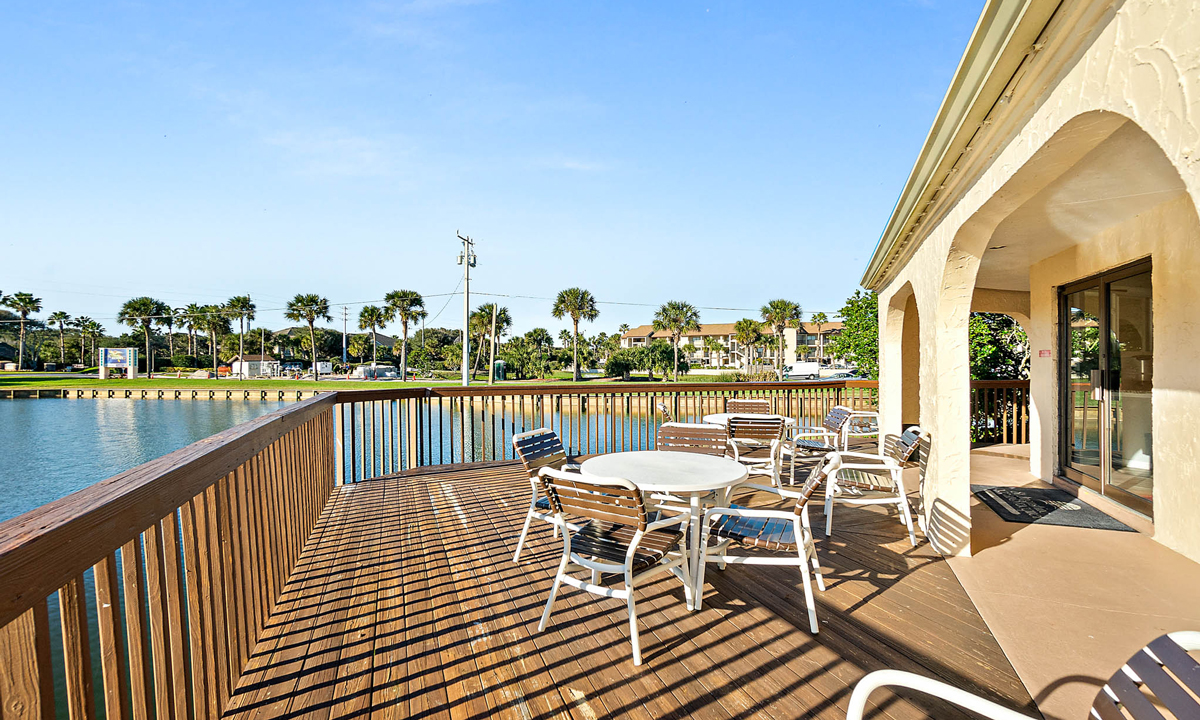 Photo:  The Clubhouse Deck at Ocean & Raquet Resort in St. Augustine
St. Augustine Ocean & Racquet Resort
Fronting an expansive sandy beach overlooking the Atlantic Ocean, St. Augustine Ocean & Racquet Resort offers reasonable nightly rates and plenty of on-property amenities. Each individually owned condo has two bedrooms and two full baths, plus a fully stocked kitchen with everything needed to cook and an in-room washer/dryer. Some condos have minimum-stay requirements. On-site amenities include two pools, five hot tubs, two beach walkovers, four tennis courts, pickleball, fishing ponds, a grill area, a bocce ball court and shuffleboard. The clubhouse is available to rent for weddings and receptions.
Location: 880 A1A Beach Blvd. Cost: $125 to $178 Nightly Condo Rate. For more information go here.
Guy Harvey Resort
From beachside decorations to overnight accommodations, Guy Harvey Resort offers everything you need for a fabulous beach wedding. The property's ocean-themed Nautical Room accommodates up to 150 guests, but the outdoor pool deck and tiki bar is also a popular spot for wedding receptions. Bonus: The resort offers complimentary transportation to and from St. Augustine's historic downtown via the Old Town Trolley Beach Bus.
Location: 860 A1A Beach Blvd., St. Augustine Beach. Cost: $150 to $200 Nightly Room Rate. For more information, go here.
Bayfront Marin House - Cottages at Vilano
This bed and breakfast is located in St. Augustine's Historic Downtown, but they have vacation properties on Vilano Beach and are able to offer beach weddings for two to 20 people. Couples can decide to hold their reception near the beach or travel back to town for a reception at their historic bed and breakfast overlooking the bayfront.
Location: 10 Beachcomber Way, St. Augustine, Florida. Cost: Generally, $300.00 for either a room at the bed and breakfast or a night at one of the cottages. For more information, go here.
Luxury
Embassy Suites
An oceanfront hotel just steps from the sand, Embassy Suites is located on St. Augustine Beach next to the St. Johns County Ocean Pier. Offering all the amenities of a luxury hotel, the property has 11 meeting rooms, so you're sure to find a right-size reception space. An on-site Starbucks serves up eye-opening caffeinated favorites, and your wedding guests can greet the day with free made-to-order breakfast taken poolside with stunning views of the Atlantic Ocean.
Location: 300 A1A Beach Blvd., St. Augustine Beach. Cost: $250 to $400 Nightly Room Rates. For more information, go here.
Serenata Beach Club
Since the beach club is in secluded South Ponte Vedra Beach, you'll feel like you're hosting a wedding on your own private beach. A romantic setting with everything except overnight accommodations, the Serenata Beach Club adds a touch of elegance to your coastal nuptials. Hotel accommodations are just 7 minutes away in Vilano Beach or 15 minutes away in downtown St. Augustine or the Sawgrass Village in Ponte Vedra Beach. An on-site certified wedding planner can help with outside vendors such as photographers, cake decorators and flowers, and the on-site chef will make food for your reception a breeze. The property, which prides itself on hosting only one wedding per day, has on-site event space that holds up to 160 and overlooks the Atlantic Ocean. Serenata Beach Club is a pet-friendly facility, so it's OK if you want your dog to be your best man.
Location: 3175 S. Ponte Vedra Beach Blvd., Ponte Vedra Beach. Cost: $5,000 minimum. Average price is $100 to $120 per guest. For more information, go here.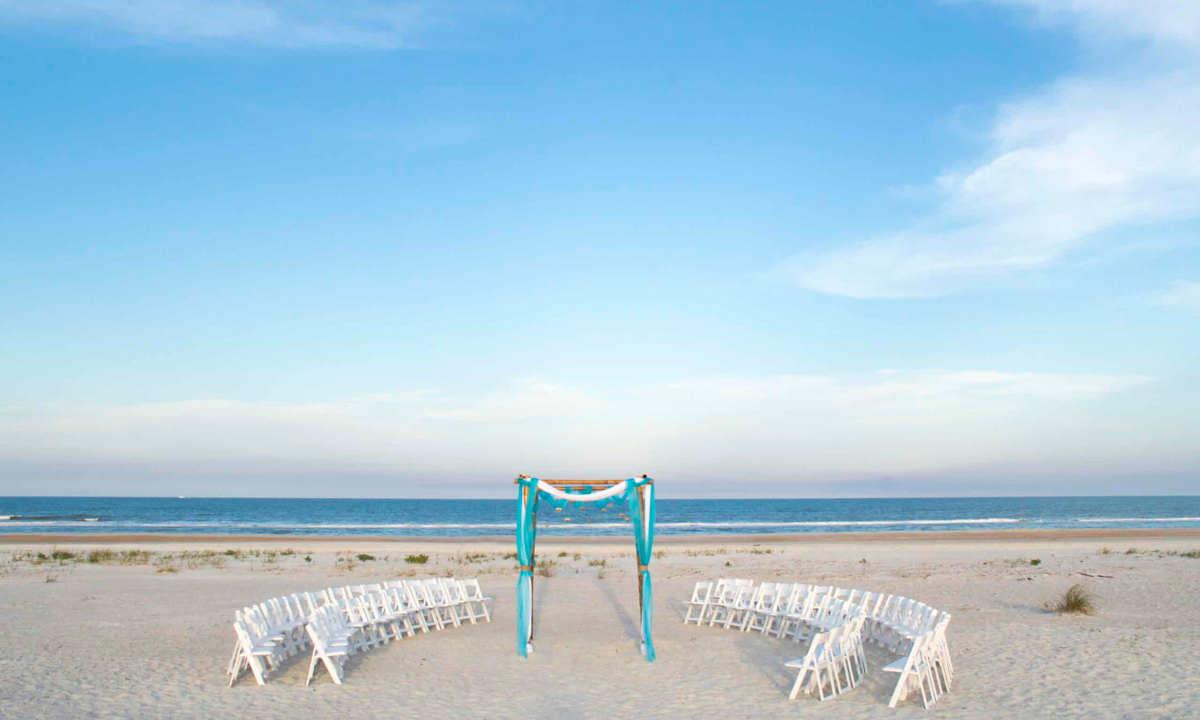 Photo from Guy Harvey Resort in St. Augustine
Seaside Reception Spots for Your Beach Wedding
Wherever you tie the knot on a St. Johns County beach, you're no more than 15 minutes away from a venue that specializes in wedding receptions. Though you're spoiled for choice, these locations are a stone's throw from the beach, which makes getting to the reception quick and easy. 
The Reef
A classic seafood restaurant, The Reef offers stunning views of the Atlantic Ocean. One of the few restaurants in St. Johns County that sits directly on the ocean, The Reef has three semi-private areas available to rent for your reception and a fully private upstairs banquet facility that can accommodate up to 80 guests. The Ocean's Edge (upstairs) offers a direct view of the ocean from each area and includes two private balconies, an outdoor bar and a dance floor. 
Location: 4100 Coastal Highway, St. Augustine. Near the GTM Research Reserve and Vilano Beach. Cost: Entrees are $25 to $35. For more information, go here.
Aunt Kate's
Situated in a grove of live oaks on the banks of the Tolomato River, Aunt Kate's is rustic chic with breathtaking sunsets over the Intracoastal Waterway. Offering local seafood and classic Minorcan dishes for more than 100 years, the restaurant is a favorite among locals. Minutes from the GTM Research Reserve and Vilano Beach, Aunt Kate's provides private space for up to 120 people in its banquet facility. 
Location: 612 Euclid Ave., St. Augustine, FL 32084 Cost: $300 to $400 Banquet Room Rental; Entrees are $25 to $50 per person. For more information, go here.
Milano Room (Amici's)
Located on Anastasia Island minutes from Anastasia State Park and St. Augustine Beach, Amici's has four event rooms to choose from with accommodations for 10 to 150 guests. In addition to classic Italian dishes, owner and executive chef Freddy Underhill likes to experiment with flavor combinations and local, seasonal ingredients.
Location: 1915 A1A S, St Augustine Beach, FL 32080. Cost: Entrees range from $15 to $25. For more information, go here.
Pussers
Just 15 minutes from the GTM Research Reserve and located in the seaside community of Ponte Vedra Beach, Pussers Bar and Grille specializes in fresh local seafood, tasty Caribbean fare and colorful tropical drinks. Private event options include the Rum Room, the Upper Deck, the Lakefront Patio and three dining-room options. The popular event spaces can accommodate between 45 and 150 guests with décor ranging from a colorful tropical vibe to an intimate royal navy setting. 
Location: 816 Highway, A1A N, Ponte Vedra Beach, FL 32082. Cost: $27 a plate, average. For more information, go here.
Conch House
Located on Anastasia Island and the three-mile lagoon Salt Run, the Conch House is just minutes from Anastasia State Park and St. Augustine Beach. An "Old Florida" Caribbean-style resort, Conch House has a marina, grass roof tiki hut dining options and some of the best Conch Chowder in St. Augustine. Three banquet room options are available and accommodate between 30 and 150 guests. The private rooms are individually priced.
Location: 57 Comares Ave, St. Augustine, FL 32080. Cost: Entrees range from $25 to $40. For more information, go here.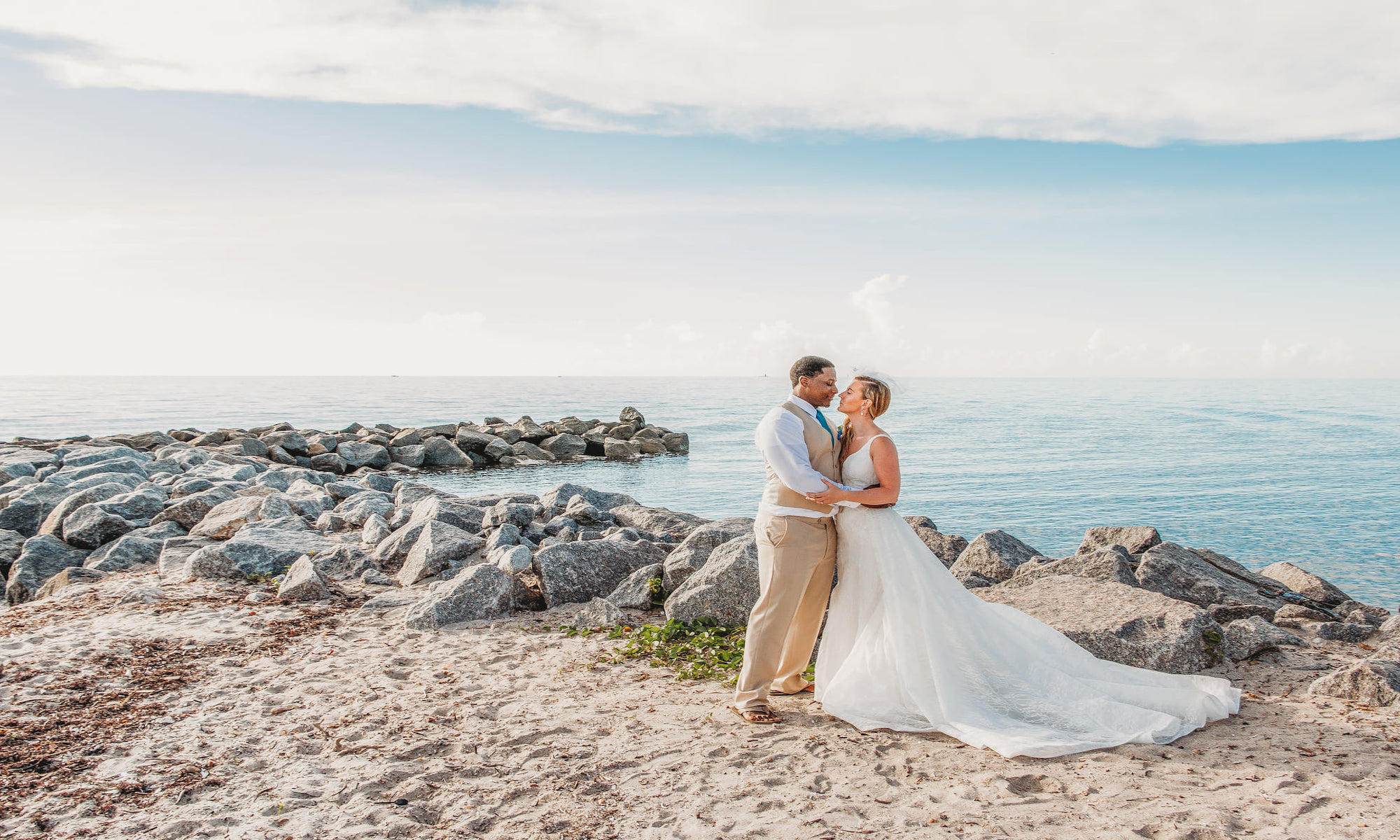 A professional wedding planner can help make you look this good on the beach.
Seasoned Professionals Can Help Plan Your Beach Wedding
Your St. Augustine Beach Wedding
The team from Florida Beach Weddings offers wedding services on St. Augustine Beach for parties of 2 to 100. They provide a range of services, including an on-site coordinator who will officiate the wedding. They offer distinctive styles and decor, a rustic arch, a bamboo canopy, and more. You start with the package that suits your style, and customize it with your choices for your vows, colors, music, and decor.
Cost: Packages start at $1995.00. For more information, go here.
Sun and Sea Beach Weddings
Want to eliminate all the stress of planning your beach wedding? The professionals at Sun and Beach Weddings have been there, done that when it comes to all things wedding from flowers to photography to conch shell-covered tables.Packages start as low as $950 and can include décor, photographer, officiant, seating, flowers and music. Some packages include reception coordination, dinner setup, DJ services and lighting.
Cost: $950 to $13,200. For more information, go here.
The Wedding Authority
Since 1972, The Wedding Authority founders Bill and Carla Young have been helping couples create memorable weddings in St. Augustine.The professional wedding planner's Beach Wedding packages range from $400 to $1,400 and include wedding officiant and consultation with the officiant. Other amenities and services depend on the package purchased but can include a sand blending or unity candle ceremony, wedding chairs and wedding arch.
Cost: $400 to $1,400. For more information, go here.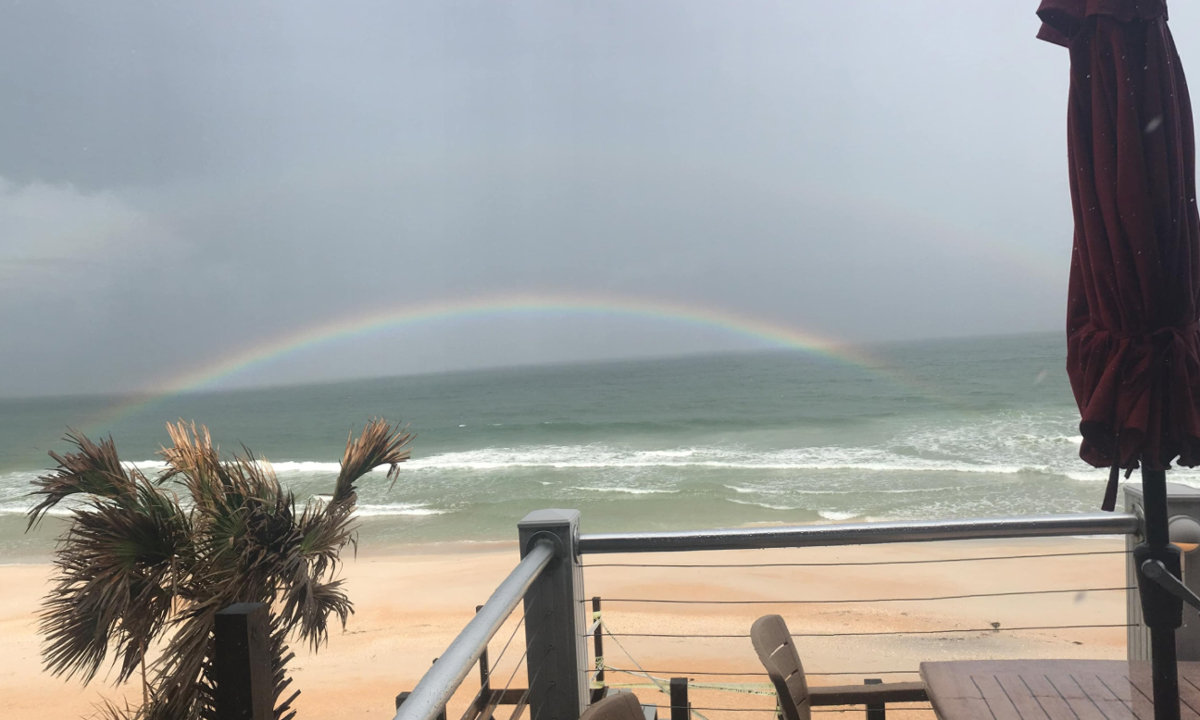 Photo of The Reef Restaurant's back deck, beach, and rainbow.
Insider Tips for Your Destination Wedding in St. Augustine
Weather Permitting
Weather is always a consideration for outdoor weddings, but St. Augustine's average year-round temperatures make planning a beachside ceremony here easier than many locations. Though we can't guarantee beautiful weather on your special day, it's probable you'll choose one of the region's 223 days of sunshine each year.
Rain can put a damper on your special day, but it's not as bad as showing up for your beach wedding and finding no beach! Planning around high and low tides will be essential if you want your wedding to go off without a hitch. Luckily, there are some really smart people out there who know how to predict these things. Your wedding planner should be able to guide you on the right time of day to get married, but if you're a do-it-yourselfer, check out the National Oceanic and Atmospheric Administration website while you're in the planning stages. You'll be glad you did.
Here's a look at the individual seasons and what you should know before planning your destination wedding on St. Augustine's stunning beaches.
Spring
Not too hot and not too cold, springtime is a favorite for our northern friends. While carports are still covered in snow in some regions, here, the Kelly green starts to show in early March. Average daily temperatures are between 70 and 75 degrees, and the blossoming trees and flowers add color and charm to your wedding photos. 
Summer
Characterized as hot and humid, St. Augustine's summers are perfect for die-hard sand-and-surf fans. Wedding attire gets more casual with Caribbean and Polynesian themes being popular choices. At summer weddings, brides and grooms often wear bright, tropical prints, and shorts are not uncommon for the men. Plenty of couples, however, brave the 90-degree average day weather in classic wedding attire. In addition, longer days provide more opportunities to capture photos before the sun sets. 
Fall 
Balmy and beautiful, the weather falls back down to a daily average of 75 to 80 degrees. The beaches are typically less crowded in the fall, but the weather is still warm enough to enjoy long walks on the beach and some of the most stunning sunsets you will ever see. Hurricane season is technically June 1 through November 30, but late August to early October are particularly active months for weeklong rain-producing storms. Though the chances of your wedding plans being dampened by a hurricane are pretty rare, it's wise to have a back-up plan, just in case.  
Winter
For those who don't mind a brisk breeze, winter can be a great time for St. Augustine beach weddings. Off-season hotel discounts are a perk, and average daily temperatures between 55 and 65 degrees mean the bride can wear long sleeves and more fluff. As a bonus, winter is the dry season in Northeast Florida, so the chances of being rained out are slimmer.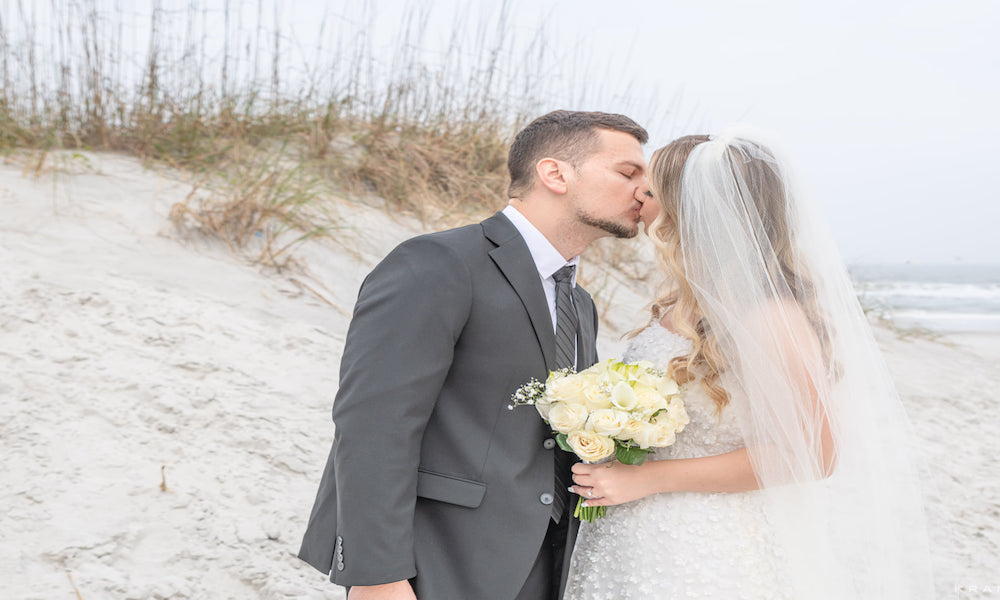 Be sure to look both ways before you kiss!
Look Both Ways 
Driving is permitted on many of St. Augustine's beaches between the hours of 8:00 a.m. and 7:30 p.m. Designated driving lanes are established on each beach, so you'll want to set up well clear of the steady stream of 4x4s the beaches attract on the weekends. 
Parking is allowed on the west side of the driving lane between the cones and the dunes on most beaches. At Vilano Beach, however, vehicles parallel park on the east side of the driving lane.
A vehicle pass is required from March through September but is not required October through February. Annual passes are $50 for St. Johns County residents and $100 for non-residents. A daily pass is available for $10 with discounts for active-duty military and individuals who are handicapped.
Making it Legal
Permits are required for all events on St. Johns County beaches, including weddings. The cost for a wedding permit is $100 and can be purchased through the county. St. Johns County staff can also help with renting one of the many picnic pavilions and outdoor spaces available at county parks for your reception. The county offers an online reservation system, but you can also call (904) 209-0752 if you have questions.
Fees and permits are not the only legalities to consider, however. In the days of AirBNB and VRBO, many entrepreneurial-minded property owners have started opening their beachside homes up for weddings. Though this can be a convenient and cost-effective beach wedding option, be sure to ask if the venue is licensed by the county to host weddings. Brides have enough to worry about on their special day without adding the threat of being shut down by law enforcement.
Finally, as of February 4, 2022, it is illegal to release any balloons or air lanterns in St. Johns County.
Other reading about weddings in St. Augustine
Cover Photo by Sun and Sea Beach Weddings.