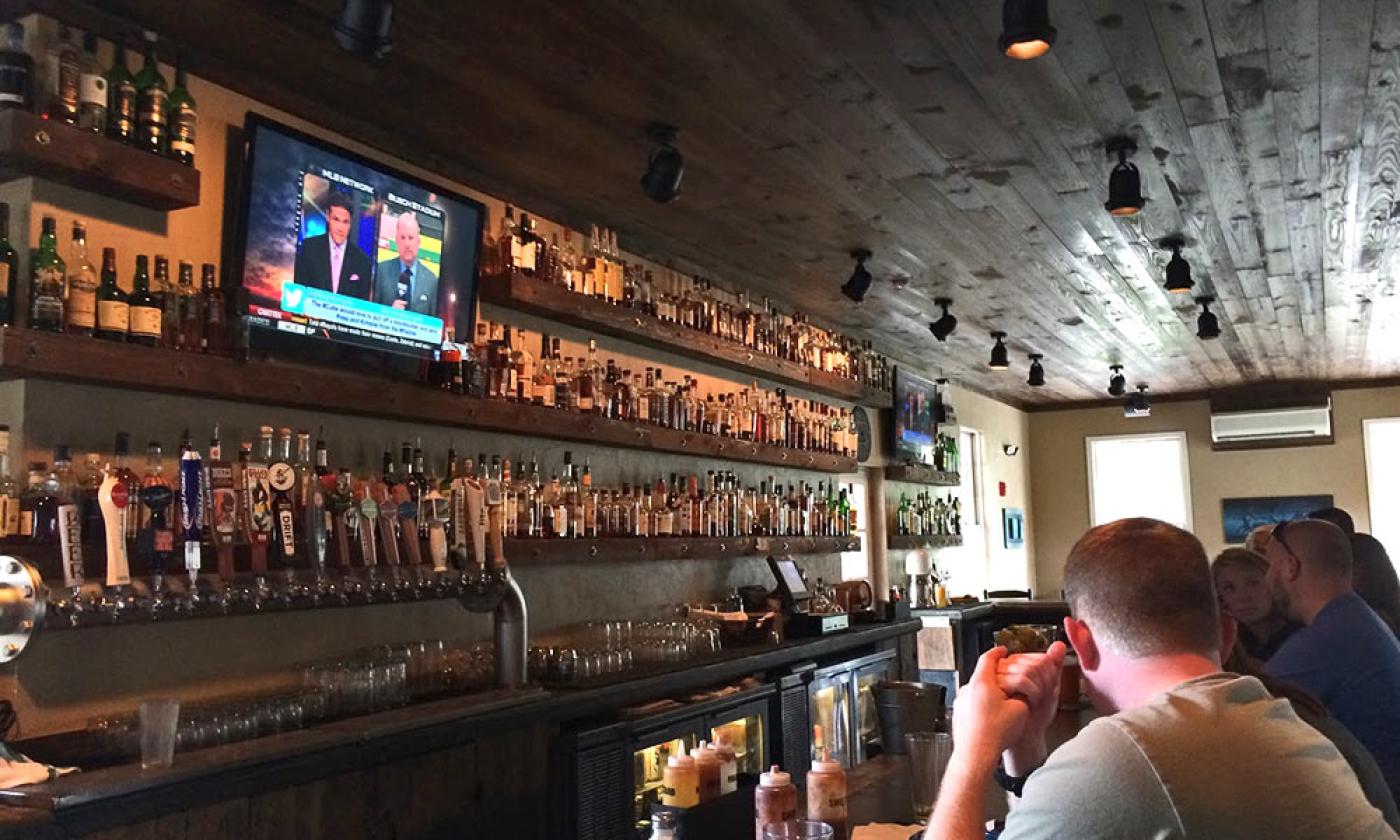 St. Augustine for the Sports Fan
Visiting sports fanatics will find all the activities and game-watching opportunities they crave.
I don't golf. I don't even play mini golf. My closest connection to golf is that I drive a Volkswagen Golf. So when I moved to St. Augustine, a town situated just south of the World Golf Village, I figured I would be at odds with the local sports scene.
I always enjoy when this town proves me wrong, and here is no exception. Not only is St. Augustine located in Northeast Florida, near some of the biggest sports towns in the state, it is a city that itself teems with athletic activity and enthusiasm (so much so that you could say it teems with teams, if you're into that kind of thing).
Whether you're on your way to the World's Largest Outdoor Cocktail Party (otherwise known as the Florida-Georgia game) or the legendary Daytona 500 or The PLAYERS at TPC Sawgrass, you'll find that St. Augustine is perfectly situated to satisfy your sports cravings. It's the ideal place to stay when attending a major sports event in the area. And even if you're not attending, St. Augustine has a bevy of bars and restaurants that cater to the armchair (or barstool) quarterback in us all. Get your game face on, because when it comes to sports in St. Augustine, you can't lose.
Local Footy
As a former high school football player, I chose to attend Flagler College so that I would not be tempted to subject myself to any more of the cranial masochism that is competitive, full-contact American football. Flagler does not have a college football team, but it does have two teams that play the other kind of football, or what we call "soccer." I played intramural soccer at Flagler, which was kind of a joke, because I'm really bad. My soccer career consisted mostly of falling down and getting yelled at -- in Spanish. If I were better, I could have continued my amateur footballing in the Beaches Adult Soccer League, the premier amateur soccer league in the state of Florida. If you're just visiting, or you don't have time for an organized league, pickup games aplenty can be found at Treaty Park (see below) and R.B. Hunt field. Ancient City Soccer Club provides organized, competitive club soccer for local youths, and effectively prevents those local youths from growing into the awkward bulldozer of a player that I became.
Regardless of your pace and prowess, I'd still recommend watching the Flagler College Saints. Saints Field is small, but raucous. In fact, that could easily describe the whole of Flagler College athletics. The student body, and accordingly the venues, are small in size, but mighty in spirit. Flagler sees success with every team it fields. If you want to see both skill and passion for the game up-close and in person, NCAA Division II athletics will not disappoint. One particular local product of the Saints men's soccer team, Joseph Toby, now plies his trade professionally for Jacksonville Armada FC. The Armada are a pro soccer team that play their home games at the Baseball Grounds of Jacksonville, about an hour's drive north of St. Augustine. Also an hour's drive north of town is EverBank Field, home of the Jacksonville Jaguars, and venue for the aforementioned Florida-Georgia game.
The World's Largest Outdoor Cocktail Party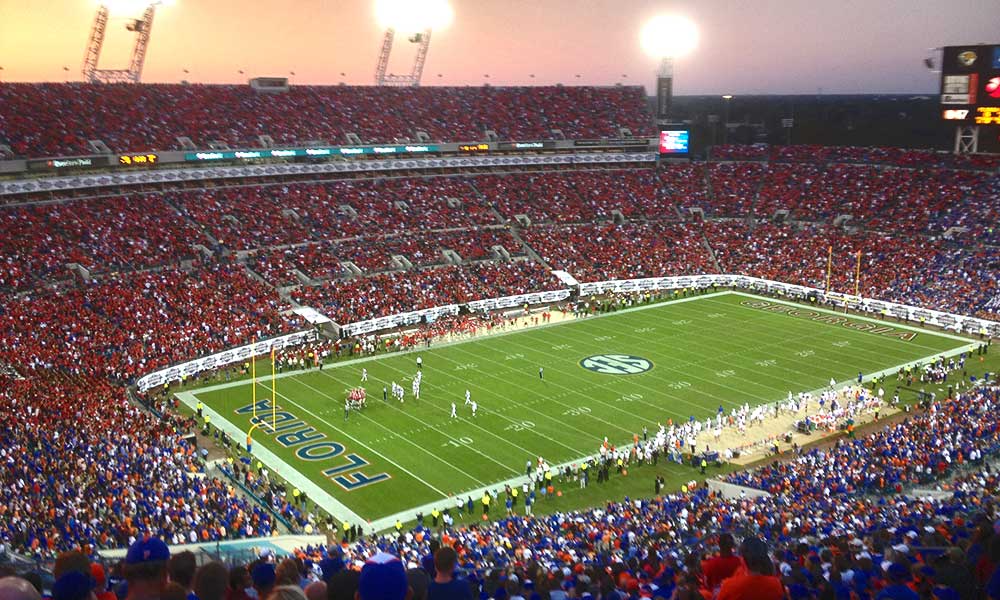 Whether or not you're sold on the idea of attending a Division II sporting event, there's a good chance you care far more about a particular Division I FBS football game. The Florida-Georgia game is one of the fiercest rivalries in all of sports, and it consumes much of Northern Florida in the week preceding the contest. St. Augustine effectively turns orange & blue and red & black. So many football fans invade the town that you can probably see the concentrations of those colors from space. This is not a mere coincidence. Whether you're rooting for the Georgia Bulldogs, or the Florida Gators, St. Augustine is the perfect hub for the celebrations leading up to the big game (and following). Not only are our many hotels, B&Bs, and campsites capable of accommodating the sheer numbers of sports fans from far and wide, there are also plenty of bars and pubs with an abundance of beer, wine, and spirits with which to celebrate victory, or drown the sorrows of defeat.
If You're Attending the Florida-Georgia Game
Get there early. Don't want to tailgate? Too bad. You're tailgating. I'd recommend getting there no later than five hours before the game kicks off. Also, have cash on hand for parking (we're talking at least $20). The longer you wait to get to EverBank Field, the more you can expect to pay to park, and/or the further you can expect to have to walk through downtown Jacksonville. Rest assured, downtown Jacksonville isn't as large and un-walkable as you might expect, given the large size of the greater Jacksonville area. But if you are used to a smaller town like, say, St. Augustine, it's a bit of a hike from the downtown restaurants to the stadium. If you're planning on staying overnight in St. Augustine, check out our list of places to stay. For a unique sports and lodging experience, check out Ann O'Malley's "Pub Life." The owners rent out a room above the pub (which is one of the best sports pubs in town - we'll talk about that in greater detail soon), and this offers all the advantages and amenities you can expect (see the photo below) when lodging above an Irish pub.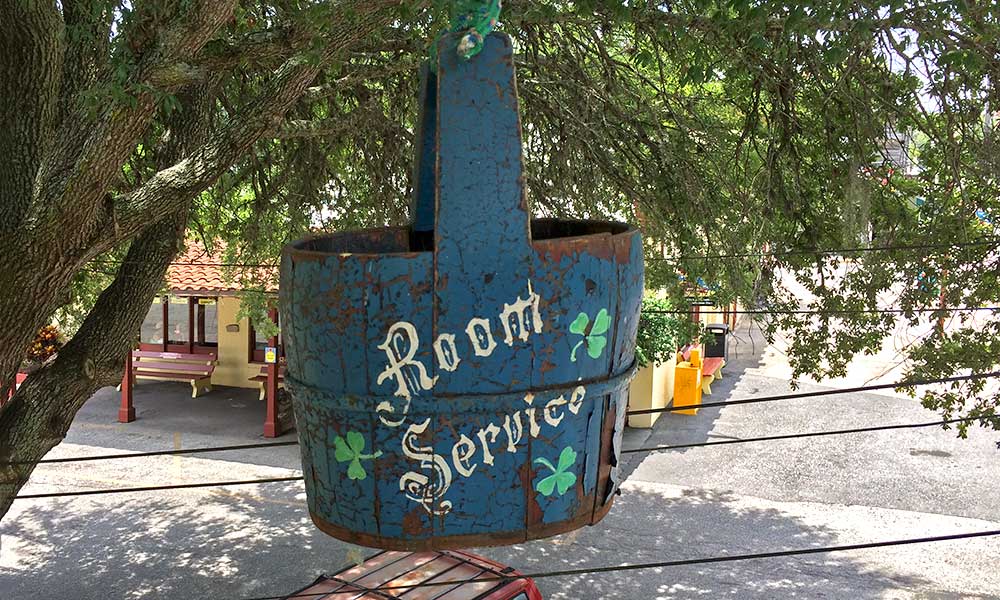 Regardless of Whether or Not You're Attending the Florida-Georgia Game
You're going to want to eat and drink and be merry, regardless of the game's score, right? Fortunately for you, I am a well-seasoned veteran of the St. Augustine sports bar scene. I fancy myself a journeyman attacker of hot wings, and a world class defender of the right to scream and sing and chant and scare the pants off other patrons who had no idea that a baseball game could mean so much to anyone. The joke is on them, as I don't even really care that much about baseball, basketball, or tennis, but if passionate sports fans are present, so am I. If there is soccer, football, or hockey on the TV (or the eight TVs), even better. I'm all in. Here is a list of the perfect pubs, bars, and restaurants to go full voice when rooting for your Gators, Bulldogs, Canes, Knights, Citizens, Toffees, Rabbitohs, or Jags.
A1A Ale Works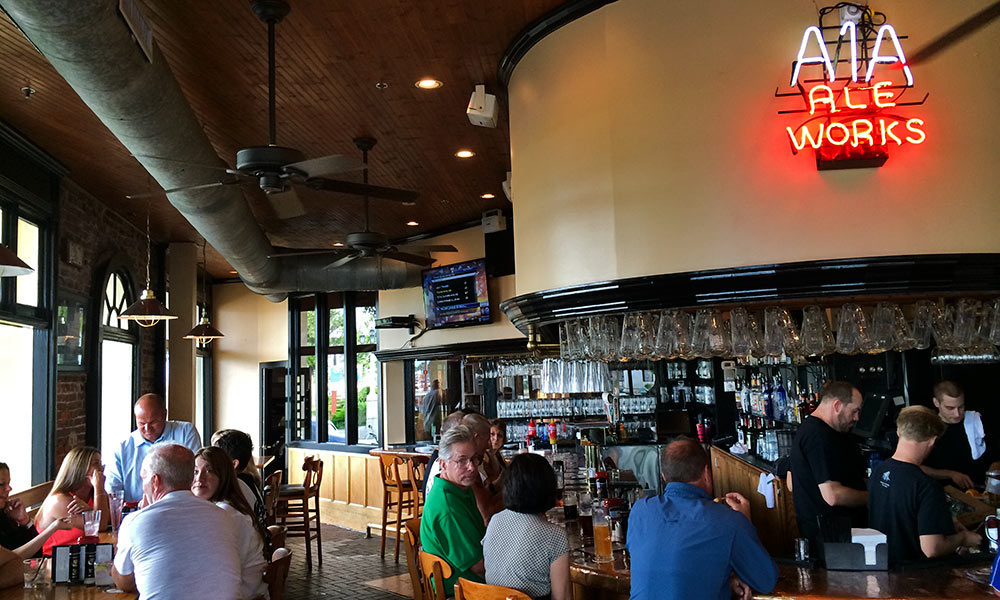 On any given weekend, this spot will probably be crowded. It makes sense, considering its location on the corner of bustling King Street and Avenida Menendez. To accommodate your thirst for fanfare and beer, the Ale Works features two bars (one upstairs, one downstairs). The main bar is downstairs, but both are fully loaded with beer, wine, spirits, and televisions. The building itself looks like it fell out of New Orleans and landed in downtown St. Augustine, and the vibe inside is no different. 
Ann O'Malley's
O'Malley's is St. Augustine's only true soccer pub. You can catch every English Premier League match on one of their myriad televisions. They also have access to every UEFA and CONCACAF Champions League match, select Scottish Premiership matches, and even rugby. Grab a few pints of Murphy's and enjoy a Big Boy PB&J, featuring a datil infused jelly and glorious bacon. This pub is also perfect for hockey (they have Labatt on tap), football, and baseball. It helps if you're a Bills or a Sabers fan, but Ann O'Malley's welcomes sports supporters of all stripes.
Mellow Mushroom
Mellow Mushroom might be known more for its pizza and trippy Allman Brothers theme, and with so much to look at (and so much to drink) it's easy to overlook its capacity as an incredible sports bar. Wherever you sit, and it doesn't even have to be at the bar, you'll have a view of at least three huge televisions showing different games. But let's not forget about the gourmet pizza hoagies. They're perfect for chomping down whilst celebrating a touchdown.
Bull and Crown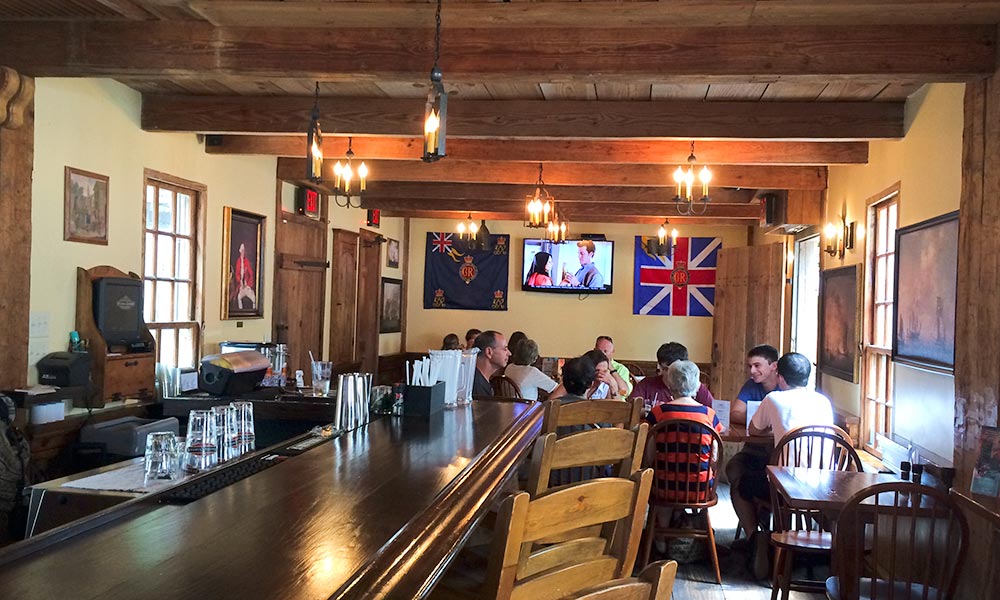 The Bull and Crown may be part of the Colonial Quarter, but that doesn't mean it doesn't have game. It's one of two bars on the property (the other being the Taberna del Caballo), and it's the one with the televisions. Come game day this will probably be a Gator bar, as the property is owned by the University of Florida. My bartender, however, was a Georgia Bulldog fan.
Mojo's Old City BBQ
Nestled across the street from the Tolomato Cemetery, Mojo's Old City BBQ (pictured in the cover photo above) brings the favored BBQ of the Jacksonville area to historic downtown St. Augustine. The portions are huge, and so is the whiskey list. Smoked wings make for finger-licking frivolity, even if your team is getting smoked on the court (or the field, or the pitch, or the rink, or wherever those overpaid losers play). And ... oh, the onion rings!
The Bar With No Name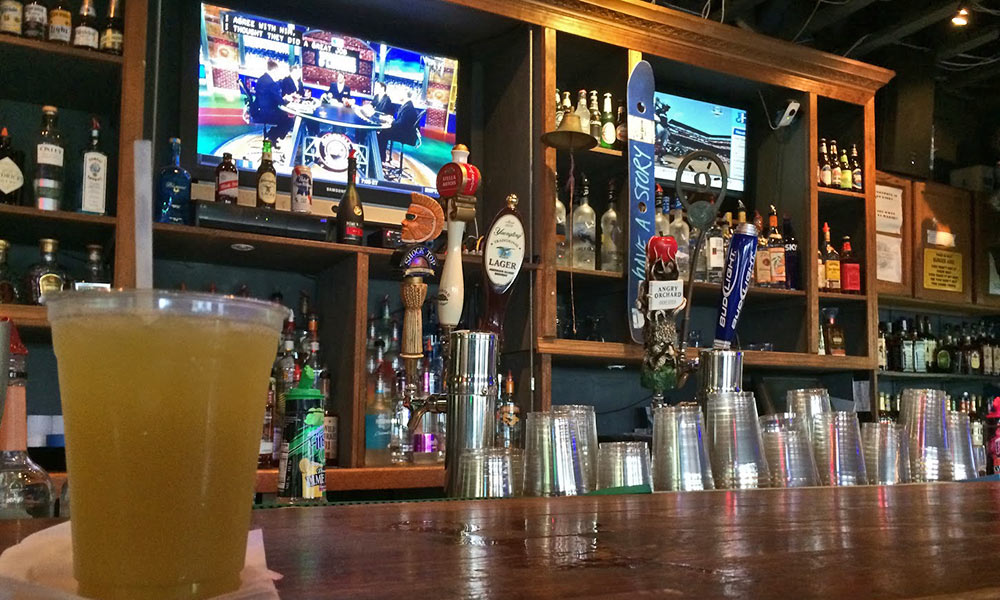 No Name is a local college favorite. There is live music pretty much every night. But even if you don't find reggae and nineties covers the best soundtrack for calming your nerves during a crucial playoff win, the cheap beer and powerful cocktails will certainly get the job done. This bar sits across from the Castillo and Matanzas, and is adjacent to the Colonial Quarter. There are always taxis parked at the ready so as to responsibly whisk you back to your lodgings after the final whistle.
The Backyard at Meehan's
Much like the TARDIS, Meehan's is bigger on the inside. But, accordingly, the real action is always outside. The tropical ambiance of Meehan's Backyard Café patio does not stifle the energy. The cozy fire pit area will stoke your passion, and so will their laughably large menu of Irish and Scotch whiskeys.
When You're Ready to Work Off All That Beer ...
St. Augustine offers a ton of ways to get active after all that spectating. Local parks have courts and fields to suit all kinds of sports. At Treaty Park alone, you'll find pretty much every kind of court or field you need to pick up a game in your favorites sport. Located at 1595 Wildwood Drive in south St. Augustine, this 47-acre park offers softball and soccer fields and fields for Frisbee and kite-flying, six lighted tennis courts, two lighted basketball courts, four racquetball courts, a one-mile bicycle path and jogging trail, and even a court for horseshoes. And let's not forget about the pickleball! Whew!
And of course, local golf courses are everywhere. Aside from the award-winning World Golf Village and TPC Sawgrass courses, there are a host of private and public courses to suit every avid golfer. For the complete run-down on where to golf in St. Augustine, our article "Golfing in A Winter Wonderland" has all the details, and they still apply during the warmer seasons.
But when it comes to "non-traditional" sports, St. Augustine is all about the water. It's a Florida beachside town, so surfing is part of its DNA. If you call yourself a surfer, you already know all of this. However, if you'd like to learn how to be a little gnarlier, Pit Surf Shop on A Street in St. Augustine Beach offers rentals and lessons. Scared of sharks? Scared of the water? Suddenly questioning your desire to participate in any physical activity at all? Watch the surfers from the safety of the sand while eating a Starvin' Surfer burrito and sipping on a smoothie, both from Stir It Up right next door.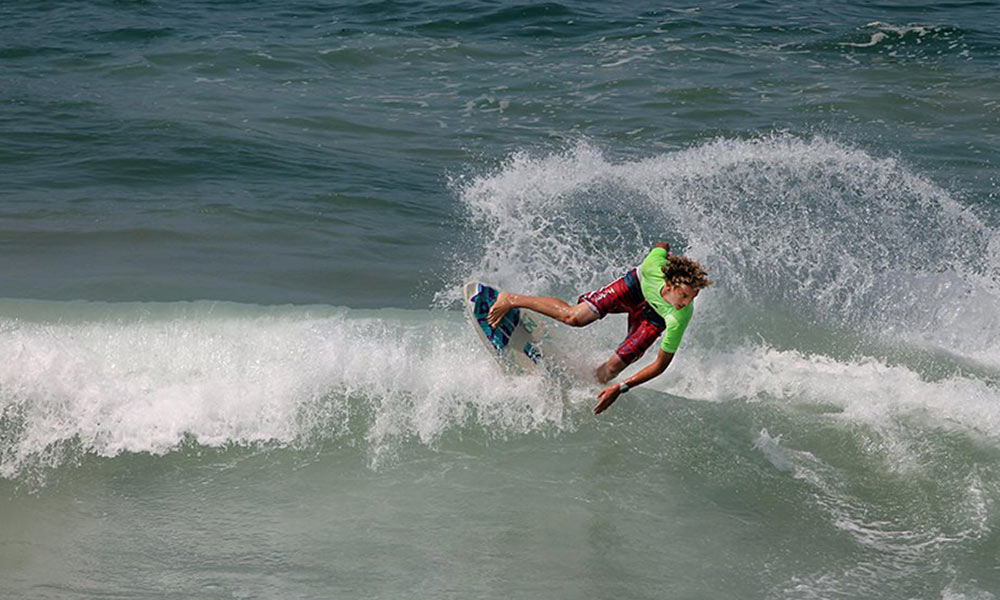 A little further north, Vilano Beach is perfect for skimboarding (see photo above). If you're not familiar with this watersport, it involves taking a small, thin, fiberglass board (smaller and thinner than a surfboard), running into the ocean, throwing it, riding it, and making everyone within a 100 yard radius wonder what the hell you're thinking. But for the pros, Vilano Beach is such a skimboarder's paradise that the town hosts the annual Run Drop Slide FL Skimboarding Pro/Am Tournament in August each year.
Or Ride the Rails
If you prefer more solid ground, Hamilton Upchurch Skatepark is ideal for ollies, grinds, and all those other cool things I was only ever capable of doing in the Tony Hawk's Pro Skater video game series. Hamilton Upchurch is located near RB Hunt Elementary School and the St. Augustine Lighthouse, so finding it should be almost as easy as staying inside and playing video games. If you think that's still too close to the ocean, Robert-Laryn Skate Park at Treaty Park is one of the finest skate parks in Northeast Florida, with 28,000 square feet of concrete. It's located at 1595 Wildwood Drive, which is definitely further inland and further still from the sharks.