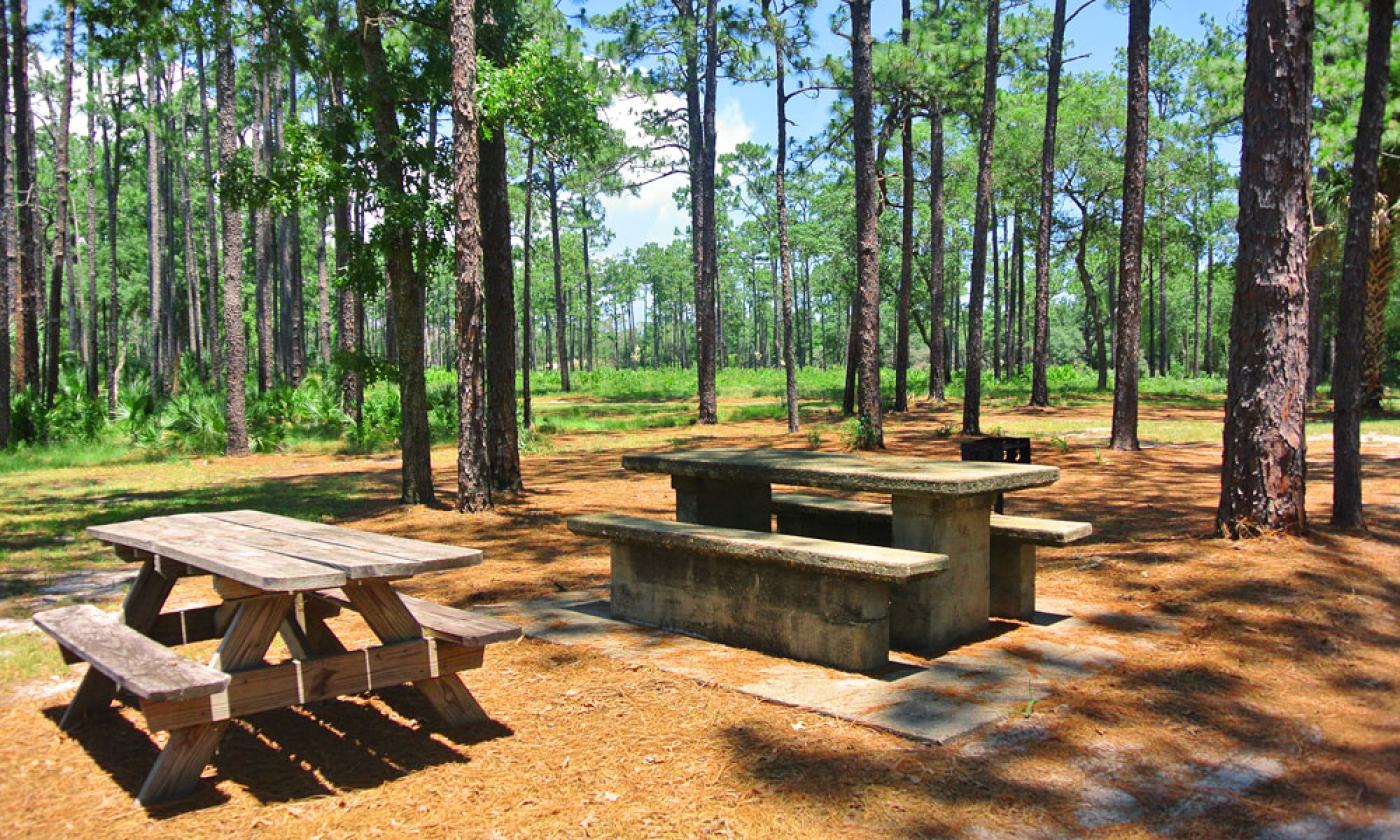 Camping in St. Augustine
Find great tips and info on places to camp in and around St. Augustine!
St. Augustine is a unique destination for camping because it combines Old World charm with the natural beauty of the Sunshine State. Florida is known for its beaches and parks, and St. Augustine is no exception. Residents and tourists alike can attest that the best way to maximize the enjoyment of St. Augustine's ins and outs, with an emphasis on the outs (the outdoors, anyway) is by camping.
Whether you're a grizzled outdoorsman, an open-minded traveler on a budget, or a pampered B&Ber looking for a little more fresh air, you're going to love the St. Augustine camping experience.
Are you familiar with the Boy Scouts' motto, "Be prepared?" If you are, take that to heart and consider this your ultimate guide for camping in St. Augustine. For the more scholarly among us, perhaps it will help if you view this as something of a 101 class in St. Augustine camping. No, it's not cross-registered with math. You'll still have to take that college algebra course if you want to graduate on time.
Anyway, you should be like the Boy Scouts, and be prepared for your outdoor adventure. When all is said and done, if you had a good time (you will), you should be like the Girl Scouts and give the writer some cookies.
There are two primary forms of accommodations when it comes to camping in St. Augustine, and accordingly two categories of campers: those with recreational vehicles, and those without. We'll discuss the differences between the two. We'll also make sure you get to know your local options for campgrounds, and take a look what they have to offer. However, there are some basic facts with regards to camping in St. Augustine that bear repetition for the newbies and the oldies among us.
RV vs Tent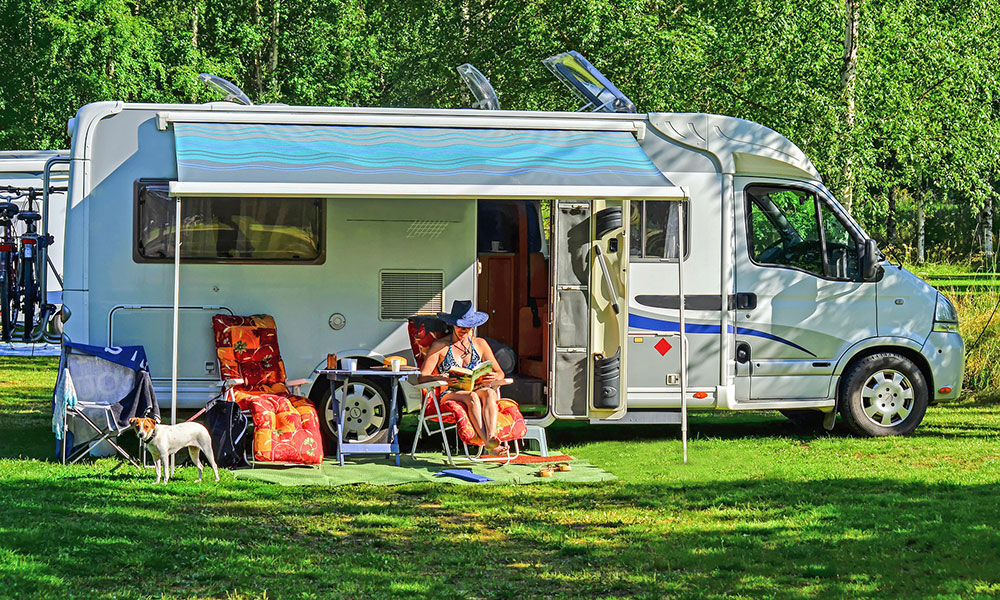 The two most commonly offered forms of camping accommodation are RV spaces (RV stands for 'recreational vehicle') and tent spaces. An RV is a great way to see the outside world without leaving too much of home behind. When using an RV, you must consider the cost of fuel, the size of campsites, electrical hookup (to keep all those cell phones buzzing and other machines purring), and ideally you should have a driver who can handle maneuvering a larger-than-average vehicle. Pull-thru sites are generally easier to maneuver, but a good RV driver should be able to back it up as well.
Tents, on the other hand, are lightweight and generally very easy to pack and set up. You can easily pack a tent, along with your other belongings, in the smallest of two-door vehicles. You're going to want that extra room for souvenirs, otherwise, how else will everyone know you had a great time in St. Augustine? Pictures? No, not good enough. Shower your friends and family with gifts that you purchase from stores in our lovely coastal town. Pack them next to your tent. After all, in addition to more space, you'll have extra cash. A good tent that can endure the elements will usually be the most cost-effective means of camping accommodation. Tents give you privacy and a roof over your head, two bare necessities that even the most rugged among us recognize.
Where to Camp
Campgrounds are not necessarily concentrated in any one particular area within St. Augustine, so there is some variety that you may want to consider when planning your camping and non-camping activities alike. The main areas I will focus on include Anastasia Island, Interstate 95, South of downtown, and Vilano Beach.
Anastasia Island
Locals refer to Anastasia Island simply as "The Island," because that's exactly what it is. Situated between the Matanzas and the Atlantic, Anastasia Island is the destination for beachgoers. A1A and A1A Beach Boulevard run parallel through the island and serve as the main thoroughfares to St. Augustine and St. Augustine Beach's offerings. In addition to the campgrounds located on the island, the St. Augustine Amphitheater stages concerts with nationally renowned musical talent on a weekly basis.
Bars and restaurants galore serve seafood and comfort food alike. You will find no shortage of drinks with tiny umbrellas at Sunset Grille or Salt Life Food Shack. Mango Mango's has some mighty good burgers and a large selection of Caribbean dishes, while the A1A Burrito Works Taco Shop will hook you up with your Mexican fix.
The local KOA "Kampground" (don't be put off by the excessive usage of the letter 'K,' it implies this is more than just a campground) offers a total "kamping" experience in the heart of Anastasia Island, one mile from the beach. This facility is nationally recognized for the quality of its offerings and amenities. KOA is a staple of North American travel, and deservedly so. This franchise is right at home in St. Augustine Beach, and will make you feel as at home as you wish to feel, offering cabins (sorry, "kabins"), tent spaces, and RV sites.
The KOA site offers its own activities, and no one would judge you if you decided to spend your entire day on the water in a paddleboat. Although it might be wiser for you to divvy that activity time with some quality banana biking. If you prefer more traditional camping activities, go fish. No, for real, you can fish. Finish your day of boating, biking, and fishing with a relaxing dip in the pool. KOA also provides a shuttle for access to other St. Augustine attractions.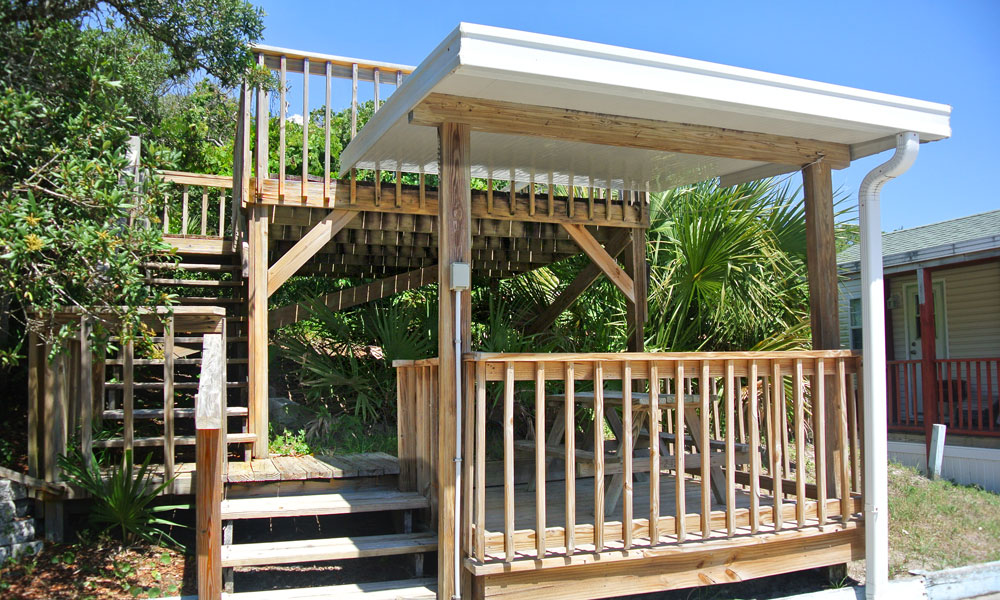 This one is for the beach bums! Located on A1A South near Butler Beach, Bryn Mawr Ocean Resort offers oceanfront RV and tent sites with rental options as well. If you should choose a rental option, housekeeping is provided. How is your tennis game? If you don't know, you're bound to find out on the resort's tennis courts. Sound like too much of a racket to you? Enjoy games of horseshoes and shuffleboard instead. You can cool off in the ocean, but if the ocean is too cool for you, Bryn Mawr has a huge swimming pool.
If all that were not enough, the resort is minutes away from the attractions of St. Augustine and is an easy drive up A1A from Marineland. The dolphins at Marineland might not make you cry, but you should sing as much Hootie & the Blowfish as you can en route. Do not underestimate the importance of nostalgia and music when you camp.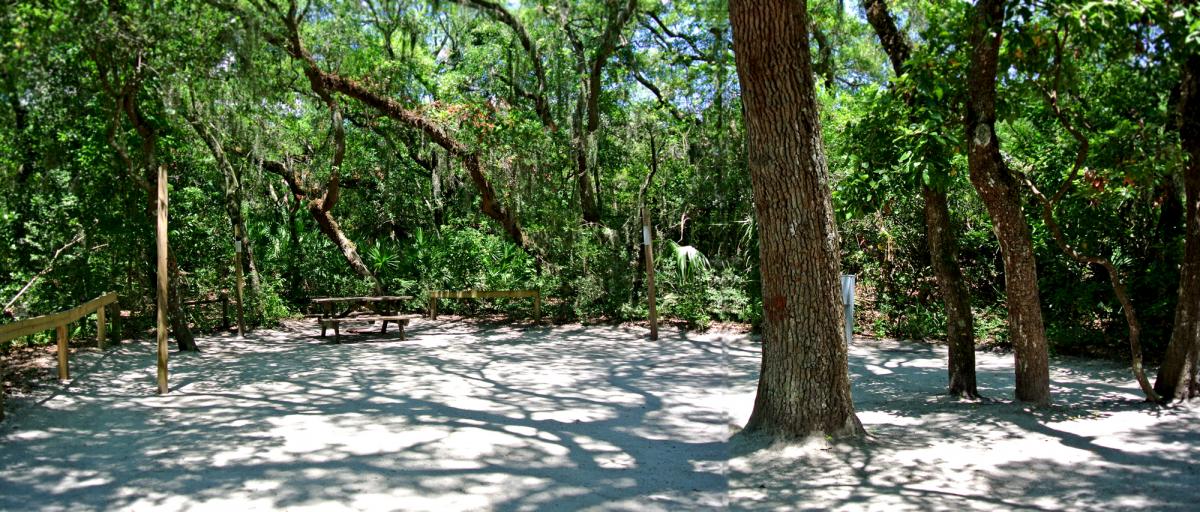 Anastasia State Park offers something for everyone (except for people who hate going outside, or people who just generally deplore doing fun things, but they're probably not reading this). Do you like trees? Of course, you like trees. What's better than trees? Lazing and swinging between them on a hammock, that's what. Nothing says "beachside getaway" quite like a hammock. Well, the Anastasia State Park's 139 plus campsites are located underneath enough trees for optimal hammock inaction.
Out from underneath the trees you'll find four miles of the most beautiful beach on the Atlantic. You can relax in the sands, take a dive in the deep, or journey further after renting a canoe, sailboard, paddleboard, or kayak from Anastasia Watersports. The area teems with wildlife and is also brimming with the same kind of historical intrigue that makes St. Augustine famous.
As you explore the park's many trails, you can visit eighteenth-century coquina quarries toward the park's entrance. Grab a bite to eat at Island Joe's, and catch the sunset (though the sunrise would probably look even better if you're a morning person - I am not) at the inlet where the Atlantic meets the Matanzas.
Peppertree provides a twist on the traditional campground setup by offering rental cottages in addition to RV sites. A privately stocked lake means that the fishing could very well never end, but if it must, shuffleboard and basketball courts can more than adequately fit the bill for means of enjoyment and passing time. Should the weather turn sour, or perhaps you just need shelter from an afternoon shower, a large air-conditioned clubhouse provides a library and a big-screen TV.
If you're driving to St. Augustine, there's a good chance you're going to be exiting off of Interstate 95. While this side of town offers plenty of dining and shopping options, it's also vast and optimal for quiet, private camping. Have a shopping day at the outlets, followed by a sweet barbecued meal at Florida favorite Sonny's BBQ, and sleep soundly without any of the anxiety of the downtown hustle and bustle. Restock on camping supplies, or pick up some items you may have forgotten, at nearby Gander Mountain.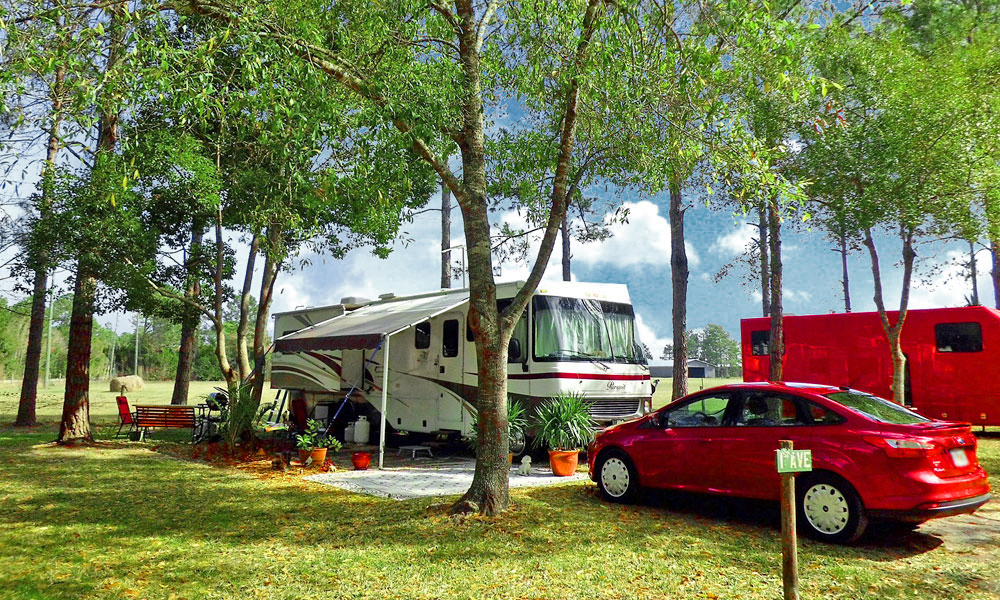 Located just off Interstate 95 and SR 16 is family-owned StageCoach RV Park. This particular park is located roughly six miles away from downtown St. Augustine, and is a stone's throw away from the outlet shopping plazas. Please avoid throwing stones, though, this is a peaceful place.  As it is an RV Park, it caters exclusively to campers with recreational vehicles, and offers affordable lodging accommodations with all the comforts of home.
With comfort, convenience, and relaxation being a priority, StageCoach offers free wifi to guests and accommodates satellite usage. Sixty spacious campsites at 45'x60' include plenty of world class amenities.
South of Downtown
If you head south from downtown on US-1, you'll only be doing deeper into the wild, weird, and wonderful Florida. You won't be far from the Ancient City, and the stretch of US-1 that connects you is loaded with shopping and dining options. Ned's Southside Kitchen is a local favorite, and I recommend getting there early to beat the dinner rush. If you've got cash in your wallet (as it is a cash-only establishment) and a craving for old school southern BBQ, hit up Smokin' D's at the corner of US-1 and S.R. 206.
You'll definitely want some reading material for your quiet and relaxing vacation, and you'll no doubt want to brag about it to your family and friends on the back of a postcard. For all your literary and postal needs, Buy the Book is a full-service book store just off US-1.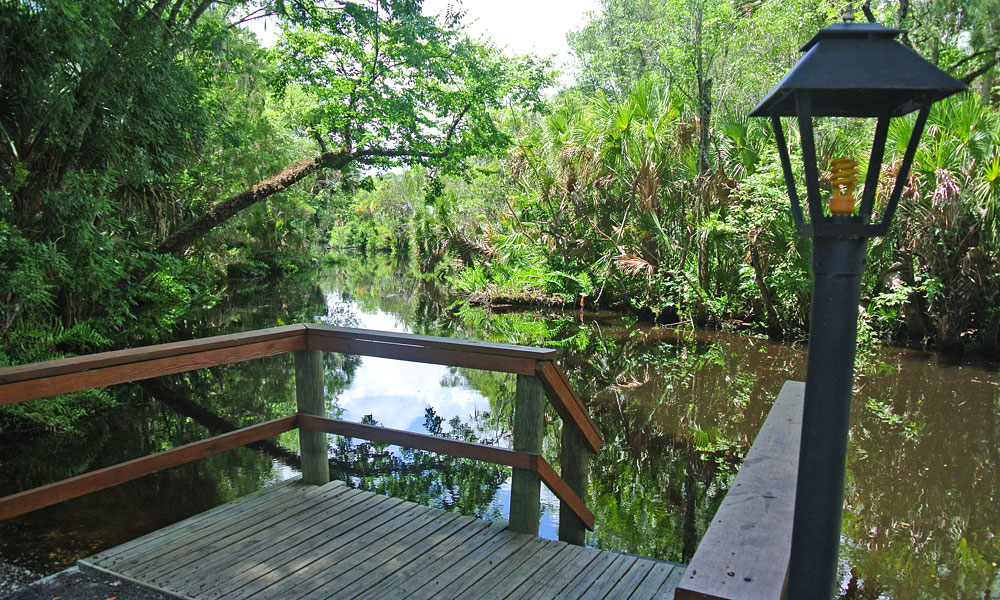 Located off of US-1 and 206, Pellicer Creek Campground is a peaceful RV park with an emphasis on privacy. There are thirty campsites, most of which are back-ins, averaging at 45'x45'. As you can probably guess based on the name, fishing and boating are popular activities at this campground. Saltwater and freshwater fishing are both available, and the boat ramp makes it possible to simply float away from all your troubles.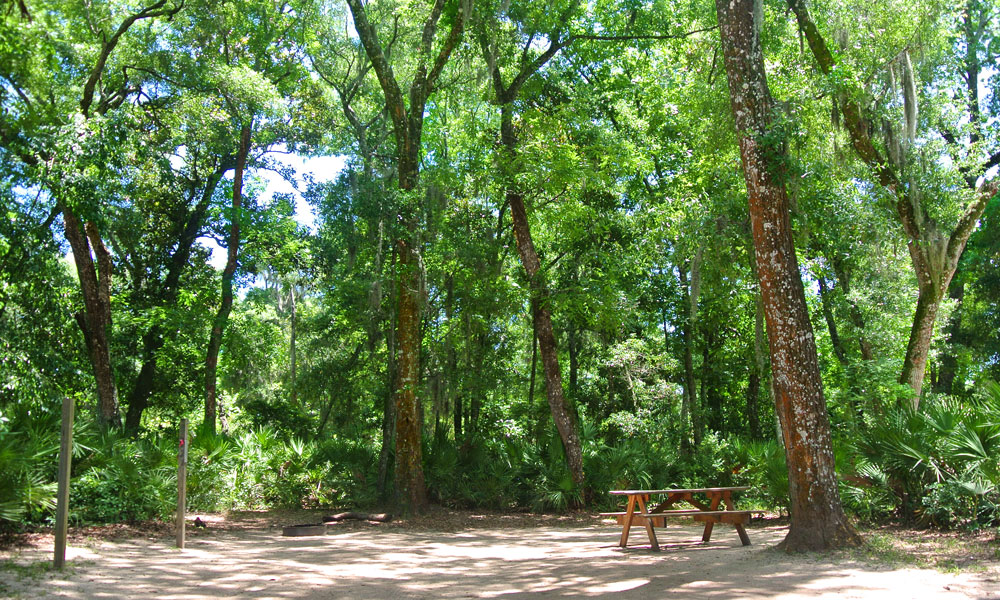 Faver Dykes State Park is located further south between US-1 and Marineland. A popular pastime at this particular park is bird watching, which makes sense considering over one hundred species regularly travel through the area as part of their migratory patterns (and who is to say they don't also enjoy camping). Canoes can also be rented in advance, and provide ample opportunities for experiencing more wildlife. As it borders Pellicer Creek, this is another place for fishing. 
The Northern Beaches
If you like to skimboard or surf, Vilano Beach offers an alternative to St. Augustine Beach. The beach itself tends to be narrower and more sloped, which is perfect for skimming. The south end of Vilano features a gorgeous view of the inlet and of downtown, offering an entirely new perspective on the Ancient City. Cap's on the Water has every kind of seafood you can imagine along with the best sunset views, and The Reef has one of the most spectacular oceanfront settings in Northeast Florida (and the food is good too).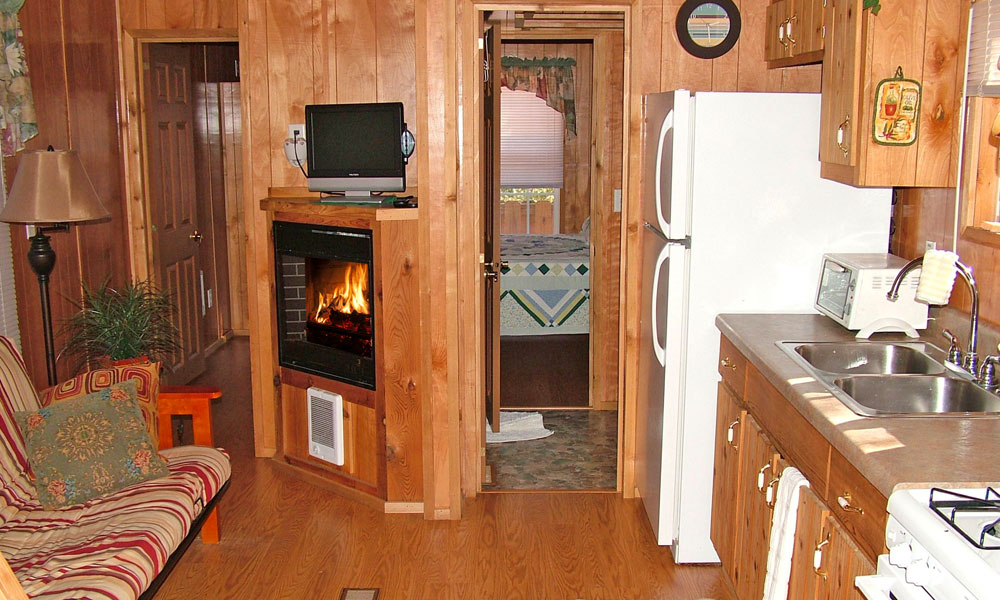 North Beach Camp Resort is a 30-acre campground and RV park located in Vilano Beach, nestled between the Intracoastal Waterway and the Atlantic, north of downtown St. Augustine. The resort contains 134 campsites, so on a busy weekend you'll never be short for pickup games of basketball, or perhaps some epic shuffleboard and horseshoe tournaments. RV sites are pull-thrus, making access easier than an ocean breeze. 
General Tips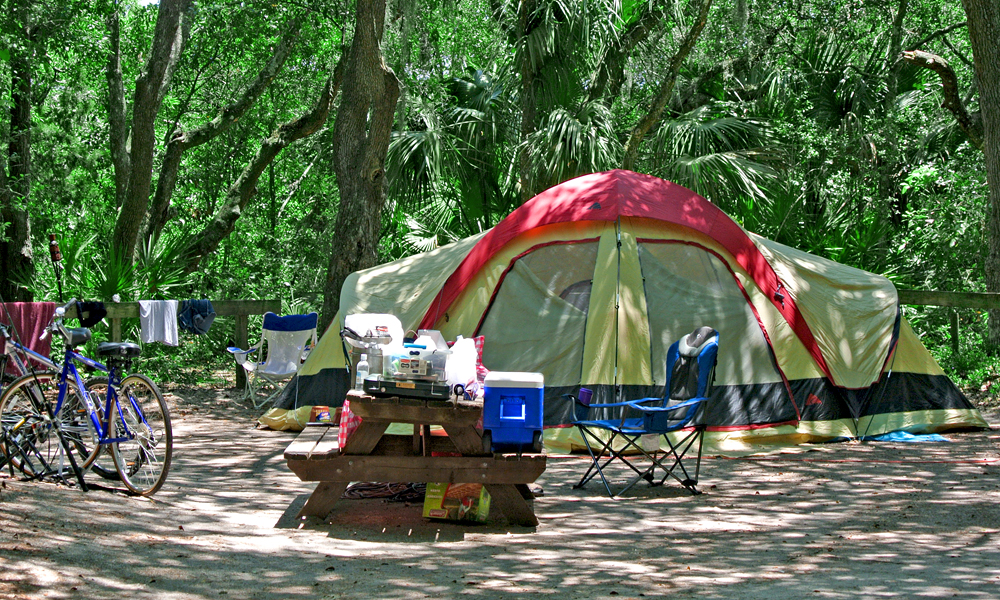 1) Bug Spray. Seriously.
First and foremost, wherever you wind up setting up camp, know that you will be eaten alive by bugs. Just when you think you could never possibly see a larger, more frightening mosquito, you'll scream "OUCH!" and swat an even larger-er one off your calf (and shoulder, and toe, and neck). And then something even bigger, and possibly previously thought to have been extinct, will swoop in and circle your head just to mock you. "You're out of your element, unprepared human!" it will practically shout. So bring bug spray is all I'm trying to say.
If you're hearing bugs talk to you (whether or not they're mocking you isn't really the point) ask yourself "Did I use bug spray?" If the answer is "yes, I used bug spray" then consider maybe not inhaling so much bug spray. If the answer is "no, I did not use bug spray," consider seeking immediate medical treatment. Flagler Hospital is located across the 312 Bridge near US-1.
2) Prepare for the weather.
Having been a tour guide in St. Augustine, I'm always surprised by how many tourists seem ill-prepared for some of the more obvious conditions of Florida's climate. Most people do not travel to Florida to be eaten by bugs, so it may not be of paramount concern (which is why I wanted to get that out of the way first). One of the more appealing aspects of Florida's climate is that it's hot and sunny. Northeast Florida, and St. Augustine in particular, has the same humid subtropical appeal of the rest of the state without getting too crazy hot. As a Flagler College freshman, I met native South Floridians who said that they loved the idea of going to college in a town with "seasons," and that's in part why they chose Flagler. This notion is laughable to anyone from literally anywhere else in the country. I chose a school in Florida for palm trees (and a stellar English education, of course). So, yeah, it can get cool at night year-round, and cold at night in the winter. Bring blankets and sweatshirts, but also pack yourself a fan. 
For those of you who are more used to a dry heat, understand that genuine temperatures can be somewhat misleading. Everyone should keep an eye on the weather, but make sure to take into account humidity percentage and heat index (meaning it will usually feel hotter than the temperature alone will indicate). The humidity makes the driest, least sweaty travelers among us drip with sweat. Remember that you're a warm-blooded mammal, and hydration is essential. This is doubly so if you intend on imbibing in any alcohol, and subsequently butchering a cliché Violent Femmes cover with an acoustic guitar around a campfire. Keep those vocal cords lubricated, lest your throat resemble something of a blister in the sun. 
Speaking of water, know that it's going to rain. In the summer, afternoon showers are a daily occurrence but never last very long. Thunderstorms in Florida can be a beautiful sight to behold, provided you're not easily frightened by thunder and lightning and...well, you know, storms. Regardless, do not forget a tarp cover for your tent. Nothing can ruin a chill camping vibe quicker than a soaking wet sleeping bag.
3) The sun gets its own section.
I hinted at the amazing power of the sun when I mentioned how hot it can get. Make no mistake, the heat is not to be taken lightly, but the sun's other effects are often doubly overlooked. Again, it might seem obvious, but that blazing ball of fire in the sky is really bright. This means a couple of things. First, you want to see all the beautiful sights that nature has to offer, right? Bring sunglasses. Otherwise, too much of a good thing (light) is definitely a bad thing (for your retinas). Second, bring sunscreen. Vitamin D is good for you and will make you happy. However, sunburn can be nasty and will make you feel nasty as well.
4) Cooking around the campfire.
You can roast more than just marshmellows over a campfire. Hot dogs are a camping favorite, as are baked beans. Generally anything you can put on a stick or in a pan is good for cooking while camping. Also important is that you pack your food properly, so as to avoid food-borne illnesses and unwanted campsite visitors. A sturdy cooler is a must. You should make sure you keep raw, uncooked meats completely separate from everything else (like beverages and precooked packaged food). Everything ought to be sealed as tightly as possible so as to prevent leakages. Clean your cooler thoroughly before packing to minimize the risk of bacterial growth. Lastly, while bears are a rarity in St. Johns County, other animals are not. All animals love human food. We're pretty awesome at the whole food thing, us humans, what with being on top of the food chain and all. It's best to keep your well-packed food as far from your sleeping area as possible, and downwind.