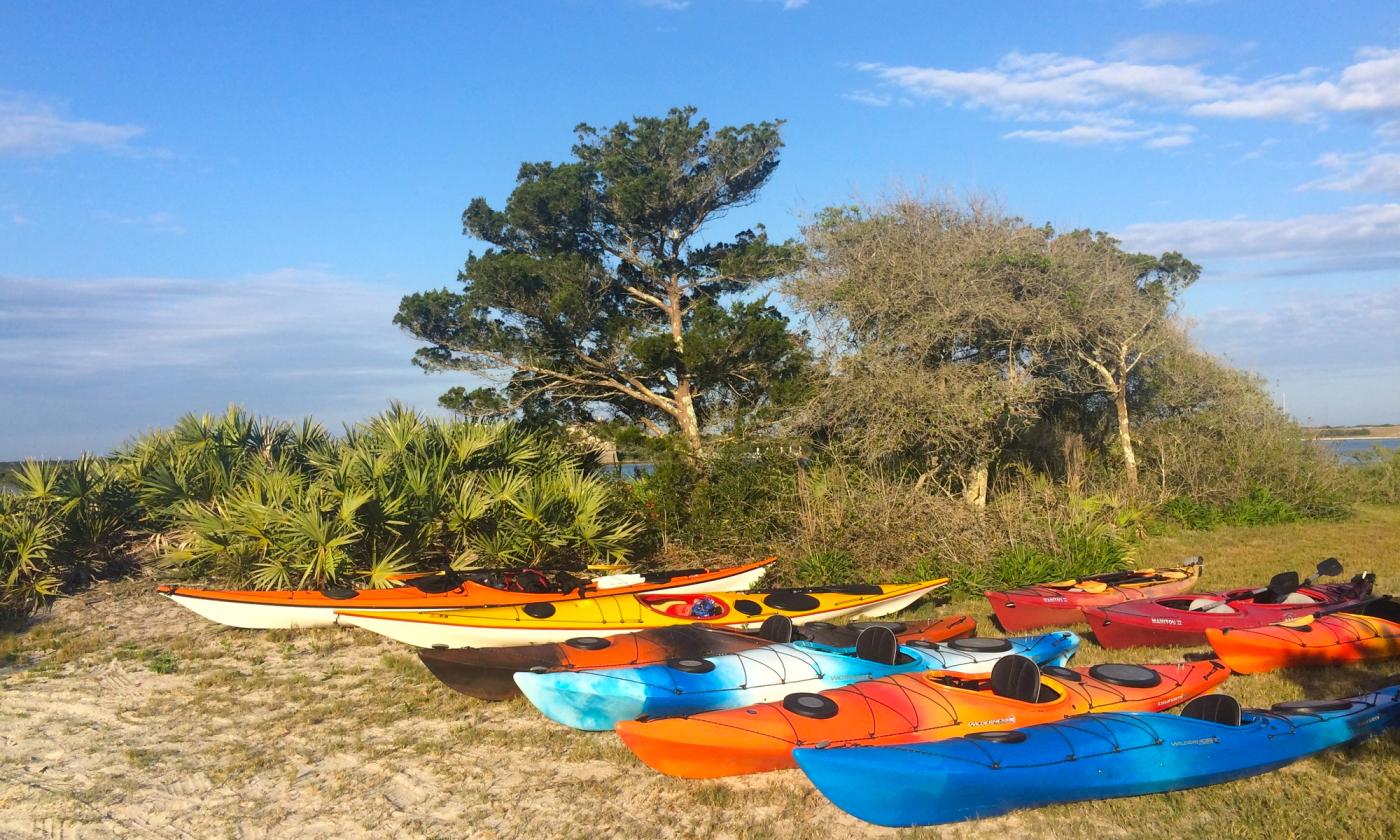 Ecotourism in St. Augustine
St. Augustine offers more than just beaches for visitors wanting a deep dive into the natural environment - on land and in the water.
We all know the great debate about the mountains versus the beach. In my hometown of Philadelphia I could be sitting on the beach in less than an hour's drive (when the traffic gods were good to me). When I moved to Denver, the mountains replaced the beach and in just 45 minutes, my tiny car was hanging off the side of a cliff (or at least it felt that way). After nine years in Denver, the beach was calling, so I moved to Vilano where I could walk to see the waves - every day! Never in my wildest imagination did I think I could ever have the beach as my neighbor. Now, I'm closer to the San Sebastian River than the beach, and, I've discovered so many different ways to enjoy nature that aren't the beach (or the mountains). Needless to say, ecotourism is alive and well in and around St. Augustine and now I sometimes debate whether I should have a beach day or a hiking day or a fill-in-the-blank-type-of-nature day. Let's look at just some of the ways we can explore nature using St. Augustine as our jumping off point.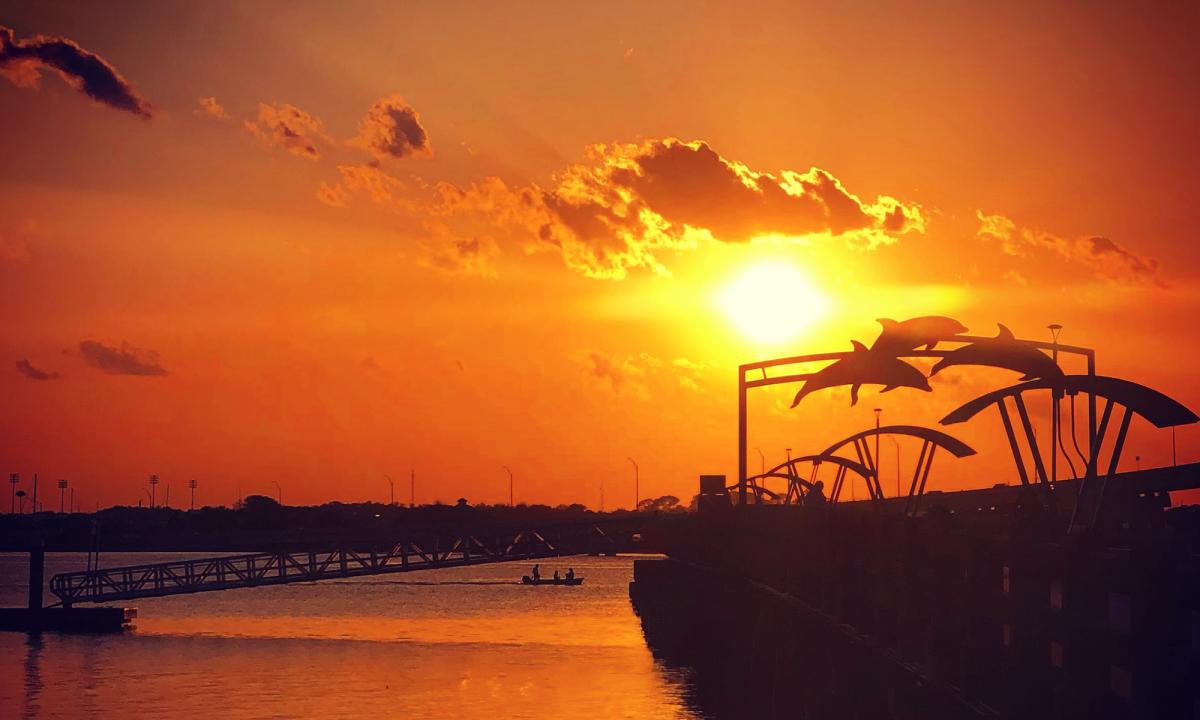 Sunset over the Vilano Beach Pier in St. Augustine.
Water tourism is popular here with many rivers, inlets, and ocean currents to explore. There is the beautiful and historic bay front, the Atlantic Ocean that long ago facilitated the voyage of early explorers, and the salt marshes along the Intracoastal that are ready for investigating, as well as a national estuary reserve preserved in its natural state. You can kayak, sail, or even charter a boat along the shore in St. Augustine. Or, you can run after your dog on the beach as he gathers sticks and delivers them to the ocean. With so much to do in and around the water, let's keep that as our last choice.
Ecotourism is at the forefront of St. Augustine Eco Tours, located at the Municipal Marina, on the bayfront in historic downtown St. Augustine. Offering guided kayaking adventures along the bayfront every day where visitors can paddle through salt marshes and historic waters, St. Augustine Eco Tours also provides small boats with a guide, for up to six guests, that take the group through St. Augustine's natural scenery. These tours take folks up the rivers and creeks throughout the city providing a full description of the area's ecology and historic sites. Plus, you can also watch for dolphins or manatees and enjoy some bird watching, too.
Geo Trippin' Adventure Co. offers kayak tours for all skill levels - holla! (I lived in Colorado for nine years where you had to have skills - and the right clothing and apparel - to enjoy ecotourism, so when I come across a company that says right on their website that they serve all skill levels, I bookmark that baby.) With multiple launch sites, a concierge service for paddlers, guided tours for individuals and groups, as well as kayak lessons, the folks at Geo Trippin' are no joke - they want folks trained and out exploring the waterways. Geo Trippin' also offers a Bioluminescent Guana Lake Tour where paddlers can choose a three-hour sunset tour, or paddle in the dark of night (yikes!) for 90 minutes.
If I had to pick the "granddaddy" of all ecotourism organizations in St. Augustine, I might have to go with Earth Kinship. Promoting a kinship with nature, Earth Kinship offers kayak tours, naturalist training, overnight camping trips, and forest therapy programs. Earth Kinship is also launching an ethical ecotourism certification program for Northeast Florida empowering local organizations to support the environment while strengthening the economy.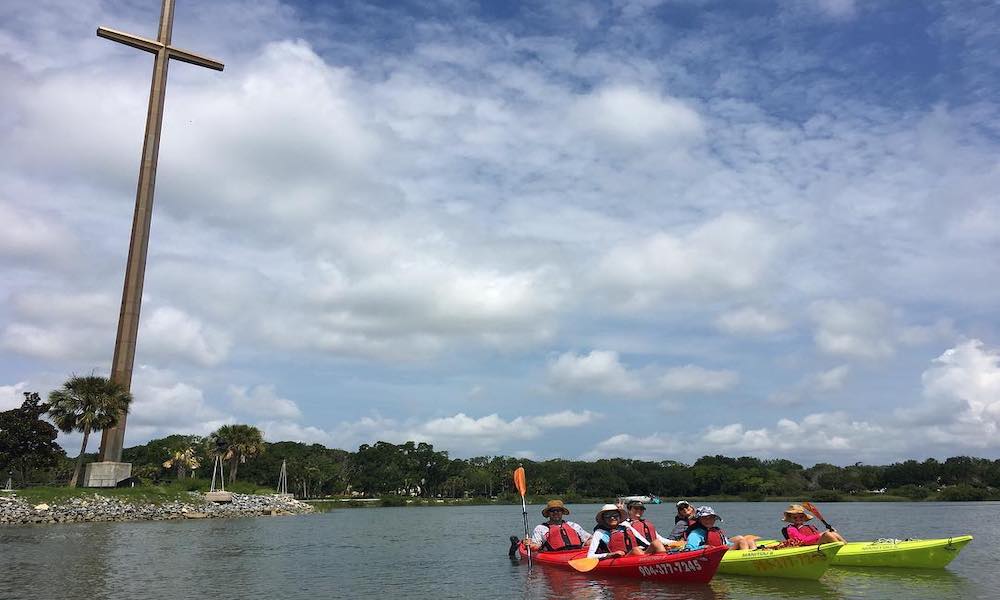 Kayakers enjoying the water with St. Augustine Eco Tours -- historic downtown St. Augustine is behind them.
The Guana Tolomato Matanzas National Estuarine Research Reserve, or the GTM Reserve, is 74,000 acres of coastal lands in northeast Florida from Ponte Vedra Beach to Palm Coast. The GTM Research Reserve is part of a national system of reserves that focus on research, education, and stewardship. At the GTM Reserve you can learn more about the natural state of St. Augustine through fun and educational hikes, birding events, trails, and waterways. The GTM Visitor Center is located in the northern component, ten miles north of St. Augustine on A1A in Ponte Vedra Beach. The center has vivid displays that define estuaries and outline their importance for Florida's people and wildlife. The southern component of the GTMNERR is associated with the Matanzas River, and contains several state parks -- Pellicer Creek Aquatic Preserve, Faver-Dykes State Park, Washington Oaks Gardens State Park, and the River to Sea Preserve at Marineland. No matter what end you choose, you're sure to experience nature in its fullest expression.
One of my favorite places, and where my brother got married, is Anastasia State Park. Rated by Reserve America as #6 of 100 parks in the U.S., Anastasia State Park has 1,600 acres of natural beauty, including four miles of pristine beach, tidal salt marshes, and hammock preserves. It's also home to dolphins, manatees, sea turtles, fish, crabs, and marsh birds. Anastasia State Park is on the Great Florida Wildlife and Birding Trail, so do pack your binoculars. And yes, you can swim. Yes, you can camp. And yes, you can ride golf carts - with a chauffeur - over to the St. Augustine Amphitheatre on show nights (free of charge!).
The Moses Creek Conservation Area preserves one of the few remaining undeveloped tidal creeks -- Moses Creek, a tributary to the Matanzas River. Eight natural communities -- scrub, sandhill, upland mixed forest, freshwater tidal swamp, mesic flatwood, depression marsh, dome swamp, and estuarine tidal marsh -- call the Moses Creek Conservation Area home. This vegetative diversity provides habitat for a variety of wildlife including great blue herons, egrets, osprey, hawks, gopher tortoise, deer, otter, and fox. Be sure to use the eastern entrance if you want to easily arrive at the water feature with only a short walk. (Yes, I sure did use the western entrance, as the sun was setting, looking for the water feature one winter day!)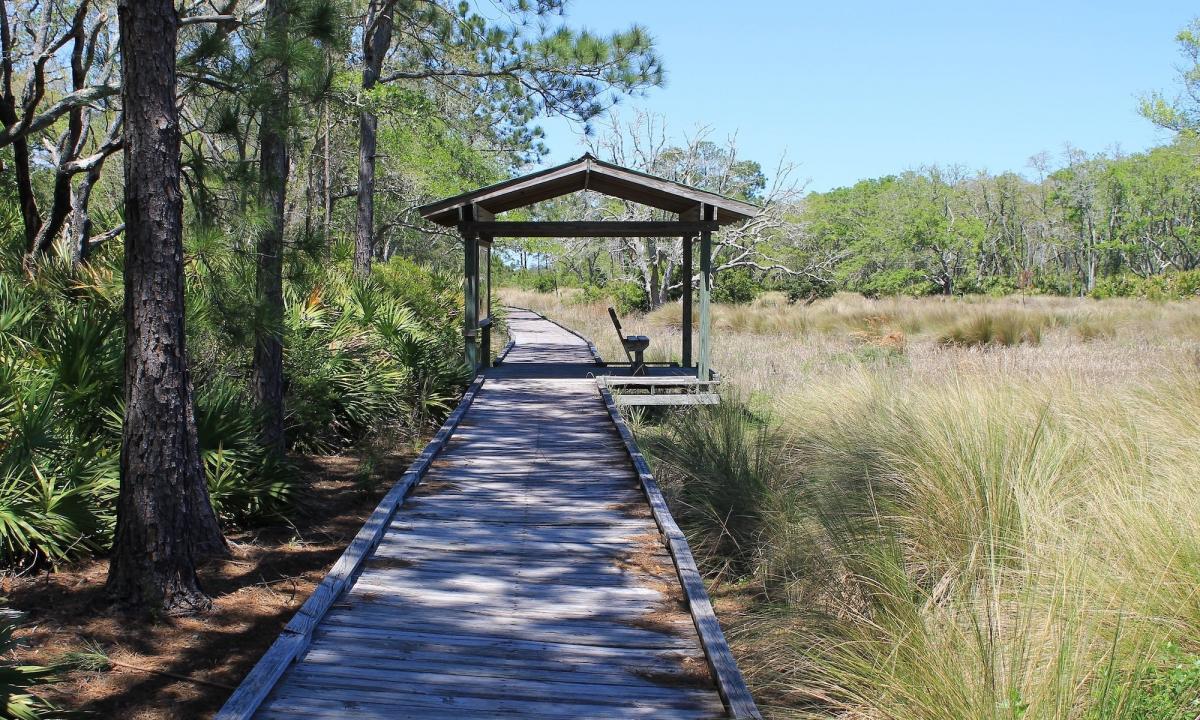 A boardwalk in the northern end of GTM Reserve that enables visitors to view wildlife from a shady seat.
Numerous campgrounds are dotted along St. Augustine's beaches and back roads with amenities such as RV hookups, hiking trails, boat launching sites, and fishing. North Beach Camp Resort is where I stayed on my very first night in St. Augustine. Located at the northern end of Vilano Beach (known as North Beach), the resort sits in nature between the ocean and the Intracoastal - pure magic.
Devil's Elbow Fishing Resort, in Crescent Beach, provides indoor stays, with cottages lining the shore that are available for daily, weekly, and monthly rentals. Daily outdoor activities are plentiful and include kayak and boat rentals geared toward providing an ideal fishing vacation.
If you're more of a country person, you'll want to check out 4 Lakes Campground on the outskirts of St. Augustine in Hastings. Sitting by the lake while telling ghost stories around the fire pit is a classic way to enjoy nature.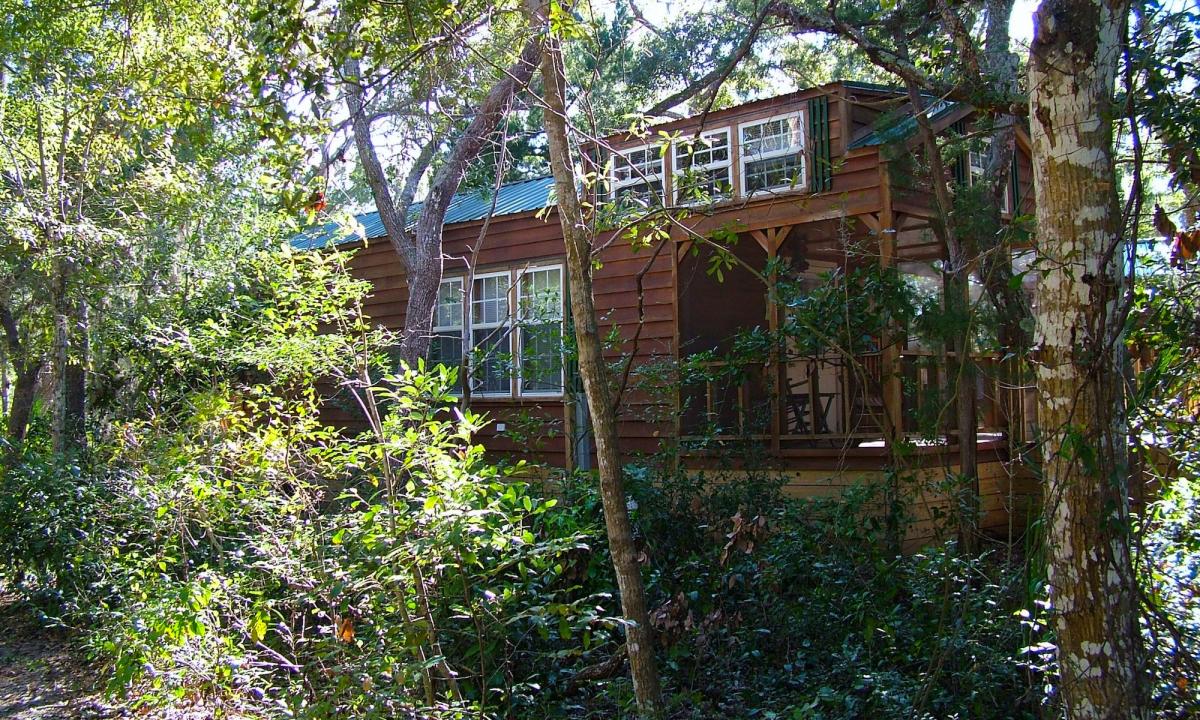 A cabin that is surrounded by nature at North Beach Camp Resort in Vilano Beach.
It seems almost strange to spend time admiring nature and then drive around in traffic afterwards. One way to stay the course and continue to be environmentally-friendly outside of the woods, water, or campsite is to explore St. Augustine on two wheels.  The City of St. Augustine and Flagler Health+ teamed up with Bolt Mobility (Bolt) to host the City's first e-bikeshare program called Gotcha which offers 110 GPS-enabled e-bikes across approximately 13 hubs throughout St. Augustine.
Did you know you can enjoy the beach on two wheels? I know! It took me by surprise the first time I saw the fat (and not-so-fat) tire bikes on the beach. Anastasia Bike Rental will deliver a cruiser right to your campsite or hotel or vacation rental - with all the stuff (basket, lock, helmet, etc.) you need for on or off beach riding.
If you're one of those people who remains committed to the mountains while visiting the beach, get your two wheels over to Nocatee Preserve and Mountain Bike Trail. The Preserve, situated south of the Palm Valley Bridge on the natural estuary directly across from Guana, has three miles of natural, unpaved trails ideal for mountain biking (and bird watching).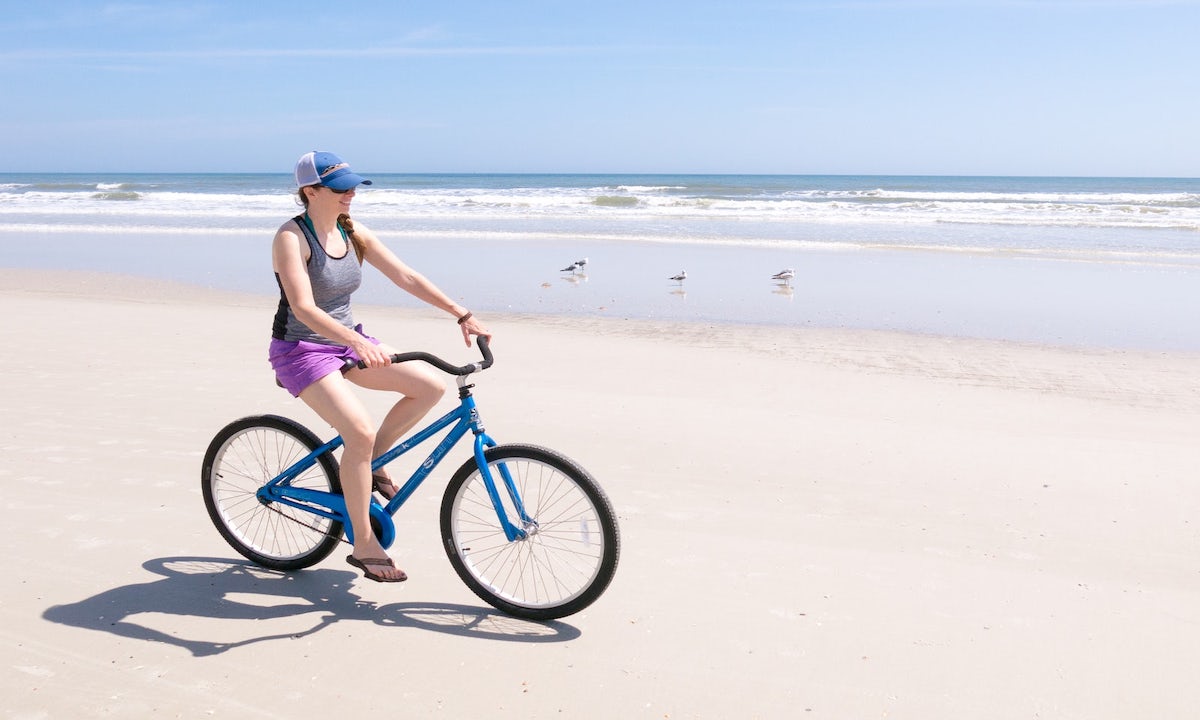 A visitor enjoys the sunshine with a bicycle ride along St. Augustine Beach.
Other Ways to Enjoy an Ecotourism Experience
Located off A1A on Anastasia Island, just south of the 206 Bridge, Genung's Fish Camp is part of St. Augustine's living history. Visitors and locals can enjoy a quieter place and a simpler time — when days spent fishing local waters aboard small boats started and ended on the banks of the Matanzas River. An iconic Florida fish camp, Genung's was founded in 1948. Today, the locally owned and operated fish camp shows their commitment to the river and its environment by hosting office space for the Matanzas Riverkeeper on site. GeoTrippin' Adventure Co. - mentioned earlier - operates from Genung's and offers kayak tours with a focus on the environment and local area history.
Florida Water Tours hosts the Florida Water Warriors program — a 90-minute tour offering STEM-based education focusing on science, particularly marine biology. Only available to private and school groups, the students participate in sample collecting and data logging while the instructors focus on ecology, climate, history, culture, and the sea life that lives in the water.
If you want to dive a little bit deeper (literally), consider Ripple Effect Ecotours. Their partnership with Marineland Dolphin Adventure and the University of Florida's Whitney Lab has given them unique access to the southern boundary of the Guana Tolomato Matanzas National Estuarine Research Reserve. Because of that, they're able to share research, education, conservation, and a natural interpretation of the environment with their visitors. Ripple Effect Ecotours is rated #5 of 133 outdoor activities in St. Augustine and welcomes paddlers without any experience - as long as you leave nothing but ripples behind.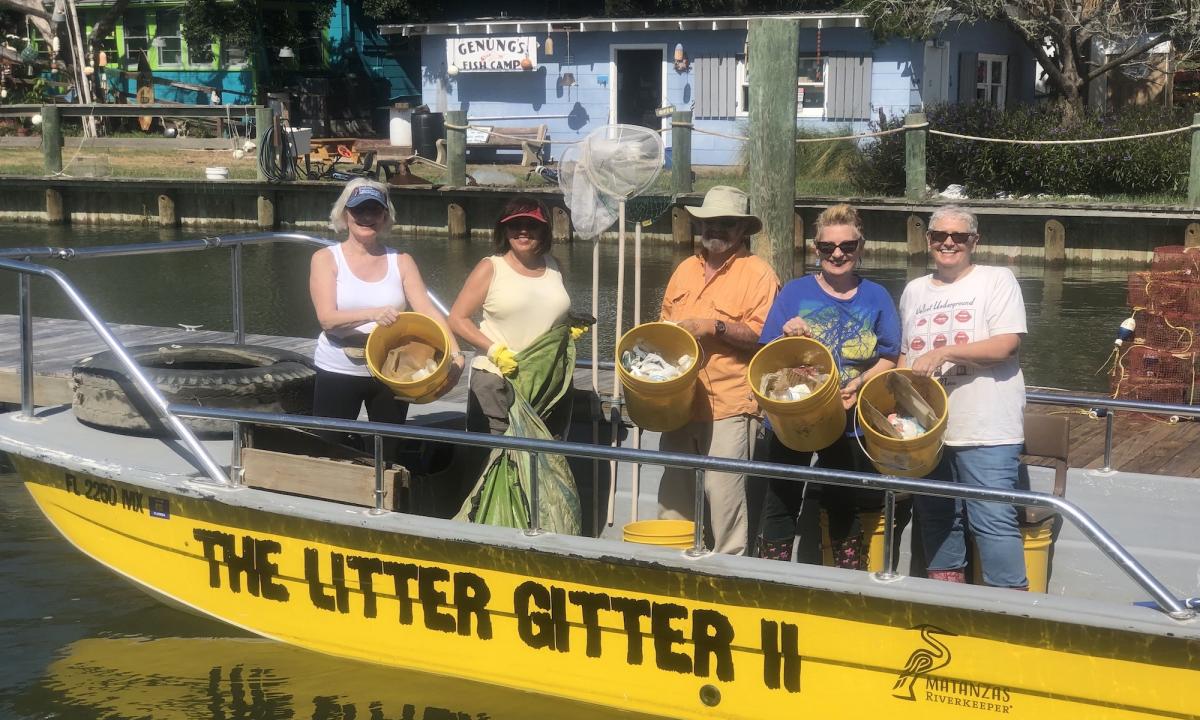 In an effort to keep the river free of litter, Genung's Fish Camp takes Matanzas Riverkeeper volunteers out on The Litter Gitter.