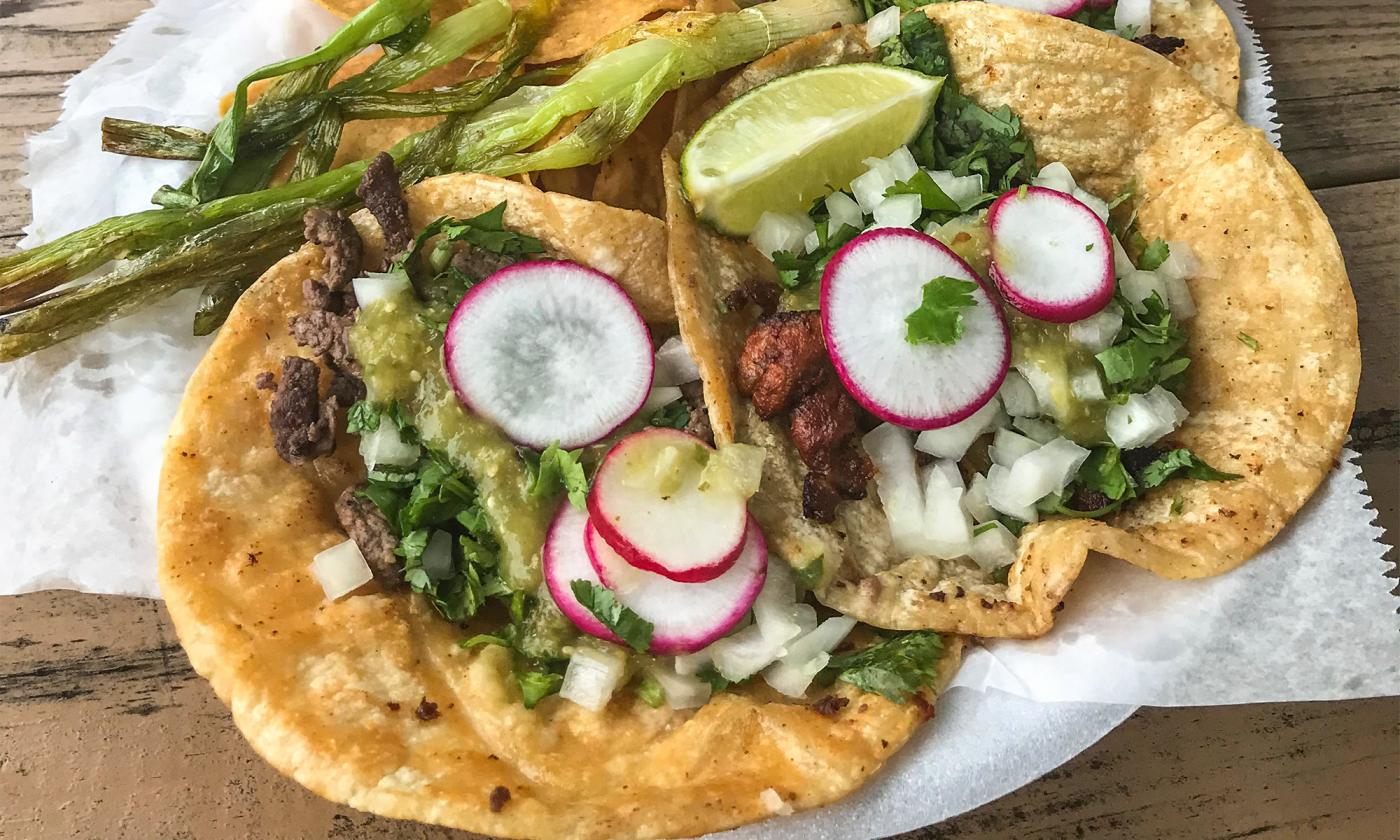 Love Tacos? We Got 'Em All Over Town
Here's your guide to all things taco in the Ancient City.
So, you might've noticed something about St. Augustine...
There are A LOT of places to eat tacos. Whether you're antiquing in Uptown, or island-side, spending the day at the Alligator Farm, you're sure to be near one of the city's many taco restaurants. But when hunger hits you—that hunger which can only be satisfied by a tortilla stuffed with delicious ingredients— which restaurant do you choose?
Out of all the taquerias in St. Augustine, how do you know which place is best for you?
Enter VisitStAugustine.com.  We've put our taste buds to work by setting out on a Taco Crawl of all of our city's taquerias. Each place is unique in its ambiance and its ingredients. So don't fret, fellow taco-lovers, we're here to help you choose.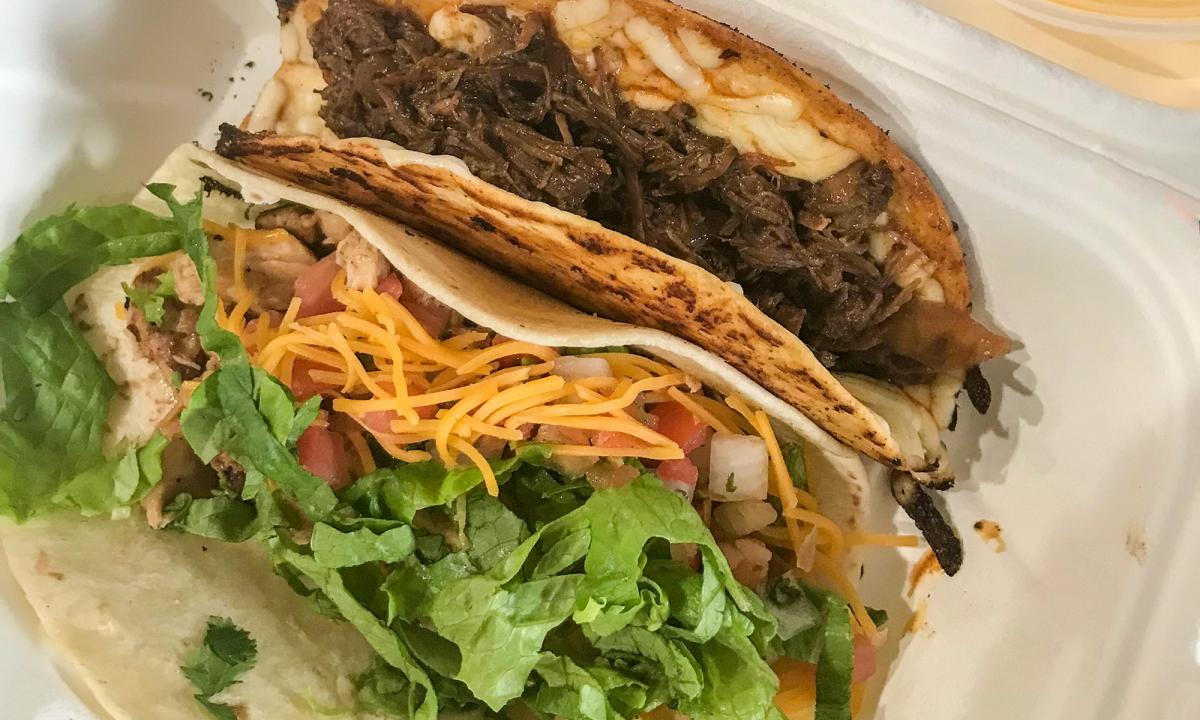 How we made this list of Taquerias…
This isn't just another list article. When I reference this as a "taco crawl," "crawl" is an active verb. To provide our readers with the most informational taco article possible, I, Cheyenne Koth, and two of my foodie cohorts enjoyed the offerings at each and every one of these taquerias ourselves. And as Flagler alumni, we know tacos. Trust us.
Below, you will find a list of restaurants in St. Augustine that specifically serve tacos or are known for the tacos that they serve, all collected by informal survey of local friends. Oh, and our list only includes taquerias that are locally owned and operated.
The Inaugural St. Augustine Food Truck Festival shows that the popularity of mobile eating options is on the rise — and St. Augustine is hip to the trend. Thus, we've included several food trucks which sell tacos, as well.
As we munched, we took note of the unique qualities of every establishment — do they have outdoor seating? How big are their serving sizes? Do they serve vegan options? Is their free salsa to die for?
Look no further than our comprehensive taco crawl for the answers to your burning questions (or… is that just the hot sauce?).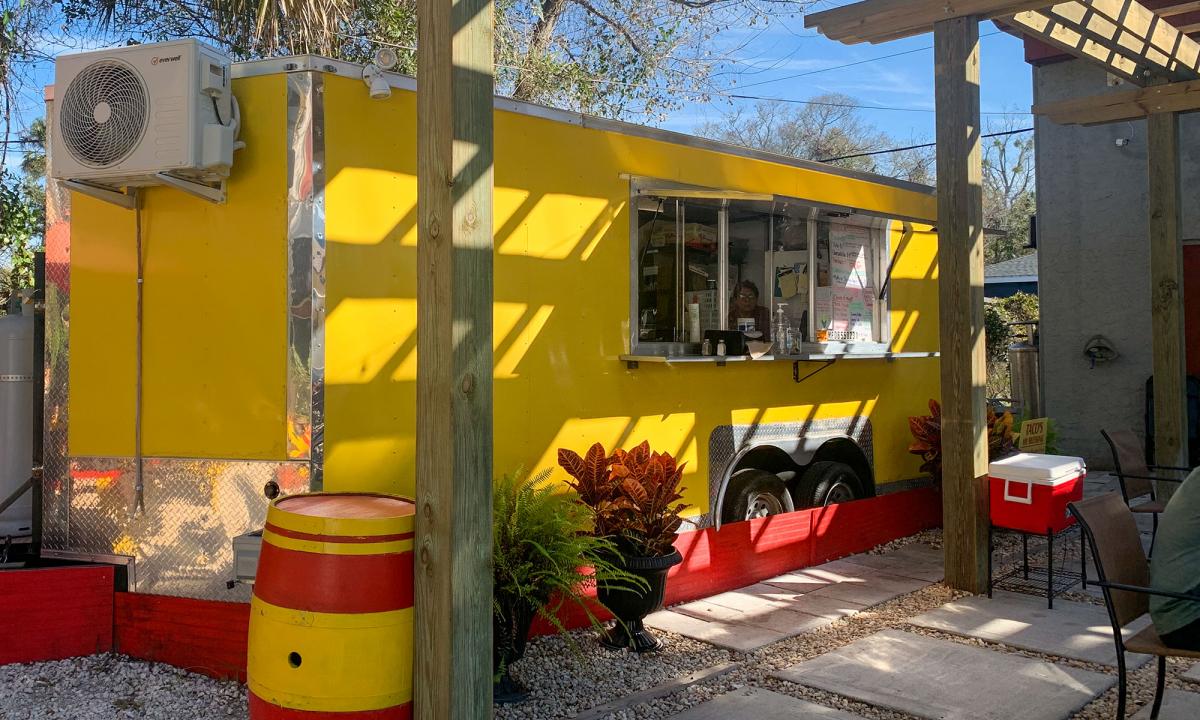 Located on West King Street just off of US-1, Tacos My Blessing offers a menu chock full of muy tradicional Mexican tacos, burritos, and quesadillas. You can even order pambazo — a cheese and potato sandwich, whose bread is fried to perfection in guajillo chili sauce — and torta, a similar flatbread sandwich with all the fixings. Whatever you choose, you're sure to be satisfied with the quality and taste at Tacos My Blessing.
A standout element of this taqueria is its location — their kitchen is nestled behind The Bog Brewing Company and offers outdoor seating for beer-drinkers and taco-lovers alike — truly the makings for an enjoyable hang-out. Also, if you're looking to re-up on your teas, coffee, or spices, The Local Refillery is just across the street.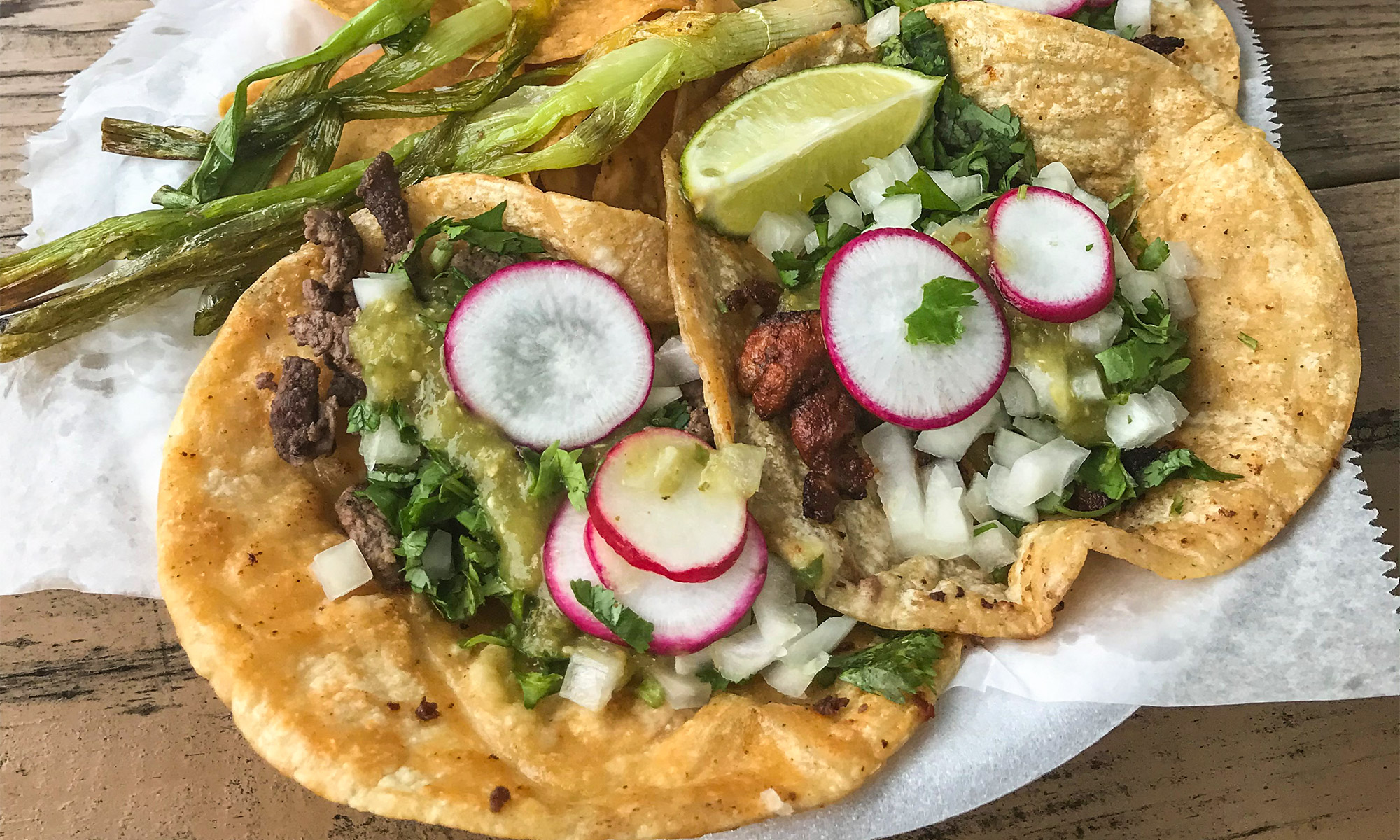 If you order the '3 Tacos for $9.99,' you can choose which types of meat each taco will be filled with. Our informants raved about the juicy pork al pastor, which pairs beautifully with the traditional street taco ingredients of onions, radishes, cilantro, and salsa verde. Be sure to treat yourself with their fresh homemade pineapple juice — if they have any left.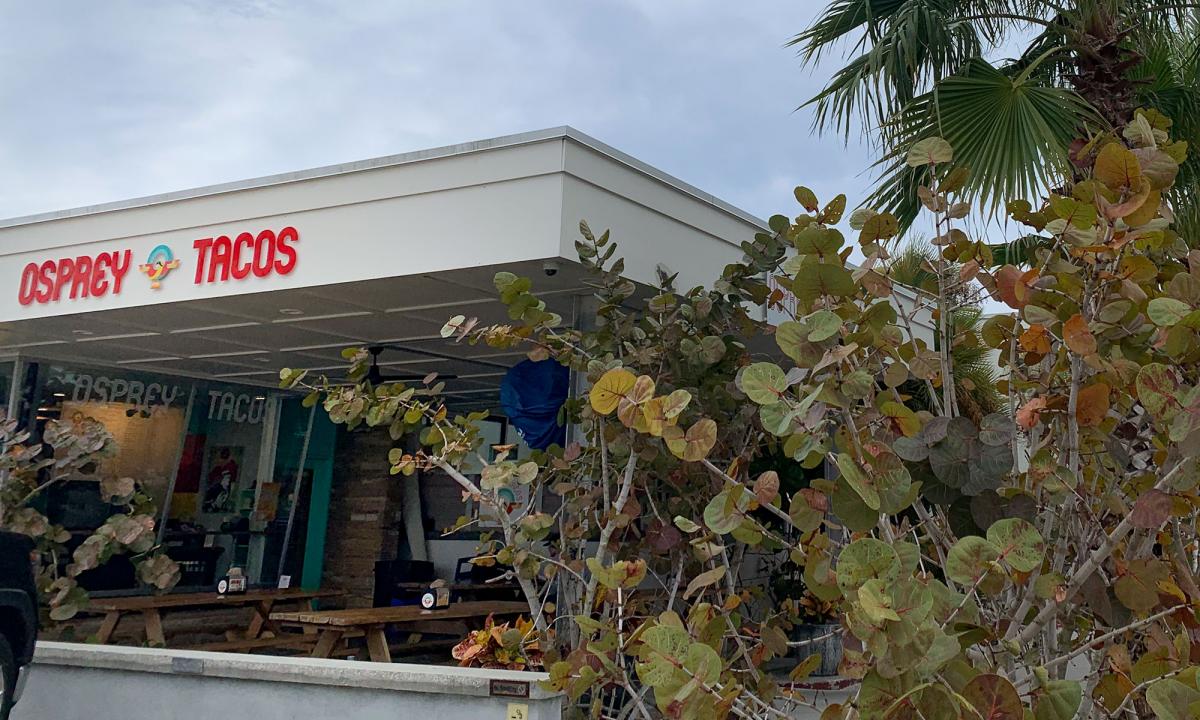 Self-described as "laid-back" and "original," Osprey Tacos is located on Anastasia Boulevard just off the Bridge of Lions. They are close neighbors with Old Coast Ales — which is a bonus for those who know that no taco is complete without a pint of beer.
The Osprey Tacos menu holds delicious options for all flavors of taco-lovers. Their "Street Taco" section is more on the authentic side, offering a variety of meats as well as rice, black beans, and soy proteins with cilantro, radish, and onion. The "Boulevard Tacos" section includes a unique array of Osprey-curated tacos. And you can tell, the Osprey team had a blast creating these.
A few standout examples include the "Crispy Tofu" (sweet and sour fried tofu with scallions), the "Cuban" (literally a Cuban sandwich in a taco), and the "Saint Augustine" (fried shrimp and pickled onions in a house-made pink datil sauce).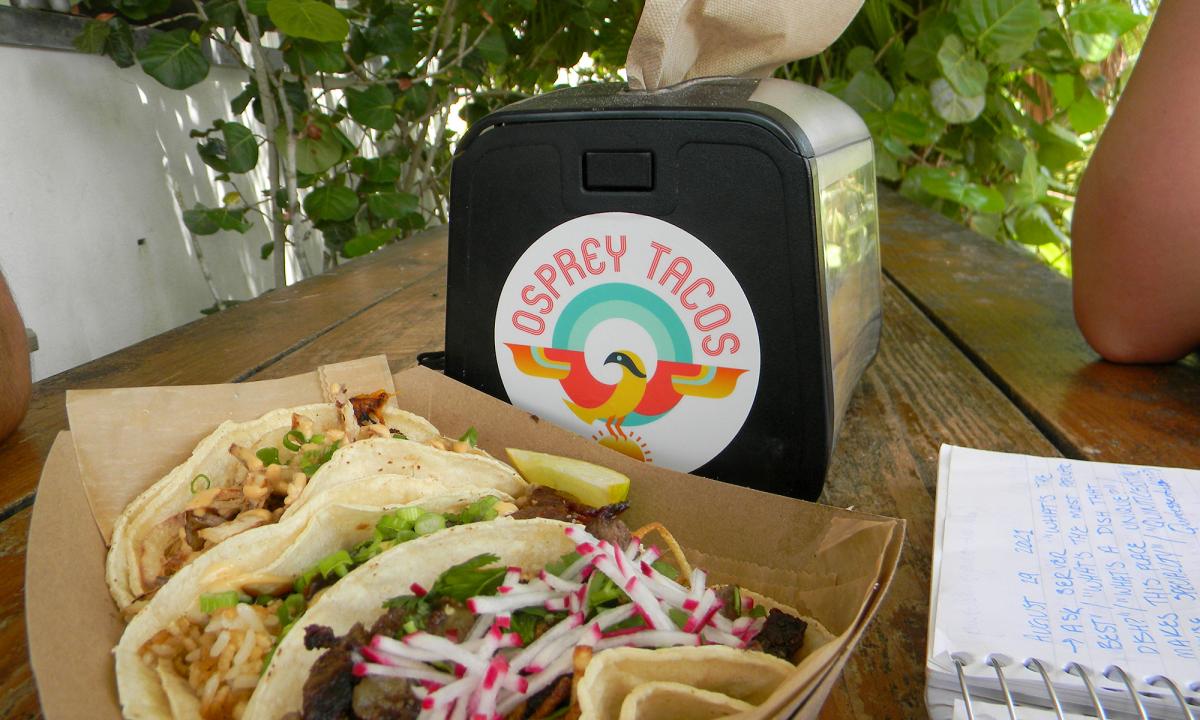 My taco team and I couldn't get enough of the "San Diego" — with its juicy skirt steak, perfectly complemented by the avocado and salsa verde, and contrasted with crispy fries. One menu item which seemed suspicious at first but knocked us completely out of the park was the "Pork Fried-Rice Taco." Stuffed with crispy pork, and rice griddled in hoisin sauce, this taco is an example of culinary fusion at its finest.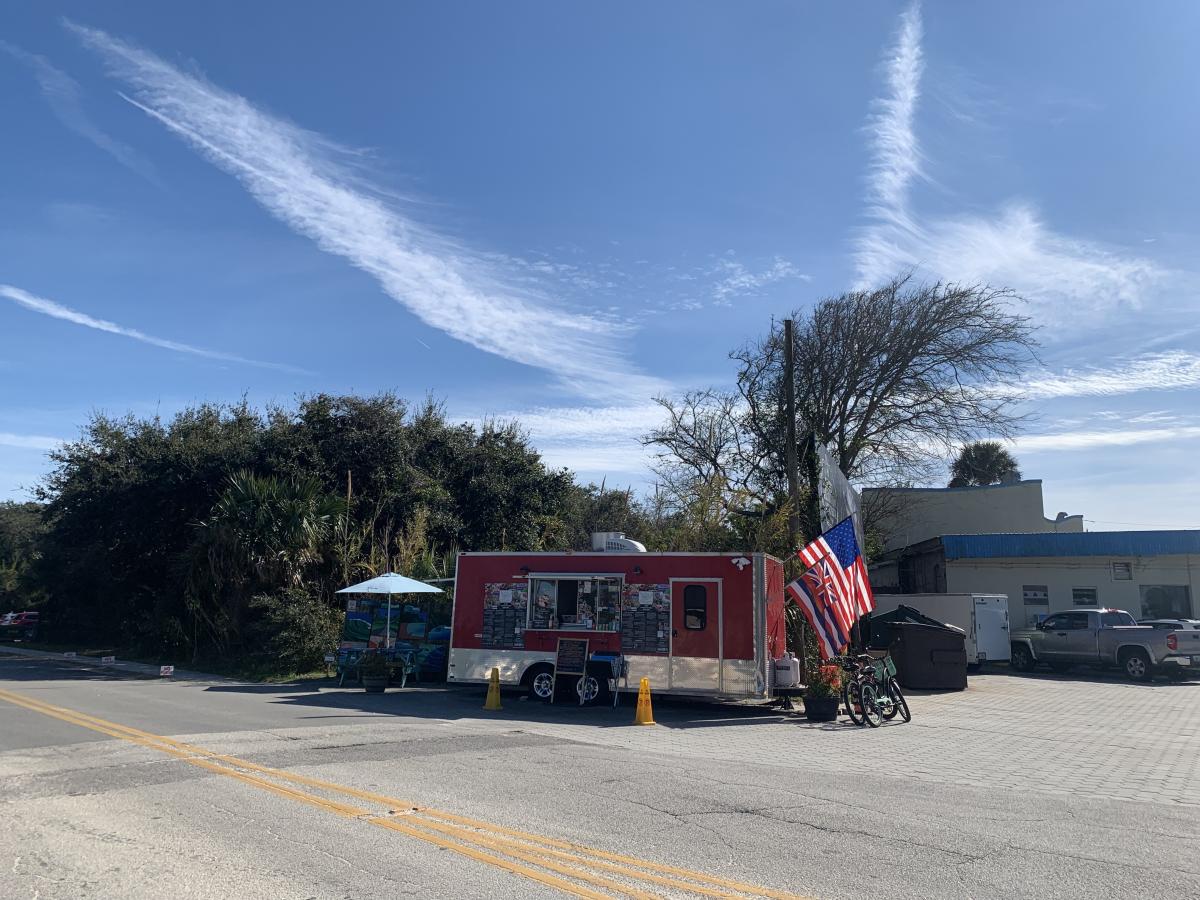 A local favorite for surfers and college students, Nalu's Tropical Takeout is perhaps the oldest reigning food truck/taco restaurant in St. Augustine, having been founded in 2002. You can find Nalu's permanently posted outside of Surf Station on Anastasia Island, just outside the entrance to Anastasia State Park.
So, if you're enjoying a beach day or thrifting on the Boulevard at Christé Blue, the friendly people at Nalu's have you covered with delicious food and outdoor seating. Their menu includes tacos — of course — but they also offer wraps, nachos, and poke bowls. The Ahi Tuna at Nalu's truly stands out — perfectly cooked to melt in your mouth, you can order this as a protein on most of the items on their menu.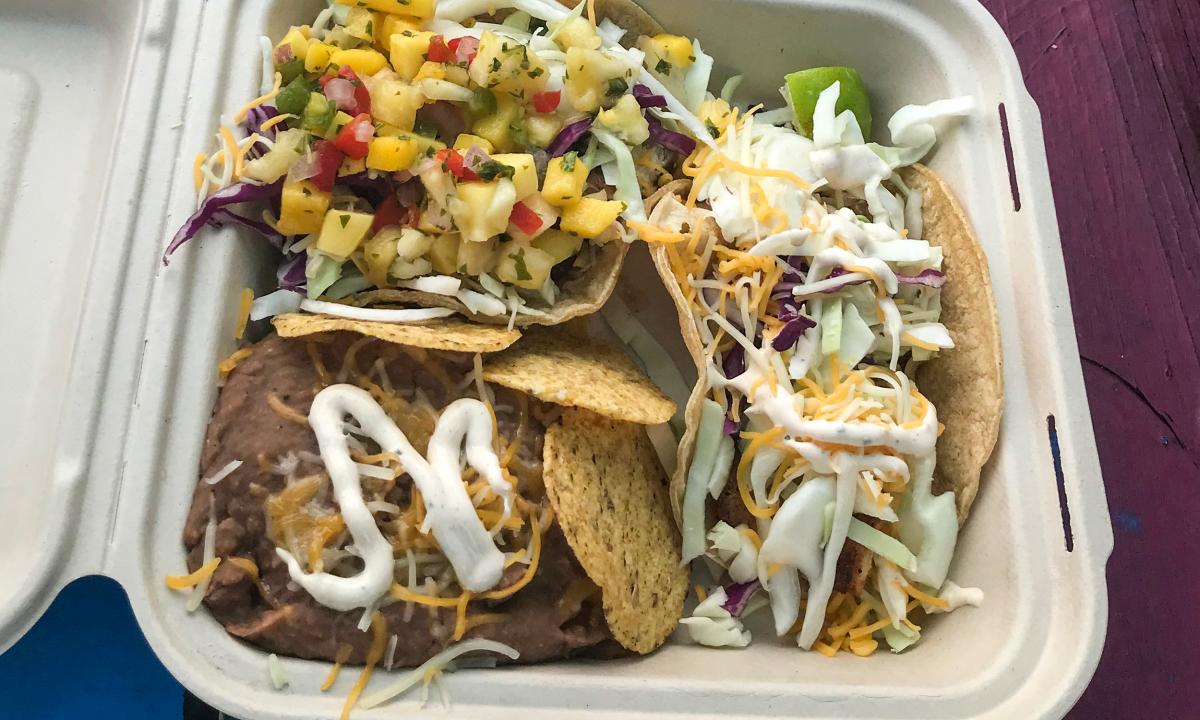 Our informants ordered the Datil BBQ Tacos with steak, and we were smitten by the flavors. These special tacos are truly a treat for our spice-loving readers, seasoned with Baja sauce and Minorcan Mike's Datil Pepper Sauce.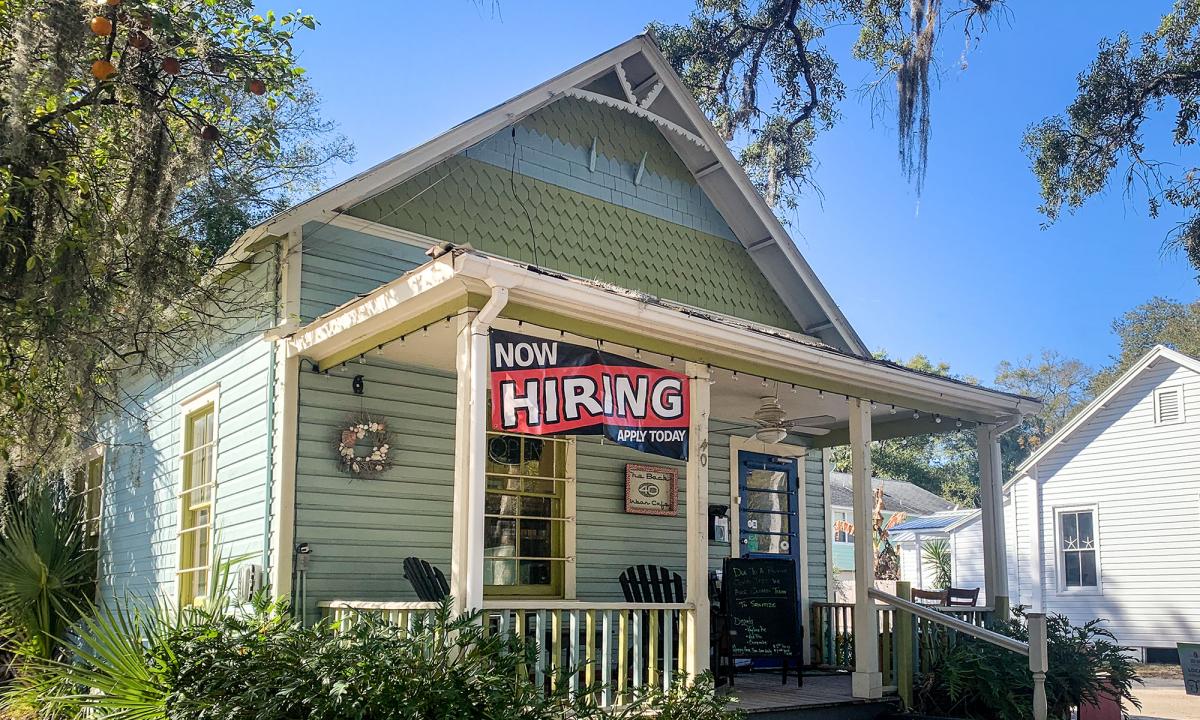 Tucked away on the South Dixie Highway, west of downtown St. Augustine, the Back 40 Urban Cafe is a local favorite for Tex-Mex and Caribbean inspired food. If you're one of those crazy people who don't like tacos, there is a menu's worth of alternatives at Back 40 Urban Cafe for you, too. Having served our community with delicious cuisine for over a decade, it's safe to say that this eatery has their taco skills down pat.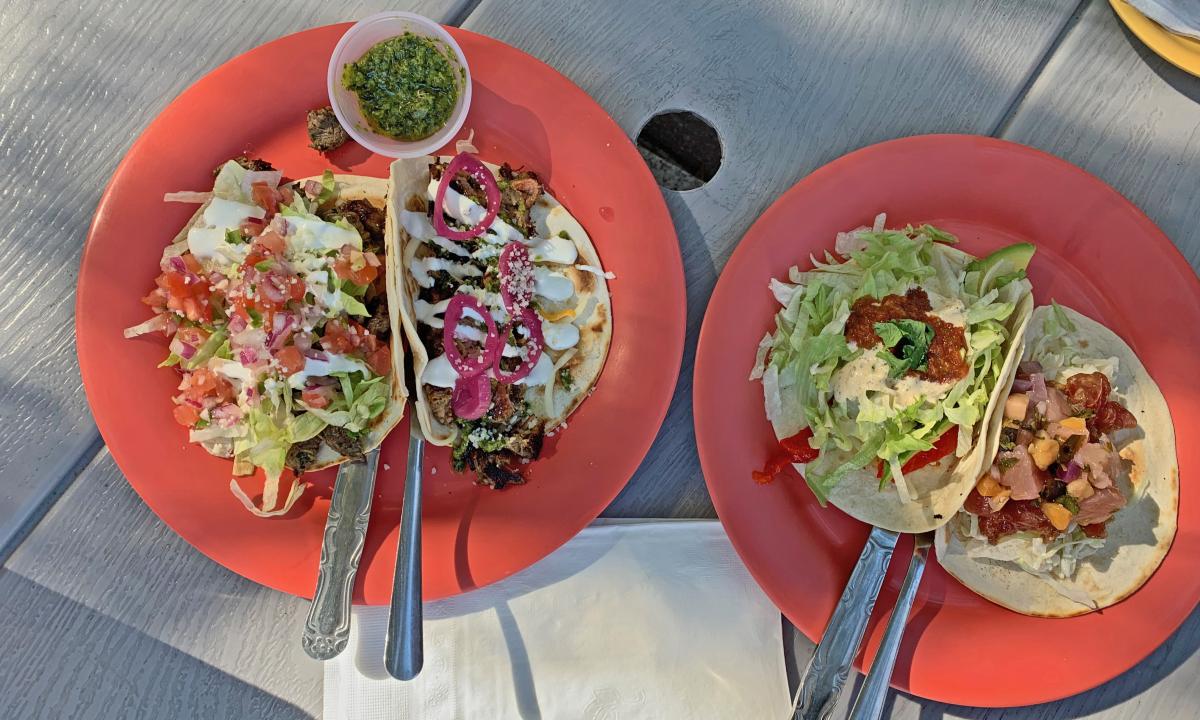 Their menu has two sections that are chock-full of dynamic taco dishes — from classic A La Carte options like the Mojo Pork Taco and Shrimp Taco to the Back 40-curated favorites like the Chilean Mahi Tacos and Avocado and Roasted Red Pepper Tacos. Whether you're a meat lover like myself or a vegetarian, the Back 40 Urban Cafe cooks delicious food for you.
Our Taco Testers recommend the Steak Tacos and the Chimichurri Pork Tacos, pictured here. We found the texture of the pickled onions to pair perfectly with the taste of the house-made crema and chimichurri sauce.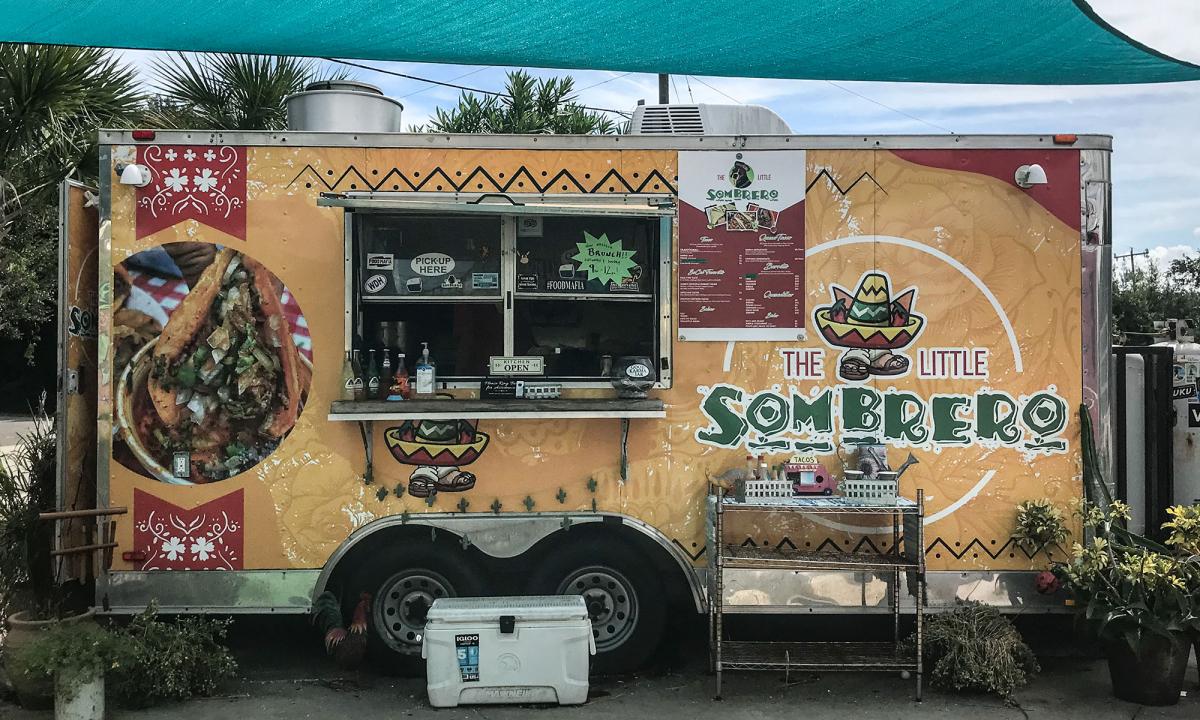 Parked permanently at The Village Garden Food Truck Park, The Little Sombrero is owned and operated by Flagler alumni, which piqued the interest of my Taco Team. We were eager to try their tacos and they certainly didn't disappoint. Its location amongst the other food trucks in the park makes this a unique taqueria — the atmosphere is family friendly and just plain fun.
The Little Sombrero serves dishes with Mexican and SoCal influences — tacos (both traditional and "SoCal Favorites"), burritos, and quesadillas are all on the menu. Their claim-to-fame is their slow-cooked meats, which are delightfully moist and nicely seasoned. The family-friendly "Quesatacos" in particular are sure to fill you up. And though it was a hard decision to make, we heartily recommend the Carnitas tacos.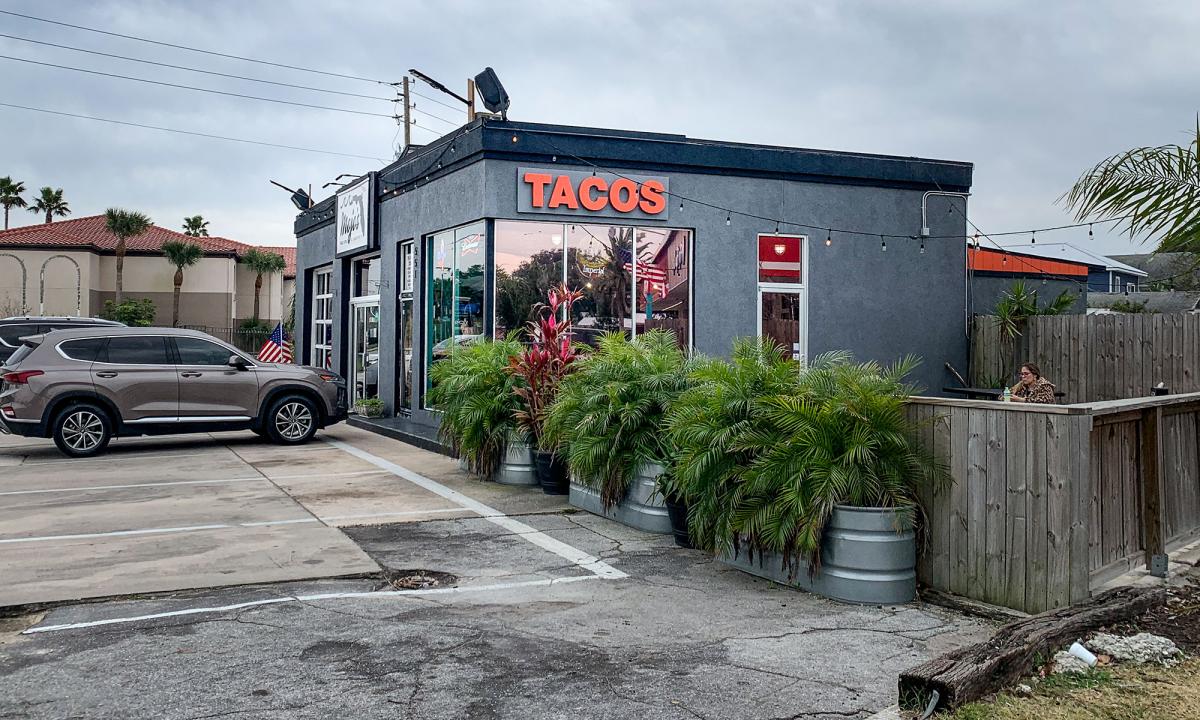 Mojo's Tacos now has two locations in the St. Augustine area, much to the delight of those who live south of town. The original location is on A1A Beach Boulevard and the new location is on US-1, next to Cold Cow Ice Cream. Revealing their sense of place and humor, both Mojo's Tacos locations are open from 9:04 a.m.— 9:04 p.m. (904 is the area code in the county) and have indoor and outdoor seating.
Mojo's has five menu items (tacos, burritos, salads, arepas, and nachos, all of which customers can deck out with their preferred proteins, toppings, and sauces. From avocado and tempeh to steak and mahi, their range of choice makes Mojo's Tacos a real crowd-pleaser.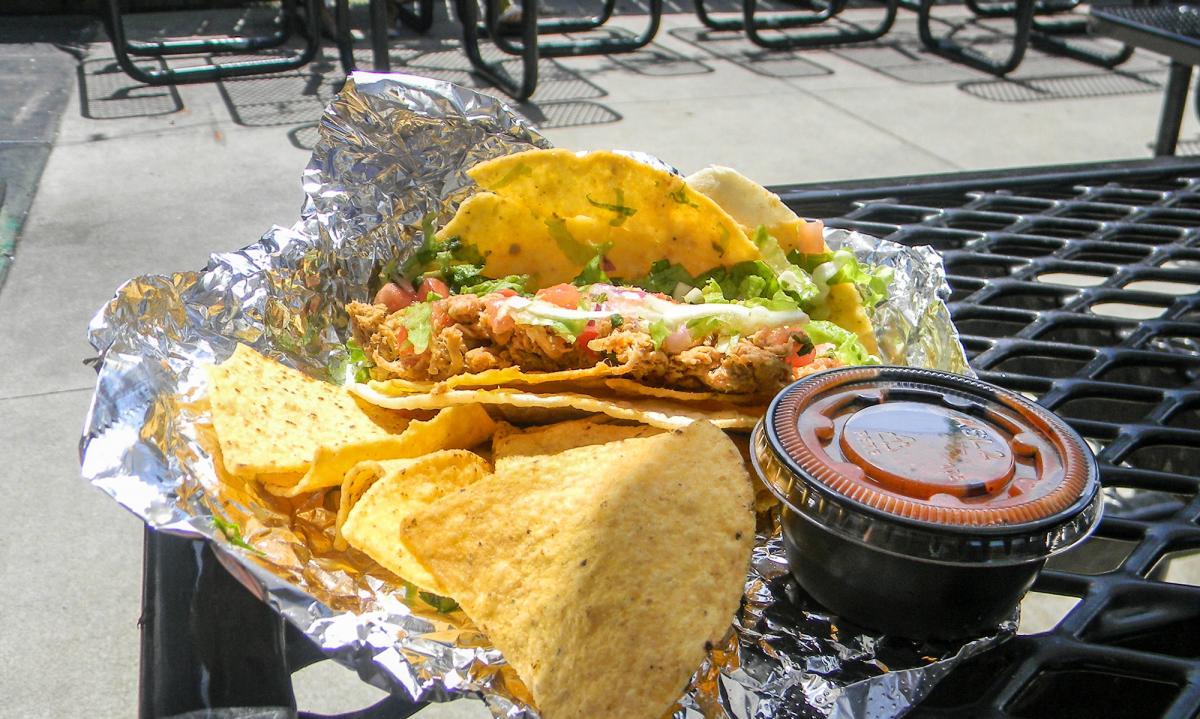 My taco-testers and I highly recommend the blackened shrimp on whichever dish fits your fancy. If you're a seafood lover, the quality of the shrimp at Mojo's Tacos is something you can rely on every time.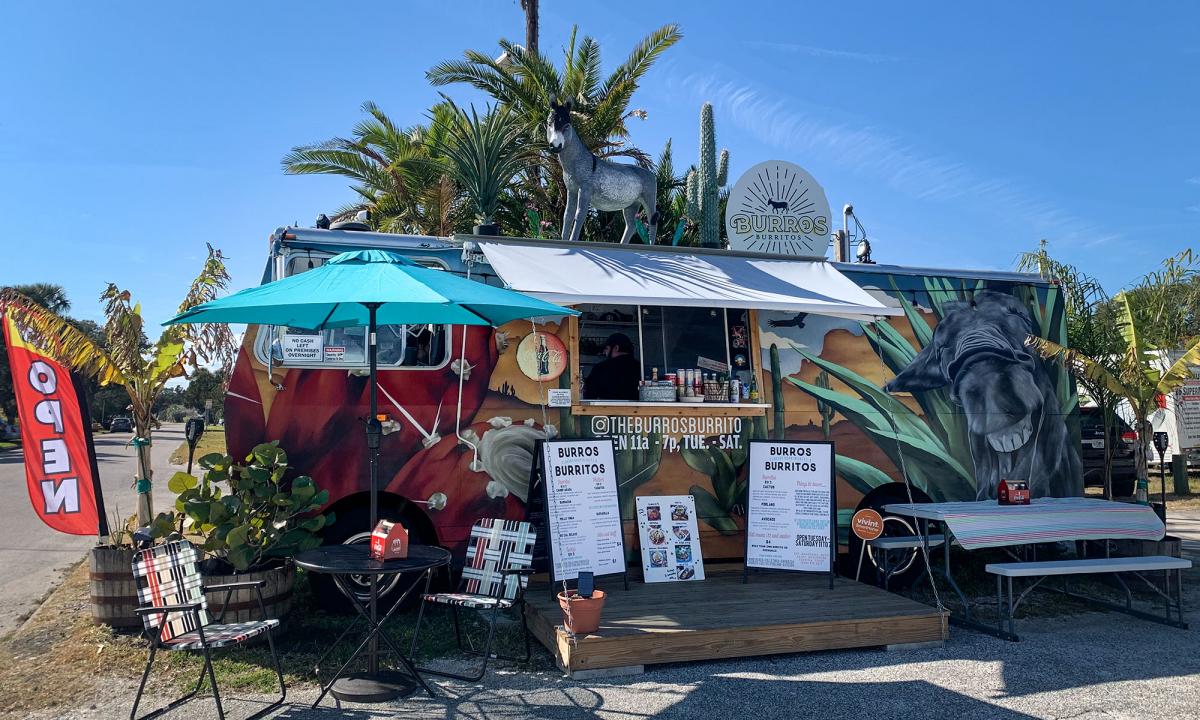 Astute readers will note that a burrito is not, in fact, a taco. However, we decided to let Burros Burritos slide because… well, we can.
Besides — a burrito is a tubular taco if you think about it.
Burros Burritos, permanently located on Anastasia Island near the St. Augustine Lighthouse and Maritime Museum, across A1A from Creative Juices Natural Cafe deals in delicious tubular tacos — the "East L.A. way." Their menu has plenty of choices for vegetarians and meat-eaters alike, as well as a rotating "Burro of the Day" and a child-sized option for any menu item. Theirs is a family business with homemade salsas and well-cooked meat to delight the senses.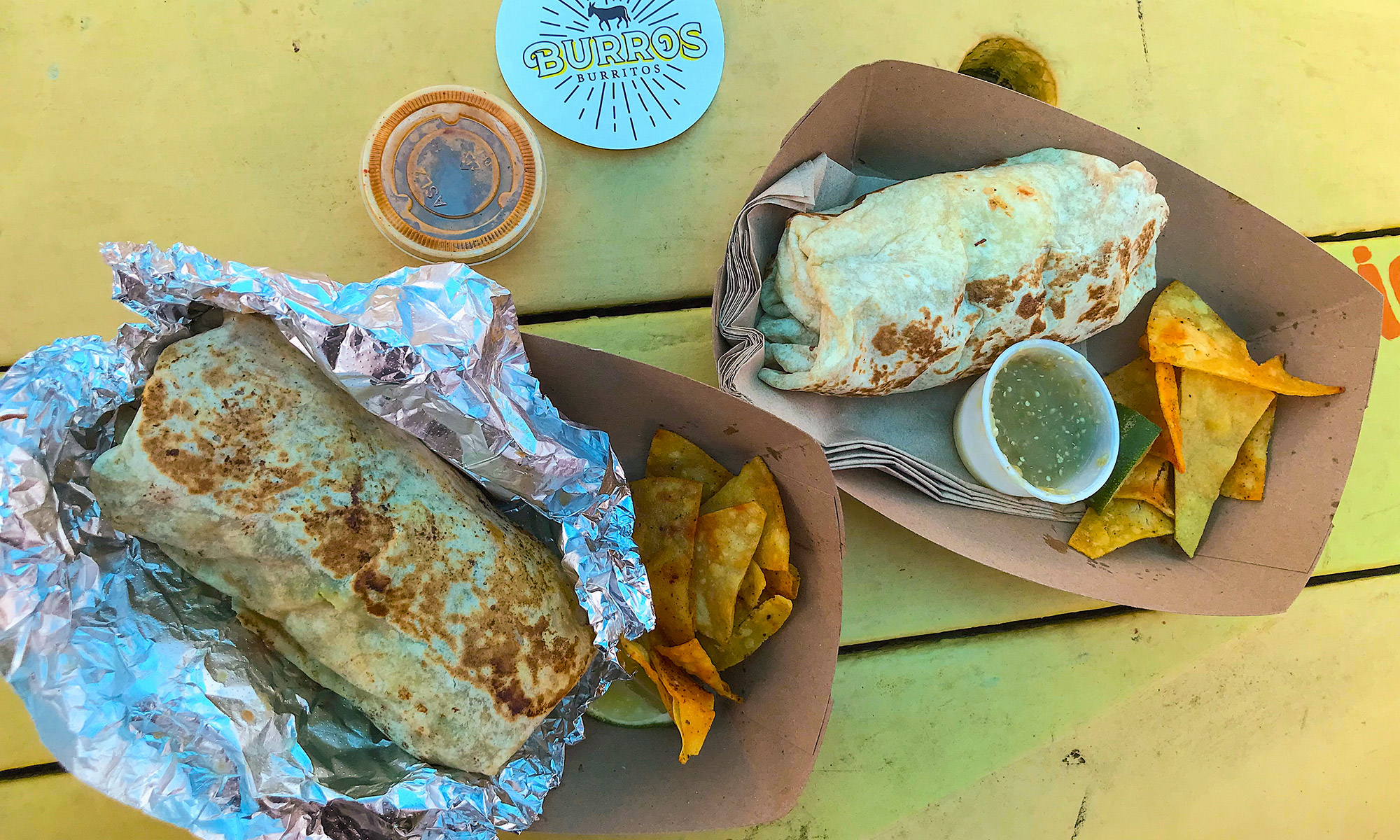 A standout menu item from Burros Burritos is the Cactus Burrito — yes, you read that right. This food truck is unique for serving grilled prickly pear cactus in one of their "Vegi" options. And it is surprisingly filling, so try it out if you're feeling adventurous.
My taco team and I purchased and whole-heartedly recommend the Barbacoa Burrito for our fellow meat-lovers out there. This burrito is filled with slow-cooked chuck roast, which they marinate in their house ancho and stuff with all kinds of delicious additions. (Fun Fact: The Burros Burritos food truck is a repurposed Old Town Trolley Tours tour bus — talk about talent!)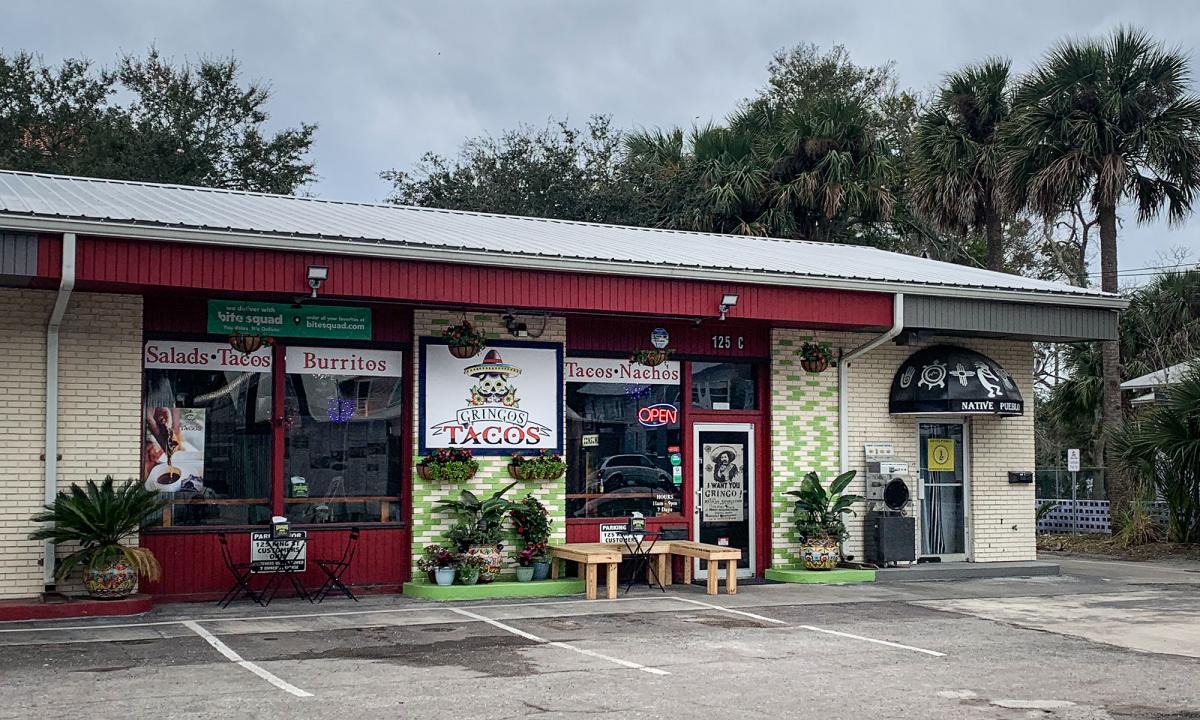 Opened in the fall of 2021 and family-owned, the aptly named Gringos Tacos is located on King Street, just a skip away from Whetstone Chocolates and in the same shopping center as St. Augustine Bike Rentals.
Serving tacos sure to please even the pickiest eaters in your group, the Gringos Tacos menu includes a variety of protein choices for tacos, burritos, salads, bowls, and nachos. (NOTE: their only vegetarian option is avocado.) They have a kids menu for the little ones and a "Gut Buster Burrito" for those looking for a mealtime challenge. These massive burritos are $20.00 a pop and are filled with your choice of meat or avocado. Customers are warned that the "Gut Buster" "may require two hands (and a lot of napkins)."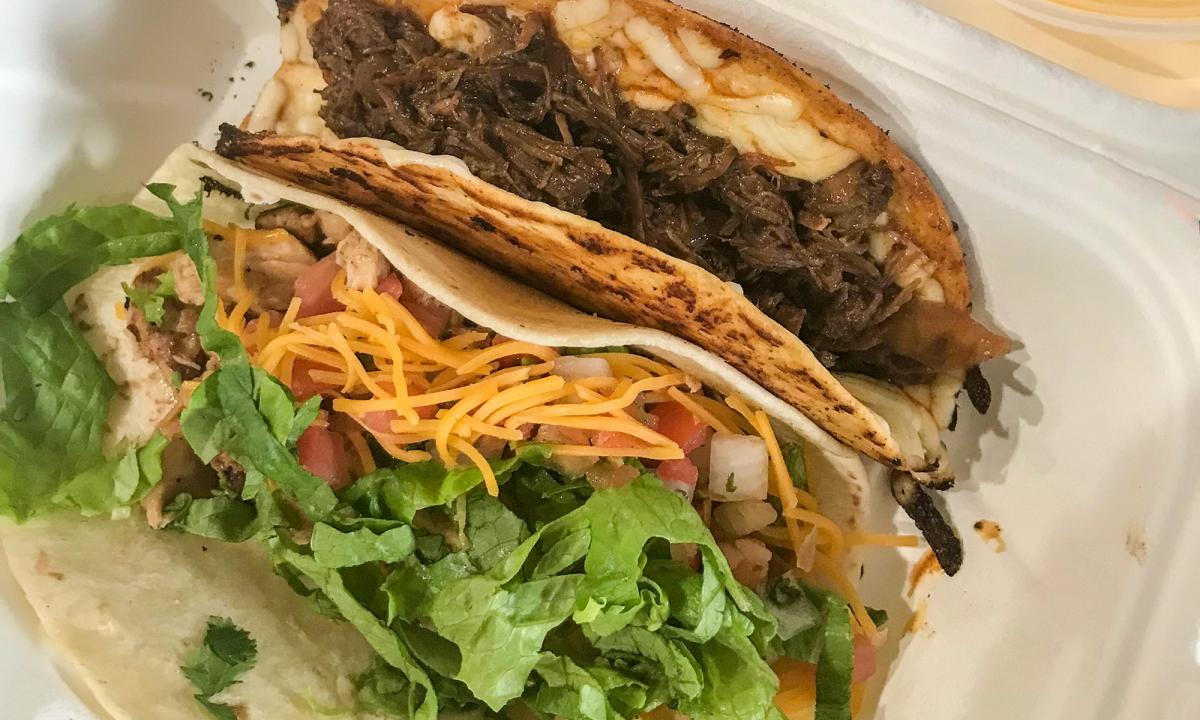 Our informants recommend the "Birria House Taco," which is the Gringos Tacos' take on a traditional dish from the Jalisco region of Mexico. There are many takes on tacos birrias, but not so many in St. Augustine. Gringos Tacos pays respect to that tradition in their own "Western" way. Their "Birria House Taco" is filled with shredded steak, which is slow-cooked in a beef consommé and served on a flour tortilla with mozzarella cheese, instead of the traditional cotija crumbling cheese. A cup of the beef consommé is also served on the side, so get your dip on and dig in.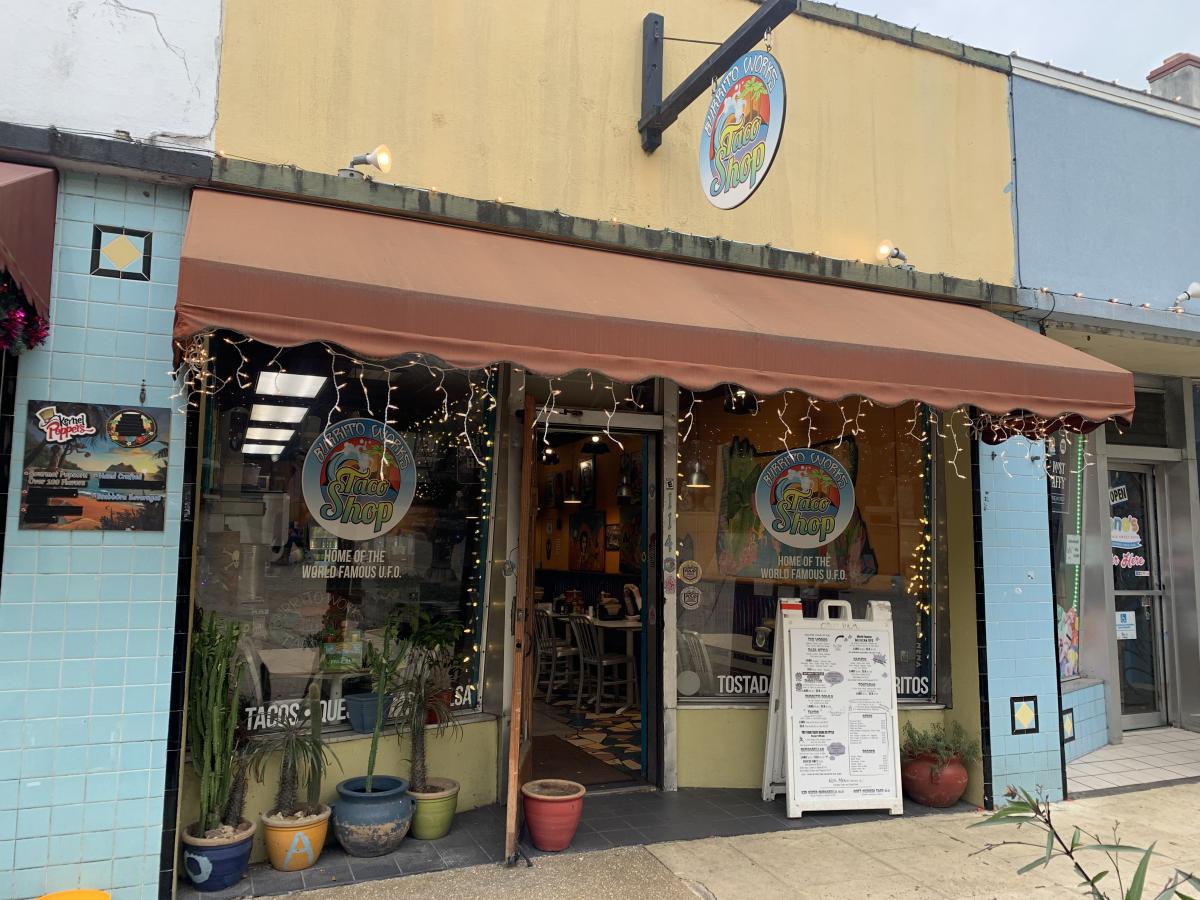 Burrito Works Taco Shop is a go-to for many Flagler College students and has two convenient locations in St. Augustine. For those roaming the streets in the Historic Downtown region, there's the St. George Street location, right next to Kernel Popper's Gourmet Popcorn — this location has indoor seating.
If you're beachside, A1A Burrito Works Taco Shop is located near the St. Augustine Beach Pier, where the weekly Wednesday Pier Farmers Market is hosted. On Fridays and Saturdays, they operate 11:00 a.m. — 2:00 a.m., making them one of the only late-night grub spots in St. Augustine.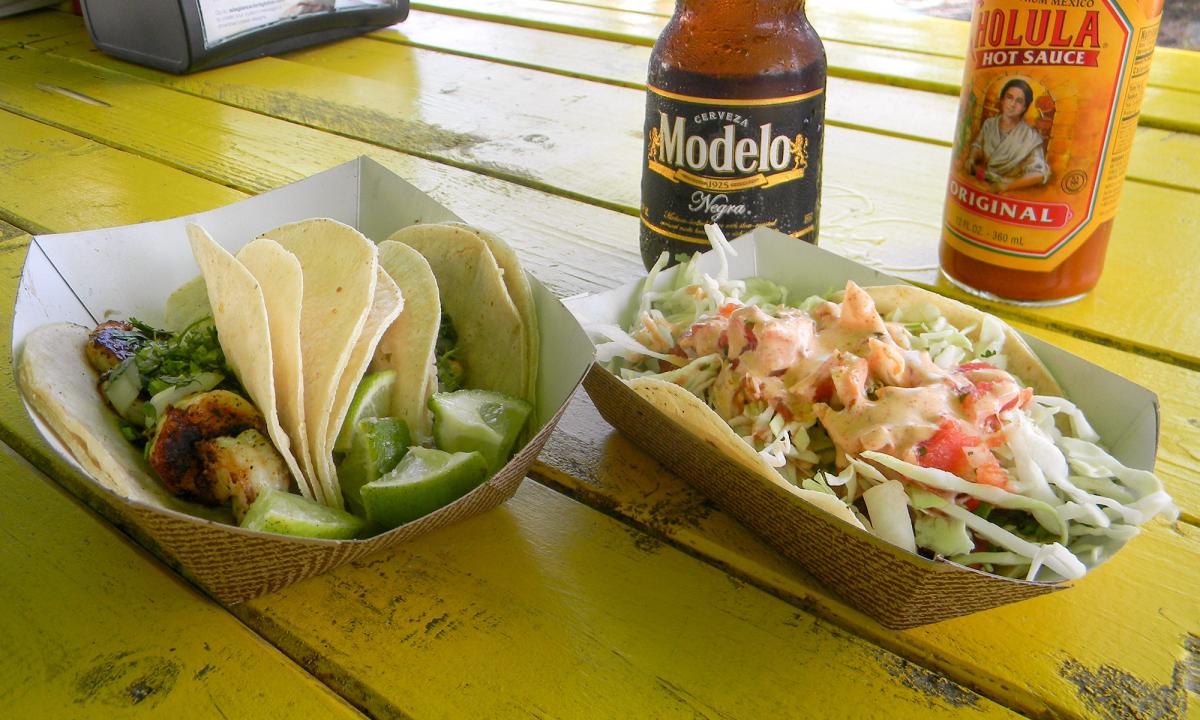 Though they offer many choices, the standout item in the Taco Shop menu is their infamous 'Mexican UFO,' which is a circular taco-burrito-quesadilla hybrid filled to the brim in baja or original styles.
My taco team and I — being Flagler College graduates ourselves — are well familiar with this taqueria and insist that hungry visitors and locals alike try the UFO. See you on the mothership!
Now that you've read our takes… Try them for yourself!
So, do you believe us now? History, step aside — St. Augustine is a city of tacos.
And to be honest, we've just scratched the surface. Here is a list of some of the local taquerias that didn't appear in this article:
We need to eat more tacos.
From the authenticity of Tacos My Blessing to the innovation of Osprey Tacos, each restaurant (or food truck) offers its own distinct spin on this well-loved dish. Go forth and taco.