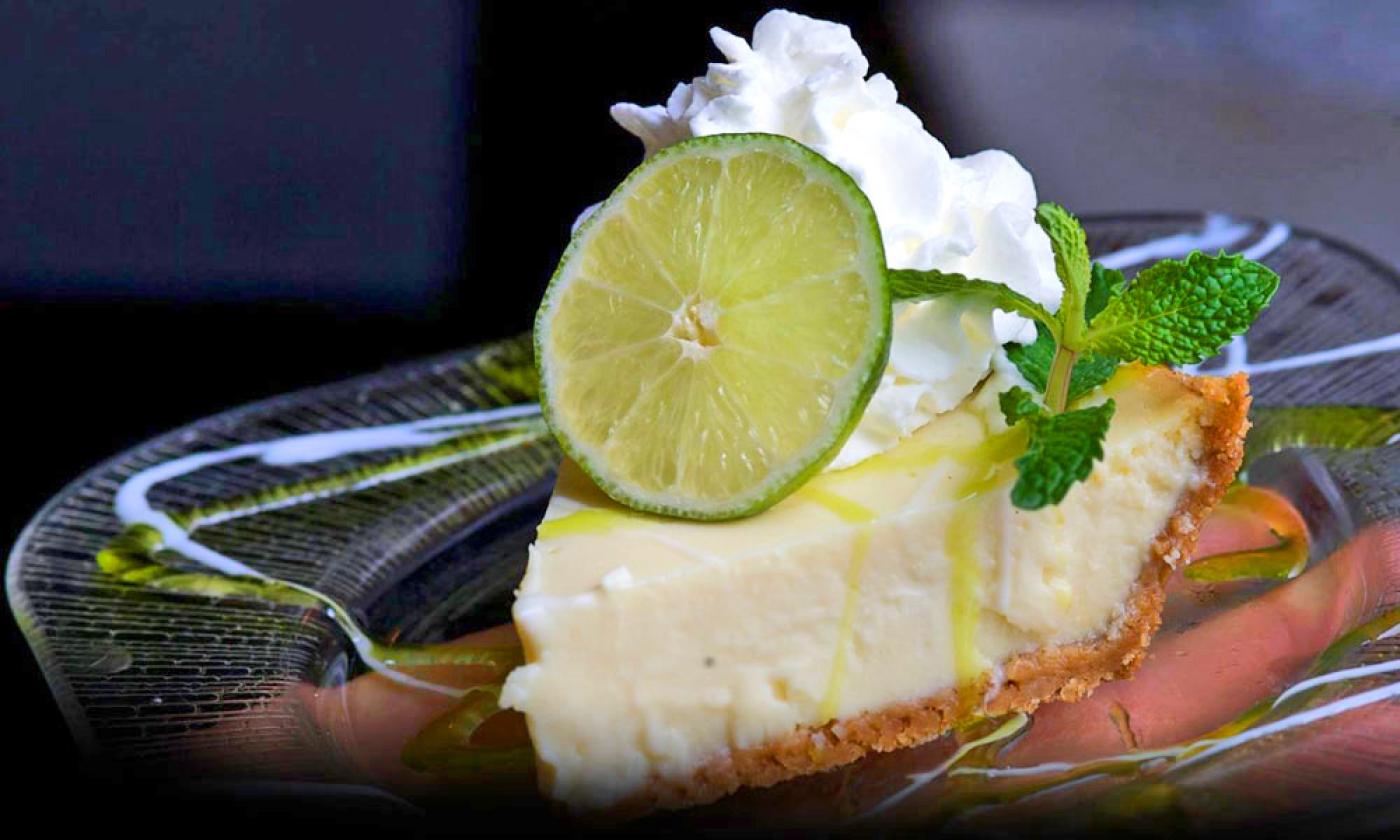 13 Florida Foods In St. Augustine
Vacationers looking for authentic Florida food can pull up a chair at St. Augustine's restaurants.
Most people say that the best food the world has to offer is in Italy. Oh yeah, pizza and noodles, are really impressive. Others favor the French. Mmm, snails—thanks, but no thanks.
Well, all those people are way wrong! The best food ever created in the history of culture is the food we have right here in the great state of Florida.
The thing about Florida food, though, is that just like American food, very few dishes are really "our own." Instead, Florida brings together a multitude of cultural influences and cuisines from different regions.
We have Latin influences, rich seafood delicacies, and Southern comfort food (yeah, that's right. I said it. Florida is part of the South. Has been since 1845, so deal with it.). With such a long history and so many different cooking cultures contributing to the food industry in St. Augustine, visitors on can enjoy all the dishes for which Florida is famous.
Southern Food
As they say, "In Florida, the further north you go, the further south you get." What they mean by this is that a lot of Central and North Florida is characterized by Southern culture.
The areas around St. Augustine were settled by colonial-era English and American pioneers known as Florida Crackers. These crackers were cattlemen who lived and worked in the backcountry. Their culinary tradition included a lot of the dishes the South is known for, including barbeque, shrimp and grits, fried green tomatoes, and more.
European Food
The Spanish were the first to land and claim Florida for Europe, and the first Europeans to ring the dinner bell in Florida. The Spanish brought over a lot of delicious dishes that are still popular today, such as ceviche, empanadas, arroz con pollo … the list goes on.
And it wasn't only Spanish who brought their special foods to Florida -- Minorcan and Greek immigrants also had a huge influence on St. Augustine dishes. Dishes utilizing the local datil pepper -- like Minorcan chowder -- are a staple in town. And yes, even the Italians with their delicious pizza and noodles.
Floribbean Food
All the seafood and tropical delicacies that Florida is known for are easily found in St. Augustine. Because St. Augustine, Florida is a seaside town, the fishing industry is the perfect supply point for Caribbean-influenced or "Floribbean" dishes. It also means that "Catch of the Day" is a special at most restaurants, and people actually get legitimately excited about the oyster season.
1. Conch Fritters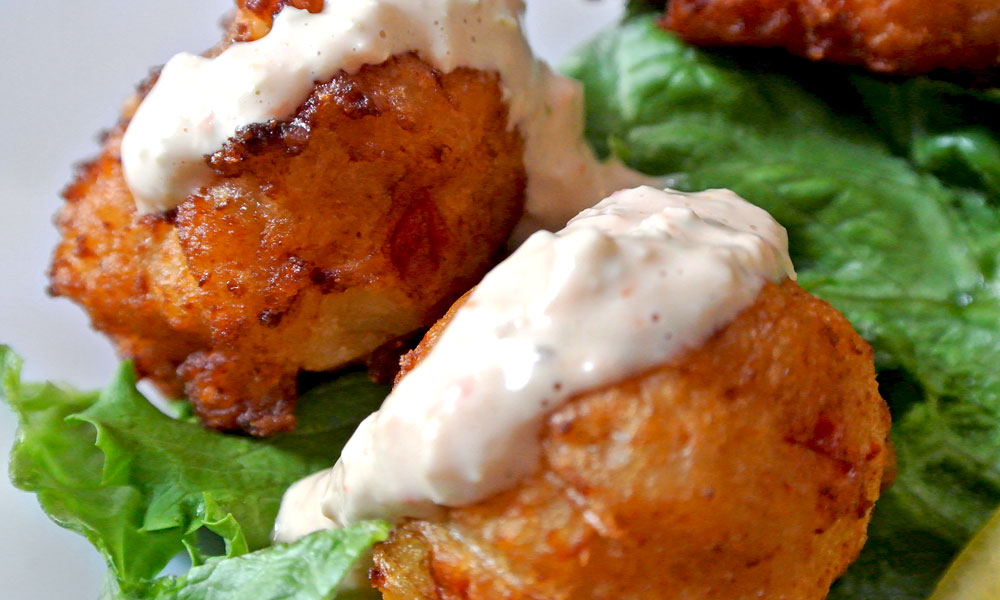 Conchs are a form of sea snail, and conch fritters are when these sea snails are mixed up into a delicious batter, deep-fried, and served as an appetizer at local seafood restaurants. Conch fritters are like the escargot of Florida, except far more appetizing. Conch fritters are a good mix of Southern-influenced cooking and seafood (the Southern influence mainly comes from the fact that they're deep-fried in a big vat of oil and dipped in rich, creamy tartar.
Visitors who want to try conch fritters can order them at The Conch House (of course) located on Anastasia Island just a short drive over the Bridge of Lions.
Make Your Own
CONCH FRITTERS
2 cups self-rising flour
2 cups conch, tenderized and finely chopped
1 large onion, diced
1 green pepper, diced
2 dashes of Tabasco sauce
2 eggs, slightly beaten
¾ cup milk (approximately)
salt and pepper to taste
Combine all of the above ingredients with enough milk for the mixture to hold its shape. Form into fritters and deep fry in 350 degree oil until golden. Drain onto paper towels and serve with a sauce of your choice.
2. Fresh Catch of the Day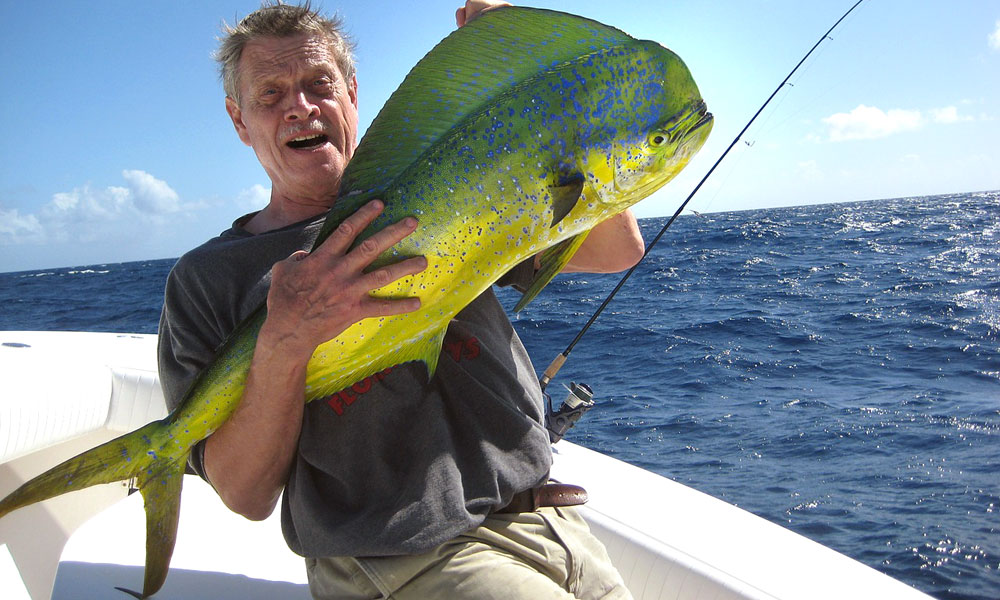 Being surrounded by water on three sides means that the "Fresh Catch of the Day" is about as fresh as it gets (well, fresher than if you ordered the Fresh Catch of the Day in Oklahoma). This menu topper allows visitors to enjoy the most local cuisines caught right from the Atlantic Ocean and the Matanzas River.
Popular fresh catches in St. Augustine, Florida include flounder, snapper, and drum. Another great thing about Fresh Catch of the Day as a Florida food is the fact that it can be served in a variety of ways: grilled, blackened, or fried.
Visitors can try the fresh catch at many local seafood restaurants, including Catch 27.
3. Shrimp & Grits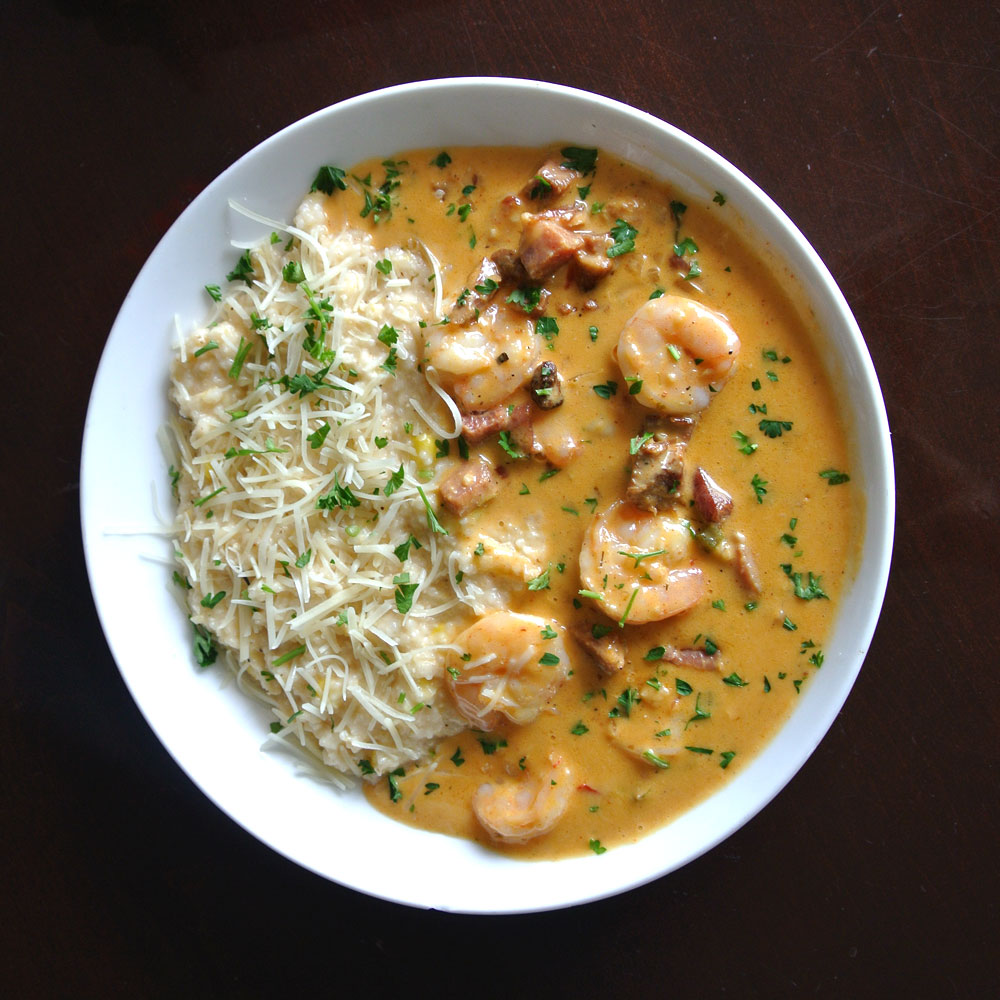 Florida's proximity to the Caribbean provides a strong Creole influence in its cooking scene. A popular Southern dish, Shrimp and Grits, comes from this Creole culinary tradition and is a tasty seafood dish served for breakfast, lunch, or dinner. The hearty dish combines low-country grits with fresh seafood for a rich Florida taste.
St. Augustine visitors can find Shrimp and Grits at Harry's Seafood, a Cajun restaurant chain founded in Florida.
4. Gator Tail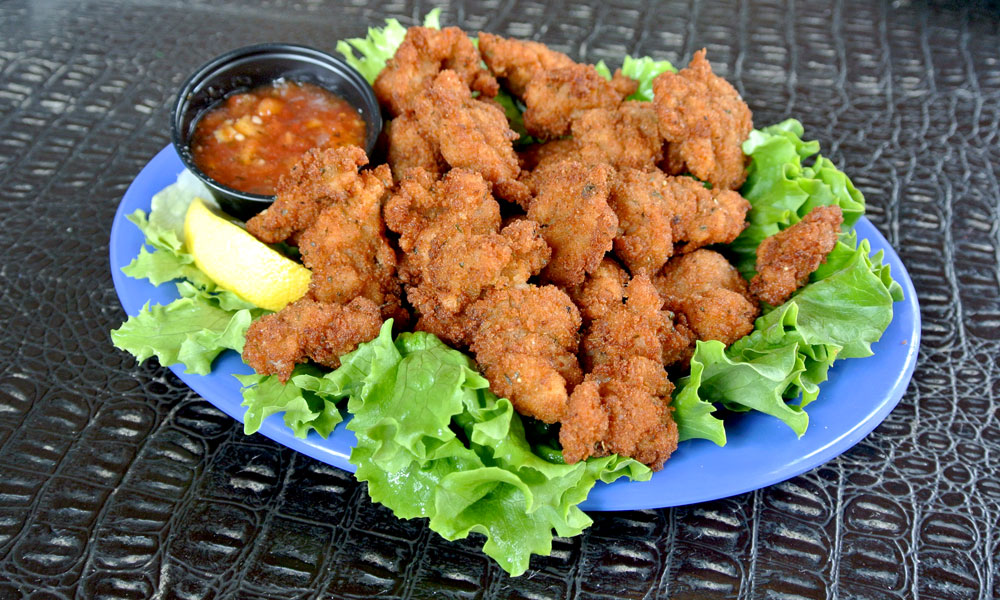 You can often get a feel for local cuisine by trying some of the local game or ordering a catch of the day; whether it's from the ocean or a swamp. Yes, gator is an actual dish in some Florida restaurants, and the game is in abundance here with more than one million alligators in the state! The tail is deep-fried and served as an appetizer or as an entree.
Wondering what gator tail tastes like? It's different for everyone, but for me, it's like a half-chicken, half-fish hybrid, which makes sense if you lean toward the theory that early reptilian dinosaurs were covered in feathers.
Visitors can dine on this reptilian delicacy at Florida Cracker Café on St. George Street. You can't miss it because the logo is an alligator saying "Let's eat my tail!" Ok, he's only saying "Let's eat," but what else can he mean when he's the one who's on the menu?
5. Key Lime Pie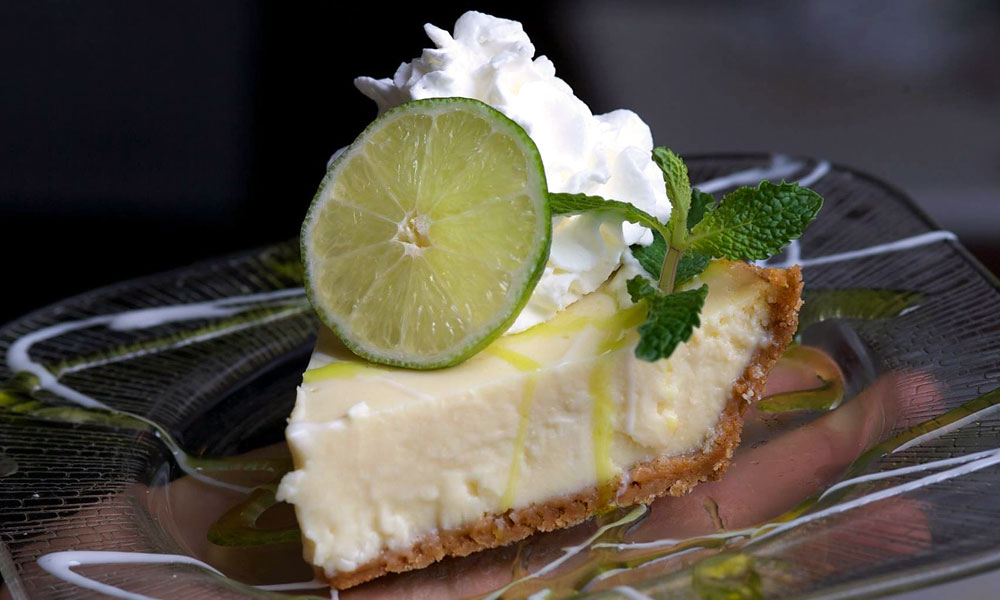 Key Lime Pie is one nice slice of baked good that has its origins in the Florida Keys and is made with key lime juice, egg yolks, sweetened condensed milk, and a pie crust. A real Key Lime pie will be yellow, because even though Key Limes are green, the juice is yellow. Key Lime Pie has a sweet and tart taste to it, and is often topped with whipped cream and garnished with a slice of lime.
In St. Augustine, Key Lime Pie is a signature dessert at many eateries. Visitors can try this timeless Florida dessert at Raintree Restaurant.
Make Your Own
KEY LIME PIE
6 egg yolks, beaten slightly
1 can of sweetened condensed milk
7 large Key limes, juiced (1/2 cup)
1 baked pie shell (9-inch)
6 egg whites
12 tablespoons sugar
Combine egg yolks and condensed milk and mix well. Add lime juice and blend. Turn into a pie shell. Bake in a moderate oven (350°) until set, about 10 minutes. Meanwhile, beat egg white until stiff. Put on pie by large spoonfuls, spreading to the edge of the pie shell—place in a hot oven (400°) for 5 minutes. Reduce heat to 300° and bake until meringue is pale honey-colored.
6. Minorcan Chowder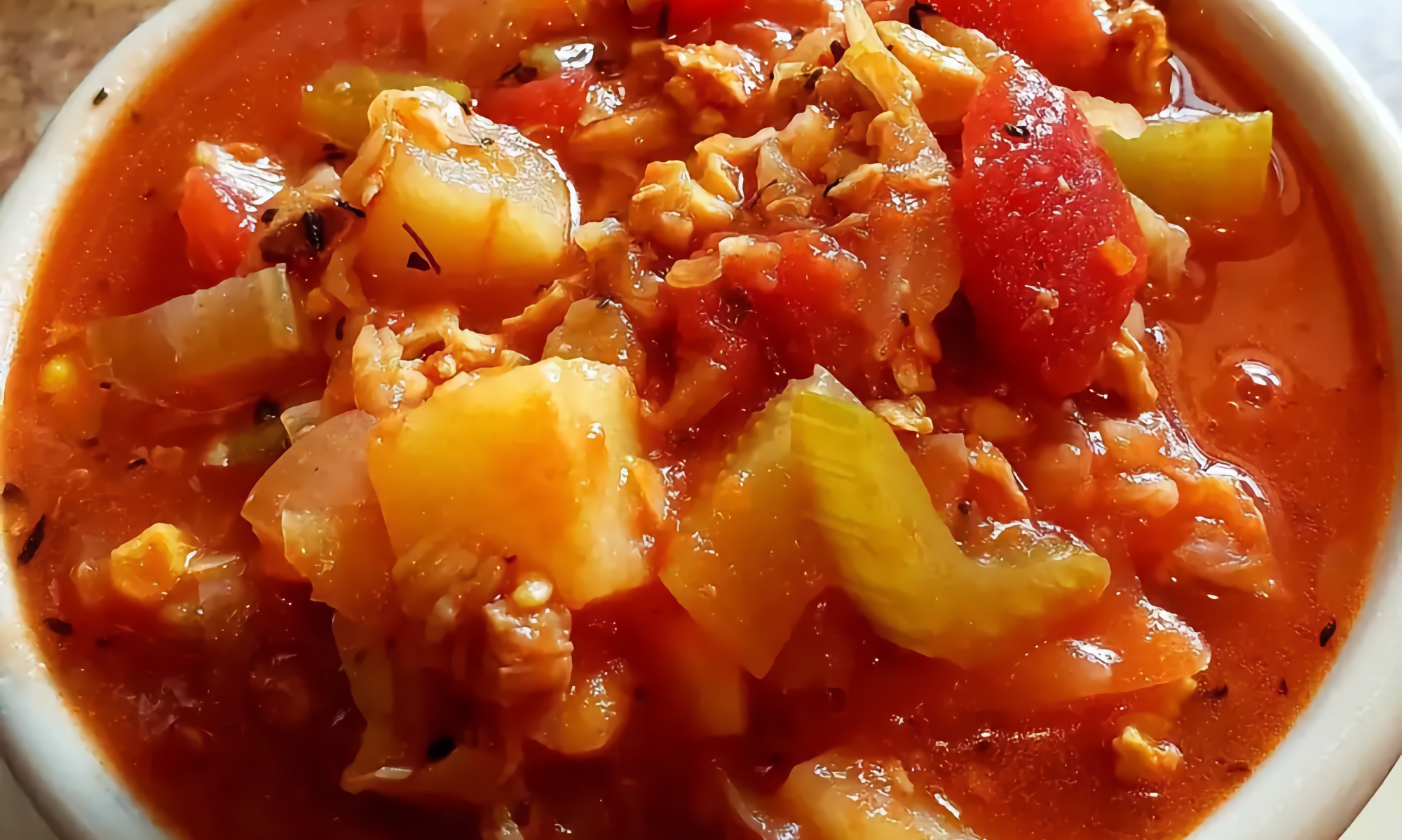 Minorcans first settled in St. Augustine, Florida in 1777, and brought with them a rich culinary tradition that is still shared today. Minorcan chowder is a local specialty in St. Augustine, and recipes have been carried down for generations. For an authentic chowder, (made with conch) head to Sunset Grille.
For more chowder love, visitors can check out The Great Chowder Debate, an annual competition pitting chowder against chowder in a fight to the death.
Make Your Own
MINORCAN CLAM CHOWDER
1 quart of fresh clams
2 pounds of onions, minced
2 large cans of tomatoes
1 datil pepper, minced fine
1 clove of garlic, minced
¼ teaspoon each of thyme, salt, and pepper
2 lbs. raw potatoes, finely diced
Brown the minced onions in oil. Add the tomatoes, datil pepper, and garlic. Cook on slow until it is a paste. Meanwhile, boil the finely-diced potatoes until tender, and then add the potatoes with their water to the tomato paste. Add the thyme, salt, and pepper. Mince or grind the clams, cover them with water, and cook for 20 minutes. Add the clams and their liquid to the mixture. This will make 3 quarts and can be frozen. — Recipe from "St. Augustine Cookery," published in 1965 by the Flagler Hospital Auxillary.
7. Barbeque
Another Florida food that serves the masses of locals and visitors in Florida is barbeque (also known as barbecue, BBQ, or Bar-B-Q). Barbeque styles in America vary from region to region depending on the type of wood available to cook with, the different sauces used to marinate meats, and the species of cattle, hog, and other livestock used for meat.
North Florida is known for founding many popular barbeque chains, including Bono's BBQ in Jacksonville and Sonny's BBQ in Gainesville. Each of these Florida barbeque purveyors has locations in St. Augustine, in the vicinity of the Ponce de Leon region. Also along U.S. 1, locals often grab an order to go from a St. Augustine favorite, Smokin' D's, which has two locations — appropriately named Smokin' D's North and Smokin' D's South. (I'm serious about the to-go part. Neither of the Smokin' D's has inside seating, and the outside seating is rustic.) In the Historic Downtown, try Mojo's Old City BBQ, one outpost of a popular Northeast Florida chain. And finally, those who want to take a drive to the St. Johns River, must try Woodpecker's Backyard Barbeque on Route 13.
With Florida barbeque, visitors can also get all the Southern fixings including corn fritters, green beans, coleslaw, and cornbread.
8. Oysters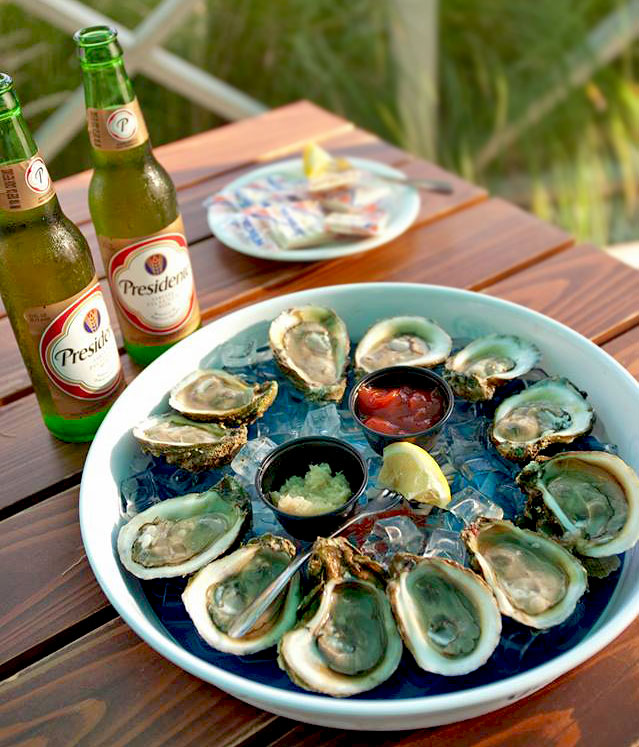 When oysters come in, it's everyone's favorite time to head to the seafood restaurant and slurp down some shellfish. It's easy to know if it's a good month for oysters - if the month has an "r" in it, you're good! Some eat straight from the shell, others plop it on a Saltine with horseradish and cocktail sauce. There's no wrong way to eat oyster (unless you're putting it on top of an ice cream sundae). Visitors who want to try some oysters can order them at Salt Life Food Shack.
9. Ceviche
Ceviche is a Latin appetizer and Florida food that showcases the power of the sunshine state's abundant citrus crops. It was popularized in Florida by Spanish conquistadors and colonizers. The dish has raw fish that is naturally cooked with a magical chemical reaction produced by citric acids in lemons, limes, and oranges. It's like Florida's science and space industry meets citrus crops meets seafood, and it's amazing. Llama Restaurant on Anastasia Island, and historic downtown's Casa Maya, and the Colombia Restaurant, are all great options for local ceviche.
10. Cuban Sandwich (The Cubano)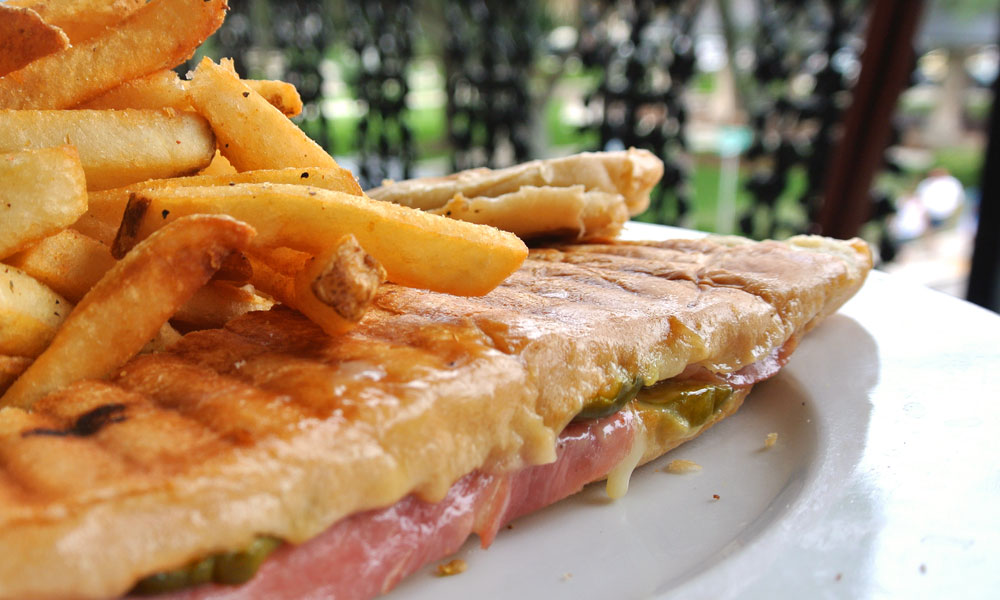 Although it originated in Miami and Tampa, the Cuban Sandwich, also known as the Cubano, has become the unofficial official Florida state sandwich. The sandwich is made with roasted pork, ham, melted Swiss cheese, mustard, and pickles, all pressed inside warm and toasty Cuban bread. The Cubano is great with potato chips, and fries, but let's be honest, they're best with plantain chips.
The Cuban Sandwich can be ordered at several St. Augustine restaurnats such as Taberna del Caballo on St. George Street.
11. Fried Green Tomatoes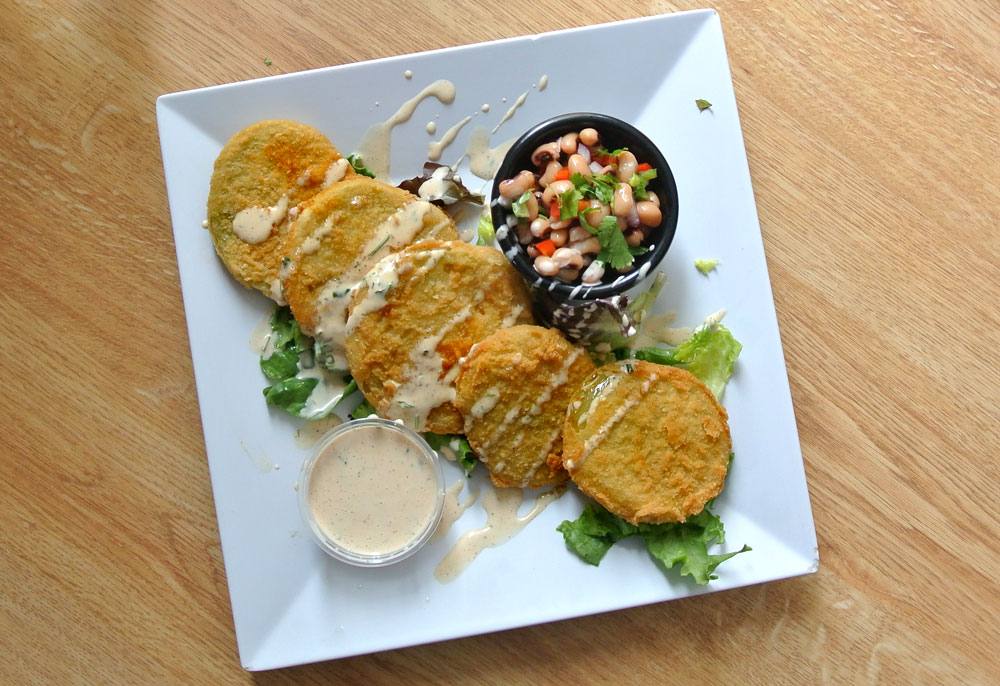 Green tomatoes on their own are pretty gross (mostly because I absolutely abhor the taste of tomatoes period, but also because they're not ripe) but FRIED green tomatoes, that's a different story. Fried green tomatoes are green tomato slices, dipped in batter, fried, and seasoned. From there, they can be dipped in blue cheese, ranch, spicy mayonnaise, or even mustard.
Visitors who want to try Fried Green Tomatoes can try them as an appetizer, or on a Fried Green Tomato BLT at The Blue Hen.
12. Empanadas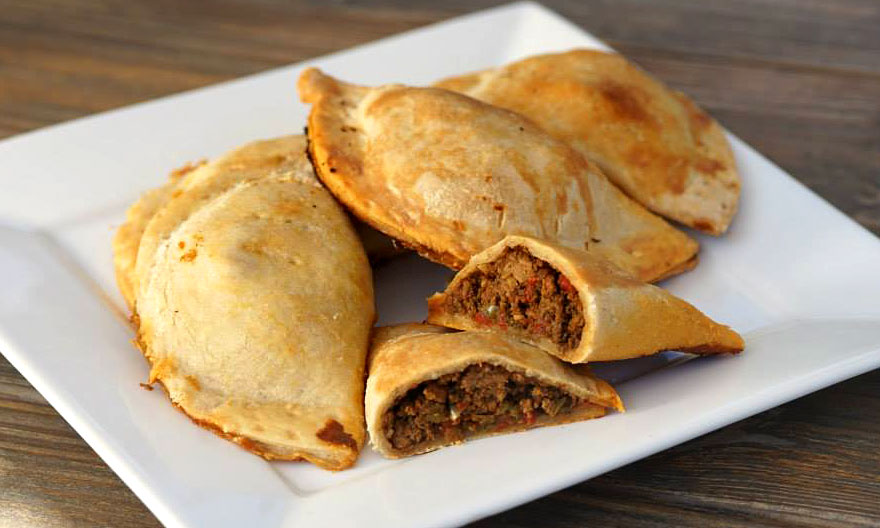 A lot of traditional Spanish dishes have worked their way into mainstream American culture. One is the empanada. But the empanadas we're talking about aren't your run-of-the-mill fast-food dish. Visitors looking to try real empanadas can find them at St. Augustine's Spanish Bakery.
The dough and filling are made from scratch and the empanadas are hand-rolled. And just like in the old days, they're thrown into a microwave and cooked to perfection (JK, it's a real old-fashioned stone oven with actual fiery flames that burn).
13. Arroz con Pollo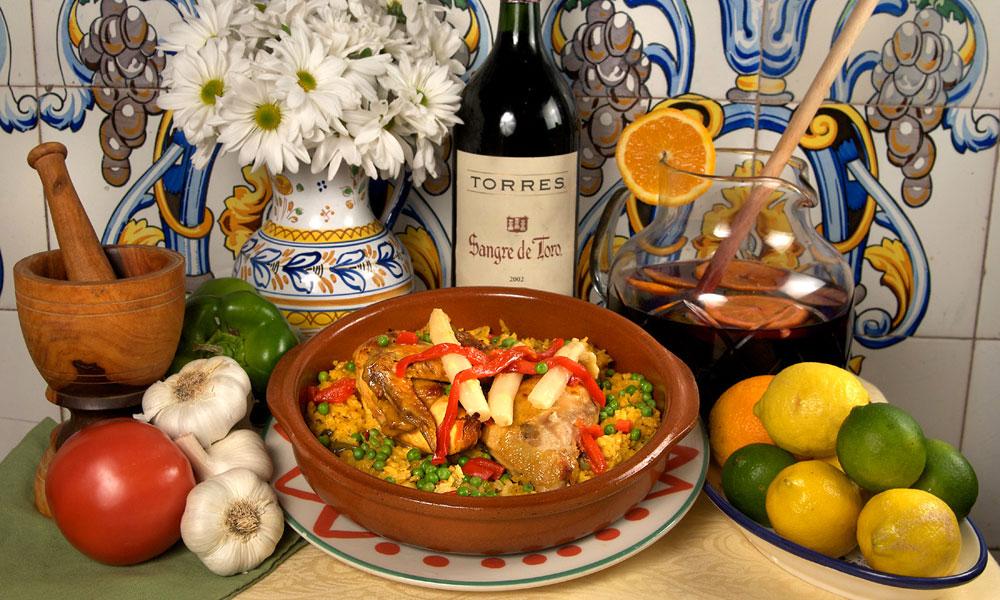 Arroz con pollo, or Rice with Chicken, is a popular dish in Florida. The dish has Spanish and Puerto Rican roots and is often offered as an entrée at many Florida restaurants. The chicken and rice are sometimes served with red or black beans, and seasoned with peppers.
The Columbia has an Arroz con Pollo plate available on their Spanish-inspired, Floridian menu.
Fabulous Florida Drinks That Quench Our Thirst
In Florida's heat, staying hydrated is important. No one does drinks better than us.
Orange Juice - Orange is Florida's cash crop, and orange juice is the official drink of Florida.
Mimosas - Champagne and orange juice--you're welcome.
Margaritas - It's always a tough choice whether to have this citrusy drink frozen like a slushy or on the rocks, but both keep plenty of Floridians cool during those warm summer months.
Mojitos - The mint makes this drink feel like drinking a breath of fresh air. If you order a mojito at the Columbia, it comes with a stalk of sugar cane in it.
Bloody Marys

- Southerners in Florida love their spice, and the Bloody Mary usually packs a punch; especially when it's made with Vodka from the

St. Augustine Distillery

.

Iced Coffee - Hot coffee sounds like a death wish most of the year. Floridians prefer their coffee on the rocks.
Sweet Tea - Like the Northerner's Iced Tea, except better. Because there's sugar in it.
Arnold Palmer - Popularized by the famous golfer who eventually settled here in Florida. Half sweet tea, half lemonade, all citrus-y, Southern, and pure Florida.
Grapefruit Juice

- Indian River not from concentrate to get the purest juice. Because it's bitter at first, it's an acquired taste that will definitely quench your thirst once you're used to it.